How Much Does It Cost to Hire App Developers in 2023?
There's a high demand for mobile app development in the world. While users want to solve certain problems, companies use applications for doing business and delivering a better experience to customers. So, how much does it cost to hire an app developer?
The answer to that question depends on multiple factors: the hiring option, the developer's country of residence, the level of competence, and skillset.
In this article, you'll learn about such aspects as the cost to hire an app developer, where to find them, and what basic steps you should take before hiring.
Cost to Hire an App Developer: How Seniority Impacts Prices
There are many types of software developers differentiating from each other due to the product needed to be created (e.g., mobile app developers, web developers, cloud developers, Big Data developers, etc.). Let's talk more about the app developers and their essential differences from other types of software coders: for example, web developers.
We use the word web developer as an umbrella phrase to refer to several sorts of developers, such as front-end, back-end, and full-stack developers. But when it comes to app developers, they work on a single app but can be divided by the platform they develop this app for: Android developers create Android apps and iOS developers work on iOS apps.
Web developers build different sorts of websites. An e-commerce website, a commercial website, a blog site, or an academic website are all options. Mobile developers can work on native, cross-platform apps, web or hybrid ones.
Looking for mobile app developers, you should certainly pay attention to their technical skills. So, how much should it cost to hire an app developer? It's a hard question to answer without knowing the seniority level, technical knowledge, and country of residence you're looking for. Application and your budget also matter a lot.
At Cleveroad, we've been developing mobile applications in various industries for over 10 years. We can turn your ideas into a unique product for Android and iOS. Our developers are professionals of different seniority levels fluent in Swift, Kotlin, and Flutter technologies.
Seniority level is another crucial hire app developer cost driver you should know about to hire a necessary specialist. Costs depend on the developer's knowledge and qualification.
So, let's check the knowledge that app developers should have on each seniority level.
Junior developers
They unusually light work on simple tasks with little impact on the final product and doesn't develop architecture. Here is a set of possible technical knowledge and skills for junior developers:
Understanding of how to work with commonly used API
Basic database design knowledge, ACID properties, and transactions
Knowledge of at least one programming language
Experience with some popular frameworks
OOP knowledge
Middle developers
A middle specialist has already worked on many projects, and can be a mentor for a junior developer. However, they may also need consultation of a more experienced specialist in solving more complex problems.
The middle IT professional in application creation must have the following knowledge and skills which influence the cost to hire an app developer:
Working with multiple database management systems
Deep knowledge of basic APIs
Simultaneous execution of several tasks
Modification of the program code to make it more efficient and detect errors
Creating and writing simple unit tests
Senior developers
How much does it cost to hire app developer at a senior level? To answer this question you should analyze more their knowledge. These specialists are more experienced, and their main task is to make effective technological decisions in a project. A specialist like this has the following skills and knowledge:
Solving complex problems
Deep understanding of SOLID
Regular code reviews
Creates and writes complex tests
Deep vision and understanding of project development
Guides junior and middle specialists
Team leads
Team Lead is a highly experienced specialist which forms a development team, assigns tasks, and is responsible for completing these tasks. They're responsible for:
Estimation of volumes, timing, and budget
Project planning and implementation
Creation of the project architecture and its development
Writing technical specifications for developers
Code reviews
Team Lead must have deep knowledge of server technology, required programming languages, and popular development methodologies. This skill set will also be reflected at hire app developer cost.
Software solution architects
They design software solutions from scratch, make high-level decisions throughout the process, lead a team of engineers working on a product, create design documents.
Here are some things software architects should know:
Extensive software development and project management experience
Understanding of various development platforms and programming tools
Have experience with version control systems
So, having figured out the difference between software development specialists, you can choose the option that suits you best and hire an employee whose competencies correspond to your company's needs.
How Much Should It Cost to Hire an App Developer and Where to Choose Experts?
If you need to know how much to hire app developer, you should firstly analyze constituents that influence the possible prices for devs' work. So, let's talk about different types of hiring, their advantages and disadvantages, and which countries are the best when it comes to outsourcing or hiring from outside.
The types of hiring a mobile app developers
In-House
In-house is the type of hiring where the employee works in the office, uses all its resources, has its own workplace, and the company is responsible for employees' social benefits.
Pros:
Employment protection
Faster response to urgent tasks
Fast adaptation of employees
Cons:
Office expenses (e.g. rent, equipment)
You spend extra time to build process from scratch
Higher salaries for specialists (in some countries)
Freelancer
A freelance option is another way to determine the cost to hire an app developer. A freelancer is a self-employed person who offers various services including software development. Freelance is actively developing all over the world, which is great for most SMBs and even some enterprises.
Pros:
Cost to hire an app developer the amount of work done
No expenses on social benefits, paid vacations and sick leaves
Cons:
Hard to control the work
Confidentiality risks
Project abandonment risks
Team Augmentation
Team augmentation is a flexible strategy that lets you hire specialists from all over the world to work as a part of your in-house team. You can hire them temporarily and long term, reduce or expand when it's necessary. Team augmentation practice implies that you hire developers from other software development companies. Mexico, Argentina, Brazil, Ukraine, Poland, and Croatia are one of the most popular destinations for team augmentation.
Pros:
Developers are dedicated to your project
Cost to hire an app developer is beneficial
Intellectual property rights reserved
Faster hiring process
Opportunity to scale the team up and down
Cons:
Requires training for new employees
Vulnerability to internal errors
Outsourcing
Outsourcing is a type of hiring when you hire a third-party company to create an application or a separate part. The best countries for outsourcing are emerging economies like Estonia, Argentina, Poland or India.
Pros:
Cost-effectiveness. Most outsourcing companies offer low-cost services all around the world. Central Europe is becoming increasingly popular as a result of many factors existing (e.g., talented individuals, low taxation, and government backing for the IT sector). It offers the ideal balance of low pricing and continuously good software quality.

Speedier completion of the project. The time spent on recruitment can be reduced by outsourcing software development services. As a consequence, time to market and costs decrease: you won't have to pay if there are no assignments, and you'll be able to outperform your specialized competitors.

Scalability. You can scale your team up or down: increase the size of your team if you need to accelerate the development process, or reduce the number of specialists if there are no jobs for them to do.

A wide range of technologies. A vendor may offer to recruit a software developer with the necessary qualifications. In some areas, you can locate a certified professional.

Massive talent pools. You have endless recruiting options when you outsource and use a large pool of technical experts with both expertise and experience. The hiring process may be completed in a matter of days rather than months. You may select the best engineer by considering different specialists from all around the world.
Cons:
Information leakage risk
Risk of poor performance
May be difficult to hold an outsourcer accountable for violations
Hire App Developer: Cost of Their Work by Countries
Now that you know what hiring option is right for you, it's time to answer the question "how much does it cost to hire a developer". The country of residence is one of the main price drivers, which includes subsistence level and taxation. Let's consider how much does it cost to hire app developer in different countries.
The USA
If you need a full-time employee in the USA, you should be ready to pay the following amount and additional payments annually to hire an app development specialist. The price depends on their experience and skills.
This cost to hire an app developer includes:
Salary from $63,735 to $139,148 per year (based on seniority level)
Social security tax - 6.2%
Medicare - 1.45%
Paid leave - 7.1%
Pension fund - 3.8%
Benefits - 7.6%
The UK
How much is it to hire an app developer in the UK? First off, you should also be ready for high salaries to pay for app coders. Costs range from $47,000 to $92,000 per year. The additional costs include:
Income tax 20% of the taxable amount for annual income between £11,800 and £46,300, 40% for income over £50,000
Pension is automatically credited, while the employee pays 5%, the employer - 3%
National insurance - 12%
Besides, the employees receive the standard Personal Allowance, which is £12,500 annually. It's the amount of income the employees don't have to pay tax on. If they claim Marriage Allowance or Blind Person's Allowance, it may be higher. If the income is over £100,000, it's smaller.
Netherlands
Mobile app developers in the Netherlands receive between $56,000 and $99,000 per year before taxes. So, the average net developer salary in the Netherlands will be somewhere between $37,000 and $67,000 per year. Additional cost to hire an app developer includes:
Income tax on profits below €68,507 (for software developers who belong to Box 1) - 37.35%
Pension fund payments - 5%
Annual vacation pay - 8%
Germany
Mobile app developers in Germany earn between $66,000 and $95,000 per year.
These payments include:
Net annual salary - $49,000 to $68,500
Personal income tax - 14%
Tax-free benefit up to $10,312 per year per employee
Church tax - 9%
Various types of insurance - up to 21.8%
Calculating the cost to hire an app developer, you should also know that Germany has the most complex taxation system in the world. The amount of tax-free benefits is influenced by the employee's geographic location, age, and marital status. As in the Netherlands, the amount of tax in Germany is influenced by the fact that two companies can be registered at the same address.
Estonia
How much is it to hire an app developer in Estonia? Here are the details.
The average net developer salary in Estonia ranges from $18,000 to $50,000 per year. Basically, developers in Estonia pay a 3% VAT or 5% of income.
Here are several reasons why you should consider Estonia for outsourcing or hiring a team:
Low cost of living
Simple taxation system
Large number of technical specialists
More than 100 global companies like Boeing, Samsung, Microsoft, Huawei, and Oracle are concentrated in Estonia. This country is also known for its startups: Grammarly, Spark, Looksery, and CleanMyMac. Moreover, Estonia hosts pan-European and global IT events such as The Games Gathering, IForum, and Agile Eastern European Conference.
Let's revise all the said concerning the salaries in the below table.
Salaries of App Developers in Different Regions

| | |
| --- | --- |
| The amount of salary | Country |
| $18K-$50K | Estonia |
| $66K-$95K | Germany |
| $56K-$99K | Netherlands |
| $47K-$92K | The UK |
| $63K-$139K | The US |
How Much Does It Cost to Hire an App Developer Depending on the Skillset?
As you're reading an article about application development, then chances are you want to hire a mobile app developer for iOS or Android. These specialists work with such programming languages as Swift, Kotlin, or Flutter (if you're considering cross-platform development). The cost of hiring a developer often depends on the programming language they work with.
Let's take a look at how much is it to hire an app developer according to the average hourly rate by languages:
Swift:
In the USA - $37-$58 per hour
In India - $18-$40 per hour
Kotlin:
In UK - £19-£33 per hour
In the USA - $51-$97 per hour
Flutter:
In the USA - $75-$120 per hour
In Estonia - $45-$65 per hour
In India - $35-$40 per hour
Looking for experienced developers?
Cleveroad can offer you a team of agile-minded app developers with the best profitability!
If you want to create an app for your business with complex functions based on AI or ML and completely define a hire app developer cost, you'll have to look for other specialists. Сonsider their experience, region of residence and hiring options discussed above.
For example, the average hourly rate for an ML Engineer in the US is $75 per hour, in Canada - $64 per hour, and from €10 to €50 per hour in Germany. AI developers from the USA and Canada earn an average of $46 per hour, in Germany - €41 per hour.
How to Choose a Vendor for Lowering a Hire App Developer Cost?
Numerous outsourcing IT vendors deliver their services to businesses, as well as their own perspectives on how the project should go. How can you choose a reliable offshore software development services firm from such a large pool of options?
If you wonder how to do that, look through our brief advice list on outsourcing vendor's selection.
Analyze input from clients
Dealing with one of the greatest outsourcing software development businesses is a great way to form strong partnerships. How can you find out?
To begin with, surf the sites like Clutch, Glassdoor, or ITFirms, find there information about your potential tech partner and read through the feedback made by prior customers worked with this company.
Checking should not be limited to employment platforms. From the portfolio, learn more about the company's completed projects and business sectors. Read the company information on their official website with care.
Examine the time zone difference
It's critical to consider especially when you're going to collaborate with an offshore partner and have an effective communication. But keep in mind that this factor is not the essential one. Many offshore organizations take steps to continuously stay in touch with their clients regardless of the time zone they are in.
Consider the communication aspects
Concentrate on communication conditions the company offers and evaluate it using transparency and seamlessness standards. Thus, determine whether your potential team members are fluent in English (or any other language you require) in order to facilitate communication. Consider instruments they use for inside communication, as well as working hours of your future vendor to see whether they fit with yours.
Learn more how they solve security problems
Determine whether you may sign a Non-Disclosure Agreement (NDA) with them to protect and maintain the confidentiality of your concept. Don't forget to question about the vendor's compliance with foreign legislation (e.g., GDPR, or CCPA). Inquire about encryption techniques used to secure acquired data, privacy rules, and the preservation of private information.
Now that you have figured out all the nuances of choosing a vendor for building your app. Let's look at what minimum knowledge the vendor's iOS, Android, and cross-platform developers should have.
iOS Developers
So, here are the minimum knowledge and skills that an iOS developer should have:
Xcode IDE
Fluency in Swift programming languages
Knowledge of UX/UI design principles
Excellent knowledge of Git
Human Interface Guidelines
Knowledge of the Core Data structure
Working with APIs such as UIKit, Cocoa Touch
Understanding of RESTful APIs
Experience with Metal or OpenGL
Android Developers
Before you calculate hire app developer cost for Android specialists, you must be sure that they have the following skills and knowledge to get the job done:
Knowledge of Kotlin
Android SDK
Experience with API and databases
XML technology
Material Design
Android Studio
Cross-Platform Developer
Сross-platform developer must have the experience with:
Mobile development services for Android or iOS
GoF templates
Programming in Kotlin or Swift languages and knowledge of the Dart programming language
Here are some basic knowledge a cross-platform developer should have:
Git
Flutter framework
Knowledge of software development life cycle and different architectural approaches
Good knowledge of networking technology
How Much Should It Cost to Hire an App Developer in a Leading Outsourcing Company?
If you search for an optimum price and quality ratio in app developers' services for your upcoming project, Cleveroad can assist you. It is a skilled outsourcing software development vendor headquartered in Estonia . We've been assisting startups and organizations of all kinds in acquiring cutting-edge technology for 10+ years. Our solutions improve workflow efficiency, address business issues, and aid in the acquisition of competitive advantages. We assist our clients in achieving their objectives and bringing ambitious ideas to reality.
Collaborating with us, you'll get:
Our Sales Managers provide an initial project estimate.
Consultation for your project from one of our Business Analysts or Project Managers
Signing non-disclosure agreements (NDAs) on request
Three cooperative models: time and materials, dedicated team, fixed price
Elaboration of a rapid development process without bureaucracy
Services available on-demand: Legacy system modernization, software creation from scratch and upgrading
A team rapidly adapting to modifications and seamlessly fitting into established workflows
Accurate control of product quality at all stages with highly qualified QA engineers.
Post-release support, maintenance, and advertising services for our customers
Proven in-depth software development experience in a variety of sectors
An innovative tech stack used in the process of your product development
Start your app development cooperation with us and receive a product that will perfectly fit your business requirements. We are eager to help you gain your aims. You can know more about cooperation with us looking through our portfolio or watching a video review from one of our clients below.
Henrik Loop CTO Blockbuster, TDC gives feedback about cooperation with Cleveroad
Frequently Asked Questions
It depends on the country they live in and, accordingly, on the standard of living, the amount of taxes, the programming language which they write, qualification level.
The average salary of Estonian developers is from $18000 to $50000 per year. It also depends on seniority level and programming language. For example, the Swift developer earns $50 per hour, the Flutter developer - from $2500 to $4000 per month, and the Kotlin developer average wage can be $15852 per year.
The cost depends on the country in which you are looking for a developer and hiring type. The best choices for in-house hiring are Poland, Hungary, and the Czech Republic. Wages include rates per hour, taxes, and other surcharges and benefits.
If you want to create a cross-platform app, you should decide your app type, design, and at least the basic functions it should have.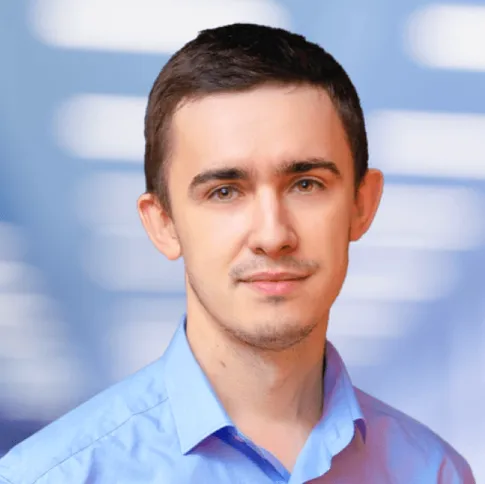 About author
Evgeniy Altynpara is a CTO and member of the Forbes Councils' community of tech professionals. He is an expert in software development and technological entrepreneurship and has 10+years of experience in digital transformation consulting in Healthcare, FinTech, Supply Chain and Logistics
Rate this article!
1650 ratings, average: 4.96 out of 5
Give us your impressions about this article
Give us your impressions about this article