How to Make a Video Streaming Website Like Hulu, Prime Video, and Disney+
02 APR 2020
4502 VIEWS
15 MIN
Video streaming and on-demand video websites have changed the way people consume content. Traditional TV broadcasting is left far behind bringing movies, series, and TV shows to the online world. In 2019 Hulu earned $1.6 billion, and it's even not the most popular service at the moment.
However, the question arises — how to create a video streaming website? In this article, we'll find the answer together.
What Is a Video Streaming Website?
To understand the whole concept, you should understand what is streaming itself. Streaming is a constant transmission of an audio and video file from a server to the client. In other words, streaming happens when you listen to music or watch videos on the Internet.
You may wonder what's the difference between streaming and downloading. Downloading requires you to save an entire copy of the file to your device. In other words, you can't access it until the downloading process is completed. Streaming in its turn loads a file bit by bit without downloading it completely and taking the storage of your device.
So, video streaming websites broadcast the content in real-time by simply loading a video step by step.
On-Demand Video vs. Live Streaming Website
Streaming technology offers us several ways of transmitting data. The first one lets us watch videos whenever we want to because they're stored on servers. These kinds of websites are called on-demand video streaming websites. They are popular among people who don't want to change their plans to watch shows and series in specified hours, like it's on TV.
The second type lets you stream the content live. Live streaming records the video and broadcasts it to viewers simultaneously. This feature is highly appreciated by celebrities and influencers. It allows the audience to chat with the streamer and get instant feedback. However, the biggest flaw is that live streams are only available during the broadcast. So, if you missed the moment, you'll have to wait for another translation.
The most well-known video streaming websites
Video Streaming Website: MVP Features
Since you already know the basics, it's time to go through the essential features needed to create a video streaming website.
Registration
Registration may be optional for some sites, but it's totally necessary for a video streaming website. It's much more convenient for users to access their personal data through an account. Besides, a streaming website can't charge subscription payments from unauthorized users, so don't lose your profit. Registration may be held via email, social networks, or Google accounts.
Managing Personal Information
Users should be able to manage their personal information like emails, passwords, names, and so on. To build a video streaming website on a paid basis you have to take care about payment details. Your website should support several payment options, like credit cards, PayPal, and others.
Also, such basic features as viewing history, playlists, and updates on favorite series or shows would be a good addition.
Search
Any video streaming website has a load of content. It's obvious that clients have to navigate through their favorite series, movies, or directors. That's why you have to provide some filters to ease the navigation through the content. Also, you can adapt users' search results according to their recent requests and preferences. So, a search engine is a must-have feature you should consider to build a website with video streaming.
Payment System
Here you have a choice between a custom payment service or a third-party system. Without regard to what you choose, mind the security matters. If you use third-parties, you have to conduct a research and choose a reliable provider. When building your own payment systems, comply with every up-to-date data regulation and security protocol.
For now you have a choice of three major payment systems — Stripe, Braintree, and PayPal. Each of them charges the same fee of 2.9% + $0.30 per transaction. They are quite similar. However, there's one exception that's vital for every business accepting payments online. PayPal supports payments from more than 200 countries and accepts 25 different currencies. That's much more than Stripe with 25 countries and Braintree with 46 countries. Still, you have to look at each system's pros and cons and figure out the best for your needs.
However, Hulu offers a variety of payment options to improve customer experience. Users can pay via card and through third parties like Amazon, iTunes, Spotify, Roku. Of course, third parties can charge additional fees for their services. For example, Amazon Pay has a 2.9% fee from each transaction. Still, that's a humble price for an additional payment option.
Finally, let your users pause the subscription temporarily. Hulu offers their customers to freeze their subscription for up to 12 weeks in case of vacation, business trip, or any other event. After the specified duration Hulu will reactivate your subscription and charge the money for it. This small detail shows a respectful attitude to users' time and money.
Content Management System
In fact, the main part of any video streaming website. Here you should take care of an intuitive interface for those who'll be uploading content to the website. Make sure it's easy to figure out all the details that concern the upload process. Also, don't overload employees with a ton of features and cut the complicated functionality to the minimum.
On top of that, divide your employees by roles. Someone responsible for uploading a video shouldn't see the statistics or have access to clients' payment info. Keep it simple!
Home Page
Home page is the face of your video streaming website design. So, double-check that your users have an attractive home page. First of all, the main page should show new and trending movies and series. You have to find an appropriate number of videos on the main page that wouldn't irritate users. A/B testing is a great choice to test all possible options and figure out which one works better.
Almost every video streaming website launches a preview when users hover on the video. It makes your home page stylish and engaging. But remember to leave some free space between videos. If there's no place for a cursor, these previews will be always seen making the user experience worse.
Want to learn more about web design? In this post we're explaining all the steps of website development and share the tools we use.
Also, develop a section where users will be able to keep watching movies from the place they stopped last time. If you deliver live tV services, there should be a choice of channels on the main page too.
Lastly, ensure there is a place for the section keeping all the picks made by users. Here they can find movies and series they added to playlists, studios and directors they're following, and so on.
Essential features of a video streaming website
Video Streaming Website MVP Estimate
Here's the time and expenses required for development of video streaming website MVP
Video streaming website MVP estimate

| Feature | Approx development time (hours) | Approx cost ($) |
| --- | --- | --- |
| Authorization | 34 | $1,700 |
| User profile | 30 | $1,500 |
| Search | 41 | $2,050 |
| Payment integration | 70 | $3,500 |
| Home page | 64 | $3,200 |
| Player integration | 55 | $2,750 |
| Content management system | 166 | $8,300 |
| Design | 227 | $11,350 |
| Database architecture | 29 | $1,450 |
| Framework integration | 21 | $1,050 |
| PM Processes | 165 | $8,250 |
| QA Processes | 100 | $5,000 |
| Total | 1002 | $50,100 |
Video Streaming Website: Advanced Features
To be honest, today's state of progress can provide much more sophisticated options to your users. The section below will cover some of them, so keep up with me!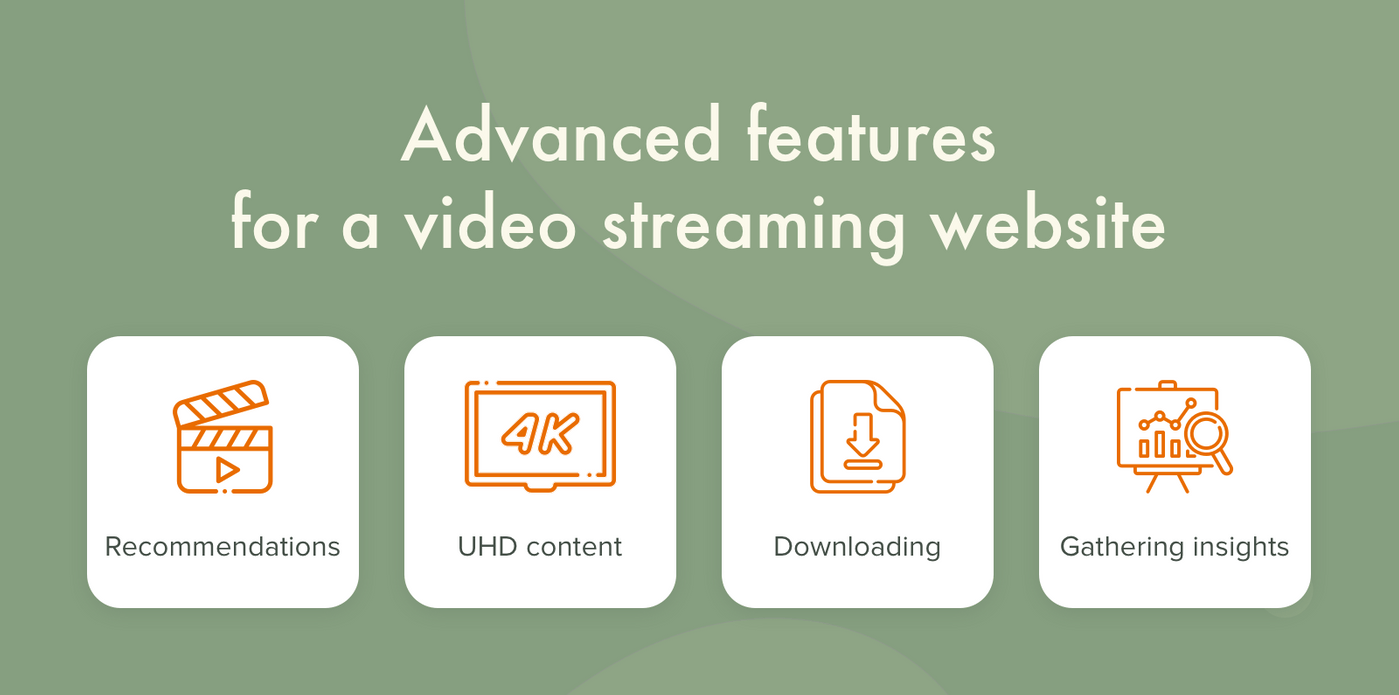 List of advanced features for a video streaming website
Recommendations
A recommendation system can offer users content based on their recent viewing history and search requests. The most common way to form a recommendation list is to let users leave a like and dislike. If a user dislikes the video, they won't see this and similar content in their feed any more. On the contrary, thumbs up will put similar types of content on the main page. That's how to make a video streaming website that offers the best match for the user, so they can feel the personal touch and improved customer experience.
Keep Pace With Technologies
Video quality makes giant steps these days. UHD screens, which have been an unaffordable luxury a couple of years ago, are available at a reasonable price today. That's why if you're wondering how to create a video streaming website it's highly recommended to take 4K resolution content seriously. Also, don't forget about the HDR that makes the colors more saturated and increases the overall picture quality.
With a flexible price scheme, you can provide a basic subscription plan with Full-HD only and charge more for the ultimate plan with 4K and HDR included.
By the way, here's an article explaining how to cut expenses on converting a website to an Android app. It may be useful for you in future!
Also, modern streaming protocols are worth a separate list to create. Video streaming websites could use a vast variety of them today, and each one has its own pros and cons. Here are some of them:
RTMP (real-time messaging protocol) is universally supported and provides the lowest latency, however it's used mostly in live streaming.
MPEG DASH uses AI that selects the video segments that can be downloaded for playback without buffering.
HTTP live streaming (HLS) is by far the safest protocol on the market, but unfortunately it has the best performance only with iOS devices.
Finally, don't forget that there are already 8K UHD screens on the market. For now, there's still no content for this resolution, but in the near future, those who catch this trend will rule the streaming market.
Video Download
This feature would be helpful for users who go to the areas that have no mobile service. A simple download button will defeat the boredom of long flights or road trips. In this way, the content won't be illegally distributed, and there won't be any copyright issues.
Content-Based Community
When people are fond of some films or series, they tend to discuss them with others. For that reason, you may add a section where users can share their opinion with each other. Let them upload screenshots, arts of their favorite characters, and more things concerning the topic they like. For now, Hulu provides a community page where users can ask disturbing questions, share their ideas on improvements with Hulu, and get the latest news about the content. This feature will show that you value your viewer community, so your app will definitely stand out.
Gathering Insights
The last point on this list is all about statistics. Data gathering algorithms will supply you with information about user preferences, relevance of particular series, prime time, and so on. This information will help you better understand your audience and adjust your website to their needs.
Before purchasing the rights for broadcasting any content specialists from Hulu analyze it and compare with other similar content on the site. With this data, they estimate the potential profit this content may generate. Later, specialists monitor this content's popularity and compare the real value to the expected. This approach allows Hulu to predict the investments' success.
Family Profiles
Family profiles deliver a personalized experience to each family member. Personal profiles help users keep an eye on their favourite shows independently from everyone else in their family. Each profile should have it's own viewing history and personalized recommendations based on specific user's tastes and preferences.
Technical Stack for Video Streaming Website
Here's the list of technologies that may be used to build a video streaming website.
Languages: C#, Java, JavaScript, Python
Frameworks: Node.js, socket.io
SDK and API: Wowza, AWS, Twilio
Database: MySQL, Oracle
Cloud hosting: Amazon EC2
Cloud storage: Amazon S3
JS libraries: React, WinJS
Programming languages are used to create video streaming website's logic. Put simply, languages let developers build custom video players, ensure the transmission of the video files, and general features like registration and payments..
Database is the place storing tons of high-quality content. Flawless database structures and optimized queries are essential things needed to create a fault-tolerant website.
APIs and SDKs are generally used for cutting the development time. For example Wowza is a set of turnkey tools for video encoding, optimizing video bitrates, and so on. Twilio is an API that connects you with customers via phone calls, SMS, and messengers.Hulu used Twilio to optimize the work of the contact center. When users call Hulu's support number, they are quickly redirected to a vacant customer support specialist. If all agents are busy, Hulu informs the client about an estimated waiting time and queue position. Hulu developers use Hulu because of its ease of use and affordable price.
It'd take an enormous amount of time to develop these tools from scratch, so APIs and SDKs are an integral part of development.
Stack of technologies used during video streaming website development
Remember: This tech stack is approximate and may vary according to your needs.
Monetization Options for Streaming Website
Monetization of your product is as important as the whole development process is. I will highlight the benefits of some monetization strategies and differences between them.
Subscription
The most common strategy of monetizing video streaming websites. You'll provide the content to users on a monthly or yearly subscription basis. The price of a subscription may vary depending on a type of content and quality.
Different websites have different prices. Basic Hulu subscription costs $5,99/month and the most expensive one that includes Live TV and has no ads will cost $60,99/month. Prime Video is distributed for $8,99/month but you can also pay $12,99/month for all of the Amazon Prime services that include Prime Video. Disney + has charges $6,99/ month and $69,99/year for its services.
Subscription plans of different video streaming websites

| Video Streaming Website | Basic plan ($) | Ultimate plan ($) |
| --- | --- | --- |
| Hulu | $5,99/month | $60,99/month |
| Prime Video | $8,99/month | $12,99/month |
| Disney+ | $6,99/ month | $69,99/year |
Pay-Per-View
This approach is used by Google Play Movies. Users don't have to buy a subscription and may simply pay for a view. This type of monetization suits better for movie streaming.
For example, Google Play Movies offers us two alternatives. Users can rent a movie for a limited time. Thus, you can watch a movie and spend less money. On the other hand, you can buy a movie and add it to your library if you want to get back to it later.
Ads
Actually, this strategy suits better to on-demand websites like YouTube, but we have to give it a shot. In order to create a video streaming website with this feature, you have to place ads throughout the video. The best timings are the beginning and the end of the video, however you can place them wherever you want. The more ads you show, the higher profits you have.
Another way of making use of ads is distributing no-ads plans. Hulu offers a basic plan for $5,99 and an ad-free plan for $11,99. A lot of viewers are likely to pay less and sacrifice a couple of minutes for watching an advertisement. In both ways, you're a winner here, so consider this tip.
The major thing to remember: nobody likes ads, so integrate them wisely.
Pitfalls of Video Streaming Website
At first glance, video streaming website development doesn't seem a challenge. However, there are some points that are beyond obvious. So now, I'm going to shed light on some of them.
Things to consider during video streaming website development
Copyrights and Content Licenses
It's important to understand that a ready-made streaming website isn't the final destination for you. To fill it with movies and series, you should own the copyrights for the specified content. So, you have to make arrangements with content owners in order to avoid trouble with the law. Of course, it'll cost you a fortune. HBO Max purchased rights to air "Friends" from Netflix for $425 million. Still, if you will mess with copyrights, lawyers will charge you more.
Bitrate and User Connection Balance
Bitrate determines the picture, and the sound quality users get on their screens. However, different people have different internet connections. If the speed is not enough to load the high bitrate video, the user will be stuck in endless bufferization. To avoid this problem, you should provide the choice of video quality and optimize your server in a way it won't fill the connection with useless requests.
Age Restrictions
If your website contains movies inappropriate for all ages, you should notify your viewers about it. The simplest way to do it is to add an age icon on the movie page or put a disclaimer before viewing. On top of that, you can ask for the user's age during registration and display the content based on it. Finally, develop a separate kids profile. Hulu has an option to restrict the viewers rights to the Kids hub. This is a safe space where youngsters can see only the content aimed towards children. That's why you don't have to worry about other shows that may appear in recommendation or home page.
Video Encryption
Last but not least is security. You should always encrypt video files during the streaming or downloading it to the user's device. The worst-case scenario is that fraudsters can gain access to unencrypted video files and distribute them illegally. That'll lead to non-compliance with copyright acts and lawsuits. That's why make sure that you use up-to-date security protocols.
Our Expertise
Blockbuster was an iconic video and gaming rental company. Later a top-tier Danish provider purchased its brand rights and launched a streaming platform for Nordic countries. Blockbuster has the website, iOS and Android mobile apps, and apps for Android TV and Apple TV. We were recently upgrading both of its mobile versions.
All of the devices supported by Blockbuster
It's available both online and offline. Blockbuster has some adorable features like collections of your favorite movies or series, mobile downloading, and subtitles in multiple languages.
During the development, we used following technologies:
Mobile/Tablet: Kotlin for Android and Swift for iOS development
Authorization: Facebook Login
TV streaming: Google Cast SDK
Video analytics: Youbora
Libraries for Amazon Web Services: Appollo, CloudFront, Lambda, Elastic Beanstalk, GraphQL, AWSAppSync
You can find more details on the project in our case study.
Let's build your project!
Get a consultation from professionals and project estimation free of charge.
Frequently Asked Questions
To make a video streaming website you have to develop attractive design, keep pace with technologies, pick the right monetization system, and provide outstanding user care.
Streaming is a constant transmission of an audio and video file from a server to the client. In other words, streaming happens when you listen to music or watch videos on the Internet.
Video streaming websites broadcast the content in real-time by simply loading a video step by step.
There are three main monetization strategies for video streaming websites:
Distribution of subscription plans
Charging money per each view
Displaying ads
The best technical stack needed to create a video streaming website is:
Languages: C#, Java, JavaScript, Python
Frameworks: Node.js, socket.io
SDK and API: Wowza, AWS, Twilio
Database: MySQL, Oracle
Cloud hosting: Amazon EC2
Cloud storage: Amazon S3
JS libraries: React, WinJS
To start a video streaming website with minimal investments you have to precisely estimate the expenses and build an MVP version of your website.
While building a video streaming website, you have to keep in mind the following issues:
Copyrights and Content Licenses
Bitrate and User Connection Balance
Age Restrictions
Video Encryption
Rate this article!
3602 ratings, average: 4.90 out of 5
Comments

Oleksandr Sh.
23.11.2020 at 07:56
Hi! To get a consultation on your project and get answers to any questions, please follow this [link](internal:https://www.cleveroad.com/contact)