How to Start a Business Like Uber: Building Your Own Uber for X Platform
Today's Uber-like apps don't always have something to do with taxi services. They're everywhere in various spheres of life. On-demand platforms are taking over our everyday life. And each service somehow has it's own base of loyal and engaged users. For example, babysitting app which comes in handy for many users.
So what's the secret of Uber for X success? How to start Uber business, and which model to choose? What is Uber business model canvas? All that and a bit more about Uber-like services, starting Uber business of your own, and making a go of it – in our guide. Let's #MoveForward!
What is Uber for X?
In Uber for X, 'X' means any deliverable service in the market. How does it work? First, customers connect with service providers by placing their orders via mobile app or website. Then, the provider looks through and accepts the request, and – if everything works for them – delivers the service.
In different Uber-like apps, connecting buyer and service provider sometimes takes more than pressing a button. But that's still the main concept of it. Mostly, Uber for X platforms have a variety of in-built filters making the search process both very fast and convenient.
If you're here to find out how much Uber-like app development costs, take a look at our guide on laundry app development.
For example, to get from point A to point B all Uber users have to do is to place a request, and wait for matching with a driver. Few minutes – and the car's right at the corner.
Now, let's find out what actually makes the service this fast, convenient, and affordable.
Business Model Explanation
Uber for X business model is a so-called two-sided marketplace. Riders generate the demand, drivers supply it, and Uber acts as the facilitator providing a convenient and easy to use platform.
As there's no third party that prevents these two sides from working with each other, the platform collects a fee from both customers and service providers. (We're going to take a closer view on their revenue sources later on.)
What's remarkable is that Uber doesn't hire drivers. It partners with them. Drivers choose their own schedule and number of hours they're ready to work for, and they remain under nominal control. Drivers have all the right to accept or decline the terms of the contract, and they can choose what period to collaborate with Uber for.
As for now, more and more people turn to on-demand platforms like Uber instead of good old city services. Why is that? Uber offers a unique value proposition to both parties which makes the service affordable to use and profitable enough to work for.
So what's in there for riders?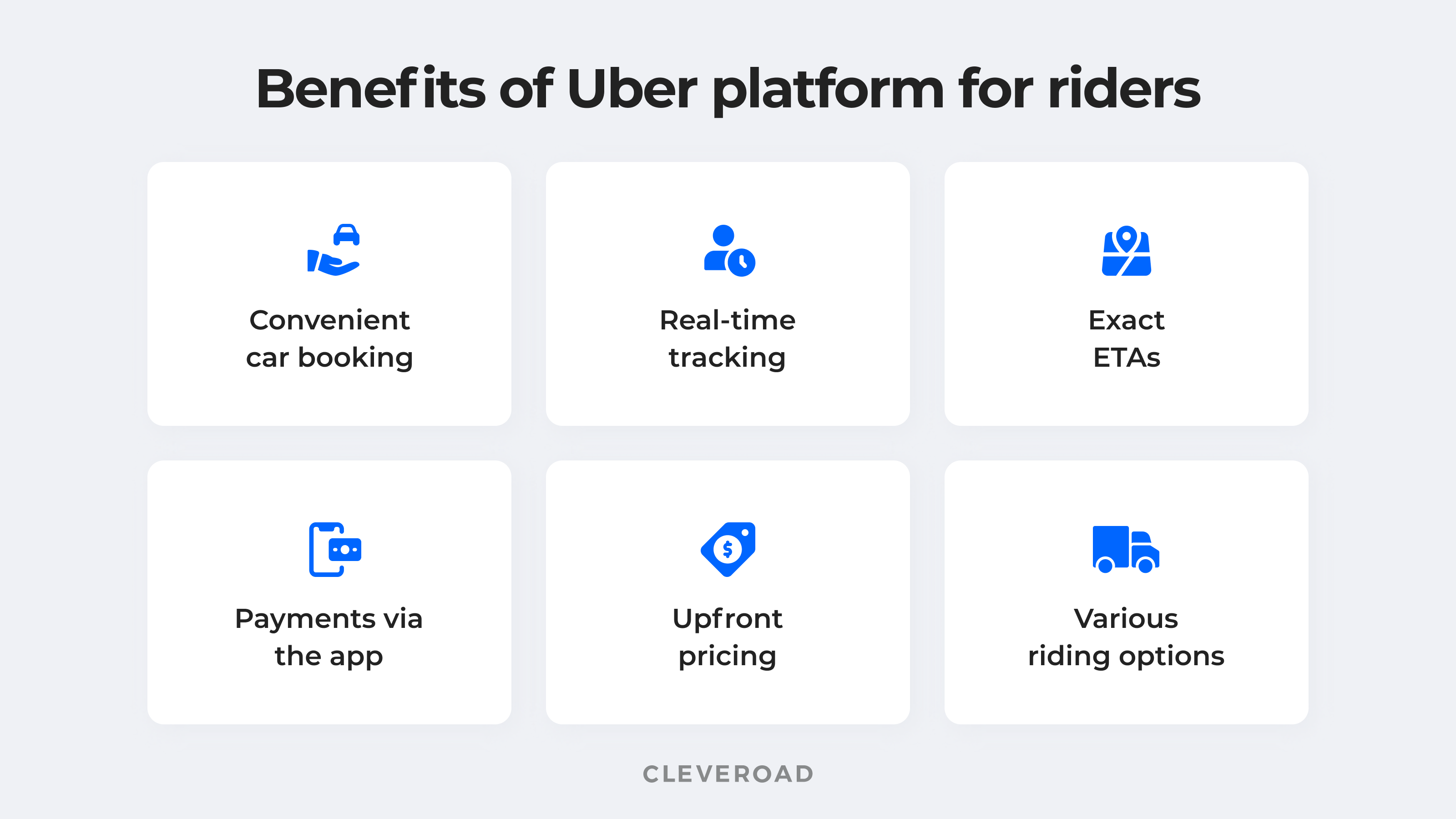 Reasons why riders choose Uber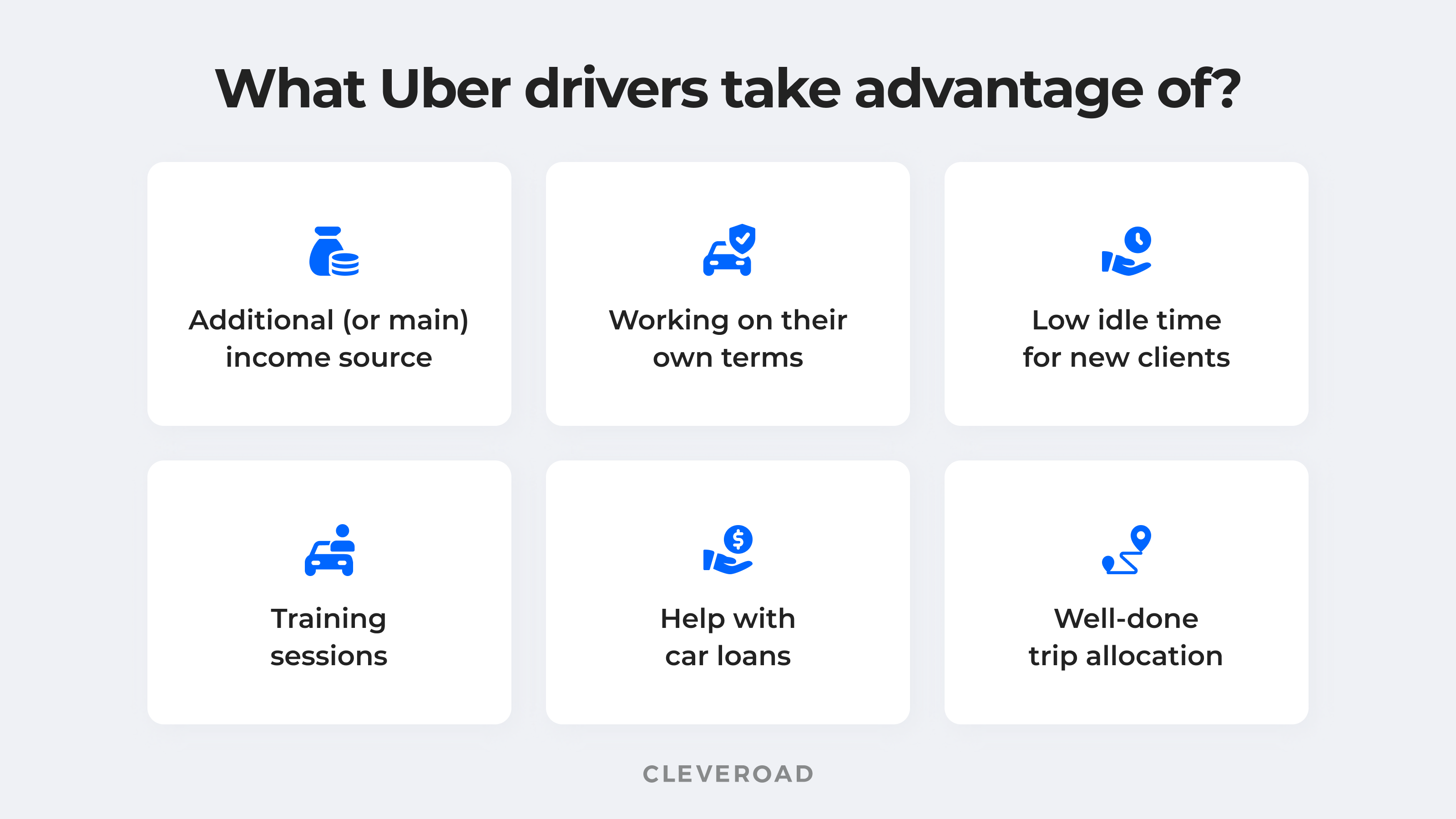 Why drivers are willing to work for Uber
Besides, with each next driver or rider joining the platform, the service works better and better for existing users.
For Uber case, the more drivers and riders they have, the better pickup times and the lower prices are, customers writer better reviews and all this ultimately leads to increased revenues for the marketplace.
Uber-like Business Ideas
Uber for X models work for various business categories, showing the best result when:
People need quick help with tasks they don't have time for (walking a dog, house-cleaning, make-up or hairdressing);
Existing services work too slow, so there's a need for an alternative (food delivery, trip accommodation, booking a massage therapist).
But what are the industries Uber-like business ideas work best for?
Food Delivery
Modern busy people value not only food quality and taste but how fast it's cooked and delivered. Besides, many are concerned with eating healthy. All that allows Uber for X platforms rise and shine.
For instance, Glovo (a Spanish startup) promises to deliver chargers, smoothies, groceries, and any food from any city restaurants in just a few minutes. The service also delivers food items from local supermarkets and grocery stores charging 30% of the total cost of the order.
Other well-known examples include: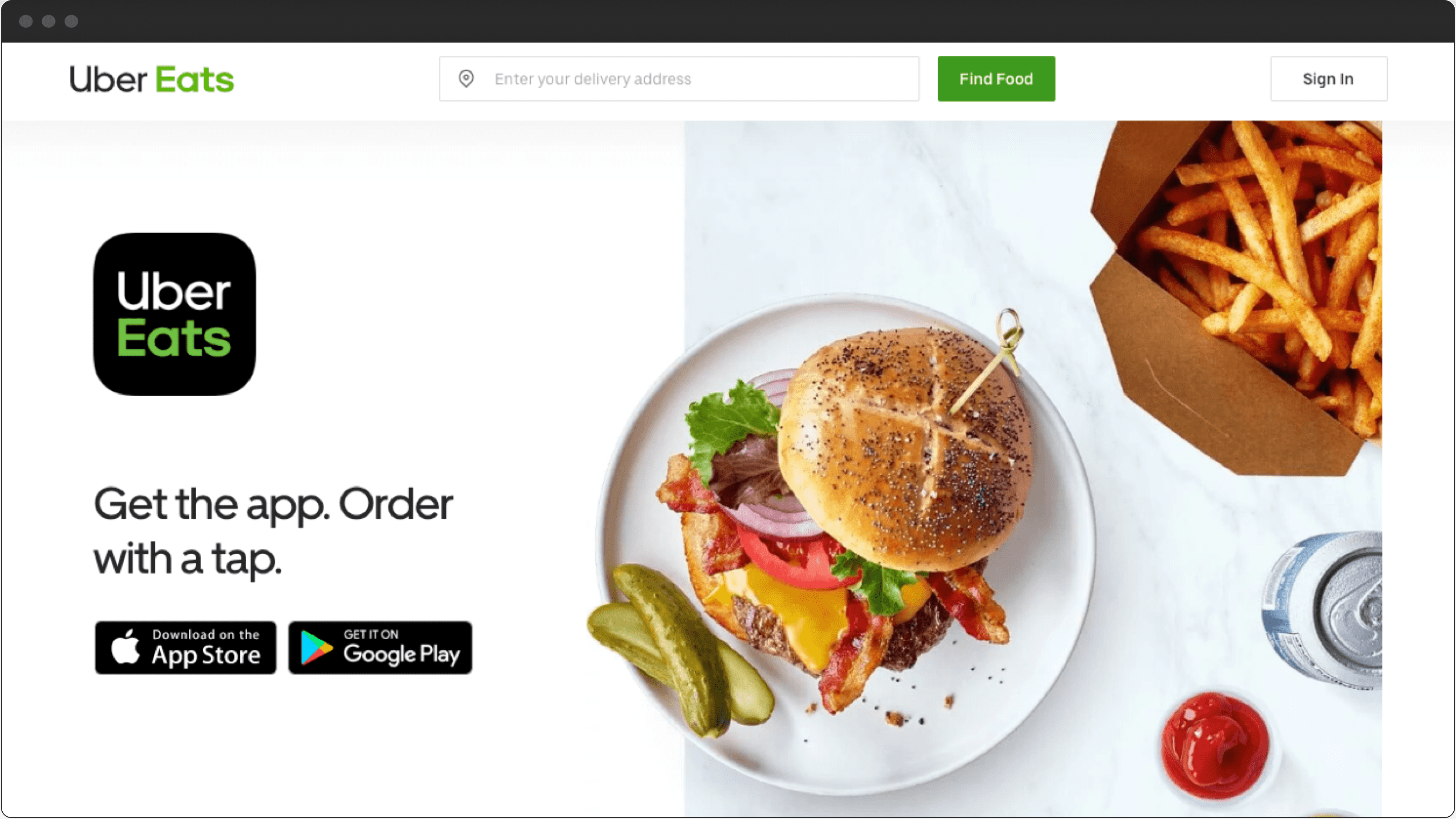 UberEats website for food delivery
Household Сhores
Office workers, managers, and young parents barely have time for cooking (or using one of the delivery services). Not to mention house duties like laundry, bathroom cleaning, vacuuming, dog walking, etc.
Once these people reach a certain level of income, they're looking for someone to take care of their homes, chores, pet duties, and even laundry!
Wag! is a hit-parade platform that helps users to find dog-walkers when they don't have time to walk their pets themselves. You just book a person who is qualified enough for 'dogsitting' right away or beforehand. Besides, you can always track the dog due to a GPS tracker, or just ask the person to send some pictures.
Famous 'housework killing' apps are: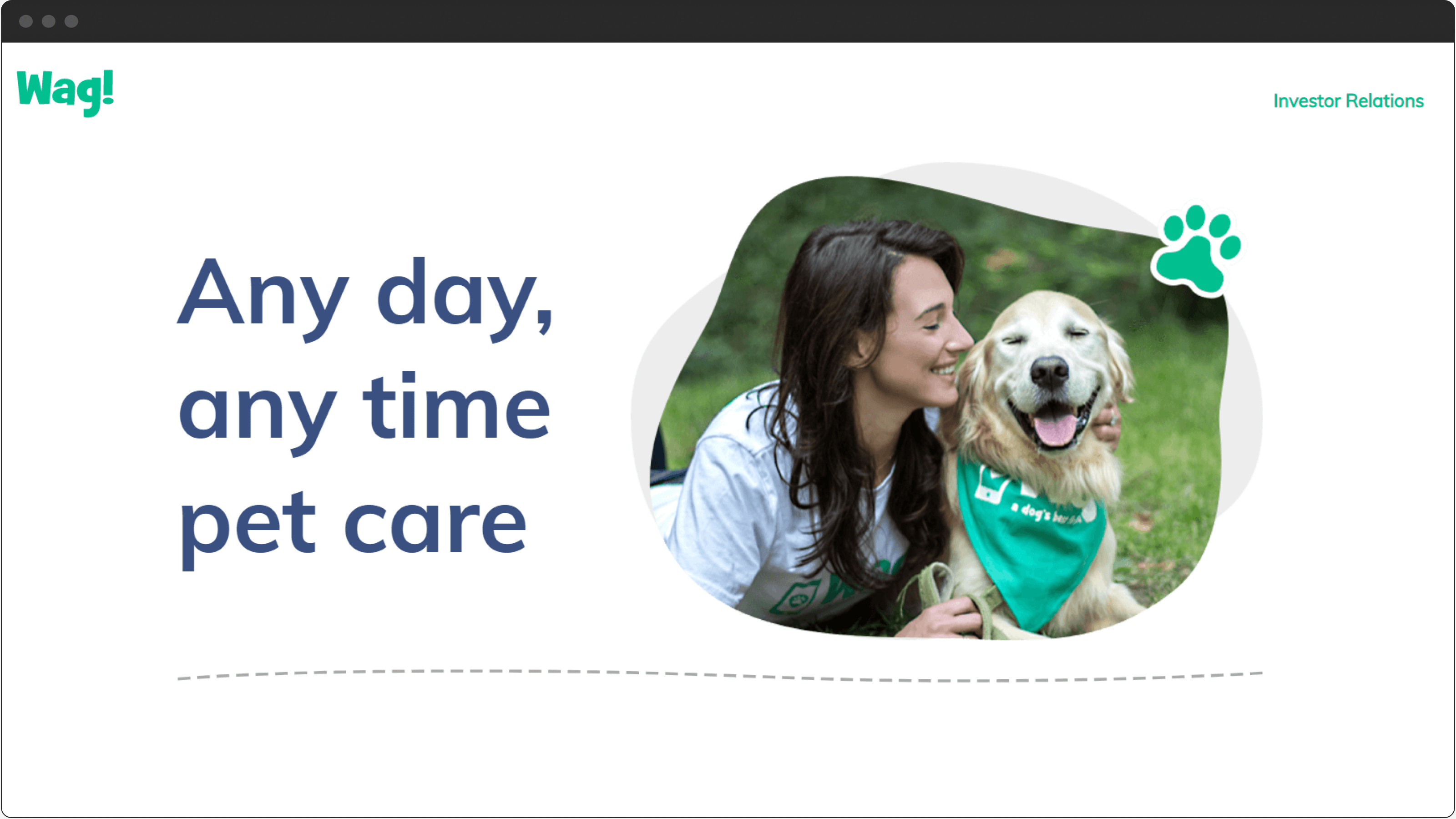 Wag! is the leading platform where people hire dog walkers
Medical Consulting
Finding a personal doctor is very challenging, but on-demand platforms make the life of wandering patients much easier. Sure, doctors can't yet make a diagnosis without proper tests, still, a plain consultation is something apps and websites work for.
DoctorOnDemand's probably the best know platform that allows people to consult with a physician, pediatrician or psychologist via video calls. Moreover, they offer treatment programs and plan to help manage specific health issues.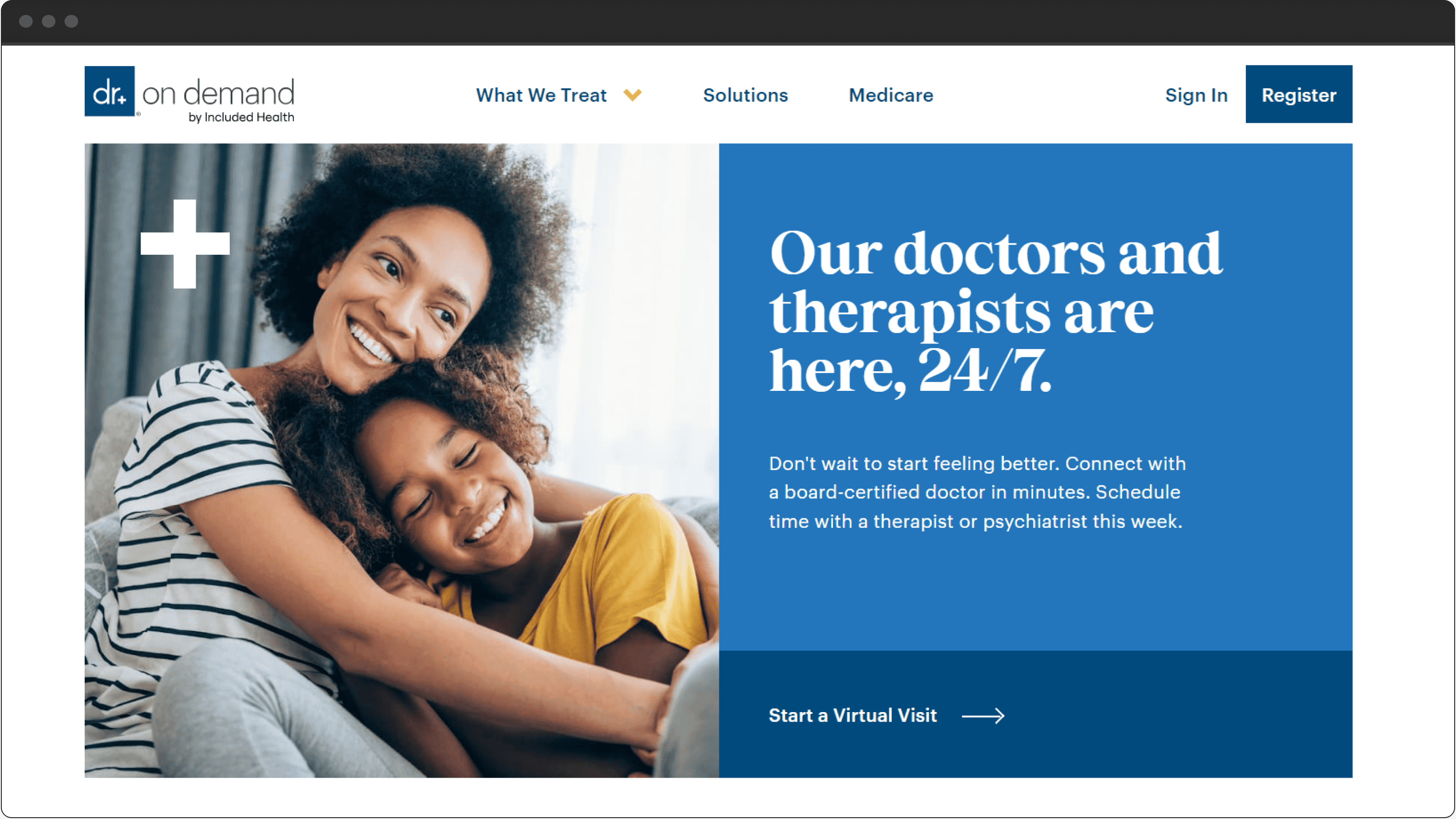 DoctorOnDemand remains the leading on-demand platform in medical consulting
Transportation and Logistics
Uber, Lyft, Bolt (former Taxify), and other on-demand car services are doing great driving people to places. But when it comes to more – or less – sophisticated cargo, any UberLUX car won't be enough. Luckily there also are Ubers for logistics (Lalamove), packages (Shyp), and even parking (Luxe).
Uber for trucks? Not at all fantastic. Take a look at our 'Uber for trucking app' guide to speed up your business with on-demand trucking platform.
Lalamove delivers cargos with lorries, vans and 5.5 tons trucks. It's an Asian company that competes with big players and does it pretty great. What's more, Lalamove's not shy to make their rates clearly shown on their website, including the list of available vehicles.
Uber offers an entirely automated way of interaction. Passengers don't communicate with dispatchers to get a ride, cashless payments, a feedback system, and customer support -- all these services are available through the app or website. Driver-partners also have an automated experience.
Lalamove - best solution for logistics
How to Start Uber Business?
First, a short list of the main steps for Uber startuppers to follow:
Start with market research.
Choose the niche.
Select the business&revenue model.
Take care of legal matters.
Add MVP features.
Create a promotional plan.
And now, let's review these steps in more details.
1. First Comes the Market Research
The taxi services are a prospering field in most countries, including the US. For instance, in the fourth quarter of 2018, Uber alone made 3.2 billion dollars worldwide. And before diving right into the business that big, it's worth doing market research with all money risks, and other future challenges.
To get this right, when starting a business like Uber owners hire experts that can help with the economic analysis. With a thorough review of cost, possibilities, and options, it may not take long to return the investments.
Besides, be prepared to face a number of competitors that run their service better. The demand for on-demand platforms only grows, so lots of startuppers have adopted this way of running a business.
Thus, it's a good idea to check on the main competitors: which unique features and offers they have, and which leave for you.
2. Let's Choose the Field
Uber taxi model may be the most popular, but not the only option. As we've already covered the most profitable options above, here comes the short summary list of possible fields:
On-demand food delivery service
Beauty services and salons
On-demand mechanic
Healthcare
House chores & babysitting
On-demand transportation
3. Choosing Business & Revenue Model
A taxi or any other Uber platform may decide to improvise and adopt any business model that works for them and guarantees a return on investment, efficiency, and flexibility.
The business model we've described previously works for Uber company, but it's not cast on stone.
4. Mind the Legal Matters
The legal entity defines how big the company's going to be (and may be). Currently, the choice for a taxi service lies between a general partnership or limited liability company.
A general partnership is the best business structure for a small scale service company. It works for people that are just starting out and have a moderate amount of seed money.
In case the company is to grow large and serve both corporate and individual clients all over the USA or other countries, LLC (Limited Liability Company) is a perfect choice. Limited liability companies are simpler and more flexible to operate, and if something goes wrong – it's only the invested money that will be at risk, not partnerships.
5. Think of MVP Features
On-demand service is quite an expensive project to build. Especially for the Uber platform that is made of three apps:
The admin panel
The app for drivers
The app for customers
So if you're on a tight budget, the best solution would be to launch an MVP first.
For instance, the app for drivers includes the following necessary features: delivery reports, route optimization, 'accept/cancel order' screen, earnings screen, etc.

As for customers, they take advantage of features like ride cost estimation, geolocation & routing, direct app payments, etc.

Finally, the admin panel is used for managing both users and drives, payment, promotions, and many more.
6. Work on Advertisement
What's the use of the service no one heard about? Remember that when it comes to advertising, everything's fair. If you have some extra money, you may start with distributing handbills, or advert spots on newspapers, TV, and radio. But if there's an issue with finances, choose the worldwide web as the main promotional channel.
Influencer marketing, social networks like Facebook, Twitter, Instagram, or YouTube, Google ads – when it comes to online promotion, the possibilities are endless. The main trick's to stay within the budget.
Revenue Model of Uber
When it comes to Uber Taxi service, we should first mention that the company doesn't own a fleet of cars. Instead, they act as a mediator, bringing drivers and riders together.
As we've said, the company's revenues come not only from the clients themselves. For now, the revenue model of Uber implies getting money by charging a ride pay from customers, a flat fee from drivers, charges for ride cancellations, and takes a part in promotional partnerships.
Let's review these sources in more details.
Ride pay from customers. Uber sets the price depending on the number of miles (or kilometers) and time spent. When the weather's bad, on public holidays or just when the traffic's hot Uber driving rates are higher than usual. The company's transparent policy makes them inform the users if there's an increase in the price beforehand.

Driver fee. Uber charges drivers 20-30% fee of the total amount paid by the customer – from each and every ride.

Cancellation charges from the customers. Free cancellations are possible only within 2 minutes from the request. Otherwise, customers are charged $5 from a non-cash payment, or the fee will be added to the next trip – if they preferred to pay in cash.

Promotional partnerships. Due to service popularity, Uber's a huge attraction to other brands that are looking for partners. So besides charging both riders and drivers, the company generates revenue through promotional offers with companies like Pepsi, BMW, Hilton.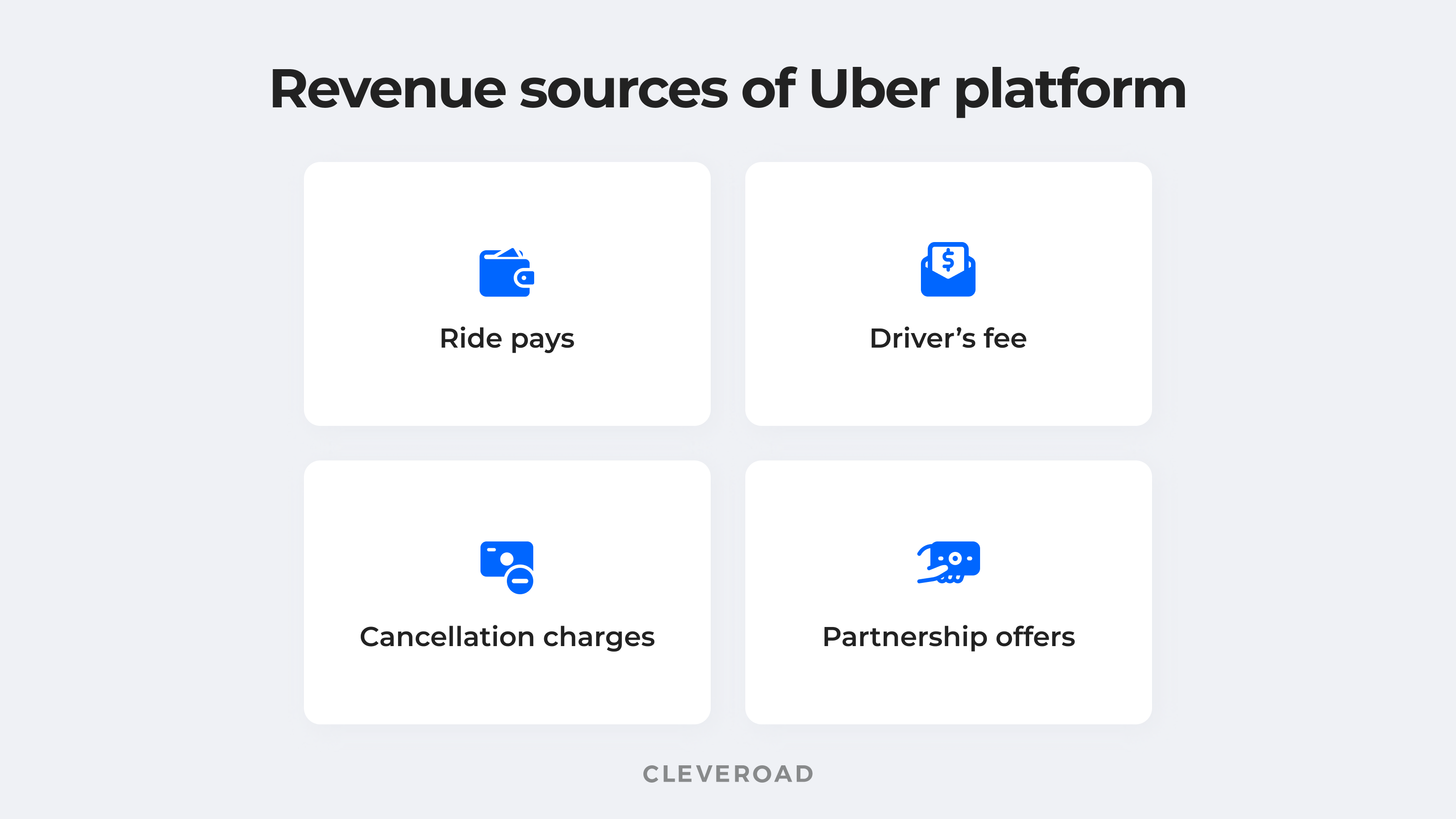 Main sources of Uber income
Uber Business Model Canvas
Now, if you are wondering how to start your own Uber business, first of all, you need to understand your customers, business goals, and possible issues.
Alex Osterwalder's Business Model Canvas is the best way to represent the company's business model and find out how everything is organized.
Cleveroad Expertise
Cleveroad is experienced custom software development vendor skilled in building any-size solutions for various business domains. We have more than 10 years of domain expertise and helped hundreds of businesses acquire new technologies that boost internal pipelines and overall business performance.
Cleveroad in numbers:
10+ years on the market
120+ in-house engineers
170+ successful projects
8+ expertise industries
Recently we've added an Uber-like to our portfolio aimed to connect drivers with riders throughout the area and helps transport those who are disabled or have other medical needs.
The app is called Move Up and has the necessary functionality that helps you see in a real-time all available cars on the map in some certain radius around your current location, work with transactions, ordering a car and filtering.
Frequently Asked Questions
Uber for X models works for a bunch of business categories. The most successful ones are:
Food delivery (Uber Eats, Glovo, DoorDash)
Household chores (Hello Alfred, TaskRabbit, Rover)
Medical consulting (Pager, IsDocin)
Transportation and logistics (Uber, Lyft, Bolt)
A short list of the main steps for Uber startuppers:
Start with market research.
Choose the niche.
Select the business&revenue model.
Take care of legal matters.
Add MVP features.
Create a promotional plan.
Uber is a two-sided marketplace. Users (riders) generate the demand, service providers (drivers) supply it, and Uber acts as the facilitator providing a convenient and easy-to-use platform for both.
In Uber for X, 'X' means any deliverable service in the market.
Here's how it works: customers connect with service providers by placing their orders in an app. Provers then look through requests, accept them, and – if everything's OK – deliver the service.
Users generate the demand, drivers supply it, and Uber acts as a mediator bringing them together.
Besides, Uber doesn't hire drivers, it partners with them: the more drivers and riders Uber has, the better pickup times and the lower prices they can offer.
For now, the revenue model of Uber implies getting money by charging a ride pay from customers and a flat fee from drivers. Besides, Uber charges for ride cancellations and takes part in promotional partnerships.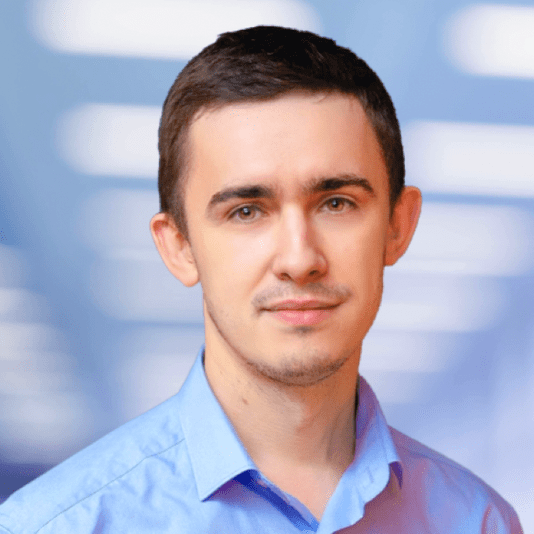 About author
Evgeniy Altynpara is a CTO and member of the Forbes Councils' community of tech professionals. He is an expert in software development and technological entrepreneurship and has 10+years of experience in digital transformation consulting in Healthcare, FinTech, Supply Chain and Logistics
Rate this article!
27188 ratings, average: 4.70 out of 5
Give us your impressions about this article
Give us your impressions about this article
Dan Ionescu
02.01.2023 at 13:21
Glenda
06.10.2022 at 18:24
king david kargbo
10.06.2022 at 15:59
this was exactly what I was looking for, its has all the procedures and steps to look into if you want to start up an uber business
Willem Bantam
15.04.2021 at 11:31
Hi. I would also like to start my own Uber service because in the area I live there are no Uber service I need help by doing it please help.
Jacob basson
19.02.2021 at 02:48
I would like to start my own uber business and I need help . The town that I stay didn't have uber facilities

Maria D.
24.02.2021 at 07:58
Hey Jacob! We'd be glad to help you, please tell us more about your idea here
Paul kimani kamau
19.08.2020 at 13:28
My friend and I have just started uzaprice online taxi app and am happy to have learnt a lot here,hope to read more about it

Maria D.
25.08.2020 at 07:04
I'm glad the article helped you!