The Ultimate Guide on How to Create a Chatbot
4115 Views
|
07 May 2020
|
12 min
More than half of customers give preference to do-it-yourself types of services. That's one of the reasons why chatbots went mainstream.
Chatbot development helps automatize a bunch of routine tasks like customer support or bill payment. Such enterprises as Starbucks, Amazon, and Facebook have already integrated chatbots into their products to offer customers a better experience.
"Many businesses already have phone trees, and they do work though most users get grumpy using them. Text-based response trees are much easier and faster, and that is what I expect a lot of early bot interactions to be. Sometimes with the ability to chat with a live person."
We've created a full guide on how to develop a chatbot. We've covered such aspects as types of bots, required technologies, and chatbots architecture.
Four Main Benefits of Chatbots
Let's start with chatbot advantages for business.
Better Customer Experience
There are a bunch of chatbots benefits for business. The main one is that they're available 24/7. As a result, your customers can get support faster. It leads to a better customer experience.
For example, Taco Bell, a fast-food company from the USA, developed TacoBot for it's online service to automate sales processes. TacoBot helps customers make orders in a restaurant with the help of Slack. Customers, who don't want to hang on the line waiting for an operator or to search for an answer in the FAQ, can use TacoBot and get answers immediately.
Chatbots don't only give answers to customers' questions and provide goods descriptions, but also let customers order these goods right from a messenger.
The other benefit of a chatbot is it's effectiveness against customer hesitation. The next time they contact the chatbot, the program uses all the information collected previously and offers more accurate goods. So, chatbots help companies meet orders efficiently.
Chatbots bring a fantastic opportunity for personalized interaction with clients during the customer lifecycle. Chatbot service offers all sorts of information about a product, provides support, and interacts with the client offering guidance.
JPMorgan Chase & Co, one of the biggest banks in the USA, established centers for teams specializing in big data, robotics technologies, and cloud infrastructure.
These centers were created to find new income sources at lower costs and risks. The bank developed bots to perform such tasks as granting access to software and resetting employees' passwords. Bots are able to process 1,7 million access requests, which is equal to the work of 140 people, thus saving time and money.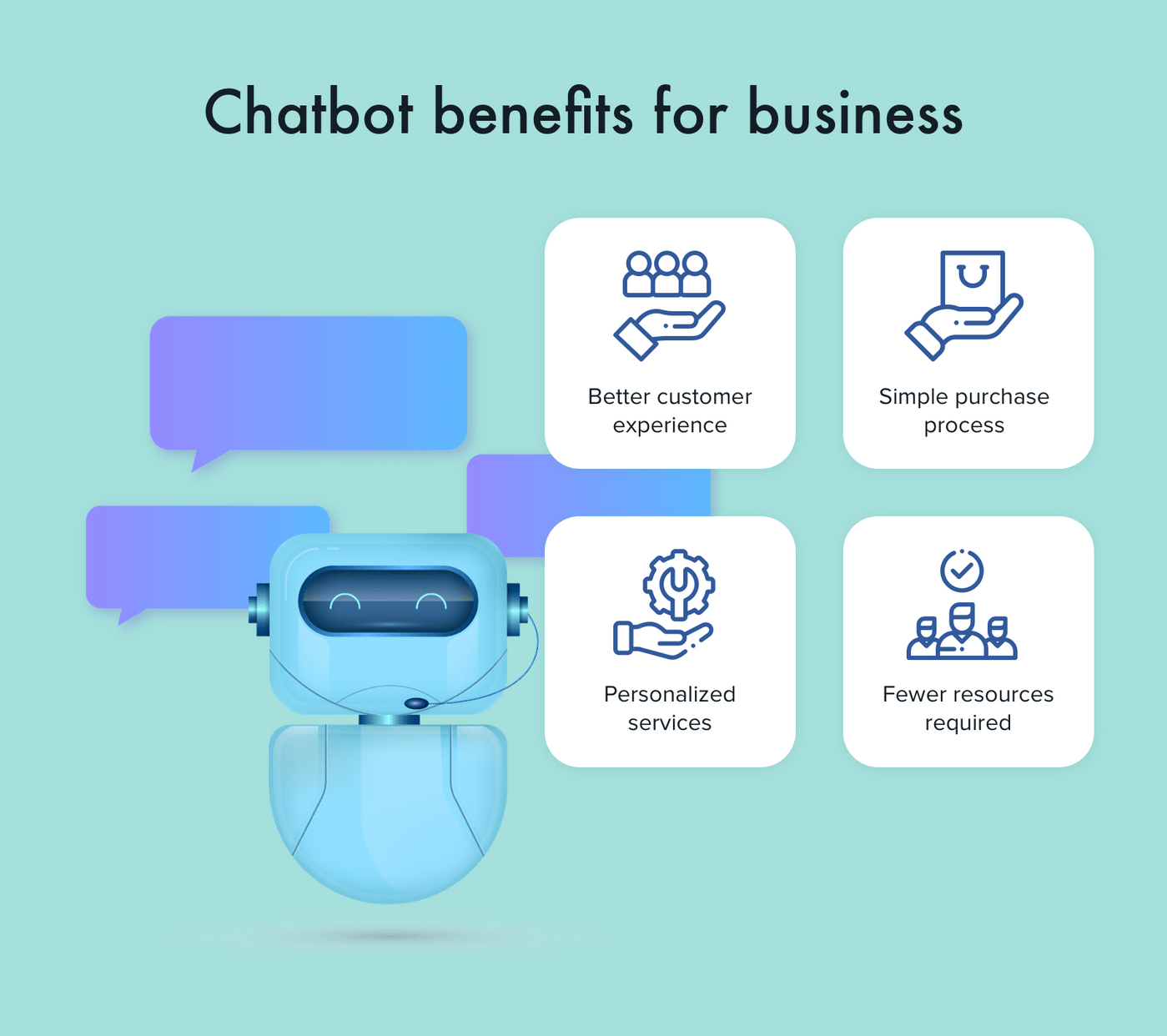 Reasons to develop a chatbot for business
As you can see, chatbots for business are quite profitable. However, their implementation is usually time-consuming and challenging.
What Are the Different Types of Chatbots?
It's common to single out two different types of chatbots — rule-based chatbots and AI chatbots. Let's have a closer look at these types, and discover which one fits your business more.
What Are Rule-Based Chatbots?
Such chatbots are considered simpler in comparison to AI ones. However, they can still complete a plethora of tasks and follow different scenarios.
Rule-based chatbots have a 'map' of the conversation using 'if/then' logic. There is a list of questions a customer may ask and instruction for the chatbot on how to respond. As a result, such bots can solve the problems they are familiar with.
This type of chatbot is perfect for small businesses with particular goals. For example, you need just a chatbot that answers FAQ.
Rule-based chatbots benefits:
Such chatbots are faster to train, so their development is cheaper.
Rule-based chatbots are secure.
It's easy to integrate these bots with legacy systems.
These chatbots can include media files.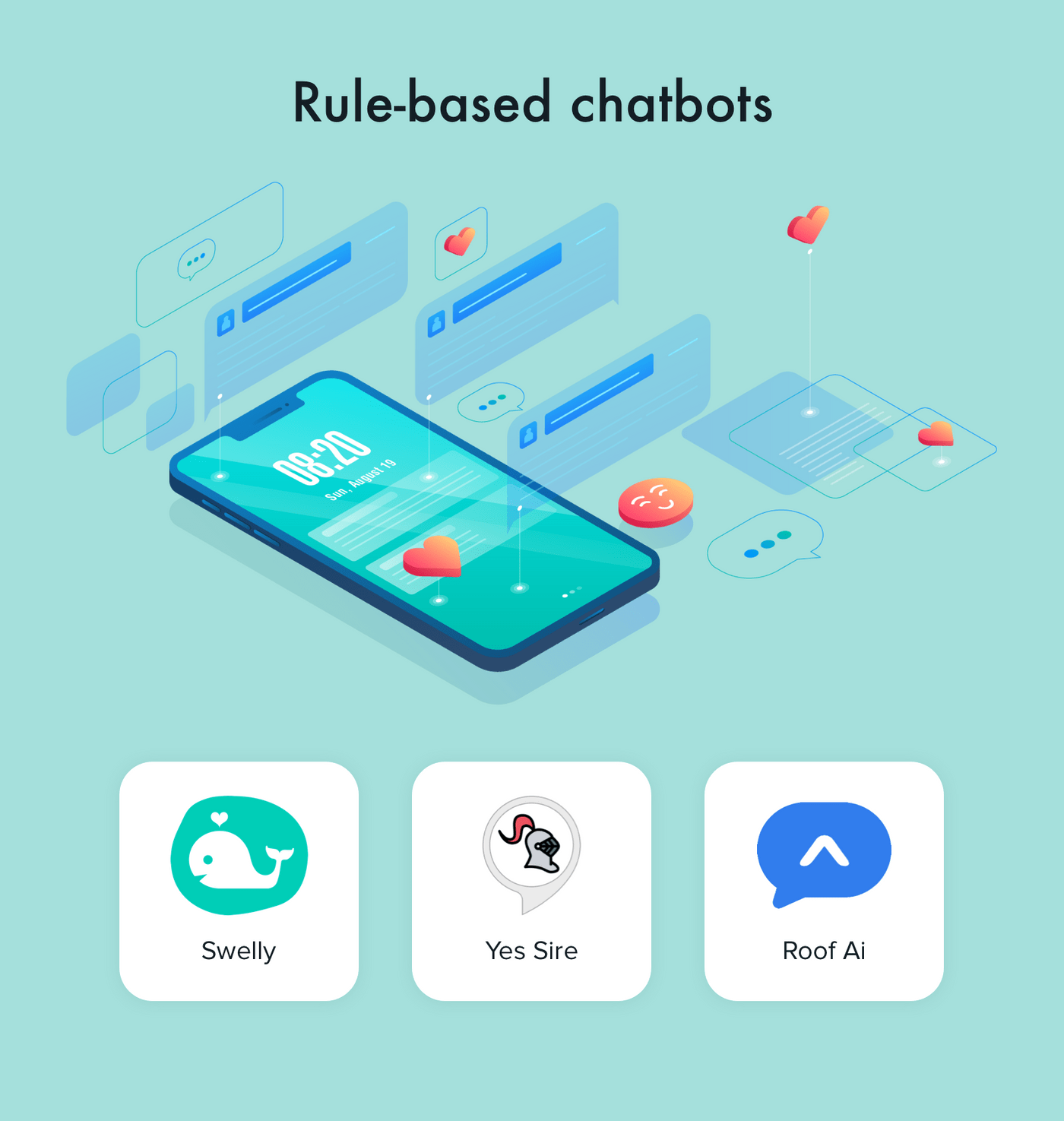 Companies that use rule-based chatots
Let's move on with AI chatbots.
They use machine learning to understand the meaning of the message and users' intentions. After that, they come up with a response.
Chatbots can use Artificial Intelligence and machine learning to generate their answers. They analyze users' responses and moods to offer better feedback.
AI chatbots learn from users, so the more you train them, the more appropriate answers they give.
AI chatbots benefits:
The main advantage of AI chatbots is the ability to analyze the collected data.
AI chatbot can understand the customers' behavior.
Such chatbots can communicate in several languages.
AI chatbots can make decisions.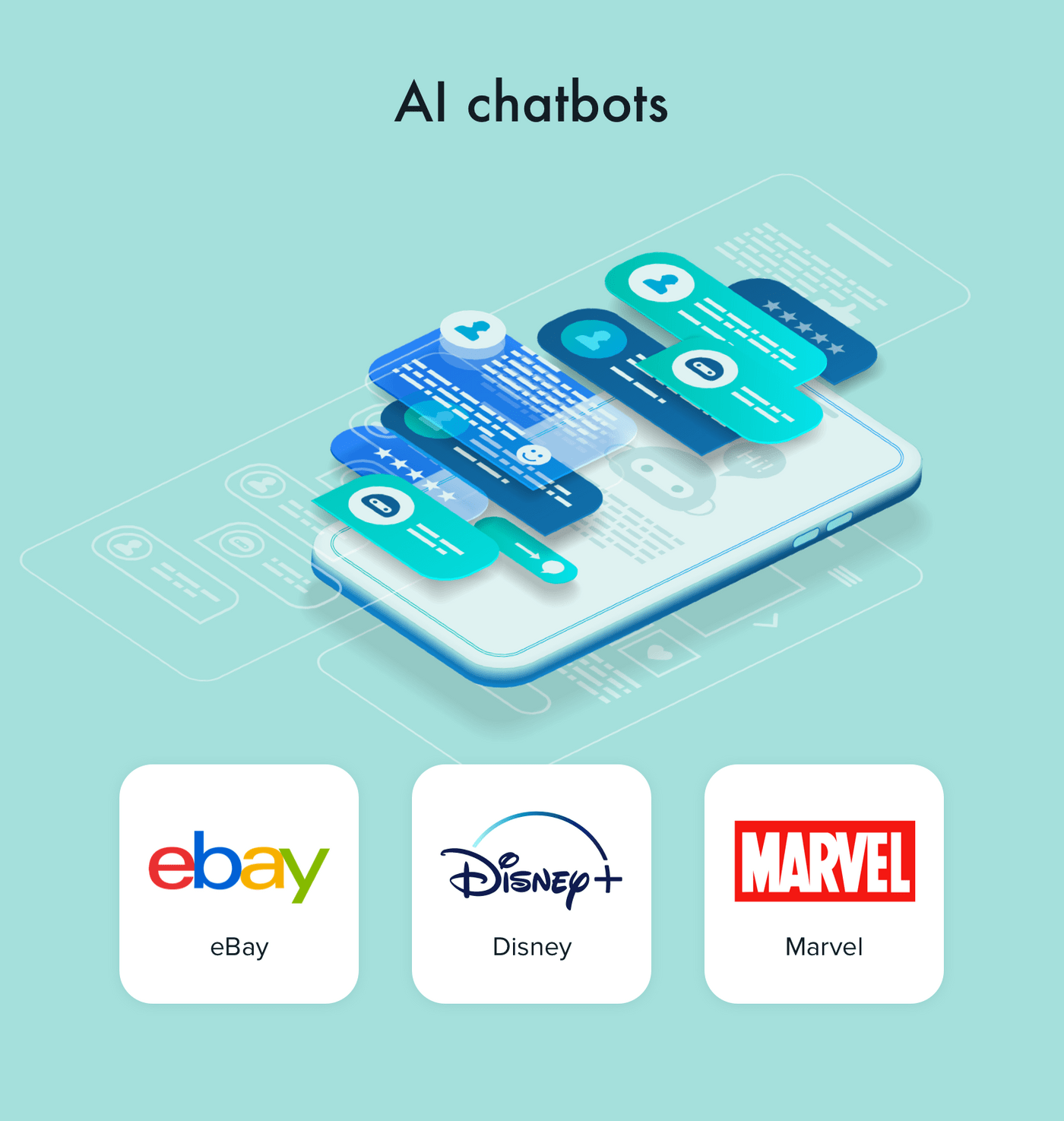 Companies that developed AI chatbots
What chatbot does your business need?
As you can see, both types of chatbots have a bunch of benefits. However, it's impossible to say which one is better. Choosing between rule-based and AI chatbots, you need to carefully analyse your business needs and requirements. In the case of a small business that needs a chatbot to answer FAQ, it's better to choose a rule-based solution.
If you have a large company that requires a more complicated chatbot that can make decisions itself, you should develop an AI-based chatbot.
How Chatbot Works and It's Architecture
There are two different types of chatbots — rule-based and AI chatbots.
How do these chatbots work?
For example, rule-based chatbots have a list of interactions based on 'playbooks' the developer set up on the back end of the user interface.
It's typical for such chatbots to work with choosing click actions. For example, if the customer wants to buy shoes, the rule-based chatbot offers to select the color 'Red' or 'White.'
As for AI-based chatbots, their functionality depends on such technologies as Artificial Intelligence and machine learning. So, they can understand the sentence structure and analyze the information. Such chatbots create a response depending on the existing data.
However, AI chatbots require a training period, so their development is more expensive and time-consuming.
Regardless of the chatbots' complexity, the software structure tends to be the same. The chatbot becomes complicated after adding additional components for more natural communication.
Below you can find a scheme that describes chatbots' architecture.
Five Vital Steps to Build a Chatbot
We've singled out five main steps that you need to follow if you want to build a chatbot from scratch.
Step #1. Consider customers' needs and expectations.
Step #2. Choose apps to integrate chatbots.
Step #3. Hire developers that are experienced in chatbot development.
Step #4. Discover the technologies to make a chatbot.
Step #5. Test and deploy.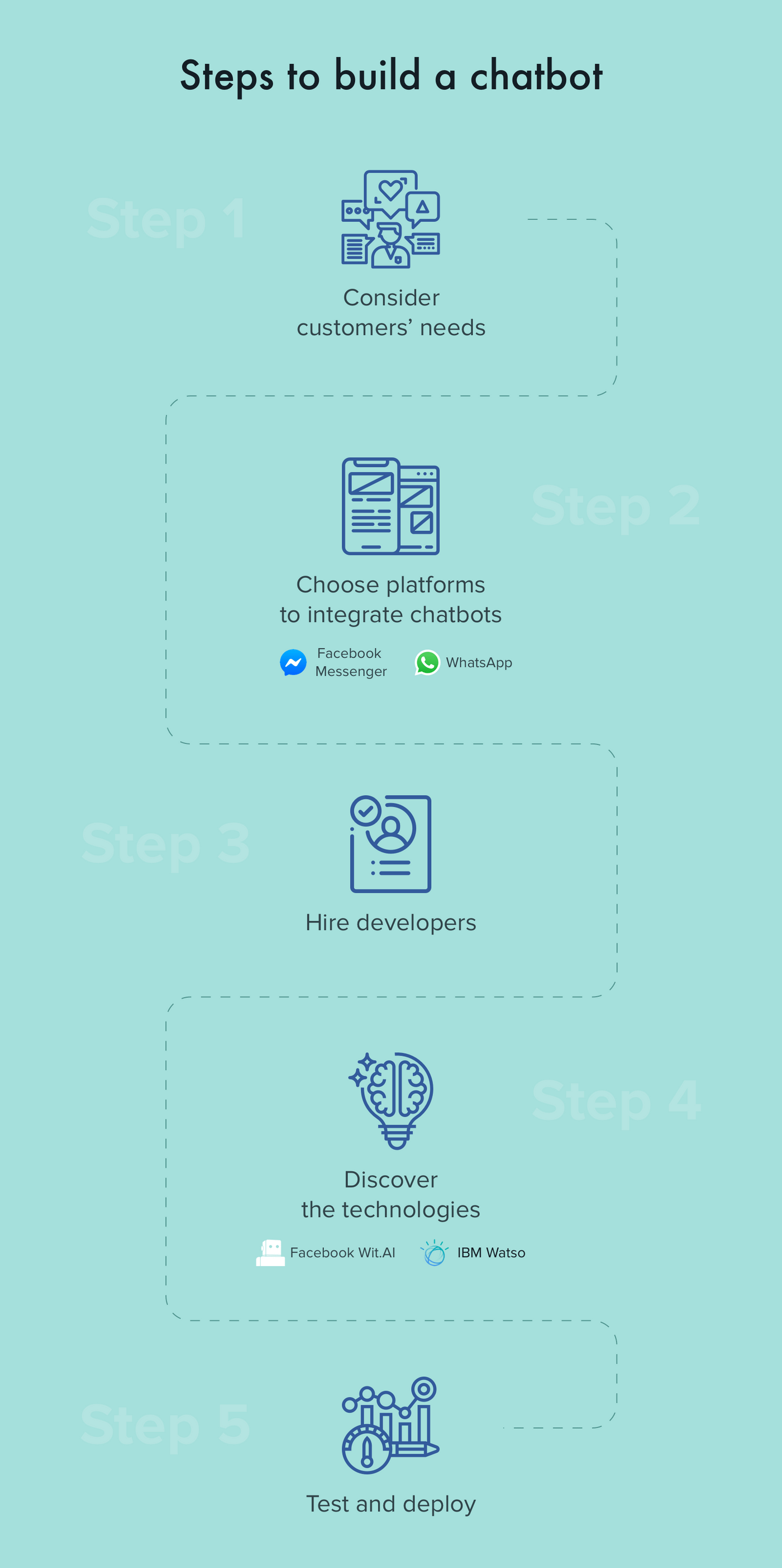 Steps to develop a chatbot
Let's figure out the details of each step.
1. Single out the Customers' Expectations
You create a chatbot to offer a better experience to users. So, you need to discover what they expect from your chatbot.
Knowing customers' demands, you can easily create a list with required features. For example, if you have a logistics company, your customers need to know the delivery time. As a result, you need to integrate a calendar into your chatbot.
Also, you need to make sure that your chatbot design is user-friendly and attractive.
2. Choose a Platform for a Chatbot
Chatbots are flexible, so that you can integrate them with various types of communication platforms. The trick is knowing what platform is convenient for your target audience.
For example, it's possible to create a chatbot for a company's website or mobile app. Also, you can implement a chatbot with messengers with Facebook Messenger, Skype, or Telegram.
All you need to know about chatbot development
3. Hire Experience Developers to Make a Chatbot
In case you need a custom solution with a bunch of exciting features, you need to cooperate with software developers.
Looking for chatbot developers?
Our team is at your disposal! We have 5+ years of experience in custom chatbot development!
Of course, there are a lot of chatbot makers available on the market. However, you need to understand that their opportunities are quite limited.
Some services can help you to hire a developer for your team:
Indeed

Glassdoor

LinkedIn

Clutch

GoodFirms
4. Discover How to Build Your Own Chatbot and Required Technologies
There are two main ways to develop a chatbot these days — chatbot development tools and frameworks.
Choosing the first option, you can make a solution with limited functionality. As for framework chatbot development, it's possible to build complex solutions following your business needs and requirements.
We'll discuss technologies more precisely in the next part of our guide.
The last step of making chatbots is a careful testing and deployment.
Before launching a bot, it's better to test it to avoid bugs. During this stage, you also make sure that a chatbot meets the customers' demands and expectations.
You need to mind that in many software development companies, testing services are paid in addition to the development. The cost of chatbot building consists of such aspects as development, time, and project management.
It's required to monitor the conversations, analyze them, and improve your chatbot.
How to Build a Chatbot: Chatbot Technologies
Today, there are a lot of technologies that can be used to create a chatbot. Technologies can be divided into two groups — platforms for chatbot development and frameworks.
Let's discuss all the details.
Platforms for Chatbot Development
Chatbot maker tools offer various opportunities to make your own chatbot. You can choose the platform depending on your business goals and requirements. However, you need to remember that such platforms usually have a limited number of tools to create a chatbot.
Below you can find a list of the most powerful tools to develop a chatbot.
Chatfuel
Chatfuel allows making chatbots for Facebook Messengers. This platform offers a bunch of useful features like sharing updates with your customers automatically or collecting data in Messenger chats. Chatfuel allows creating a chatbot that interacts with customers via buttons.
Botsify
Botsify allows creating assistants for websites, Facebook pages, and messages. The platform offers to create AI chatbots to automate customer support.
Flow XO
This solution offers to create your own chatbot for websites, mobile apps, and social media platforms. Flow XO is famous for it's simple navigation. There are a lot of pre-built templates, so it's possible to start the development faster.
QnA Maker
Microsoft has developed QnA Maker to create chatbots that answer FAQ. The development is quite fast. You need to share your FAQ pages to develop a chatbot with an attractive and simple interface.
Motion.ai
HubSpot developed this platform to create powerful chatbots. Motion.ai allows building and launching chatbots to the website or apps like Slack, Facebook, and others.
Got lost in technologies?
Book a consultation with our specialists to find out the required tools for your chatbot!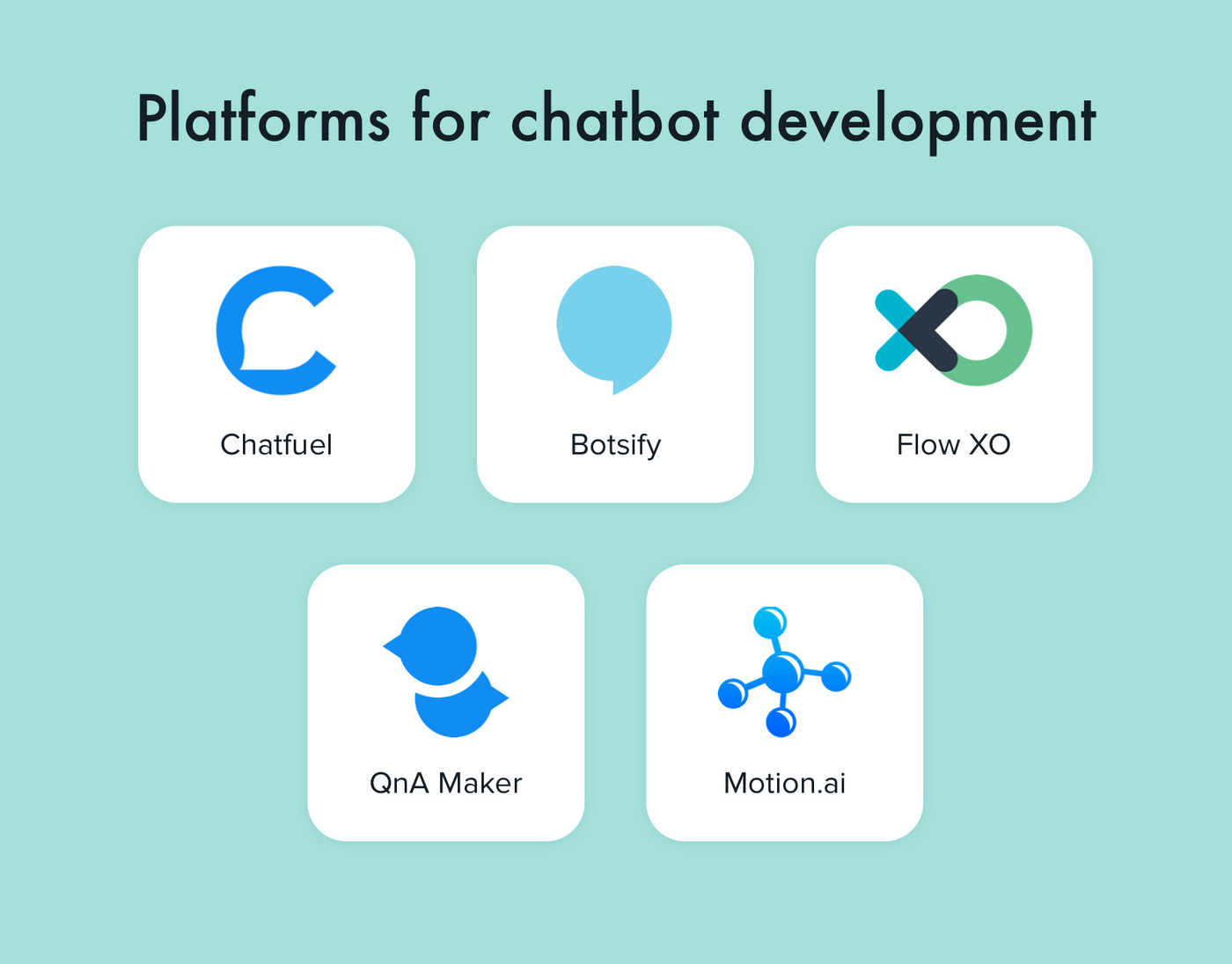 Platforms to make a chatbot
Chatbot Development Frameworks
Chatbots maker tools can't offer a lot of features to integrate into a chatbot. In this case, you need to consider a custom chatbot that can fulfill your requirements.
There are a lot of frameworks that you can integrate during the development. However, if you are not a technical guru, you need to cooperate with experienced developers to integrate the following frameworks:
Facebook Wit.AI
This framework allows making text or voice-based chatbots for various messaging platforms. Wit.AI uses machine learning to learn from humans. The Wit.AI SDK is available for such programming languages like Ruby, Node.js, and Python.
IBM Watson
IBM Watson gained popularity due to a pre-integrated architecture that allows building custom chatbots. This tool supports a lot of platforms like websites and messaging apps.
Microsoft Bot Framework
This framework allows developing chatbots that are able to talk, listen, and communicate with users. Microsoft Bot Framework supports many platforms like Slack, Facebook Messenger, and Skype.
BotKit
BotKit's main purpose is making smart chatbots for business. The framework has a bunch of useful libraries, along with plugins that provide exciting features like metrics and statistics.
As you can see, various tools can be used for chatbot development.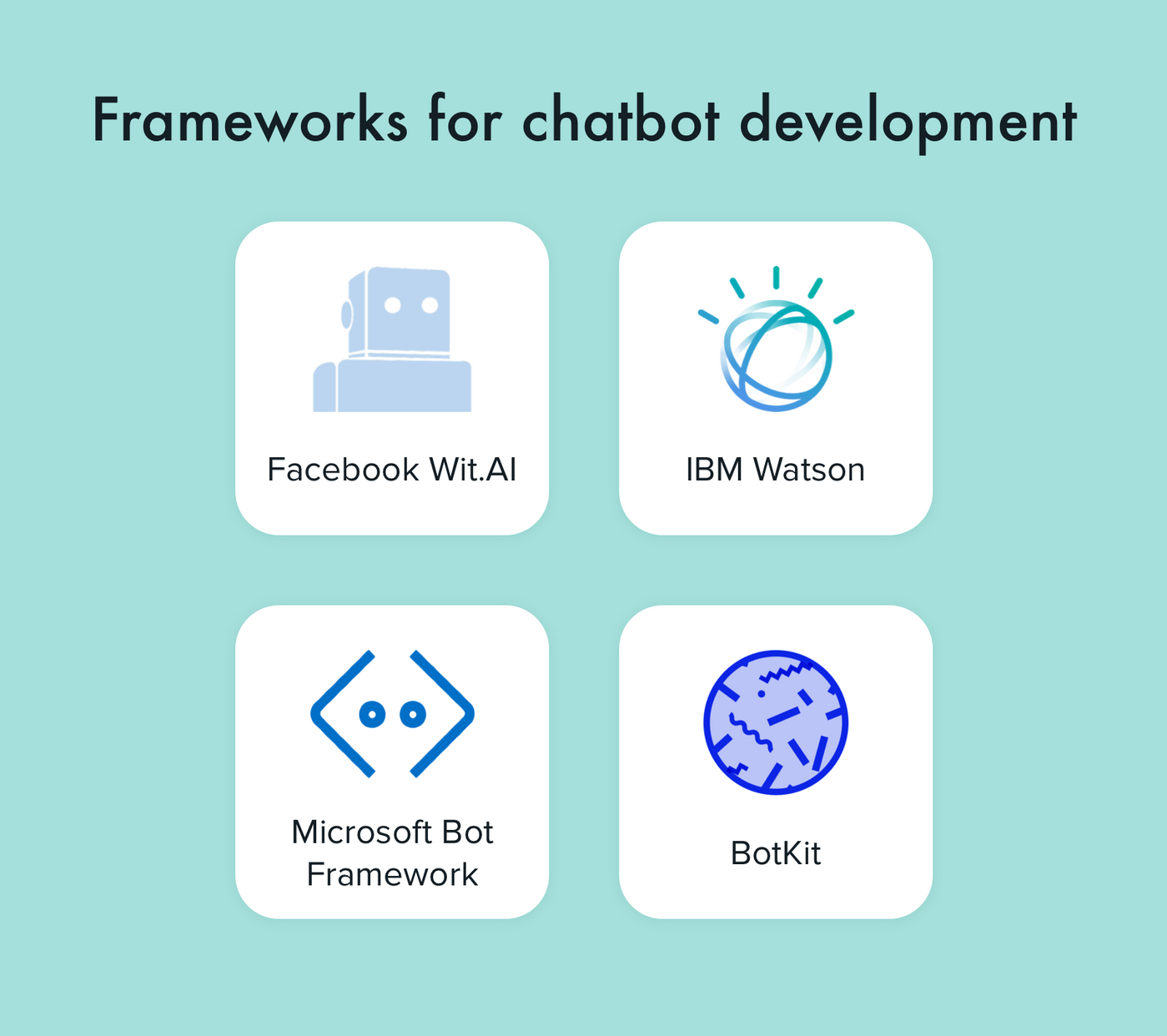 How to make a chatbot: useful frameworks
You need to consider your business goals and requirements to decide what kind of chatbot is required — rule-based or AI. After that, you need to consult with experienced developers to consider the necessary technologies.
Our team is experienced in chatbot development. We can solve any tech issues and offer high-quality development services. If you have any questions about chatbots development or frameworks integration, feel free to contact our managers.
What are the benefits of chatbots?
What are the technologies needed to create a chatbot?
What technology should I get acquainted with to create an AI chatbot?
What are the types of chatbots?
Rate this article!