The Full Guide to Location-Based App Development
07 JAN 2020
15907 VIEWS
8 MIN
According to the MarketsandMarkets report, the location-based services market will reach $40 billion by 2024.
No wonder: location-based services are everywhere – from delivery apps like UberEats to booking platforms like Expedia. Lyft, Facebook, Tinder, Airbnb – all these apps use geolocation.
But what technologies do location-based apps use, and what for? What are the steps to building a brilliant geolocation app?
In this guide, we're covering it all – from geolocation technologies to location-based app development, and the tech stack required for it.
How to Use Geolocation Services
But first, let's figure out how location-based applications work.
Geolocation refers to the geographical info about your device's whereabouts. It can be an iOS or Android-based smartphone, fitness tracker, or anything that has a GPS chip or connects to Wi-Fi (like IoT devices).
That's because location-based services don't necessarily use GPS and other satellite systems. For example, you can find out the location of a mobile device using the data about the location of cellular networks stations (GSM, UMTS, and so on) or Wi-Fi access points.
Here are the key features of location-based services apps:
Users identify their location and share it with others (like sharing your location in WhatsApp)
Apps measure a distance between objects (Google Maps mark your location and show the nearest McDonald's cafe)
In-app maps build optimum routes from one point to another (Uber shows the fastest ways to the destination)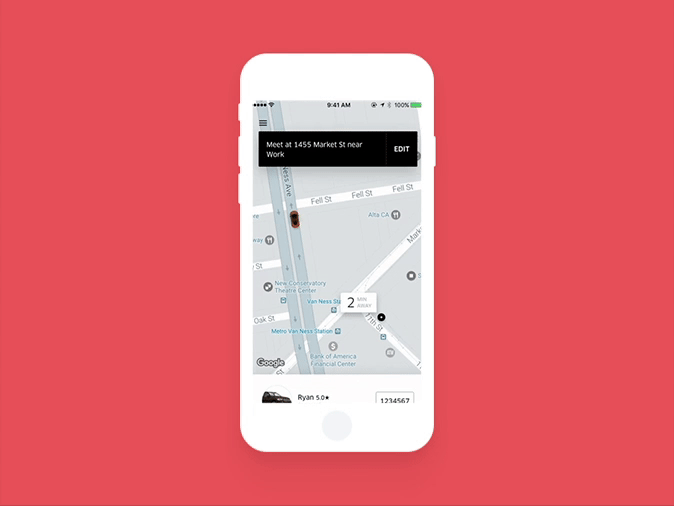 How Uber uses location-based technologies
What Geolocation Is Used For
Geolocation is used for plenty of things – from food delivery by UberEats to geo-targeting on Expedia.
What apps use geolocation technology?
location trackers (Waze, Glympse, Google Maps)
social networks, messengers (Facebook, WhatsApp)
dating apps (Tinder, OkCupid)
fitness apps with GPS route tracking (Nike Running Club, MyFitnessPal)
on-demand delivery apps (Uber, UberEats, Zomato)
travel apps (Expedia, TripAdvisor, Booking)
weather apps (Yahoo Weather, Weather by Apple)
photo location finder apps (Google Photos, Explorest)
Examples of location-based apps
Now, let's check what industries location-based apps work in and what they use geolocation for.
Location-based applications by industries

| App | Industry | Feature |
| --- | --- | --- |
| Nike Running Club | Healthcare | GPS tracking of walking and jogging routes |
| IKEA | Retail | shows the nearest IKEA location; beacons used for easier navigation when in store |
| eBay | Marketplace | offers best delivery options based on users' location |
| DHL Cargo Mobile Tracking | Logistics | real-time cargo tracking, shows the nearest DHL Global Forwarding office |
| Tinder | Media | uses location awareness in matching algorithms |
| Airbnb | Travel | suggests the nearest apartments based on users' location |
Location-Based Technologies
How to build a location-based app? Take two components – geo detecting services (indoor or outdoor) and maps.
There are two types of location-based services – outdoor and indoor. What's the difference?
Outdoor Geolocation Technologies
Outdoor navigation like Google Maps helps users with positioning themselves, showing genuine routes, and reaching destinations without any trouble.
Outdoor navigation is based on satellite imagery and GPS signals. Let's talk about them in more detail.
GPS
All today's mobile devices have an in-built GPS module, so GPS is by far the most popular way to locate a device outdoors. GPS receives signals from the satellite, and it's highly precise (down to 15 meters/49 feet), works almost everywhere, and doesn't require an Internet connection. But there's a con – GPS is a huge battery drainer.
Cell ID
If a GPS signal is unavailable for some reason, the device's location can be determined by cell towers close to the phone. It's a good solution for megapolises with a huge amount of cell towers, but not as accurate as GPS – it depends on how close the base transceiver station is.
Wi-Fi positioning
Wi-Fi positioning collects data from the Internet and shows great accuracy (down to 25 to 50 meters) due to the maximum range of Wi-Fi access. It works with high density in urban areas and drains battery slower than GPS. But there's a con – you should always have access to a nearby Wi-Fi spot.
How outdoor geolocation works
Indoor Geolocation Technologies
We've sorted outdoor location out, but how can you track a device inside a building?
Like when a customer enters your store and you need to start guiding them the same moment they've walked in the door.
Or when you analyze users' location and send them the most relevant offers or ads depending on it.
That's what indoor positioning system apps exist for – to build more accurate navigation inside buildings.
Let's take a look at the popular indoor location technologies.
Geofencing
Geofencing is a location-based marketing technique that works with a combination of GPS, cellular and Wi-Fi data.
Geofencing is less accurate when you need to see your current location, but it's a helpful tool when you need to bring people to the store from the street or parking.
Here's how geofencing works: when a mobile device enters a virtual boundary, pre-programmed action is triggered.
There are three types of geofencing action triggers:
static – based on the position relative to a particular place
dynamic – user's position relative to dynamic changes
peer-to-peer – user's position relative to other users
For example: Amazon's Alexa app allows us to set up routines or reminders that show up when users cross over a geofenced location - like turning off the lights when you walk out of the door.
For best results, the minimum radius should be set at 100 - 150 meters. When the device is connected to Wi-Fi, location accuracy is between 20 - 50 meters.
iBeacon and Eddystone
iBeacon was developed by Apple, and Eddystone is one of Google's services.
Both iBeacon and Eddystone use BLE (Bluetooth Low Energy) for indoors positioning. And they share the working principle – not delivering offers by themselves but sending out the identifiers. In turn, these identifiers trigger actions in custom-designed mobile apps for iBeacon/Eddystone.
For example: You're going into a museum with a special app on your smartphone. When you approach an in-built beacon at a certain distance, the apps shows details about the artwork.
Indoor and outdoor geolocation technologies
How to Make a Location-Based App
So, how to make a navigation app for Android, iOS, and web? I'm outlining the four main steps you need to take.
Step #1: Explore the Market
How to build a navigation app that is worth the effort?
First, define the type of app you'd like to build and start studying the market and your competitors.
Remember: if you're doing no research, you may end up building a solution customers don't care about.
So, who are your users? What problems they have? And how exactly your app can help with solving them?
Second, take a look at existing solutions. Study the most popular geo-based apps, what they offer, and what they lack.
By checking on your competitors, you can see their strong and weak points. And get more ideas about features and functionality that can be improved.
Step #2. Find a Reliable Tech Partner
When choosing a tech partner, look for the best quality-price ratio and pay attention to the vendor's experience.
How much your app development costs? Check our detailed "App development cost" guide to get an idea.
Start with checking the company's portfolio. Did they work with location-based apps before? What technologies do they use? What industries do they work in?
Do they provide UI/UX design services? Your app should have an outstanding design, so it's a good idea to hire developers and designers from one company.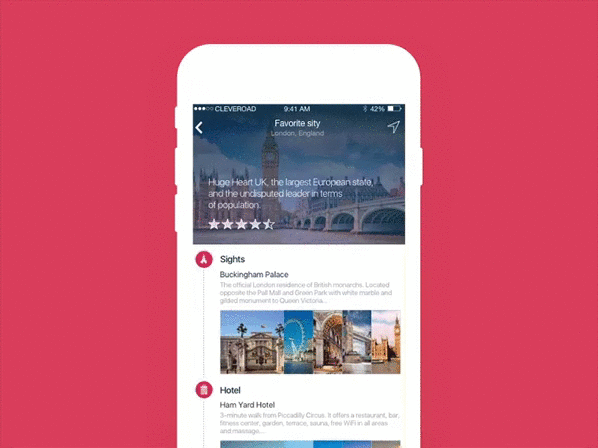 A location-based travel app designed by Cleveroad
Want to know what their clients think? Go to platforms like Clutch or GoodFirms – all the reviews are revised by platform's administrations, so there's little chance they are fake.
Step #3. Work Out the Tech Side
Location-based mobile app development implies deciding on the must-have features, choosing the most suitable geolocation technologies, and the tech stack.
Here are some of the tools our engineers use for geolocation app development:
Web
iOS
Google Maps API
Core Location API
Google Maps SDK
Apple MapKit
Google Places API
Android
android.location package
Google Location Services API
Google Maps API
Google Maps Directions API
Google Distance Matrix API
MapView class
Yandex Maps
Open Street Map
Mapbox
Step #4. Deal with Security Matters
Personalized offers work great, but no one wants to be tracked by scammers.
Security is the top priority for location-based apps, so you need to work on data safety.
Consult with privacy and data protection lawyers, and make sure your tech company understands the matter.
Here's how to make a GPS app secure:
Use multi-factor authentication, making it much harder to compromise accounts.
Encrypt communications and use an SSL certificate, Network Security Configuration (Android) or App Transport Security (iOS)
Don't store sensitive data on user devices, or encrypt it with algorithms like AES-256 or RSA.
Our Experience
Cleveroad delivers software development services for 5+ years, working with all-level software in Healthcare, Retail, Marketplace, Logistics, Media, and Travel industries.
We have decent experience in location-based apps. Some of the projects we've delivered that use geolocation: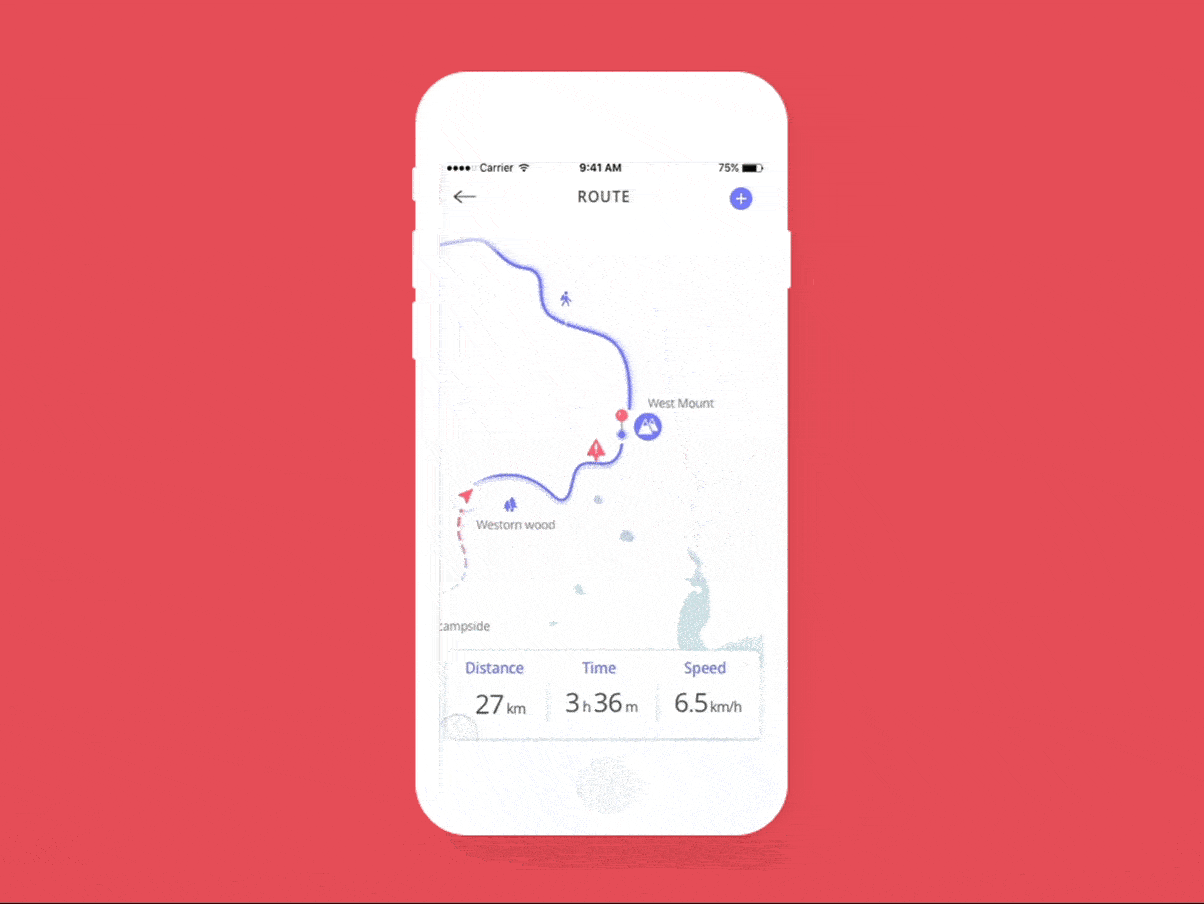 Travel app concept by Cleveroad
Don't forget to check our Dribble account if you want to see more of our geo app design samples.
Frequently Asked Questions
Location-based apps build their services around a user's location determined with GPS, Cell ID, or Wi-Fi.
We use these services to share our location with others, measuring distance, building routes, and so on.
Here are a few location-based services examples:
location trackers like Waze or Google Maps;
social networks, messengers like Facebook or WhatsApp;
fitness apps like Nike Running Club, MyFitnessPal;
on-demand delivery apps like Uber or Zomato;
Here's how to make a navigation app:
Step #1: Do market research.
Step #2: Find a tech vendor.
Step #3: Work out the tech aspects.
Step #4: Make the app secure.
Location-based apps use satellite imagery or GPS signals, cell tower data (like GSM or UMTS), or Wi-Fi to figure out the device's whereabouts.
Rate this article!
12726 ratings, average: 4.80 out of 5