The Complete Guide to Retail Automation: Keeping Up with Modern Tendencies
Retail is going through hard times. Growing costs on supply chain management, increasing suppliers' demands, high competition (according to LPR study, simple point-of-sale retailers are now less desirable than rivals that use omnichannel methods), and rising labor costs – all that may seem too hard to overcome. Luckily, there's a solution.
According to McKinsey Global Institute's report, half of the activities in retail can be automated with the help of current technologies. In turn, automation for retail helps to address margin strain and meet more demanding customer expectations, which is vital in a saturated market.
Retail automation and flow digitization also change the customers' expectations for better. Thus, the Forrester Consulting research as to the relevant retail stats conducted on behalf of Shopify, proves it in the following way:
Fast shipping from the online store is a definitive factor in ordering the package for 60% of customers
Perfect customer experience due to service automation and personalization is highly appreciated by 50% of consumers
About 50% of potential buyers purchase the item after getting acquainted with it through a video introduction
In our guide, we will talk more about how to accomplish success in your retail business regarding automation realities, strategies, retail automation software, and the most promising real-life examples. All that needed to find out if automation was going to work and, if so – where to start.
What is Retail Automation, and Why Do Businesses Need It?
Pandemic consequences changed the manner how retail industry consumers interact with item suppliers. The speed of change implementation is too quick; so, to keep pace with it, you should automate the retail processes of your business.
Automation in retail is an umbrella term for the technologies that streamline time-consuming and repetitive processes. It can include any company activity section related to digital workflows or managed machines intended to provide seamless customer service.
Philip Green also highlights this thought in the following way:
Philip Green

British businessman and Arcadia Group chairman

People are always going to go shopping. A lot of our effort is just: 'How do we make the retail experience a great one?'
The answer to the said question is retail automation capabilities. They are brought into life to facilitate the operations with data for retailers making their work more effective and empowering constant activity improvements.
What other benefits does the automated retail industry bring? There are dozens of them; however, we've chosen the essential ones to brighten the automation value for businesses and consumers:
Cutting costs. Dealing with dull business tasks, automation streamlines company activities, helps entrepreneurs avoid possible human mistakes, and saves their time and finances as well.
Boosting efficiency. In case your employees are absent from work, you can prevent downtime via automation in retail usage, provide smooth operations and reduce the time between the performed tasks.
Protecting from fraud. You can set your system to notify you or request further identification validation for orders considered to be high-risk.
Enhanced business growth. You may concentrate on growing existing processes rather than creating new ones by automating operations throughout your whole company.
Retail Automation Realities
Automation in the retail industry is shifting the existing business models. So it's a good idea to start by discovering new realities.
Retail automation: demand, not an option
There's no way to compete on the fast-changing market with increased retail-margin pressure, investments in e-commerce, lack of specialists – and thus a high demand on them – using traditional cost-reduction means. That's primary why retailers are turning to automation to support and increase their profits.
Idle automation and its reasons
Retail and consumer products executives expect automated retail solutions to increase annual revenue growth. Still, few retailers rush to implement them in their stores.
The reasons are the lack of skills, capabilities, and money. In most companies, the biggest part of the year's capital expenditures reprises those of the previous year. And it may be too hard for businesses to break free from the tight budget circle covering hardware and software expenditures.
No automating is losing a fight to competitors
Check the famous Amazon example: they operated more than ten Amazon Go automated retail stores and planned to expand the business to 3,000 units by 2021. And Amazon isn't alone on this path. More and more companies like Walmart or Bingo Box have started investing in automation and AI technologies for their customers and employees.
For instance, Kroger (one of the US' largest supermarket chains) uses digital shelves that show prices, digital ads, nutrition details, and offer coupons. These details are updated directly from a central source, no need for local interruptions. And an eventual goal for the company is no less than moving the shelves to customers' smartphones.
An example of a completely automated retail shop - Amazon Go
Much bigger than operations
Retail automation allows vendors to spend more time on strategic activities. Planning is often a key to success, and advanced planning systems can easily automate analytics and help with developing scenarios. In turn, this reduces the time needed for merchandise planning and decision-making.
What's more, supply chains also offer some use cases for automatic retailing. For now, Walmart and Target partnered with Swisslog, a Swiss company specializing in automation solutions for warehouses. They're planning to build warehouses with automated case picking.
Retail Automation Solutions and Strategies
Of course, automation isn't just tools and technologies. No matter how modern the company is, people remain to be its driving force. So let's focus on the workforce of the future or find out how to create one.
Transforming the ways of working
Retail automation market brings new capabilities to the business, and new employees' responsibilities come along. So it's the right time for retailers to change their operating models: from headquarters to each store.
For example, robots with shelf-scanners can take care of most store managers' tasks. And the workers can switch to other, more important errands like assisting customers or checking online orders.
To fully benefit from automation in the retail sector, along with technologies, tools, and new roles, businesses should accept agile methods of working. This means moving from strict hierarchies to working in teams to end-to-end accountability.
The redeployment of the workforce
Most companies turn to automation due to its efficiency, but for retailers adoption of automated retail concepts is the best way to survive. By introducing the technology, they create a bank of hours with high-qualified employees. And workers can distribute some of these hours to more valuable tasks.
This way, Best Buy, a consumer electronics retailer, created new customer-service roles with their new programs. The company focused its attention and investments on In-Home Advisor and Total Tech Support, reskilling and deploying employees for them.
Prepare for skilling and reskilling
Retail process automation totally reshapes activities, skills, and their demand. The need for physical and manual skills declines, while the need for tech, social and emotional ones grows. For now, there are three options for retailers: hire new employees, outsource, or reskill hired workers.
Reskilling takes a great deal of effort, but it offers a higher return on investment. Besides, it saves HRs' time needed to find and recruit new workers. To start and complete the reskilling program, lots of companies turn to collaboration with schools and universities.
For instance, Walmart's Dollar a Day tuition program was created with the help of Guild Education – company that provides coaches to help employees go through the university application process. What's more, Walmart partnered with Bellevue University, Brandman University, and the University of Florida that are known for their focus on adult learners and high graduation rates.
Updating hiring strategies
Now, employers pay more attention to workers' comfort when making crucial decisions like choosing the location of their offices. And many are ready to move their headquarters to optimize for talent. For example, an online grocer Peapod has already moved their headquarters from the outskirts of Chicago to the heart of downtown.
Today, engaging gig workers and outsourcing are the main alternatives for hire. No wonder: one-third of US workers are freelancers, and their number will predictably be the majority of the workforce by 2027. By turning to these options, retailers can not only fill the gaps quickly but reduce the costs. After all, they are paying only for the outcomes of the work done.
Both small and large retailers begin to understand these benefits. Coca-Cola, for example, invested in the gig-economy platform called Wonolo. It connects workers with employers, and Coca-Cola itself is among its top customers, along with North Face and Uniqlo.
Invest in wages, strategically
Automatic retailing leads to fewer but more skilled jobs. That's why vendors must invest in high wages and think of additional benefits for their workers. Many companies still offer higher wage only when they can't find or retain the right person. And that's a very unwinnable strategy, considering the market realities.
Know more about offshore outsourcing strategies and hiring offshore developers! Start reading to find out details!
Retail Automation Software and Hardware
After studying the meaning of retail automation and its strategies, let's focus on digital solutions for retail automation.
First, the software. E-commerce solutions, inventory management software, payment processing software, CRM, and ERP systems can be reliable helpers in your retail business flow automation. Moreover, you can use Supply Chain Management System (SCM), Warehouse Management System (WMS), and smart WMS for the said purpose.
Software for e-commerce
E-commerce solutions are used for selling products and services online. In other words, this kind of software for retail automation industry streamlines the purchasing process for consumers and helps entrepreneurs facilitate business activities' management from inventory to item delivery. With the help of retail software development, store owners can particularly list or remove goods, check and process orders, payments, etc.
The main features of e-commerce digital products often include an item list, search options, shopping cart, order and payment processing, and inventory management.
Example of an e-commerce website: a Shopify store
Inventory management solutions
The inventory control system guarantees that you can precisely track your present inventory levels and discover the goods you require more of in a moment. It is responsible for inventory management activities like tracking goods, organizing storage, purchasing, etc. As for retail technology and automation, these systems often work with barcodes, wireless tracking, and radio frequencies.
The main features include inventory control, tracking and reporting, barcode management, label printing, and order management.
Software for payment processing
Payment processing solutions are secure platforms helping in retail automation where users add their payment details and get in touch with their banks to approve or decline transactions. They connect online stores with payment systems like Stripe or PayPal. Moreover, these digital products allow buyers to pay via a credit card or e-wallet.
Core features of this kind of software are the following: credit card processing, online payments, invoice issuing, storing payment details, etc.
Customer relationship management software
Customer relationship management software (CRM) is a solution created to assist your business in offering customers a distinctive and smooth experience and in fostering stronger connections by giving a full picture of all interactions.
Benefits of CRM in e-commerce include better interaction with current and potential customers. It analyzes the history of purchases, transactions, or preferences in order to improve relationships with buyers. These systems are mostly focused on customer retention and the company's sales growth. Customer data management, analytics, reporting, sales automation, and other features are used for that.
Enterprise resource planning software
Large enterprises also need business management tools. One of them is the Enterprise Resource Planning (ERP) platform — a kind of software to automate and streamline the main company flows, gaining better performance. ERP systems integrate data across the company's departments, allowing it to collect, store, manage, and retrieve information from various business activities.
Modules included in these systems take care of HR management, planning, inventory management, and reporting.
Want to find out more about ERP solutions? Hurry to check our 'ERP System Basics' article!
Supply chain management system
Supply chain (SC) automation will help you streamline and speed up the delivery process through a qualitative SC management system caring about accurate planning, manufacturing, and other processes related to automation in the retail industry.
As supply chain management includes a lot of various SC activities, it should have the following functional modules as stock management, demand prediction, logistics management, and so on.
Warehouse management system
A warehouse is the foundation of a company's distribution network and may lower operational costs and boost customer satisfaction if properly managed. So, warehouse management should carve a reasonable niche in automation retail operations, and WMS will deal with it.
Warehouse Management System (WMS) is a kind of software intended to optimize activities connected to warehouse running and lowering operational costs. Planning your future WMS functionality to create, you should include the following modules: order picking, reporting and analytics, warehouse automation, and others.
Smart warehouse management system
If your company doesn't employ a smart warehouse system, you risk slipping behind. In an unstable world, better inventory management and logistics are made possible by smart warehouses. A smart warehouse system may assist you in proper flows automation in retail sector, making decisions regarding your inventory, staffing, and shipping by automating data gathering and analysis. It manages inventories, tracks shipments, and improves warehouse operations.
Finally, let's take a quick look at the hardware to use with with retail automation products:
Shelf-edge labels
Self-checkout terminals
Shelf scanning robots
Automated backroom unloading
Electronic shelf labels
Automated retail vending machines
Label printers & compact labelers
Touch POS terminals
Mobile POS
Info kiosks
Vision AI cabinets
Secure lockers
And if you need your business to grow and become more self-reliant, it's time to look for a reliable tech vendor to assist in a custom retail solution creation.
How to Automate Retail Business: Steps to Follow
The retail automation strategy will succeed in your business if you make some preparatory activities. Let's discuss the crucial steps you need to take on the way to the automation of your retail operations.
Define the appropriate business strategy. You should clearly understand the aims, challenges, and needs of your business to find an appropriate solution to them. Think out the processes required to be automated. Based on the identified criteria, integrate the retail software solution to automate the particular business flow.
Off-the-shelf and custom solution: make your choice. Planning the retail software, you'll have to obviously choose off-the-shelf or a custom product. The off-the-shelf solution is typically ok to deal with tasks in a small retail company. However, if you need to manage workflows in a large enterprise, a custom solution will be more appropriate to select. It's more flexible in comparison to the off-the-shelf one and can be easier customized to your particular business conditions.
Select a software development vendor to collaborate with. Building a flawless software solving all the issues of your retail business requires help of specialists with a deep domain expertise. The most preferable variant to choose is to apply to an outsourcing retail software development vendor. The provider's experts will take all the solution creation issues on themselves from planning to designing the interface, coding the software functionality and checking it, and perform it at the appropriate level.
Wait for deployment and integration. The work of outsourcing IT experts won't be limited by retail software development: they will also care about the solution's proper deployment. Then, they will integrate it into your corporate software systems.
Pass personnel onboarding. Your company staff will also be taught on how to deal with new digital product and succeed. This stage is also necessary for you to ensure that your team will comfortably deal with the newly created software.
Get maintenance and support. Retail soft solutions may require technical support due to its complexity and interconnections. This work is connected with bug fixing, and updating of the built software with new functionality that will help solve more business problems.
How to turn retail automation concept into reality: steps to pass
We've represented the proven algorithms as to how to automate retail business quickly and effectively. If you have questions, you can contact us to obtain in-depth answers to all of your organizational and tech business matters.
Practical Expertise in Retail Automation Solutions
Retail automation systems are beneficial for your business as they help you boost your employees' performance and reduce the number of human errors. Consequently, you can save time and budgetary funds to care about other essentials and increase your sales numbers. An outsourcing software vendor with deep expertise in retail solutions creation can ensure all these results. Cleveroad is the very same one, and we would like to tell you more about this company.
Cleveroad is an experienced retail software development provider located in the CEE region and existing for 10+ years on the market. We're skilled in building any-size products, including scalable e-commerce and m-commerce solutions, to help startups, mid-size businesses, and large enterprises take their business to the next level.
Collaborating with us, you'll get the following:
Enhancement of your customer funnel through a full-fledged retail solution delivered by our company
Comprehensive consultations with one of our domain experts (e.g., Solution Architect, Business Analyst, or Project Manager)
Improved efficiency of your business flows after integration of our delivered retail software
Retail workflows automation through custom software development to provide your employees with better accuracy in task completion, etc.
Our company experts have delivered many successful retail software for different clients. Your project can be the next in this profitable row. To prove our competence, we'd like to introduce a SaaS platform we've built – RetailOps.
This is an intuitive and unified platform for the back office created for iOS and desktop. This comes with a suite of tools to streamline retail operations and save money.
The main tools include warehouse management, inventory management, tracking, receiving, and many more. With real-time views of inventory and operations data. Now, the RetailOps platform focuses on e-commerce and omnichannel retail companies in the USA.
Aim at your own A-Retail solution!
A skilled retail vendor is ready to deliver you a powerful software to digitize your retail business
Frequently Asked Questions
Retail automation market brings new capabilities to the business, and new employees' responsibilities come along. So it's the right time for retailers to change their operating models: from headquarters to each store.
For example, robots with shelf-scanners can take care of most store managers' tasks. And the workers can switch to other, more important errands like assisting customers or checking online orders.
To fully benefit from automation in the retail sector, along with technologies, tools, and new roles, businesses should accept agile methods of working. This means moving from strict hierarchies to working in teams to end-to-end accountability.
Retail automation is a generic term for every process in retail business which can function without human interference.
Software for e-commerce
Inventory management solutions
Software for payment processing
Customer relationship management software
Supply chain management systems
Warehouse management systems
Platforms for smart warehouse management
In the e-commerce sector, CRM system allows companies to better interact with their current and potential customers. It analyzes the history of purchases, transactions, preferences, etc. in order to improve relationships with buyers. These systems are mostly focused on customer retention and the company's sales growth. Customer data management, analytics, reporting, sales automation, and other features are used for that.
By 2025 the global market share of retail automation is expected to reach $24,6 billion.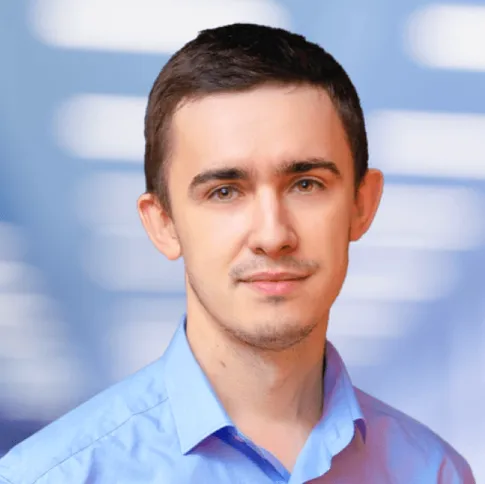 About author
Evgeniy Altynpara is a CTO and member of the Forbes Councils' community of tech professionals. He is an expert in software development and technological entrepreneurship and has 10+years of experience in digital transformation consulting in Healthcare, FinTech, Supply Chain and Logistics
Rate this article!
2790 ratings, average: 4.86 out of 5
Give us your impressions about this article
Give us your impressions about this article