How to Outsource Software Development and Succeed: The Complete Guide for 2023
Outsourcing of software development has become a superior solution in recent years. Due to accessibility, fast process optimization, and comparatively lower costs, this model is the most appropriate and natural choice, preferred by many companies. Zippia notes that nearly 66% of US companies stepped forward to outsourcing by 2023.
Moreover, popular services like Slack, Skype, Whatsapp, Alibaba, etc., prefer to delegate specific scope of development or the whole process to outsource, which shows a significant integration of outsourcing services into long-term business perspectives.
For more than 11 years now, the Cleveroad team has been providing outsource IT services for businesses across the globe in multiple domains. We understand all the features of outsource software development, and in this article, we'll talk about them, so you can know whether this cooperation model suits you.
What is Software Development Outsourcing?
First off, let's define the essence of IT outsourcing. This is a process of delegating a software development workflow (or its part) from a client's company to a vendor's one. So what is the outsourcing of software development in simple terms? You handle the whole development or a particular scope of tasks to the vendor's professional team while having total control over the process. You can outsource multiple software development tasks, including:
Software architecture
UI/UX design
Software testing
IT consulting, and more
The vendor's staff keeps working on their places and remotely completes the tasks given by the client. Now let's take a look at the models of outsourcing.
Outsourcing Models
Software development outsourcing is divided into several types by location and the relationships between the client and the vendor's company.
Depending on the distance between the customer and the IT service provider, the location-based types of outsourcing contain:
Business aims and the kind of management your project needs classify relationship-based outsourcing. According to these criteria, there are the most common three models of outsourcing:
The project-based model
Staff-augmentation model
Managed team model
The project-based outsourcing model. It is used in case you need more tech expertise for your project; you hire the outsourcing development team to build the software product and manage the workflow. The scope of work is fixed (as well as the payments), intended for short-term completion and quick delivery.
Staff-augmentation model. Using this model implies enriching your in-house team with specialists with additional skills which are required for a certain task or work scope. This may be convenient in case you need to expand your team fast and complete a certain task. You can decide if it's going to be a temporary or permanent solution for a long-term cooperation period.
Managed team model. While following this model your vendor is giving you a developers team to cooperate on a long-term basis. One of the main advantages of this approach is that the whole team is gonna be focused only on your project, which may lead to major improvements. Besides that, the team itself may be flexible and its contents may change according to current requirements and the project's needs.
When to Outsource Software Development
Outsourcing can be your reliable helper on different occasions of software development. So, let's take a closer look at the most common reasons you need to use outsourcing services the most.
Starting new projects and hiring skillful staff always costs much money, so the budget issue is crucial to choose outsourcing. You can also apply to outsourcing services in case you're a startup owner with limited financing, or if your company would like to enhance expenses for digital optimization, or whether onshore services cost too much for you. Moreover, outsourcing is a transparent thing, you can always understand what you're paying money for.
Every project needs to be appropriately managed to obtain satisfying results. But what should be done in case you've already been running a complex project and need to start another one but have got no time for it? In this case, you can focus on your business and apply to an outsourcing software development team for help. An experienced vendor will carefully manage the building process and report all the results in time.
Imagine you've planned a large project based on complex technologies requiring the use of machine learning (ML). ML engineers are rare to hire for your in-house team, so you would waste a lot of time searching for them. But you can avoid these problems with the help of an outsourcing company having profile expertise in machine learning.
You can hardly provide data safety and security without relevant experience. This is a severe challenge: one data leakage costs $4 million for your business due to stats provided by IBM. However, you can deal with it without expenses: apply to an outsourcing IT company, they're handy at solving such issues.
Outsource vs. Outstaff: What to Choose?
Fulfilling their business needs, most companies prefer to save time, money, and effort by outsourcing and outstaffing development services. However, they are not equal. Let's find out the essence and differences of these terms.
Outsourcing is a remote software development process transferred to another company that wholly controls the project's running. Outstaffing also means a remote development workflow; however, the hired specialists from the vendor's company are transferred to the client's staff for work, and the client is considered to be their new employer.
What is Software Development Outsourcing and Outstaffing: Key Differences

| | | |
| --- | --- | --- |
| Feature | Outsourcing | Outstaffing |
| Costs | Higher than for outstaff | Lower |
| HR recruiting & management | Controlled by vendor | Controlled by the client, who functions as the PM, while the vendor runs the payroll |
| Responsibility for the project | The vendor's one | The client's one |
| Software/hardware purchase & other needs | On the vendor's side | Needed to be bought by the client |
| Communication processes | Flexible: may be organized on demand | Can be complicated to organize |
The choice of the described models entirely depends on your business needs and requirements. Outsourcing development company can save your time and money for the new project launch, especially if your in-house team is engaged in another one. You can use outstaffing services if you urgently need IT specialists and have no time and skills for hiring.
Benefits of Turning to Outsource Services
Now we'll provide you with the key reasons to outsource development:
Cost reduction
Cost-effectiveness is one of the essential benefits of outsourcing IT services. Choosing one of the outsourcing destinations with the most optimal hourly wages, you can hire a team that will assist you in building a successful product and reducing the expenses needed for development workflow.
Scalability
Outsourcing represents a large technical talent pool from all over the world. So, if you need to cope with new domains and build cutting-edge products (or whether you need more flexible and quick solutions while your in-house staff is growing in terms of quantity and quality), you can outsource software development. According to Clutch, nearly 83% of small businesses will increase their spending on outsourcing of business services in 2023, and scalability is one of the reasons to do it.
Saving time on hiring
Outsourcing became a game-changer in terms of time management. Outsourcing software development specialists is a great solution to optimize multiple processes, which could cost you valuable time in the past.
Instead of looking through an enormous amount of CVs, you select an IT partner at any part of the world with the relevant expertise in your business domain. There are many professional platforms, like Clutch, where you can find a trusted software development company to cooperate with.
Wide talent pool
While outsourcing software development, you receive unlimited access to gifted specialists all over the world. Outsource washed the borders, and you are free to choose the region that you are most comfortable cooperating with based on culture, price-quality match, and other vital aspects. Here you don't have to compromise, but find an affordable and same high-quality option outside of your country
Specialists with unique expertise
This aspect is very close to the previous one. However, it's important to have a connection with a specialist who is capable of providing you with a broader range of services and giving you enriched expertise, especially in order to keep your product competitive and interesting.
Outsourcing gives you a chance to reach specialists with extended proficiency. For example, it may be much harder to find a developer who is pro-level in blockchain, RPA(robotic process automation), or in developing and coping with an AI, but you should know this is no longer a challenge with the possibility of hiring globally.
Focusing on primary business goals
Delegating particular tasks to a vendor's highly-qualified and already formed team may free you time to deal with more fundamental tasks like promoting, determining your target audience, finding ways to create and deliver value for your product, etc.
This will significantly help you to concentrate on basic business processes, which require time and effort as well, and this may be a great step towards advanced competitiveness and overall efficiency of your strategy.
Key outsourcing benefits for your business
Where to outsource software development: Main Geographic Regions
Finding appropriate specialists for a project is a cornerstone of success. The question is, where to find them?
Let's talk about the popular destinations for outsourcing. There are the following ones:
The most popular and perspective outsourcing destinations in 2023
To dive deeper into the popular places and regions to outsource software development, look through the table below.
Outsourcing destinations: popular countries and their information

| | | |
| --- | --- | --- |
| Outsourcing destination | The most popular countries for outsourcing development | Characteristics |
| Central and Eastern Europe | Estonia, Poland, Bulgaria, Romania, Hungary | The best location to obtain a top-notch and cost-effective product thanks to low operating expenses. |
| Western Europe & North America | United Kingdom, Germany, Austria, Netherlands, Belgium, Switzerland; USA, Canada, Mexico | The long-held traditions, the absence of cultural and language barriers with English-speaking countries. High outsourcing prices. |
| South America | Brazil, Colombia, Chile, Argentina | Adequate development quality and reasonable costs, the minimal time zone difference with North America. Outsourcing development is a new direction of this continent's activity. |
| Asia | China, Singapore, Philippines, Indonesia, India | Prominent IT specialists pool, low costs for outsourcing projects, but the quality of the developed product may vary due to significant timezone and cultural differences. |
It should be mentioned that Estonia is one of the leading regions for outsourcing IT development due to its quality-price ratio and prosperous technical ecosystem, represented by a large tech expert pool, and absence of language barriers.
What Should be Done Before Signing a Contract?
You should care about the quality of future cooperation. This is the reason to take some necessary steps before signing a contract with your upcoming IT partner. But remember: you shouldn't employ the first available team offering you quick results at rock-bottom prices. The trustworthy vendor will interrogate you with a lot of questions that will help them understand your needs and build a solution that meets all your business requirements.
Investigate the Feedback
Nobody will say better about the quality of the company's work than the previous clients. To obtain their reviews, open the profile of your future IT partner on such platforms as Clutch, GoodFirms, or Upwork. If it's not enough for you, don't hesitate to apply to the review authors via social networks (or in any convenient way) and discuss everything about collaboration with the particular company.
Discuss and Listen
Speaking to the vendor, start with clarifying the goals you want to achieve. Find out the time they need to implement that. Tell about the improvements you would like to see and discuss the ways of doing that. During the conversation, you should note the level of creativity they show and their openness to collaboration.
Don't hesitate to ask questions (even the awkward ones). For example, you can discuss with the vendor:
What is on a budget? What features and services does the price contain? Are there any alternatives?
What do the outsourcing software developers offer as to product maintenance?
Is it possible to amend the feature set during the development stage?
Could I bring my own design?
This is not a complete questionnaire to discuss with your partner company representative; however, you can expand it according to your project needs and questions you are interested in.
Ask for Their Portfolio
If you want to know more as to the tech expertise of your vendor, ask for their portfolio. You will obtain a more comprehensive picture of the company's competence if you go over the examples of their projects. Check the domain they are experienced in to choose a partner with the relevant IT background. For example, in case you need to build an educational product, look for a company with expertise in e-learning.
Learn the Documents
You have discussed the app concept and other necessary details; however, you have to know how things are documented. The following documents are often used during the development process:
Service Level Agreement (SLA) is a mini-contract describing what you should wait for from the vendor as well as the quality level of their services.
Schedule of Values (SoV) can gradually show the project development from the very beginning until the end and help you get acknowledged with every item needed.
Software Requirement Specification (SRS) is the requirement set for the software products to help you understand their functioning.
Communicate and Track
At this stage, you should consider the ways to contact the team and the mechanisms to monitor the development workflow. You can communicate with the team through Google Meet, Zoom, and various messengers, but you should properly understand the project management approach that the company uses to gain results. Whether it is Agile methodology designed for flexible teamwork coordination or Scrum with its sprints, you may know it to determine the time of obtaining the final product.
How to Successfully Outsource Software Development: Steps to Go Through
All the details are discussed, and all the contracts are signed. Now it's time to start outsource software development. Let's look at the steps it passes through with the example of Cleveroad:
First contact
When you leave a request on our website, it goes straight to our Business Development Department. Then within 24 hours, your personal manager with solid experience in your field contacts you, and then you agree on the next stage. Unconditionally, we sign an NDA by request to keep every step confidential.
Solution Design stage
After receiving your application, we contact you to establish the crucial aspects of your project, its business context, and its core aim. Then we schedule a meeting with our solution team to clarify all aspects and discuss in more detail.
Your application is examined by our Solution Design team, which usually includes a solution architect (SA), business analysts (BAs), and a designer. After processing the team defines:
The general work scope
Business goals
Main concerns
Attributes needed to provide basic quality
If there is still something you are questioned about, the team may offer to schedule an additional call to clarify details. When everything is set, we make a rough estimate and define the approximate timelines. This stage takes around 2 weeks.
Discovery phase
The Discovery phase is needed to turn your concepts into a structured plan. Following a clear plan may definitely simplify and speed up the development process. Here you'd need to identify all necessary functional, analytical and visual attributes of your project, such as:
The overall style and visual concept
A detailed list of main features
Create a reliable business strategy and define possible risks
Set timelines and make all necessary estimation
The discovery stage allows you to collect data essential for designers, developers, and other specialists who create the needed product. It includes rough estimates, sprint specifications, wireframes, and the project team composition for outsourced software development.
Software Development and QA
The development phase (considered the longest one in development) is intended to build the app architecture and create the solution that will meet all your requirements.
Due to the project's complexity, you can collaborate with various specialists (like iOS/Android or web developers) who will give the proper embodiment for all the features you need. This process structure is divided into sprints (1 sprint is equal to 10 working days as usual), and each starts with planning in which the team discusses the workload they will do.
Let's clarify the chronology of the development part:
No step may be completed without the Project manager's supervision. During every sprint, your PM notes all changes that the team may deliver, such as additional features, fixed bugs, existing feature improvements, etc.
Developers start to implement required features. Also, remember that you are free to cooperate with developers of different specifications like iOS, Android, or web developers. However, it is recommended to launch your product on several platforms to engage a larger audience
QA engineers are checking the full functionality of a product. They carefully examine the product and, in case of a bug or malfunction determination, report to software developers to fix it. Stress testing is used to define the breaking points of a product while experiencing heavy loads. After everything is fixed, the QA engineers verify the solution once again to ensure it works properly.
Release
This stage is meant for launching the product on the marketplaces. Most of outsource software development vendors are helping with the launching part. QA team is making the last major testing of the product's stability, and if anything goes wrong, developers have to make hotfixes.
When the project is launched and you are totally satisfied with the result, we handle all necessary project materials:
Design (link to Invision/Zeplin)
Specification (link to the document)
Quality Register (link to the test plan)
Source code (as a link to an archive or the client's repository)
Additional useful project files (link to Google Drive)
Project plan/risk register/change request (link to the project plan)
Link to website, admin panel (with admin credentials)
Links to App Store/Google Play
All credentials to other services
Support and maintenance
The specialists also look after the developed app to make its use more comfortable for the customers. This aspect is very important if you wish to keep your product capable of covering all users' demands and needs.
Project maintenance and support help to improve:
Stable improved, and modern solution delivery
Code and software optimization
Bug fixing, etc.
How Much Will Outsourcing Software Development Cost You?
Now, we've come to one of the essential discussions: how much will software outsourcing development cost? The final price will always depend on various factors. Do you need to outsource healthcare software development, logistics or entertainment platform? What specialist will assist you during the process? To obtain an answer to this question, you should note the service set and team composition. The list of outsourcing software development team should include the following specialists:
A project manager (PM). It is a person that runs the project answering for planning, organization, and reports to the client about the tasks completed. They also check whether the created product meets the client's requirements.
A front-end developer. This team member creates the product's client-side.
A backend developer. It is a specialist that builds up the "brain" of the solution that includes all the product parts which are not visible for the client but essential (such as data processing mechanisms, integrations, etc.)
A UI/UX designer. This specialist is responsible for creating a seamless user experience (UX), intuitive navigation, and attractive interface which would satisfy the client.
QA engineers. These team players track every software building stage, ensuring that the product components meet the international development standards and prevent flaws.
Other specialists. The solution architects, DevOps, etc., may be required for your development outsourcing project depending on its needs.
Counting the costs, you can use the average hourly wages for the developers' services in your chosen region indicated in the table below.
Average outsourcing hourly wages for devs' services (according to Clutch & GoodFirms)

| | |
| --- | --- |
| Outsourcing destinations | Wages for an hour of work (in US$/h) |
| Central and Eastern Europe | 50-70 |
| Western Europe | 70-90 |
| North America | 100-150 |
| South America | 40-50 |
| Asia | 25-35 |
Based on the hourly wages above for East European developers' services, we give our estimate on the example of web application development. Keep in mind that it is rough, and the costs may vary according to the project's complexity.
Web development cost estimate (rough)

Elementary feature set
Medium
Complex

Home page

Home page

Home page

Personal profile system

Personal profile system

Admin panel

Admin panel

API & third-party integrations

API & third-party integrations

Payments

Payments

Custom statistics

High user load

$5,000-$15,000

$20,000-$70,000

$65,000-$250,000+
Choosing the software development outsource destination, bear in mind that the cost will also depend on it. Central and Eastern Europe, as one of the most popular outsourcing destinations, offers the best quality to price ratio, and Cleveroad can prove it.
Why Choose Cleveroad?
Cleveroad is an outsourcing company located in CEE region, namely Estonia, offering top-class web development and mobile app development services to help startups and businesses of all sizes acquire cutting-edge technologies since 2011.
Our values are as follows:
We are sure that honesty with customers, partners, and employees is a key to building qualitative software
A free consultation on your project from our Business Analysts
Fast development process meeting the set deadlines
A team of experienced and certified QA engineers working on your project
Besides, we accommodate several cooperation models and our clients are free to choose the one which will seem the most suitable and comfortable to follow. These set of models include:
Dedicated team. According to your project requirements, we provide you with high-qualified developers on a long-term basis. This is a great solution while working on a complicated and large-scale project, which requires a lot of effort and "dedication". The payment process is based on the hourly rate multiplied by 8 hours per day.
Time and material. While building cooperation based on this model, the client pays for the time and necessary materials spent while working on a project. It's a convenient way to work on a project that requires quick and flexible solutions.
Augmented team. In simple terms, using an augmented team model implies enriching your in-house team with specialists who are qualified and needed to complete certain tasks. You can decide to cooperate on this basis temporarily or permanently. As in the case of a dedicated team, the total is an hourly rate multiplied by 8 hours per day.
For now, our team has already delivered many custom software development projects for clients from the US, Australia, Asia, Saudi Arabia, the UK, etc. We'd like to present you several featured projects, so you can look through them and pick some interesting concepts for your business case:
Wrapping up
Due to a range of attractive advantages, software engineering outsourcing is growing in popularity, being appropriate for projects of every type and size — from small startups to complex tech platforms. Companies can save their strengths, funds, and time working with outsourcing partners. However, to achieve such desirable goals, you should primarily choose an experienced vendor and build confident relationships with them.
Frequently Asked Questions
This is a process of delegating a software development workflow (or its part) from a client's company to a vendor's one.
Here, in Cleveroad, our outsource software development workflow passes through the following steps:
First contact
Solution Design stage
Discovery phase
Software Development and QA
Release
Support and maintenance
Cost reduction
Scalability
Saving time on hiring
Wide talent pool
Specialists with unique expertise
Focusing on primary business goals
The final cost of an outsource software development mostly depends on complexity of a projects and the region you decided to outsource in.
However, while counting the costs, you can use the average hourly wages for the developers' services in your chosen region indicated below:
Central and Eastern Europe - $50-70/h
Western Europe - $70-90/h
North America - $100-150/h
South America - $40-50/h
Asia - $25-35/h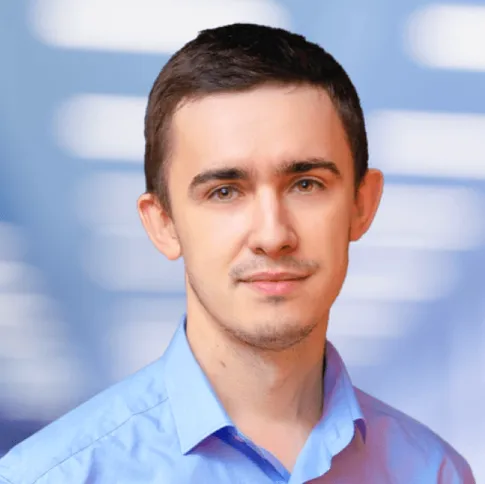 About author
Evgeniy Altynpara is a CTO and member of the Forbes Councils' community of tech professionals. He is an expert in software development and technological entrepreneurship and has 10+years of experience in digital transformation consulting in Healthcare, FinTech, Supply Chain and Logistics
Rate this article!
1429 ratings, average: 4.56 out of 5
Give us your impressions about this article
Give us your impressions about this article