Why Scandinavian Companies Outsource Software Development To Ukraine
Scandinavian IT market is moving forward to occupy it's niche in the world IT race. It strives to create a better product for local customers, using skills of high-qualified specialists. But sometimes the work of local IT specialists doesn't meet the internationally adapted quality criteria of software products. So what is the alternative? To find such professionals in another country, for sure. To reduce costs, some companies choose outsourcing strategy. It means they prefer foreign IT specialists to their local colleagues.
Why Ukraine?
Modern Ukrainian developers now enjoy a real moment of glory. Their professional skills and achievements are highly recognized in all parts of the world. Location of official branches of such IT strongholds like Ciklum and EPAM is an expression of trust to the professionalism of Ukrainian programmers.
Today some companies apply to recruiting agencies to help them find good IT staff in another country.
Outsourcing companies, in turn, offer their services on their websites and they can work for many customers from any other world region.
Why don't Nordic companies want to find local specialists? There are some reasons as follows:
Ukrainian outsourcing market demonstrates one of the highest growth rates not only in Europe but also in the world. At the moment, Ukraine is the 5th out of 25 largest world IT services providers, according to 2016 PwC survey;
Danish market is already using outsourcing service for a long time, and this country is very positive to outsourcing;
A national feature. Scandinavians put high qualification first. Nationality comes last for Nordic people.
And the last but not the least advantage is a time zone. Despite the fact Asian outsourcing companies provide less expensive services, Nordic countries work with Ukraine since they have only one hour difference.
Potential of Ukrainian IT outsourcing
Ukrainian technical education can be related to one of the best in Eastern Europe. National universities of large cities produce developers of high level that can compete with software developers from other countries. Annually almost 40 000 of students graduate from technical university with IT study degree. Since we have a lot of IT departments in our universities, it allows them to teach high-skilled specialists.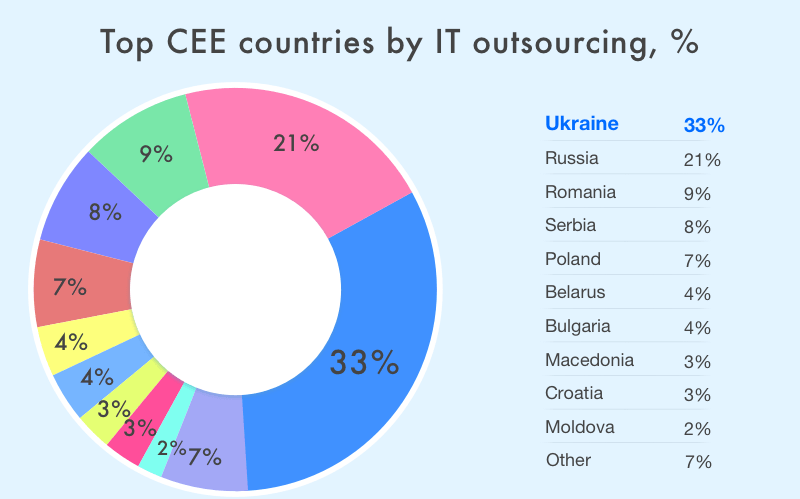 Pie chart of CEE countries by IT outsourcing
By the way, Ukraine has more than 100 R&D IT subsidiaries of such giants like Microsoft, IBM, and others. As for Google company, it is actively promoting it's hiring programs like Women Techmakers Ukraine, for example, where all women engaged in IT area can unite and share their experience. Foreign companies consider the cooperation with Ukrainian developers owing to their large experience in IT.
The language barrier is gradually falling down - one of the main requirement of IT companies in Ukraine is a good knowledge of English. They also provide their employees with English teachers, opportunity to visit English courses and so on. Ukraine is working with many countries, so business and education areas require good skills in the English language.
Besides that, since Norway's domestic IT market is smaller than the Ukrainian one, they have a lack of specialists good at such popular trends like big data and cloud computing. And Ukraine, in turn, can propose it's masters to do this job.
Advantages of software development outsourcing to Ukraine
The main reason for software outsourcing to Ukraine is competitive cost - not small, but here is the case when price meets quality. But there are a few reasons as well that attract Nordic companies to outsource their development in Ukraine. And we will find out them right now.
First-rate result
Ukrainian IT market is considered to be one of the most advanced and qualitative among other countries engaged in IT outsourcing. For the moment, approximately about 100 000 software developers are working now in Ukraine. And approximately 35 000 of them passed Brainbench exams and got it's certificates. Ukrainian outsourcing companies are distributed mostly in such large cities like Lviv, Dnipro, Kiev, Kharkiv, and others.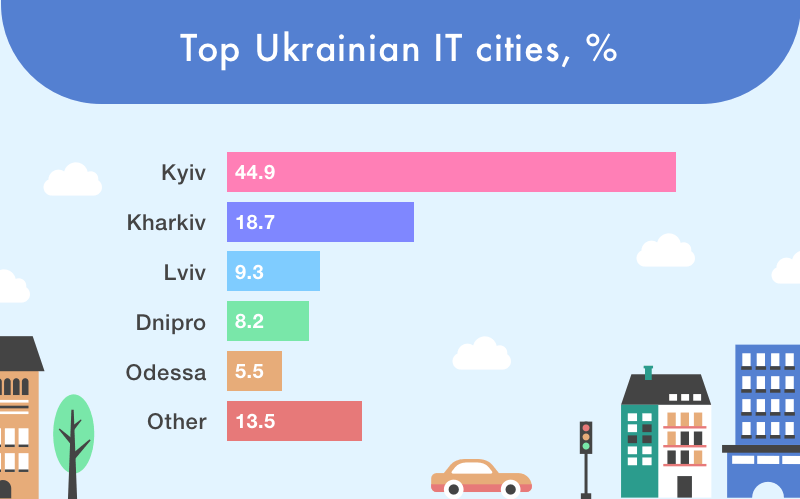 Top IT cities - percentage of IT companies located in Ukraine
Expenses
It is not a surprise that first customers always pay attention to the acceptable cost of the development. But good price with good quality is the best combination. And it is one of the main motivation of Nordic companies to outsourcing the development. The matter is that for today the cost of software development in Ukraine can be lower for 60% than cooperation with native developers or developers from Central or Western Europe. Ukrainian software development rate is starting from $25 per hour, while the minimum rate in Scandinavia is $50 per hour. Although salary demand is growing among Ukrainian IT specialists, it is much more profitable for Scandinavia to work exactly with Ukraine.
Cleveroad company can also offer various options of development, combining high-rate quality with affordable price. We have an individual approach to every project.
Taxation
Apart from mentioned above, Ukraine is also good for it's IT taxation. In most cases, Ukrainian developers are hired as private entrepreneurs. it allows developers to pay less in taxes. But, furthermore, don't forget about the necessity to pay office rent, utility bills and so on.
Time zone and distance
As there is only one hour difference between Nordic countries and Ukraine, it is very convenient to cooperate with Ukraine and hold online conferences regarding all business issues. Moreover, if you plan to hold a personal meeting, it will take about 2 hours to get to Ukraine by plane. Moreover, Ukraine provides it's citizens with a visa-free travel from recent times and it substantially simplifies the business connection between EU countries. Efficiency and time are the most important features in any kind of business, and in IT area as well. Ukraine proves it's right to be the part of European Union.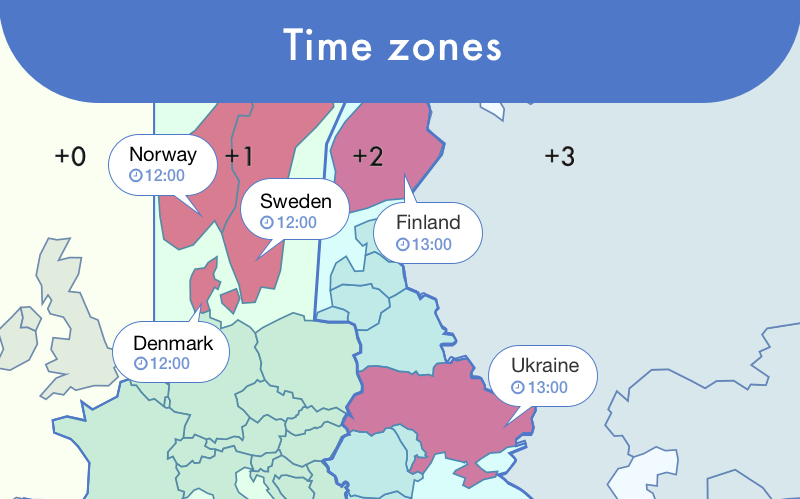 Time zones of Ukraine and Scandinavia
Diligence and clever business vision
Scandinavian companies consider it very convenient to cooperate with Ukrainian outsourcing teams. Because Ukrainian professionals follow European business model and work hard as well. It makes it possible for customers to obtain a full transparent estimation of their projects, timely execution of their tasks and so on. And, as a rule, IT specialists are rather good at the English language, unlike other business areas.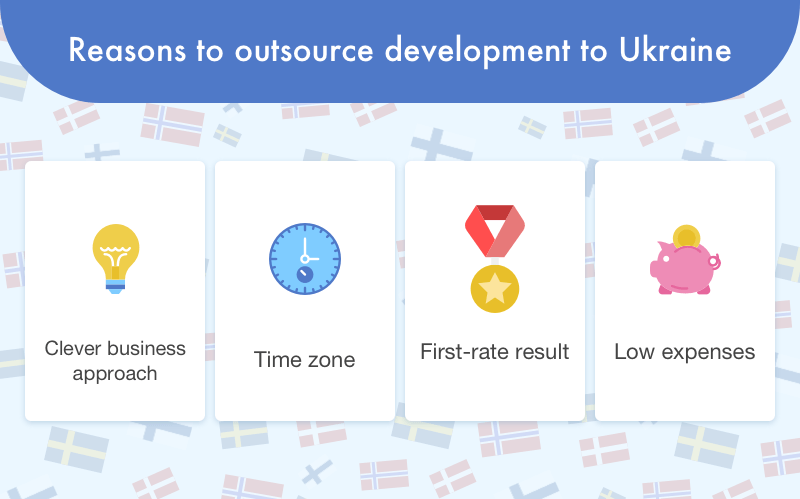 Reasonable advantages of outsourcing
Summing up
Ukraine's reputation and IT professionalism are constantly growing and the country involves more companies to outsource their development to Ukraine, as in the case with Scandinavia. For today, you can find very profitable terms of outsourcing your software development to Ukraine. Our company can also boast about it's large experience in the outsourcing area.
Cleveroad is always open to your projects and we are ready to turn your ideas into reality. If you are looking for some specific topics, you can subscribe to our blog.
Do you still have any questions? Contact us and we will reply to all of them with pleasure.
Why Scandinavians Outsource to Ukraine?
Rate this article!
2487 ratings, average: 4.87 out of 5
Give us your impressions about this article
Give us your impressions about this article