Case Study: Our innovative solutions in agriculture
Due to the quick development of science, farming has become a really diversified sphere. We enjoy the fruits of this industry, and sometimes even have no idea how important and labour-intensive this field is. Do you like to taste fresh vegetables or succulent pork steak? I am sure the answer is 'yes'. That is why the use of the modern technologies in present-day farming is unavoidable. These technologies improve farmers' lives, increase crop yield, reduce costs etc. In fact, they have changed the face of this industry as well our perception of it.
Farmers all over the world are actively integrating smart solutions into various sectors of their work. Development of such solutions requires a good and experienced team of developers who can implement all customers' requirements. Our company provides mobile application development services and can boast about being engaged in controlling the growth level of lemon trees. Do you want to know how? This article will reveal you the secret!
What is automated farming?
Do you use your smartphone or tablet for controlling? No matter of what exactly, whether it be your bank account, smart bulb or air conditioner. You can apply such control functions in an agricultural area as well.
With the help of your gadget, it will be possible to monitor:
plants' growth, soil quality;
irrigation systems;
condition of crops etc.
It allows you to save your time and money since you can respond quickly to any problem. At the same time, an automated system is able to do almost everything the previous generations had to cope with manually. But apart from smart and complex software, you shouldn't forget about appropriate hardware. The combination of hardware and software is fundamental.
On the farm of future humans, visual monitoring will only be necessary at the stage of sowing plants and their germination. Other actions concerning the cultivation of plants will be completely automated. With the help of the stacking crane, the seedling will be placed into the ground. Harvesting and packing will also be handled automatically. The automated process of farming is eco-friendly and suits any climate conditions.
Robots are gradually replacing people not only from production lines, call centers, and other industries but from farms also. Who knows, maybe soon there will be completely robotic farms that will breed, feed, milk, and carve cows and other animals in a standalone way. And these farms will provide us with an uninterrupted supply of meat, milk, fruits, and vegetables.
Technical solutions for agriculture
Scientists and engineers are working on the development of high-tech sensors for farming and agriculture especially. Sensors can be installed on the irrigation system for controlling the water supply. Thus, sensors track water levels, temperature, and solar energy. When enough water is supplied, the system shuts off automatically.
In addition, sensors are also installed in soil or directly on plants. Mesh sensor networks make it possible for the user to see the ripening process, the change of the plant's color, it's condition etc. All information is displayed in the relevant app on your device.
Besides, today many farms are using cameras that stream videos in real-time mode to have a visual picture of what is going on. These cameras can be controlled remotely via the app as well.
So there are many alternatives for farmers today. However, now we would like to tell you about our expertise in the development of a certain app for agriculture. We faced the challenge the clients had and found the solution.
The story of Android app for farm development
Our client is a farmer from Israel. He and his team are engaged in planting, cultivating and harvesting flowers and vegetables. After a while, the farmer made a decision to expand the range of products and to plant lemon trees as well. But before turning this idea into a reality, it was necessary to consider all nuances related to the hot climate of the Middle East.
Israel is a rather advanced country in respect of modern technologies. And farms there are equipped with automated fertilizers, irrigation systems, and humidity controls. Equipment is outfitted with GPS systems, so our client wanted to systematize all the data that was gathered. Therefore, he chose our company as his conscientious and skilled team of mobile app and web developers.
Looking for solutions
The farmer set the task and explained to us what he wants to get in his future mobile app. The app must make analysis, calculations, draw up schedules of watering. In turn, specialists told him about our possibilities, and proposed relevant strategies of implementation. After fruitful discussions, the client got an estimation and we started working. Within one week our designers provided the farmer with wireframes of the future app, and he approved it. The development had begun.
Our wireframe to the future app
Features of the farming app include:
Automation of fertilizers and calculations of water consumption
Daily report in the app for agriculture
Data synchronization and statistics reports sent to e-mail
Area selection and GPS tracking
Working in offline mode
Control of all facilities remotely
Fertilizer calculator
Built-in calendar
Harvesting and sowing calendar
Technologies used for the app development
Support for API 9 level. Set of programming tools that allow the client to use Android versions starting from 2.1.
RX Java. Library for composing of the programming code
greenDAO. Tool for object relational database mapping.
Butterknife. Tool for code optimization.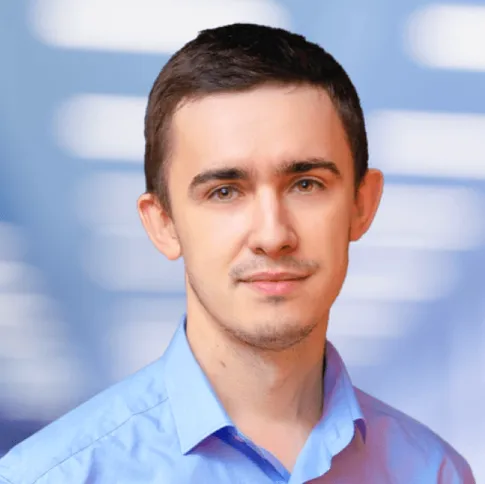 About author
Evgeniy Altynpara is a CTO and member of the Forbes Councils' community of tech professionals. He is an expert in software development and technological entrepreneurship and has 10+years of experience in digital transformation consulting in Healthcare, FinTech, Supply Chain and Logistics
Rate this article!
4314 ratings, average: 4.98 out of 5
Give us your impressions about this article
Give us your impressions about this article