The Costs of Software Development: Challenges and Ready-Made Estimations
20 MAR 2019
20249 VIEWS
9 MIN
You're probably here to learn custom software development cost. Software development pricing is a crucial factor for anyone who intends to build something digital. Though, it's not that easy to estimate its cost. A vendor has to know software type, target platforms, and clearly defined set of features.
In this article, I've tried to give you a comprehensive pricing on software development services and to explain the key factors influencing the final cost.
Average Cost of Software Development
In our experience, mobile and web applications are the most demanded kinds of software. Let's focus on them.
Web and mobile applications can be roughly divided into three categories by their complexity level:
Basic apps (approx. 500-700 hours). They can be built quite fast, but their functionality is quite simple.
Medium complexity applications (approx. 700-1200 hours). This software has more complicated features.
Complex applications (1200+ hours). The software of this level is time-consuming to engineer due to complex architecture, security matters, multiple integrations, etc.
Of course, the categories above are rather subjective. So I would like to provide you with approximate estimations of different kinds of apps so you could see the whole picture. The prices are based on the average rate in our region (Eastern Europe) — $50 per hour.
Approximate time and cost of development of different apps

| Type | Platform | Approximate time | Approximate cost |
| --- | --- | --- | --- |
| Basic marketplace app | Web | 1071h | $53,550 |
| | Android | 842h | $42,100 |
| | iOS | 837h | $41,850 |
| Basic e-commerce app | Web | 713h | $35,650 |
| PWA like Uber | Web | 1080h | $54,000 |
| Streaming app like Deezer | Web | 933h | $41,400 |
| | Android | 833h | $41,650 |
| | iOS | 828h | $41,400 |
| Booking app like Airbnb | Web | 1302h | $62,100 |
| | Android | 927h | $46,350 |
| | iOS | 922h | $46,100 |
In order to roughly count the software development price, it's necessary to provide the company with some basic information about your project.
We generally ask clients for the following:
Idea. For example, you want to create an app like Tinder. So, you explain your idea to company's technical specialists and they develop a Tinder-like MVPfor you.
Feature list. It's important to discuss some vital features that have to be implemented. It's also good to have the description of every feature (e.g. a map with pins, detect user's location etc.)
Wireframes. The engineers would be grateful for your vision of design.
Examples of the competitors' apps or websites. Instances help you show developers what functions you adore and don't like.
Design. There can be just the ideas of what you like.
Specification. (If you have one.)
A lot of vendors help their clients to collect all necessary data as well as our company. So you can just come up with the idea and we'll do the rest.
Software Cost Factors
Such factors as the number of platforms, complexity of architecture and animations may completely change the final price of software development.
All these factors should be considered and double checked beforehand.
Platform
Modern IT world provides three popular platforms for software development and, of course, the software development price quote will vary according to the platform. Do you want an Android or iOS app? Or maybe all you need is a web application? There are some points that need to be considered.
For example, if you already have an iOS app, it's impossible to convert it into Android application and vice versa. It happens because these platforms take over different programming languages, have unlike SDKs and require different development tools. So, if you want your application to work on two or even more platforms, be ready to spend more money and cooperate with different developers.
UI/UX Design
People are visual creatures, so design becomes a vital part of software development cost breakdown. UI/UX design is able to attract users' attention and engage them. Developing design can take quite a lot of time depending on a website type and its complexity.
Development
The first thing for you to know is that there are two web development types: front-end and back-end. Front-end or client-site is everything that users can see and interact with. As for back-end or server-side, it's like an engine for the app. For example, when a user clicks the registration button, the app first connects to the server to check the data and then returns a value to the user (e.g. wrong credentials, a user already exists, registration successful). That's where back-end starts to work.
It's necessary to consider that the development of iOS applications typically requires 20% or ever 30% less time compared to Android. It happens because there are much more devices run on the Android platform. So, it's necessary to provide support with a lot of versions of this OS and different screen resolution.
Testing
Quality assurance services are extremely important for the development process. It's vital to test every component of the software in order to prevent or solve any possible bugs. The cost of testing in software development always depends on the complexity of your project.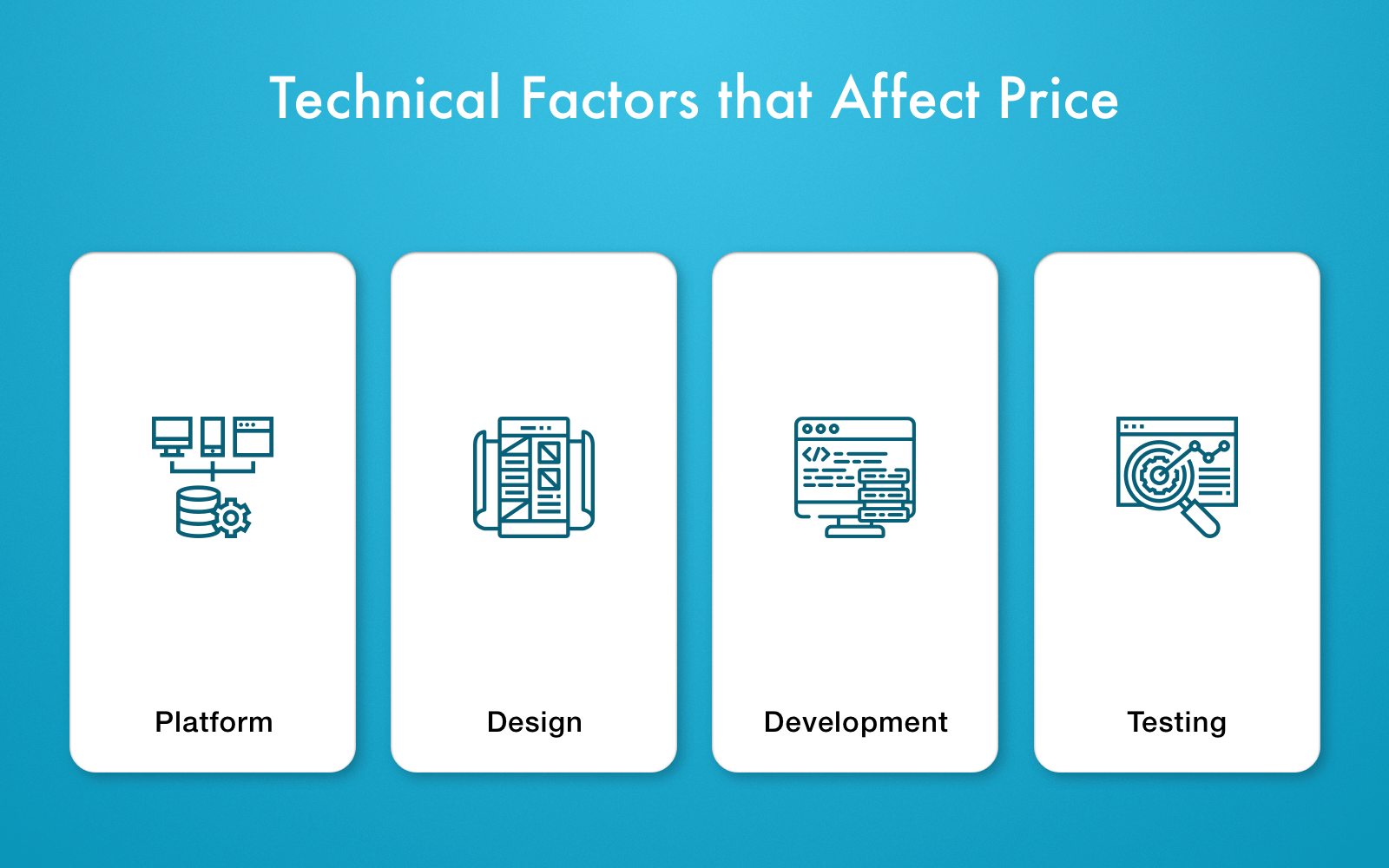 Technical Factors that Affect Price
3 Other Factors That Affect the Final Price
There are some non-technical factors that should be considered because they can also affect the final price. There most important of them are hiring options, staff experience, and region where the developer is from. Let's find out more about them.
Seniority of Software Developers (Staff Experience)
Software engineers are often divided into three categories by their knowledge, skills, and working experience. There can be junior, middle, and senior software engineers.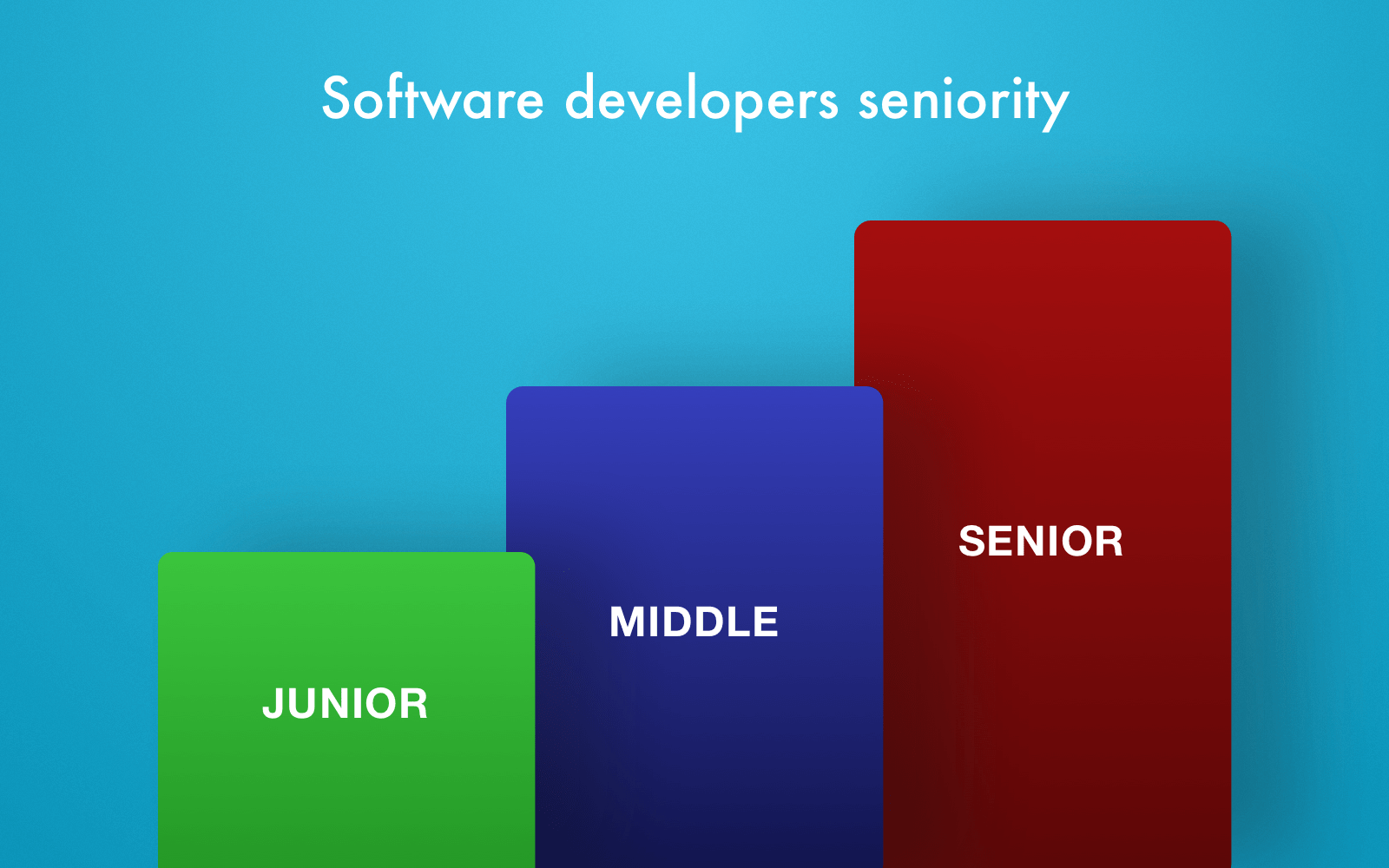 Software Developers Seniority
Junior developers
Usually, these developers have just started their working path and still require support from more experienced colleagues. As a result, they work in a team of more qualified developers and are able to perform only simple tasks. These developers often know only one programming language or framework, as a result, they are unable to work fast enough. So, it's better to think well before hiring the developer with such a skill set.
Year of experience: 0-1
Middle developers
The more engineers work, the more experience they gain. Middle developers can work on the project independently and deal with complex technical problems.
Year of experience: 1-3+
Senior developers
This category of programmers can provide you with the most effective variants for developing your project (e.g. different programming languages, how the feature should work to cause fewer bugs, etc.). Offering these options, they are able to explain the advantages and disadvantages of choosing each of them.
Year of experience: 5+
If you need any help in finding or interviewing software developers, drop us a line and we will assist you.
As you understand, software development hourly rates may differ depending on the engineer's level. So, think twice what developer is required for your project. If your product is quite simple (e.g. a landing page or a simple app), the junior software developer is able to conquer this task. However, if you want more complicated features (e.g. payment integration), you have to hire a more qualified developer. The more complex your project becomes, the more skilled engineer you need.
Hiring Option
Modern IT market provides quite a lot of opportunities for hiring a good software developer. The most popular of them are freelance developers, in-house teams, and outsourcing development companies.
Each of these options has its benefits and drawback that we will discuss below.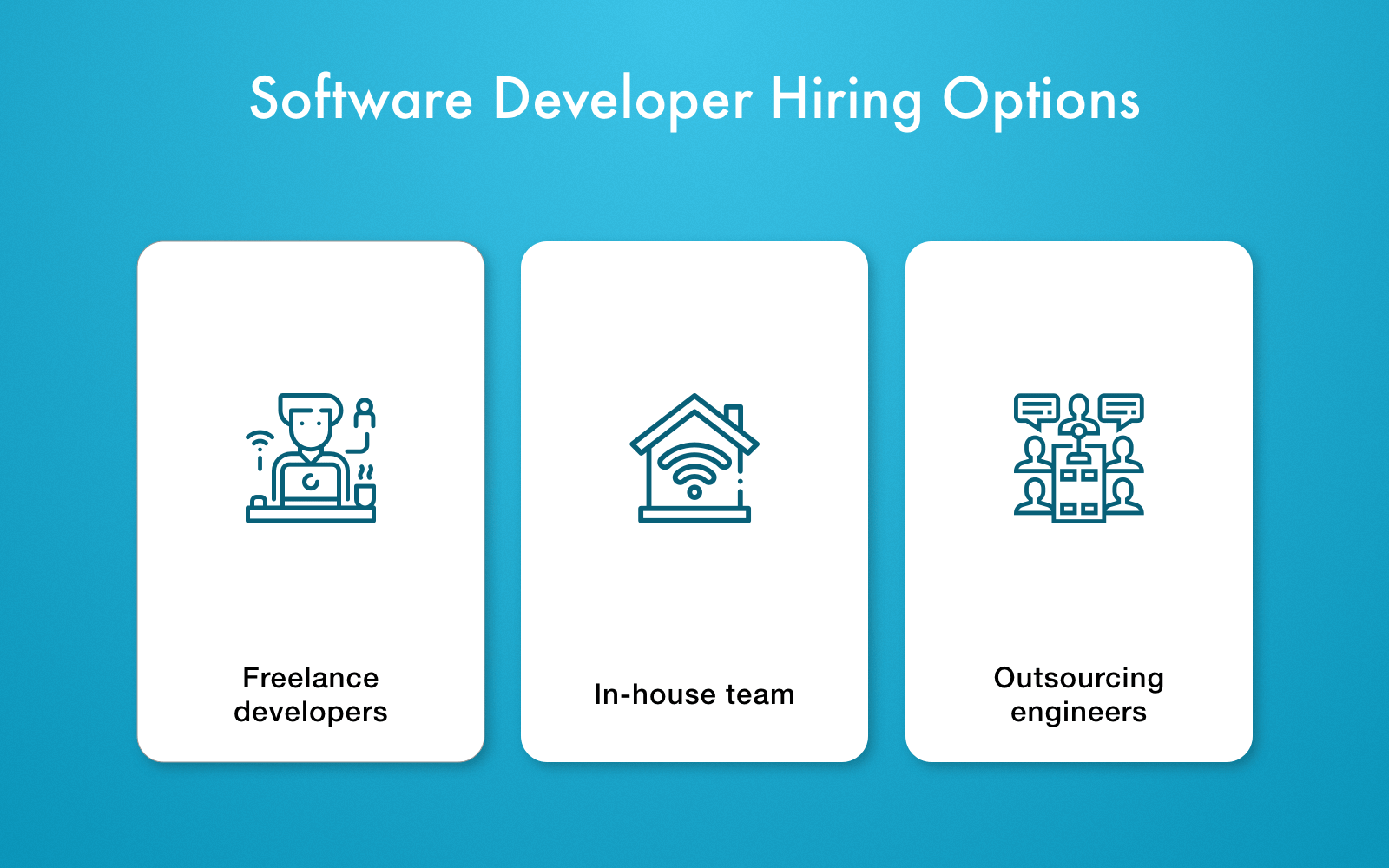 Software Developer Hiring Options
Freelance software developers
There are a lot of reliable platforms where you can hire freelancers. As you understand, this variant is the cheapest but not the most trustworthy. There is almost no opportunity to control the freelancer's work. Furthermore, nobody can guarantee that your project will be finished and you will be satisfied with its quality. Having no assurance, you may face a lot of bugs in your project and just waste money.
Platforms to hire freelancers:
In-house software developers
Engineers create the software in your own office, so you can follow all the development stages. You can contact the employees at any time and, as a result, any possible bugs will be solved faster. However, hiring in-house developers is always time-consuming and requires considerable investments in salaries, taxes, hardware, and software.
Platforms to hire in-house developers:
Outsourced software developers
Hiring outsourcing companies for creating certain software has quite a lot of benefits. For example, there are many offshore companies from all over the world, so you can hire developers from anywhere. As a result, you can choose affordable contract software development hourly rates because they vary depending on the region. The main drawback you may face is a time zone difference.
Platforms to hire outsourced developers:
In our experience, in-house developers or offshore software development companies are the most suitable variants. Choosing one of these options, you are fully protected and can be sure about the quality.
Location (Region)
Nowadays there is a tendency to completely different rates on software development depending on a region. For example, the most expensive development services are in the US and Australia. However, such countries as Ukraine provide qualified services for less. Let's look through software development cost per hour from different regions.
Custom software development hourly rates according to PayScale

| Region | Junior Developer | Middle Developer | Senior Developer |
| --- | --- | --- | --- |
| North America | $95-100 | $120-127 | $140-148 |
| South America | $25-35 | $35-45 | $35-50 |
| Western Europe | $35-45 | $45-55 | $50-65 |
| Esatern Europe | $25-35 | $30-40 | $40-50 |
| Asia | $20-30 | $25-35 | $25-35 |
How Do We Estimate Software Development Cost at Cleveroad?
Our team has tried a variety of estimation approaches. Eventually, we've come up with a simple yet trustworthy two-step framework:
Rough estimation
In order to fulfill this step, it's important to know only some basic information about your project idea (e.g. I want an app for drivers like Uber). After that, our specialists are able to consider vital features for MVP and time required for their development. Rough estimation usually consists of two numbers — min/max time and its accuracy are between 25 and 75%. This stage doesn't take a lot of time, just 1 or 2 business days.
Detailed estimation
This step is sometimes called the Planning Phase. During this stage, our business analyst communicates directly with a client in order to find out all project requirements. According to these requirements, they are able to make specifications. Detailed estimation consists of one number — required time. This phase lasts longer and may take from 2 business days (if you have already prepared the documentation) to 2 weeks (if we prepare documentations ourselves).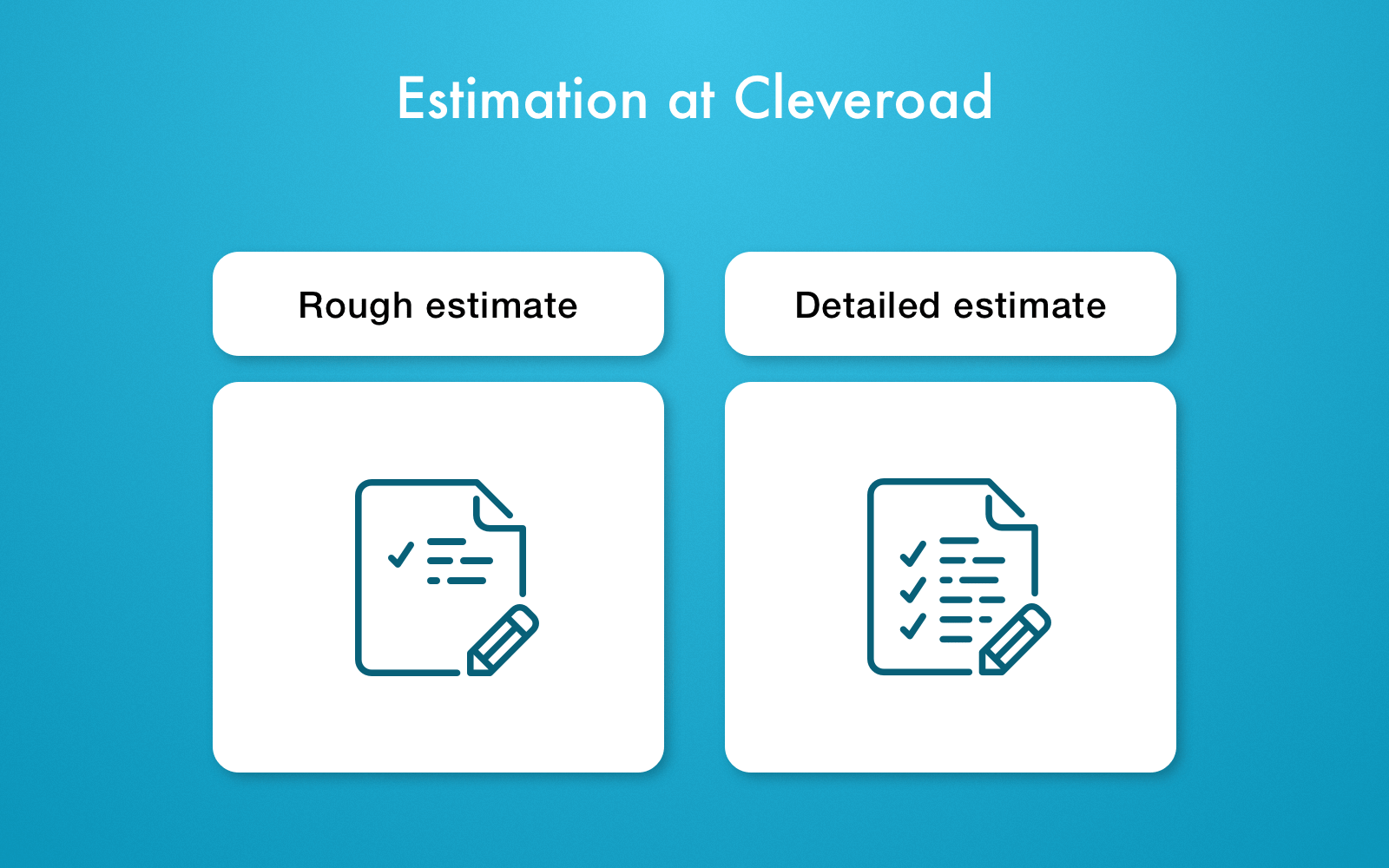 Estimation Process at Cleveroad
Wrapping Up
Drawing the line, it's important to understand that custom software development cost estimation is much more complicated than it seems from the first point of view. There are a lot of technical and non-tech factors that need to be considered beforehand.

Frequently Asked Questions
It depends on the region of the world where you hire developers. In North America, the average hourly rate for middle software engineer ranges between $120-127, $50-65 in Western Europe, and $40-50 in Western Europe.
Rate of a software development companydepends on its location. The average hourly rate for a middle software engineer in North America ranges between $120-127, $50-65 in Western Europe, and $40-50 in Western Europe.
The average hourly rate for a middle software engineer in North America ranges between $120-127, $50-65 in Western Europe, and $40-50 in Western Europe.
Project complexity, number of platforms to develop for, seniority of software developers (and their number in a team), hiring option (freelancer, in-house employee or outsourced team), and location.
Rate this article!
16199 ratings, average: 4.91 out of 5