How to Turn Industry's Problems To Your Gains Making a Renting Car App
Everything needs improvement. Think about your business. Is it effective enough? Does it bring enough profit? Does it work perfectly? If all the answers are 'yes' then you can close this tab and move on. If the answer is no, even to one of the questions, you have to abide. Because we are going to teach you how to advance your personal car rental app and get the best out of your business.
Problems of the car rental industry
But before we'll consider the approaches to make your business the most effective, let's take a look at some of the most common issues and pitfalls almost all car rental apps face and, I'm sure, you are not an exception. Here are the most typical problems in a car rental industry:
Lots of competitors
This business has existed for a really long time, so it's not a surprise that lots of entrepreneurs decided to take advantage of it. And it's not that uncommon that there may be 5 or even 10 companies like that in your city (depends on the size, of course). This fact tells us how hard it is to stand out and be number one if you are an owner of a car-rental company and.
Developing the best app for car rental can solve this problem. In a what way? A mobile app for renting cars is not only a great convenience for the owner but also for a driver. A driver can sign in (only once) in a comfortable way. He or she can pre-book a car and be sure that the vehicle will wait for them at a particular time and place. They can also pay via the rent your car app. And many more things. All of this increases customers' loyalty and engagement.
Security
One of the most important problems nowadays. Not only do you need to understand where your transport is but to see whether it is moving or not and how long it had been waiting at one point. The easiest way is to track your vehicle with the help of GPS in your app for car rental.
Data collection
It's a trend of modern days. You collect the information about your customers, learn their preferences and habits. With this data you can improve your service and make the customers want to come back to you.
All these issues can be solved with the help of a mobile app to rent cars and an admin panel which will help you understand statistical data better. There are lots of great cheap car rental app in the sphere. Why not use them to understand what trends are in this industry and what their secret to success is.
Best rental car app
There are so many of them that it was difficult to choose only a few. But the ones we are going to name are the best of the best.
Hertz car rental app
Hertz is a company with a really long history. It all started almost 100 years ago. Walter J. Jacobs started his car-rental business with just 10 cars. He wanted to give people an idea of what the car was and how it is to be a driver. In a year his company was considered as the biggest car-rental firm in the world. With an annual revenue of $270 mln.
Hertz car rental application
Today the company has representatives in more than 150 countries all around the globe. More than 8,000 administration offices. And, of course, an app which multiplies the profit every day.
The Hertz rental car app itself is very convenient with an intuitive interface. It allows you to drive unlimited mileage,and there is a fixed price per day. To secure themselves and customers Hertz also provides you with insurance. Here is a pre-booking feature, so you know what vehicle will be waiting for you after your plane has landed.
The service works really fast and seamlessly. You get all the information about your reservation. If you use Hertz you'll be pleasantly surprised with their special offers and quick roadside support.
Zipcar
Zipcar is a great budget car rental app where you can easily hire a car, wasting no time. You can rent a vehicle for a few hours or on a daily basis. When you pick up your car it is already fully fueled. You'll get insurance as well.
Car rental service - Zipcar
The service is mostly available in the USA, Canada, and a few European countries. To use this car booking app you need to become a Zipcar member and pay $6 a month for membership. But it's worth it because the prices for services are rather low in the company.
Enterprise
The USA's favorite app to rent cars is Enterprise rent a car app. Why? The answer is easy because it's fantastic. The procedure to pre-book a car is very simple. You can come for your ride or ask them to pick you up anywhere you like!
The company has more than 7,000 offices all around the world. This number gives you confidence that you can use your favourite service anywhere you go.
Skyscanner
This is another type of car rental service apps which is becoming more and more popular nowadays. Traditionally the app targeted the traveling market and offered accommodations and flight booking. And users have an opportunity to buy everything at once via one app. More than that, they usually get a nice discount buying 'a full trip'.
Rent a car app - Skyscanner
Unlike all previous apps, Skyscanner works as an intermediary. Which means that a user can find the best option for himself there, choosing among multiple options. While a business owner, if he or she has a small or medium size company and doesn't see the point of creating their own car rental app, can join such car rental mobile app and get some extra customers from such giant companies like Skyscanner.
Hotwire
Works with the same business model as Skyscanner. The app offers not only car-rental but hotel booking services in one app. The benefit for users is obvious. A customer can save up to 60% on a deal. The company offers one of the lowest rates for cars. With a discount, it can be only $12.99 per day. Cool, huh?
Ass you can see, there are two possible ways. You can create an app where your company would be the only service provider or an intermediary app, where the service providers would sign in just like users and the app will only help them find each other (like Uber).
If you see an intermediary car rental app as a more appealing option then we would suggest you adding some features for hotel room booking and flight tickets services as well. You will maximize your revenue, offering multiple services to a user who could book or buy everything in one app (customers love it!).
If you still want to develop only a car hire app like Hertz, Enterprise or Zipcar then we need to decide what features we want in our app
Features needed to create an app like Hertz
To form your idea and give you more understanding of the future product let's take a look at the most needed features which your app to rent personal cars can't live without.
How to build a car rental app
User account
Because you aren't going to create a social media app or messenger or anything like that whatsoever and a user account has to contain not only personal data but also driver's license, address and payment details, you need to think about the security of this data and it's protection. Social registration isn't an option, so think about your customer protection. As well as all that, the user's account should store the information about all past deals and current reservations. All details about payments. It is much more convenient to enter the information about credit cards and other data only once.
Want to be sure that your users' data is secured? Find out what modern approaches and technologies can be used for these purposes in our article
GPS features
A user should have an opportunity to find the closest rental office. He or she should also be able to open a map and find a place where they need to rent a car from manually. Or to search for a city or a town with the help of a search engine. As an additional feature, your smart car rental app could track the position of a user and show him a route on a map to the closest office. Along with that, a user should be able to see the working hours and all available cars in a particular office.
Car reservation
This feature is complex and has to manipulate lots of information in a convenient form for a user. A customer has to be able to choose a date here, which means he or she should see a calendar. Users have to indicate the place they are going to pick a car up and return it. If there are any discounts or bonuses, the customer also needs a place to indicate it. Ability to choose a car. It would be great if a user could search for an appropriate vehicle according to it's availability, price, and model. You should also include the information about the rate here and explain what is included in the price and what isn't. If there are any special conditions, include them also. A user has to confirm all the information he or she has mentioned and pay full price or only a part (depends on you).
Payment gateway
Cash is in the past now, it is much more reliable and convenient to pay via the application with a credit card. Use only reliable solutions so your customers can rely on the system.
Admin panel
An essential part which will help you to regulate, synchronize and manage all data (and not only data). An admin panel is needed to see all the reservations, the income, send notifications and deal with issues.
There are some very basic features needed to create a car-rental app like Hertz. We call such development MVP - minimum viable product. It is much easier to start with a small app and add features as your audience grows according to it's needs.
We are always trying to persuade you to create unique applications instead of cloning existing solutions. It means that you can use already proven business models but with modifications which would single it out from others. To create something useful try to concentrate on some specific niches with little rivalry and competitors in it. Here are some of the ideas for you and your hire car app:
Your rental car application service can offer vehicles for leisure. But bare in mind that you will need to adjust your cars and make them more interesting. Your vehicle fleet should include limos and other fancy cars which people like to rent for parties, weddings

, and other occasions. As well as that, you will also need a driver as a service, because it isn't safe to drive after partying. You can also offer motor boat rental services or any other specific means of transportation (quadricycle, for instance) to make the customer's leisure even more pleasant.

As an option, you can create a corporate hire car booking app service where companies that use your app could get a nice discount.
Cars for work. We all know that some drivers use Hertz to work for Uber. Some people simply don't have their own car or it's in for servicing and some drivers don't want to use their own transport for work. If you offer reasonable pricing and insurance to such drivers you have all chances to occupy this niche.
How much does it cost to develop a car-rental app like Hertz?
According to the segment, you like to work in and the target audience, you would need to include the features essential for making the app to rent out your car unique and useful. Before that, let's estimate the cost of MVP app including only vital components and features.
It seems that the niche is full. However, there is always a place for useful and creative ideas. There are lots of variants how to create a really great app for renting out your car. And you have all chances to hit the top with your product. If you have already decided what is going to be the icing on the cake, I mean the unique thing that will distinguish your app from the others, don't waste time and write us, let's create this awesome app together!
Frequently Asked Questions
There are several MVP features for car rental apps:
User account
GPS features
Car reservation
Payment gateway
Admin panel
The approximate development cost of a car rental app development for Android can exceed $68,000 and for the iOS platform development price can be around $75,000.
Online car booking software advantages are: ease of use, transparency and safety of car rental process, affordability and various user-friendly features.
Hertz car rental app
Zipcar
Enterprise
Skyscanner
Hotwire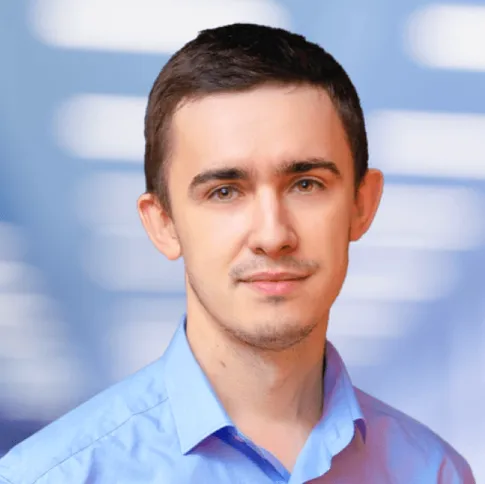 About author
Evgeniy Altynpara is a CTO and member of the Forbes Councils' community of tech professionals. He is an expert in software development and technological entrepreneurship and has 10+years of experience in digital transformation consulting in Healthcare, FinTech, Supply Chain and Logistics
Rate this article!
3630 ratings, average: 4.78 out of 5
Give us your impressions about this article
Give us your impressions about this article