8 Elements of User Experience That Create Trust Towards Your Website
If to closely consider modern digital products, a variety of approaches used for gaining customers' trust could be singled out. However, there is a component that is often underestimated - design. Since users form their opinion towards a product in seconds, design is the first step to the deeper immersion into your service.
Nevertheless, the first impression depends on a variety of factors. In this article, we are going to consider them as well as to tell you about the elements of user experience intended to increase trust towards your digital solution.
Discover must-have UX elements for your website
Why does the first impression really matter?
It does not matter how innovative your service is - users always judge a product by it's appearance. This way, they are unlikely to purchase something or browse further than the main page if the design is outdated or unattractive.
We can compare the process of how customers perceive the design experience to how they meet new people. In both cases, we firstly judge by appearance. How much time do you need to form a first impression in both cases?
Time needed to form the first impression
Another research conducted by Google claims that some users need just as little as 17 milliseconds to form their opinion. Impressive, isn't it? That means, the usability principles on which your design is built have only 50 milliseconds in average to win the customer's attention and convert it into a purchase.
The latest eye tracking study claims that the better first impression from your user interface experience is, the more users stay within a web page. Moreover, the research has defined the website's components causing the greatest users' interest.
Company logo.

Users were focused on this element 6,48 seconds before moving further

Navigation menu

took 6,44 seconds of users concentration

Search line

, where users spent 6 seconds

Website's content

held users for 5,59 seconds

Footer took

about 5,25 seconds.
So, your web designers along with user experience designer should make sure all these components are attractive and optimized according to their purpose since they influence the first impression most of all. For instance, to avoid widespread usability issues, your website's font should not be too small in order customers could read it's content more conveniently.
Website's elements that cause the greatest interest
UX techniques bringing more efficiency
Let's dive deeper into the notion of trust while designing web usability.
1.Visualization
According to the study conducted by Stanford University, around 46,1% from the total number of consumer, partially estimate their trust towards a website basing on the attractiveness of general web interface design. There we can refer template itself, typography, font size, and color schemes.
In order to make the usability of a website more efficient and standing out of the crowd, add there some components emphasizing the value of your product or service. This step will motivate your customers to action.
2.Content
Every component of your website user experience should inspire trust. So, make sure all the written content within pages is informational and actual. Also, there are several peculiarities you should take into account.
Be honest with your audience. The products' description should correspond with what you really offer.
Be sharp and clear. There is no need to mention those services or products that you cannot provide your customers with since this may confuse them and make them leave.
Keep your customers informed. To build the trusting relationships with your customers, make sure all the information related to digital data security is available for them. For instance, one UX design methodology implies the description of methods a product is using for data protection. Also, you can provide them with an easy access to privacy policy written in simple language but not overloaded with legal terms.
Customers tend to trust digital products more if they have no feeling that something is hidden from their eyes. Your designers are able to get them rid of that feeling while UX process of design.
3.Keep the balance
Remember, all the website's pages should correspond and complement each other. The team of your web developers and designers should keep the balance in web interface and user interaction design so that to achieve a feeling of unity between all the pages. In another case, you do not create the convenient website user experience but cause a feeling of contradiction in users' minds.
Also, to avoid the customers' untrust, never use third-party photos of the product or service within your design user experience. Instead, focus on original content showing your direct experience and do not forget about such elements as simple navigation and search box. They allow users to check the availability of what they are searching for in just a few clicks.
Well-thought-out landing page
A landing page usually contains a certain information about a product or service. So, it is vital to give the visitors of this page an understanding of what kind of services or products you are offering as well as provide them with an easy access to the order page. Having completed these steps, a general web design usability is growing and your target audience dives deeper into your service. Since all the advantages you propose are described and ways for purchasing are also clear without leaving the page.
Stripe's website may serve as an example of good user experience on a landing page. All the information within the page is described clearly and purchase links are also present, not to mention that the page itself is eye-catching.

Example of well-implemented landing page (Source: Stripe)
UX tools helping to improve user experience
The research that is based on social psychology and UX study have singled out different methods and markers able to push users to needed actions and accordingly to generally improve user experience.
During this study, 4 components influencing customers' trust most of all were singled out. To those components refer reputation, good design, fine print, and tone. All of them should be taken into account in project's design methods.
Accordingly, each component has it's own markers. For instance, markers of reputation are a domain name, awards, certifications etc. while good design consists of such markers as quality, FAQ, links etc. The full list of components along with it's markers you can see on the picture underneath.
Trust components and it's markers (Source: Human Factors)
Now, let's conduct a little UX testing. We are going to consider two landing pages one of which is full of markers and another does not use any of them.

A website page without any markers
Looks a little bit empty and does not inspire much trust, does it? Let's make from it more user-centred design by adding some markers .

A user-centred design of a page with different markers
That looks better. Now, let's consider each marker separately.
4.Matching existing knowledge
What does it mean? From the very beginning of the Internet existence, users got used to the links that are colored in blue. This step improves the usability of a website, especially for senior users.
5.Links to other pages
These links do not only provide better navigation throughout the website but also show the customer that he or she may get immediate support in any convenient way. Be it a FAQ reading or direct contact with a company.
6.Extensive content
As you can see, blog posts are suitable not only for SEO optimization but for trusting relationships creation as well. That's because in a blog you may share with experience and knowledge related to your product. However, a blog has it's own usability design principles.
7.Testimonials
Real people with their stories related to the experience within your resource may serve as a powerful heuristic method for your sales the same as the trust of other web resources.
8.Certifications
Even such a small detail as logos of Visa and MasterCard inspire trust since your service is certified by these industry giants.
This simple example shows how adding of several elements may influence the trustworthy towards your service as well as it's sales.
Use analytics
The next step after markers is the appliance of website usability analysis. With it's help, you may obtain useful information dedicated to how customers interact with your brand. There are two key metrics that monitor how fast users leave your website and how many of them ready to register and continue cooperation.
Based on received heuristic analysis data, you are able to take further decisions contributing to more efficient conversion as well as establish long-run relationships with those clients who are already loyal towards your brand. To conduct similar analytical studies you may refer to such services as Google Analytics or KissMetrics.
Testing
Besides analytics, there are various testing techniques and usability testing tools allowing to observe how users interact with your website. This step will help you to understand whether the existing functionality is enough or not. For this purpose, there are a variety of services like Heat Mapping, Click Density, Crazy Egg etc.
For instance, you may use a website usability testing service called Balsamiq. It will help you to work on your strategy of website improvement and even build the website's test version. Also, there is a kind of called user testing that allows getting more detailed and qualitative feedback.
So, to build trusting relationships with your customers you need:
Well-formulated and straightforward company information
Any partnerships, logos of brands that are your customers or working with your company is a big plus
Real customers' reviews towards your service or product will make more people trust to your company
Description of security methods used within your website to protect the data also affects positively on your brand
Show any awards you have or any reviews related to your company's work given by the colleagues in your sphere
Our company will be glad to implement your project. Contact us to get your free consultation and do not forget to subscribe to stay tuned.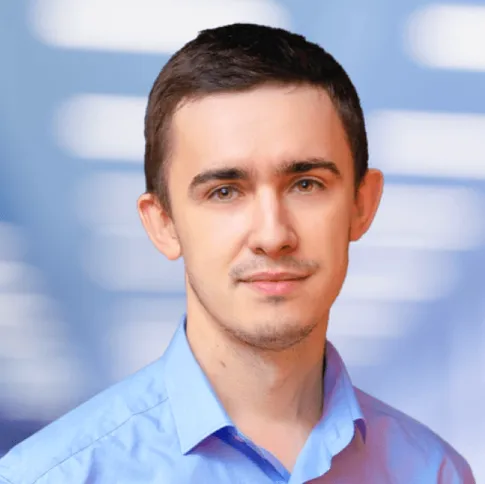 About author
Evgeniy Altynpara is a CTO and member of the Forbes Councils' community of tech professionals. He is an expert in software development and technological entrepreneurship and has 10+years of experience in digital transformation consulting in Healthcare, FinTech, Supply Chain and Logistics
Rate this article!
4108 ratings, average: 4.89 out of 5
Give us your impressions about this article
Give us your impressions about this article