You never get a second chance to make a first impression. This is the reason one why UI design is so important for any project. This is what potential customers see when they open your website or a mobile application for a very first time. It is a face of your business, your face.
Google has estimated that 26% of all installed applications are used only once. There are lots of reasons for that but the most important one is a bad UI. To create a really engaging user interface, you need to follow the latest UI trends. Otherwise, you risk getting old-fashioned, plain design which can only frighten off your users. This is why we've collected only the latest and the hottest UI design trends for 2022 in this article.
But before we name the user interface design trends which will make your app or website really customer attractive, let's talk about the advantages which a well-considered UI can bring you.
Why is it important to follow new UI design trends?
First of all, you need to understand that the trends in clothes and in development sphere are the two opposite phenomena. And all the latest trends in UI development are focused not only on visual pleasure but also on the usability and convenience for a user. If you apply them wisely, they can bring lots of benefits to your product. Here are some of them:
Why it is important to follow the UI trends
Improves mood
There are lots of studies about colours and how they affect people's mood. Some of them make us aggressive and some vice versa passive. When users see a pleasant picture they can even smile without noticing it. This is our task. We want our users to smile or feel peace and harmony when they open our website or an app. A visually appealing design can make a pleasant and engaging atmosphere which holds users' attention for a long time.
Increases trustability
If your website or a mobile application looks really professional and polished, users will trust you more. It goes subconsciously, they believe that if you pay so much attention to your site (or an app) you will pay that much attention to your products and services and them. That's how you'll get more credibility.
Facilitates the use
One of the biggest rules in a design development process is to make the interface clean and ordered. In such case, it would be easy to use. Why? Because such design reduces the need to process information manually. More data is processed automatically which saves time and nerves of users.
As you can see, the investment into the trending UI technologies can help your product attract new users, maximize the revenue and beat your competitors.
The latest Web UI trends
Grab a notebook and a pen and write down everything we are going to list here because these UI design trends can make your site really awesome!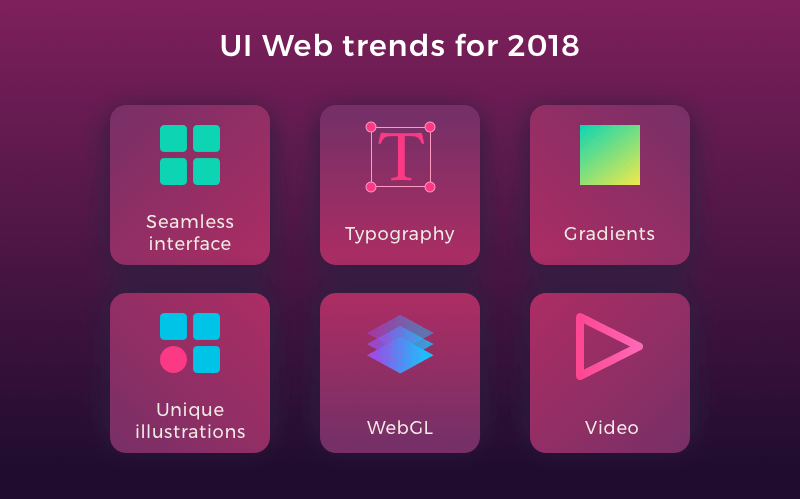 User interface design trends for Web developemnt
Seamless interface
One of the brightest examples of this trick you can see on the site Loveforiceland. The main point of this trick is that all the content is kept on a page and is loaded when a user clicks on it, without page transitions. A user doesn't leave the landing page and all the information is pulled to it.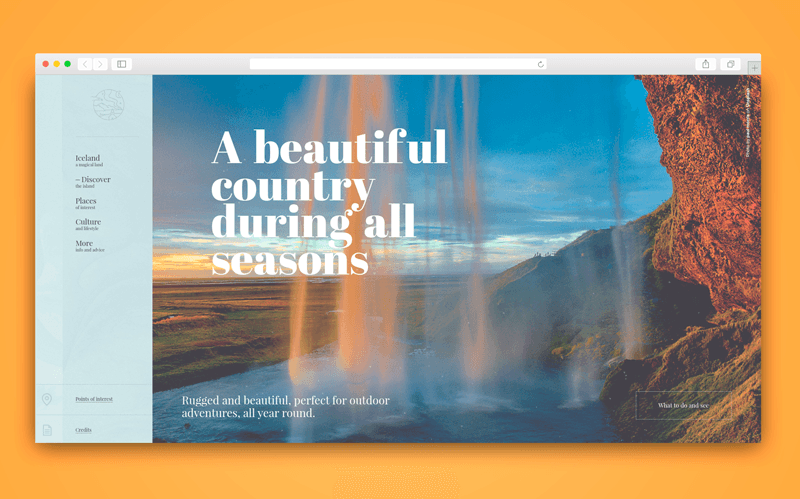 Typography
Large headlines, massive fonts. All Information blocks are structured strictly on the grid, the animation changes smoothly. All that makes your website unique, perfect. If you apply this Web UI trend, the website will look very attractive even without other content. Though, you can add quality photo and video from websites like Kaboompics, Unsplash, and others. In 2022 the combination of Typography and animation will become even more popular. If you still find it difficult to imagine, then visit Re-Create - Bang site, it is a very bright example of the right implementation of the Typography approach.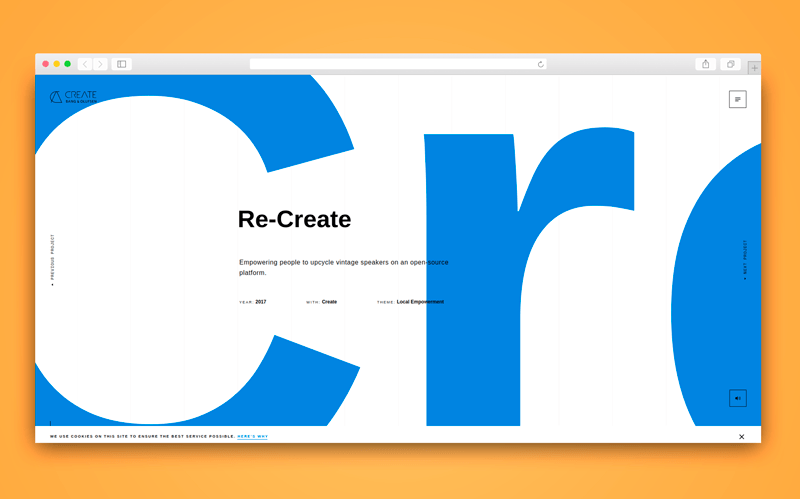 Gradients
The gradient is a smooth transition from one colour to another colour. The retina of a display allows you to see the fullness and beauty of colour. With a little movement, we get soft transitions. If you need a little bit of inspiration, then take a look at Symodd site.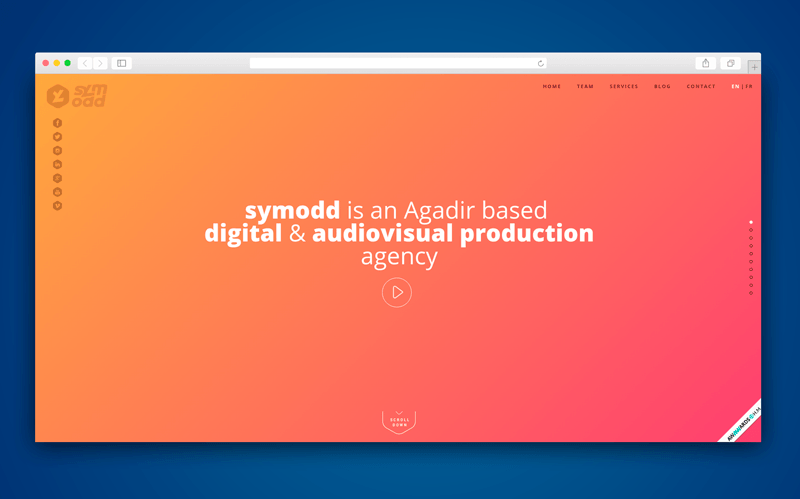 Unique illustrations
In 2022 it is going to become a significant trend, as quality illustrations increase the uniqueness of the site and set a certain style. The most important rule here is to use not only unique but also high-quality photos. If a user sees mainstream illustrations on a site, they will subconsciously decide that all your content is not unique at all and they won't find anything new here.
WebGL
WebGL is a JavaScript library for rendering 3D graphics. It's application guarantees you a high speed of a page loading. Moreover, it allows you to use unusual forms of interaction with a user on your site. Only on Awwwards, there are about 582 sites created with the help of WebGL library, which is more than WordPress or Jquery library.
Video
Good video is always a great idea for your site but now, you can use it more than ever. Videos work even better than animation when it comes to users' attention captivation. We can say for sure that in 2022 video content is going to become far more popular than the photography. It can be easily explained by the fact that videos are easy to share and they quickly go viral via the internet. So, it is one of the best UI trends to engage users not only to your site but to your brand and company as well.
It would be great if the video materials will be of the same style as your web platform. In this case, it will complement your website. But this applies only to the unique videos, made specially for this project. Mainstream videos look cheap and out of place.
You can choose one or many trends for your website redesign, anyway, remember that the people you hire for this job have to be professionals. Otherwise, your site will look like it was created by a child.
The latest mobile UI trends
The mobile industry moves forward as well. If you want to be on top you have to make your app look awesome. Of, course, it is difficult (and very expensive, by the way) to follow all the latest mobile UI trends, however even small 'redecoration' can attract lots of users and bring you some extra profit. So, trust me, you'll get back all the investments if you take into account the new mobile UI trends we listed below.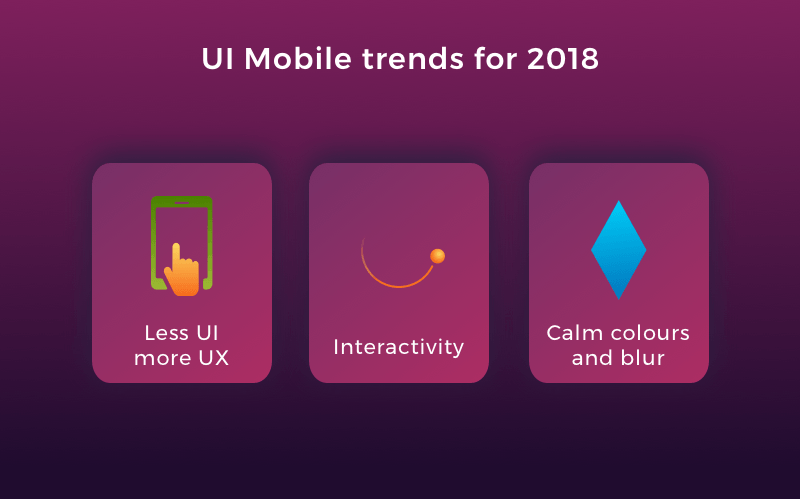 The latest mobile UI design trends
Less UI more UX
It's not just a trend, it's a paradigm. The fewer actions a user has to make to accomplish his or her goal the better it is. A clean mobile interface is more user-friendly and more compelling to look at and interact with. With such a design, customers can focus on their goal, not on the irrelevant details. However, you should remember one rule here, your UI should be not only simple but very effective as well. It has to perform the same number of tasks but with fewer buttons and elements.
Interactivity
Your design should be interactive and responsive. It means that each element of interaction has to show a clear feedback, but smoothly, without sudden changes. Without a proper response, a user usually feels confused, which they actually don't like.
Calm colours and blur
Yes dears, the next year all those flashy colours which make us close our eyes will be out of date. What we need in 2022 are soft pastel shades which make our mobile application look really cool and refined. Just what we needed, right?
Reasons for a website or an app UI redesign
If our trends haven't inspired you for a complete app or website design makeover then our next arguments should do it very fast. Here are the reasons for a website redesign or, an app if you have one: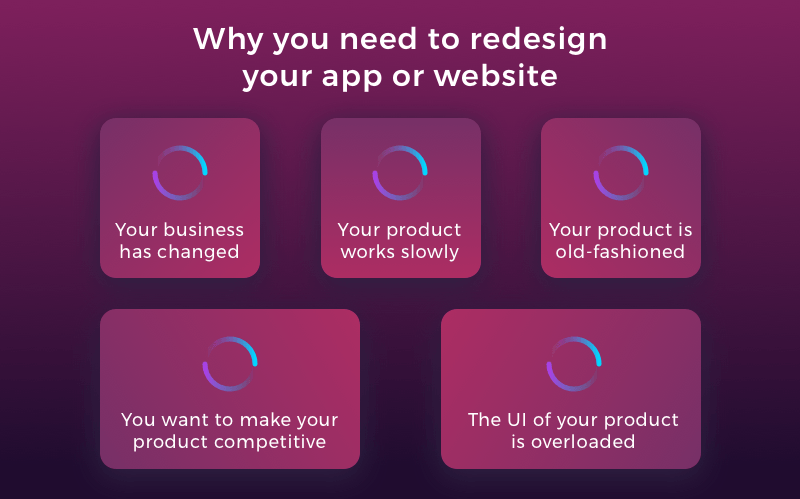 When you need to think about a redesign
The UI of your product is overloaded
Remember what we said about minimalism in UI of 2022? That's right. If your landing page or a screen in your app is chock-full of details, buttons, and various elements this is the reason why you are constantly losing your potential customers. If you are not sure, ask your users. Ask them to rate your product and tell what they like and don't like about it. Your target auditory is the most respectful judge for you.
You want to make your product competitive
There are almost 3 million mobile application in Google Play, lots of iOS apps and websites. Every day new, beautiful products appear on the market which means that you have to work really hard to stay afloat. If you take a look at some of the most popular and commonly used applications and sites which exist for a long time, you'll see the tendency that all of them keep up with the times, their design and functionality changes periodically offering users new, more convenient ways of interaction with these products.
Need some assistance with your app promotion? Watch our video on landing pages and what benefits they can bring to your marketing strategy.
How to promote apps using a landing page?
Your product works slowly
This is what frustrates me the most. If I have to wait for more than 5 seconds I simply leave a site or delete an app. Most of the modern users do the same. We don't like to waste our time so it is easier to find another product which works faster. If you own a site and aren't sure of how your site speed stacks up, GTmetrix can be very handful for you. Here you can not only see the weak sides of your website but also check the site of your competitors to see the full picture.
Your business has changed
If your website or app which used to sell products for hunting now sell only fishing gear it is time to redesign it. Sometimes, product owners add new features to their application or a site which is good actually, but they forget to change the design and all the changes go unnoticed. A fresh, updated design can show how POs care about customers.
Your product is old-fashioned
Simple as that! If your application or a website was developed a few years ago, it is old and it's design is out of date. And you have two options. In case your site or app is targeted old or middle-aged people (the category of people who hates changes) then you should leave it as it is. In a case you target kids, teenagers, young people, business people or other socially active people, then you need to update the UI of your product.
The clock is ticking and today's innovations are tomorrow's trash. It doesn't mean that you have to follow all the latest UI trends and redesign your application or website every month or year. But, what you really have to do, and I will never get tired of repeating this, you have to listen to your audience. Give them all tools to contact you, rate and comment your site or app and they will tell you when it is time to breathe new life into your product. If you decided that this time has come, don't waste a minute and contact us. We know how to make your product look terrific.
Frequently Asked Questions
UI trends are the latest techniques and technologies that help create user-friendly interfaces for software on all devices.
Latest web UI trends:
Seamless interface
Typography
Gradients
WebGL
Unique illustrations
Latest mobile UI trends:
Less UI more UX
Interactivity
Calm colours and blur
You can always be on the cutting-edge of new UI trends if you:
Participate in continuing education
Read books and magazines about UI design
Read blogs and follow famous UI design influencers
If you follow UI trends you can easily acquire benefits like improved mood thanks to optimized color scheme, raise trustability and facilitate the use of your app or website.
Rate this article!
1525 ratings, average: 4.77 out of 5
Give us your impressions about this article
Give us your impressions about this article