Enterprise UX Design: 3 Simple Ways to Design Better Experiences
Imagine that you've found a perfect tool which allows you performing your routine (and not only) tasks 200% faster and more accurate than you usually do. It would be awesome for both you and the company you work with, isn't it? Well, it must be nothing but the reality for big companies and enterprise UX design aims to assist here.
Companies understand it's time to start focusing not only on what their users experience (if talking about product companies) but pay due attention to the experience of their workers and other company members.
In this article, we're going to discuss what is enterprise UX, as well as unveil several tips you may follow during enterprise software UX design.
State of enterprise UX design in 2023
In case you're faced with this term for the first time -- enterprise UX design is about building user experiences for apps intended to automate different business processes inside the massive enterprises. In other words, it's kind of software designed specifically for company's employees who work on certain business processes or a software that's used only by businesses (e.g. CRM systems).
Enterprise UX examples: Power BI business analytics service
The main thing you should know about the state of this design field is that it's becoming more demanded from year to year. Previously, we could observe the tendency of using technology first approach in the UX design of complex and data-driven products. We mean the primary goals were to fit the existing database structures and don't exceed the allocated budget. The human-centered design was taking a back seat since the company's final consumers don't even see such products.
But enterprise UX has evolved over the last couple of years and it doesn't stop developing. Big companies understood that an effective enterprise web design can help their employees to work faster and more accurate bringing them more earnings. Wherein, companies that develop B2B solutions are obliged to keep the design standards high because they'll lose customers otherwise.
The graph underneath shows the world's most innovative tech companies that have one thing in common -- they're all design-driven. So, it demonstrates how those companies' stocks grew in price over the last 10 years in comparison to organizations that neglected design.
UX enterprise design: Statistics on why design is important for companies (Source: dmi)
How to create great enterprise user experiences?
Designers working on UX design for enterprise applications are able to subdue the complex business processes of organization and turn them into a well-looking and convenient product. That's one of the main challenges of enterprise UX.
In order to help you not to get lost in this world of data and business processes, we've prepared several pieces of advice on how to build easy and well-looking enterprise UI/UX design.
1. Think through the core enterprise needs
Surely each enterprise software is created to solve certain problems and it's impossible to predict what pitfalls are waiting for you in your next enterprise UX design project. Nevertheless, each enterprise software has several things in common and here they are:
Data model
Any software has a data model that's hidden behind it's interface. This model contains discrete objects that have attributes or parameters with definite actions that can or can't be accepted depending on a logical relationship. Because of enterprise software specificity, these data models can be extremely complicated and have several tiers that actually make such a complex system work. It takes time to understand all these but eventually helps to avoid making mistakes.
Customization
Any enterprise solution should be highly customizable because of a certain consumer needs. The company or users aren't likely to buy several different services, which by the way have to interact seamlessly, to complete one concrete task. For example, if you didn't account for sales process peculiarities in your enterprise UX design -- users may have to use additional tools to cover their needs in that area.
Ecosystem
We mean that during designing UX in enterprise software you should remember the system may require interacting with multiple other solutions from various vendors and brands. To avoid frightening technical terms, we can say it's like ecosystem created by Apple or Google where your devices and accounts are syncing between each other but much more tricky.
Sales channel
Typically, this is about cloud-based services for enterprises where you should think through all these difficult to manage sale processes with formal channels of marketing and engagement to create a worthy enterprise UX. To do so, you have to be in touch with web / mobile developers to clarify all the technical details, as well as with sales representatives to learn more about the inside of a process and even talk with a support team.
Designing enterprise UX: Things to consider
2. Think of the target audience
Of course, good UX in the enterprise software is able to deliver meaningful results for the whole organization but, as a rule, there are several departments that benefit more than others:
Product
Improving the experience employees get from using software allows them to perform their routine tasks faster and do it in a way they want.
Marketing
The better enterprise user experience for this department means the vast opportunities for making brand stronger by driving growth and improving general customer experience.
Operations
Optimization of operational tools like call center software or business intelligence tools can save a lot of time, provide the access to key information, as well as improve KPIs.
Let's imagine there is a company that sells subscription-based products and it has the in-house call center. It's clear that call center processes hundreds of queries daily. However, it's got an extra load because the team has to, let's say, deal with dozens of consumers who need to update the credit card number to keep paying for the service.
Respectively, this takes time that your staff could use to solve other more important issues and increase sales. Such a small at the first sight detail can cost big enterprises hundreds of thousands of dollars annually. That's where the power of enterprise UX is hidden. By giving customers a self-service option or making the process of updating card numbers more automated -- enterprises win in long-term and get huge dividends.
3. Polish your enterprise UX design
No doubts, each of us experienced what it's like to use top-notch digital products in comparison to ordinary or bad ones. It's clear that users will be more loyal to products representing the first type. Moreover, they tend to spend more money on them and be more tolerated if they face a bug.
The same thing with enterprise solutions. But it's much harder to build a great enterprise user experience taking into account all the peculiarities of enterprise processes. That's why you can use a so-called Design Success Ladder to measure the awesomeness of your design.
Designing enterprise UX: Design Success Ladder
With it's help, you are able to assess the value your enterprise UX design provides now, as well as set certain goals to raise it to the next level. Each rung is an experience that customers want to see in a product. By following these steps you can meet needs of users better.
Enterprises that purchase ready-made and pre-configured solutions or build products on their own without considering needs of their staff are at risk to find out they don't work as good as expected. In turn, it leads to:
Feeling of dissatisfaction with the job among employees;
Considerable money investment in purchasing, development, and training without significant results;
Inability to meet set objectives because employees aren't able to do their job efficiently;
Poor chances to raise customer services because employees are distracted by trying to make the software work.
Heavy focus on enterprise UX design can help companies to achieve significant results like:
Increased productivity;
Higher level of employees satisfaction and retention;
Better KPIs rates.
UX process in enterprise software
A well-thought-out enterprise UX design makes everybody happy: employees do their usual tasks with more ease and joy, while owners save money. But meaningful design comes from well-tuned processes. If you have no experience in this field yet -- here are several ideas you can use when working with enterprise UX:
Become a part of enterprise
Certainly, the best way to build a great enterprise UX is to observe how employees work. Even several minutes of such observation can provide you with valuable information on how to better design one or another solution. Moreover, you get a better understanding of their workflow, as well as processes they manage.
But the truth is it's not always possible for enterprise UX designers or other team members to be physically present in an enterprise and watch the process from the inside. Then, you should conduct a detailed user research which would cover:
Problems/issues that you believe users have and you need to solve them;
Solutions you'll take to eliminate those problems;
Results you expect to achieve through these solutions (for both users and organization);
You can also use good-old user journeys, personas, interviews with chief officers etc.
Set priorities
After you've studied the audience of your future enterprise UX, you can prioritize the ideas you came up with. It's important because you're going to work with so much data that you'll easily lose the point. To avoid this, you can measure the amount of effort it takes to realize a certain idea in comparison to it's impact on the needs of users and the company itself.
Enterprise UX design: Setting priorities
Start creating!
All the preparatory processes are completed, you see clear objectives and means how to reach them. It's time to get to work!
If you're looking for a reliable partner to help you with design or development -- let's talk! Our managers will contact you and answer all your questions.
Like this article? Subscribe to our newsletter in order to get more exciting content to your inbox. No spam, we promise. Just one letter a week with latest articles and videos from our team.
Frequently Asked Questions
Enterprise UX design is about building user experiences for apps intended to automate different business processes inside the massive enterprises. In other words, it's a kind of software designed specifically for company's employees who work on certain business processes or a software that's used only by businesses (e.g. CRM systems).
An effective enterprise application UX design can help employees to work faster and more accurately, bringing companies more earnings.
Step #1. Think through the core enterprise needs.
Step #2. Think of the target audience.
Step #3. Polish your enterprise UX design.
There is a Design Success Ladder to measure the awesomeness of your design. You enterprise design should be:
Meaningful
Delightful
Comfortable
Usable
Functional
Problems with understanding the end user's needs
Consider features more than design
Hire qualified designers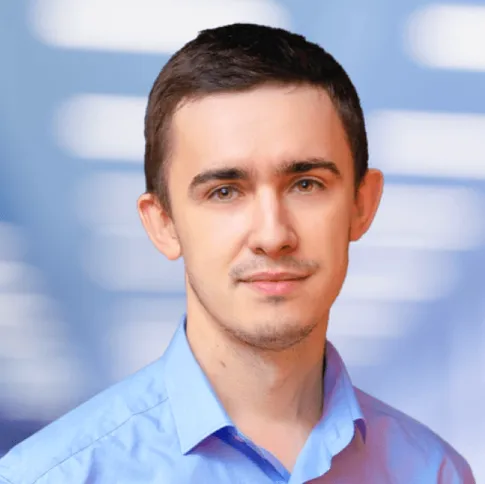 About author
Evgeniy Altynpara is a CTO and member of the Forbes Councils' community of tech professionals. He is an expert in software development and technological entrepreneurship and has 10+years of experience in digital transformation consulting in Healthcare, FinTech, Supply Chain and Logistics
Rate this article!
2167 ratings, average: 4.79 out of 5
Give us your impressions about this article
Give us your impressions about this article