Freelancer vs Software Development Firm: It's Time to Choose the Best
If your TV is broken you won't call a plumber. If there's something wrong with your car you won't go to a vet. We trust specialists who have expertise in one sphere or another. Same here, in the software development industry. If you need a really nice product you entrust this matter only to a professional. But how to choose one? Do you need only one or two developers? How about design, management, and testing? Who will do all that? In today's article, we decided to help you with the choice and explain what is the most effective way to hire the best vendor for your project and finally find out who is better in a confrontation of a freelancer vs agency.
What are the pluses?
There is no correct answer when you choose to hire a freelance developer or a development firm because both options have pluses and minuses. You will have to pick one based on your project requirements. It means that in some cases a freelancer can be a better solution and in others, a team would handle the task more effectively. You can find the benefits you get hiring a freelancer below.
Pluses when you hire a freelancer
Price
It's one of the most obvious advantages. It is clear that you pay less to one person compared to a team. Freelancers don't have to share their salaries with anyone else. Companies usually charge about 25% higher hourly rate. It can be explained by the fact that companies have a staff of non-developers but people like sales managers, marketers and so on. These employees don't write code which means they don't earn money directly, but their task is to attract more customers to a company. To these expenses, you can also add rent and advertising costs.
Great expertise in one area
That's right. You can find a person with fantastic resume and portfolio. You can also contact his or her customers and talk to them. It all guarantees that in the end, you'll get a great quality of the written code. However, usually, these freelancers improve and develop their skills only in one area. Which is good, by the way. Because it gives a person a chance to become the best in a specific field. So, if you need to perform only one specific task, a freelancer is a great choice. In a case you are interested in a great individual professional and skilled freelancer, our advice is to search on Behance or Dribbble if you are looking for a UI or UX designer and GitHub if you need a developer.
Flexibility
It is much easier to deal with only one person than with a whole team. A freelancer can have a more flexible schedule. And if you need the job to be done fast it would be easier to manage this task with a freelancer.
Easy to find
If you don't know where to find a vendor, try Upwork or Freelancer. There are many more online platforms where you can not only find the right person but also check his or her portfolio, rate and see the feedback from customers.
A team or a company usually have all the needed staff for the full-cycle development. It means that hiring them you get front-end, back-end developers, designers, QA engineers and a project manager. A good development outsourcing company is able to deliver you a product wasting no time. And also has a wide range of benefits. Here are some of them:
Pluses of hiring a team or a company
Consultation
If you hire a team of developers, they will help you with lots of useful advice and tips. Usually, these people know how everything works from inside and can tell you what technologies and solutions would be better for your project. If you want to launch a startup, a team can also advise you the monetization strategy, how to target the audience, what analytical tools to use and what features would be great to add or vice versa exclude from the plan. If you hire a development team, you get a think-tank, full of ideas and energy to assist you. If it's all new to you and it is your first startup, working with a team is the best solution for you ever.
Improved skills and technologies
All companies are interested in hiring people who are ready to develop themselves and improve their knowledge. That's why they also try to learn new technologies as fast as they can. It is needed to be competitive on the market. So, when you choose a team, they would be happy to offer you the latest tools and technologies. If you want to read the feedback about a company you like, try to find their profile on Clutch or GoodFirms.
Coordinated work
It means that you will have less headache and worries working with a company. Especially if you hate management. But don't think that hiring an agency, you get less interaction with the team members. You'll have the opportunity to communicate and change everything you are not happy with. But you won't need to deal with every minor issue because a project manager would handle them. Such working model has more chances to meet deadlines.
All the insights about the software development process at Cleveroad are in this short video. find out what's our ace in the hole!
Development Process at Cleveroad: How We Create Software
Transparency and legality
One of the advantages, when you hire a development team or a company, is their desire to work legally. They usually have a lawyer who deals with all the contracts and documentation. If a company you contacted offers you to sign a contract it shows that they care about your rights and laws. Nevertheless, do not sign anything until you have double-checked everything at least twice.
Good reputation
If we take a look at the majority of development companies, we'll see that they value their reputation. That's why they care about the products they deliver and the overall satisfaction of customers. Such firms are interested in your positive feedback and will do their best to make you happy. You can replace a project manager or a developer you aren't satisfied with another one within a company. At the same time, a freelancer you don't like would be much more difficult to replace because no one likes to rewrite someone else's code and you have all chances to stuck with a project halfway.
Credibility
Every company wants to build long-term relationships with you. Such approach brings benefits to both parties. You always know that you have a reliable team to help you if something goes wrong and a company prefers working with one client and support products which they've built than to search for new clients all the time. It also gives teams a chance to focus more on the quality of a product.
Support and Maintenance
The customer-oriented mobile app development services imply that you get support and maintenance even after the product release. It is connected with the fact that new operating systems are released almost every day, along with new devices. And I am sure you would want a product to be compatible with all of them. Moreover, during the product's lifecycle, a product owner may want to add new features or to redesign his or her site, for example. It all leads to a need to hire a dedicated developer or a team and change the code. And it would be perfect if you hired a company who developed this product in the first place. Looking for a freelancer who built your product is much harder than a company, especially if you signed a contract for maintenance and support services.
What are the minuses?
There are awesome individual developers and great teams in the world. Whoever you choose, both options are great. All you need to do is to think what type of project you have, small or big and complex and what tasks you need to be done. But before you make your final decision, it is time to find out what disadvantages of freelancers and development companies there are. Let us start with freelancers.
Minuses of firing a freelancer
Security issues
If you hire freelancers, they rarely sign contracts. They can easily disappear without even starting your task. We are not trying to say that all freelancers are frauds, but you need to be very careful choosing a person for the job. Use online platforms, we've mentioned before, there is at least some information about a person with the comments about his or her previous jobs. Ask your potential candidates for the contacts of their customers, call those people and make sure you are making the right choice.
Less control
Modern companies use lots of project management tools, like Trello, Jira, Redmine and so on. They work well not only for a project manager but also for you. A product owner who has access to such system can see very clearly what task is being done right now, what has already been finished and what assignments are next. If you hire software developers from one company which applies Agile Methodology to the development process, you have a chance to participate in it even more and choose the tasks that should be done next and the ones which are irrelevant at the moment. However, this approach does not work with freelancers. You have to take it on trust everything they tell you while they can work on another project.
Confidentiality
It is very important to protect your ideas from being copied or even stolen. That's why the first step you have to do when you start negotiation with a freelancer or a company is to sign a non-disclosure agreement. If an individual developer refuses to do that, it is time to look for another one. Nevertheless, even if the treaty is signed, it is much more difficult to control it's implementation in a case of a freelancer. The development companies care about their reputation more than individual vendors and prefer the unconditional fulfilment of the terms of a contract. Not all freelancers do the same.
Quality issues
Again, we can't say that about all freelancers but lots of them prefer speed to quality. To earn more money they need to do more tasks. Sometimes it means that the quality will suffer.
No management
Not all freelancers are self-organized and are able to manage their own work properly. If you want to hire an individual developer, be ready to control everything by yourself, including such things as deadlines.
Tip. If you think that one developer is enough for your task and you want to find a really reliable person, you can contact a development company you like and feel is credible and ask them for out staff software application development services. Thus, you will pay for one person only and get all the advantages of working with a team. It means you'll get a really trustworthy person you can count on. FYI, some companies out staff not only developers but designers and other specialists as well.
Don't miss our next article about giant multinational companies which use Python for their projects. Subscribe to our blog and get all the news in time!
Development companies also have some downsides. And it would be unfair if we left this information unsaid. Here is why you may find companies difficult to deal with:
Rate
Companies charge more. It is obviously one of the brightest disadvantages compared to freelancers. Hiring a team, you need to pay for a team.
Tip. Don't think that all companies charge the same. The cost varies according to it's location. Some Indian companies can cost you even less than a freelancer from America. If you need a really good team, take a look at Western European countries. They have an amazing price/quality ratio.
Making the final decision
There is no correct answer. In some cases, an individual developer would fit all your criteria and in some, a company is needed. We offer you to take a test which can help you with the choice. All you need to do is to answer the following questions questions:
Choosing between a company and a freelancer
Is your project big? If it is a complex, enterprise solution with heavy functionality, you need to appeal to a company. One person will not be able to complete all assignments on time.
How many technologies does it cover? For instance, you need an app with streaming, payment gateway, social integration, GPS features and so on, you should understand that such task requires lots of different skills and experience. And it would be better to ensure the project to a company who has people with a needed skill set. Be careful, some freelancers can tell you that they will do all the features by themselves but more likely it's a trick. There is no such term as a full-stack developer, who knows everything equally well. They will only start learning needed skills with your project and then it will last for years.
Can the job be done by one specialist? If you need to create back-end, front-end, and a design and then you want to make it bugs free, you need more than one person but four (five with a project manager)
Can you manage a project on your own? Some people were not built for this. Managers control everyone and everything, they can easily organize the work in such a way that no minute is wasted. If it's about you, then your work with a freelancer would be pleasant and fruitful. If not, hire a company.
It is a hard task to find someone you can trust your ideas and the future of your business or a startup. Make sure that your vendor is a credible, reliable and experienced developer(s). A freelancer or an out staff developer can handle a small task with one or very few technologies faster and better than a whole company. But, such things as quality, fast bug fixing, flexible development and ongoing tech support are the matter of survival for startups and complex projects. And companies are much better in this. At Cleveroad, we provide result-oriented IT support within mobile development services to ensure excellent user experience and product operability in the long run. Don't hesitate and contact us if you have any more questions. We are always here to assist you.
Frequently Asked Questions
Freelancers work as independent specialists. They rarely cooperate with other people, don't always sign contracts, and usually offer lower rates.
An agency is a team of IT specialists. Usually, they have everyone they need to build software from scratch: analysts, PMs, designers, developers, QA engineers, DevOps. Agencies always sign contracts and are responsible for your project's delivery.
It depends on your project. If you're making something very basic like a landing page or a UI/UX design of a very simple app, an experienced freelancer may be a good option. Still, experienced freelancers charge at least $50+ per hour when it comes to software development.
With an agency, you get a full team of specialists, from Business Analysts to designers, developers, and DevOps engineers. You can just describe your idea, provide a list of features, and the agency will take care of everything else. Great, if you are working on a product more complex than a landing page and need a few specialists at once.
Freelancers don't need to pay a competitive salary to hire the best IT specialists. As well as pay for the office rent, software & hardware for each employee, sick leaves, and vacations.
Depends on the project. If you're making a very simple app for friends and family, it may be enough to cooperate with a freelancer. But if we're talking about startups or other complex projects made for external users or your company's employees, it's better to work with an agency.
An agency is responsible for your product delivery--in time and with decent quality. Freelancers aren't—they may leave your project any time or go silent.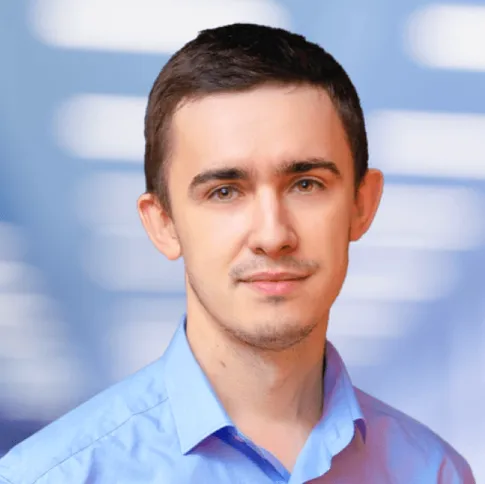 About author
Evgeniy Altynpara is a CTO and member of the Forbes Councils' community of tech professionals. He is an expert in software development and technological entrepreneurship and has 10+years of experience in digital transformation consulting in Healthcare, FinTech, Supply Chain and Logistics
Rate this article!
3234 ratings, average: 4.50 out of 5
Give us your impressions about this article
Give us your impressions about this article
razzlejazzle
24.03.2020 at 17:16
Great but i think it's missing the minuses towards to agency side?