Key Apple Trends for 2023 and the Most Useful Ways to Apply Them
'Fashion is the armour to survive the reality of everyday life.' Bill Cunningham, American photographer. This phrase has to become a rule for all product owners, startupers and developers who want to create fantastic and ultra-popular things. It is not always easy to follow mobile app fashion and trends, that is why we've collected and combined all the latest, the freshest and the most promising Apple trends, so you have a chance to grab those ideas and incorporate them into your future projects to create a nice and neat iOS application or another product for the company.
There are lots of benefits which you'll get if you rely on iOS development trends. First of all, you can advance your existing product or create a brand new superstar app. Second of all, you can improve users' acquisition and engagement. And third of all, you'll maximize revenue by attracting many more customers with the new unique features than with a usual iOS application.
We know lots of stories about successful startups which built a new product based on a trend technology (Pokemon-Go), so there is no point to prove it's viability to you anymore. Here we go, the top 10 Apple trends of 2023.
Something old in iOS development trends
Not everything we will tell you today is going to be 100% new. There are the technologies and areas (Apple future plans) which they will continue developing and investing money in 2023 with due diligence. Here are these things:
Future of iOS development
1. Siri improvement
Siri is something that Apple will be improving all the time. And this technology keeps getting even cleverer. The new AI base and contextual learning will allow Siri to work as a task manager and do much more than we are used to. From now, Siri will have access to Citi Mobile app which means that you can manage all your accounts with the help of your voice and Siri, of course. AI-driven Siri can easily work with all Apple services.
Tip for developers
We all are looking forward to getting SiriKit soon. With this fantastic tool, all the iOS developers get an opportunity to add Siri to their apps. SiriKit enables audio and video calls, messages, payments, image search, training and tickets booking. We even heard some rumours about compatibility with a car with the help of CarPlay, but those are just rumours. Still, we hope that SiriKit will be released soon as it is one of the most promising Apple future innovations.
Tip for product owners
It is never too late to advance your existing app with some great Apple future developments. Especially, if a feature is so familiar to users and so beloved. Adding Siri to your product, you make it twice as convenient as it was.
2. Apple watch trend
More than 33 mln Apple watches have been sold since their first appearance on the market. And this figure is constantly growing. However, there are still much fewer apps for WatchOS than for iPhones. And It shows us how thirsty this market is.
Tip for POs
If you have an app for iPhone you should consider the possibility to create a version for WatchOS. There are lots of pitfalls connected with this process, nevertheless, your efforts will be appreciated. On the other hand, if you still don't have a project, a smartwatch app can become a great start for you as a startuper.
3. iBeacon trend
You may have suggested that it is not a trend at all. The technology is not new, to put it mildly. However, with the new combo, iBeacons plus wearables, has got a second life and a new path for development. Of course, BLE devices Beacons can also work great with the iPhones. A lot of companies still use them successfully in their marketing strategies. But connecting Beacons with Apple watches you can get even more benefits.
Tip for developers
Pay attention to new API's which Apple Inc released for user notifications and remote pushes. Always keep up with the Apple future projects.
Tip for POs
iBeacons combined with wearables is a great business idea. More about this fantastic trend you can read soon, so don't forget to subscribe to our blog and be the first to get news from us.
4. IoT
The Apple HomeKit, which was launched in 2016, is getting more and more popular nowadays. Taking into consideration a fact that there will be more than 50 billion IoT devices sold by 2020, we see that the future of HomeKit is going to be very bright in the upcoming year. Every day we get new startups and companies which provide us with new, super smart devices connected with one network into a single system. The competition makes these companies reduce prices which means that they become more affordable for common people. The Internet of things is not only an Apple industry trend of 2023 it is also a huge field for entrepreneurs and small businesses all over the world.
Tip for developers
Working with HomeKit, don't forget to regulate all privacy policy issues and protect customers' sensitive data. So, if your app is connected to iOS 10.0 or later versions, and it connects users' HomeKit configuration data, it should declare the intent to do so.
Tip for POs
HomeKit configuration database is available to Siri and different third-party apps, which means you can play around, combining different features and making an absolutely automated system driven by a voice control.
5. Apple Pay
Apple Pay exists for many years, but before it was used only to buy programs, music or books in App Store or iTunes. However, since we can pay for the real object via the system the future of Apple Pay is to become a great alternative to PayPal, Stripe and other payment gateways. It all means that in 2023 the share of eCommerce transactions made via Apple Pay will only grow.
Tip for developers
With this service, you can create applications where users will be able to sell and buy real stuff without paying to third-party services. Apple Pay provides customers with a very convenient way of money transaction via messengers and you get an opportunity not to think about the security of users' data because Apple handles all these issues.
Tip for POs
The opportunity to pay via a very familiar system adds credibility to your application. Middle-aged users are very suspicious about new services and everything that concerns their money.
Brand new Apple industry trends
Along with all that, we also have some new tendencies and ideas which form Apple future and which the company is going to popularize in 2023. Here they are:
6. Wireless charger
AirPower, a wireless charging pad which we've heard of but haven't had a chance to buy and try it out. In 2023 it will all change and there will appear an army of fans who eager to purchase it no matter what. As it was announced, this charger would be compatible with only a few Apple devices, which also means that some Apple lovers (especially teenagers) would like to buy new, the latest models of iPhones and Apple watches compatible with AirPower. The creators also claimed that AirPower will be able to charge several devices at the same time. What can I say, I want it already!
Tip
Developers, as well as POs, have to understand that there are more and more people who are ready to buy a new Apple device every year instead of using an old one for 5 or 8 years. That is why all your efforts should be focused on new capabilities of the devices and new features which can be implemented with the help of these gadgets.
7. Swift 4
The launch of updated version of Swift has become a big thing for iOS developers this fall. The fourth version of the programming language brought lots of innovations and improves and will make a great impact on the future Apple products. Thank God, it is compatible with old versions of the code and there shouldn't be any difficulties with the old code if you want to update your Swift application. Apple created Swift not only to make the programming language for Apple devices powerful but also to make it so easy to learn.
Tip for developers
Swift 4 is more powerful than the third edition. It gives all developers a chance to program faster and better while saving quality. We believe that it's not just an iOS trend it's the future of iOS development.
Tip for POs
Programs based on Swift 4 are easy to scale and they guarantee high performance of the piece of software. Moreover, such apps consume less memory.
Borrowed ideas of the Apple future developments
Despite the fact that we love Apple and it's products so much, it still has tons of competitors who also try to make their systems more advanced. Some things they create are so cool that Apple has to copy or borrow them.
8. ARKit
In April 2017 Facebook launched it's Camera Effect Platform for developers and common users to create fantastic AR effects. As far as this technology is a huge hype nowadays, Apple Inc. is trying to keep up and launched it's own project based on AR. The result of this work was ARKit, a framework to build unique Augmented Reality experience for iPhone and iPad fans. Powerful Apple processors A9, A10 and A11 guarantee high performance.
Tip for developers
You can also find different optimizations for this framework in various third-party tools. For instance, Amazon has announced an application platform called Sumerian which is compatible with ARKit from Apple. With such a support ARKIt will only strengthen it's position in 2023.
Tip for POs
If you have an idea of a great AR app, it is a high time to implement it in your iOS application. If you want to find out it's cost first, then you can use our free app development cost calculator
9. The "Files"
Files is a new application which has access to different cloud storages. With it's help, a user has access to all the files which are stored in different cloud services, like Dropbox or GDrive. The app has a dashboard to manage all your documents no matter where they are. The idea of the app isn't new, still, we are glad to finally have it as a native app.
10. Face ID
Yes, my friends, facial recognition feature is not new at all. However, Apple managed to perfect it and made absolutely precise. Despite the fact that there are some minor issues with this system, the Apple development appeared to be so promising that the company decided to get rid of Touch ID at all in iPhones.
Tip for developers
Face ID gives you endless possibilities to create new, even more reliable and accurate programs for authentication.
Tip for POs
if your application contains any users' private data, you can add Face ID as a locker to your app.
All there trends and Apple future technologies will form the path you, iOS developers and product owners should take to bring the most competitive, engaging and functional products to the market. Trends are not only hyped words which everyone knows, they are a great opportunity to find the idea which will make you rich. If you want to use these trends or some tips of ours to create a fantastic iOS product with us, contact our managers and let's make it awesome!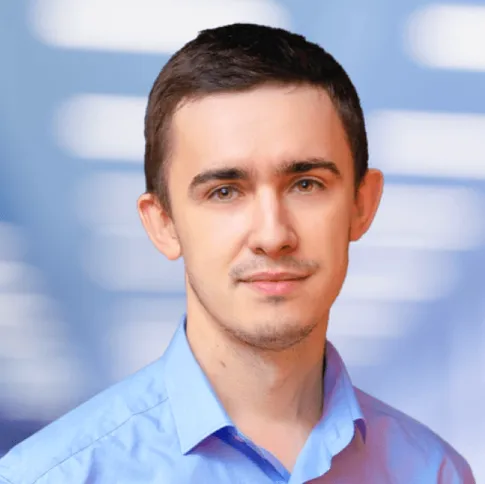 About author
Evgeniy Altynpara is a CTO and member of the Forbes Councils' community of tech professionals. He is an expert in software development and technological entrepreneurship and has 10+years of experience in digital transformation consulting in Healthcare, FinTech, Supply Chain and Logistics
Rate this article!
3069 ratings, average: 4.61 out of 5
Give us your impressions about this article
Give us your impressions about this article