AI In FinTech: 5 Proven Ways How Smart Algorithms Enhance Financial Processes
914 Views
|
20 Apr 2018
|
11 min
Artificial intelligence penetrates into all fields of activity. According to Markets&Markets research, the global AI in FinTech market will grow to 7,305 million by 2025 in comparison to 1,337 million in 2017. Today we start using AI in our financial operations and sometimes even don't pay attention to it. Apart from some new hardware and software created to enhance a financial field, artificial intelligence makes it's contribution to the development of FinTech and solution of main challenges in this field.
This article will shed some light on all main financial problems AI solves or can solve in the future, and how AI-based FinTech software development may improve and make a closer interaction between people and machines.
Business challenges AI solves in FinTech
I would like to draw your attention to some benefits of AI in finance and how it can help people solve financial issues.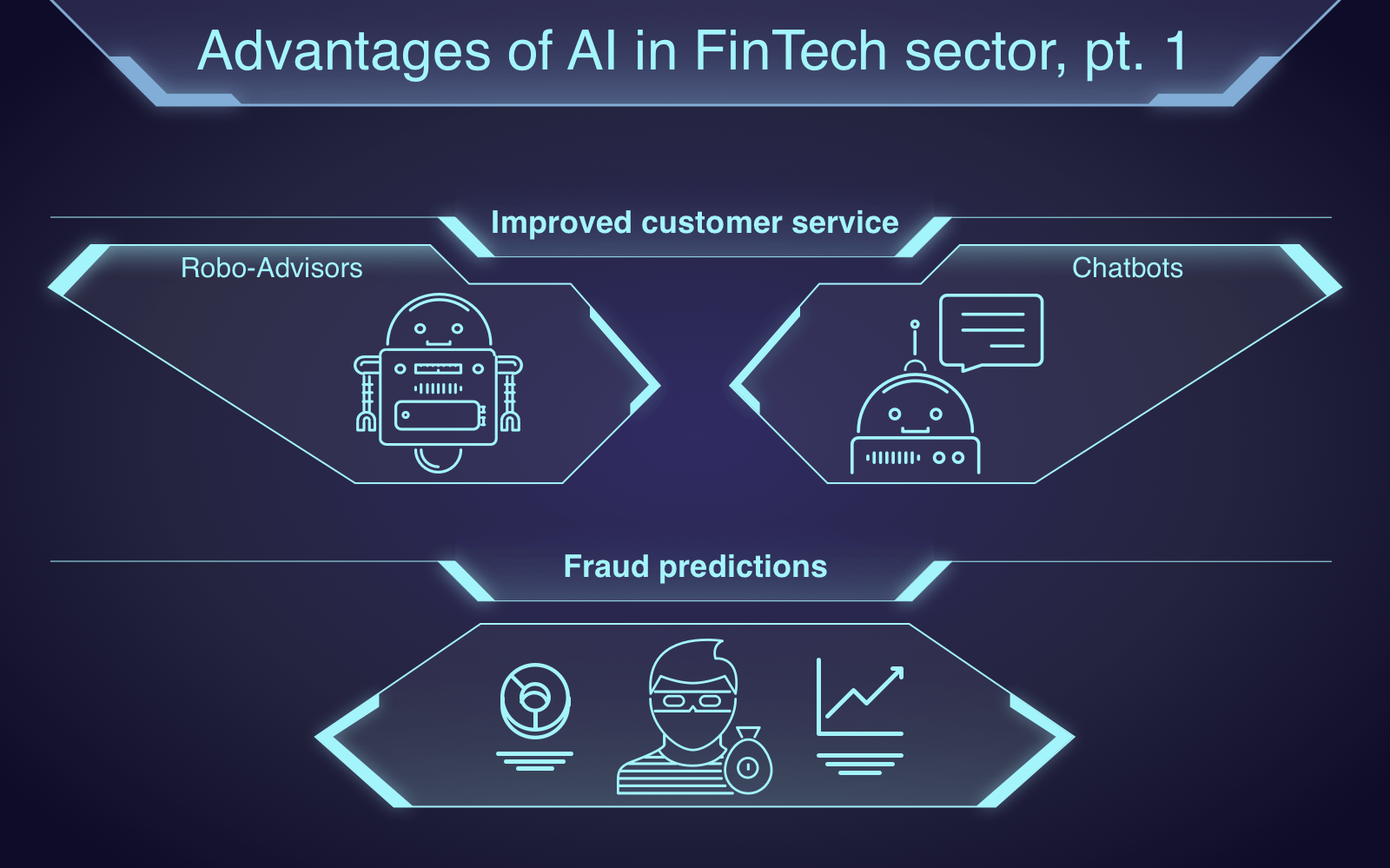 Solutions AI brings to FinTech, pt.1
#1. Improved customer service
How do people usually communicate with representatives of any financial organization? By phone or online chat. And these representatives are also people that can make mistakes and give wrong advice hastily. Moreover, people tend to become tired and annoyed that also has an influence on customer service. What is the option? Using AI in FinTech software that will improve customer experience and speed up customer engagement. Chatbots and robo-advisors are created to change the situation.
You probably know what chatbot is since we already published a few articles concerning chatbots development and how it can be applied. If you still haven't done this, do not hesitate to read it. So, what can chatbots do in FinTech?
They can notify users of all changes;
Manage their account upon request;
Work with users' complaints;
Provide users with helpful information;
Offer solutions to users.
Thus, chatbots make it possible to increase customers' loyalty towards your product. It means that if you have a financial software, you should think about the integration of AI-based chatbot that will help your customers get more information about your product and ensure that you are a reliable service provider. As a result, you will get more profit and your product will become much more competitive with artificial intelligence in finance.
Robo-advisors are some kind of chatbots but they are created specifically for FinTech field, unlike chatbots that can be used in other activities as well. So robo-advisor is a software that replaces a portfolio manager, it can assess investor's tendency to risk, choose a strategy of investment and even sell/buy securities in accordance with the selected exchange rate.
So these are virtual financial assistants that can be appropriate participants of your business if you are engaged in financial consulting services or in the stock exchange. What else benefits do robo-advisors have? To invest money wisely, people need a professional advice but human advisors services are very expensive. Robo-advisor is the one who changes it and it allows you to involve more people in your business since it is much cheaper. That is how AI in financial services can change your life.
Do you have any doubts regarding chatbots, you are not whether you need one? Watch our video to make your decision:
Chatbots: a worthy replacement for apps or temporary obsession?
To get acquainted with this subject deeply, you'd better read our large article concerning fraud detection. But I would like to mention fraud prediction here and emphasize on how AI can solve a big problem of financial frauds.
Why is AI beneficial in financial fraud detection?
First, the system can learn and record to it's memory thousands of possible fraud cases unlike human mind and it can even detect hidden ways of frauds;
AI-based fraud detection system functions 24/7 and it detects each fraud automatically;
The system learns the behavior of customers and it can predict possible frauds when actions of users contradict their common behavioral model.
Therefore, your FinTech software should have an integrated artificial intelligence to increase the security of your customers. By the way, AI in banking sector is predominantly used specifically in fraud detection area. Moreover, when people will feel safe using your software, they will get more trust to your product, and it means a success to your business.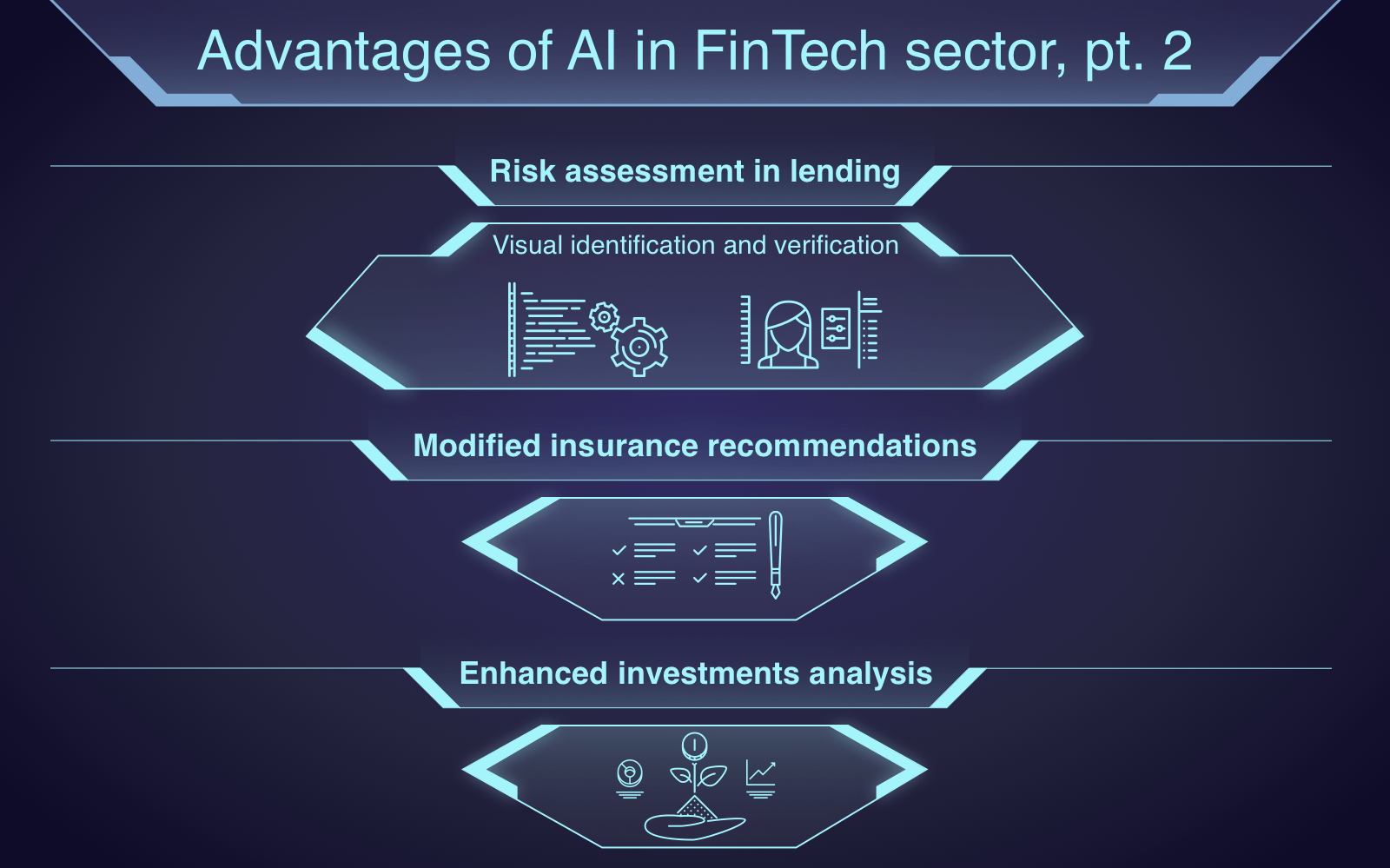 Solutions AI brings in FinTech, pt. 2
#3. Risk assessment in lending
Lending goes together with fraud prediction since one AI algorithm can be used in this field. Using artificial intelligence and finance sector combination, banks and P2P lending organizations can extract a relevant information from large volumes of data that make it possible to understand a customer in a better way and use this data for assessment of risks in lending and loans.
In FinTech lending sector machine learning can be used as a tool for analysis, prediction and automated decision-making system to build models of credit risks.
Visual identification and verification
Visual identification using neural networks help P2P lending business owners and bank owners verify the identity of the person who wants to take a loan and verify his or her ID document to make sure that this is the right person who applies for a loan. Moreover, AI can also be used now in credit admin software that is working with loan documentation and automate the whole process of verification.
Application of artificial intelligence in financial services makes it possible to modify all financial procedures and make them more secure. Do you want to build more trust with a customer? Then you need to integrate AI into your P2P lending app to make it smarter. Our developers can assist you in it and do everything as required.
#4. Better insurance recommendations
In May 2017, Ageas company claimed that it starts integrating AI technologies into the processing of insurance claims. It is just one example how AI is changing FinTech, but it already shows that large insurance companies start using artificial intelligence and it will be a common use case in insurance.
AI should be used first in insurance of business types related to large data volumes like real estate and motor transport. Artificial intelligence can be used here for the assessment of damage level after a car accident or for monitoring of house condition.
Artificial intelligence has a great potential to change insurance industry, improve products and simplify services. Machine learning will be able to replace human and do this job easily and fast. Along with Big Data and IoT, artificial intelligence will help consumers and insurers to decrease the number of insurance claims and turn insurance into a preventive service instead of an indemnity service. Insurance business definitely requires artificial intelligence to enhance the business and provide people with a first-rate service. This is the age of artificial intelligence in FinTech.
What is machine learning platforms and why they are good for your business? Find out it in our video:
7 Machine Learning as a Service Platforms for Beginners and Pros
#5. Improved analysis of investments
Hedge funds are private investment funds that are focused only on professional rich investors. And now hedge funds are interested in using AI systems that will be able to process large volumes of data and improve the quality of analysis of investments. Many hedge funds have already started automating part of their investments using computing models, but their results were not very good. So AI in FinTech was considered to be one of the most appropriate ways to improve automation process.
Ideally, AI can help create a hedge fund that performs all stock exchange operations without human intervention. Every day AI algorithms make it's own predictions about market upon a complete analysis of market prices and so on. And then AI system can make accurate decisions what is the better option from all possible for today. So investors can become our customers as well if they want to improve investment process and increase a profit.
As you can see, artificial intelligence and financial services can become mutually beneficial for each other.
Noteworthy FinTech AI startups
Let's take a look at some examples of successful implementation of AI in FinTech projects.
Aire
Aire is a new FinTech startup based in London. It was founded in 2014, and it is oriented on credit scoring of borrowers that have a poor credit history or they don't have it at all. Using Aire, a credit score can be built on the basis of a questionnaire filled by a user, and on the basis of trustworthy sources like LinkedIn. System asks such questions that help understand a creditworthiness of the user, like 'What do you spend money for?', 'Do you have a source of income?' etc. Also, Aire released it's Credit API to let other lenders use their system to perform a credit check.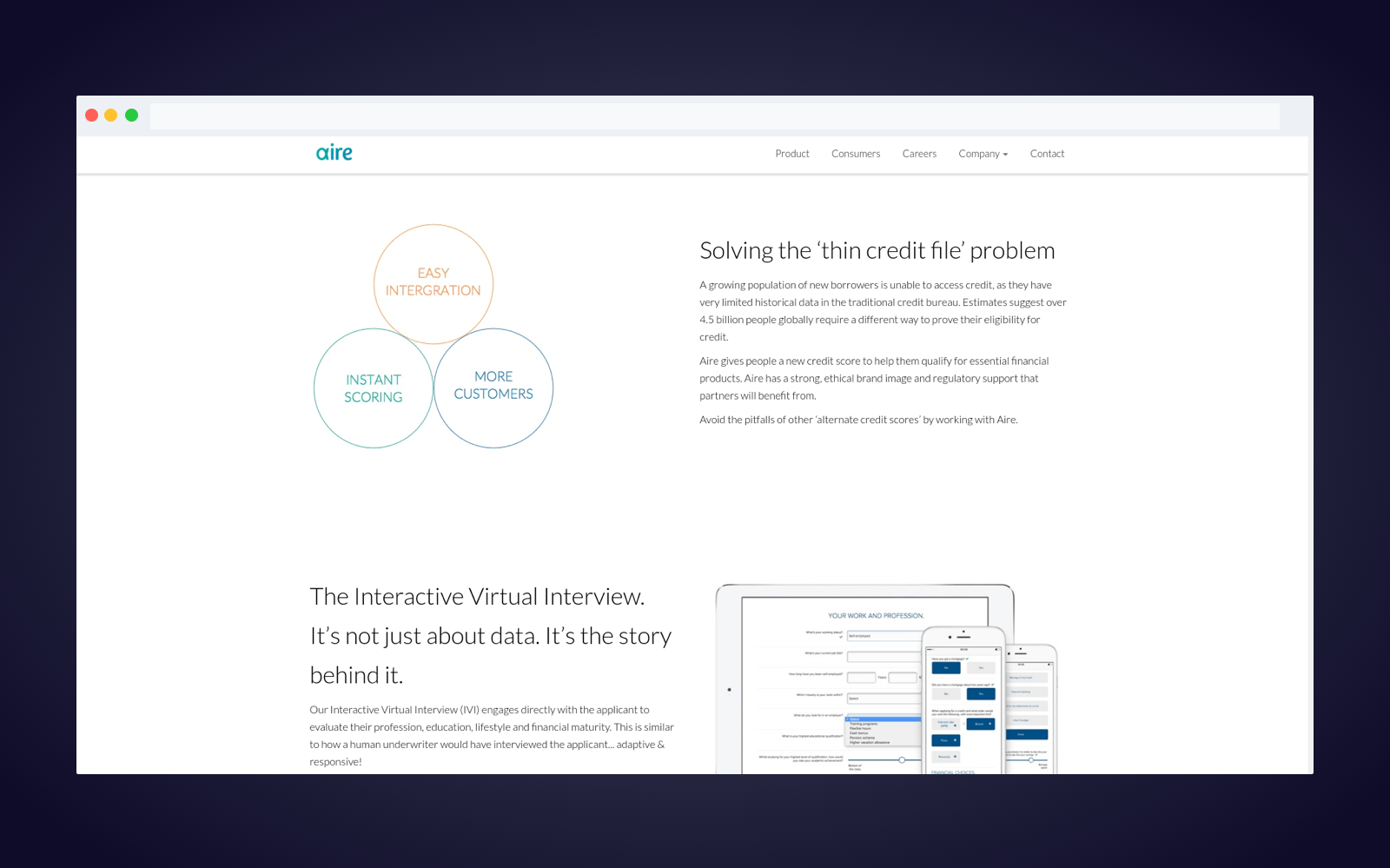 Aire software to build a good credit score
Kabbage
Kabbage is one of the largest AI FinTech companies that is engaged in lending. It's headquarter is located in Atlanta, USA, and this service provides small enterprises and ordinary consumers with loans that are made online. All applications for loans are performed using website, and the final decision regarding approval is made very fast. Services uses automated lending web platform and it uses machine learning and Big Data analysis to create models of credit risks and analyze portfolio.
Kabbage: AI-based lending service
Kasisto
Kasisto company represents a chatbot that brings an artificial intelligence in banking software. This chatbot can respond to voice questions of customers and interpret their financial questions in a correct way. Everybody knows that one wrong answer regarding finances can lead to serious losses, and KAI banking platform (a platform chatbot is built with) knows what to answer since it is full of millions of banking sentences. It knows everything about banking issues. And it improves 'customer-bank' interaction. Kasisto proves that AI and banking sector can co-exist with a maximum benefit for each other.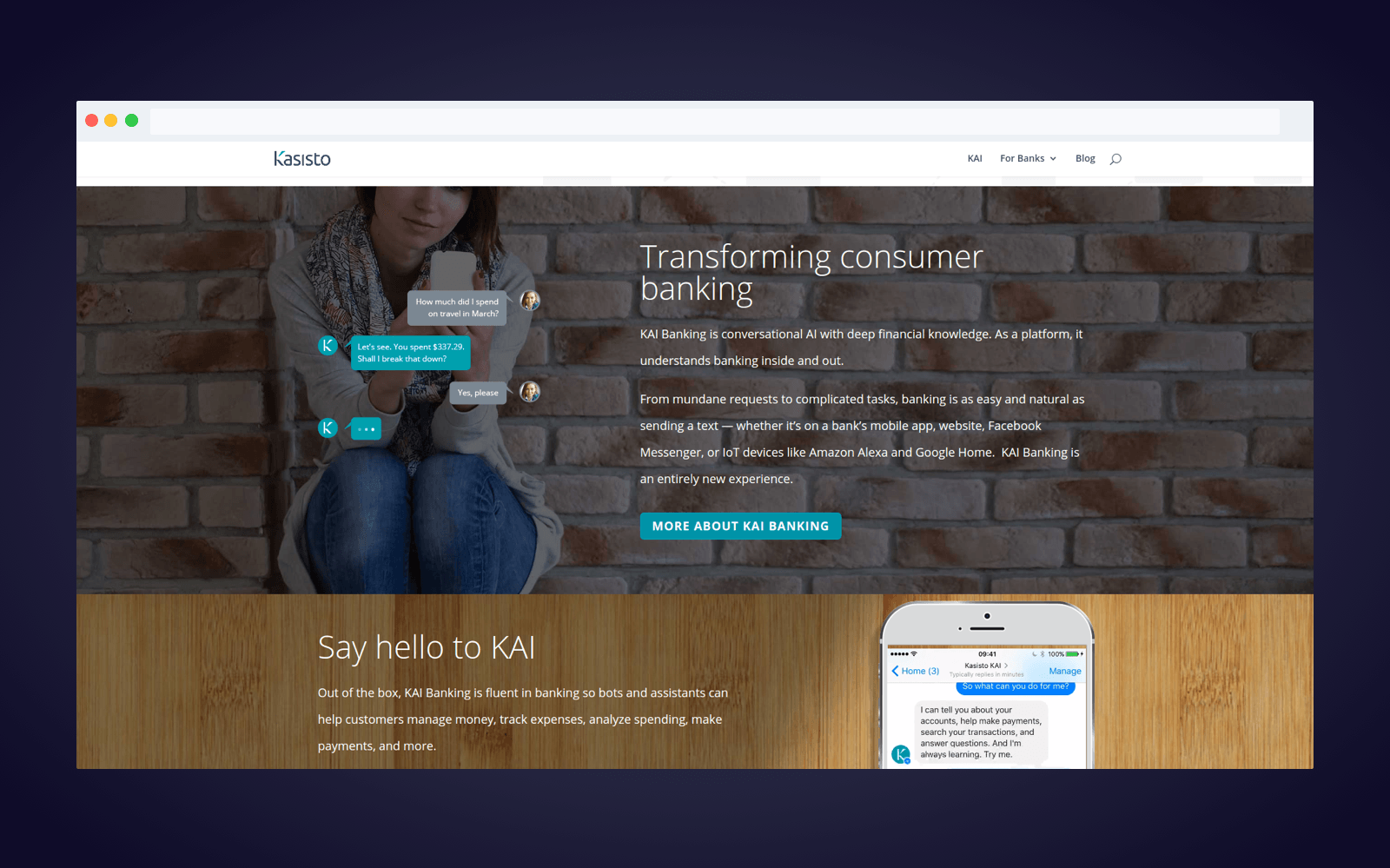 Kasisto: chatbot for banking industry
Numerai
Numerai is a kind of hedge fund but it is not a hedge fund in an ordinary sense of this word. It performs deals using machine learning models that are developed by anonymous developers. Every week specialists receive encrypted data that visualize stock exchange information. Then, developers create machine learning algorithms and for searching of specific patterns in this information and then they upload predictions to the website. Specialists get rewards for successful predictions, rewards are given in Numeraire tokens that can be converted to Bitcoins afterward. Ethereum smart contracts are the basis of this platform. If the trade using suggested algorithm was successful, a developer is given a reward. Simply put, it is an arena to earn cryptocurrency.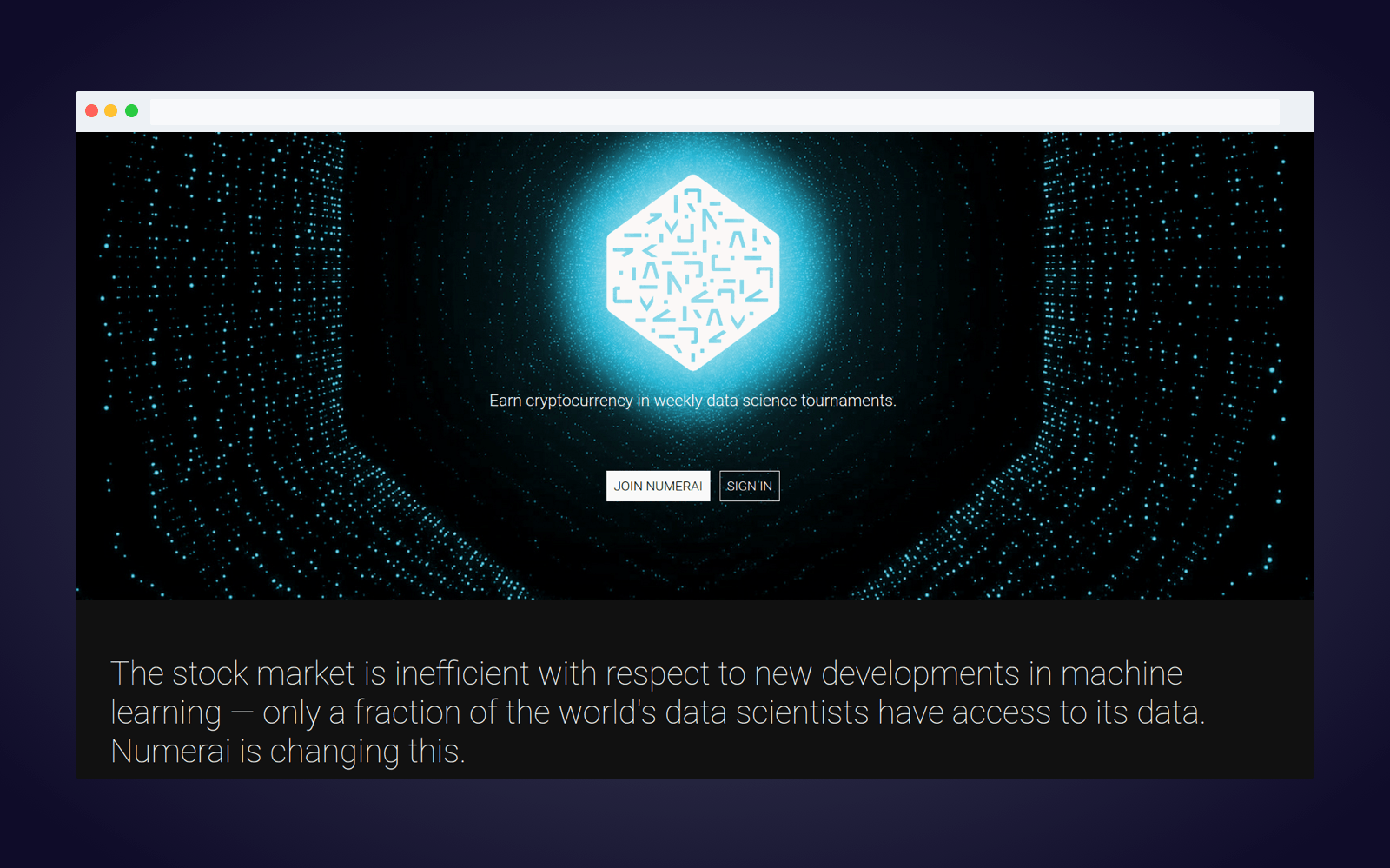 Numerai: a hedge fund of the future
The list of projects is not full, and it is likely that your future artificial intelligence FinTech software can become the one that will be added to the list of the most successful startups in the financial field. Our developers have enough skills to create smart financial software for your business, hurry up to contact us.
FinTech and AI: a great potential for your financial software
On the basis of all mentioned above, we would like to add some more information about the potential of AI for your FinTech software and why you should pay attention to it. The market of data technologies show something new and it creates appropriate conditions for AI facilitation in FinTech industry.
The growth of data processing, modification of machine learning algorithms, reduction of services cost, demands of customers - everything listed leads AI to a full-fledged participation in FinTech field. AI-based technologies make it possible for financial software lead and be ahead of it's competitors, and ways of applications of artificial intelligence in finance and economics are really great, so take it into account. In fact, AI can process information fast, it can self-learn and receive new skills in record time. Computer algorithms that constantly improve themselves provide the improvement of interaction between human and computer.
Of course, AI is not absolutely ideal and when integrating it into the software you should know that in some ways interaction between two humans can be much better since there is always a moral aspect. But on the whole, AI gives much more benefits than challenges. Contact us if you made a decision and want to get acquainted with AI closer. And click on Subscribe button you can see on the right side - you will not miss our interesting newsletters.
Rate this article!