App Store Optimization in Google Play Store and Apple App Store
12 AUG 2016
1155 VIEWS
9 MIN
There is no denying that Google Play Store and Apple App Store are two titans competing for influence and the affinity of consumers and developers in the world today. Both stores started out in 2008. Google Play Store is oriented towards the Android audience, while Apple App Store (iTunes) is optimized for owners of iOS-based devices.
Recently this fight has become more aggressive and serious. Both Google Play Store and Apple App Store offer a lot of worthy content alongside "rubbish-apps". It's hard to say which store is better because both of them have their pros and cons.
App Store Optimization: Google Play Store and Apple App Store
What the statistics says
The most common numbers used to compare Apple App Store and Google Play Store are the number of available apps and the total number of downloads. According to research conducted by App Annie, which was published in The Wall Street Journal, Google Play Store outnumbers Apple App Store both in terms of available iOS apps and the total number of downloads. However, Apple's app revenue is about 70% higher than Google. As we can see from the graphs below, this trend has been the case since 2013.
Annual app downloads and revenues (Source: AppAnnie)
The difference between the stores development is worth mentioning. At the beginning of this year, a list of the fastest-evolving App Store categories included: Business, Food, Lifestyle and Social Networking. On the other hand, for Google Play Store they were Games, Photos and Music.
App Stores from a usual customer's viewpoint
Normal customers are not interested in revenue figures or how successful the store is. Their main aim is to find and download the Apps of most interest to them, in a comfortable and easy way. Apple customers have no choice but to use iOS-based systems in their search for iOS Apps.
In contrast, Google Play doesn't require any additional software. It's well-known that neither Apple nor Google allow the purchase of media content without Digital Right Management (DRM), except for free music. But with the iTunes Store, you become a victim of the ecosystem. That means when you buy a movie, you can only watch it using iOS-based gadgets. If you change from an iOS device to another type, there is no possibility of taking the content with you.
So much for the basics. Now we are going to consider the strengths and weaknesses of both stores from the developer's and application owner's point of view. App owners and app developers are interested in product growth and popularity. For that reason, app marketing and ASO (App Store Optimization) is a prime area of our research.
Mobile App Marketing
Nowadays Apple App Store continues to make much more revenue than Google Play Store. It's a simple truth. Firstly, Apple customers are better off on average. In many cases, Apple gadgets are more expensive and it urges their owners to be ready to spend more money on Apple apps. To be fair, some Android devices can vie with Apple's ones in terms of cost, however, their price spectrum can vary from $100 to $200. Another reason is the absence of electronic payment options in those parts of the world where Android is popular, so it makes it simply impossible to bill for apps.
One more possible reason for such a one-sided situation can be that a lot of developers and app owners don't even try to cash in on their apps. According to data of free vs paid Android apps only about a third of the total number of available apps, which amounts to 2.2 million, are paid apps. The remaining ones are free to download. For now, the main reason for Google Play Store's comparatively low revenue is the billing for apps, namely Google Checkout.
But this is going to be improved later this year, as Google plans to introduce more payment options for developers and customers.
App Store Optimization
It's hard to tell which store allows better results through app store optimization (ASO), but we can easily compare the differences between them.
Application Name
The Name of the app plays an important role in the success of your app. When you think up a name, you should create a catchword which includes the plot of the app. In Google Play Store you have 55 symbols for naming your app, while App Store provides 255 symbols. However, you would be better off using 70 or fewer symbols.
Keywords in the name can be grouped with tag-words. Keywords have more influence on Google Play Store in comparison with Apple App Store. In company with the name, your app icon will also impress customers. An illustrative and esthetic icon can really improve your visibility in Apple App Store.
Application Description
A Description of your app should be written in clear English and provide the most information in the first two first sentences. The best variant is two abstracts, followed by 5 or 6 differentiating features. For optimization of the description in App Store, don't forget to check line breaks. Google Play gives a 4000 character limit on descriptions, which should include keywords, meaningful sentences and imaginative vocabulary. A Description for App Store can be less ASO focused but more oriented on attracting customers, in contrast to Google Play. It means that the Google algorithm gives more relevance to keywords.
As for screenshots, it's recommended that you publish as many screenshots as possible on your app page. The limitation for Google is 8 screenshots, while Apple provides room for only 5. You also should choose the app type and category, so make sure it's the most relevant, even though your app could belong in more than one category. Apple also has restrictions here -- it allows two categories for apps and three for games.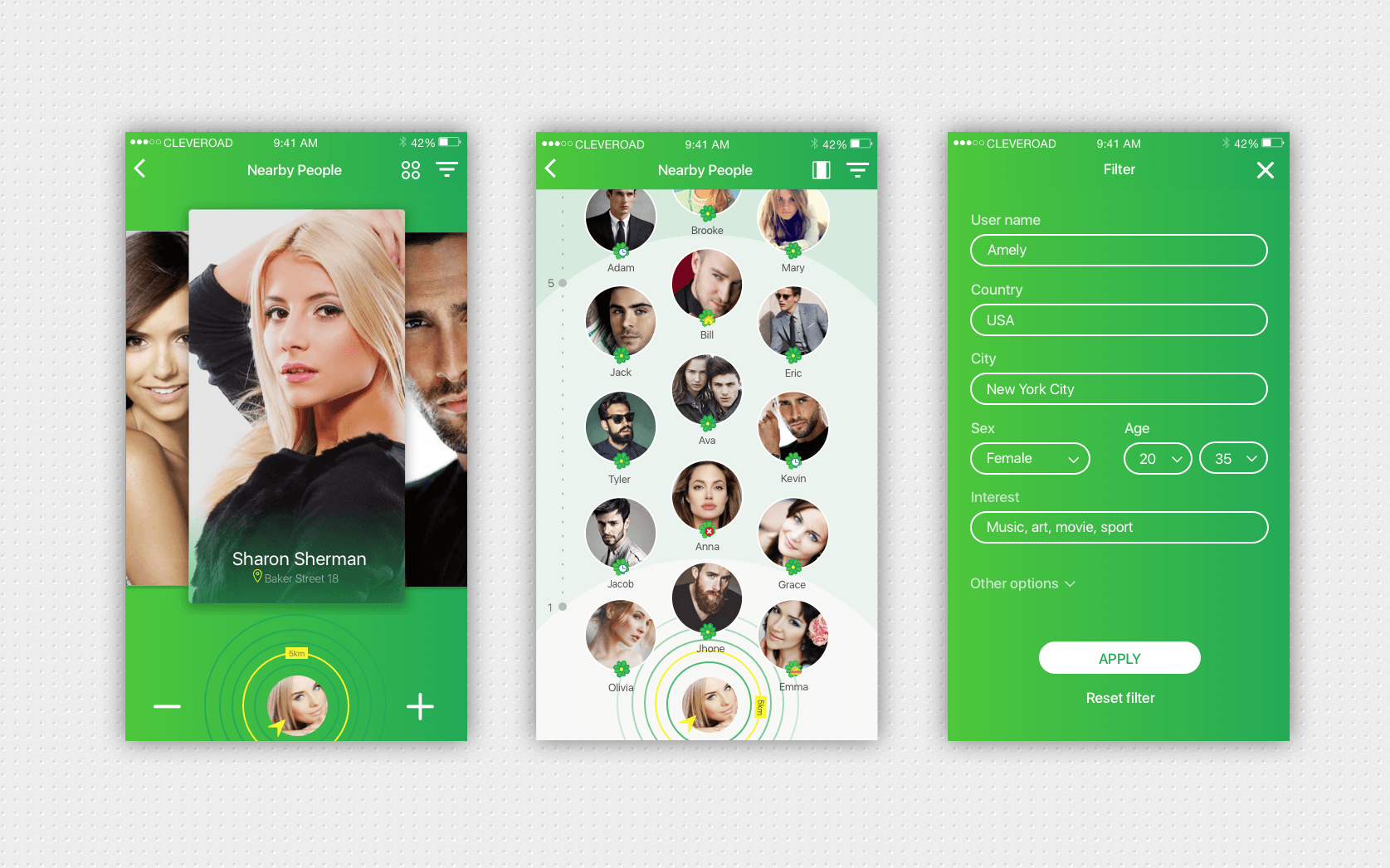 Screenshots of an ICQ redesigned app
Customers' Reviews
Reviews are a very important part of Off-page ASO. It's the key which unlocks your customers' hearts. But don't try to fill your app page with fake positive reviews. Unlike Apple App Store, Google Play allows the possibility to answer reviews by developers. Most probably your app will have a lot of similar competition, occasionally even a "half-star" difference will make a customer choose another app, so pay attention to the app ratings.
ASO is not limited to only these points. It's a complex process aimed to ensure you customers' loyalty and, therefore, your app's success and profitability.
App Stores for App Developers
There is one measure where Google has been increasing it's dominance over Apple's App store for three straight years.In terms of attracting new developers Google is absolute leader.
According to the latest data from AppAnnie the total number of developers using Apple is around 400,000 whereas, Google Play has more than 600,000. It is widely thought that this is Apple's own fault. The company has too many strict demands for developers, while it's easier and faster to get apps underway in the Google Play Market. This may be true, but one can conclude that Apple is more concerned about the quality of apps than the quantity.
Difficulties with apps submission
It should be said that Google Play Store is easier for an app to enter. As has been mentioned Apple has very tough restrictions and demands for apps approval in the App Store. Developers find it difficult and stressful to deal with some gray areas on the way to acceptance. It takes about 3-4 weeks of thorough preparation and actual submission.
In contrast, Google Play provides clear rules for app submission, which are not excessive. We can call Apple App Store unfriendly taking into account the whole complexity of app deployment process. It can even decrease a developer's creativity by virtue of the fact that Apple demands the use of definite software and the only OS for creating apps, namely MacOS. Google Store, in contrast, accepts open development platforms.
Benefits for App Developers
Apple developers can gain 70% of the revenue made from selling their apps, as do Google developers. However, for the latter, a single registration fee of $25 is reasonable, while App Store demands $99 as an annual fee. Balanced against this fact, the sale via Apple App Store is more profitable for developers because it makes them more visible than Google Play Store. Once approved, an app can be promoted in many ways on the store, for instance, The Popular App category or App of the Week category etc. Of course, the returns become higher as the app becomes more popular. But, don't forget about a great number of competitors with newer apps approving being approved every day.
App Stores' bans
Both Stores officially admonish developers for infractions of the rules, which and so should be strictly followed.
Content restrictions
Pornography and scenes of realistic violence are banned by stores without exceptions., Stores go over the top, preventing even an inkling of nudity. But if the plot of your app includes scenes of violence, you can find a solution, for example by making them less realistic. You can use green blood and so on, it's common practice for a lot of game developers.
Privacy restrictions
Acts of piracy are also not allowed in Stores. Rules forbid sharing of illegal content such as copies of movies, music, books etc. All apps for information swapping, such as Torrent, are banned. Although as practice shows Google is more loyal to this rule.
Payment systems restrictions
Any attempts to get round the payment system is restricted and under serious control in both Stores. There were cases when developers tried to make a payment by credit card or via SMS without the store's fee. After that, they receive a life ban without warning. Only a few have managed to dispute this decision.
Comments restrictions
One more method which is very popular among developers but categorically disallowed by both Stores is driving up the number of comments. How better to stimulate customers? You should choose only loyal customers and ask them to comment when they get an emotional outburst, for instance after a strong performance or reaching a new level.
Miscellaneous restrictions
Apart from the aforementioned, every Store has it's own restrictions. The Apple App Store doesn't allow any imitations of Apple mechanics or publish or promote a rival App store. This rule is made very clear, and is worth paying attention to. Google Play strictly bans the use of push-messages to promote advertising. It's similar to Apple IDFA and has almost the same limits. According to Google guidelines, apps are not allowed to make or encourage customers to delete or deactivate apps from other developers, except for those services that aim to provide security.
The vast majority of demands are quite reasonable. App Store restricts Apps that defeat privacy or cheat device settings or can cause overheating. Also, if an app doesn't work without the entering of personal data or doesn't ask before turning on location-finding, it will also be banned.
Apple App Store and Google Play Store work differently. Of course, some parts are similar or perform the same functions, both have their own Pros and Cons. Basically, Apple and Google have both managed to create an excellent ecosystem for modern mobile platforms. This is why they are global market leaders. The actual choice of leader is up to you.
So, we know that you have something in your mind after reading this post. Get in touch with us and let's create something special together to reach the top in App Stores!
Rate this article!
1406 ratings, average: 4.60 out of 5