How to Make a Church App: Reasons to Build One and Features It May Have
1624 Views
|
13 Oct 2018
|
8 min
In the world where smartphones became an integral part of most people's lives, technologies and religion should coexist in peace and complement each other. Building a church app is a way to let parishioners be part of a religious community despite a lack of time.
A mobile application would bring church an opportunity to conduct online sermons and receive donations. However, there are plenty of things to learn before looking for mobile app development services.
Out-of-the-box solutions and applications created with app builders cannot guarantee either stability of work either rich functionality. The development of a custom app is the only way to keep user experience on a high level and provide users with required features.
Let's take a look at benefits mobile church solutions are able to bring.
Next Level of Communication
Church app development is an excellent decision if church ministers want to stay in touch with parishioners and parishioners want to communicate with each other. The application can inform users about the latest church news and deliver them invitations on events.
In addition, such applications unite parishioners into an active online community. They may give an opportunity to chat both in the application or jump to a person's social media profile and continue there.
A mobile app is a convenient way to make donations. So church app solutions may have a donation opportunity and let parishioners share the donation link in social networks.
The opportunity to stream videos can be very important since there is always somebody who cannot visit sermons and other events. Moreover, statistics show that 54% of Christian millennials watch videos related to faith and spirituality.
Building a church app allows reminding parishioners about the forthcoming charity or volunteering events. Push notifications can be great helpers in involving more people to an event. Also, it's reasonable to add a photo library for events, let people comment them on, as well as make charity donations.
Overcoming Challenges Online
The parishioners often discuss their difficulties and support each other in difficult situations. The presence of a mobile application can greatly facilitate this. According to Christian Web Trends, a social element in religious apps was recognized as very important by 57% of the respondents, while 75% found that push notifications are one of the most important features.
Those were only several reasons why custom church apps are useful. Except for everything mentioned above, it's also possible to keep church records, develop interactive features for children, etc.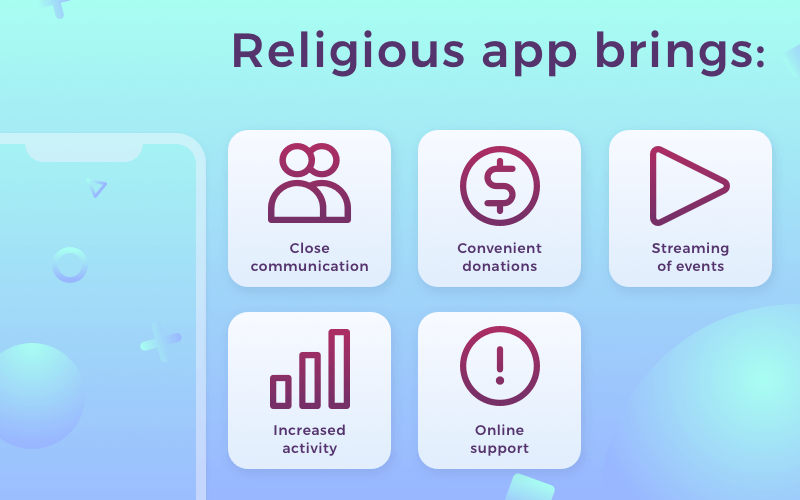 Possible church app features
Types of Church Applications
There are three main types of church applications to single out: for parishioners, spiritual leaders, and clerics.
Let's consider how different they are.
First, it becomes easier to spread the God Book among parishioners if you create a church app for them. Second, you can broadcast important events with the help of platforms like YouTube or Vimeo.
The members of your church can register on events, propose podcasts, make records of preaching, donate through the application. For big churches, it's reasonable to include there a map of campus as well as events taking place in different rooms or classes of the church.
Also, the app can perform one single feature. For example, notifying about news or allowing to read the Gospel or other religious texts.
This kind of apps is focused on managing groups of parishioners of the church. It can be capable of tracking the attendance and allow spiritual leaders making notes about participants of different groups.
The application should be protected by authorization so that no one could access personal data of parishioners.
If you create a church app of this type, it will allow church leaders and clerics to interact with each other and have single access to the church database.
For instance, if a leader enters the attendance data along with some notes they are automatically updated and synchronized so that clerics could see the changes through their personal profiles. That also gives clerics an opportunity to make the attendance reports, evaluate the level of participation in different events, etc.
Applications for children differ from those focused on adults. There are lots of peculiarities on how to create a church app for children.
You should take into account the fact children should not be bored when using the app. That's why the best way for similar children apps is to entertain them by giving an opportunity to play games and solve interesting tasks. Don't forget about the rewards!
In addition, it's a good idea to include videos and other interactive content. To build a church app that'd be interesting for children, you can also consider adding interactive Bible chapters for reading and, let's say, add a quiz at the end of each chapter.
Also, different cartoons related to spiritual development, pictures of Biblical characters, artifacts, holy places along with a description of them are a good fit. The main thing is to present information in an easy and educative way.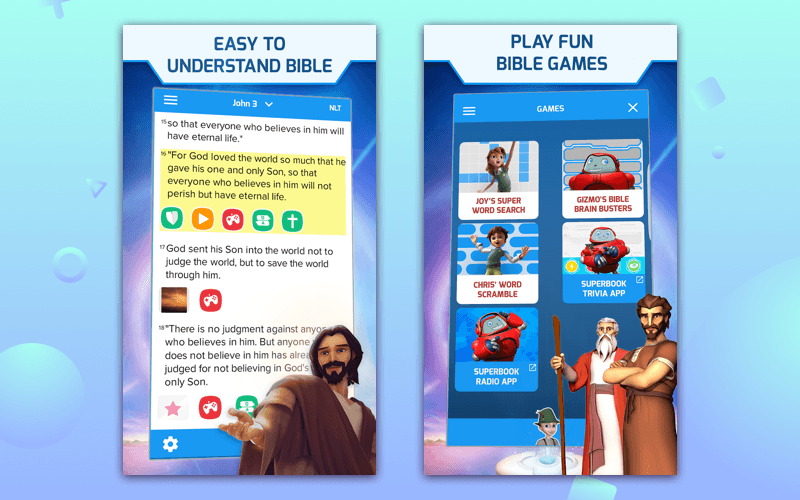 Example of religious app for children (Source: Google Play)
How to Create a Church App
To create a custom church app you should first decide on the required features. Once it's done, write down every idea you have to be able to provide clear requirements for the company that'll be building your application. It'll fasten the app development process and help bear everything in mind.
Now let's talk about features.
Basic Church App Features
Let's consider some basic features needed to create a church app that will be helpful for parishioners:
Information about a church
That's probably the first thing the app should contain. You may provide members with detailed information on church history, goals, clerics, and ministry programs.
News
The feed will allow parishioners to be aware of all the forthcoming events. Church app developers can build a push notification system.
Push notifications
Deliver important information to parishioners in an instance. Besides, GEO fencing can be used to adjust notifications depending on the area of living.
Mobile Bible
A variety of users read the Bible on their mobile devices. So, you can provide them with such an opportunity within your custom church app. Besides, it's a good idea to add the opportunity for writing personal notes.
Donations
Donations are important for any non-commercial organization. Some churches collect donations during events. In order to organize it conveniently for parishioners, you can send them notifications to remind about the possibility to make donations.
Integration with social networks
This step will provide you and your users with an opportunity to share different events on social networks using your church app solution.
Media library
You can connect websites like YouTube or Vimeo for placing/adding videos to your media library. You can also integrate audio sermons from iTunes or other audio stores, as well as create own podcasts and downloadable audio files.
Streaming
By means of services like Live Stream or Ustream, you are able to conduct live broadcasts from your church app. This feature will help to keep up with events for those parishioners who cannot physically attend church services or certain events.
Contact feature
You may allow your app's users to ask questions in chat, make calls or contact the representatives of the church in any other convenient way.
Advanced Church App Features
You may include several more additional points to your list of features for church mobile app development.
Gallery
Having a built-in gallery, users get the possibility to upload their photos from church events, make a selection of pictures with life-affirming quotes or quotations from the Gospel.
Map
This feature may come in handy for navigating through big churches.
How Much Does the Church App Cost to Build?
Considering the mentioned features, the cost to build a church app may vary between $12,000 and $17,000 for one platform. The price is based on average hourly rate in our region (Ukraine) which is equal to $50/h.
Approximate man-hours and cost to build a crunch app
| Feature | Web (back-end) | Mobile |
| --- | --- | --- |
| Information screen | - | 6h |
| News screen | 16h | 16h |
| Push notifications | 5h | 8h |
| Mobile Bible | 16h | 40h |
| Donations | 16h | 10h |
| Sharing | - | 2h |
| Media library | 10h | 12h |
| Streaming | 30h | 20h |
| Support | 35h | 20h |
| Gallery | 14h | 8h |
| Map | 5h | 12h |
| Architecture | 10h | 8h |
| Database | 6h | 12h |
| Network | - | 12h |
| Total hours | 349h | |
| Total cost ($) | $17,450 | |
The price of applications for both platforms (iOS and Android) will be different. The estimation above also doesn't include UI/UX design services and estimates only features described in the article. Meaning those are approximate numbers.
!
Feel free to contact our experts and get a custom cost estimation of your application for FREE!
Cleveroad has already delivered custom church apps for our clients before. Manna for the Morning is one of such apps.
It's equipped with the following features:
Daily Bible reading with tracking of the studying progress.
Brief comments to make Bible study more convenient.
Maps and graphics.
A personal journal where users are able to make notes.
Original illustrations to help users visualize various stories they will face.
Additional studies like "Manna for parents", "Manna for children", "Manna for couples" with daily updates.
In-app purchases allowing users to purchase books inside the app.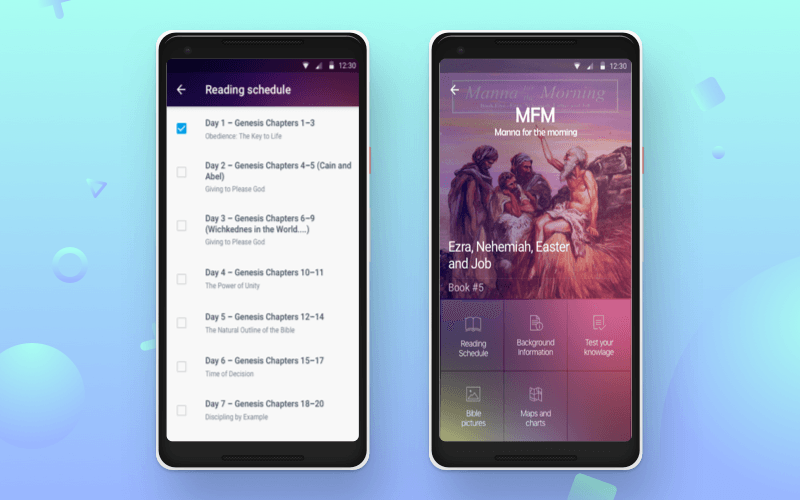 Church app design by Cleveroad
Thinking to build church application? Contact our managers to get comprehensive consultation and project cost estimation at no charge.
Rate this article!