Cleveroad 2018: Another Year of Achievements
As 2018 draws to a close, it seems like the right time to share this year's achievements with you. It has been a fruitful year full of breakthrough projects, education events, business trips and other spectacular experiences that have helped the entire Cleveroad team to become a better version of themselves.
This year, our team delivered global projects for clients from North America, Australia, Europe, and other regions. We're proud to be a part of clients' success and use our expertise to make a contribution to multiple industries including healthcare, telecommunication, real estate, and media.
Let me walk you through this year's outcomes for Cleveroad.
Cleveroad in Figures
An 18% growth in number of employees.
Included to the top 5 best IT employers in Dnipro.
Moved to 2 new, more spacious offices to accommodate a growing number of talents.
Rankings & Community
It's pleasant to know that efforts we make for building innovative software are rewarded by our clients and community. Cleveroad was listed in several well-known rankings in 2017 and we didn't stop in 2018 either.
Clutch Top Developers
Clutch is an independent B2B rating and reviewing platform that is designed to connect people who are looking for professional services with trustworthy providers in a certain field of activity. IT service providers are on this platform too.
The ranking is based on a number of reviews left by clients as well as the average score in the following criteria: quality, schedule, cost, willing to refer.
In 2018, Cleveroad was included to the top developers in UK and Canada in the following categories:
Mobile App Developers
iPhone App Developers
Android App Developers
Software Developers
.NET Developers
Apart from that, we were added to the Clutch 1000 list of the world's best software development companies.
Cleveroad was recognized as Top Developer and listed in the Clutch 1000 Global 2018
GoodFirms Top Developers
Similarly to Clutch, GoodFirms is a research and review platform created to help entrepreneurs find a reliable service provider. As for IT companies, the resource gives a thorough division by software and service categories the listed companies can deliver.
In 2018, Cleveroad was ranked in several categories at GoodFirms:
GitHub
Open-source projects from our software engineers were warmly accepted by the community of GitHub. Here are some of the popular open-source projects:

SlidingTutorial by Cleveroad
Besides, we took the second position in the Git Awards ranking as top Java GitHub developers in Ukraine.
Cleveroad ranking by Git Awards
NUCC
It's pleasant to announce that this year Cleveroad joined Norwegian Ukrainian Chamber of Commerce. NUCC was established to stimulate commercial cooperation between Ukraine and Norway. Consequently, the main purpose of this association is to encourage business connections between our countries and to contribute to building stronger business relationships.
Company's News
2018 was rich in events. Not only have we been included to several rankings, but were working on other momentous changes.
All-New Website
We've completely redesigned our website and rebranded the company's style. Why did we do it? Both of them were pretty obsolete, so our software engineers along with UI/UX designers took matters into their own hands and created something amazing.
Go check it to feel the difference
Design
Design of the website and logo are now stricter and aligned with our corporate style. In addition, the website's structure was entirely rethought to become more data-rich and useful for clients. Specifically, we added more value to the portfolio page by inhabiting it with project details.
Website performance
This point should be mentioned additionally. Our software engineers managed to achieve a fantastic performance using innovative technology stack. It's especially seen when you jump between pages of the website.
Corporate colors
Our corporate colors have changed as well. We've moved away from a blue and red palette in favor of the grey and orange combination. Such a contrast has made our design look stricter yet not boring.
Traineeships
Cleveroad is in a constant search of talented specialists. We regularly hold traineeships for various positions to find people who are passionate about IT and give them an opportunity to start their career path.
This year the following traineeships were held:
iOS developers — Kharkiv
Android developers — Dnipro
.NET developers — Dnipro
Web developers — Dnipro
Business Analysts — Dnipro
Trainees and their mentors at Cleveroad
New Office Spaces
Due to growing projects, we were faced with a need to hire more talents. To avoid the lack of space both our teams located in Dnipro and Kharkiv moved to new, spacious offices.
A hall of our new office at Dnipro
Knowledge Sharing & Continuous Learning
There is no more important thing in the IT industry than constant learning. We encourage people working at Cleveroad to share knowledge with their colleagues and attend professional conferences. The year 2018 wasn't an exception.
Kanban Pizza Event
Our Dnipro office hosted the Kanban Pizza workshop for Project Managers. The event was focused on training the ability to quickly and effectively use resources in a crisis situation.
Kanban Pizza workshop at Cleveroad
Knowledge Sharing Among Colleagues
As said, at Cleveroad we encourage people to share their knowledge and expertise with colleagues. Throughout the whole year 2018, we had dozens of presentations on a wide range of topics prepared by members of Cleveroad team from various departments, including:
Project Management
UI/UX design
Android development
iOS development
Web development
Quality Assurance
Conferences
In addition to local conferences, our team visited Collision in the US and WebSummit in Portugal.
Collision
On Collision conference, we listened to top speakers from different industries. Also, we had an opportunity to meet with our clients in person and network with many interesting people.
WebSummit
Our team had a chance to learn about the upcoming updates of cloud solutions from AWS as well as share ideas on media industry with major market players. And of course, we had a great chance to network with colleagues!
We believe that specialized events are a great way to gain insights and network with colleagues from all over the world.
Cleveroad team at Collision 2018
Publications on Media
We're open to sharing our knowledge with the community. In the year 2018, Cleveroad wrote and published a plethora of articles for digital media in IT and related fields.
Among a variety of platforms we were been published to, you can find our articles on:
Smashing Magazine — We've shared our expertise in delivering facial recognition software.
TNW — Our UI/UX designers unveiled some tips and tricks of creating beautiful apps for Apple's smartphones with the notch.
The Bottom Line
Thanks to our clients and people working at Cleveroad, the 2018 year was unforgettable. We always strive for more and are aimed at larger achievements in the following year!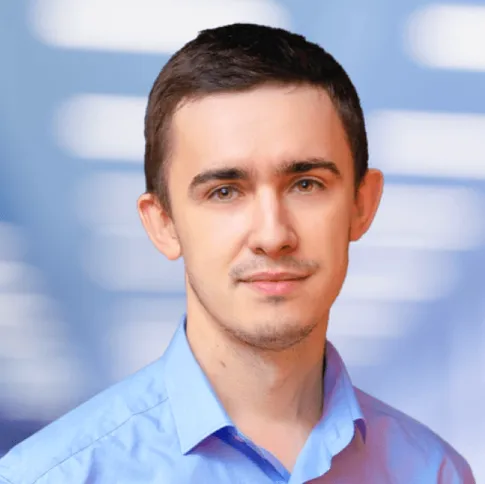 About author
Evgeniy Altynpara is a CTO and member of the Forbes Councils' community of tech professionals. He is an expert in software development and technological entrepreneurship and has 10+years of experience in digital transformation consulting in Healthcare, FinTech, Supply Chain and Logistics
Rate this article!
2939 ratings, average: 4.76 out of 5
Give us your impressions about this article
Give us your impressions about this article