Website Development Team Structure Every Startup Should Know About
Do you know that only 70% of website development projects fail because of poor management? In turn, just 2.5% of businesses finish 100% of their projects as planned.
As you can see, companies need to use effective web project management techniques to complete the overall business objectives and goals successfully. Defining each member's role and their responsibilities not only saves your money and time but increases the chance of delivering a high-quality product in a short time.
In this article, we'll cover everything you need to know about the website development team: roles, responsibilities, as well as the development process itself.
Web Development Team
As practice shows, programming alone isn't enough to make a website work for you. That's why many stakeholders pay great attention to design and marketing. Respectively, your web development team should fit the project's objectives and consist of specialists with diverse skills and knowledge.
While some companies provide it's customers with the full circle of specialists they may need for the project, others do not. That's especially true for young and narrowly focused firms.
So, every custom web development company may have it's own spectrum of services and the number of web development team members can vary. Let's consider the core web development team roles, required skills and talents, that will make together a strong base for a good team.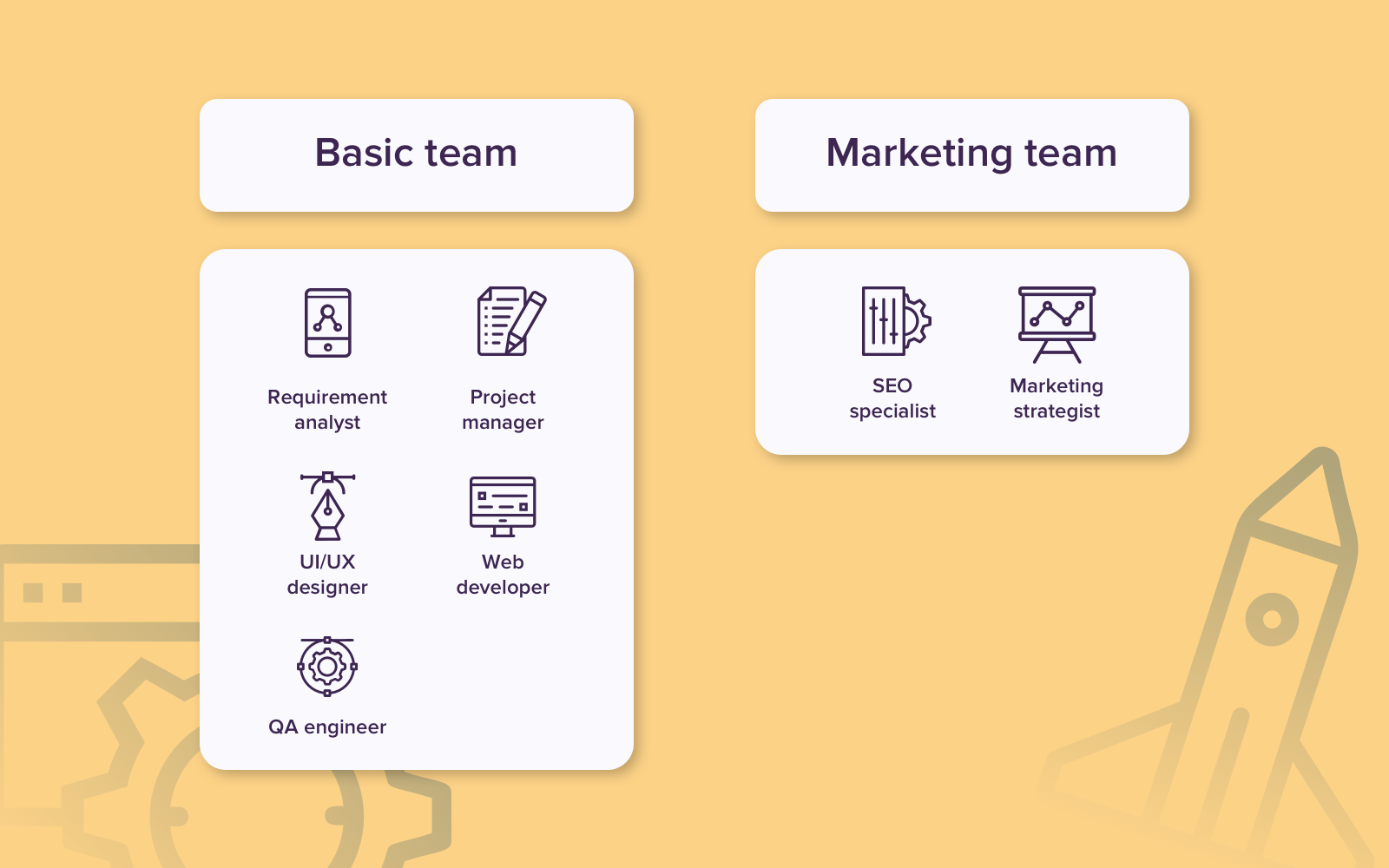 Web development team structure and digital marketing team
Requirement Analyst
The main task of this specialist is to take your vision of the project, analyze it, and translate into comprehensive technical specifications. In turn, these specifications will be used by the web development team to set time frames and get ready for the project.
Whether you're going to create a SaaS application for retail operations or marketing project software for digital agencies, the first question an analyst will ask you is, "What goals do you want to accomplish with your product? First of all, the requirements analyst needs to define your business needs.
However, the web development team won't be able to create an actual product based on raw requirements. A business analyst needs to transform this information into a clear project specification that the team can guide. Shortly, an analyst details what each part of the web app must accomplish, what each feature is responsible for, what buttons should be clicked to perform a specific action, etc.
In other words, the requirement analyst prepares ground for the product development.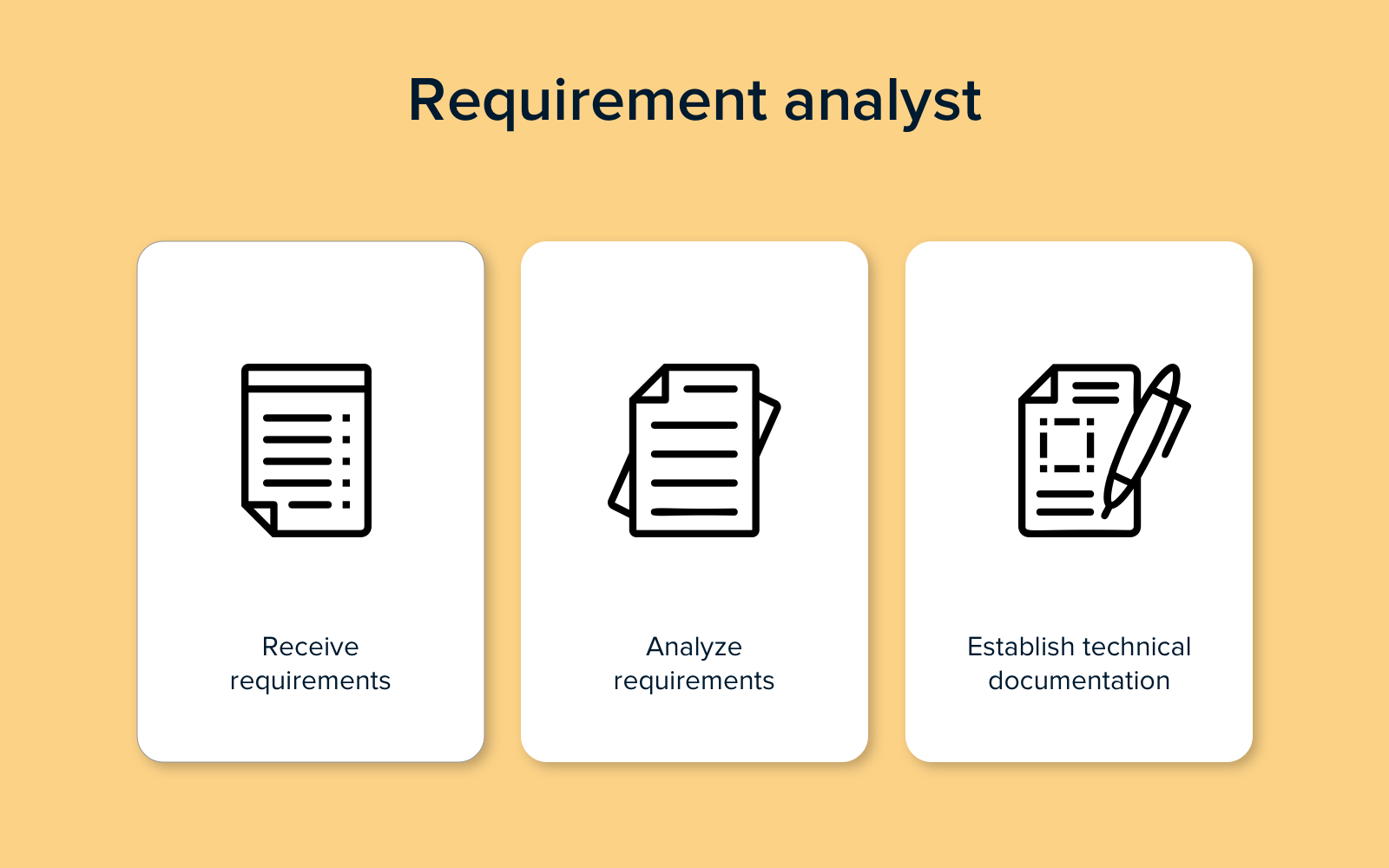 Web development teams: Requirement analyst
Project Manager
In a web development team, project managers are like the conductor of your web development team orchestra. Their main task is to organise, coordinate, and monitor the stages of workflow: from planning to assigning the tasks to each team member. The first thing they do is getting acquainted with technical specifications and the due date. Based on this information, the project plan is drawn up and divided into stages also known as sprints (set functionality for a set period of time).
Once the client has approved the plan, the project manager creates a new project using one of the project management platforms and starts making the project tasks. Jira, Trello, Basecamp, ClickUp, and Wrike — are the most popular platforms for managing a web development team in 2023.
Then, the project manager monitors the whole product development process to ensure each sprint will be ended on time. When the sprint comes to it's end, the project manager showcases you the product demo to get your feedback and approval to continue. If you dissatisfied with anything, he/she asks web development team to fix that issue.
Besides, the project manager keeps in touch with you all the time. So, if you have a question or want to make some changes to the project — that's the person you should address to.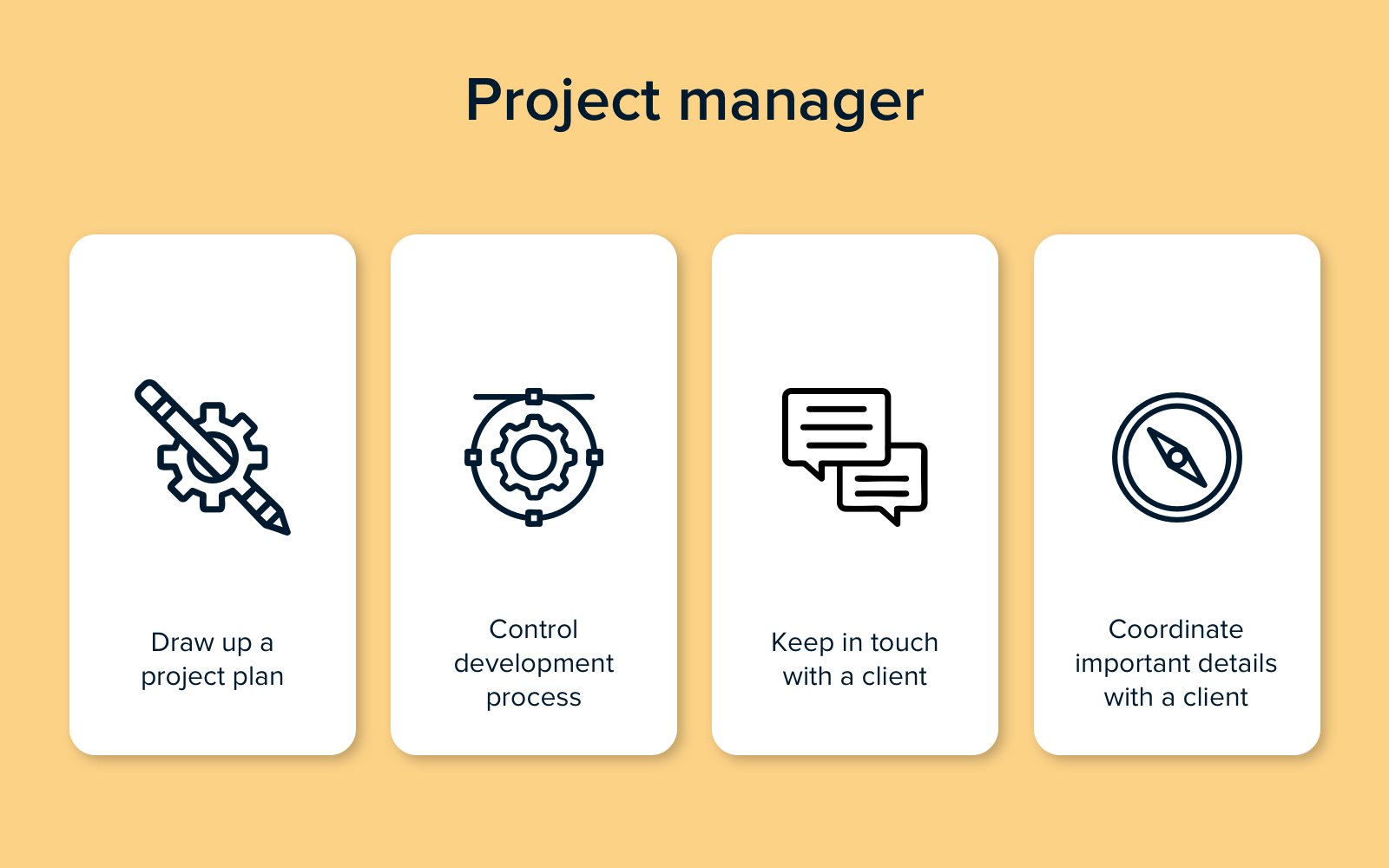 Web development teams: Project manager
Solution Architect
Designers and developers work with information architecture and need multiple tools and resources on different stages of the project development, which require in-depth knowledge for the proper operation.
Solution architects systematize the shape and the content of the project. And they are actively involved in the early stages of the project. Their core task is to create site architecture diagrams that interpret the overall site planning to both the clients and the web developer team. The architects work closely with the project designers.
Looking to hire tech talents?
Drop us a line and we'll send you the list of available developers you can hire for the project now.
Coupled with project designers, the solution architects make page wireframes to present how the pages will be used and how the website's architecture and page content are intertwined. They analyze users' preferences to make it easy for them to find relevant content on the website.
Solution architects should provide both clients and developers with appropriate charts and diagrams to enable them to understand the website's structure. These visual imitations are especially crucial for back-end developers.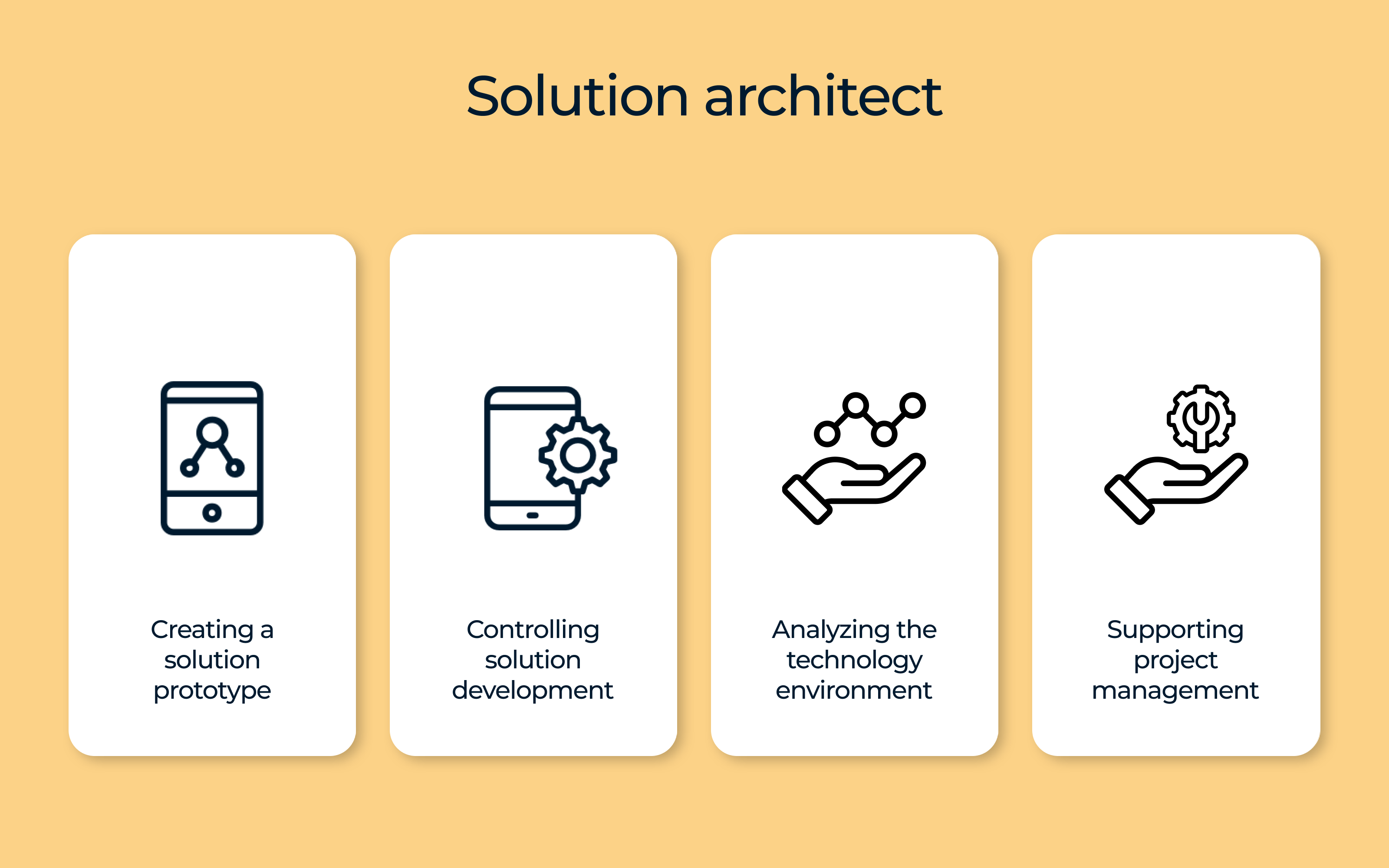 Web development teams: Solution architect
UI/UX Designer
The design is a milestone which sets the direction for the whole project. You will encounter at least two of it's numerous types — user interface and user experience design. As a rule, web development teams comprise one designer who takes over both these roles.
At first, a UI/UX designer analyzes the project requirements along with it's target audience to see the complete picture. Such approach lets him/her identify the difficulties users are faced with and effectively solve them through design. With this in mind, the designer creates a wireframe which is a schematic placement of elements on the website.
In some cases, the designer resorts to user stories which help to stay focused and keep in mind the project's objectives all the time. Put simply, a user story describes what a user expects to accomplish by using one or another digital product. Such stories are written using Gherkin language and it takes a lot of them to cover different use cases.
That's where the user experience design part ends up and the designer can jump to the interface design.
8 UX Elements to Create Trust to Your Website
While UX is all about research and structure, UI stands for visual appearance. Color schemes, fonts, icons etc. In other words, the designer creates a prototype (final look of your website) based on the UX stage and tests it's usability. The prototype can be interactive or static.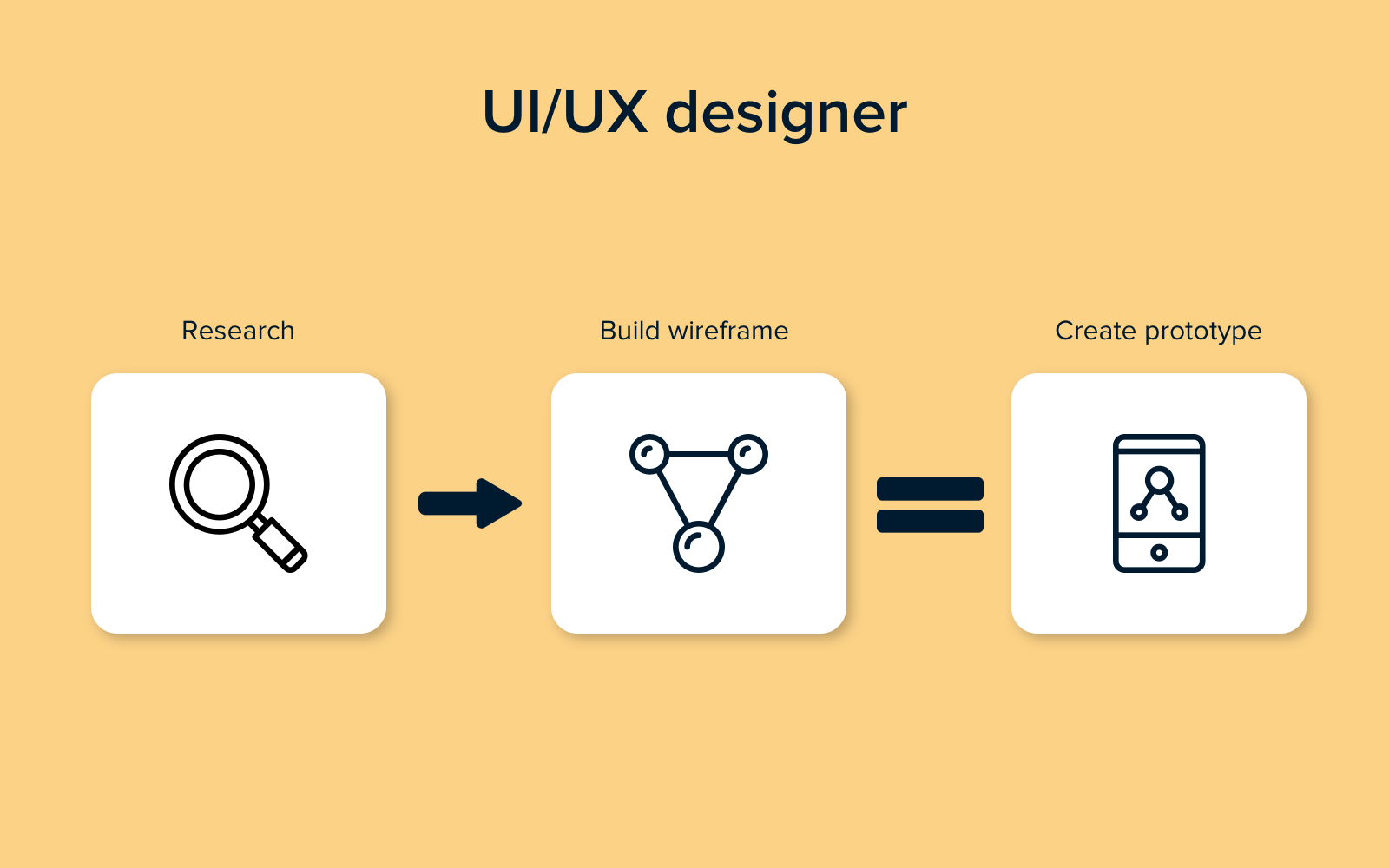 Web development teams: UI/UX designer
Apart from the specialists mentioned above, you may also require a graphic and motion designer in your web development team. These specialists work on the visual concept of the project (custom illustrations, fonts, logos) and take care of animations.
The most commonly used designers tools in 2021 are:
Sketch
InVision
Illustrator
Sympli
Zeplin
Web Developer
Programmers play a crucial role in the web development team. They turn your ready-made design into a working product that can be used by anyone on the internet.
Front-end
It stands for everything you can see and interact with. Imagine a registration button. It looks just like on the prototype you've seen before. But now it's live in a browser, so you can hover and even click it. The button reacts these actions, it changes the color or runs animation but nothing else happens. That's because the front-end is only a 'hood' of your website. To make it work developers should put there an engine.
Back-end
Back-end is the part of web application architecture responsible for the part of functionality requiring interaction with a server. Roughly saying, it includes everything except for animations and visuals. Now, the button isn't only visualized but powered by a code under the hood which makes the registration feature work.
In teams providing web application development services, these parts can be divided between two dedicated developers or performed by one specialist:
Front-end developers
They deal with the client-side of the website using such technologies as CSS, HTML, and JavaScript. Front-end developers recreate a website piece by piece based on a prototype handed them by designers. This way, their principal task is to make sure your website looks good on any device/browser and ensure all it's elements function correctly.
Back-end developers
Their primary task is to write a server-side code powering the website's features. There are a lot of languages and frameworks for this purpose (JavaScript, Python, .NET and so on). Also, they are responsible for the creation of databases and content management systems.
Full-stack developers
Most web development teams have at least several full-stack software developers. What does this mean? These developers can build both a client-side and server-side of the project on their own.
For instance, Cleveroad's web development company team consists of both full-stack developers and dedicated specialists working with a wide spectrum of technologies. Our main tech stack is as follows:
JavaScript
Angular
Node.js
Express
.NET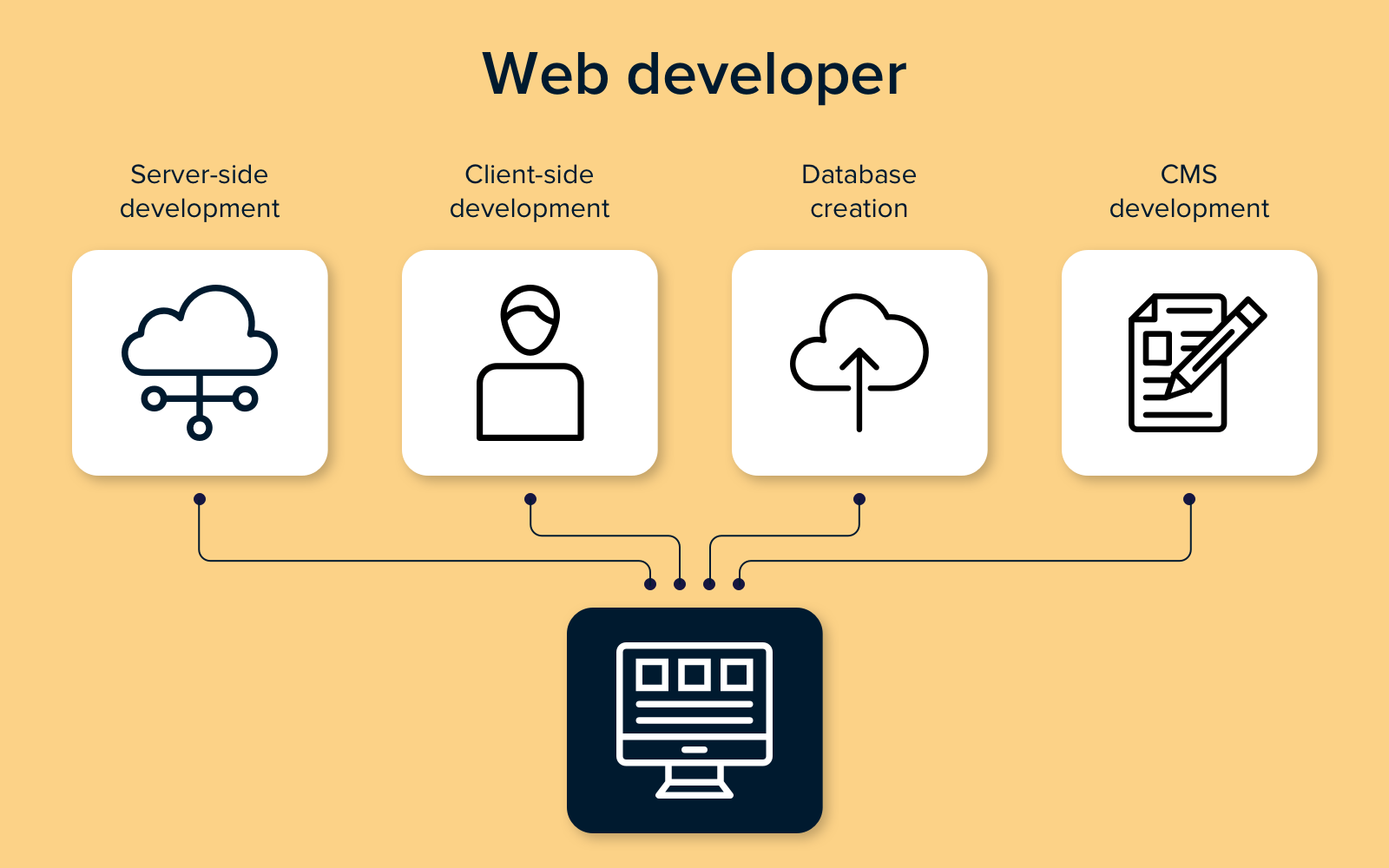 Web development teams: Web developer
Quality Assurance Engineer
QA or a Quality Assurance engineer is another important website development team member. He/she protects your product from bugs invasion and keeps an eye on it's interface.
The process of testing starts with requirements analysis. Based on them, QA engineers draw up a testing plan. After the development has started, developers send each version of the product to QA engineers. In turn, they check whether it corresponds to technical requirements and specific demands of a customer (if any) by using automated and manual testing methods.
When bugs are found, QA engineers draw up a bug report, and send it to developers who take care of those bugs. Then follows a checkback that's intended to make sure the problem was completely solved. QA engineers work on a project up to it's release and sometimes even longer.
It's worth mentioning that testers also deal with the interface. They check size, fonts, colors and other elements for compliance with the requirements. QA engineers can also report designers if they find a usability issue and suggest them a solution.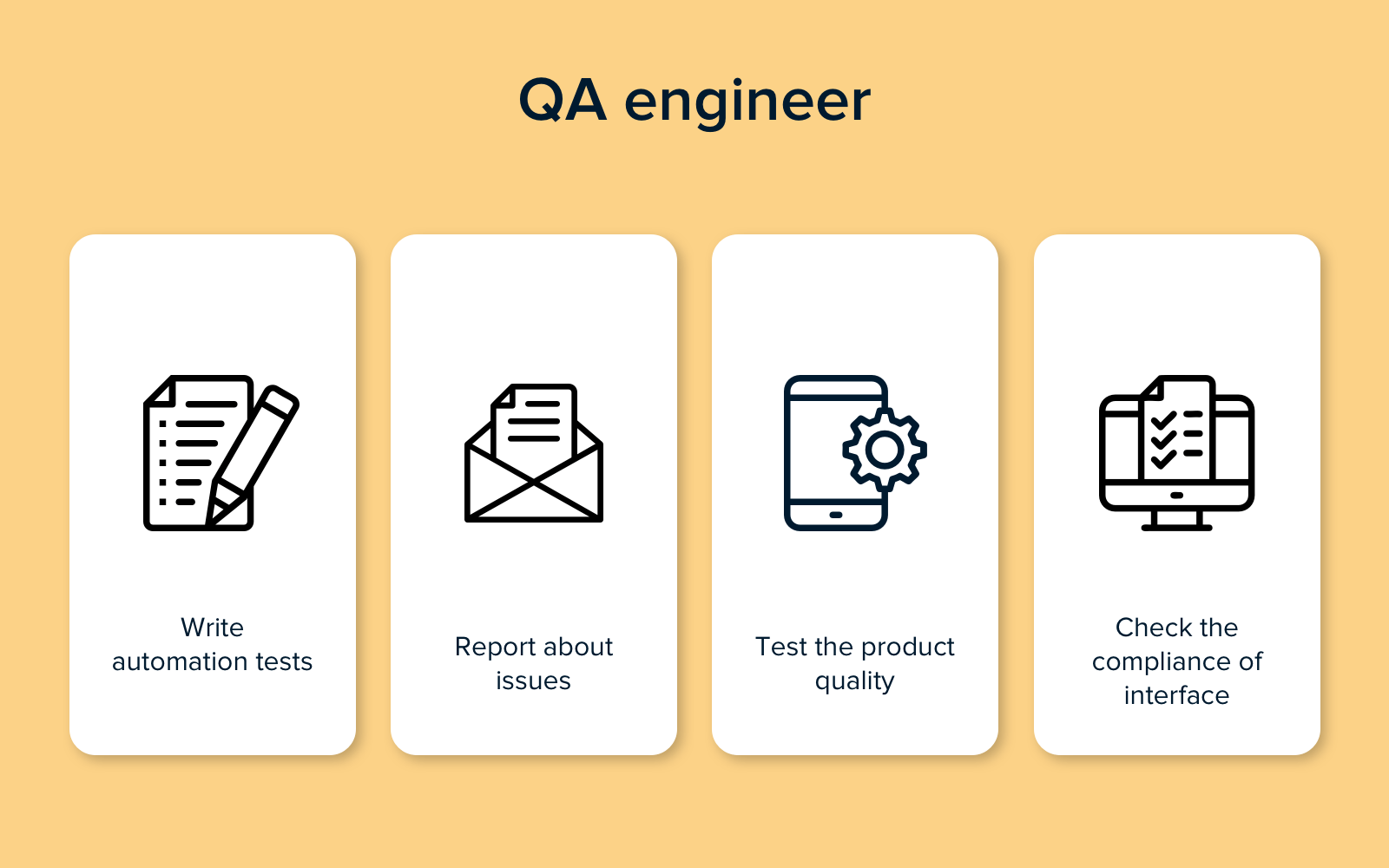 Web development teams: QA engineer
You've got the web development team! If you decide to go further and promote your website, you should be aware of specialists we talk about below.
Roles and Responsibilities in a Digital Marketing Team
Unlike many other software development companies, we also offer marketing services to help your company meet specific marketing requirements. It's especially needed if your product sells goods or services as there is an enormous number of competitors and you have to stand out.
Marketing Strategist
The role of a marketing strategist have something in common with the project manager's role. That's because the work of both these specialists extends from planning to post-launch stage.
The main task of marketing strategist is to create a working strategy which helps your business to reach it's objectives as well as ensure the realization of this strategy. This may include everything from storytelling to user experience check.
In many cases, the strategist curates a marketing team, analyzes the performance of different marketing channels, and defines whether the business objectives are met.
Put simply, the marketing strategist does everything possible to attract the right audience and inspire them to act.
SEO Expert
Search Engine Optimization or SEO is one of the most popular ways to attract the right visitors to your website. An SEO expert is probably the first person the marketing strategist would like to involve in the project.
Here are the main responsibilities of the SEO expert in 2021:
Keywords research;
Traffic & metrics analysis;
Competitor analysis;
Optimizing website's work in accordance with search engines requirements;
Cooperation with writers and designers.
This isn't the full list of responsibilities as they may vary depending on a project. However, the main task of any SEO expert is to improve the website rank within search engines.
Why Choose Cleveroad
If you decide to build a product, it's vital to cooperate with an experienced web development company. For example, at Cleveroad, we assemble a web development team according to the project's requirements. We have 9+ years of experience providing full-cycle software development services: from optimizing CRM and ERP systems to developing iOS and Android apps from scratch.
Our Business Analysts successfully define our clients' requirements. Meanwhile, solution architects analyze requirements to help clients deliver high-quality and cost-effective products and choose the best-fitting development tools.
Have some questions?
Let us know if you have some questions left unanswered. We consult at no charge.
Frequently Asked Questions
As practice shows, programming alone isn't enough to make a website work for you. That's why many stakeholders pay great attention to design and marketing. Respectively, your web development team should fit the project's objectives and consist of specialists with diverse skills and knowledge. So, a web team is a bunch of specialists that make your project great.
Members of the web development team have various skills and knowledge. Each person has a different role and responsibilities. The main purpose of a web development team is to create a high-quality product.
A typical web development team looks like this:
Requirement analyst
Project manager
UI/UX designer
Web developer
QA engineer
At the same time, we have non-technical specialists who can help meet specific marketing requirements:
SEO specialist
Marketing strategist
You can cooperate with outsourcing companies. Such vendors have all the required specialists. If you want to create your own web development team, you need to consider your project requirements and hire specialists, depending on your needs.
A typical web development team looks like this:
Requirement analyst
Project manager
UI/UX designer
Web developer
QA engineer
A typical web development team looks like this:
Requirement analyst
Project manager
UI/UX designer
Web developer
QA engineer
At the same time, we have non-technical specialists who can help meet specific marketing requirements:
SEO specialist
Marketing strategist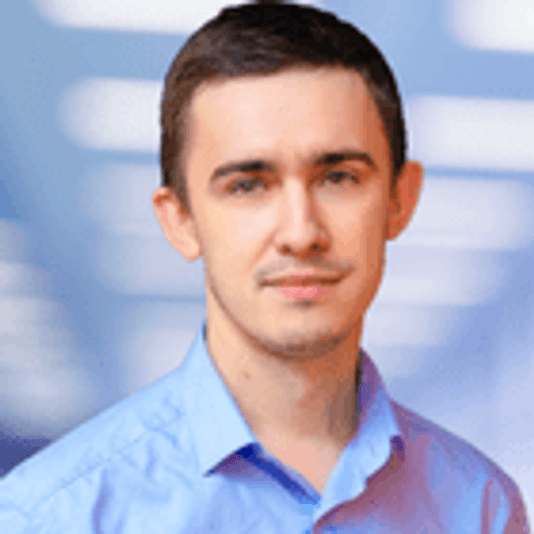 Rate this article!
24303 ratings, average: 4.94 out of 5
Give us your impressions about this article
Give us your impressions about this article
Nikhil Khunteta
04.01.2023 at 07:46
Thanks for sharing your article with us. It has been very informative and we have learned a lot from it. Thanks for taking the time to share what you experienced with us.
K Ahokas
03.09.2022 at 20:51
This covers a good base, so nicely done! Only a couple things that stuck out to me - the Solution Architect position in my experience is often covered by the UI/UX Designer/Strategist. By understanding the site architecture and the solution - they can build a more comprehensive and strategic design. Additionally - under tools, you may want to include Adobe XD. It is actually quite a robust wireframing tool similar to Figma. Thanks!
Nummero
18.07.2022 at 08:54
Thank you for sharing your blog, seems to be useful information can't wait to dig deep!
It was really helpful, specially for the people like me who has just started in this field. I have worked with many web companies and one thing that I found common in al of those was there support system. If you have a good support system then there is no doubt that you will succeed.
Ellocent Labs IT Solutions Pvt. Ltd.
26.10.2021 at 09:07
It's a very informative article because you have mentioned each detail required for website development. But what I like most about your blog is that you also include the roles and responsibilities in a digital marketing team. In true essence, it's a truly informational blog.
soundos
21.06.2021 at 09:28
great post thank you for your valuable information
Fiona Manonn
17.04.2021 at 10:04
Awesome article! Good suggestions on some of the common challenges faced. Very sure that this would be helpful for web developers as well. Thank you so much for sharing these!
Saad Ghandour
23.12.2020 at 20:09
Great information, thanks for your helpful article
Gourav
03.10.2020 at 17:52

Vitaly Kuprenko
12.10.2020 at 14:45
I'm glad it was useful for you. :)