What Does a CTO Do in a Startup: Essence, Types Guide, and More
Startups are risky ventures by default: about 90% of them fail, according to Failory's data. Their investors realize that only a small part of capital expenditures will be paid off. Running out of investments, no market need, going down the competition, or facing regulatory challenges are only a few of the startup failing reasons remarked by CBInsights. Though, promising projects led by talented people and required on the market can also fail.
One of the ways to reduce risks without the quality losses is to hire the technical director, also called Chief Technology/Technical Officer (CTO). What is a CTO role in this situation?
The chief technology officer or CTO is one of the most undefined positions among C-level management. Their main goal is to fulfill the company's business requirements through tech innovations accelerating its growth. An experienced chief tech officer can offer progressive concepts to the startup and find advanced solutions. So, to hire CTOs, you need to realize the CTO roles and responsibilities.
What Is a CTO's Role in a Startup?
What does a CTO do to achieve success? Such executives are responsible for a company's technical needs, along with research and development (R&D). They also assess the short- and long-term business necessities and use capital to make investments assisting the company in achieving its goals.
CTO Types in a Startup
After getting acquainted with inspiring chief technical officer samples, we offer you to return to our CTO startup discussion and look at the most common CTO types.
The Operational Director concentrates on the business aspect of technology integration, leaving developers to handle their everyday work. Playing this chief technology officer role, the executive is capable of establishing a plan and coordinating an organization's engineering efforts without a coding background. Such CTOs may have skills in finance administration, project management, mentoring, and other non-technical skills.
The Technical Lead has a solid background in providing software development services (including mobile development, web development, or UI/UX design), being also responsible for solution architecture or team management. This kind of CTOs has a lot of similarities with a senior-level software developers' team lead. They are also able to write codes themselves and check other developers' codes. Such a CTO type is a perfect fit for a tech startup, reckoning that their product will interest their core audience and investors through the technologies.
What are chief technology officer roles and responsibilities?
The Product owners might also serve as the chief technology officers. They are entirely familiar with the product, the market, and consumers and may turn this data to their advantage. A product owner leads an engineering team rather than manages it. This category of CTOs has a vision, being excellent at conveying it to the rest of the team.
How can the specialist playing the role of CTO in IT company be remunerated? An average hourly wage for IT services (and CTO ones) in Central Europe is $50. The median CTO salary in the USA is approximately $128,511 per year.
Do these numbers seem excessive to you? Consider outsourcing in Estonia as a reliable cooperation alternative. You need to recruit an experienced specialist performing CTO functions and responsibilities in the short term. You'll see that outsourcing is the perfect option to save time and money.
CTO Responsibilities in a Startup
The responsibilities performed depend on the CTO roles. That's why we started with them. Now you can get acquainted with a CTO responsibilities list divided into two parts:
CTO operational management duties:
Manage people and processes
Establish a company's strategy
Represent a company
Come up with the various options to resolve tasks
Technical leadership duties:
Build an MVP
Hire IT professionals
Coach and mentor developers
Improve the app's architecture
The CTO Operational Management Duties
People and processes management
What is the primary responsibility of the CTO? Like any other C-level manager, they must examine the company objectives and assign needed duties. The other functions of CTO are to keep track of a team's performance and train software developers. As a result, team management is the major CTO work.
A company's strategy establishment
As a tech leader, the CTO needs to bridge functional abilities and other company's resources to improve efficiency. Additionally, the Chief Technology Officer makes the collaboration between workers easier and optimizes the company's inside processes.
A company representation
Attending numerous meetups to establish contacts with business partners is also part of the responsibilities of CTO. Furthermore, such meetups may aid in the identification of skilled and experienced developers for future collaboration.
Coming up with the options
A competent CTO never says things like "we can't do it" or "it's unachievable." One of the CTO key responsibilities is to offer options for completing the tasks. In addition, the CTO is well-versed in the type of expert necessary for each work.
Checking trends to follow
A CTO must keep an eye on trends and decide whether to follow them in order to accelerate the startup's growth. Furthermore, they keep an eye on competitors' products to keep up with the latest developments.
Operational management CTO responsibilities startup needs
The Startup CTO Tech Leadership Duties
MVP building
Many startup entrepreneurs want to employ an expert to develop a minimal viable product and then promote it. As a result, the CTO must be familiar with the tools and technology required to create an MVP. Furthermore, they are solely accountable for the final product's quality.
IT professionals hiring
One of the most challenging aspects of running a startup or a business is finding and hiring qualified tech professionals. The job of a CTO is to conduct interviews to assess candidates' technological knowledge.
Developers coaching and mentoring
Every new developer should have a mentor who can help them learn more and share their experiences. It is one more CTO responsibility.
The tech stack choice
A CTO is responsible for selecting an appropriate mobile or web development stack. Technologies influence the project's maintainability, scalability, and stability.
The app's architecture improvement
It's crucial to consider the architecture's efficacy at all times. As a result, the role of CTO in software company also entails coming up with new ideas for updates, modifications.
The chief technology officer's tech leadership duties
Of course, the mentioned challenges are far from the whole list of the CTO duties. The Chief Technology Officer is responsible for any technology-related issue. As a result, a CTO requires some technical knowledge along with leadership skills.
How the CTO Responsibilities can Change
The larger the company is, the more administrative levels are between a startup CTO and personnel performing fundamental tech-related activities. If a tiny startup does a good job (considering product development, new clients attraction, etc.), the swiftly developing enterprise may already lack capacities. That's why CTO tasks and functions will alter dramatically.
Let's view what are the duties of a CTO during the growth stages of the startup.
Startup
From the start of a business, the CTO role and responsibility include employee recruiting, onboarding, training, and management. The CTO's knowledge in the area is crucial for discovering talent without an experienced HR department. The job of CTO is thinking up a technology stack, offering financial suggestions, and generally striving to improve the digital product. The CTO role on such a step is more of a tech visionary, HR professional, and team leader than a full-fledged developer.
Preparation (Pre-seed) stage
When a business idea takes hold, the CTO role and responsibilities of a functional professional are necessary to prove the organization plan's viability. During this period, the chief technical officer is frequently a co-founder in charge of creating the digital product architecture without the assistance of third parties. In addition, the CTO's responsibilities include data security, quality assurance, and deployment difficulties.
The building stage
At a time when a company's life cycle is consolidating, CTO duties and responsibilities may involve supervising many teams while reviewing process and progress. The chief technology officer's main role is to manage the overall vision of the software product, while other team members are now in charge of coding and quality assurance.
The duties of CTO as a major product architect and system administrator also include keeping an eye on emerging technological advances.
Expansion stage
The CTO is currently a top executive many layers distant from the tasks implementation. Now, the chief technology officer responsibilities are the following: they're the public faces of the technology department, representing the enterprise at conferences and other business meetings. They should have previous expertise managing large one or several departments, as well as researching and integrating cutting-edge technologies.
Successful CTOs For You to Consider
Before continuing the topic, we'll briefly describe a few examples of famous and successful CTOs for you to get inspiration and a deeper understanding of the CTO's skills and responsibilities in a startup.
Oskar Stål: Spotify CTO
CTOs don't always take the time to examine themselves in the mirror glass. They seem to be telling others: there's something larger out there than us. Find it and make it operate perfectly. So, reading 99% of Oskar Stål's posts, you'd never guess he's the CTO of Spotify — one of the most widely known music streaming companies these days.
"I started out writing software at the age of 12 and then gradually moved into working on larger and larger projects, becoming more of a leader than an individual contributor," he mentions laconically in Linkedin about his role of CTO.
Thuan Pham: Uber CTO
Pham is the head of engineering at one of the world's fastest-growing businesses stating that one of his chief technical officer duties is "reinvent[ing] the landscape of urban transportation and logistics" along with his team worldwide.
Thuan Pham is a visionary leader who keeps up with his CTO responsibilities (such as developing technology, eagerness to expand the company's reach to new platforms). It takes bravery to do something like this. Great intuition, paired with a winning managerial style, were the difference in his instance. The result might be as simple as learning what doesn't work.
Greg Brockman: former Stripe CTO
Many software developers looking for an easy way to transfer funds over the Internet in new apps are relieved to learn that Brockman enjoys building. He summarizes his IT passion as "I love to build." on his CTO job profile on Linkedin. One of his "buildings" is a widely known payment gateway: Stripe tackled the challenge of making and receiving payments via the Internet, which is notoriously tricky. Brockman says about his job describing roles and responsibilities of CTO as follows: "I've never found anything I loved more than writing code, but at the same time I knew we had a responsibility as an organization to support the amazing people we'd hired."
Even though Greg Brockman departed Stripe to start his own business, he is included in our example list due to his significant contribution to the company's success and understanding what is the job of CTO as well as its importance for a startup.
Challenges Every CTO Faces
Now we are totally clear with the question: what are the responsibilities of a CTO in a digital startup. But this position is also one of the most challenging facing various technical and non-technical issues inside the tech startup. So, we'll find out the actual problem every tech director deals with.
Organizational obstacles
CTOs must also deal with a variety of non-technical, business-related issues. Here are some of the most prevalent difficulties that are chief technology officer duties at the same time: creating a successful product, choosing the cooperation model, building the right staff and coordinating its activity with other departments, balancing time and costs, etc.
A software startup usually begins with a concept. An entrepreneur will be able to determine what to create. The CTO functions in the process are to plan and perform this solution from scratch. Developing the ideal product with all of the necessary characteristics for a certain niche is a challenging task. Months of labor and hard-earned funds are wasted when a product fails.
A CTO needs both commercial sense and technical understanding to outline a strategy in terms of what product is necessary to be developed and who the correct audience is to be sold to. Business Intelligence tools might also be used to help them make the best selection. This is not mentioned in the job description chief technology officer should match, but it's also necessary for the company's success.
Many well-known startups have failed before becoming successful due to their decision to work with an in-house team on a poorly thought-out concept. So one of the CTO tasks and responsibilities is to determine which components of the work can be created and optimized by an in-house team and which would necessitate the engagement of external resources. It is critical to recognize the necessity for outsourcing services as soon as possible. Slack, for example, had a rocky start until enlisting the help of a third party, MetaLab, to overhaul its website, app, and logos.
The best method to deal with this problem is rigorously assessing each workflow stage, from conception to testing and deployment.
Individual challenges
There are many individual obstacles watching every chief technical officer on their post (that aren't written in the CTO job description software company frequently offers), and they need to be aware of it.
First off, it's a defining issue: for an appropriate startup functioning, the chief technology officer (according to the CTO job description sample on average) should clearly understand the company's structure on the whole as well as their job within it. The major problem here is to locate the correct match of the company's needs and the tech director's work to fulfill it and then decide on a strategy based on such a match. To solve this issue, startup CTOs should verify whether they have enough skill set or tech background to help the startup grow. If not, the lacking skills should be necessarily obtained and sharpened.
A tech startup is one of the most dynamic business enterprises, without a doubt. Keeping up with new rules, updated technology, changing customer requirements, and, most importantly, the company's current scalability may be challenging. When it comes to building software products, the responsibility of CTO is to be adaptable, have an open mind, and strive to alter. So, monitor all advances in your field, carefully check on the industry and completion regarding new features being released, new technologies incorporated, and constantly improve your own skill set, both in terms of technical expertise and a business one.
Technical problems
Now, we'll discuss some tech obstacles that should be solved following the duties of a CTO.
Many CTOs experience problems in achieving reliable customer reviews. It assists the tech team in determining which features of the product need to be improved and which ones may be eliminated. The simplest method is to look for user forums related to your expertise (social media might be a great way to gather feedback). For the same purpose, a user-feedback widget or a chatbot created might be implemented in the software solution.
Data protection became a crucial concern for any company (startups as well) that works in the technology area. Ensuring security rules compliance and managing data safely is a tough job (that's why high-quality professionals are involved in it) but it must be done. Otherwise, the company will face legal sanctions, and with them - financial losses and laborious reorganization of processes to meet the legislation.
According to chief technology officer job duties, they must stay up to date on the security rules of the locations in which their company operates. Thorough security checks must be completed on schedule, with a clear contingency plan in place in the event of a failure. Also, ensure that the product possesses all of the necessary security certifications.
Required Skill Set of a CTO
Chief Technology Officers are more likely to incorporate new technologies or follow the company's goal. As a result, a trained and experienced CTO must have a certain set of skills. However, in addition to technical ability, the CTO job responsibilities have to be performed with the help of social skills such as empathy, leadership, and management.
We'll determine the CTO skill set (frequently used in a standard chief technology officer job description sample) to ensure a startup's success. We can divide it into two groups: technical (essential in solving tech issues arising during tech tasks completion) and common skills (needed for team management).
What is the job of a CTO and a standard skill set they need
The standard skill set may include the following capabilities:
Communication skills
A CTO position requires outstanding communication abilities. Tasks, goals, and deadlines are usually explained to team members by the Chief Technology Officer; the team's success enhancement depends on it. Additionally, when introducing fresh concepts to executives or stakeholders, great communication skills might be beneficial. The CTO should be able to represent technical concepts to a non-technical audience in clear terms.
So, communication skills are also necessary to fit the chief technology officer job description example on average and should completely meet it.
Leadership skills
As to the job description CTO startup always needs, the Chief Technology Officer must be a strong leader who can encourage and excite the staff, as well as persuade other C-level executives to incorporate innovation.
Mentoring
Being a leader of the tech department, a Chief Technology Officer Responsibility is to provide the team with mentorship and do it correctly. The experienced CTO can help the team grow and develop. To achieve better results, a CTO has to give the employees the necessary feedback.
Constant education
Learning about new or novel technology is a part of all chief technical officer roles and responsibilities. After they've analyzed it, they'll be able to decide whether or not to integrate this or that tool.
Time management
It's critical for the CTO to have solid time management abilities because they are responsible for assigning duties and setting deadlines for the team. In addition, Chief Technology Officers must stick to their meeting schedules, read reports, etc., according to the standard job description of CTO.
The technical skill set can be represented by the following capability samples:
Technical background
What is CTO job description main requirement? The ideal applicant for the post of CTO should have at least 10 years of experience in the IT business. This person is familiar with the full development process and has adequate expertise to discover time- and cost-saving alternatives.
Strategic thinking
Integrating new technologies or innovations necessitates a well-thought-out plan. Developers, designers, and project managers are often focused on the project specifics. Still, the CTO is responsible for preparing a development plan that fulfills all of the company's criteria and objectives, carefully considering the following steps to the future.
Problem-solving
One of the CTO's primary responsibilities is finding the best solutions during the development process. Usually, developers ask for help only if they can't solve the problem themselves. So, the CTO needs to evaluate the problem objectively and find the perfect solution.
Creativity
To make uncommon but successful choices, the Chief Technology Officer must be able to look at problems from a fresh perspective and come up with a novel solution.
A technical skill set needed for CTO (chief technical officer) job description
One more point to consider is the CTO experience is always marked in the chief technology officer job description. Almost every CTO began their career by obtaining a bachelor's computer science degree or a closely related subject.
Following that, you'll need to obtain some experience of working as a team manager, developer, or architect. A high-level CTO professional has about 10 and more years of on-the-job experience earning it by working in the following spheres:
Data security management
Web software development
Security engineering
Big data engineering
Network architecture, etc.
While positions in the following categories may only require a few years of experience, people seeking managing or directorial positions should have about 10 years of experience and more. According to the average startup CTO job description, IT employees who wish to serve as CTOs must often spend an extra five to seven years polishing their leadership and business abilities once in a management role.
The CTO's skill set must include solid technical understanding as well as interpersonal abilities. Combining these two aspects can create a perfect CTO that meets the best CTO job description, including your company's requirements, and brings success to your business.
Main Things a CTO Should Focus on
The Chief Technology Officer's responsibilities are broad and varied. Nevertheless, there are a few crucial areas in which a professional CTO must succeed.
Team creation
As a CTO, you must gather the most appropriate staff to complete the tasks. The CEO of the company (or a startup) is not always in charge of hiring or supervising developers. CTOs keep an eye on the competent specialists' pool and form the team. Following that, Chief Technology Officers must manage, coordinate, and encourage team members.
Team empowering
According to CTO job descriptions, this expert is always looking for new and innovative technologies to help the team. They assist team players in selecting and correctly using the necessary tools.
Tech tools choice
No one can know everything, but a skilled chief technical officer understands technologies and ensures appropriate ones for the startup company. That's why a CTO must be many steps ahead of the rest of the team in terms of technical knowledge providing team members with the right project tech stack, according to the average CTO role description.
Time management
To decide when to update the product or adopt technology is one of the significant CTO duties. They also share this information with the executive team and the C-suite.
New business strategies
In 2021 and further, digitalization will be a central focus. During the worldwide pandemic, the digital trend has exploded. Digital transformation investment will reach roughly $2 trillion in 2022, according to IDC.
That's why CTOs may use new technology to alter an organization's business model, products, and services. It will assist them in staying on top of the latest technological advancements so that they may potentially use digital innovations inside businesses.
Better UX creation
The CTO job role has expanded to include producing individualized customer experiences that would previously have been handled by marketing or product development teams. When CTOs assist in developing business plans, they guarantee that consumers receive actual benefits from a product or service.
Customers must be prioritized during the performance of chief technical officer responsibilities in order for their company to remain relevant and lucrative, and it is vital to transform the customer's voice into useful experiences. Delivering the service that the consumer wants is essential to a strong user experience strategy (e.g., the building of a seamless customer experience via mobile solutions able to help the meal ordering process.)
Things to focus on for performing CTO job requirements
To succeed in all of these areas, the CTO must collaborate with other C-level executives.
Let's Talk
A strong CTO is essential for a tech startup's success since they are in charge of all technology-related issues. Though finding a CTO for your startup can be time-consuming and expensive these days, it's always possible to find a trustworthy IT software development outsourcing company that will provide you with specialists performing the tasks and duties per the average chief technical officer job description.
You may cut down on recruitment time by partnering with an outsourcing vendor. Software development specialists will explain to you what are the roles and responsibilities of a CTO in a startup company and provide IT consulting services. Then you may employ senior engineers or a chief technology officer to complete the CTO responsibilities and duties without distracting the product team.
How Cleveroad Can Assist You in CTO Hiring Process
Cleveroad is a skillful IT outsourcing company headquartered in Estonia, Central Europe. Since 2011, we've been assisting startups and organizations of all kinds in acquiring the latest technologies and products.
We offer a vast range of IT services (including CTO ones) and customized software products. They improve our clients' workflow efficiency, resolve their business issues, and aid in acquiring competitive forces. We trust that being honest with customers, collaborators, and personnel is a critical component of developing outstanding products; that's why we offer you the top-quality service set containing:
Signing non-disclosure agreements (NDAs).
A team rapidly adapting to new project requirements
Talented chief technology officers matching CTO job description, startup requirements
Elaboration of a rapid building process without bureaucracy
Verification and management of solution's quality at all stages
Certified tech specialists working on your tasks
Proven software development experience in a variety of sectors
Innovative tech stack and development approaches
Optimize your startup with CTO
Drop us a line, and get the most comprehensive tech consultation from Cleveroad experts!
Additionally, you can look through our profiles on Clutch and GoodFirms to find out more about projects developed by Cleveroad. We'll provide you with experienced specialists who clearly understand the roles of a CTO and adequately perform their work. So let's start collaborating and move to success!
Frequently Asked Questions
CTOs are responsible for a company's technical needs, along with research and development (R&D). They also assess the short- and long-term business necessities and use capital to make investments assisting the company in achieving its goals.
According to the average CTO (chief technology officer) job description, the CTO operational management type is responsible for:
Manage people and processes
Establish a company's strategy
Represent a company
Come up with the options
Technical responsibilities of a CTO include:
Build an MVP
Hire IT professionals
Coach and mentor developers
Improve the app's architecture
There are two leading types of CTO in a software company — operational management and technical leadership.
Type #1. Operational management. These specialists typically don't have a considerable coding background. CTO of this type may have studied finance, project management, mentoring, and other non-technical skills.
Type #2. Technical leadership. And conversely, these specialists have a solid background in providing software development services and leading an engineering team. They are, in fact, senior developers that can solve problems faster and find the best solutions.
It can be time-consuming and expensive to hire a perfect Chief Technology Officer these days. But it's always possible to find a reliable IT consultancy firm that'd be able to perform the roles and responsibilities of a CTO.
The CTO main responsibilities are usually extensive and diverse. However, there are main aspects that a good CTO has to continuously improve.
New business strategies
Better UX creation
Team creation
Tech tools choice
Team empowering
Time management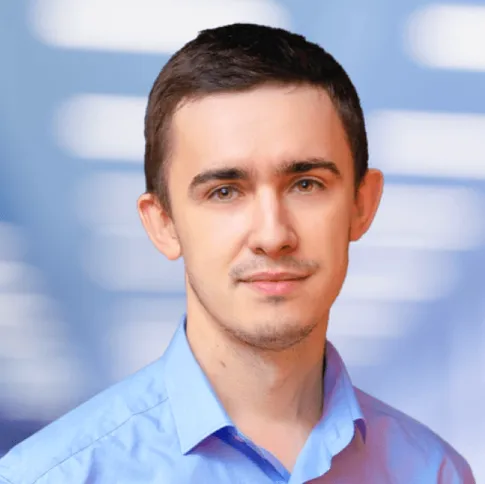 About author
Evgeniy Altynpara is a CTO and member of the Forbes Councils' community of tech professionals. He is an expert in software development and technological entrepreneurship and has 10+years of experience in digital transformation consulting in Healthcare, FinTech, Supply Chain and Logistics
Rate this article!
7553 ratings, average: 4.76 out of 5
Give us your impressions about this article
Give us your impressions about this article