Building a Software Development Team Without Mistakes: a Complete Guide
The success of any IT project thoroughly and entirely depends on a software development team. How to build it and make it function seamlessly and efficiently? Just hiring top-class specialists is essential yet not enough for the project's success.
We consider hidden pitfalls of staff gathering as well as tips on how to build a software development team and other essentials in our new guide.
Roles and Responsibilities in Software Development Teams
A software development team is a group of IT experts working in cooperation to create a new product during the software development life cycle (SDLC). Let's analyze a dev team's roles and responsibilities in the context of SDLC.
Software Development Life Cycle (SDLC): How Does It Go?
A software development life cycle (SDLC) is a conditional scheme containing various stages of IT product building: from planning to supporting the developed solution. A staff needed during the SDLC typically contains:
A project manager (PM) — a specialist responsible for project completion and reporting to senior managers and clients. They also verify the correspondence of the product developed to the customer's requirements.
A front-end developer — a professional building a product's front-end
A back-end developer — a team member dealing with a product's back-end, invisible for a client but essential for the software functioning (e.g., business logic, integrations, etc.)
A UI/UX designer — an expert creating a flawless customer experience, attractive interface, and intuitive navigation for the client's satisfaction
Quality Assurance engineers — team players checking the product's correspondence to the international quality standards and verifying software for the bugs
Other experts (solution architects, DevOps specialists, business analysts, etc.)
Let us show you how the software development life cycle goes on the example of Cleveroad. To create a cost-effective product that satisfies your needs and market demands, we use a well-established SDLC containing the stages given below. You need only to submit a request on the company site for our managers to call you.

The First Contact is considered as the online or offline meeting with a brief discussion of your project goals and requirements. You can ask all the questions that can disturb you and get replies from skillful specialists. Then, our engineers and BAs analyze the needs and goals of your project and generate a rough estimation of software project. The stage is finished by signing a non-disclosure agreement (NDA) per your request to protect all your rights to a concept during future product development.
Discovery is oriented on gathering more of your project needs (e.g., platforms to cover, feature sets, or third-party services to integrate) — data beneficial to specialists that will work on the end product. Approximate time and price estimates, project specification and requirements, wireframes, and the project team composition are also prepared at this stage. The specialists working on the product at the discovery stage are solution architects, business analysts, designers, developers and quality assurance engineers, sales managers, and project managers.
A Product Design. Coming to this stage, you will have already approved the wireframes and chosen your product's visual design. Its creation starts the following way: the UI/UX designers produce prototypes based on earlier created wireframes. Then the specialists begin to build the user interface (according to a style guide of a future product) screen by screen as well as its possible variations.
At Cleveroad we use Zeplin, Figma, and InVision that are convenient and well-known tools. You can also track the interface creation process and leave their commentaries as to the modifications. After approval, the UI/UX designer will hand over the project to the developers.
The UI/UX designers are not the single members of the software development team acting on this stage: their work is headed by the PM, and the QA engineers check the prepared interface for bugs.
Development and QA control. Cleveroad's team uses the Scrum framework as part of the Agile software development methodology. According to it, the building flow is divided into sprints — smaller working timelines (each sprint is approximately equal to 2 weeks). Each sprint begins with a planning meeting and ends up with the delivery of a stable, functional product or feature.
The client and development team agree on the work scope for the next two weeks, as well as the features that will be developed throughout each sprint. The required features are implemented by the development team containing a variety of tech professionals, such as iOS, Android, or web developers, due to the project needs.
QA engineers check the functionality developed during each sprint, testing the backend as well as the frontend and then generating bug reports for software devs. After all the sprints are completed, QA specialists examine how the software performs under loads (by regression and stress testing).
The best software development team working on the project at such a stage includes PM, developers, QA engineers, UI/UX designers.
The release is the stage of the product's deployment after final resolving all QA issues. To begin with, the QA team conducts smoke tests to determine whether the product is stable, and developers must do hotfixes in case the bug is found.
Then, the team assists you in launching your software product on AppStore or Google Play (or moving to a live server if it's a web solution). Finally, if you're happy with the results, the team will hand over the project materials to you. The PM, developers, and QA engineers make up the staff that launches the created software.
Maintenance and support. Our team may keep working on the released product to add numerous modifications based on customer feedback gathered before and maintain your solution with new features and upgrades. The devs, QA, and DevOps engineers also care about bug fixing, making the software more stable and improving its performance.
What makes an effective software development team?
Answering how to build a development team, we found out what responsibilities and roles the software development team performs. Now, it's high time to dig into qualities that would make such a performance successful.
Qualities of an Effective Software Development Team
Responsibility
Each team player should realize that their personal work is a contribution to a common cause, and the final result will depend on it. Such an attitude will help them solve the inevitable issues, give an assured response in unexpected situations, and get their priorities right.
Proactivity
A good developer is more than just a reliable performer. Proactivity entails ongoing participation and the pursuit of the finest solutions. This way, such a team can do more than just embody other people's ideas; they can also help your product stand out.
A team spirit
Today, the number of product requirements and the amount of accumulated knowledge are expanding all the time. The software development success is determined by your ability to collaborate on a common purpose. This means that talented engineers must be able to communicate effectively in order to share their knowledge and listen to the ideas of their colleagues.
Freedom
In a perfect team, members are free to choose the tools and technology stack they want to use. When they are motivated and goal-oriented, they strive to find the greatest potential solution. A certain amount of flexibility for developers aids in the development of a team model with internal processes and culture.
Independence
Clients and teams do not benefit from constant and strict tracking of mobile or web development. On the client side, it requires a lot of time, which most startup entrepreneurs don't have. Control may be discouraging for teams and limit their creativity. In other words, a successful agile team may operate autonomously.
Motivation
An ability to learn new things regularly is crucial to look for in a perfect dev team member. This is seen in their eagerness to try new things and push the boundaries of their comfort zones. When it comes to solving unexpectedly arising issues, project and development teams benefit from the correct motivation and openness to new ideas.
Flexibility
Development teams can also set up their work schedules with more freedom because they are unable to work continuously throughout the day without having a rest. To be inventive and creative, everyone requires some discretion. As a result, the team may ensure strong motivation and maximal productivity when it's most needed.
Stress-resistance
There are many situations when a software developer team (and each of its members) should hold their nerves: the written code doesn't work somehow, the client asks for impossible, or the colleagues lack understanding with each other. So, a good specialist knows how to obtain and give feedback without getting carried away.
"Softer" Means Stronger: Soft Skills Significance
There are two kinds of skills searched by the recruiters: hard skills and soft ones. Hard skills are the basic ones, and their composition depends on the company's domain expertise, or a team. But a healthy balance can be achieved only when hard skills are as high as soft ones. Let's look at the illustration to deeply understand the essence and differences.

Hard skills vs. soft ones: essence, examples, and differences
What skill set is the most essential? Should the hard skills be evaluated above the soft ones? Here is the clue: no. Soft skills are required of all professionals, regardless of their working area. These abilities can have an impact on a person's everyday life and work, whether they are a baseball player or a software developer. Soft skills can also be trained and obtained as the hard ones.
You can check the soft skills required for the software development team according to our list prepared on the example of the skill set needed for Angular JS devs. Bear in mind that the list is incomplete, and you can add the questions you need according to the situation and the required specialist field.
Where to Find a Software Development Team?
If you need to develop a software product and hire a development team, you should know where to find them. Let's consider the most common options: gather an in-house staff, work with a freelance developer, or find a reputable vendor.
We'll go over the advantages and disadvantages of each of these alternatives below.
Gathering an In-House Staff
You gather a team of local devs working in your office as in-house staff. If you have years of work ahead of you and want to keep everything under control, this is the ideal option.
But building an in-house team includes certain additional expenses; the price for such services can sometimes be quite high (especially for US or Canada residents).
To begin, you must not only recruit a dev for your company but also interview and educate some other professionals (UI/UX designer, QA, DevOps), which takes a lot of time. Following that, you must pay for office rent, furnishings, hardware, taxes, insurance, any repairs or maintenance, as well as sick days and vacations.

How to build a software team: advantages and disadvantages of the in-house staff
You can hire an in-house team on the following platforms:
LinkedIn
Dice
Glassdoor
Indeed
Collaborating with Freelancers
Do you need a software engineer to create a landing page, update an existing app rapidly, or incorporate PayPal payments? Freelancers are ideal for this type of work.
The problems arise when you need to build a complex software product from the ground up with a team of freelancers. As they don't communicate with one another, you'll have to constantly keep everything under control. Moreover, if you require continuous cooperation, freelancers may be the wrong choice — for instance, they may leave your project without a word.

Advantages and disadvantages of collaborating with freelancers
You can find freelance specialists to cooperate at the following hiring platforms:
Choosing an Outsourcing Vendor
Outsourcing your software development means delegating it to a company in another country. For instance, if you reside in the US and need to employ a team from Ukraine, Poland, or Germany for your business, you should apply to an outsourcing software development service provider. They know how to build a software engineering team that will be motivated and successful in their project work.
There is a set of benefits and challenges you should be acquainted with to build a successful cooperation with outsourcing team and obtain profitable results. We've presented the most common ones.
Benefits:
Cost-effectiveness. Selecting one of the outsourcing locations with the acceptable wages, you may hire a team to build a successful product with low dev costs.

Users' satisfaction. Keep in mind that the more satisfied your consumers are, the more profitable your company will be. The bug-free product meeting their expectations can be created with the support of the outsourced team.

A pool of outsourced tech talents worldwide will help you if you have to deal with new industries or if you need more adaptable and speedy solutions while your in-house staff grows.

Workload management. You can run work scope as well as financial and human resources needed for one or another workload. Outsourcing allows you to allocate only the costs necessary to complete a certain activity.
Challenges:
Hour zone differences. When the day starts in your homeland, your outsourcing development staff may still be asleep. Therefore, the Cleveroad team schedules all appointments in advance to improve communication processes.

Communication may become worse as a result of your vendor's poor command of the English language. To cope with it, pick an IT partner, assess their English proficiency by talking with the company's representative or team members individually.

Concept protection. You may be concerned about the originality of your idea presenting it to your vendor. In Cleveroad, you can rapidly fix this problem by signing an NDA and ensuring the protection of your project concept.

The distance. You don't feel connected to your team being unable to obtain the most up-to-date product development information. Cleveroad developers keep in touch with clients via a meeting calendar and scheduling video calls.
It's important to note that Eastern Europe is a popular outsourcing location for international companies. It has a vast IT community with a large pool of tech specialists (so building software development team won't be difficult) and a suitable hourly pay. Product owners, for example, frequently outsource software solutions creation to Ukraine.
How to Estimate Approximate Cooperation Costs?
Obstacles You Can Face When Building a Development Team.
You already know that just a software development team building isn't enough. The dynamic and complicated nature of a team needs the supervision of a strong and resolute leader. Take the time to assess some prospective staff issues and apply solutions before they occur.
Hard skills assessment
Such a skill set is easy to be checked only by the first view — you can make it by testing a candidate and asking them questions from a particular job area. But how to check without a tech background whether a specialist is competent enough? Ask your skillful colleague to come to a job interview and assist you in its technical part. By the way, all Cleveroad specialists having profound expertise in different IT fields are ready to help you.
Time and language differences
If you start hiring a software development team, you may meet with time and language differences. All this is especially appropriate in case you would like to collaborate with outsourcing team members who live in a country far away from yours. Solving such issues, Cleveroad developers use meeting schedules, which helps them adapt to the clients' timetables and hour zone differences. Moreover, all of our specialists have good English, so you'll easily understand each other.
Inappropriate corporate culture
Within an organization, company culture maintains cohesiveness, influences motivation, and regulates performance. But all this chain started falling apart when people began working remotely (as it happened due to COVID-19).
Periodic meetings, utilizing platforms like Zoom, where senior managers from outside the team talk directly with the dev team, can minimize the dangers to business culture when employees go online. They also allow management to make changes to the plan. These meetings should ideally be sessions in which you, as the decision-makers, meet one-to-one with another employee who responds to you (and Cleveroad staff members successfully apply such a method to communicate with other team members and resolve problems).
Defocusing the product vision
It results in losing working time on resolving the incorrect issues. In the worst-case scenario, such a team may end up delivering the wrong solution at the end of a complicated and expensive development lifecycle.
How can you stay focused? Hold regular road map reviews to discuss and update compliance with the product vision and the app in development. Examine the product road map to determine where you've been, where you want to go, and what your next actions should be.
The obstacles you may face while building a software development team are countless, and we listed some of the most common ones for you to stay up to date.
Common obstacles in development team creation
Tips For Building a Software Development Team
We found out where to find a software development team. Now, the question is: how to organize building a successful software development team despite all the hidden hazards?
Find a Proper Approach to Create a Team
People are frequently classified into two types based on their talents and knowledge: generalists and specialists. When forming a team, it's important to understand the distinctions among individuals, as well as the issues that may arise and how to work with them.
Generalists are known as engineers frequently involved in full-cycle development and specializing in a wide range of technologies, abilities, and topics. They are knowledgeable about numerous development aspects but do not specialize in any of them. That's why they may lack the expertise necessary for a particular task, and the team may require scaling.
Specialist teams include experts in a particular domain. They are in charge of a certain aspect of the project, are the best in their positions, and nobody else can take over their tasks. So, working with specialists, you should choose the kind of task you want them to complete. The scope of work and responsibility zones should be as clear as possible.
Then, allow time for a specialist to educate and share the experience with the staff members, and the team will be able to use this knowledge while the specialist is not with them.
Control the Recruiting Flows
You increase your chances of tapping into a bigger talent pool by presenting the position as a set of performance targets rather than a comprehensive list of field-specific talents and expertise.
Outline four to five objectives or tasks that may be quantified within the sphere of competence of the potential applicant during hiring.
Publish requirement lists that alienate passive candidates.
If a candidate is interested, get them to write a two-paragraph write-up outlining what they've done in terms of previous project work and experience.
This strategy will help you distinguish between individuals who are only interested in getting the job and those who are truly qualified.
Hire Passionate Candidates
What makes a good software development team? People that work passionately and have an interest in self-development. A well-known fact: Google has enacted a 20% policy allowing software professionals to spend 20% of their time on individual initiatives. Employee energy and excitement increased as a result of the policy, according to various stats.
Remember: strong communication and collaboration are essential for the success of your future product. Try looking for applicants that are eager to discuss their experience reaching a goal as part of a team, dealing with dissenting ideas, and appreciating their peers' individual contributions.
Avoid Exhaustion and Burnout
It's critical to invest in your team's emotional health as well as their technical ability. A happy specialist is a good one.
Don't put pressure on teams to generate results that are above their capabilities. Also, don't throw a bunch of projects at your staff at once. This will almost certainly result in burnout, particularly if you're working on a single long-term product or project. You can also avoid burnout by defining concrete goals, keeping fluid communications (particularly when leading a remote team), providing staff members some authority and independence, and creating solid connections within the team.
How Cleveroad Can Assist You in Building Software Development Teams
Cleveroad is an East European software development outsourcing company based in Ukraine. Since 2011, we've been assisting startups and organizations of all kinds in acquiring cutting-edge technology.
We offer expertise in a wide variety of IT services and customized software products. They improve workforce productivity, address business issues, and support the acquisition of competitive advantages.
We trust that being sincere with customers, partners, and staff is a critical component of developing outstanding products. Our services include (but are not limited to):
Collaboration under three major types of flexible pricing models: dedicated team, fixed price, and time and materials
Presenting experienced CTO as a service to manage your startup technical needs
Building a development team swiftly integrating into established workflows
Offering software engineering teams with agile-minded, highly trained, and certified professionals
Offering high-skilled and accredited QA engineers' services for your project
Building a perfect software development team means making a step forward to a top-class solution fitting your business needs and requirements. Let's take this step together in a tight and successful collaboration!
Build a team with Cleveroad
Drop us a message, and our business development experts will reply to you within one working day!
Frequently Asked Questions
A project manager (PM) — a specialist responsible for project completion and reporting to senior managers and a client. They also verify the correspondence of the product developed to the customer's requirements.
A front-end developer — a professional building a product's client-side
A back-end developer — a team member dealing with a product's backend, invisible for a client but essential for the software functioning (e.g., business logic, integrations, etc.)
A UI/UX designer — an expert creating a flawless customer experience, attractive interface, and intuitive navigation for the client's satisfaction
Quality Assurance engineers — team players checking the product's correspondence to the international quality standards and verifying software for the bugs
Other experts (solution architects, DevOps specialists, business analysts, etc.)
If you need to develop a software product and hire a development team for that, you should know where to find them. Let's consider the most common options:
Gather an in-house staff
Work with a freelance developer
Find a reputable vendor
First of all, you should find a proper approach to create a team, understanding what kind of specialists you've got in your gathered staff: generalists or specialists.
Then, you can control recruiting flows, choosing passionate candidates for your job. When a team is ready to work, you can start your project, but keep in mind that you should track your staff's condition avoiding exhaustion and burnout.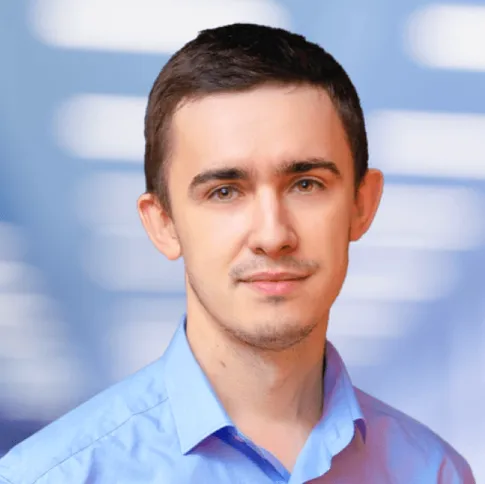 About author
Evgeniy Altynpara is a CTO and member of the Forbes Councils' community of tech professionals. He is an expert in software development and technological entrepreneurship and has 10+years of experience in digital transformation consulting in Healthcare, FinTech, Supply Chain and Logistics
Rate this article!
1226 ratings, average: 4.97 out of 5
Give us your impressions about this article
Give us your impressions about this article