5 Reasons to Start Your Augmented Reality Advertising Campaign Right Now
The growing popularity of AR technologies with the brightest example of is just one of many options how companies use AR to create new ways of interacting with users. The advertising industry adapts quickly to new technologies since new ways of reaching audiences come with them. The main goal of advertising is to bring as much attention to the business or product as possible, and the use of AR makes this process much easier.
Thanks to the gamification and interaction principles which are present in the augmented reality ads, it is possible to create the WOW effect for users. That's why so many brands start their own augmented reality advertising campaigns. If you want to know how to draw attention to your business, then you are in the right place. In our article, we are going to shed light on what is augmented reality advertising, it's benefits and show you some successful examples of augmented reality advertising.
Who needs augmented advertising?
According to Markets and Markets, the AR sphere has a great potential in the retail and e-commerce sectors. It is expected that smartphones compatible with AR technology will stimulate the growth of the market of augmented reality in the future. Therefore, digital advertising is so indispensable in our days, but it's variations have different influences. Since the modern user is spoiled by a variety of ads formats, and often can not react to it at all, the search for new methods that will help solve this problem is topical. We want to cite some areas in which advertising with augmented reality will be the most favourable.
Where to use augmented reality technology
The boost of the gaming and entertainment sectors is a driving factor in the dynamic growth of the AR market. AR applications empower the surrounding space with virtual features which make it even more interesting for users to interact with. But, if you add some motivation to it, it is no longer a game but a very clever marketing move. Here's an example, McDonald's. Users were invited to play a video game, where they earned points which were a discount on products. How smart was it?
In the commercial sphere, augmented reality advertising can be used in retail, marketing, and tourism. Here, AR can advertise and increase sales. Advertisers use AR technology to encourage a customer to interact with their goods or services before purchasing. It can be a part of a company's marketing strategy, whose goal is to identify the target group of customers to meet their needs and build long-term relationships.
AR technology can also be applied in other spheres like medical, educational, publishing, heavy industry, organization of events. If you draw users' attention, you can interactively offer to learn more about you and the value of your product or services. Various industries use augmented reality to ensure that their employees have completed some necessary skills in cases where expensive equipment is required or when some risks are behind it. Imagine that now at exhibitions you can demonstrate large equipment in a virtual format, saving money on transportation and placement.
The benefits of AR advertising
As the definition says, augmented reality gives brands the opportunity to engage young users who tend to be sceptical of traditional advertising methods. Companies and agencies benefit from experiments with new technologies, attracting as many customers as possible on various small projects. Such a plan gives a chance to explore the opportunities, benefits, and problems of AR before investing in a larger project. Starting with small projects, you will realize that the benefits for business are obvious. There is no better advertisement than the product itself. Introduce a product in a new light, including an element of gamification and interaction. It is a good way to show the brand in a new way. Let's consider what benefits of augmented reality for marketing and your business, in general, there are.
Benefits of augmented reality marketing
Stimulation of clients
Here we mainly talk about the tourism industry, as this is a great way to earn extra profit by encouraging clients to get more emotions and impressions in their surroundings. Many ideas can become a reality, they will be applied to a particular type of business and region.
Experience of virtual tours in e-commerce
Virtual tours to the stores add an element of fun for customers. For instance, IKEA and Converse already use AR in their augmented reality advertising apps. Here you can try on sneakers or imagine how a new table or a chair will look in your apartment.
Advertising tool for social networks
Since Facebook and Instagram have become an indispensable attribute for advertising campaigns, the use of augmented reality can improve brand experience by adopting a video advertising strategy at a new level. Adding creative filters and animations to everyday objects you can improve the interaction of a client with your product. Imagine that users start sharing your augmented reality ads just because they like it. For example, customers try on virtual clothes and share the image with their friends.
Ad Targeting
Location and objects recognition can be an excellent way for targeted advertising. Being in a certain place a user points a camera at an object and gets a three-dimensional image and information that the company offers.
Savings
Printed ads in magazines tend to be significantly more expensive than online or digital advertising. Lots of large monthly magazines charge more than $100.000 for a four-colour full-page printed advertisement (one-time) the cost of which is determined by the price per thousand readers. Therefore, the use of augmented reality, as a form of digital advertising, appears to be much cheaper and justifies itself by it's unconventionality and reaction to it by the people themselves. Simply put, AR provokes many more emotions than the usual ads, it tricks and ties these emotions to your product.
Successful augmented reality advertising examples
The spheres which AR influenced the most were the marketing and advertising. Benefits of augmented reality marketing are the same for large organizations, small and medium businesses. It can be explained by many factors but the main one is that the technology attracts attention, and attention leads to buyers. Here are some augmented reality advertising case studies which can inspire you.
In our next article, we are going to tell you how we created an app and a website for the tourism industry. Don't miss it and subscribe to our blog!
ToysRus
The toy giant Toys R Us in 2015 ran an extremely successful advertising campaign. On Easter Eve the company staged a virtual hunt for Easter eggs in children's toy stores in Australia, which was, in fact, an impressive approach to advertising. Using tablets, children hunted for Easter bunnies in the shops trying to 'catch' bunnies. Here how it was.
Augmented reality in the toy shop
Absolut Truths
This is an example of augmented reality print ads combined with an app. The company launched a mobile app which scanned labels on their bottles with alcohol. After scanning, users were offered a 3D guide to Ahus, it's a little town in Sweden a place where the production of vodka is located. While they were exploring the region, they could also see the process of how vodka was manufactured. The campaign was a stunning success. Unfortunately, the application is no longer available, as it was carried out as a part of an experimental campaign.
Universal Studio
Visitors of the Universal Studios Orlando can now interact directly with the dinosaurs of Jurassic Park. Using the smartphones, visitors open AR image and various dinosaurs approach people so that they can explore them. It's an unbelievable marketing move, which you can only experience when you reach your destination. Or, you can see it in the next video.
Virtual dinosaurs in Universal Studio
New Look
The United Arab Emirates is a country where mobile technologies are used more than anywhere in the world. Mass-market brand in the UK New Look decided to take advantage of this fact and launched it's project for UAE youth. Teenagers scanned tags on New Look clothes and had a chance to get a discount or a special offer.
Modiface Makeup
Today, companies like Modiface use AR to display the user's face and re-display it as a photorealistic 3D object. It allows the mirrors to accurately show realistic makeup options and even long-term skin care regimens on a face. Since anyone who has ever bought cosmetics knows that the choice between a huge number of available products takes a long time, and there are no guarantees of success. Using AR, Modiface allows customers to "try" before purchasing, simulating the full use of cosmetics or skin care results after some time with one or another product.
This is an incomplete list of the augmented reality in advertising examples, we tried to find different applications, emphasizing the fact that such advertising can be used almost everywhere.
Want to know more about our own history in this sphere? Read it in our AR face detection case
In general, the use of augmented reality in advertising causes more pluses than minuses. The main advantages, in our opinion, are:
Can be applied in many spheres.
Creates WOW effect for a user.
Relatively inexpensive, if we compare it with print advertising.
Has

thousands of variations.

The element of gamification serves to establish an emotional connection between a customer and a product Is novel and creative.
As for downsides, we can say that some users are concerned about the privacy of their data (like actual location, and personal information), but there are solutions and options which can be implemented while providing high-quality mobile development services. Another issue of advertising with the use of augmented reality is that it cannot guarantee 100% success, so we recommend starting with small projects and looking at how users respond to your ideas and interact with this form of advertising.
Do not be afraid of trying new technologies and approaches to your business. We live in the era of technological boom and printed newspapers along with magazines aren't interesting anymore. Impress your customers. Make them say WOW. Use augmented reality advertising and you'll see how people tell everyone how great your product is. If you still don't have such product, write us and let's create it together!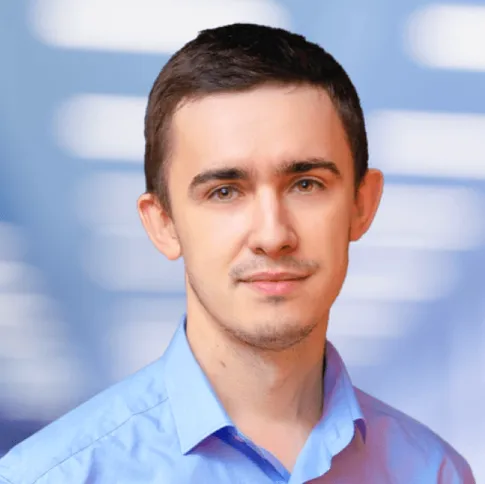 About author
Evgeniy Altynpara is a CTO and member of the Forbes Councils' community of tech professionals. He is an expert in software development and technological entrepreneurship and has 10+years of experience in digital transformation consulting in Healthcare, FinTech, Supply Chain and Logistics
Rate this article!
3422 ratings, average: 4.78 out of 5
Give us your impressions about this article
Give us your impressions about this article