How to Find an App Developer in 2023: All You Need to Know
Before you start looking for app developers, you should know what developers you need.
For instance, apps for iOS require developers who work with Swift or Objective-C. If we're talking about Android developers, they use Kotlin or Java. Cross-platform apps require programmers to know Flutter.
In this article, we'll guide you through the preparations to find app developers, hiring options you can choose from, and developers' rates by country and skills. The prepared guide will also assist you in covering the following questions:
How to understand what kind of app developer I need?
What are the average app developer hourly rates worldwide?
What are the hiring options there to complete the project effectively?
Where to look for skilled mobile app developers?
How to be prepared enough to find app coders and what to do?
How to Find Mobile App Developers: 6 Steps to Succeed With The Process
There are several ways to find specialists for your project. For example, according to Business Review research, 35% of startups rely on employee referrals, while 30% of tech companies use professional platforms. We'll examine each hiring option in detail to help you land the best candidates for your project.
Conduct research
Before you decide where to find app developers and employ some, you should strictly understand the fundamentals of this profession. It'll help you find out the particular type of specialist you'll need for your future project and, consequently, get the background you need to conduct effective meetings and interviews.
Thus, you should clearly understand the following:
You search for a native, web, or Flutter mobile app developer
Operating systems they should know
Technologies they should be able to use, and so on.
Typically, outsourcing mobile development companies are able to offer you different kinds of mobile app development experts to collaborate with and choose some that are crucial for your project.
For example, Cleveroad can provide you with skilled native app developers working with iOS and Android or cross-platform app coders that will be able to deliver you a powerful and advantageous Flutter-based mobile app saving you time and budget.
Ask for references
Asking your professional colleagues for any referrals is the most useful way to find app developers quickly and with limited resources. It's a powerful method, as the person you trust can speak for the candidates' experience and qualifications while telling them your company is a good place for work.
However, you need to have a long list of professional contacts to increase your chance to find a mobile developer, enough skilled for your project.
Use hiring platforms
This is the easiest way to find candidates. Using hiring platforms, you're most likely to find app developers for a reasonable price.
They collect information about IT companies and freelancers from all over the world, giving the tools you need for a successful hiring.
There are three types of tech platforms to answer the "how to find a developer for your app" question depending on the main cooperation models:
Read previous clients' feedback
Awesome working experience is greatly valued when it comes to developing strong ties with chosen mobile app development company. So, asking yourself "how do I find an app developer trustworthy enough to collaborate with?", you can check your prospective provider's page on professional platforms like Clutch, or Glassdoor and read any reviews written by prior clients. It's reasonable: who can say more about working with a mobile app development provider than the previous customers?
Learn about specialists' experience from their portfolio
You probably don't want an app developer who hasn't ever made a mobile app before. Look at the candidates' portfolio to understand whether they've worked on products similar to yours. Download their apps, check whether they work as expected and if they provide value to customers. Such a research will sufficiently respond on how to find mobile app developers for your project.
For example, the Cleveroad team has recently designed anIoT-based system for monitoring EKG and blood oxygen level. The solution's core is iOS and Android mobile applications connected via IoT devices. As a result, our client received a mobile telecare app that meets US health regulators' requirements and provides users with valuable opportunities to track vital signs.
Communicate with your project team
Solid recommendations and portfolio examples will be beneficial only if the app developer is simple to deal with. So, even when a remote application development team is engaged, member interviews are still required.
First, you should ensure that the app developers create your app without communication obstacles: check the availability of the communication tools they use and make sure there are no language barriers between you and your team.
It is also advisable to be aware of potential problems or personal shortcomings since doing so might result in unforeseen conflicts down the road. Furthermore, you should analyze the communication's openness after you find a developer (or a reliable outsourcing vendor offering you a team of such specialists). Outsourcing agencies need to be open and honest about their capabilities, restrictions, and conditions of payment.
Some of the questions you may ask during the first communication with your mobile app development team are the following:
Are there any prior client references I may look at?
Would you be willing to sign an NDA and contract to preserve the privacy of my project data?
How will we communicate during the development process?
What programming languages and tools are required to create apps for you?
Outline the development flow in your own words
Which project management strategies do you employ?
We've told you the most essential points on how to find a mobile app developer or a team of specialists for your project. Let's consider where to look for such experts.
Where Can I Find an App Developer: Options to Consider
After you've conducted the research and listed the features, it's time to consider where and how to find a developer for your app who'd bring your concepts to life. There are three options to look for:
Option #1. Freelance
Option #2. In-house team or remote employees
Option #3. Outsourcing companies and agencies
There's no sure way to tell you whether you need to work with a freelance developer or sign a contract with a mobile app development company. Each option is relevant in different situations and depends on your project requirements.
Let's consider the ins and outs of each hiring option:
Common hiring options to use when you need an app developer
Option #1. Freelance
Working with freelance mobile app developers is cheaper than an in-house team as you don't need to pay for office space and equipment. But it works well only for small tasks and software upgrades — like fixing a shopping cart or building a WordPress site.
If you're going to build an app from scratch and thinking how to find a programmer for an app, one freelancer can't be responsible for full-cycle mobile app development services. In this case, you need to hire a few freelance developers, UI/UX designers, and QA engineers.
Hiring a team of freelancers for a large project can be a risky and expensive idea due to team fragmentation. You'll need to manage the whole process on your own or hire a freelance project manager (if you don't have one).
Moreover, it may be difficult to find a app developer team that will be enough reliable. Some of them deliver a project with bugs, and others can abandon the project after a couple of weeks for a better offer.
As an option, you can place freelancers all together in your office. Thus, you'll manage the development process and improve communication between developers.
Pros
Cost-effective solution
Extended talent pool
Suitable for small one-time tasks
Cons
Communication issues
Harder to control
Chances for project leaving
Option #2. In-house team or remote employees
If you're looking for app developer to work remotely as a part of your company or you want to assemble an in-house team, then this option is for you. It's a good decision if you have multiple projects to work on and want to control the entire development process.
In-house teams are a common practice among enterprises that want to have a superb level of control and enhance communication between employees. When working with the team under the same roof, there are no language barriers or time zone differences.
It's a convenient but pricey option. Hiring local specialists for an in-house team can be a complex and costly task, especially in the US or Western Europe. This approach on how to find a programmer to build an app also requires additional expenses like office rent, software licenses, hardware, and taxes.
Pros
Full control over the development process
No communication issues
Cons
Overpriced service
Additional expenses
Difficult hiring process
Option #3. Outsourcing companies and agencies
Thinking out how to find a coder for an app, you can consider outsourcing app development or augmenting your team with app developers from an outsourcing company (whether you have just an idea or ready-made specification). In both cases, you'll shorten the time to market, reduce the project's costs and increase the quality of the product.
This option doesn't require renting an office or making other additional expenses. Outsourcing companies already have a pool of experienced developers you need to build an app. Also, they're responsible for team management and product delivery.
Besides, if you're on a tight budget, you can look for options overseas. You can choose any company from popular outsourcing regions that suit your resources and requirements.
You can face communication issues and serious time differences when choosing a foreign company. But an experienced vendor, like Cleveroad, has specialists with a high English level and flexible communication schedule for the client's convenience.
Unlike the in-house team, you'll get full-fledged mobile development services for a reasonable price in the short term.
Pros
Project cost reduction
Wide pool of tech talents to choose from
Business scalability
Cons
Lack of control you may desire
Communication problems
According to our experience, outsourcing is the most beneficial among the three given options to find mobile app developers. It has a lot of advantages (we've mentioned above only the most common ones) for businesses of all sizes, and its issues and drawbacks can easily be solved based on the provider's expertise.
Preparations Steps Before Finding App Developers
Mobile app development is so popular that the question "how to find the best app developers?" seems to be an impossible task. However, if you know exactly what app you want to develop and keep in mind these eight tips, you'll find the right specialist fast.
Outline your project requirements
Firstly, you need to explain your app idea and its requirements to a chosen development team. It should be clear enough for the developers to understand and bring to life in detail.
Particularly, you should specify the following:
Who will be your mobile app customer, why and how they'll use the created software
What features will cover the particular needs of your client
App's level of reliability, usability, and performance
Coding languages to give your app a proper embodiment, security issues to solve, time restraints
The upcoming software integration to other systems, hardware components to use, regulations to obey, etc.
However, looking for app development, you can come to mobile app development experts even with a raw idea of your solution. The team will research the matter and help you determine all the necessary points of project requirements. For example, in Cleveroad, you can compile the demands to your app idea in tight cooperation with our business analysts. They will help you prioritize the app's features and requirements to deliver outcomes that align with your product vision and business challenges.
Decide on the app type
Before finding a mobile app developer team, be ready to answer the following questions:
Are you going to develop an application to extend your business, or do you consider it a startup?
Is it a simple or multi-feature mobile app?
What type of app do you want to create (educational, lifestyle, productivity, game, and so on)?
Thinking out the app type to create, you should consider that your choice has an impact on the costs you can receive from app developers. Below, we've given some rough app price examples by business domains to give you a fair costs representation:
Marketplace solutions — $40,000-$120,000+
Telemedicine app development — $75,000-$250,000+
Social network platform — $65,000-$70,000+
Logistics app creation — $50,000-$250,000+
Fintech solutions — $90,000-$300,000+
Measure future developers' experience and skills
Don't forget to ask your app developers about their experience, programming languages, and frameworks they work with. For instance, if you want to build an Android platform app, you need skilled and experienced Android app developers to get started.
Moreover, consider if they have expertise in your niche. If you're working in healthcare, you should find an app developer who knows how to create a mobile app complying with HIPAA requirements to ensure that your digital solution does not violate industry-related laws.
Clarify possible communication issues
Communication is essential, especially if you're going to outsource mobile app development. Before getting into details about finding an app developer team to outsource your project, it's better to communicate with potential candidates via chat, phone, or email.
Usually, a 30-minute live video call will help you evaluate an employee's values and understand whether you're both comfortable with each other.
Want to know how to establish a consistent interview process to establish tight working relationships? Check our article about hiring remote developers!
Discuss the project timeline
When you find app developers online, you should discuss the timeline upfront and see if it fits your requirements. Many app developers charge for the number of working hours they've spent to fulfill the project. It's a popular option in projects where it's difficult to set up a fixed timeline.
Agree on long-term relationships
The development process doesn't stop after you launch the app. After releasing the product, developers should process the feedback if needed to fix any bugs or add new features.
Also, it's crucial to analyze if the app satisfies customers' needs and meets their expectations. So, long-term relationships are a must-have after you've answered on how to find the best app developers and hired them.
Negotiate a project budget beforehand
Discuss prices in advance. Apart from development, many factors influence the final cost of the project. Design, maintenance, testing, deployment, and other services. You should consider all these expenses to create a more accurate budget for your future app.
Compatibility
Before finding app developers, you need to consider the following criteria:
Language barriers. It's better to choose specialists speaking the same language as you, then communication will be simple and natural. You can hire in-house developers or outsource overseas. However, hiring local developers can be a costly task for employers. Also, it can be tricky to find candidates with specific skills in local markets.
Time zone. It's much easier to find a programmer working with a slight time difference than to wait all day for developers' answers to get things done. For example, outsourcing companies know how to solve that problem and often make a communication plan with clients to hold meetings on a convenient schedule.
Communication tools. Video and audio calls, text chats, sharing images, emails, and synchronization with Google services will help you stay in touch with the development team to work effectively and solve issues faster. The most popular project management tools are Jira, Slack, Confluence, and Google's G Suite.
Following these tips, you can narrow down the circle of specialists to look for and save yourself from wasting hundreds of thousands of dollars.
What You Should Know to Find an App Developer
Before hiring a developer, it's vital to clarify your project's idea.
Often, clients come to a software development company with the request like "I want a TikTok-like app." But it's better not just to create a TikTok clone but add some unique features. Thus, the user flow of an app can change completely.
In turn, the company will use more time defining that flows, rather than analyzing general requirements.
Let's consider what you should know before finding app developers.
Essentials to consider looking for app developers
Determine if there's a problem
According to Forbes, 90% of new-launched products fail because they don't meet the market's needs. Let's see what phases you should follow to stay behind these sad statistics.
Define Target Audience
It's pointless to build an app without knowing who you're creating it for.
You can't build a mobile app for everyone as well as for one user. You should define a group of people with similar interests and problems to know who you create the app for and what features would solve their problems.
Start with basic information (age, gender, location, languages, income, education, and occupation) and then get into details (personality, behavior, values, habits, struggles, and so on)
Defining a target user involves analyzing the purpose of your mobile app and what problem it's solving.
Validate the Problem
Before actually testing an idea within your market, all you're doing is guessing. In order to build a successful app, you should conduct detailed research to understand if there's a problem that you want to solve with your app.
Don't make any assumptions, ask your potential customers to make sure the people who have that problem actually want a solution.
Validate the Solution
Find the solution. Compare your idea to existing projects to figure out how unique your app will be. There may be no sense in developing the same project if there's another well-used one.
After that try to build a Minimum Valuable Product to check whether your idea meets customer's needs. It includes only primary features that let users test the concept of your app.
Clear up the requirements
Before finding app developers, you should clearly understand the product's requirements. It's a great idea to create a features list and start track and measure KPIs.
MVP
Many founders ignore MVP solutions for their businesses. They come up with the idea, start building their app right away, and then have no idea what to do when it comes to launching it.
Without clear requirements, developers won't tell you exactly how much time and money the app development will take. That's why it's a good practice to prepare a list of must-have features that should be developed first. It'll help developers figure out what tech stack to use and understand the customer's expectations.
All billion-dollar companies started with MVP solutions that most people would say were pretty bad.
For example, Airbnb's MVP was a simple landing page launched by three founders who came up with an idea to connect people with extra rooms or beds to people who need a place to stay. So how did they start? There was a well-known design conference in San Francisco in 2007. They rented a small apartment and put together all their beds to provide visitors who didn't get rooms in hotels with air beds.
They created a simple web page and ran a simple ad. Soon, they had three clients who rented their apartment during the conference. Once they understood the viability of their idea and got first good feedback, they created Airbnb.
Moreover, if you're looking for freelance app developers or gathering an in-house team, it's crucial to precisely set up your demands. They don't have business analysts to help with requirements, so you have to do it on your own or hire a specialist.
KPIs
KPIs are the lifeblood of every business, and defining them is one of the first decisions you need to make when developing your project. It'll drive user acquisition and increase revenue.
Tracking and measuring KPIs is essential for business because it shows whether your current strategy is actually working or not. They're used to measure growth and spot the areas of your product that need improvements.
If you don't track KPIs, your decisions will be based on assumptions and personal preference rather than data. KPIs lead to strategic, data-driven decisions helping move your startup in the right direction.
Now that you know the value of KPIs, you're probably thinking of which ones you need to focus on and base your strategic planning around.
Below you'll find the most important KPIs every startup have to track:
Customer Acquisition Cost (CAC)
Average Revenue Per User (ARPU)
Customer Lifetime Value (LTV)
Monthly Active Users (MAU)
Customer Churn Rate (CCR)
Monthly Recurring Revenue (MRR)
Revenue Growth Rate
Revenue Churn Rate (RCR)
Mobile App Developer Rates by Country
Mobile app developers' rates can differ from country to country, ranging from $100-250 per hour in the USA, Canada, and Western Europe to $20-40 per hour in India and Pakistan.
Central Europe seems to be a golden mean charging $25-50 hourly while providing a high level of competency.
If you want to outsource mobile development or find nearshore or offshore mobile app development services, you should know popular regions that suit best for it.
We've analyzed rates of mobile app developers in different countries and highlighted the most popular tech hubs.
Cost to find app developers worldwide
Experienced outsource app developers charge less than in-house ones but still guarantees high performance for your software solution.
It's worth keeping in mind that mobile app developers' rates not only depend on the country but also on the experience and stack of technologies that programmers work with.
PayScale claims $73,523 to be an average mobile application developer salary in the USA. According to Indeed, mobile app developers get $117,311 per year.
The numbers differ depending on the experience, qualification, location, and many other factors.
According to ZipRecruiter, Android developers get $112,647/year on average. That's $54 per hour or $432 per working day. In turn, iOS developers are offered to $114,614 salary.
When looking for an app developer, it's better to become familiar with the average mobile app developers' price by specialization.
Below you'll find the US cost to hire an app developer for freelance per hour.
Rates of freelance developers per hour

| | |
| --- | --- |
| Developer | Hourly rates |
| Front-end | $61-80/hour |
| Back-end | $61-80/hour |
| Full stack | $81-100/hour |
| iOS | $81-100/hour |
| Android | $61-80/hour |
Why Hire App Developers at Cleveroad
Cleveroad is an outsourcing software development company with more than 10 years of experience, during which we've successfully accomplished 170+ successful projects. Our mobile app developers are fluent in Swift, Kotlin, and Flutter app development services and are ready to help you build top-tier iOS, Android, and cross-platform apps.
You can find app developers for a startup or for expanding an already existing app with one of our three adjustable cooperation models:
Time and material. We give a client an approximate estimation of the scope and start a project without having an exact scope of work in hand. We plan each sprint and agree on all the project details with the client. According to this approach, we can make changes even in the middle of the software development process.
Fixed Workscope. This model implies a one-time payment for the Discovery Phase that includes comprehensive estimates, accurate project requirements, and stringent timeframes.
Dedicated team. This type of contract is the right solution for large-scale and complex projects. We agree on cooperation terms and submit software developers to the client's project.
Don't hesitate to cooperate on mobile app development projects with us, doing that in the most comfortable way for your business. You're also welcome to look through our portfolio to see what projects we've developed before and find ideas for your business solution.
Looking for mobile apps developers?
Tell us more about your project and get an in-depth consultation from our specialists
Frequently Asked Questions
You can use popular hiring platforms to find app developers depending on the cooperation models (freelance, in-house team, outsourcing companies).
There are several popular software outsourcing destinations: USA, Western Europe, Eastern Europe, Asia. Central Europe is golden mean charging $25-50 hourly while providing a high level of competency. For example, Estonian developers charge $40.
Before finding app developers, you need to make the following steps: define target audience, validate the problem, validate the solution, build MVP, measure (KPIs) and analyze.
It depends on the country, experience level, and stack of technologies that programmers work with. For instance, app developers in the USA charge $100/h compared to $50 in the Central Europe for the same price.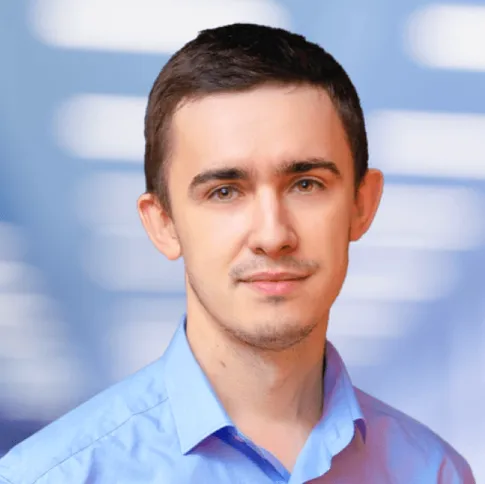 About author
Evgeniy Altynpara is a CTO and member of the Forbes Councils' community of tech professionals. He is an expert in software development and technological entrepreneurship and has 10+years of experience in digital transformation consulting in Healthcare, FinTech, Supply Chain and Logistics
Rate this article!
1850 ratings, average: 4.70 out of 5
Give us your impressions about this article
Give us your impressions about this article
Blinda Breeden
19.01.2023 at 11:14
Hi there, thanks for sharing such an awesome blog with us, It's really helpful to find the best mobile app and web development company.
Michae Rhodes
08.08.2022 at 10:48
First time I found such an open and informative paper. Would appriciate a copy in PDF to take and discuss with others.
Mistersaad
02.08.2022 at 21:17
This is a great inspiring article. I am pretty much pleased with your good work. You put really very helpful information. Keep it up. Keep blogging

Alina Rovnaya
03.08.2022 at 06:50
I'm glad you find it useful:)