How to Make a Video Conferencing App like Zoom and How Much It Costs?
Remote communication tendencies accomplished a prominent rise in video conferencing apps' popularity. Every messenger or social media application tries to insert a particular video functionality to better engage with its audience, keep up with current tech trends and provide users with convenient channel for real-time communication. Moreover, video conferencing app development may significantly boost your company's internal communication and lead to solid revenue generation in the future perspective.
In this post, we'll guide you through:
Key reasons to develop video conferencing solution
The main video-conferencing app features to include
Step-by-step guidance to build a video-conferencing app
The cost of video conferencing app
Requirements to consider before video conference app development
Why to Develop a Video Conferencing App: Market Overview
The creation of a video conferencing app is definitely appealing and is currently considered one of the most promising business strategy. In the past 2022, the Global video conferencing applications market was worth $10.6 billion. Nevertheless, it's projected to grow to $19.1 billion by 2027. These statistics clearly indicate that video conferencing is a prospective niche if you intend to enter the market.
Remote video conferencing enables you to enhance communication and save significant resources on infrastructure. Generally, communication becomes more flexible and innovative.
What exact benefits can you receive from video conferencing application development?
Advanced communication. Video conferencing solutions can not only attract a new users and facilitate the appearance of new revenue streams but also enhance your internal communication between departments and become a new communication channel with the company's clients.
Cost-savings. Development and implementation of video-conferencing apps can reduce overhead costs associated with physical meetings.
Increased effectiveness. Due to the shorter time needed to arrange meetings, you're capable of establishing faster problem-solving, which leads to a more efficient risk mitigation and decision-making process.
Business distinguishment. By delivering a robust video conferencing platform, you'll have more opportunities to make your activity more notable on the market and draw the attention of new clients and potential partners.
Top video conferencing apps
Before creating your solution, it's highly advisable to thoroughly examine existing successful market offers. We'd like to point your attention to the most popular and widely usable solutions:
Zoom. The platform became a must-have in the corporate community due to its ease of use, high reliability, and coverage of basic functionality (video conferencing, screen sharing, chat and files sharing) and advanced features (large meetings for up to thousands of participants, special tools for webinars, integrations with other business tools, etc.). The platforms managed to generate $4.46 billion in revenue in 2023 and retains 300 million users daily.
Microsoft Teams. Microsoft Teams is a unified solution presented by Microsoft for collaboration and overall communication. The solution is to offer robust video conferencing tools alongside simplified file sharing, task management, integration with Microsoft 365, etc. With the $211.925 billion of whole Microsoft revenue, Microsoft Team retains 280 million active users daily.
Google Meets. Google Meets is a swiftly evolving video conferencing tool produced by Google. The platform offers end-to-end encryption to enable highly safeguarded communication, robust video and audio quality, live captioning, integration with Google Work Space and more. With $74.3 billion of the whole Google revenue, Google Meets engages 300 million users monthly.
Below, you can examine the conclusive market share of video conferencing software in 2023:
Video Conferencing Software Market Share in 2023. Source: Statista
Must-Have Features for Video Conferencing Application
Now, let's define and structurize the key functionality required to develop a video conference app below:
Video and audio calls
To make communication indeed effective, it's vital to enrich your solution with video and audio call functionality. Besides the ability to see and hear each other, it's convenient to add the possibility of screen sharing or call recording.
To facilitate a robust and high-quality connection, it's recommended to pay attention to the following aspects:
Appropriate infrastructure. Your app infrastructure has to be strong enough to handle video and audio streams to accomplish a smooth and stable connection.
Devices interoperability. Ensure your solution's equal runs on multiple platforms, including tablets, smartphones, and desktops, as this also highly influences the quality of audio and video components.
High network bandwidth and stability. This is the key component of video conferencing reliability. It's needed to ensure network stability, conduct regular network monitoring, update hardware and infrastructure as needed. All these activities allows for maintaining the consistent quality level required for video and audio calls.
Chat and messaging
How to make video conferencing app to meet users' expectations? It's convenient to enable users to exchange messages, links, or files in real-time chat during the video call. Also, insert public and private chatting, allowing users to interact with each other separately from other participants.
Don't forget about a proper notification system to alert users about new messages or mentions. Besides, it's critical to provide users with secure and scalable communication methods that won't compromise usability and quality within an increasing number of participants.
Meeting scheduling
The meeting scheduling feature, is a tool that helps users manage, schedule meetings for specific times, and invite participants to them. The functionality directly implies integration with calendars and incorporation of automated reminders, as well as enables users to change meeting times. The integration of meeting scheduling functionality requires the utilization of your video conferencing app API (Application Programming Interface), to allow the interoperability of multiple services or tools.
Security
Data security and enhanced privacy is the fundamental aspect of video conference app development success. So, what exactly can you do to safeguard data streams?
End-to-End encryption. The method allows you to implement robust encryption protocols that encrypt data on the sender end and decrypt it only at the receiver end. This facilitates safe data transfer, minimizing the possibility of unauthorized access in the process of transition.
User authentication. This technique implies the implementation of multiple safety receptions like 2FA (Two Factor Authentication), biometric authentication (Touch ID, Face ID, etc.), or SSO (Single Sign-On), which enables users to access multiple systems with a single set of login and password.
Infrastructural security. The heart of your video conferencing software, including hardware or cloud servers and databases, has to adhere to best security practices and be patched and updated to mitigate numerous vulnerabilities.
Privacy tracking. Provide your users with the ability to manage their privacy capabilities, such as access to particular data, the ability to disable certain features, or control what information can be shared and who it's shared.
Participant management
Participant management tools play a crucial role in video conferencing app development. The feature allows users to:
Invite members via links, emails, etc.
Dividing participants into roles (Meeting host, attendee, presenter, etc.) empowering them with a specific level of access to interaction rights
Mute and Unmute users give the host the ability to accurately manage disruptions.
Removal or Expulsion right for the host to remove disruptive or unauthorized participants
Tracking of users' attendance, to track users' presence and monitor their performance during the conference
Collaborative tools
To foster a reliable and convenient corporate environment, it's vital to implement a set of collaborative tools into your video conferencing solution. Besides screen and file sharing and live chat messaging, it's great to incorporate tools like whiteboarding to let users collectively draw their concepts and enable visual explanation. Polls and surveys can also be considered, as this enables the host of the conference to gather workers' opinions and feedback, encouraging more active participation.
Integration with other services
A video conferencing solution may require an integration with existing software your business utilize to facilitate seamles collaboration and facillitate boundless work enviroment. Here are key integration options you can consider while building a video conferencing app:
CRM and customer support integration: Integration with CRM or customer support software can facilitate and help you keep track of customer-related discussions or notes, helping to maintain stability and reliability in customer interactions
Live streaming and social media integrations: This option may allow your platform users to broadcast video conferences live, engaging social media platforms or through live streaming services
LMS and education integration: For sure, the remote learning process is an up-to-date matter, and video conferencing platform integrations with LMS (Learning Management System) or other education-related tools facilitate a full-fledged remote learning process, digital classrooms, etc.
Messaging app integration: By integrating the video conferencing app with the messenger you use, offers a unified communication experience. This speeds up the meeting arrangement, allowing users to seamlessly switch from chats to face-to-face discussions.
Calendars integration: Joining your video conferencing app with a preferred calendar makes communication more accessible. You can create an event and attach a link or a meeting invitation making it convenient for your employees to access the session easier.
Project management platforms integration: Integrating video conferencing with project management boosts team collaboration, facilitating direct video meetings within project tools. This results in streamlining planning, decision-making, and storing meeting details, ensuring all project data is in one location.
Here's an example of advanced functionality you can implement in your video conferencing app:
AR-based immersive and interactive features (filters, masks, interactive object or presentations, etc)
Meetings recording and playback
AI-powered real-time translation and transcription
Interactive polls and Q&A
Breakout rooms, etc.
How to Build a Video Conferencing App in 8 Steps
Finally, we can come to the fundamental matter of this guide – how to develop a video conferencing app. Below, you'll find an 8 steps list that'll help you orient in the creation algorithms:
Step 1. Do market research and analysis
Right before station developing a video conference app, you'll have to define what exactly may impact your solution market success. Let's see why exactly it's vital to analyze the current market situation:
Getting to know the market tendencies: Besides the modern stylization of your solution, it's necessary to establish what current technologies you can incorporate into your video conferencing app. The current tech trends you can consider include AI integrations, AR backgrounds and filters, 5G integrations, enhanced security measures, remote hardware control, and more
Understanding your target audience and their pain points: One of the most valuable things you can get from market research it's the answer to the question of who your target audience is and what they need from your solution. By identifying users' preferences, you can conduct more precise audience segmentation and make more tailored marketing efforts. Moreover, this may help you create a video conferencing app that will meet users' needs, preferences, and expectations.
Accurate features prioritization: This directly engages your knowledge of users' preferences and may help you ensure that your video conference app development is focused on highly demanded functionalities. Examine competitors experience. Define what features they incorporate, what their solution may lack, what their audience want and need based on their feedback.
Step 2. Choose monetization model
Probably, your next question is how you're supposed to generate revenue from the video conferencing app. Well, let's overview the three most widely utilized monetization models on examples of currently popular video conferencing solutions:
Freemium model: The model implies offering the solution's basic functionality for free, however, requiring payments for more advanced features. The most vibrant representative of this model incorporation is Zoom. The platform provides its users with limited meeting duration, members count, and functionality for free and charges for premium features like advanced meeting capacity or longer conference time.
Subscription-based model: The model offers tiered subscription plans with different functionality, depending on the chosen tier. Google Meets primarily operates on a subscription-based model as a part of a Google Workscape subscription. The services offer various functionality-filled tiers that usually engage recording capabilities, meeting capacities, members count, etc.
Pay-Per-Use model: The model allows users to pay for the video conferencing platform's actual usage with no long-term commitment to the subscription. This monetization approach is currently not highly incorporated, however, GoToMeeting provides the possibility of a pay-per-use model for certain functionality or one-time meetings.
Step 3. Hire a development team
Finding experts with a suitable knowledge level is quite a task that may take a significant amount of time, especially if done manually by yourself. But, there is a way to speed up the hiring process by outsourcing app creation to a Media software development company. The approach implies reaching out to a third-party IT vendor who can assist you in product building.
Each year, more businesses decide on programming outsourcing for several reasons:
Cost-savings: Outsourced cooperation often gives businesses access to a wider range of specialists with various rates and expertise levels. This enables you to choose the region and experts that fit your budget, which is harder to do in the case of in-house collaboration
Wider talent pool: Outsourced cooperation enables you to acces a more profound specialists pool, not limited with your location. This gives you an opportunity to find a development team with robust skill set and expertise for lower costs.
Focus on core competencies: While delegating video conferencing software development to outsourced experts, you obtain more abilities to concentrate on your core business tasks and needs
Better risk mitigation: Reaching out to outsourced IT providers can help you share project development responsibility and not deal with project's challenges by yourself. Commonly, outsourcing firms also have rich experience in managing several projects at once and usually have reliable risk mitigation strategies for faster future issue resolution
Step 4. Determine the feature set
If you want to develop a video conference app that will bring value to your customer, define the solution's functionality. It's a vital step, as the functionality you'll choose will directly impact user experience and the demand for your solution. At this point it'll be convinient to create a product with a minimum features possible to use it to test the concept, see how an average user behaves with this solution, and generally define users engagement.
By clearly outlining your development priorities, you'll manage to save time and money, and also make the solution flexible and highly adaptable to ever-evolving users needs.
The best thing you can do is to reach out to your IT vendor and get a consultation about the final functionality of your video conferencing solution.
Step 5. Decide on the platform and tech stack
The choice of platform (Mobile, web, desktop) for launch significantly influences your video conferencing app development. This directly impacts your app's compatibility, accessibility, and potential user reach, impacting the success and adoption rate of your video conferencing solution in the market.
Even though each platform has its own pros and cons, it's advisable to combine approaches, covering larger user base with various demands and tech capabilities.
The tech stack required for your video conferencing application development is directly impacted by the platform you decide to engage. Below, you can examine the tools needed to create a robust video conferencing solution:
Programming languages: Java, Kotlin, Swift, HTML, JavaScript, CSS
Real-time communication protocol: WebRTC
Media handling: Android Media Codec API, AVFoundation, Jitsi, Kurento, Janus, ExoPlayer, FFmpegMediaMetaDataRetriever, LFLiveKit, AVFoundation Framework
User Interface (UI): Stroyboard, UIKit, XIB, Android XML, Android Jetpack, Adobe XD, Sketch, Figma, Angular, React. js., Vue. js.
Web server: Node.js., Django, Flask, Python
Database: SQLite, Core Data, PostgreSQL MongoDB, MySQL,
Networking: Android Volley, Retrofit, Alamofire, URLSession, WebSocket, HTTP, protocols like SDP (Session Description Protocol), RTP (Real-time Transport Protocol), etc.
Integrated Development Enviroment (IDE): Android Studio, Xcode, VS Code, Atom, Eclipse, WebStrom, etc.
Cloud services: Firebase, AWS, Azure, Google Cloud Platform
Step 6. Product development
It's truly exciting to have an opportunity to make a test launch of your video conferencing solution to learn about potential risks and pitfalls. Luckily, there is an option that makes it possible, and it's called MVP (Minimal Viable Product).
Video conferencing app MVP is a version of a solution that contains key features, allowing it to function properly, satisfy early users' needs, and collect valuable feedback for future improvements. This development method is often utilized to test assumptions about the product's concept and its functionality to refine as needed. Here are the key benefits of launching MVP video conferencing app:
Faster development and launch: As you'll present a video conference product with basic functionality, the development won't take a long time period, enabling to speed up time-to-market, avoiding development delays caused by the creation of extensive functionality
Better knowledge of the audience needs: The approach is pointed at the feedback gathering, which allows you to better comprehend what exactly your target user wants to receive as a video conferencing solution, their behavior, and real needs
Cost-reduction: By focusing on delivering only core functionality, you won't need to spend additional resources on more fundamental features before validating the whole video conference app concept
Step 7. Launch the app and gather user feedback
You've already learned how to build a video conferencing app, and it'd be great to know how to launch it. Generally, the process is precisely monitored by your IT vendor, who'll assist you in the proper product launch, making it much more streamlined.
In the pre-launch phase, your development team will thoroughly test the solution and polish it from possible flaws tech inaccuracies. Then, they'll provide you with all necessary project materials like:
Source Code
Software Architecture Document (SAD)
Feature breakdown list
Software specification
Design files, etc.
Also, your IT vendor will assist you in the application app store submission, providing insights on how to make a solution more visible and appealing on different platforms. In the case of web solution delivery, the vendor will help you place it on the server.
However, your cooperation may not over after the solution is built. After the launch, it's vital to maintain the solution by updating and debugging it. This will help you keep the solution up-to-date, not compromising in its quality and user experience.
Step 8. Conduct the promotion campaign
Finally, after you launch and develop a video conference app, it's time to present it to the public. Let's examine three main approaches to promote your freshly-made solution:
Social media marketing campaigns: Here, the main purpose is to deliver the value of your solution to an average user. Highlight the benefits, innovations, and features of your video conference app in blog posts, articles, or social media publications. It's advisable to use currently popular social media platforms like Instagram or TikTok and engage with their audience. You also can collaborate with famous influencers who can promote your product to their loyal audience.
Referral programs and partnerships: To raise awareness around your video conference app, you can engage a referral approach, giving users the ability to bring new users receiving rewards back. Also, consider cooperating with educational establishments like schools, universities, and different-scale businesses that are most likely to use video conferencing solutions on a daily basis. You can provide them with special discounts or exclusive offers for new user acquisition
Free Trials and demos: Provide users with time-limited free solution trials to give them the ability to experience the solution's functional convenience firsthand with no financial commitment.
3 Approaches to Building a Video Conferencing App
When considering video conferencing application development, there are various approaches that differ in terms of customization level, resource requirements, and integration capabilities. Let's overview three of the most commonly utilized approaches to video conferencing solution development:
Using Video SDK
Using Video SDKs (Software Development Kits) like Twilio Video, Agora, or Vidyo implies using a pre-made set of tools, libraries, and APIs that help you integrate the video functionality into your existing application. This method allows developers to focus on core features with no need to develop the app's video functionality from scratch, ensuring reliability and allowing quicker deployment.
However, Video SDK usage limits the platform customization capabilities and can be more resource demading due to possible associated costs and hidden fees of some SDKs. Besides, such an approach can make you dependent on third-party services, risking the quality of your video conference app functions in case of any SDK service changes or outrages.
Integration of third-party solution
This development method implies integration of third-party video services like Zoom or Google Meet via their reliable APIs. Leveraging the capabilities and infrastructure of these established platforms allows you to access their robust video functionality, cutting resources needed for the from-scratch development. The approach enables you to engage ready-made functionality patterns and customize the solution up to your specific business needs and requirements.
Despite all the convenience, integration of third-party services ties you to external services and poses various risks associated with privacy and security. Also, these platforms often imply subscription commitment or charge per API usage. The required payment can increase over time, which may cause financial overhead.
Building a custom solution
Building a video conferencing app from scratch gives you a wide range of capabilities to tailor the solution to your specific requirements. The development team creates a video conferencing app according to your business needs, allowing you to obtain complete control over the whole process.
Going custom may appear resource-intensive in terms of expertise, price, and time. But, a tailored solution is most likely to achieve stable success and can appear even more cost-efficient in the long term perspective.
Anyway, your choice will primarily depend on your demands and requirements for a video conferencing app. You can rely on 3rd-party services or Video SDK if you have a limited time frame and can comprise on customization. But, if the highly tailored solution is your priority and you have enough time and money, you can bravely invest in the custom video conferencing app development.
How Much Does It Cost to Build a Video Conferencing App?
Building a video conferencing app is a multi-layered process that requires considerable time, expertise, and money resources. Generally, the development cost will directly depend on the features you plan to implement, and it's hard to predict the price of your exact solution. To simplify the task, let's define the approximate cost of a video conferencing solution on examples of familiar platforms:
Well-known video conference apps and their approximate cost

| | |
| --- | --- |
| Service | Approximate cost |
| Zoom | $45,000$ - $70,000 |
| Google Meet | $50,000 - $100,000 |
| Microsoft Team | $30,000 - $80,000 |
However, if you'd like to create a platform with a lot of extensive functionality or include more advanced features, the development cost may increase up to $500,000+. Also, keep in mind that you'll need to allocate money for support services, hosting, and overall infrastructure to facilitate seamless solution function and user experience.
Requirements to Consider Before Building a Video Conferencing App
There are some factors that have to be considered right before the development and requirements gathering even start. Let's dive deeper into the matter below:
Alignment with industry-specific regulations
Video and audio data is highly sensitive, which is why it's vital to adhere to numerous regulations and standards of data protection. Here, one of the primary aspects to be aware of is the region in which you plan to launch your solution.
Here are the examples of standards to comply with during video conferencing app building (based on the region):
Europe: GDPR (General Data Protection Regulation)
North America: HIPAA (Health Insurance Portability and Accountability Act) and CCPA (California Consumer Privacy Act)
South America: LGPD (Lei Geral de Proteção de Dados or General Data Protection Law)
Asia: PDPA (Personal Data Protection Act), and PIPA (Personal Information Protection Act)
Africa: POPIA (Protection of Personal Information Act)
Australia: APP (Australian Privacy Principles)
Without compliance with local and international laws, you won't be able to freely launch and present your solution. Moreover, by strictly meeting the requirements, you'll most likely build strong trust with users, engaging them confidently in the use of your video conference application.
Robust security
Perhaps the industries that directly touch live communication online may be considered one of the most fragile ones in terms of security and data breaches. Video calls, voice chatting all of these can become a treasure for malicious intruders.
The best way to accomplish the creation of reliable and safeguarded communication channels for users includes:
Voice chat SDKs
End-to-End encryption
256 TLS protocols
OTP reception (One-time passwords usually sent by SMS)
2FA (Two Factor Authentication)
Intuitive design
The interface of your video conferencing app has to be simple, appealing, and not overloaded with bulky interactive elements and features that may confuse the user. The main thing is that the solution has to be simple in usage without any guides or instructions. That's why it's called intuitive, meaning that users will intuitively find exactly what they need.
Besides, keep the feedback option always open, as this will help you gather insight that is only visible and close to users, adhering to this and making improvements swiftly.
Quality video
Modernity has shown that video and audio quality can significantly influence the success of video conferencing app development. Here are several things to take into account to avoid compromised video quality:
Bandwidth optimization: Encourage reliable internet connection for all users to ensure smooth meeting sessions without interruptions
Suitable codec selection: By using efficient video codecs, you are capable of obtaining smooth transmission due to balancing the video quality and bandwidth usage
Dynamic bandwidth allocation: Insert systems that prioritize video quality by smoothly allocating more bandwidth to active speakers
Cleveroad Expertise in Video Streaming App Development
Cooperating with a vendor with robust tech expertise in video streaming app building is crucial for achieving the demanded level of product success. And the Cleveroad team is here to help you.
Cleveroad is a media and entertainment software development company with R&D centers located in Estonia, Poland, and Ukraine. Our team has 11+ years of experience in delivering streaming, VOD, broadcasting, and OTT solutions for various domains: Media, E-Commerce, Logistics, Social Networking, Education, Retail, etc. To prove our expertise, we'd like to present you with our recent project – a Cross-Platform Solution for Scheduling Meetings for our internal needs.
Our company used a third-party tool to be in touch with teams from different offices. However, its functionality hasn't satisfied all our needs. To eliminate all communication drawbacks, we've decided to develop a custom meeting scheduler application.
We needed to create such a solution to:
Streamline meeting room management across company offices, removing time and occupancy inconsistencies
Offer all department employees an accessible tool for creating and tracking meetings on any device
Minimize meeting delays or absences caused by information gaps and time management complexity.
Our media app engineers created a custom Flutter-based app, providing both web and mobile versions. supported both by iOS and Android and separate web-based clients with seamless transition between them. We also integrated Google Calendar using APIs and simplified time tracking by displaying these parameters directly in the app. To manage meeting rooms and participants swiftly the Administration module was also added.
As a result, the Cleveroad team obtained the ability to tune the meeting times and better manage the workflow seamlessly. Moreover, we've achieved significant enhancement in internal pipelines with the full-fledged Web and Mobile versions of the solution. Lastly, we've managed to minimize missed meetings by providing users with intuitive UI along with calendar integration.
To prove our competence in video streaming app development, here's a success story of our client:
Henrik Loop CTO Blockbuster, TDC gives feedback about cooperation with Cleveroad
Frequently Asked Questions
To make a video conferencing app you must go through the several stages:
Step 1. Do market research and analysis
Step 2. Choose monetization model
Step 3. Hire a development team
Step 4. Determination the feature set
Step 5. Decide on platform and tech stack
Step 6. Start development from MVP
Step 7. Launch the solution and gather feedback
Step 8. Conduct the promotion campaign
There are three main approaches for building a video conferencing app:
Using Video SDK (Video functionality is inserted into the application)
Integration of third-party via APIs (Integration of tready-made functionality of services like Zoom or Google Meets)
Building a custom solution (Creating every part of the solution from scratch)
If you want to create a video conference app that will bring value to your customer, define the solution's functionality. It's a vital step, as the functionality you'll choose will directly impact user experience and the demand for your solution. At this point it'll be convinient to create a product with a minimum features possible to use it to test the concept, see how an average user behaves with this solution, and generally define users engagement.
To develop a robust video conferencing solution it's vital to cooperate with an IT vendor that has a robust experience of delivering video conferencing solutions.Tthey possess the expertise and knowledge necessary to create a reliable, feature-rich, and scalable video conferencing solution, ensuring a more effective and successful product development and positive outcomes.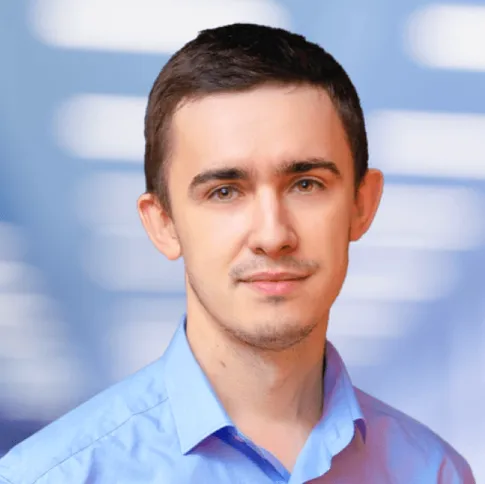 About author
Evgeniy Altynpara is a CTO and member of the Forbes Councils' community of tech professionals. He is an expert in software development and technological entrepreneurship and has 10+years of experience in digital transformation consulting in Healthcare, FinTech, Supply Chain and Logistics
Rate this article!
130 ratings, average: 4.72 out of 5
Give us your impressions about this article
Give us your impressions about this article