Things You Should Know About Converting a Website to iOS App
10779 Views
|
07 Aug 2019
|
11 min
Living in a rush world, people use smartphones for different kinds of tasks. According to the latest research, 58% of website visits came from smartphones in 2018. Additionally, individuals spent 42% of the time spent online using their mobile devices.
To gain more users, it's better to turn your website to an iOS application. However, wanting to achieve the best UI/UX design and transfer the web experience to an app correctly, you need to make use of custom mobile app development services.
Your business needs to follow the latest changes and trends to stay competitive and profitable. Since there are thousands of mobile devices, applications can engage a lot of users.
However, it's better to carefully analyze the market before turning a website into an app for the iPhone. For instance, reading long posts or looking at the small details are much more convenient at the desktop. Keep in mind that companies such as Amazon or Airbnb started with a website and only after getting revenue they moved on with creating a mobile application.
There are several reasons to convert your website to an iPhone app:
The average American spends more than 2 hours on their mobile devices every day. Mobile applications are more comfortable to use on the go due to convenient UI/UX design.
The ability to send push notifications gives opportunities to always keep customers informed and engaged. With website, the most common way to reach users is an email. But modern consumers receive such a great amount of emails that they rarely read all of them.
The use of native features like GPS and camera.
The mobile applications can work in an offline mode. Of course, some functions will be limited, but it's completely impossible to use a website without the Internet connection.
Mobile apps usually offer better personalization.
The Difference Between Responsive Web Design and Mobile App
Since the significant amount of traffic comes from mobile devices, every website should adopt responsive web design. It means that the website is optimized for mobile devices like smartphones and tablets with different screen resolutions.
There is a huge difference in the experience users get from responsive websites and native iOS applications.
First, applications tend to work faster and may function without the internet connection.
Nowadays, people are quite spoilt with attractive and user-friendly design. Users tend to spend more time on beautiful and understandable products. That's why it's important to give users what they want.
For instance, The New York Times has a responsive website for quality online presence and a mobile application to bring users a choice.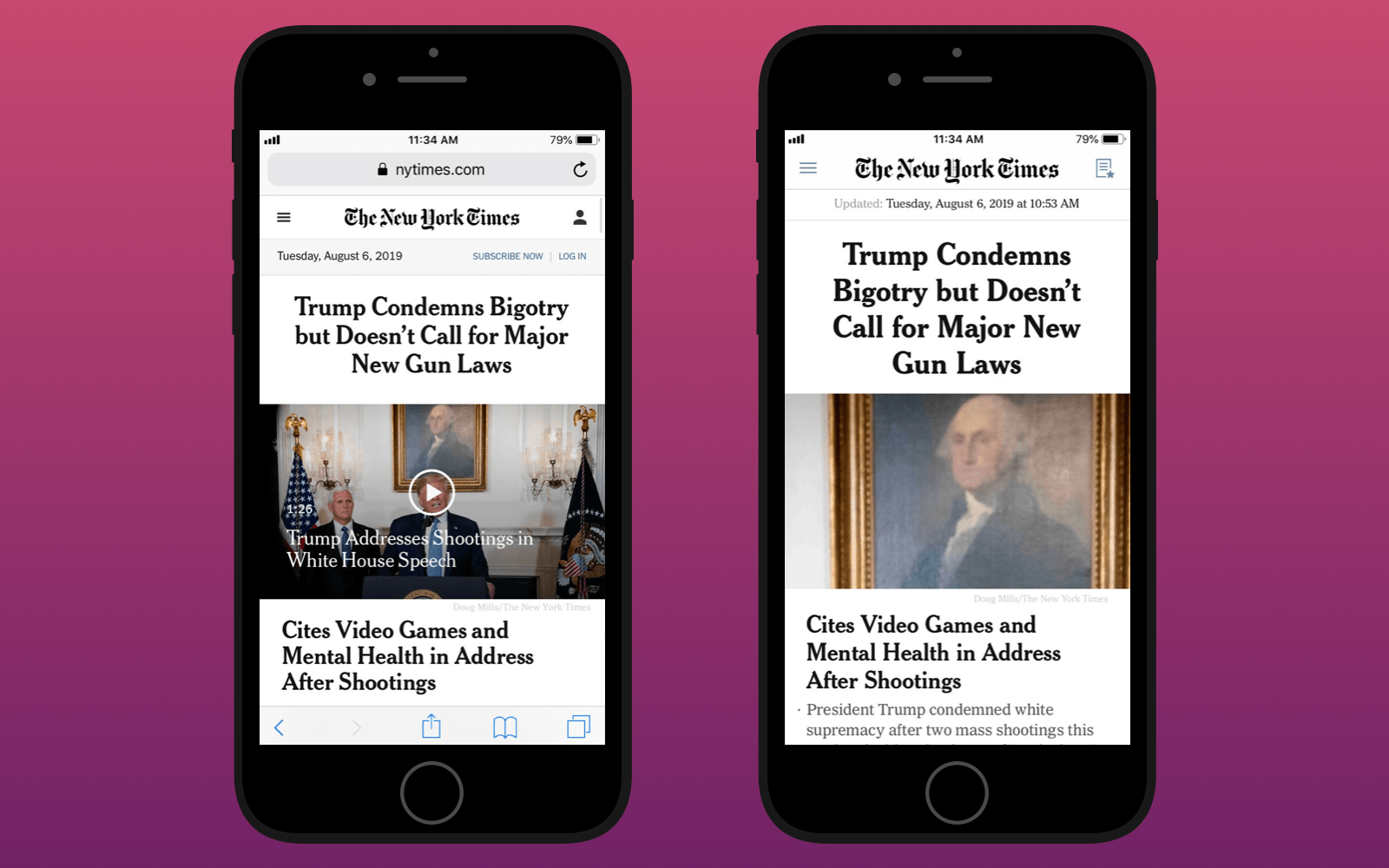 The difference between responsive web design and mobile app
As you can see, there is more content and better navigation on the app. Additionally, The New York Times app offers personalized articles for the uses of the mobile app.
So nowadays you have no choice but to be responsive. Additionally, if you want to gain more users and increase your revenue, it's necessary to convert your webpage to an iOS app.
Advantages of a Native Application Over a Web One
Building a customized iOS application can bring several significant benefits to your business. It's high time to outline some of them.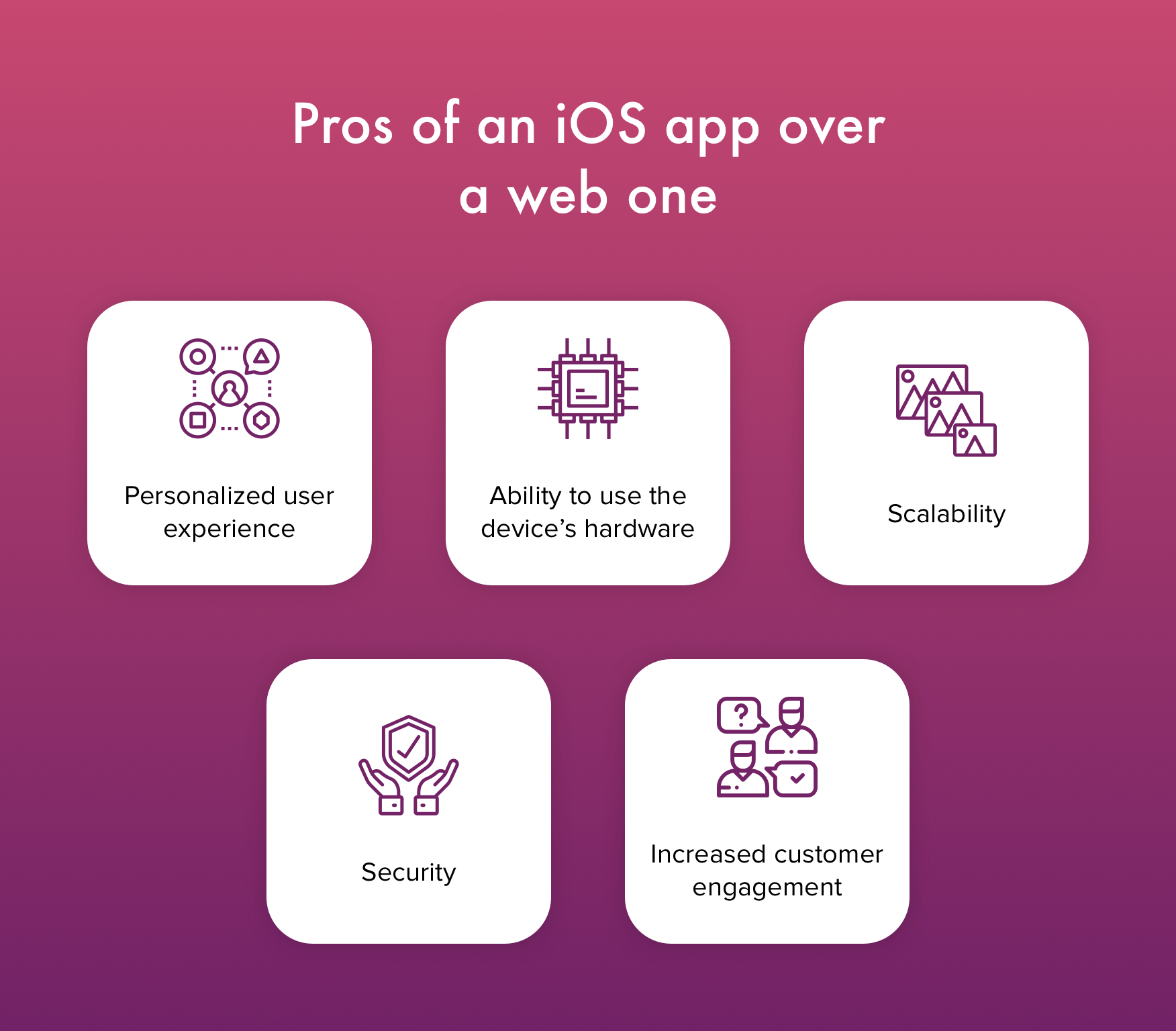 Why turn a website to iOS app
Personalized user experience
Native iOS applications offer users perfect UX and performance. Additionally, mobile applications always provide better personalization in comparison to websites. The iOS app can analyze the users' behavior and engagement. After that, it gives recommendations based on this data. Moreover, applications can track the customers' location and offer geography-related content.
Opportunity to use the device's built-in features
If you create an app for a specific platform and follow all OS guidelines, the user interacts with an app in a more natural way laying on the intuition. Moreover, such kind of applications can utilize all the features of the operating system and hardware, e.g microphone, camera, GPS, and more.
Scalability
Creating an iOS app from scratch, you get an opportunity to modify the application. As a result, it's quite easy to integrate a new feature or improve an existing one. Moreover, a scalable iOS application provides a chance to fix bugs faster.
Security
Since web applications rely on various browsers and technologies, e.g. JavaScript, HTML5, and CSS, they can't guarantee full protection. On the other hand, mobile applications are secure and can protect all users' personal information. It's possible to integrate multi-factor authentication in an iOS app. So, if your business requires a lot of personal data, the security should be your priority.
Increased customer engagement
One more benefit of creating an iOS application from a website is gaining more users. Since applications are more convenient to utilize, customers will spend more time on the apps. As a result, you can achieve better results, like increasing revenue per user, and so on.
To sum up, if you want to make an iOS app from a website, it's better to develop a native application that will bring better interaction, high-security level, and so on.
The Right Strategy to Convert a Website to an iOS App
If you google 'how to convert a website to an iOS app', you will see that there are a lot of online converters. These services offer you to turn an existing website into an iOS application. However, you may not be happy with the end result.
Usually, such platforms simply place a site into a WebView-wrapper. Therefore, the UX isn't so great as with native apps and your users will be likely looking for an alternative elsewhere.
Additionally, you have to keep in mind that there is no opportunity to change such kind of application (e.g. add another feature).
According to the company's guidelines, Apple tends to reject apps of this type. They prefer to publish useful app with unique features. So, unformatted for iOS web content can be a reason for rejection.
This strategy isn't the right way of gaining new users or getting revenue. However, there is an alternative solution. It's better to cooperate with an experienced iOS app development company that follows all your requirements and can develop an application that meets your customers' expectations.
Want to develop an iOS app?
Don't hesitate to drop us a line and get your project estimation at no charge.
Cooperating with a highly-qualified iOS engineer, you have an opportunity to create a unique product that will boost your business. There are three strategies that you and your developer can follow:
Figure out the vital features and create an iOS application.
Develop an app that has the same features that the website does.
Build an iOS application with several specific functions.
It's only up to you what strategy to follow. The choice always depends on your goals and expectations.
How to Turn a Website into an App on iPhone
There are several main steps on how to convert a website into an iOS app.
Step 1. Consider the essential features for your iOS application.
Step 2. Get a project estimation and set deadlines.
Step 3. Hire a specialist to create the UI/UX design for your iOS app.
Step 4. Move on with the development.
Step 5. Launch your application to the App Store.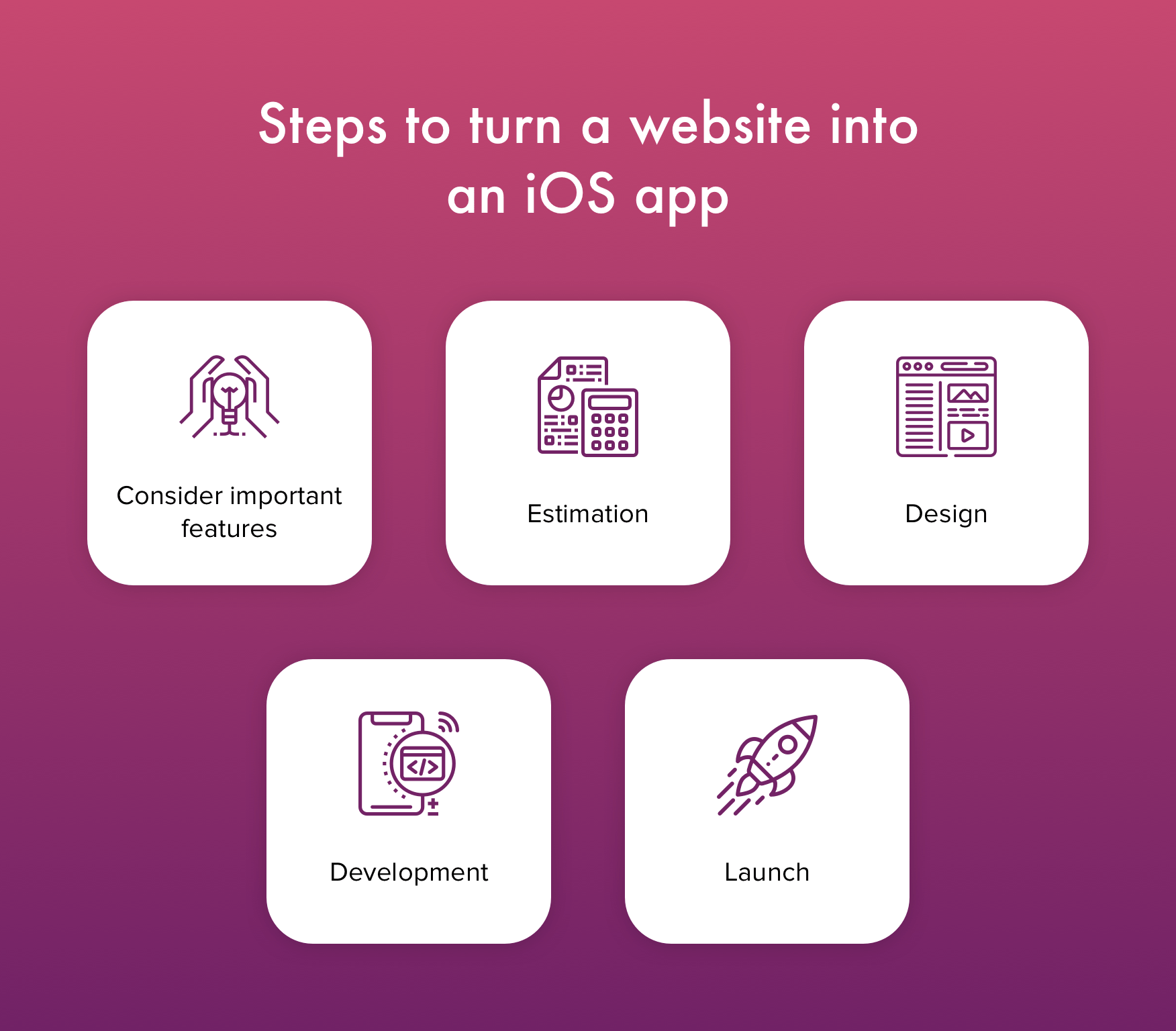 How to turn a website into an iOS app: 5 important steps
Let's discuss all the mentioned steps more precisely.
Describe the features
Of course, your website has many interesting functions, but some of them can be useless for an iOS application. So, you need to divide the features into two parts — primary and secondary ones. The first group is obligatory for the app, while the second one is optional. For instance, such parts as Blog or About the Company can be omitted, or you can add a link to their web-versions.
Estimate your project
The estimation stage provides you the information about the required amount of money and time. Additionally, some documentation needs to be prepared at this stage. These papers have data about all the required features and how they should work.
Build the design
The app design needs to follow some aspects of your website's design, e.g. color palette style, fonts, and more. However, many elements have to be reorganized to achieve the best user experience.
Develop your application
During the iOS application development, your engineers need to use such programming languages as Objective-C or Swift. Additionally, Apple provides several development tools, interface elements, and SDKs. The required time depends on the complexity of your project, the tech stack, and the developers' experience.
Launch to the App Store
After fixing all the bugs and adding the improvements, it's high time to release your iOS application. Some guidelines can assist you in publishing the application to the App Store. At Cleveroad we assist clients with submitting applications at their request.
Technologies Need to Use to Develop an iOS App
Mobile application development can be divided into types — native and hybrid. The main difference between them is that native apps are built for one specific platform. As a result, there is a set of tools that the iOS engineer needs to choose for development.
Hybrid app building allows using one code base for various platforms. Simply saying, hybrid applications are websites that tend to look and function like a native ones. However, there is one big drawback: it's necessary to have constant Internet connection to use hybrid apps properly.
So, what kind of app to create? Native applications provide rich user experience. As a result, users can navigate more intuitively. Additionally, they are flexible due to access to all the hardware features of the device. Native iOS applications offer to create custom features, performance, and good design.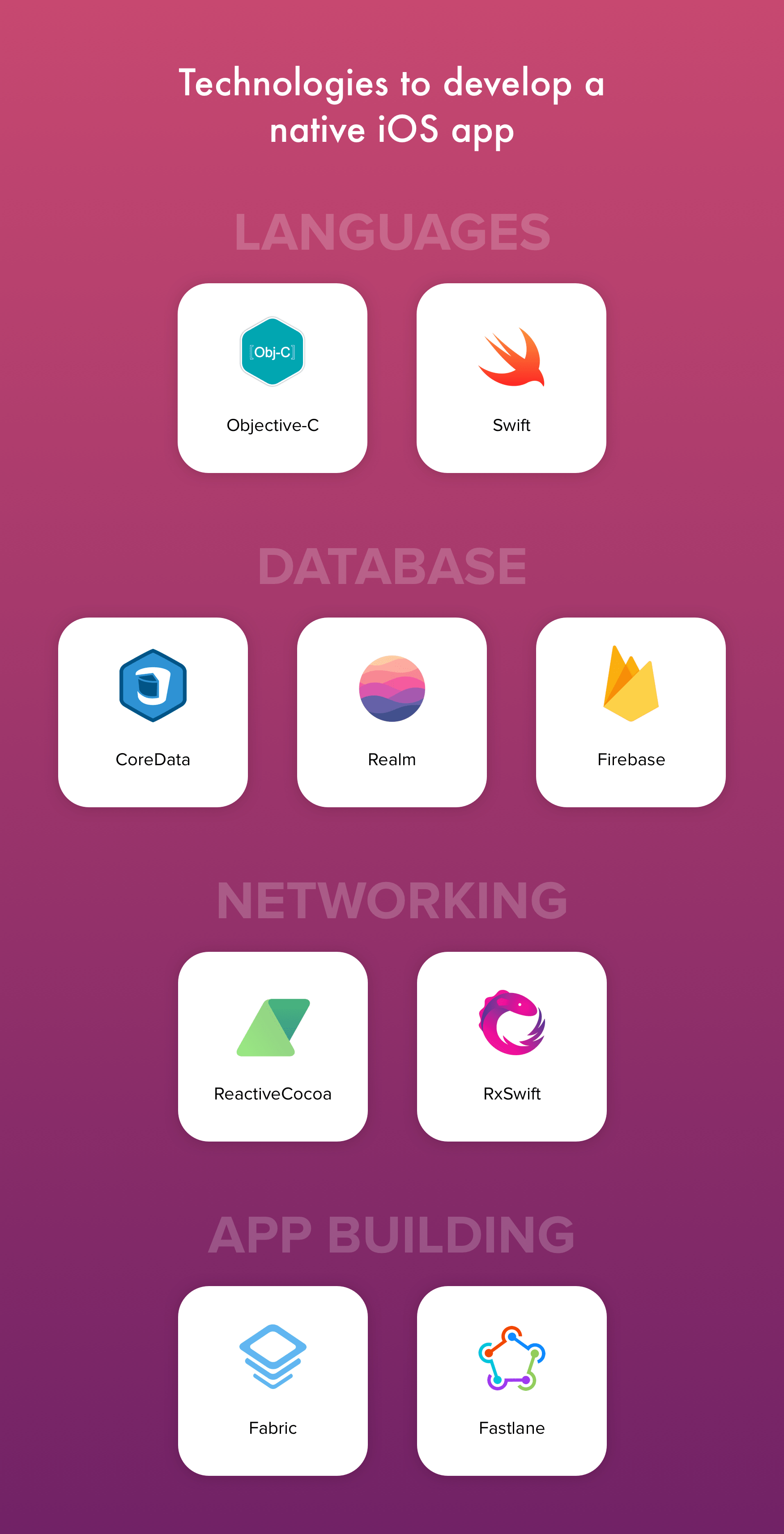 Tech stack to develop an iOS application
Wrapping up our article, your choice of how to turn a website into an app on the iPhone depends only on your business needs and requirements.
Of course, if you want to provide mobile-friendly content to your customers, then a website with responsive design is probably the perfect option for you.
However, if your aims are good interaction and communication with your customers to gain their trust and loyalty, an iOS application can assist you in achieving these goals.
Additionally, you may create a mobile app along with a mobile version of the website. Having done it correctly, you can increase revenues.
Looking for a tech partner?
We can assist in developing your product. Contact us to get your free consultation.
🔎 How do you turn a website into an iOS app?
📱 Can a website be converted to an app?
💰 How much does it cost to turn a website into an app?
📖 How do you turn a website into an iPhone app?
👨‍💻 How do I convert my website to mobile format?
📋 What is the best way to 'convert' a website into an iOS app?
Rate this article!