How to Make a Dating Website: Features, Cost, and Development
The online dating industry is experiencing rapid global growth. Mobile dating platforms are constantly adapting to meet the increasing demands of users seeking convenience, safety, and efficacy in online dating. Creating a successful website that is both well-designed and functional is key to entering this lucrative market.
As a skilled software development provider with 11+ years of experience in website creation, we've written this article to inform you more about how to build a dating site. You'll discover the dating website's must-have features to enforce, primary development steps, and cost estimates in detail.
Why You Should Start a Dating Website Today
According to Statista, Tinder, a world-famous dating platform, had more than 71 thousand monthly downloads (in the example of Poland) by January 2023, which keeps increasing daily. Another well-known website Badoo got 3910.50 downloads within the same timeframe. Besides, the online dating market value is projected to reach $5,328 million in 2025. "I want to make a dating website" is a common request to software development companies due to such successful statistics. So if you decide to build your own dating site, it will gain a broad audience.
The profit from an application can be obtained by applying various monetization plans:
Subscription-based. This method is prevalent when it comes to creating dating sites. A user may choose a subscription for various periods of time, allowing multiple privileges. For instance, Tinder provides the following paid opportunities in TinderPlus:
Discovering new people globally. You can make new acquaintances despite your current location by adjusting it yourself. International dating is in demand nowadays, so it is wise to create dating website for an additional fee.
Lack of ads. Ads usually appear on the screen of the users with no subscription plan and are absent when users have paid subscriptions. Starting a dating website with advertising videos is another monetization way, so it is apriori profitable in both cases if a person prefers to pay to get rid of them or watch a free version.
Changing the last swipe. Another paid opportunity for building a dating site is to switch back to the previously shown person and change your decision regarding liking or skipping him or her.
Unlimited likes. Users can press the "like" button as often as they want.
Super likes. This feature allows extra attention to chosen users by "super-liking" them. They'll receive appropriate notification.
In-app purchases. How do you start a dating site successfully? The best way to do this is to come up with outstanding elements which may be bought using an in-app currency or credits purchased with the help of real money. To illustrate, here are some paid functions offered by Badoo:
Stickers and gifts
Crush alerts
Your messages highlighting
Popularity raising
See users who liked you/ added you to favorite list
Advertisement-based model. As mentioned, this option is applied to the audience with no paid subscription. The traffic in this type of app is quite potent, so many projects choose promotion with the help of dating websites. You can create an online dating site with ads to profit from the users who have viewed, visited the advertised brand's website, or made an order there.
Rewarded surveys and videos are another way to make profit from a dating site, within the advertisement-based model. You offer to complete surveys and watch promotional videos. These actions may serve as ways to receive credits and access the extra features of an app. A bright example is Matcher, which enables users to swipe left or right additionally for a particular time.
Let's determine how to set up a dating site on the examples of existing web resources. Moreover, we'll talk more about what type of dating website you can choose for your customers.
What Is a Dating Website: Types and Successful Examples
Making a dating website is a complex process requiring a thoughtful approach. There is a great diversity of various dating websites suitable for every preference and taste. But the main principle remains the same almost in every case: after completing the registration, a person adds personal details, uploads photos, and starts to look for a soulmate.
The platform commonly adjusts the filtering system based on the user's location, hobbies, and interests. Other users are usually shown on bars with personal photos and information. The user discovering new acquaintances chooses among other website members by swiping left or right or using other methods that guide the user's interest or lack thereof.
"How do I create a dating website?" This question is often asked by startups wanting to occupy this niche. What is clear is that although the specifics of such are pretty clear, there are different types of websites that are more narrowly focused. Such a defined target audience may increase the demand for your website. Let's define which one of the common types of dating websites you can choose for your particular target audience.
General dating web services. After signing up for the services, members can access the complete database of profiles to expand their search. Optional resources such as tests, quizzes, and guides may also be available to help find a compatible match.
Relationship websites. This type of websites is intended for individuals seeking marriage and often requires the completion of a thorough personality questionnaire. It can take anywhere from 40 to 90 minutes to finish. The questionnaire uses responses to match individuals with compatible partners. The service will generate matches based on the highest level of compatibility.
Social networking web resources. They offer users a space to connect with familiar and unfamiliar individuals. This type of software is becoming more popular to communicate with potential romantic partners.
Specialty dating web resources. They connect individuals based on shared interests or values, such as AnimalAttraction.com for pet lovers and CatholicMatch.com for Catholics.
Merging dating sites. These online services combine elements of offline and online dating environments. You may create a profile on their website, for instance, and print cards with your handle name and the website's URL on them. Give them one of these cards when you come across someone intriguing so they may look you up online and contact you via the service.
Types of dating websites and their examples
Here are some successful examples of platforms aimed at specific targets and audiences:
Circle Match is a bright example of how to make a dating website successful and erase physical bounds. It connects people worldwide and enables them to search for a soulmate at various points in the world. Its users take advantage of applying adjustable filtering systems and meeting new people among 22,356 members. These opportunities deliver a wonderful user experience and engage the audience.
eHarmony is a solution to create your own dating website for the LGBTQ community to search for a soulmate. The dating site can define each person's match to a smaller list of possible matches by using a compatibility matching system which is highly efficient to create a dating site. This service is also extremely beneficial since it applies compatibility algorithms to increase match probability. More than 2 million users have already met the love of their lives there and approximately 2.3 million messages are sent weekly.
Happn is a service that helps to communicate with people "you've crossed paths with." The members of this service can discover people nearby or even find the ones they've met accidentally but couldn't forget. 100 million of Happn users send 4.9 million messages daily, and the 1.5 million people register on this platform each month, so it's quite a successful way on how to create own dating site.
A successful real-life example of how to build a dating website for matures is DateMyAge. Its aim is to create a place where members can look for relationships. Besides, this platform also verifies the profile info and the quality of images before providing a person with an account. By doing this, DateMyAge protects its users, the number of which has passed 1 million. In addition, it keeps increasing by 115,000 monthly.
Building on a defined field with particular specifications, you can proceed to come up with the name of your website and platforms to create your own dating site.
Things to Consider Before Developing a Dating Website
Now let's plunge into some aspects you should think out to create your own dating site during the preparation phase.
Finding a trusted web development vendor
The effectiveness of your provider has a direct impact on the success of your product. This indicates that picking a vendor is the step in software development that needs extra consideration and careful consideration. So, these are the necessary actions.
1. Make a list of potential tech partners. There are three major approaches to identifying a vendor: ask your friends or coworkers for recommendations, utilize industry-specific websites (like Clutch or GoodFirms), or just search for potential candidates on Google.
2. Complete the first round of selection. It is recommended to acquire information on the following aspects to reduce the number of applicants on the list:
How much experience the potential partner has?
What would their services cost?
What is the size of the vendor company?
What competitive benefits can they offer?
You may ask the above questions over the phone or by email. Continue the selection process after leaving only appropriate organizations able to help you build dating website.
3. Proceed with the next step of the selection process by meeting with the remaining 5-6 potential vendors. Discuss various aspects such as your thoughts on the dating website promotion, support duration, objectives and requirements, development technologies employed by the vendor, potential security concerns, and other relevant topics. When considering a provider, it is recommended to request portfolio examples to gain a better understanding of their experience. Once this step is completed, it is suggested to narrow the list of vendors to two or three.
4. Once you have gathered all the necessary information, select the most suitable vendor. Ensure that they are capable of providing regular updates and meet monitoring and progress criteria.
There are three main hiring options to select the one which will be the most beneficial for you:
Freelancers
This option is extensive and the cheapest one. However, it has some unacceptable drawbacks for starting a dating website. For instance, you can't be sure you will receive the product after the prepayment, which is obligatory when applying to freelancers. Moreover, they can only create an online dating site without quality assurance or further support.
In-house teams
Team management is your responsibility, as well as the product you'll receive at the end. Questions like "How can I create a dating website, and what does it require?" also lay on your shoulders. An immense number of extra expenditures required for this option makes it the most costly.
Outsourcing companies
Such companies are experienced in requests like "I want to build a dating website" and provide the most advantageous value for money. You receive a qualitative product at decreased outgoings by applying to outsourcing companies. The web development team structure is full of competent specialists who know how to start a dating site business. Consequently, your only responsibility is only to provide the company with detailed requirements for building your own dating site.
Think out business aspects with your vendor
After you've started cooperation with the dating website development provider, you should conduct the necessary research to make your website adaptable for your future customers. Below, we list the things you should consider creating a dating website.
Market and competitor analysis. To develop a dating website that your consumers will want to use, you must first understand who your potential customers are, your focus market, and what drives the purchasing choices and behavior of your target audience members. Moreover, you should thoroughly analyze your niche competitors' activity to know how you can succeed in rivalry, leaving them far away.
USP completion. A Unique Selling Point (USP) is the distinguishing feature that sets a product apart from its competitors. This can include affordability, quality, experience, or any other attribute that offers a competitive advantage.
Buyer persona creation. Buyer personas are developed by analyzing data and conducting research to determine the traits and requirements of your intended customers. This knowledge can be used to rank leads, customize product creation, and organize activities across different divisions within your company.
Budget planning issues should be discussed with your tech partner. Remember that the first iteration of your project or product should be as simple as possible (just the core functionality). The cost of a mistake increases with the depth of development. You don't have to get it quite right.
Discuss tech aspects with your provider
Domain name. The primary point to make dating website is thinking about how to name it. A domain name allows your audience to find your website. Domain names are generated and managed by Domain Name System (DNS). The name shouldn't be long and difficult. Keep it short and memorable.
The platform to build a website with is a vital factor when you inquire "how can I create a dating site?". It predetermines the interface, functionality, features, performance quality, and so much more. It is highly suggested to select a builder comprising CMS (content management system), which simplifies the data operation of your website. The most popular services to build online dating website are WordPress, Drupal, Magento, and Joomla.
However, the above constructors provide only ready-made templates and limited functionality, and features. For a more accurate hit in the target audience, it is beneficial to develop a custom website from scratch, which will be adjusted precisely for your business goals and users. For this, you may apply to outsourcing companies, which provide cost-effective solutions with an individual approach and high performance.
Why are custom websites more beneficial than the ready-made ones? There are some common reasons to ensure you when applying for creating a dating site.
Custom web resource is a unique and competitive product.
It contains only the necessary functionality that can be customized to particular needs of your customers.
Custom sites are search-friendly.
You may easily add additional features and satisfy increasing demand thanks to your website.
Hosting service. Before starting a dating site you should consider ways to provide your audience with it. Web host enables users to access your website on the Internet via a server owned or leased by a platform owner.
Key factors in choosing a suitable hosting service for creating dating website are the following:
Sign-up and renewal and costs
Tech requirements of your website
Offered management tools
Maintenance
Launching speed
Cancellation conditions
Security. Another significant point to start a dating website is the users' data safety. It is a significant part of website development. Dates and new acquaintances are really cool and nice, but personal data must stay private (address, phone number, etc.)
Thus, you should build your own dating website with an opportunity to enable or disable location viewing, block ill-wishers and hide any info about themselves that may be used against them in the future. To raise the credibility in the eyes of users you should protect the private data of users with an SSL Certificate. It is also named TLS, which is a protocol for encrypting Internet traffic and verifying server identity.
When the preparation phase is completed, you ask, "how can I start a dating website, and what functions are primary?". Here they are.
How to Create a Dating Website: Step-by-Step Guide
When you start a dating website development, stick to the following points given below in order to succeed with your product:
Consider your target audience when planning to create a web resource for dating. This way, your solution will be in-demand, perfectly satisfying the needs of your customers.

Think out the dating market competition. It will allow you to avoid the competitors' mistakes and inspire with more ideas for your product.

Choose a web development company. It won't be an issue, if you already collaborate with a skilled tech partner. They will provide you with the experts for further dating site building.

Compose a list of the dating site core features to implement. Consider generating a distinctive functionality while taking into account your site's category and objectives, intended demographic, and financial resources.

List your dating site's technology. Choose a tech stack that guarantees top performance for your solution. You can count on the vendor's team for assistance.

Create compelling UI/UX. Effective design is crucial in retaining user engagement with a solution. Consider implementing user-friendly navigation, maintain consistency in the choice of fonts and colors, and ensure smooth transitions throughout the app's interface.
Dating Website Essential Features
It's high time to discuss the functionality to make your own dating website. Let's split the features into essential (MVP, Minimum Viable Product) ones and advanced ones.
Essential features to implement
Profile editing
The compatibility of user profiles with possible matches is crucial for dating apps to succeed. Users should attempt to create a captivating and excellent profile to improve their chances of getting matched. Apps that help users create engaging profiles should offer well-integrated, basic profile-building and profile-editing tools.
They should allow members to change, add, or delete personal information in their profiles displayed to others. Thus, their profiles will comprise hobbies and aims for searching for new people, images, and videos.
In-app chat with a matching algorithm
This algorithm is integral to building a dating website. It comprises various criteria and the matching frequency. Websites sometimes apply different surveys to connect people with mutual interests, similar hobbies, lifestyles, etc.
Instant messaging is necessary for every startupper who thinks about "how to create my own dating website". If a person is highly interested in a user from the website, there's an opportunity to start a dialogue instantly with the help of an implemented chat. Notifications should be adapted for personal requirements. The website may notify about new messages, matches, calls, likes, etc.
Advanced filtering system
Put yourself in your consumers' shoes and think, "How can I create my own dating website to choose the potential partner more conveniently?" Imagine how captious you would be and what criteria would be crucial for you in this question. Include such filters as age, location, ethnicity, hobbies, height, etc.
Settings
Customizable settings should allow users to edit private information, such as location, profile, and other information hiding. In addition, settings allow passwords and logged-in devices management, enable two-factor authentication, etc.
Geolocation
This feature is required to allows seeing people nearby and discovering new acquaintances. Users may adjust the map scale to look for potential partners in specific regions. In addition, a website will suggest people based on the user's location.
Payment services
Another way on how to make a dating website more flexible and handy is by adding several payment systems. Customer experience will greatly enhance if you implement services like PayPal, Apple, Google Pay, and credit cards. What's more, members should be able to manage them in settings.
File sharing
User retention is often higher for mobile applications that allow for greater conversational freedom. Thus, the ability to share photographs, audio files, and video clips via file-sharing tools improves the in-app communication experience. An essential aspect enabling limitless sharing options is the support for unique file formats.
Video calls
Compared to text interactions, face-to-face interactions, even with the help of the Internet, are generally more personal. It would be beneficial to incorporate a video chat feature into the app. Moreover, providing user with first date recommendations can increase retention and make people more comfortable asking someone out through your app.
Advanced Features
Now let's move on to the extra features to build a dating site, which can increase customer engagement and attract a broader audience.
Social media linking
By adding links and profiles of your social media to the dating account, you tell your profile's guests more about your life. Users can share photos on both social media and dating services.
Profile guests
This feature shows other website members who have opened and viewed your profile. It also may be a paid opportunity.
Gamification
The process of searching for a partner may be accompanied by entertaining games and rewards for completing the profile, sharing it via social media accounts, creating a particular number of matches, etc. In case all the game elements are pleasant to the eye, they may serve as an extra promotion to your website, so you should think about how to design a dating website in detail.
After considering all these points, let's discuss the development flow directly.
How to Start a Dating Website: Development Flow
As it was mentioned before, you can get a modern and seamless website collaborating with a skilled tech partner. We'll tell you more about the stages this process includes, on the example of our company's software development lifecycle.
After you submitted an application on the company's website, the specialists proceed it and offer you to clarify the details on a call with the vendor's experts. After that, the Solution Design stage goes.
Solution design stage
To start a dating site, business analysts gather all the requirements from the client, define goals and expectations from the final product. All the necessary details of the project are clarified as much as possible to make the result meet all the requests of the client. The business analysts work in a tight cooperation with Solution Architect and UI/UX designers.
The said specialists may invite you to contact them for a collaborative conversation if you need to clarify any aspects. We create a preliminary estimate, staff composition, and timetable based on the information analyzed before creating a proposal. The length of the stage varies depending on the project, although it often lasts two weeks or so.
Discovery stage
Cleveroad's Discovery Phase services aid in transforming project requirements into a streamlined strategy, resulting in faster development and improved product quality. This involves analyzing initial needs, such as preferred platforms, desired features, and necessary external service integrations (such as Stripe or Google Maps).
Discovery is dedicated to splitting the features into sections and planning the entire workflow to make a dating site efficient and decrease time-to-market. Software engineers negotiate the development approach to creating a dating website from scratch and solutions to possible challenges in website building.
UI/UX design
UI/UX designers create a dating website wireframe of the website to plan the layout of all the elements, like buttons and various sections on each screen. They mention the content placed in every part, considering the color palette discussed with the client before.
Site building by sprints and QA services
During this phase, developers implement the customer's requirements into the real product. Creating a dating site from scratch includes testing its features, functionality, and performance to detect and fix bugs or any other issues. These activities help developers to make a dating website work seamlessly and smoothly.
QA engineers monitor a project until it is released and test the features created throughout each sprint. They do backend and frontend testing and provide reports for software developers to address problems.
Launching and support
We've described how you create a dating website; now it's time to make it available to the world. On release day, after multiple verifications and QA tests passed, the specialists transfer the web project to the live server. The team hands over project materials to you after ensuring you're entirely satisfied with the outcome. The produce is ready to be checked by the first users.
However, the work with vendor isn't ended up. Every platform should be regularly updated and fixed in case of any bugs or failures. That's why the "create my own dating site" request is not the only one for a successful product. You should also regularly implement the new features and improve your solution. And the vendor involved in all the ins and outs of dating website creation, will also be essential assistant in its upgrade and support.
Building a dating website is not only a development flow, it also comprises marketing and promotion activities which are also necessary for your dating website's success. To attract a broader audience, the website should be advertised. Another benefit of how to start a dating site is a short landing video to make users acquainted with the platform's functions and features.
Knowing all the development stages and required specials, let's estimate the cost to create a dating site.
Cost to Develop a Dating Website
The dating website building cost is affected by many factors that you should consider before starting your web resource development. Some of them are the following:
Team composition working upon the site
Size and type of the website
Feature list to implement
Design expenditures
Tech stack
Expenses for site testing, etc.
If you put all these points together, the rough development cost of the dating website will be from $60,000 up to $125,000+. To estimate the cost correctly, we need to find out the specialists involved in the website building, such as Project Manager, Solution Architect, Business Analyst, UI/UX designer, web developers, DevOps, Quality Assurance engineers.
Here's the approximate number of hours required to create a dating website:

| | |
| --- | --- |
| Development phases | Hours required |
| Frontend development | 150-200 |
| Backend development | 150-200 |
| Testing, bug fixing, project management, launching | 50-80 |
| Total | 350-480 |
Now, let's compare the hourly rates in various regions:

| | |
| --- | --- |
| The most common outsourcing region | The price ($/hour) |
| North America | 50-200 |
| Central/North Europe | 50-60 |
| Western Europe | 75-200 |
| Asia | 20-40 |
| Africa | 20-45 |
The optimal value for money to create own dating website can be found in Central and North Europe, specifically Estonia. This country has highly qualified specialists since the IT field strives forward by leaps and bounds. You should outsource your dating website development because of the following reasons:
Top-quality services
Wide access to the talent pool
Comfortable business climate
Little to no-time difference with other European countries
No cultural differences, etc.
You can benefit from such a tech partnership starting a collaboration with Cleveroad. Contact us, and our specialists will provide you with a personalized dating website cost estimation, and further help with solution development.
Cleveroad Expertise in Dating Software Development
The client intended to create a dating app with a well-considered business plan for the US market where rivals like Tinder had not yet seen significant growth.
We promptly provided a customer with a high-quality, bug-free application. Moreover, we have covered subjects like Terms of Use and Privacy in great depth to ensure that all user personal information is protected and the app conforms with local regulations.
Some of the features we've implemented in the dating app are the following:
Mutually compatible user matching. People can only match each other if they place green or yellow lights on each other. Green light prioritizes, and people who are matched and have a green light will appear on the list above those who have a yellow light. Chat may be begun if there is a match.
Posing regular questions. Questions on various subjects may be asked to matched individuals every day in their discussions. Users may then debate it after seeing their friend's response. It has an intriguing peculiarity in that users only get questions if their buddy has also chosen "Yes" to receive them every day.
Chatting functionality. One may make a list of conversations and search for a person by first or last name if there are just a few people who match. With a full-featured chat, you may examine chat tips, attach photographs for sharing, and delete certain messages or conversations. You can also know if a message was read.
Our company has 11+ years of experience in providing full-cycle web and mobile application development services. Cleveroad offers a variety of advantages for every client to start your own dating site top-notch solutions:
Expertise in a broad spectrum of domains, such as retail, education, streaming, etc.
Individual approach to every client and project and adjustable partnership conditions
Full-cycle software development and guaranteed product quality
Utter team structure comprising all the essential high-qualified specialists
Cleveroad offers a range of cooperation models, which include the following examples.
The Time and Material model allows for estimating project scope and initiating tasks. During this contract, changes to scope or team effort can be made during development, which is particularly beneficial for long-term projects with varying needs and undefined scopes.
Staff augmentation is a service offered by many organizations to assist in selecting employees that meet specific needs. This service allows for flexibility in the size of the augmented staff as per the demand.
The dedicated team approach is practical for challenging cooperation tasks. Our developers join the client's team while we help organize the development process the client manages. We can choose the best model, distribute resources effectively, and acquire the necessary skills cost-effectively. Clients can monitor requirements, timetables, teams, and task scope.
The fixed workscope agreement is a one-time fee for the discovery phase. It has certain deadlines, projections, and standards. To get excellent outcomes, clients may communicate their vision to developers. For small projects, startups, and restricted finances, it is economical.
Starting an online dating site is a competing niche with many successful market leaders, but innovative features and a prominent solution will highlight your product against the rest. Cleveroad team knows how to create a competitive dating website and is always ready to implement the most sophisticated ideas into the actual product using up-to-date technologies and following all your requirements.
Want to build your dating site?
We can assist you to create a sought-after dating web platform! Get our team for your product!
Frequently Asked Questions
You can see the list of essential features to create a dating site below:
Profile editing
In-app chat with a matching algorithm
Advanced filtering system
Settings
Geolocation
Payment services
File sharing
Video calls
Frontend development - 150-200 hours
Backend development - 150-200 hours
Testing, bug fixing, project management, launching - 50-80 hours
Total - 350-480 hours
North America 50-200
Central/North Europe 50-60
Western Europe 75-200
Asia 20-40
Africa 20-45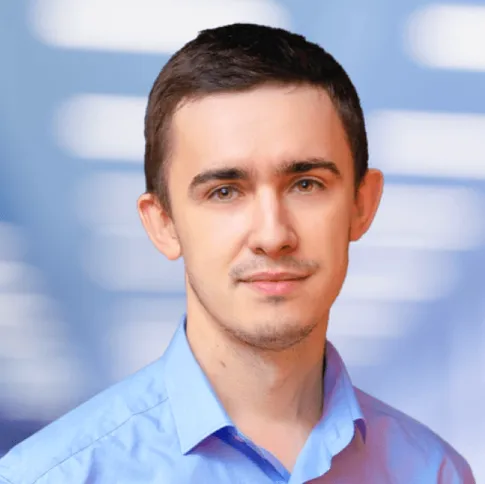 About author
Evgeniy Altynpara is a CTO and member of the Forbes Councils' community of tech professionals. He is an expert in software development and technological entrepreneurship and has 10+years of experience in digital transformation consulting in Healthcare, FinTech, Supply Chain and Logistics
Rate this article!
1482 ratings, average: 4.86 out of 5
Give us your impressions about this article
Give us your impressions about this article