How to Build a Health Insurance Mobile App and Benefit From It
Digital transformation reshapes the health insurance industry, setting the pace for healthcare consumerism. As a result, customers are looking for convenient and on-the-go access to insurance plan info "right in their pocket."
Insurance organizations, as one of the central market players, felt the need to capitalize on modern technology to keep up with this trend. And mobile software solutions can help achieve it. Health insurance app development will help businesses to offer better client services, improve decision-making, and submit precise information in real-time.
This article will disclose how to create a health insurance app, its advantages, revenue models, and added features. You'll also learn how much it costs to develop such a mobile solution.
Health Insurance App Development: Product's Concept
Health insurance app development stands for a specific sector of the medical software development industry. This kind of solution can be an effective tool for automating working processes, promoting sales, and improving client relationships.
Mobile technologies in the health insurance sector empower people with faster access and effective services. Health insurance apps allow customers to address health-related needs, such as:
Manage medical claims
Find a reliable physician in the insurance network
Get information about the most appropriate health insurance plan
Initiate video consultation with healthcare consultants
Receiving the insurance and coverage without unnecessary paperwork and more
Why to build a health insurance mobile app
Unlike other insurance digital products, health insurance app development has its own specificities relating to the following:
Data privacy
Security of medical records is critical to gaining the trust of target users. Policyholder's health data leakage may lead to your insurance app being unused. Some steps to protecting medical insurance data can include:
Ensuring compliance with legislation
Cooperation with an experienced IT vendor
Considering multi-tier QA testing
Having specialists on your side to maintain data privacy policies
Data collection and usage
The increasing usage of wearable IoT devices leads to enlarged patient data collection. Health insurance organizations make use of Big Data analysis to detect possible health. These insights allow care providers to eliminate health issues by identifying the risk factors of various groups. Here is how you can collect clients' data from your insurance app:
Configure data gathering metrics
Add 3rd-party app analytics tools
Implement relevant HIPAA and HITECH artificial intelligence systems
Uptime reliability
Mobile solutions for health insurance demand constant availability because some customers may require forthwith insurance claim payment. However, delivering a reliable and performant insurance app is impossible without solid IT infrastructure. A poorly-managed backend foundation can result in frequent downtimes, making it harder for users requiring urgent care to access medical services. Since telemedicine software solutions relate to complex interconnected systems, it's better to implement cloud-based architecture to ensure interrupted business workflow.
Note: Though the characteristics mentioned above are applicable for all mobile insurance solutions, they're paramount in the health insurance niche.
When you build a health insurance mobile app, you have to ensure compliance with a set of country-specific laws and regulations concerning medical services and data processing. Here are the main ones:
HIPAA
Apps developed for the US market must strictly adhere to HIPAA requirements. This act guides standards for processing, recording, and storing PHI data. For example, according to these regulations:
All medical data must be encrypted
Apps have to set up secure messaging, confidential data visibility confining, and rules of connected devices
PHI-images (e.g., lab results) must be handled through HIPAA-as-a-Service hosting submitted by BAA signatory companies
PIPEDA
You must follow this law to create a health insurance app for the Canadian market. This document dictates the rules to guarantee the privacy of patients' data stored. For example:
Companies can employ private data only with the agreement of the subject that can access and modify the records
The user should be allowed to see what data is being processed by the system
Enterprises must guarantee data protection from unauthorized access
GDPR
It's another area-specific directive. Medical software solutions performing in the European market must comply with GDPR rules. They govern the collection and processing of personal data according to privacy regulations and human rights laws. If you want to build a health insurance mobile app, you should mind:
Confidential data can be processed only with the agreement of the user
Data processing organizations must report the control authorities and keep data during the period required only
Personal data must be accurate and revamp where necessary otherwise, it should be revised and rectified
PCI-DSS Compliance
You must be certified to PCI if you create a health insurance app with in-payment functionality. According to this standard, you must know all the cardholder's information you're going to store, including its retention period. In addition, all the data must be encrypted using industry-accepted algorithms (e.g., AES-256), tokenized, or hashed (e.g., SHA 256). All who accept card payments follow PCI DSS requirements, even if they're only mobile app integrations.
The payment gateway provider has to be PCI certified. Still, if your solution transmits information for long-term storage, you can address, for example, PayPal or Braintree with libraries for Android/iOS. They transfer encrypted records as a token, facilitate payment integration, and ensure PCI-DSS compliance.
With so many regulations to comply with, it's vital to cooperate with a competent IT vendor who understands compliance laws. For example, the Cleveroad team has hands-on experience delivering mobile healthcare solutions complying with HIPAA, HITECH, and CCPA requirements.
Varieties of insurance apps in healthcare
Every health insurance platform connects three stakeholders: healthcare providers, insurance agencies, and patients.
Patient health insurance app development
Health insurance mobile apps for medical providers
Health insurance app development to assist insurance agencies
Due to parties' diversity, the functionality and users' activities will differ depending on their individual needs and use goals.
Health Insurance Apps for Patients
This is the most popular approach to health insurance app development. Such platforms serve as a centralized solution where all the insurance-related data is stored. They allow clients to easily apply for a required insurance policy, make queries for claim processing, purchase or renew policies, schedule appointments with doctors, and much more. This way, people can spend less time overseeing their health and living a productive life.
Health Insurance Apps for Medical Providers
This type of app is not widely-used since healthcare consultants deal with numerous insurance organizations, which makes it hard to manage applications by them all. But if you're wondering how to create a health insurance app for clinicians, you should carefully consider the product's functionality to meet their needs. We will look into the features required for this kind of app below.
Health Insurance Apps for Insurance Providers
Insurance companies are increasingly investing in health insurance app development for better operational and business process management. Such digital products allow insurance providers to automate and digitize their workflow, reducing paperwork and human mistakes. In addition, they help agencies to enhance customer interaction, fine-tune communication strategies based on analytics and teams' performance, engage new clients, and retain the old ones.
Why Should Companies Need to Create Health Insurance Apps?
Health insurance app development requires time, money, and constant enhancement of the results. However, it can be a profitable venture to invest in. To better understand how to create a health insurance app, it's essential to define what makes such solutions beneficial for various groups of clients.
Benefits for customers
Fast access to suitable plans
Due to numerous options, people find it hard to select the best suitable health insurance plan. For example, in Seminole County, Florida, ObamaСare clients can choose among 174 plans, which are many choices to steer through. The mobile apps make it easier to search for and pick the appropriate insurance plans excessing paperwork. Therefore, the core aim is to build a health insurance mobile app to be intuitive and user-friendly to engage maximum loyal clients.
Easy physicians search
Today, patients are desperate to find the best medical provider. To make the right choice, they need to scrutinize the doctor's proximity, expertise, reviews, acceptance of insurance policies, etc., which takes a tidbit of their time. Clients can access all necessary data using a health insurance app just a click away.
Such solutions have powerful search engines to make the in-app search as flawless as possible. Customers can filter their results by doctor specialty, symptoms, experience, language, and location. After that, the users will be presented with detailed insurance eligibility information and descriptions of every medical provider.
Optimizing of claim processing
In most cases, it becomes challenging and laborious for policyholders to receive claims for their medical spending. As a result, they have to cover the bill by themselves. However, health insurance platforms keep the patients' history, making it possible to get a due insurance claim. Thus, the client's satisfaction rate increases, reducing the workload for insurers.
Simplification of policy selection
With a variety of insurance policies, physicians, and pharmacies, it becomes harder to choose the best option for the "price-quality ratio." Using health insurance apps, users don't need to compare healthcare consultants' rates, search for the medications that can be insured, or struggle to find a preferred insurance plan that would better cover their health-related needs. Having all the information packed into one platform will allow users to find the perfect fitting option for a reasonable cost.
Benefits for insurance companies
Increased productivity
About 78% of business owners agree that automating tasks within the company improves overall productivity. Moreover, manual operations align with human mistakes, lost documents, claims, etc. Modern health insurance platforms enable real-time data updating, automatic report generation, and sending reminders and notifications. Facilitating complex workflows and deriving the correct information for better decision-making are also among the positive outcomes of health insurance app development for insurance providers.
Business strategic focus
Digital solutions can lead to the escalating number of transactions managed and the volume of documents generated in the electronic format. Hence, instead of running routine tedious tasks, insurance agencies can concentrate on more essential tasks like acquiring new customers, client retention, new product/ delivery, and quality assurance of the services provided. Besides, paper elimination and center on case management automation can reduce the cost and settlement timeframes.
Increased revenue
Client experience is vital for high satisfaction rates and income streams. Health insurance mobile applications allow insurers to process consumer requests more effectively, trace all the pending messages, and integrate chatbots to address small questions. Additionally, insurance companies will get higher client flow due to customer reduction; thus, they will be able to earn money in the short term.
Matthew Donaldson

CEO, BGL Group

I believe the consumer will win and that the desire for low-cost, transparent, high-quality digital services will have to be met.
How To Create Health Insurance Apps and Succeed: Key Revenue Models
The chosen monetization model has a direct impact on the product's rate of success. Therefore, it is essential to consider the business model early on to pick a suitable one for your product and audience.
"Freemium" Model
This model works great for the mobile-only users. You build an app and provide a free insurance plan or health test for customer acquisition. The client base grows, and you polish your product and offer advanced features or upgrades. The Berlin-based healthcare startup Asana Rebel is an excellent example of how to create a health insurance app with a "freemium" model. The platform has gathered over 100,000 paying subscribers and raised $24.8 million in funding.
In-App Advertising
You make a profit selling ads space for advertisers (e.g., Project Hospital). They pay some fees to promote their products via the app. However, you must remember that nobody likes the ads, so it's vital to know the measure. Another source of income is payments from medical practitioners who offer their services to app users. For example, the CVS/pharmacy app, the platform for managing and refilling prescriptions, uses this mode to get revenue. The app makes about $5,000 a month on average in income.
Licensure Model
Some wellness insurance apps are monetizing through licensing agreements. They surmise that tech companies transfer the rights for digital products for a period in exchange for a fee. This model is frequently practiced by enterprises (with $1 million in revenues and a steady user base) and hospitals modernizing their medical systems.
For their owners, the source income may include:
Licensing a dashboard, service, or device to customers
Collecting development fees, service sales, and sponsorship fees
Selling devices/drugs through an app
Health Insurance Reimbursement
Mobile health solutions could get an additional source of income if they execute diagnostic tests or offer therapeutic services. If the physician prescribes an application (as is required by FDA laws), the medical organizations will be qualified for reimbursement under insurance plans.
There are use cases of this model already. For instance, the AliveCor Mobile ECG heart monitor, confirmed by the FDA, runs off the iOS platform. Like traditional ECG monitoring, this device can be prescribed and eligible for insurance payments. So, if you get state or local medical committees' approval and convince caregivers to prescribe the app to patients, the revenue will be higher than other business models can generate. Only AliveCor Inc. has generated $4.5M in revenue in 2021; this is just one of the successful representatives.
Health Insurance App Development Features
Let's discuss the must-have functionality required to build a health insurance mobile app. The feature list mirrors the needs of three users: patients, insurers, and healthcare providers.
Features for patients
Virtual ID cards access
This feature allows users to access their profile with a digital ID to use medical and pharmacy services. For example, it makes it possible to look for medical providers and insurance coverage, view previous claims, interact with doctors/agents, etc.
Search
Search algorithms will allow patients to look through insurance coverage and healthcare providers. Clients should be able to review the info about the covered services clinics and copays. Given transparency, customers can plan their budget and pick an applicable policy.
Policy management
Customers should be allowed to review, cancel, or change a current insurance plan. In addition, allowing shifting between insurance providers might be a great advantage when you build a health insurance mobile app.
Purchasing and payments
This functionality will allow users to buy and renew policies/drugs within the application. Gateways, such as PayPal, Stripe, Braintree, etc., are the most suitable tools to add card payments to mobile apps. These solutions assist in processing online money transactions. However, remember that you must guarantee strong data security and fraud protection.
Communication and support
This feature enables patient-doctor communication. Clients will be able to urgently contact a physician or nurse and receive answers to basic health questions. When you create a health insurance app, it's good to add an initial live chat with concierges. They will consult clients on insurance policies and direct them to the needed medical professionals.
Main features for insurers
Client information
This feature is necessary to monitor each client continuously. Therefore, insurance providers should be allowed to add clients through the app, edit their contact details, and review their billing history.
Policy management
Policy management is one of the key tasks in the insurance business. This feature allows agents to upgrade the information about policy, quotes, renewals, and loyalty programs if some changes are received.
Claim management
A document exchange option is required for each applied claim to be processed by an agent. This option simplifies and optimizes the workflow of insurance organizations.
Chats
Knowing how to create a health insurance app to bridge the gap between clients and insurers is essential. Customers should be able to contact agents via an in-app chat to discuss the policy details. It mitigates the need for an in-person visit, which benefits both parties.
Statistics
Analytics features will allow agents to collect statistics about what policies clients select, how they want to be contacted, the most frequent issues they face, and more.
Medical providers' apps have to include personal profiles and chatting options. A health insurance solution for doctors can be a part of telemedicine service to enable virtual physician visits or can offer to schedule clinic appointments.
Health insurance app development functionality required
We've listed the main (MVP) features needed to satisfy early customers and collect users' feedback. After that, your health insurance app can be expanded with more sophisticated features to meet your unique business needs and deliver a better customer experience.
Advanced features to include:
AI-based chatbots
Video meeting
Drug reminders
Loyalty programs
Clinic wayfinding map
Wearable integrations
Prescription management, etc.
5 Best Solutions for Health Insurance Services
Before initiating health insurance app development, it's always good to consider market leaders to learn from their experience and make your product stand out.
Health4Me
This mobile app was created by UnitedHealthcare, the UnitedHealth Group's business segment. It's available on iOS and Android platforms. In 2021, the platform generated $222.9 billion in revenue. The Health4Me app includes a unique feature, GlobalMe, that allows for getting info about local health systems, finding physicians, directly paying to doctors, and issuing referrals to particular specialists.
The main app's features:
Health plan ID cards access
Health insurance policy and prescription management
Specialist, clinics, and pharmacy search and contact
Medications cost estimation and price comparison
Claims management and account balance checks
Aetna Health
Wondering how to create a health insurance app, it's worth paying attention to the Aetna Health app. This product jumps out due to its wealth of health insurance plans. The service offers various types, including dental, pharmaceutical, and behavioral. There are around 39 million customers in the U.S. using this app, and they get a customized experience and a set of exciting features, like:
Plan and claims administration (including sorting and payment)
Medication refills
Doctors and pharmacy search
Plans and insurance coverage data monitoring
Personalized cost estimation before care delivery
Insurance ID–cards access whenever required
myCigna
Cigna is a US-based marine insurance company. In 2021, its annual revenue reached $175 billion. The myCigna app is one of five successful mobile solutions the enterprise has built to address various healthcare needs. The apps enable handling information on the go and seeking medical insurance providers in a specific area.
Among the valuable functionality provided:
ID access (email, fax, ID cards)
Health fund balances, claims, and deductible costs checking
Blood pressure, blood oxygen level, and other biometrics savings
Doctors' consultations and drug cost comparison
Prescription refills
MyHumana
Humana started as a nursing home organization. Soon, they became the most prominent hospital operator in Kentucky and initiated their own health insurance plans. The service is present in 50 states and is found to be the largest insurer in the US. The company offers a broad set of benefits and means for client satisfaction, from various health insurance plans to mail-order prescriptions.
The critical app's features:
ID cards access, including fax
Deductible expenses monitoring
Local medication price comparison
Plan and claims record management (status, summary, details)
Doctor, dentist, hospital, urgent care center, or pharmacy search with filtering capabilities (by specialty, prices, zip code, or region)
HDFC Life Insurance
This is the last but not least example of how to create a health insurance app and make it profitable. HDFC Life Insurance is an India-based life insurance provider. In 2021, the company generated $598.36 billion in revenue. The service allows users to browse multiple life insurance plans, review their benefits, and monitor policy issuance and payment renewal.
The app helps users:
Buy insurance policies and renew them
Manage claims and documents
Locate the nearest branches for meeting with health insurance providers
Calculate total protection value (TPV)
Track fund performance and calculate net asset value (NAV)
Steps To Build a Health Insurance Mobile App
To create a health insurance app, you need to enlist the support of an experienced IT company. Medical systems that handle vital services and sensitive data must be safe and fault-tolerant. Therefore, apply for dedicated development team services and approach this step-by-step plan:
Research
The primary stage includes thorough research and planning. First, you need to study the market of health insurance solutions: their main features, trends, and solid and weak sides that will help you define the end user's needs. Careful analysis will allow you to determine your business model and integrate the functionality to meet customers' expectations and proof of demand. Considering as many details about your future product as possible, you're less likely to face project issues, last-minute changes, and unexpected budget expansions.
Discovery phase
This stage is vital for health insurance app development since clients and software developments may have different visions of the prioritized functionality. Having input information, Business Analysts scrutinize your business requirements and product concept. After that, they make the business plan and project specification that detail the app's technical demands, such as product architecture, technologies, features, APIs integration, etc. Simply put, this stage aims to discover how to make a product vision — a health insurance platform's roadmap. Finally, you receive a final estimate after all the data is analyzed.
UI/UX design
UI/UX design should correspond to the different physical sizes of the devices used. The modern applications run on smartphones with a high aspect ratio (18:9) and bezel-less display. For example, Apple demands 1x, 2x, and 3x sizes of all icons and images, while Android developers must create a health insurance app compatible with six sizes — from 120 dpi LDPI to XXXHDPI.
Another challenge is the deployment of intelligent technologies such as Artificial Intelligence (AI), Machine Learning (ML), and Augmented Reality (AR). Cleveroad's specialists apply them actively, so our designers are competent to work with them. These solutions make the app's experience more interactive and engaging, and the design team needs to consider new patterns and virtual objects that may be added.
Additionally, the application should consider the physical characteristics of individual patients. Therefore:
Follow WCAG 2.0 standards and online content accessibility best methods;
Facilitate the adaptation process as possible by reducing the number of screens exceeding three;
Keep in mind one-handed navigation and thumb-friendly user experience;
Employ proper spacing: the tap area's desired size is 7–10 mm.
Development
This is the most responsible and challenging part of health insurance app development. During this stage, a team of software engineers develop a backend and frontend of your health insurance app, APIs integrations, and transform attractive UI design into functional software. The process is divided into sprints (fix periods), during which the programmers must execute small portions of the application.
Technology Stack
The tech stack depends on the choice of the platforms. You can choose native app development for the one/two platforms or the cross-platform one. The official framework for creating apps for Apple (macOS, iOS, watchOS, and tvOS) is Swift. If we are talking about Android-based apps, they require Kotlin or Java. If you want to suit both iOS and Android devices, the React Native cross-platform framework is the right choice.
Building a health insurance mobile app with Flutter is a smart approach for developing custom solutions that don't heavily depend on native functionality. Its gains are that it is open-source and has a substantial memory allowance. Moreover, Flutter app development services allow you to cut the development expenses by up to 40 percent and shorten the time to market.
APIs Integration
You can apply ready-made tools to enrich your app capabilities and speed up project development. For example, deciding to create a health insurance app, you may consider the following integrations:
DocuSign for allowing digital signing'
Integration with EHR/EMR software, healthcare CRM development, and other clinical systems to facilitate data exchange between patients and insurance companies;
Twilio to connect with doctors virtually over video chat, phone call, or SMS.
VIDYO enables real-time communications between patients and medical providers;
Google Maps APIs for integration of geolocation and mapping services to find the nearby doctor
Technology stack to develop health insurance mobile app
You should also integrate payment gateways into mobile applications to enable automatic payment from the customer to the health insurance app provider (monthly or annually). This will mitigate the risks of losing coverage on the insurance policy, as there will be no delay in releasing payments. Additionally, policyholders will be able to pay doctor's bills instantly after their appointment.
Testing
At this stage, testing experts carry out multiple manual and automated tests to ensure the app fulfills the most strict quality standards (including security and regulatory compliance) and meets project requirements. At Cleveroad, we offer full-range mobile app services and various testing types to guarantee your product's high quality and user adoption. After you have built and tested the app, you are ready to supply the product and move it to app stores.
Post-release maintenance
It's not sufficient to build a health insurance mobile app and sell it to consumers. Keep in mind that iOS and Android roll out the upgrades every year. Thus, it's vital your application is up–to–date and runs correctly on the latest platforms. Therefore, comprehensive product maintenance and support services will ensure scalability, quick implementation of new features, smooth interaction of the software with the user, and bring new clients and stable revenue.
How Much Does It Cost To Create Health Insurance Apps?
When searching for how to create a health insurance app, you probably have two questions: "How to build such a solution?" and "How much money does it require?". However, due to the product specificity, it's challenging to tell the exact cost until the requirements are defined. Generally, the health insurance app development price can range from $55,000 to $250,000+.
The costs are influenced primarily by:
The app's technical complexity
The number of features provided
Customization of UI/UX design
Platform's types
Backend infrastructure
App maintenance costs
The team's hourly rates
To make it easier for you, our business analysts calculated the average price of making a health insurance app (based on the hourly rates of each team member). The estimate covers MVP features only.
Appriximate health insurance app development cost

Team member
Task
Approximate hours
Approximate cost ($)

Frontend (45$/h)

Front-end functionality development

1090

49050

Backend (45$/h)

Backend part development

920

41400

UI/UX Designer (35$/h)

Wireframes and mockups creation

320

11200

Project Manager (35$/h)

Development process overseeing, development reports

540

18900

QA (35$/h)

Testing, bug reporting

900

32200

DevOps (45$/h)

Development process automation, implementation of DevOps methodologies

150

6750

Business analyst (35$/h)

Discovery phase, creation of final estimate and specification

520

18200

Team Lead (50$/h)

Project architecture development, code review

320

16000

Total

4760

193700
It should be noted that these numbers are approximate and based on a $50/h rate. It's an average software development rate in Central/Northern Europe. This region is known for most affordable prices, providing you with high-grade experience specialists. The estimate can be different depending on the geographical location of the selected IT provider.
Why outsource health insurance app development
You can reduce development costs and speed up the market launch by choosing app development outsourcing. That's because all necessary specialists are available, and their skills are tested accurately. The team is gathered according to the project requirements and responsible for full-cycle software development services: from Discovery Phase to post-production support. Among other advantages of project outsourcing are:
Cost-effectiveness. Most outsourcing software development agencies offer first-rate services for a reasonable price. The software development costs decrease, and the product and performance quality remains high.
A price that suits your budget. This option opens the door to world hiring. This way, you can find affordable yet required expertise.
No hidden payments. You pay only for the "job done". There is no need to buy equipment, rent space, or pay for leave days. You're aware of the set and formerly negotiated project price.
However, the cost to outsource health insurance app development varies depending on geographical location. Therefore, we've analyzed hourly rates in different regions, including on-demand outsourcing destinations like Central and Northern Europe.
Cost to build a health insurance app worldwide
As you can see, the rates are different across the globe. However, the high price doesn't always guarantee quality services, and cheaper isn't more profitable in the end.
Central and Northern Europe seems to be a golden means charging $50-75 hourly while ensuring a high level of competency. For example, you can outsource mobile development services to Estonia to save costs and get qualified experts. Among the benefits are competitive rates, first-class education, and systematic support of government grants to IT startups. This country has third place in Europe for the number of IT workers, accounting for 300,000 experts.
Cleveroad is an Estonian IT outsourcing company with 10+years of expertise delivering custom healthcare solutions and 170+ successfully implemented projects.
Our team has hands-on experience in legislation-compliant mHealth app development, such as health insurance apps, telemedicine software, EHR, EMR, ERP & patient portals, appointment scheduling, medical billing, and more.
By cooperating with us, you'll get:
A broad scope of healthcare IT services, such as health insurance app creation, medical IT consulting, IT modernization, cloud migration, medical IT support, etc.
Software solutions comply with the latest standards regarding security, patients' data safety, usability, and interoperability: GDPR, HIPAA, PIPEDA, and more.
Full-cycle mobile app development for telemedicine to benefit tech-enabled healthcare in the shortest time.
A team of certified experts helps health insurance providers select the best suiting tech stack and advise on architecture for better outcomes.
Signing Non-Disclosure Agreements (NDA) per your request.
Developing and integrating health insurance mobile solutions are necessary but complex matters. Therefore, it's better to cooperate with an experienced IT partner, like Cleveroad. Our team will take over all concerns and provide you with a sought-after product aligning with your business needs.
Get mobile health insurance app now
Contact us, and we'll help you deliver health insurance platform aligning with your business needs
Frequently Asked Questions
The project success will depend on the experience level of the chosen tech development company. When looking for an IT provider ensure it has proven expertise in insurance software development services backed up with implemented projects in telemedicine and healthcare.
Generally, the cost to build a health insurance mobile app for both platforms can range from $55,000 to $250,000+. The final project estimate can be outlined after analyzing project requirements, including platform's type. If you want to serve iOS and Android devices, the React Native cross-platform framework is a smart choice. Flutter app development services allow you to cut the development expenses by up to 40 percent and shorten the time to market.
First, you need to study the market of health insurance solutions: their main features, trends, and solid and weak sides. Careful analysis will allow you to determine your business model and integrate the functionality to meet customers' expectations. After that you appeal to an experienced software development company and your mobile app for health insurance goes through the traditional SDLC process.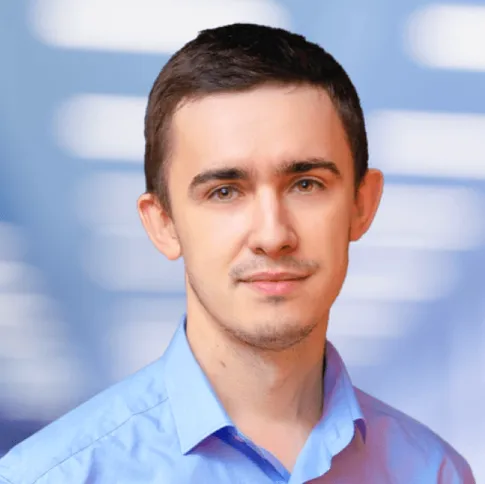 About author
Evgeniy Altynpara is a CTO and member of the Forbes Councils' community of tech professionals. He is an expert in software development and technological entrepreneurship and has 10+years of experience in digital transformation consulting in Healthcare, FinTech, Supply Chain and Logistics
Rate this article!
845 ratings, average: 4.65 out of 5
Give us your impressions about this article
Give us your impressions about this article