CRM Software Development for Healthcare: Why Use It and How to Benefit from It
Customer relationship management (CRM) for healthcare allows medical organizations to boost overall performance by creating measurable relationships between all the parties involved — patients, team members, referrals, and providers. This results in cost reduction, optimized medical services, and enhanced client experience.
The global healthcare CRM market is expected to gain $20.4 billion by 2025. The main drivers are the rising demand for organized, easy-to-access data and business process automation. Besides, digital transformation impacts clinical protocol management, requiring moderm clinical decision support systems, such CRMs. Given such market potential and technological advancement, it's not surprising that clinics start looking for healthcare CRM software development services.
This post will guide you through the specificities of CRM software development for healthcare, highlighting its key benefits, features, and challenges to cope with. You'll also learn why creating medical CRM from scratch is a long-run investment.
What Is the Feature of CRM Software Development For Healthcare
Generally, CRM is a technology that helps companies keep track of everything about their customers and prospects to build a good relationship with them. In addition, CRM systems improve communication across team members, departments, referral companies, and suppliers.
CRM for healthcare is built on a similar concept and focuses on managing and improving relationships with patients to retain clients, engage new ones, and coordinate with partnering firms and suppliers. In addition, it's used to foster healthcare services and sales, support clinical outreach, optimize the delivery of medical care, and much more.
Healthcare CRM software development enables improved patient experience through a set of features. For instance, it can include appointment push notifications features or record conversations to assume patients' preferred location or appointment times; automate and customize ad campaigns like sending birth cards or personalized emails. It can also handle referrals by storing data about specialists and facilities, allowing for patients' direction to a particular specialist.
Essence of CRM for healthcare
Such a digital solution stores and analyzes patients' data (e.g., demographic information, health history, insurance payments, or social data) to discover valuable insights. Understanding clients' patterns and habits allow medical institutions to brainstorm patient-oriented growth strategies. In addition, such an approach to engaging with people helps companies build lasting relationships with their clients since the interaction happens in the clients' tone.
However, unlike generic CRM, healthcare-specific one has its distinctive features:
It requires a multi-platform solution that would make coordinating patients, healthcare organizations, physicians, health insurance, and suppliers easier.
It should coordinate data across multiple systems, such as electronic health records (EHRs), patient portals, patients' interactions with call centers, online chats, and even subscription opt-ins.
It must be compliant with healthcare regulations, such as HIPAA, to align with industry standards
It should be designed to cater to the medical institution's unique structure. That means the UI should be personalized and intuitive to ensure a smooth user experience.
Key Modules of Modern CRM for Medicine and Healthcare
Modern CRM systems for healthcare can be deployed as a separate module (off-the-shelf solution) or a custom product.
Ready-made CRMs are suitable for fast deployment. However, the common issue of such solutions is a high price for the broad set of functionality provided (which is not always necessary). You may need a limited feature set to cover your business needs (e.g., data analysis), while you'll be charged for the complete package of functions. Moreover, implementing off-the-shelf software diminishes the protection of patients' and business-related data since you rely on third-party providers. Gaps in security may lead to data leakage, thus, financial losses and reputational damage.
Building a product from scratch will allow you to cater to your specific needs and add relevant functionality. This option entails strong security and full compliance with all the laws and regulations required for CRM software development for healthcare. This approach significantly increases the quality of delivered software and differentiates your product from the contest. Moreover, unlike ready-to-use solutions, there is no hidden cost as you pay only for the features used. Keep in mind that custom CRM implementation will be successful only in cooperation with an experienced IT vendor, like Cleveroad, who has sturdy expertise in the telemedicine domain.
Custom CRM vs. Ready-made CRM

| Specifics | Custom CRM | Ready-made CRM |
| --- | --- | --- |
| Customization | Can easily customized to any given demands | Limited to the range of standard services |
| Costs | High initial costs. But you save on licensing costs, upgrades, and user fees | It vary depending on the subscription prices, including fees for extra features |
| Security | Additional security for your corporate data | Standard security package. High risks of data breaches |
| Maintenance | Ongoing support | Dependence on the server provider |
| Scalability | Level of scalability can be customized according to your business needs | Scalability has limited options |
Healthcare CRM is a broad term describing a group of software. The type of CRM systems varies depending on functions performed and organizations' goals:
Healthcare CRM software development for business intelligence
Healthcare CRM software development for operational support
Healthcare CRM software development for data-efficient collaboration
Analytical CRM
Analytical CRM software is used for data collection and analysis. Such scrutiny submits valuable insights on how to best approach, interact with, and engage patients. People will be more likely to use your medical services if they ensure they get specialized treatment meeting their needs. This plays a crucial role in building lifelong customer relationships.
Collaborative CRM
Collaborative CRM facilitates communication across the company and ensures multi-channel customer support. It's helpful for enterprise-level organizations that have various departments running different operations. For example, establishing reliable communications with clients involves sending emails, greeting cards, information about new services, etc. Afterward, the system scrutinizes the data from multi-channel communications to know your clients. This allows businesses to introduce personalized multi-channel communication strategies fitting the preferences of every patient.
Operational CRM
Operational CRM assists companies in automating and optimizing operating-related activities, like pre-sale, marketing, lead generation, etc. In addition, it allows for freeing up time and resources for business-critical tasks (to engage and retain more clients) instead of running repetitive tasks. As a result, this kind of CRM helps medical facilities increase their overall performance while reinforcing workflows and lowering overhead.
After you know the types of CRM systems, let's see what modules are required for custom healthcare CRM system development. Each of these modules includes smaller features that will vary on a case-by-case basis.
Business Management Module
This module focuses on workflow synchronization across various divisions (including those that are not directly allied with healthcare).
Administration management
This block of functions is responsible for coordinating internal clinic matters, from booking appointments to surgeries and laboratory testing.
Finance management
CRM healthcare system's financial functionality helps companies control money matters. For example, it enables charging the invoice to patients and keeps track of the clinic's income and expenses. It also assists in managing taxes, staff wages, and procurement.
HR management
Besides providing data-driven strategic insights, the CRM software saves HR managers time by facilitating talent management. It includes analyzing employees' efficiency, staff onboarding, managing vacations and salaries, interview arrangement, and other activities.
Data Management Module
To enhance communication between patients and medical providers, CRM can be integrated with different data sources, such as EHRs, patient databases, patient portals, etc. However, before doing so, it's vital to apply preventive measures to protect patient data and ensure secure information exchange between multiple healthcare providers.
Centralized patient database
The data is saved in one location, and only registered users can view and renew health records. With a unified data warehouse, physicians can increase the accuracy of patient diagnosis, thus, choosing the best fitting treatment plan. For the hospitals, a centralized data repository accelerates and facilitates patient communication management: sending notifications, generating personalized offers, etc.
Security & compliance
Since the healthcare system processes a row of sensitive data, it should comply with main industry security standards, like HIPAA, PIPEDA, HiTECH, etc. Data leakage is considered the most extensive security concern in the healthcare industry: the average cost of data breaches reached $9.23 million in 2021. Over a third of healthcare breaches are down due to human errors. CRM systems will allow you to address this challenge by encoding patient data and making it accessible to authorized medical staff.
Sales & Marketing Functions
Sales and marketing management are essential modules to implement when it comes to healthcare CRM software development. Such a solution allows for digitizing client flow and delivering superior service.
Referrals management
Referrals are a substantial source of leads in the healthcare industry. Medical CRM facilitates the reference patients to narrow-profile specialists and test labs. But, referral marketing involves challenges related to the need to exchange details among diverse medical providers. A CRM enables protected data exchange and optimizes the collaboration of different health providers concerning patients' health.
Direct mail campaigns
This module aims to automate and streamline newsletter campaign management (e.g., sending reminders, customized offers), lead generation, and sales processes. This allows healthcare organizations to interact with patients via diverse channels and keep in touch with them.
Analytic Module
This module aims to receive valuable statistics to improve the nature of your commercial activities and identify the weak spots of every functional unit.
Patient analytics
Implementing healthcare CRM software will allow you to scrutinize the diverse patient management-related metrics, such as retention rate, duration of the appointment, the most used services, etc. Moreover, it will enable patient segmentation based on location and popular requests relating to medical services. In turn, you'll be able to understand your clients better, thus, delivering patient-centered services.
Physicians' performance statistics
Implementing business intelligence will allow you to evaluate medical personnel performance as well as workload to avoid burning off. It also enables you to analyze which healthcare services generate more income and which need improvements.
Feedback
By incorporating a CRM system into your clinic's platform, you'll be able to obtain feedback on service provided, staff attitude, and administration process. This will help you identify shortcomings and enhance service quality.
Key modules of CRM for healthcare
What Do You Get When Developing Healthcare CRM?
Healthcare organizations tend to use CRM systems to get a deeper understanding of their clients and optimize day-to-day operations. So let's consider the importance of CRM software for healthcare.
Improved Patient Management
CRMs allow for reducing administrative errors and poor management of patient files. How does it happen? Each patient has a profile with contact details, treatment history, medical records, and schedules of visits. Healthcare CRM employs pre-configured patterns to generate client profiles eliminating the risk of fragmented data. The system automatically upgrades patients' data in real time to ensure its relevance.
A Holistic View of Company Performance
Healthcare CRM makes it possible to derive data from multiple locations and transform it into a powerful instrument for business analysis. Using such a digital solution, you'll be able to evaluate expenses, KPIs, and patient satisfaction scores, as well as assess the ROI of marketing campaigns to engage new patients. However, remember that ready-made healthcare CRMs don't always include an analytic module (which is critical for improved decision-making. So it's better to choose custom healthcare CRM software development to add functionality aligning with your needs — without overpaying for unused features.
Workflows Optimization
A CRM performs as a synchronized data repository and centralized platform that improves a medical staff-patient relationship. When people come to hospitals, all their information is displayed on a single dashboard, allowing medical providers to meet patients' needs faster. Besides, CRMs involve rich functionality to automate and digitize routine tasks (payments, appointment management, user notifications, etc.). The system can also notify patients about upcoming appointments, which helps reduce the number of late arrivals or no-shows.
Effective Marketing
A healthcare CRM is an effective tool that leads to traffic and sales. It facilitates patient engagement via different communication channels, such as social media, emails, etc. Moreover, CRMs allow for monitoring referrals and retaining clients with healthcare precision marketing. Such a retention-based approach allows for satisfying each patient's needs individually. For instance, you can deliver personalized offers based on data collected directly from the clients.
Moreover, by choosing custom healthcare CRM software development, you'll be able to integrate AI-powered solutions. This will allow you to scrutinize your advertising campaign's effectiveness and adjust your future marketing strategy.
What Is the Peculiarity of CRM Software Development for Healthcare
Healthcare CRM software development isn't fundamentally differ from any other digital system's creation. However, it has some specialties related to regulatory compliance and data protection.
Medical Legislative Compliance
Since healthcare CRMs process and store vast amounts of sensitive patient data, they must be compliant with strict medical regulations, such as HIPAA. The list of laws will differ from county to county and project specificity. That's why, before initiating your own CRM project for healthcare, conduct research to know what industry standards you must adhere to.
Patient Data Protection
Healthcare cybersecurity has become one of the leading issues in the healthcare industry. That's why it's critical to consider at least basic security measures to secure electronic patient healthcare information (ePHI):
Personnel training. About 40% of employees

are missing

cybersecurity knowledge. Therefore, professional training is critical to prepare the workforce for possible malicious actions. It includes identifying phishing emails, creating regular data backups, using strong passwords, etc.
Data access safeguards. Medical organizations should control and trace suspicious activity in the system. It's recommended to incorporate systems that block unauthorized access to data, avoid exchanging of unauthorized emails, prevent data from being copied, etc. It is also good to employ advanced technology, such as blockchain, for data encryption during transferring and storage.
Tracking of mobile and portable devices. Mobile phones, apps, and IoMT devices are widely applied for remote patient monitoring. To safeguard mobile data and IoT networks, you should consider multi-layered authentication, remote blocking of lost/stolen smartphones as well as legacy systems modernization (including safety apps and medical sensor control systems.
ISO Certification
ISO standards in healthcare are about guaranteeing patients have access to high-quality medical services as is needed. By incorporating ISO standards, you assume obligations to quality, transparency, safety, and accountability rules. These standards make it easier to address challenging and ever-evolving requirements of data security. The set of ISO standards varies from quality (ISO 9001), environmental (ISO 14001), and energy management (ISO 50001) to information security (ISO/IEC 27001).
Achieving ISO Certification became more accessible thanks to today's modernized systems. To become ISO certified, you need to go through the basic steps:
Choose the type of ISO certification
Prepare all the relevant information about your organization
Select a trustworthy ISO Registrar
Make an application as prescribed
Run through the verification procedure
After your management system is approved, you will be awarded the needed ISO standard.
Systems Interconnection
CRM in healthcare produces valuable insight by analyzing data obtained from numerous resources. That's why it should be integrated with other medical management systems and tools, such as:
Electronic Health Records (EHR)
Electronic Medical Records (EMRs)
Quality Management System (QMS)
Radiology Information Systems (RIS)
Patient portals
The software should also be consolidated with medical billing, accounting, human resources management (HRM), and other back-office systems. Merging different types of software enables records consolidation and consistency.
APIs Integration
Healthcare APIs significantly foster device interoperability. By applying APIs, healthcare institutions can seamlessly transmit patients' records between multiple informational networks and merge them in one place. It makes it easier to harmonize the patient care delivery across a set of parties involved. Based on our experience, here critical APIs for healthcare CRM software development:
Registration API
Scheduling API
Financial API
Hospital Management API
As you can see, there are some specificities in initiating digital healthcare solutions. However, relying on Cleveroad's experience in healthcare software development services, you'll be ensured in handling all the issues concerning healthcare CRM software development.
Challenges of CRM development for healthcare
Healthcare CRM Software Development: 6 Steps to Follow
CRM software development for healthcare can be performed in many directions. We'll describe the traditional SDLC process to build such a digital solution. But the number of stages can vary depending on your business needs and requirements.
Step 1. Hiring Technical Partner
Before embarking on healthcare CRM software development, you need to find a reliable software development company. When looking for a tech partner, consider the vendor's expertise in the healthcare niche, check the portfolio to see what medical projects have been delivered and what technology stack was used, and read feedback from clients on professional platforms, like Clutch or Goodfirms.
Step 2. Project Requirements Analysis
This stage is related to the Discovery Phase. The business analysts investigate your product concept, business goals, target audience, and intended market. After that, they form a project specification plan that includes all the details concerning CRM software development for healthcare (features, security requirements, third-party services, tech stack, etc.). The functionality should match the company's goals and serve as the instrument for their achievement.
You should also pick software architecture based on your platform and non-functional requirements. These days DevOps experts suggest considering cloud computing architecture for modern healthcare solutions. This model works great for complex interconnected systems, such as CRMs, since it enables scalability and convenient Interoperability between multiple data sources.
Step 3. UI/UX Design and Prototyping
The design team defines critical user scenarios (e.g., patient segmentation, reporting) and visualizes the main functionality. To streamline the user journey inside the system, our design team sticks to the following rules:
Picturing the user journey from the point of "end-user". Designers analyze the preferences and logic of the end-users and make interfaces based on them.
Reducing the number of actions required to accomplish the task. We try to cluster the functions to make associated actions reachable in one click. This enables the elimination of redundant elements and facilitates "user-CRM" interactions.
Displaying critical information at the start of the user journey. Healthcare providers frequently open CRM to review the appointment schedule or lab results. To optimize the user journey, the essential information is located on the main screen for quicker access.
Step 4. Development and Integrations
It's the most responsible and challenging part of healthcare CRM software development. During this stage, the software engineers build a backend and frontend of your CRM platform and integrate APIs to facilitate data sharing with third-party apps. After the CRM is created, it should be interconnected with other business solutions to cover all business operations and scale profit through systems' synergies.
Step 5. Testing Phase
Testing experts execute multiple manual and automated tests to check the CRM functional requirements and mitigate the functioning flaw. This stage also intends to evaluate whether your system is ready for deployment and complies with core security and legislative norms. Before the final client review, the team verifies all the functionality (including integrations, usability, and security) to ensure the healthcare CRM performs as expected and meets project requirements.
Step 6. Launch and Maintenance
Once all previous healthcare CRM software development stages have passed, it's time to deliver a ready-made solution to the end customers and stakeholders for testing and feedback. Then, based on collected information, you make modifications if needed. CRM systems for healthcare may require multi-tier support due to their complexity. Therefore, it's better to continue cooperation with the dedicated development team to create value in the long term. Moreover, system security and standards compliance have to be verified regularly.
Why Choose Cleveroad for Healthcare CRM Software Development
Cleveroad is an outsourcing tech partner with proven expertise in delivering custom digital solutions for the medical business and/or modernizing the existing ones. With long experience in healthcare IT (since 2011), our team offers full-cycle IT services for healthcare organizations that automate business workflow, facilitate data transmission, and improve patient care delivery.
By collaborating with us, you'll get:
Hands-on experience building healthcare solutions, such as EHR, EMR, eRx, patient portals, remote patient monitoring apps, etc.
Building telemedicine software solutions that comply with HIPAA, HITECH, PIPEDA, and GDPR.
Delivering medical CRM systems along with industry regulatory standards, such as ISO and FDA regulatory requirements.
On-demand services: application modernization, cloud migration, IoT software engineering, blockchain integration, etc.
Knowing peculiarities of cloud services, including Amazon Web Services and Google Cloud Platform.
A thorough consultation with our Solution Architect regarding the healthcare CRM system deployment.
Signing Non-Disclosure Agreements (NDA) as requested.
Let us prove our competence in delivering telehealth projects by introducing our latest case — Telemedicine management system (tapGP). The core idea behind this project is to build a robotized medical system for remotely providing 24/7 access to health-related services.
An interface of telemedicine management system designed by Cleveroad
Our UK-based client received a solution suited to the specific business needs enabling users to schedule medical appointments online. The platform incorporates RBAC access to the systems for physicians, customers, and admins to provide fitting opportunities for each party involved. In addition, the platform is fully compliant with the relevant legislation. The output of our client is a custom SaaS-based platform that increases business performance by automating the care delivery process and patients.
Get estimate of your healthcare CRM
Book a call with our Delivery Manager to negotiate the project and get a personalized estimate
Frequently Asked Questions
Healthcare CRM is a technology that helps medical organizations keep track of everything about their patients and build a good relationship with them. In addition, CRM systems improve communication across team members, departments, referral companies, and suppliers.
CRM for healthcare focuses on managing and improving relationships with patients to retain clients, engage new ones, and coordinate with partnering firms and suppliers. In addition, it's used to drive healthcare services and sales, support clinical outreach, optimize the delivery of medical care, and much more.
There are many IT providers ready to build a top-notch healthcare CRM. When you hire software development company, here are some factors to look for:
Industry expertise. Make sure the IT provider you want to work with has practical expertise in healthcare and telemedicine software development.
Portfolio. It's better to cooperate with a team that has already experienced in delivering similar solutions for healthcare.
Clients' reviews. Check the clients' reviews to decide whether it's a good idea to deal with the company.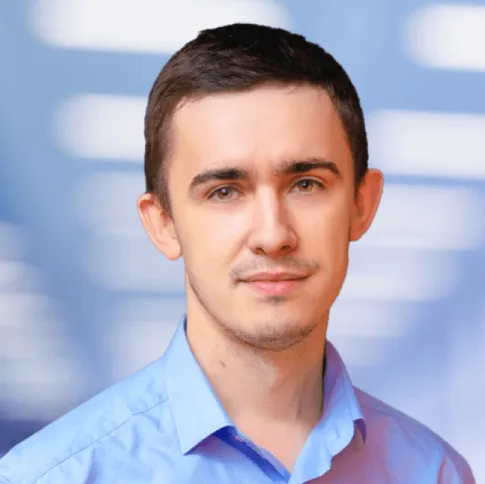 About author
Evgeniy Altynpara is a CTO and member of the Forbes Councils' community of tech professionals. He is an expert in software development and technological entrepreneurship and has 10+years of experience in digital transformation consulting in Healthcare, FinTech, Supply Chain and Logistics
Rate this article!
667 ratings, average: 4.55 out of 5
Give us your impressions about this article
Give us your impressions about this article