How to Create EHR Software in 2022: EMR Development, Features, and Cost Breakdown
Healthcare is one of the fields that go through significant changes thanks to digitalization. New technologies simplify the consultation process, help doctors manage healthcare data and move all patient-physician interactions to a brand new level.
EHR and EMR software reduce the paperwork and grant access to patients' healthcare data in just a few clicks. It significantly improves physicians' productivity and can increase the revenue of a healthcare establishment. In this post, you'll learn how to create an EHR software, its basic features, cost, tech stack, and the difference between EHR and EMR.
What's the Difference Between EHR And EMR Software
First, we should define the difference between these two concepts. Even though they seem identical at first glance, they have several major distinctions.
While EMRs store a single healthcare practice by a particular physician, EHRs contain more extensive data about the patients' medical condition. EHRs can be shared with authorized providers from different organizations, while EMRs are usually used by a particular physician.
Let's take a closer look at both of these technologies.
Electronic Medical Record
What is EMR software? An Electronic medical record (EMR) is a patient's digital chart that is stored in a hospital's database. Doctors create one EMR for one practice to describe individual diseases. There are some obvious advantages of EMR replaces like the following:
Tracking data records over time
Physicians always receive notifications with reminders that their patients should visit a planned check-up or screening
Physicians can quickly check test results like a blood test or MRT
Doctors monitor the treatment and health conditions (if something goes wrong, the treatment process may be revised)
Still, healthcare providers use EMR only for a single practice. That's why it's not convenient to have a pile of EMRs if other physicians need to observe you. So EMR is not an ideal option.
Electronic Health Record
What is an EHR system? Electronic health record (EHR) is another kind of a digital chart that has much more functions and capabilities. EHRs store not only information about a patient in one practice but also share information between different doctors and healthcare providers like laboratories, so all the data is available in one file. It means that various healthcare specialists that work in different cities or even countries can manage the same EHR.
Here's the list of EHR advantages:
Sharing and managing healthcare data in real-time
Access to tools that improve the decision-making process
A comprehensive medical record of every patient that contains every single detail about the patient's health condition
In fact, timely shared medical information may save lives. That's why EHRs are very important nowadays. To deal with EHRs more effectively, it's a common practice to create electronic health records software that'll be convenient both for doctors and patients. Now let's proceed to the main benefits of EHRs.
Benefits of EHR Software
Before you make a decision to build EHR software for your business, you should be aware of all the benefits EHR software may bring. We've divided benefits into two categories — for physicians and patients.
Benefits of EHR Systems for Physicians and Healthcare Providers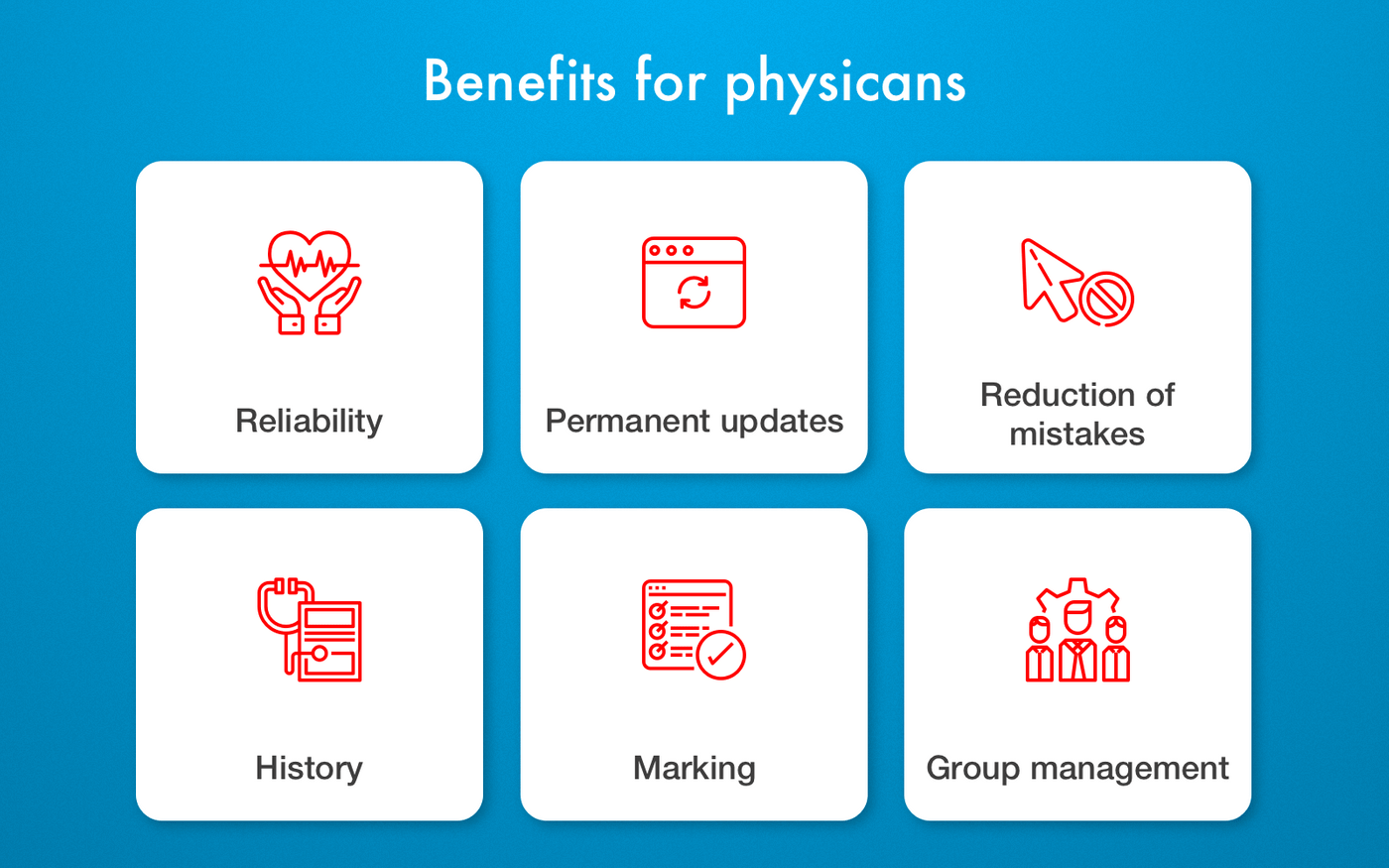 Reliability. EHRs are easy to access from any point in the world. Besides, they have backups in case of any system failures. It means that all files can be restored, and it's hardly possible to lose them.
Regular updates. Electronic charts are always updated according to the preventive care guidelines they are connected with. Besides that, all updates are instantaneous and users will get notification once an update happens.
Reduction of possible mistakes . Another benefit of EHR is that digital information is always easy-to-read, unlike handwritten data that is often unclear. That's why an attending physician won't be confused with prescriptions made by the previous specialist.
History. Patients' treatment and disease history is stored in one file. Physicians don't have to waste time searching for a proper record.
Marking. Doctors can mark drugs that should be added or removed from a treatment process right from the EHR.
Group management. Physicians can create groups of patients in one practice, manage them, and customize according to their needs.
Success story
Dr. Hugh Bonner and his team from St. Francis Medical Center in the US-based Wilmington, DE have noted that EHR software development helped them optimize and simplify record-keeping and increase patients' involvement into the treatment process. The team has integrated existing professional guidelines into their EHR, so they can access all the necessary information and discuss treatment aspects with a patient. This way, doctors don't need to explain something in simple terms to their patients because users already have all the required materials.
Advantages of EHR for Patients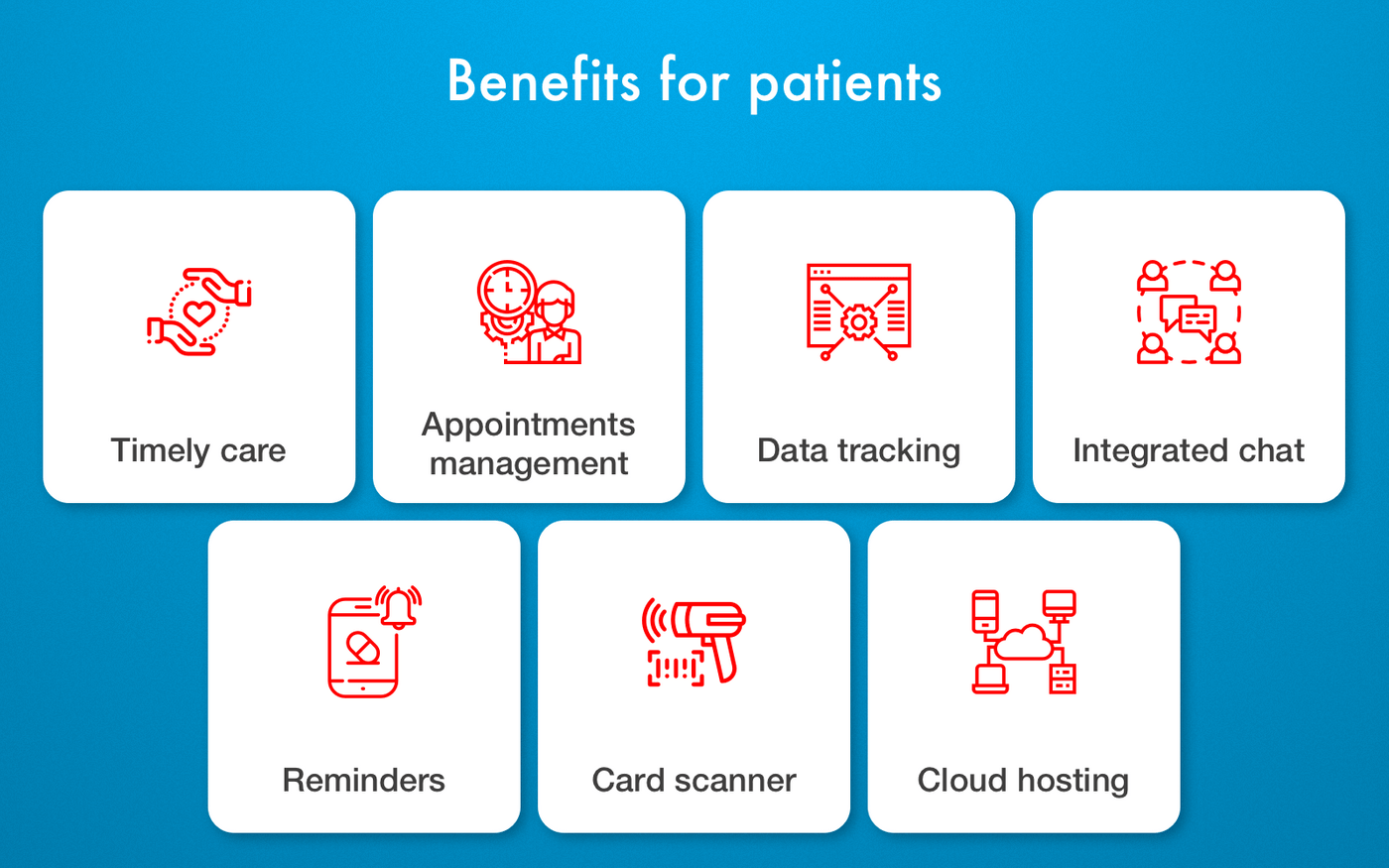 Advantages of EHR software for patients
Timely care. Authorized specialists have 24/7 access to EHR from any point in the world. This means that doctors may help their patients at any time.
Appointment management. All appointments with doctors can be managed and scheduled via EHR software. Also, it's possible to set up notifications that'd remind patients about a visit at a specified time.
Medical data tracking. Patients may track all lab results, doctors' notes, prescriptions, with the help of EHR and EMR software. Developers take care of on-time information delivery to patients.
Integrated communication. Chat is a crucial benefit of EHR for patients. Any software becomes better when it lets users chat with each other. Patients can communicate with doctors when they need help.
Card scanning. Patients can quickly scan their insurance cards via EHR software, and then all the cards are stored in the system.
Reminders. Reminders about bills or appointments can be sent automatically when a user makes custom EMR or EHR adjustments.
Cloud hosting. All medical files are stored in the cloud, and they cannot be lost or damaged.
Success story
EHR software development improved healthcare services quality and helped to control finances at South Cove Community Health Center in Boston, MA. In 2009, South Cove successfully switched to the electronic system and departed from paper records. Due to the EHR's analysis feature, specialists of the healthcare center admitted the increase in the number of colorectal screenings. They started to input and process this information in EHR. Now, if something goes wrong, the software marks screening as "Abnormal". This way, physicians can communicate with patients and start treatment in short terms. EHR system development helped this healthcare provider to improve workflow and deliver better care to their patients.
In fact, the EHR system is a patient portal that also contains educational materials for patients. These materials increase their level of involvement. However, to engage patients to look after themselves and increase their health literacy, there may be a sense to develop a patient portal and integrate it into your EHR system. This way, you'll be able to deliver affluent patient experience. Our expertise in the development of healthcare software helps us reduce software development time, which leads to lower costs. But if you're planning on creating a custom EHR software for your clinic or just building a startup, what should you start with? There are several important steps you should know about for building an EHR system.
How to Build an EHR System?
While thinking about how to create an EHR, you should keep in mind that the process includes a number of complicated steps. First off, you have to think about HIPAA/GDPR compliance.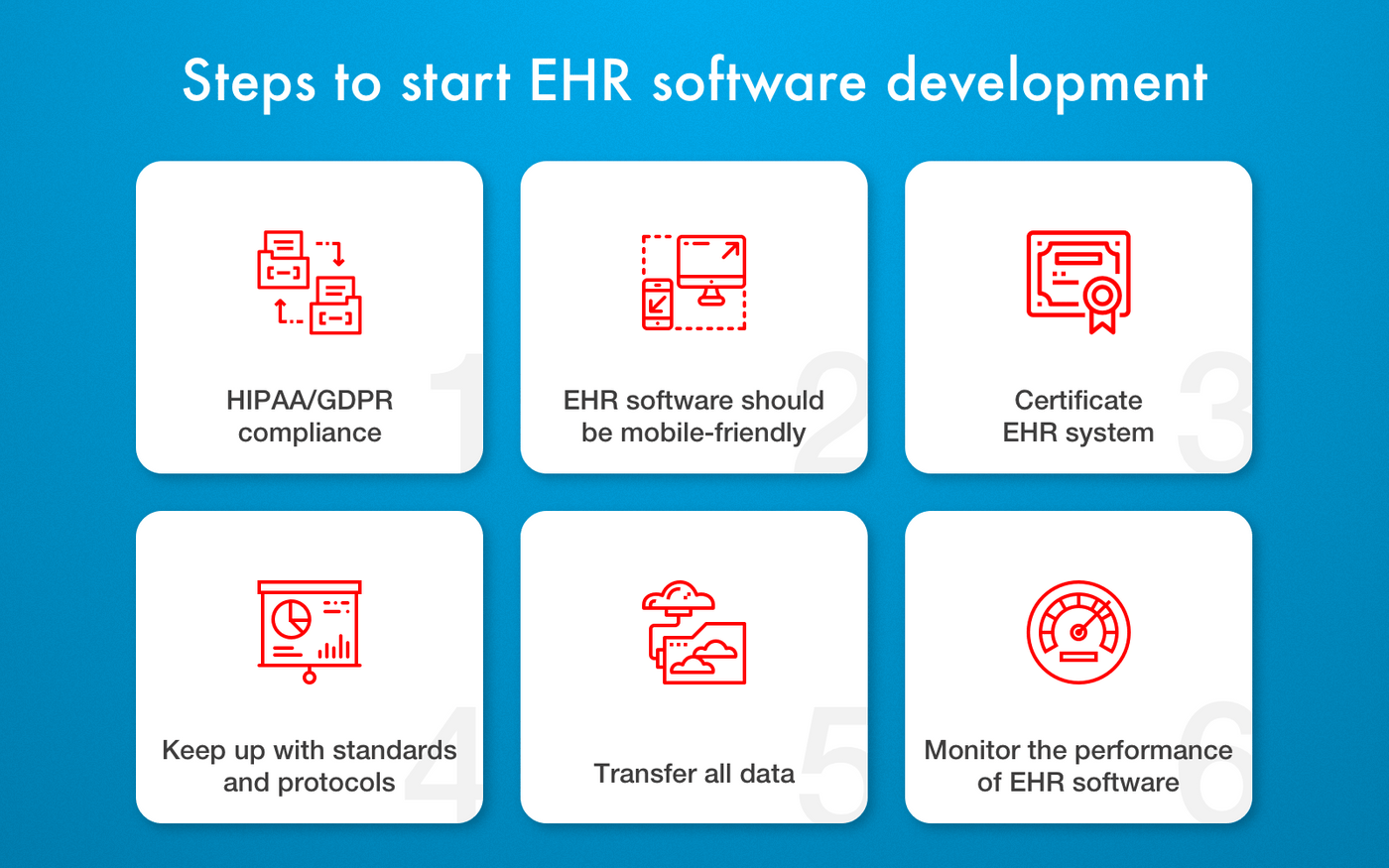 Important stages to keep up with when building EHR software
HIPAA/GDPR compliance
In case you're aiming for the US market, you should comply with HIPAA. EHR software processes and stores personal health information which is subject to regulations. HIPAA stands for Health Insurance Portability Accountability Act. It contains many rules and regulations that your solution should comply with. Technical issues of EHR software development are covered in paragraph 164.312.
HIPAA guidelines require an EHR system to provide the confidentiality and security of sensitive health information.
How to create EMR software and not get fined? Our guide on HIPAA regulations will help you to comply with it. We've covered eligible entities, fines, and provided a piece of advice.
GDPR is another set of regulations elaborated for the EU that has recently come into effect. All businesses that process and store EU citizens' personal data have to comply with GDPR and provide individuals with a high-security level. As healthcare providers work with patients' personal data, they have to notify patients that their data processing approach meets all GDPR requirements.
Here's our detailed guide covering GDPR compliance for EMR software development and other solutions.
Make EHR Software Mobile-Friendly
Primarily, custom EHR software should have a web version since there are many features and particularities that are better used as a web application. However, the EHR system should have a mobile version since it improves patient-physician communication.
Besides that, mobile EHRs mean portability. Users and patients may solve many important issues on the go. Mobile EHRs engage patients in the treatment process. And to make sure that your custom EHR system covers as much audience as possible, take care of iOS and Android operating systems while building an EHR system.
EHR System Certification
Certification is a must-have stage for the EHR software development process. Users should have no doubts that your software is legal and is safe to use.
EHR system development for the US-based citizens will require ONC-ATCB Certification (Office of the National Coordinator - Authorized Testing and Certification Bodies). After certification, healthcare providers and patients may be confident in your product because the software meets all the standards.
In the EU, you'll need to go through EuroRec certification. It has the same purpose as ONC-ATCB but is made for European Union.
Without certification, it's illegal to distribute EHR software.
Standards and Protocols Compliance
There are a few standards that are used for healthcare information transferring. These standards are CCD, CCR, HL7, CCA. There's no precise answer on what standards to use during EHR software development. Everything depends on your requirements for the EHR software and the country you create it for.
Transfer All the Necessary Data
It's required to migrate data from old-school records to the new EHR software. Clinic owners can hire employees that will assist them in this routine task. Also, it is also recommended to hire an admin that will manage EHR software and upload the medication histories of patients.
Track the Performance of Your Custom EHR Software
To understand how popular and profitable your EHR software is, you should monitor some important metrics like:
ROI calculations to assess profitability
Throughput of records to understand the efficiency
Quality of care that requires collecting feedback from patients
Physicians' satisfaction
Monitoring data error rates to assess and improve the software quality
Synchronization With Apple Health Records
Also, we can't ignore the Health app made by Apple that makes it possible for iPhone users to visualize and store all their health records securely in one place. It's available for all US-based healthcare organizations at the moment.
One of the benefits of EHR systems is the synchronization with the Health app. All US clinics may self-register on Apple's website and connect their compatible EHRs with the Apple Health Records system. It lets all patients and doctors aggregate health records from different clinics in one place, download all medication history on iPhone, and keep track of it.
These steps will help you create a high-quality product and not to miss something important during EHR development stages.
How to Create EMR Software?
Basically, to develop an EMR software, you have to take the same steps as with EHR software development. The only difference is that EMR systems are easier to build and integrate because they keep information about a single healthcare practice. That's why a EMR development company will spend less time building complicated database schemes and backend logic.
Essential Features For EHR System Development
If you wish to test your idea, there's no need to integrate a bunch of complicated and expensive features into your project. Instead, you can create software with a minimum set of features that'll perform basic functions. Later on, if your idea appears successful, you can add advanced features in further updates. Now, let's go through the must-have features for EHR software development.
Mind that this EHR features list is approximate and may vary according to your needs. To come up with a more detailed feature list, you have to contact a software development company.
Electronic Document Management
EHR's first priority is the convenient management of healthcare documents. This includes lab results, patients' disease history, and other reports related to treatment and the patient's health condition. Make sure that physicians have a user-friendly and understandable interface to handle this task.
Task Management
Advanced task management lets doctors improve their productivity and optimize the workflow. With the right planning, physicians will spend less time on secondary tasks and focus on the treatment process.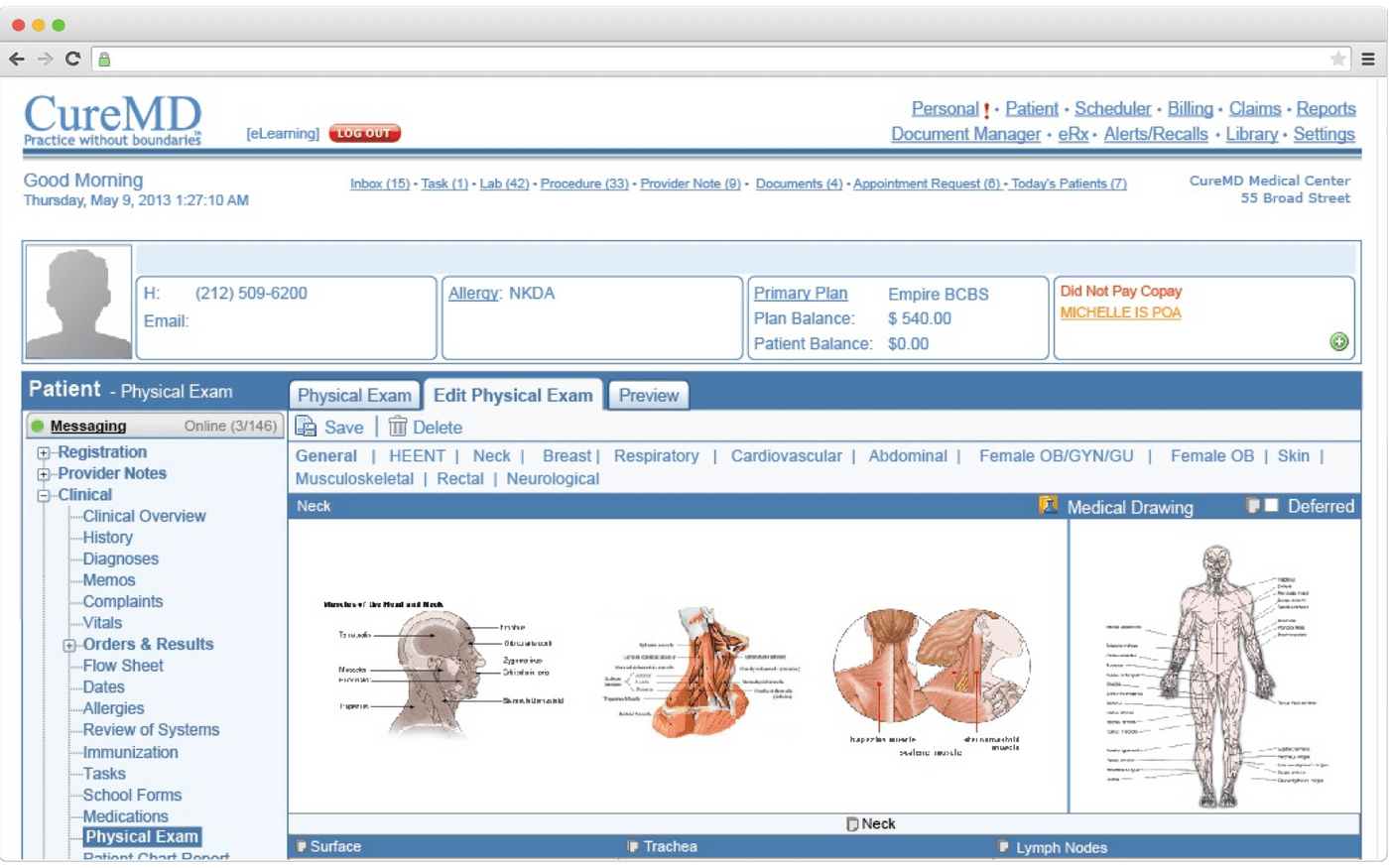 Task management in EHR software
Patient Profile
One of the mandatory EHR features. This page contains information with the patient's healthcare data like disease history, treatment history. Besides, it should also have general information like first name, last name, age, gender, and so on. It's crucial to forbid access to the patient profile to third parties. Make sure that no one except physicians and trusted associates can view the medical history of your users.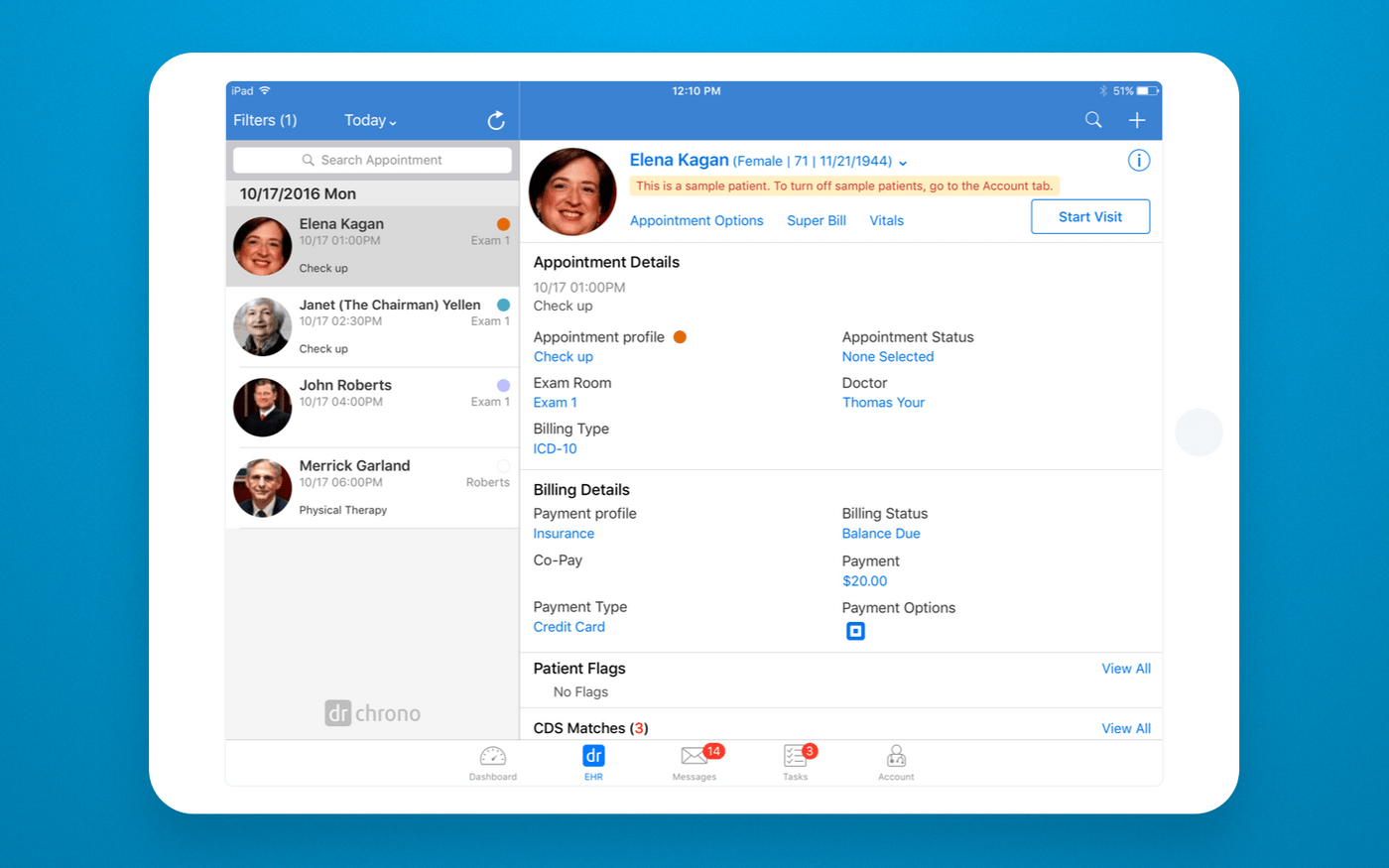 User profile in EHR software
Prescription Management
This EHR feature lets physicians prescribe drugs remotely. Patients won't waste their time in lines just to get their medicines. In addition, they'll always be informed about the side effects and doses. The next step is to integrate the solution with local drug stores and send prescriptions right to the pharmacy.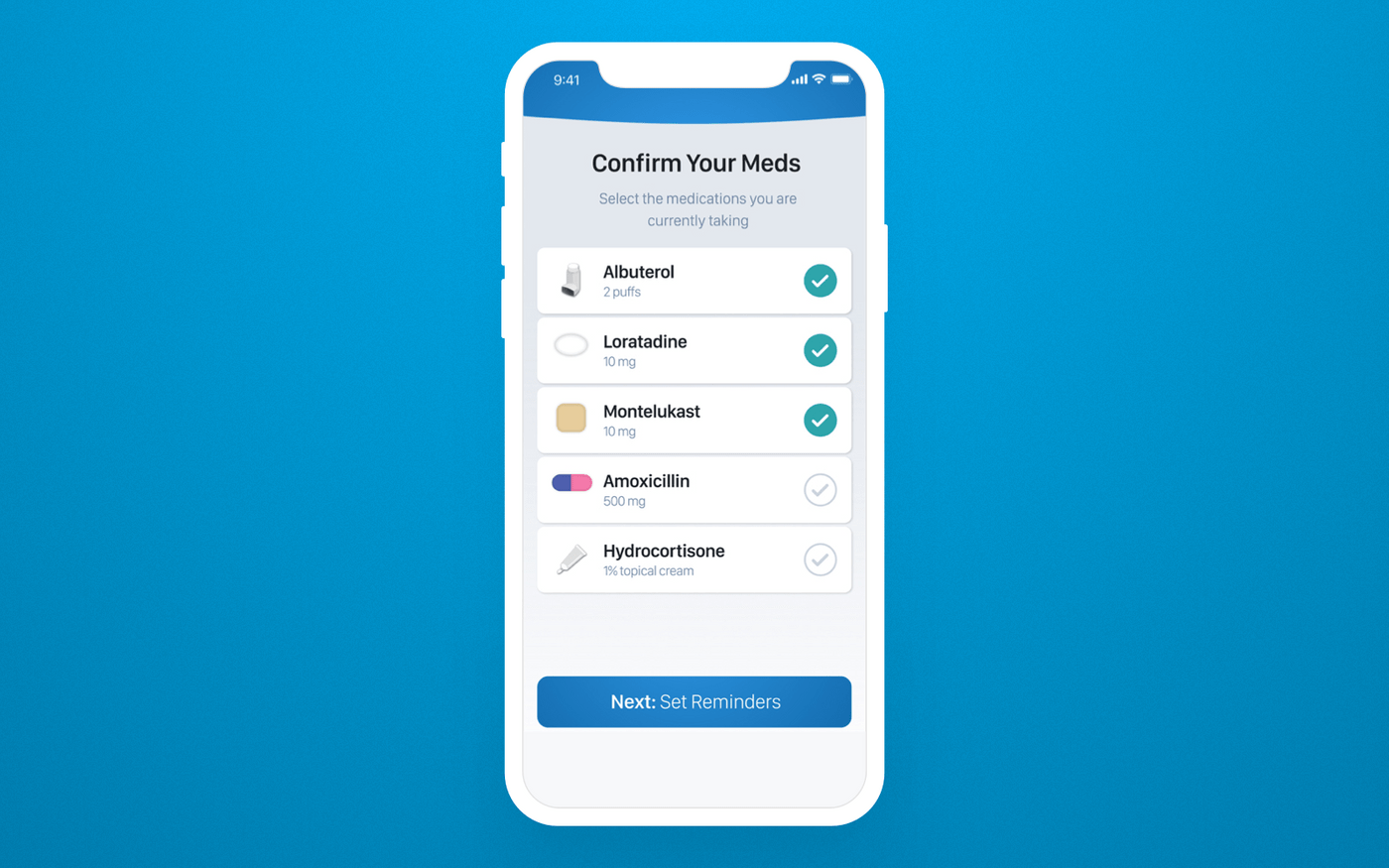 List of prescribed medicines
Distributed Access Control
Distributed access control requires all healthcare personnel to have their own access levels. For example, physicians and nurses should have different access levels. While doctors can see all information about patients, nurses should only access basic data like the name and the schedule of visits. This EHR feature reduces the number of users with access to sensitive information, thus mitigating the risks.
According to HIPAA, access control should also be applied to physical data facilities. So, you have to minimize the number of employees that can access your server room and use additional security measures like key cards.
Integration With Labs
After the integration, associated labs will send test results to the app. It helps doctors and patients get all results immediately and start treatment faster.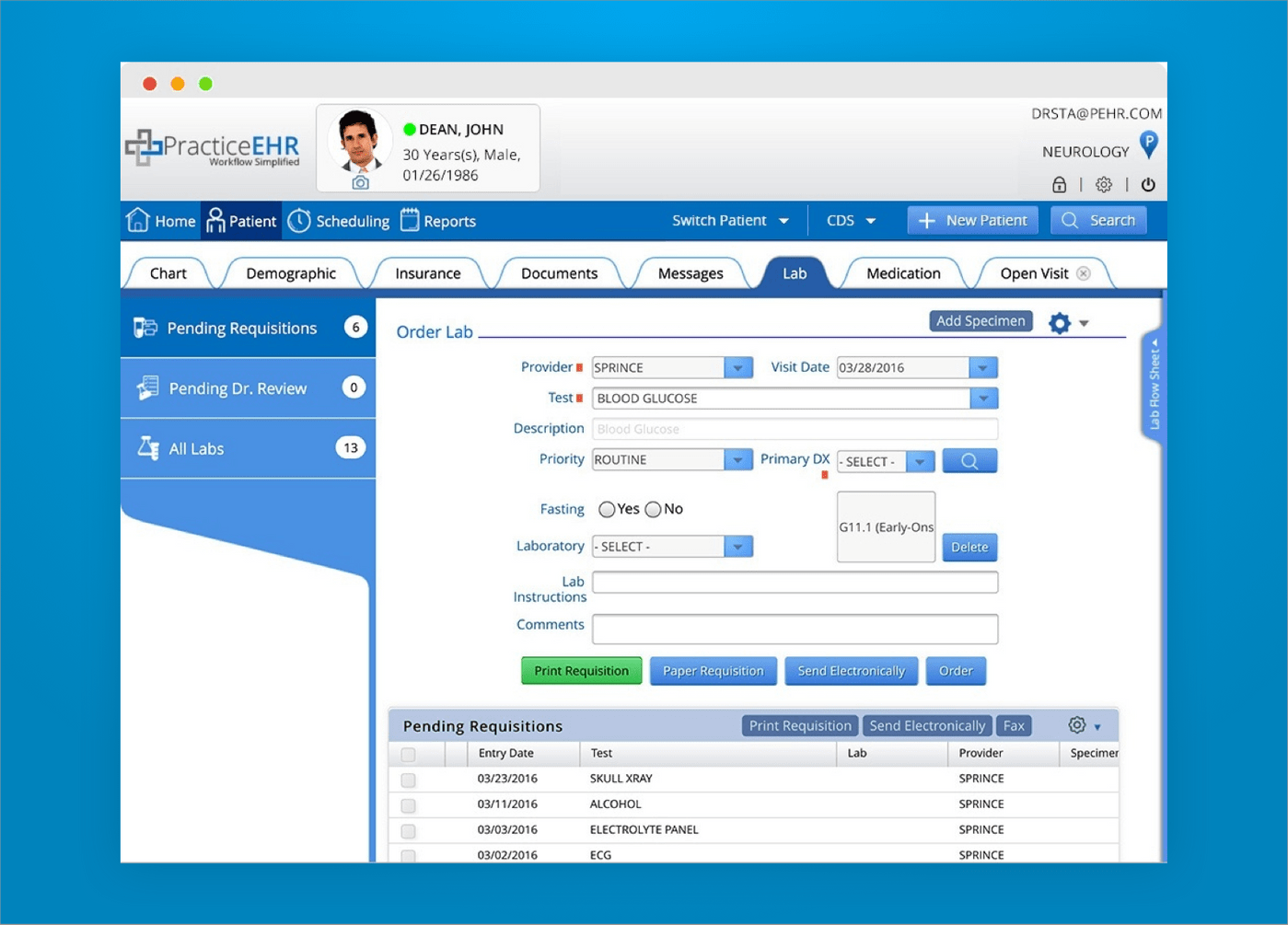 Charting
Customizable chart templates are the major advantage of electronic medical records. They let doctors and nurses save enormous amounts of time. Digital charts remove the paperwork from physicians' workflow and raise productivity. If you want to go beyond a common chart use-case, you can implement machine learning algorithms that'll analyze the data and suggest treatment methods automatically.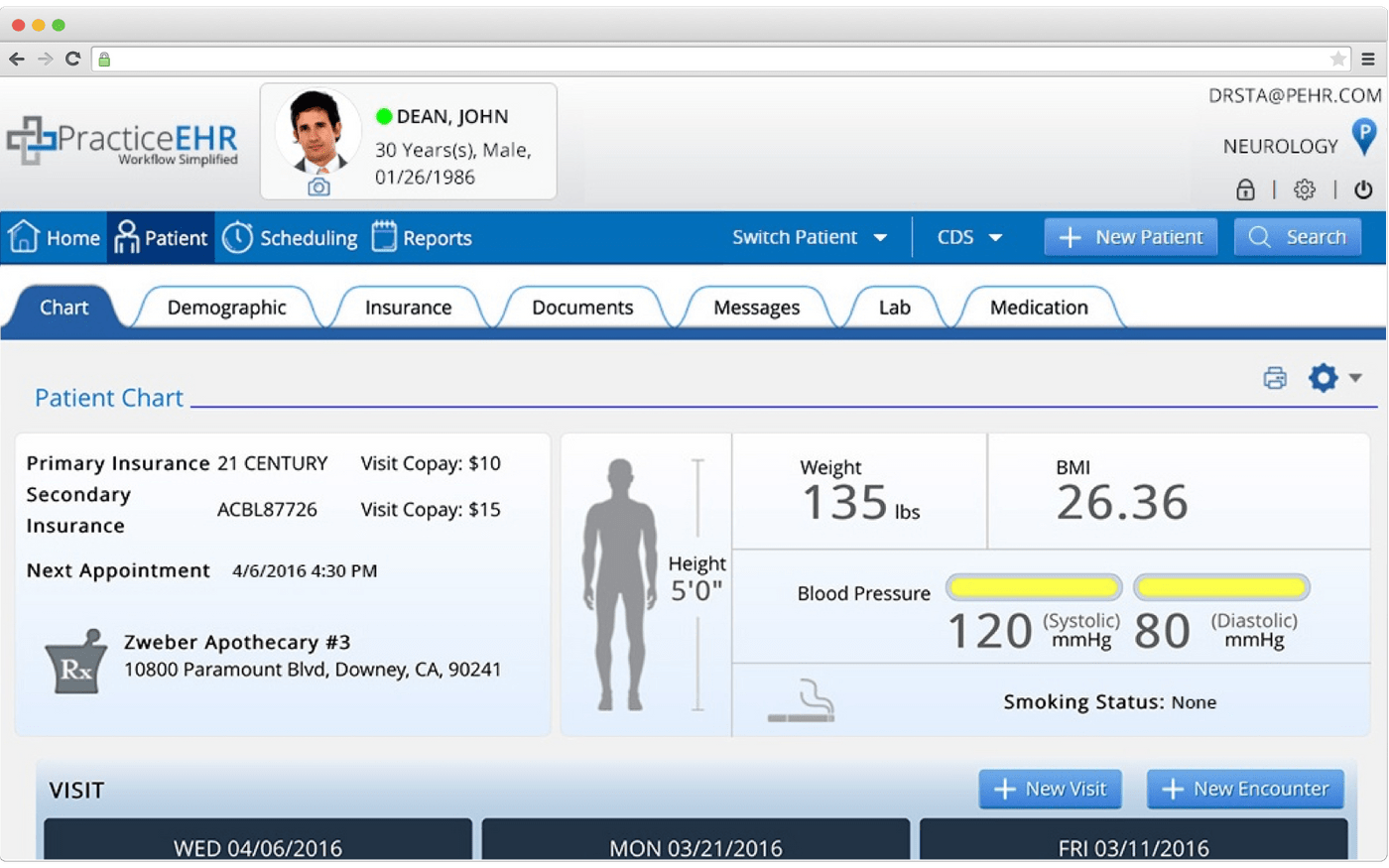 Charting feature in EHR software
Integrated Chat
Doctors and patients can communicate and discuss all health-related issues remotely. The text chat is a great solution for clearing up small issues. Later on, you can upgrade your chat with a photo upload feature. It lets patients send photos of visual symptoms of their diseases.
Clinical Dashboard
The dashboard is the next stop on our EHR feature list. It lets doctors monitor the treatment results and the whole treatment process for each individual patient. Diagrams with results and pie charts help doctors to monitor general statistics.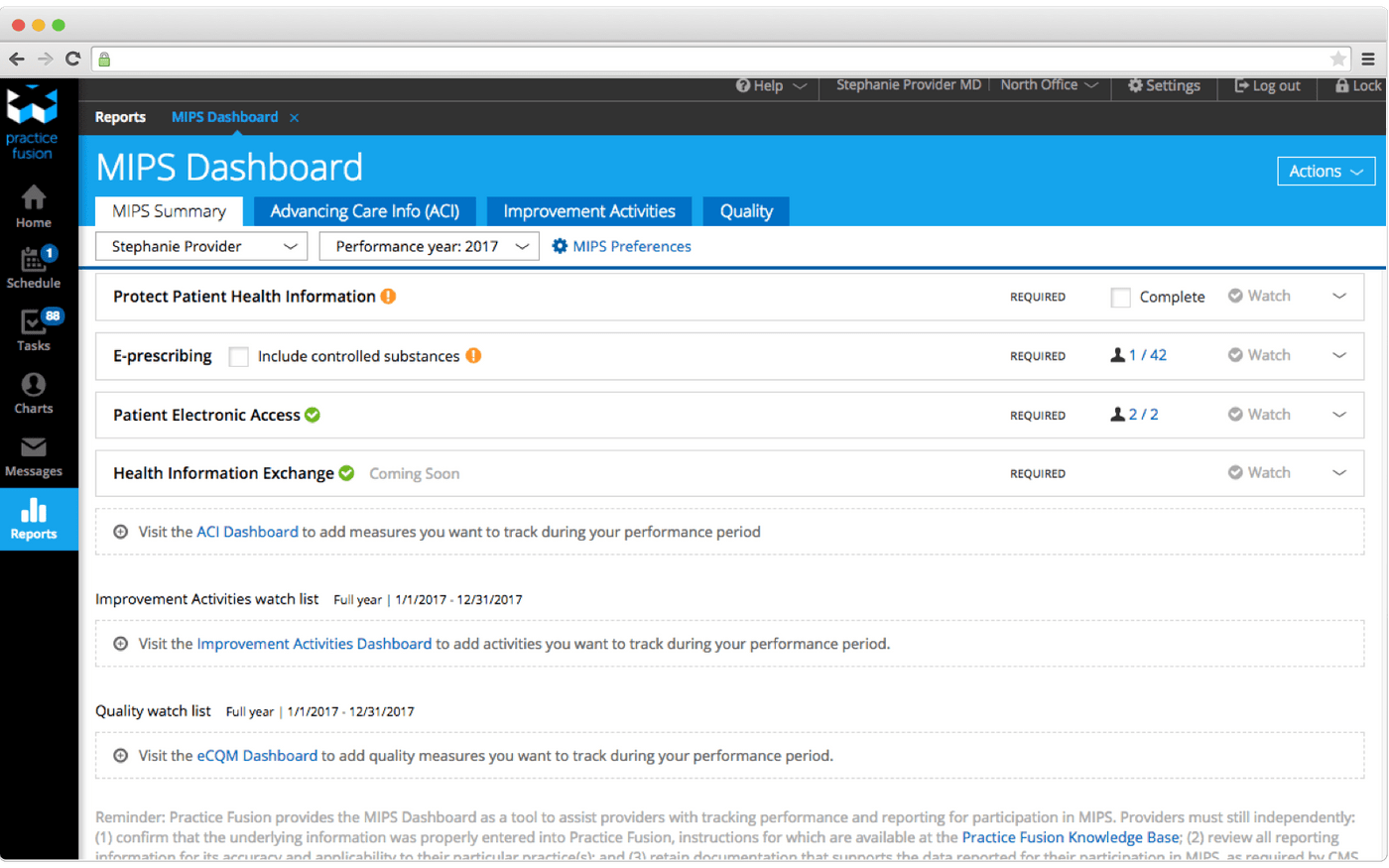 Dashboard to monitor the results of treatment
Scheduling
The in-app calendar lets patients schedule appointments with physicians. If users need to rearrange the consultation, they can make changes in the calendar and wait for the doctor's feedback.
Reporting
How to create an EHR system with a comprehensive overview of the healthcare process. Just add reports. Modern EHR software provides doctors and patients with different types of reports. Patients may track treatment effectiveness and drug interactions while doctors can monitor test results over time and check billings.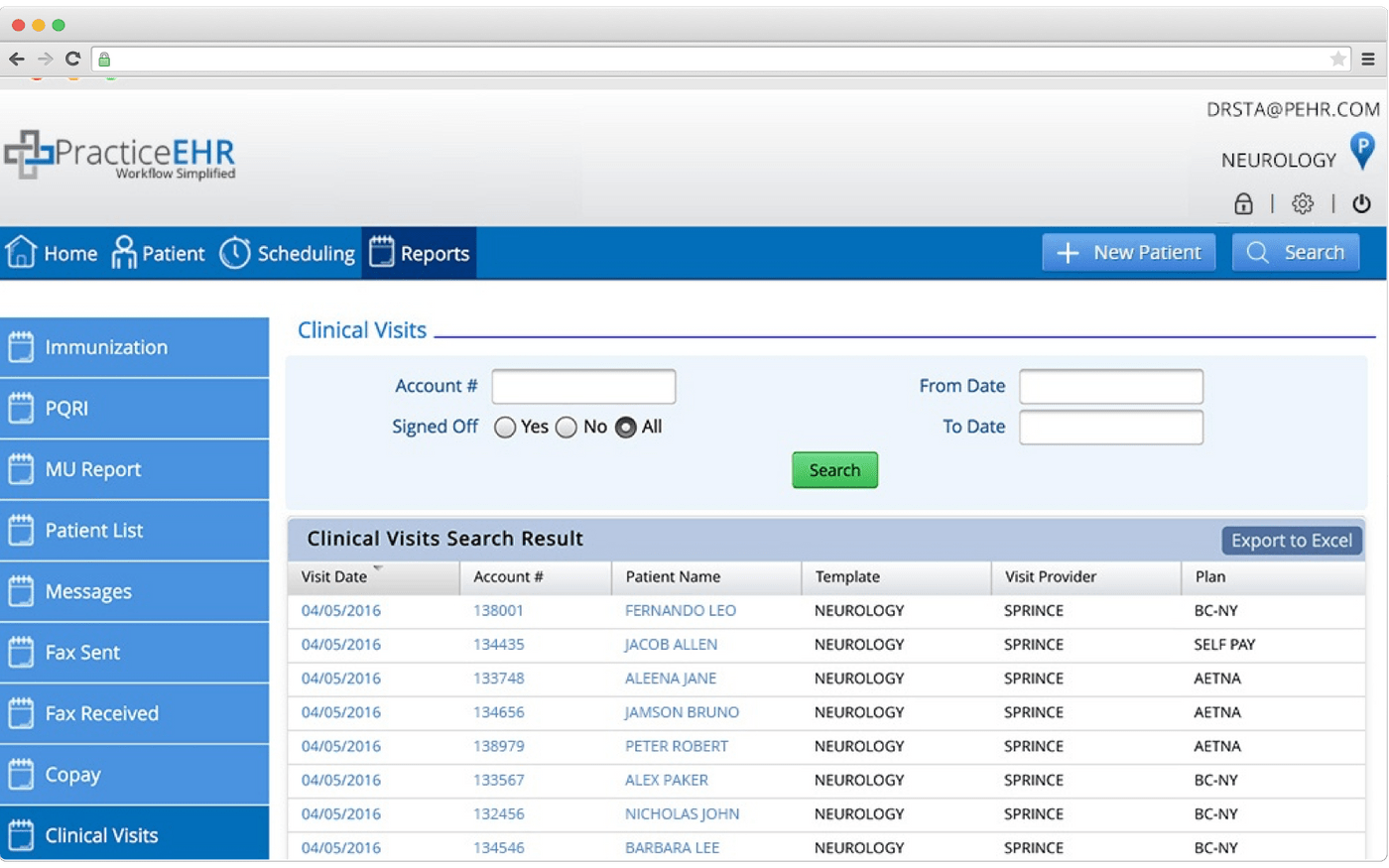 Reports about drugs taken and other medical information
Cloud Hosting
In case of failure, attacks, or the loss of physical data storages, you have to back up the healthcare information. In addition, your app should be available 24/7 since patients and doctors may need to access medical information at any time. Cloud hosting is the best solution for storing your data in terms of safety and scalability. EHR software development companies usually give preference to Amazon cloud storage and hosting. It offers one of the best cloud solutions thanks to the highest state of availability among all cloud service providers.
Also, keep in mind that a custom EHR software should have an intuitive user interface that is simple but attractive. Mind to add drag-and-drop capabilities to your software, columns, tables, and so on.
How Much Does EHR Software Development Cost?
Let's study EHR integration cost breakdown. UI/UX design cost will be approximately $4,000 - $5,000 for web and $5,000 - $7,500 for one mobile platform. Average cost of EHR implementation ranges between $36,700 - $59,000 for web and $25,900 - $65,800 for one mobile platform. Mind that QA and Project Management services are calculated separately, and we don't include them in the total cost and the table below.
We take $50 as an average hourly development rate. To estimate an EHR system's average cost for two mobile platforms, multiply the design cost by two. Backend development is created for both platforms, so it won't cause new expenses. You can find rough estimates for web and mobile in the tables below.
It's impossible to accurately indicate an EHR software development cost because everything depends on specific requirements and platforms (web, mobile). To get a detailed estimate, you may contact our business analysts.
The development time required to create an EHR software:
EHR software development time

| Platforms | Web | Mobile, per one platform |
| --- | --- | --- |
| Design | 90 | 125 |
| Electronic document management | 120 | 40 |
| Task management | 100 | 70 |
| E-prescribing | 60 | 60 |
| Distributed access control | 40 | 32 |
| Integration with labs | 32 | 50 |
| Charting | 60 | 60 |
| Integrated chat | 170 | 170 |
| Clinical dashboard | 130 | 190 |
| Patient scheduling | 64 | 19 |
| Patient page | 26 | 30 |
| Reporting | 19 | 31 |
| Cloud hosting | 41 | 40 |
| Total | 952 | 917 |
The cost of EHR software development:
EHR software development cost

| Platforms | Web ($) | Mobile, per one platform ($) |
| --- | --- | --- |
| Design | 4,500 | 6,250 |
| Electronic document management | 6,000 | 2,000 |
| Task management | 5,000 | 3,500 |
| E-prescribing | 3,000 | 3,000 |
| Distributed access control | 2,000 | 1,600 |
| Integration with labs | 1,600 | 2,500 |
| Charting | 3,000 | 3,000 |
| Integrated chat | 8,500 | 8,500 |
| Clinical dashboard | 6,500 | 9,500 |
| Patient scheduling | 3,200 | 950 |
| Patient page | 1,300 | 1,500 |
| Reporting | 950 | 1,550 |
| Cloud hosting | 2,050 | 2,000 |
| Total | 47,600 | 45,850 |
Tech Stack For Building an EHR System
How to create an EHR system? We've created a list of technologies that professional EHR software developers use in their workflow.
Languages: Java, Python, Swift, Kotlin, JavaScript, PHP
Frameworks and libraries: Angular, jQuery, Django, Node.js, Bootstrap
Databases: MySQL, PostgreSQL
Analytics: Amazon EMR, Google Analytics, Optimizely
Web server: Apache HTTP Server, nginx
Utilities: Cloudflare, Microsoft Azure, Amazon S3
Payment gateway: Braintree, PayPal, Stripe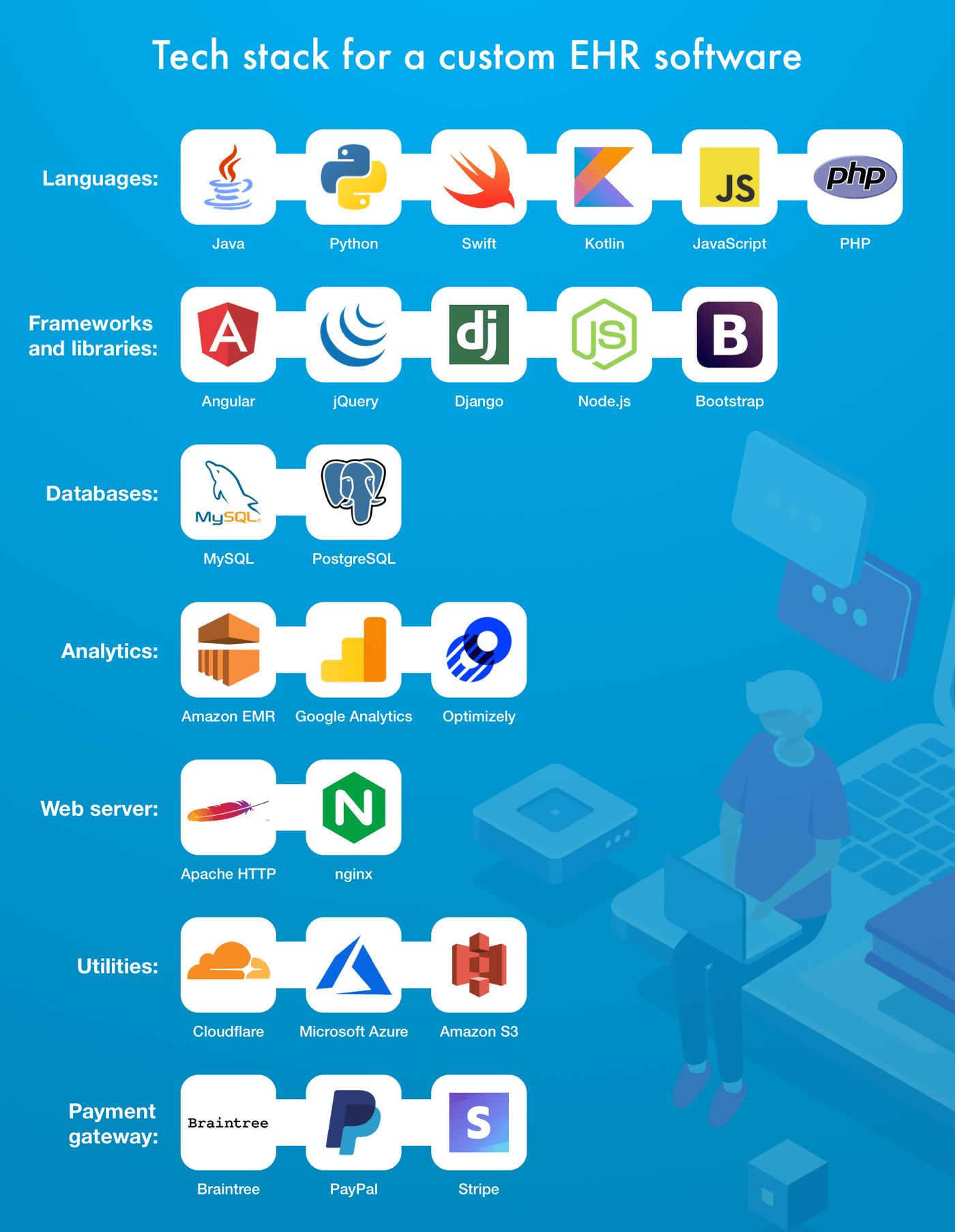 Possible tech stack to create EHR software
Here's an approximate team that you'll need to build an EHR software:
3 web developers (1 back-end developer, 2 front-end developers)
1 Android developer
1 iOS developer
2 QA engineers
1 Project manager
How Can Cleveroad Help You?
At Cleveroad, we know how to create an EHR system that'll be highly efficient for healthcare providers and convenient for patients. We have deep expertise in the niche, and we've worked on several healthcare projects. Our track record includes healthcare SaaS solutions and complex solutions for hospitals. We've also developed software for smaller healthcare practices. One of them is the Nedley Lifestyle Scoreboard. It is available for iOS and allows users to input the mental issue they're facing, like insomnia, anxiety, depression, and more. The app provides patients with health advice, timetables, and activities. Also, users can check statistics and track their improvements over time.
During the development process, we've used Swift and Alamofire for the iOS client side. This app also has a web admin page that was developed with TypeScript and .NET Core. As for the third-parties, we've used Elastic Email for mailing patients and Amazon S3 as cloud storage for keeping patients' data. If you're interested, check out our case study.
Need an EHR development team?
We'll help you build your idea. Get a professional tech consultation on your EHR system at no cost.
Frequently Asked Questions
EHRs are used to share information between different doctors and healthcare providers like laboratories, so all information can be stored in one file. Thus, EHR can be managed by various healthcare specialists that may even work in various cities and countries.
Electronic medical record (EMR) is a digital chart of a patient that is stored in a database of a hospital. EMR software is created separately for each disease by a doctor. It means one EMR is created for one practice. EMR replaces paper records and it has a few obvious advantages like the following:
Tracking data over time
Physicians always receive notifications with reminders that that or another patient should undergo a planned check-up or screening
Also, physicians can quickly check test results like a blood test or MRT
Monitor how good treatment is, what improvements are there
UI/UX design cost will be approximately $4,000 - $5,000 for web and $5,000 - $7,500 for one mobile platform. Average cost of EHR implementation will be min $36,700 - max $59,000 for web, and min $25,900 - max $65,800 for one mobile platform.
We take $50 as an average hourly development rate. To estimate the average cost of EHR system for two mobile platforms, just multiply this cost by two.
Here's the list of essential features for EHR software:
Electronic document management
Task management
Patient page/profile
E-prescribing
Distributed access control
Integration with labs
Charting
Integrated chat
Clinical dashboard
Scheduling
Reporting
To build EHR system, the following tech stack can be used:
Languages: Java, Python, Swift, Kotlin, JavaScript, PHP
Frameworks and libraries: Angular, jQuery, Django, Node.js, Bootstrap
Databases: MySQL, PostgreSQL
Analytics: Amazon EMR, Google Analytics, Optimizely
Web server: Apache HTTP Server, nginx
Utilities: Cloudflare, Microsoft Azure, Amazon S3
Payment gateway: Braintree, PayPal, Stripe
EHR systems are beneficial to both physicians and patients. Here's the list of benefits for physicians:
Reliability
Permanent updates
Reduction of possible mistakes
History
Marking
Group management
Now, let's take a closer look at the benefits for patients:
Timely care
Appointments management
Medical data tracking
Integrated communication
Cards scanning
Reminders
Rate this article!
6652 ratings, average: 4.89 out of 5
Give us your impressions about this article
Give us your impressions about this article
Nicoline Christensen
22.01.2021 at 07:25
Wow, super informative. Many thanks
Naomi Robinson
05.01.2021 at 01:18
Wow, such a variety of features. When we've worked on EHR software, we've had only plain document management. We'll take your advice and integrate lab services. It surely helps doctors a lot
Isabella Mortensen
20.10.2020 at 06:29
Great post! Thanks for sharing
Miriam Diaz
17.09.2020 at 08:15
Good job. Still, it's better to go for telehealth software. The only difference between a full-fledged EMR and telehealth is videoconferencing, but it significantly increases user experience.