How to Create a Hospital Management System: Features, Requirements, and Steps
The effective management of hospitals, clinics, and other medical establishments is essential to ensure top-class patient care and optimize operational efficiency. That's why the Hospital Management System comes into play as an indispensable tool for healthcare facilities worldwide. Such a digital product transforms medical institutions' operations, making them more patient-centric and effective.
Let's consider all the benefits of the hospital management software development suggested by our domain experts. This guide contains info about the features the hospital management system should include, how to make such software, and real-life examples of hospital systems. Don't hesitate to learn more about effective medical facility management right now!
Why Do You Need a Robust Hospital Management System?
The Hospital Management System (HMS) is an independent element of a healthcare software system, represented by a computer-based or a web-based application to manage hospital administrative needs. It consists of modules for patient administration, medical records management, laboratory management, and others to provide real-time data access for clinicians to enhance medical services.
The hospital management system is a reliable way to handle all the healthcare information in one digital system instead of many applications. Successful companies choose HMS development to boost workflow performance and increase effectiveness and profitability. We will examine the most common HMS use benefits more.
The technically advanced reputation of your hospital
Computerized management systems provide healthcare establishments with a higher level of reliability than manual ones, as they allow the medical staff to reduce human mistakes and ensure a higher level of connectivity with patients and peripheral systems. It establishes a hospital's reputation as new-age and technically savvy, which is crucial in a fiercely competitive world to attract more patients, increase profit, and grow business.
Striving to get favorable quality ratings
Medicare and insurance companies rely heavily on automated systems for electronic data, which serves as a critical quality indicator. Hospitals, clinics, and other facilities with electronic capabilities for transmitting and receiving patient information are more likely to receive higher preference. By implementing a hospital management system, your medical facility can differentiate itself from competitors.
Streamlined decision-making for the medical staff
A hospital management system is an essential tool that provides real-time data for healthcare organizations to utilize for reporting purposes. This data is crucial in tracking critical metrics such as patient satisfaction levels, operational costs, and quality of care. A HMS guarantees that the reported data will be appropriately used, leading to swift and precise clinical and operational decision-making. Moreover, medical staff must easily access essential data points to streamline their work and increase efficiency.
Data security enhancement
Implementing a custom hospital management system ensures that information remains secure and protected from unauthorized access. Access-controlled systems ensure that information availability depends on user rights, eliminating the possibility of error. This is why healthcare facilities such as clinics, hospitals, trauma centers, rehabilitation centers, and nursing homes are increasingly implementing high-quality HMS software.
Effective revenue handling is crucial for medical facilities to run smoothly. An automated hospital management system customized to meet the business's needs can provide quick and accurate transaction and management reports. It efficiently conveys the business's performance while easily tracking outstanding amounts, pending invoices, debts, and interests.
HMS significantly enhances communication among diverse departments and healthcare professionals, promoting optimal coordination and swift response times.
Healthcare facility management should be well-organized and error-free, and the HMS perfectly deals with this task. However, this software system should be enriched with features that embrace various hospital administrative tasks to function effectively.
How to Develop a Hospital Management System and What Features to Add to It
How to build HMS software that will be successful and profitable for your organization? Making a robust feature list is the basis for your success. We've prepared this set of the Hospital Management System's core functionality to hint at what to include in your future hospital management software.
Patient registration. Through patient registration functionality, the HMS will capture essential details such as the patient's name, contact information, date of birth, gender, and medical history. It ensures smooth onboarding and improves the accuracy of patient data.
Patient registration feature with KYC procedure created by Cleveroad
EHR handling. Electronic Health Records (EHR) management encompasses storing and handling data on medical history, diagnoses, treatment plans, lab results, allergies, vaccinations, and any other relevant health information. This functionality enables authorized healthcare providers to access and modify patient records, ensuring continuity of care and more informed decision-making.
EHR management functionality created by Cleveroad
Clinician/staff management. Effective management of doctors and personnel helps to streamline resource distribution, enhance communication, and guarantee adequate staff coverage. It is a centralized database of physicians and employees containing personal information and assigned roles within the medical facility.
Scheduling appointments. Efficient doctor appointment management is vital for patients to receive optimal healthcare. Real-time availability of doctors should be displayed to reduce wait times and effectively manage the appointment calendar.
Scheduling feature developed by Cleveroad
Dealing with prescriptions. It makes handling medication easier and avoids errors. Moreover, the feature provides precise details on medication, dosage, and renewal options.
Prescription management feature from Cleveroad
Imaging and radiology management. This function stores and retrieves medical imaging and radiology reports, allowing healthcare providers to examine and interpret images quickly, share them with colleagues, and add findings to the patient's EHR for a complete health assessment.
Imaging and radiology management feature: how it works
Healthcare inventory control. Efficient medical supplies, equipment, and medication management are critical to ensuring seamless hospital operations. So, this feature monitors inventory levels, issues alerts for low stock, manages expiry dates, and facilitates the reordering of essential items.
Payment operations handling. Automated billing and insurance processing simplifies the billing process for patients and insurance companies. It creates precise invoices, monitors payments, and handles insurance claims and reimbursements. This feature guarantees effective financial management, lessens administrative workload, and improves revenue collection.
Payment gateway implementation by Cleveroad
Analytics. Analytics and reporting can give valuable insights into hospital operations, enabling administrators to make well-informed decisions and improve overall performance.
You should realize that this is only the list of the core functionality, and it can be extended according to your business requirements. You can apply to our healthcare software experts to get a consultation on your particular solution functionality.
Top 3 Examples of Hospital Management Software
Let's look at solutions you can pay attention to while developing your own hospital management platform. We have prepared top-3 HMS examples for your consideration.
Cerner Millenium
Cerner Millenium is a HMS software that improves patient outcomes and hospital efficiency. It is commonly utilized in hospitals and healthcare facilities globally. While it is a premium solution, the cost of Cerner Millennium payment plans varies based on the size and requirements of the healthcare organization it is being implemented.
This system's killer features are the following:
Clinical workflow management. It supports streamlined clinical processes, order sets, and documentation to enhance productivity.
Population health management. This feature is created to assist healthcare providers in monitoring and managing the health of specific patient populations.
Analytics and reporting. It ensures data-driven insights and reports to optimize hospital operations and patient care.
Interoperability feature. It is designed to facilitate seamless data exchange with external systems to ensure comprehensive patient information.
Patient engagement. This functionality empowers patients to actively participate in their care through the patient portal.
AthenaClinicals
AthenaClinicals is a cloud-based hospital management system that optimizes clinical workflows and improves patient engagement. AthenaClinical typically provides subscription-based pricing options with various plans tailored to suit healthcare organizations of varying sizes.
The software has the following core features to consider:
Clinical documentation. Efficient charting and easy access to documentation are provided to healthcare service vendors with the help of a user-friendly interface and comfortable navigation.
The patient portal allows patients to schedule appointments, view test results, and communicate with healthcare providers.
Revenue cycle management automates billing processes and claims management to optimize revenue collection.
Decision support ensures insights and analytics to help healthcare providers make informed decisions.
Allscripts Sunrise EHR
Allscripts Sunrise EHR is another example of a hospital management software aimed at improving clinical workflows and enhancing patient safety. This solution typically offers tailored pricing based on the size and needs of the healthcare organization.
Its must-have functionality is represented by the following features:
Medication management. This feature supports electronic prescribing and medication reconciliation to reduce errors.
Mobile access offers mobile applications for remote access to patient information and task management.
Population health management. The feature helps monitor and improve specific patient populations' health.
Revenue cycle management. It assists the hospital staff in managing billing processes and optimizing revenue cycles.
Alerts and notifications. The functionality provides real-time alerts and evidence-based guidelines to aid in clinical decision-making.
You can use one of these systems if you've enough budget and the chosen software satisfies your business needs. However, you should discover that these systems are ready-made with pre-defined functionality that is hard to customize for your business situation.
So, if you want to go beyond the measures of the offered functionality, apply to a skilled outsourcing healthcare software provider. The provider's specialists will consult you on how to create a hospital management system to facilitate administrative tasks in your hospital's internal workflows and boost its profit.
Requirements for Successful Hospital Management Software
We have prepared a requirements checklist to help you understand the system's robustness and reliability. You can discuss it with your tech vendor when deciding on how to develop a hospital management system and ensure its reliability.
Robust security
Protecting patient information is crucial as it is vulnerable to cyber-attacks. Robust security measures are essential to ensure the confidentiality and integrity of sensitive patient information managed by HMS software. These measures include data encryption, access control, authentication mechanisms, regular security audits, and regulatory compliance. Their integration is vital to safeguard against possible threats and breaches.
To ensure robust data protection in hospital management systems, it is imperative to implement the following practices:
Ensure Role-Based Access Control (RBAC) to vulnerable data
Implement data encryption and usage control
Integrate Hl7 standard to ensure secure medical data transmission
Conduct regular risk assessments
Utilize off-site data backup
Adhere to privacy and security regulations, etc.
Our company sticks to these security measures while developing healthcare software. For example, we have practical experience building telemedicine software solutions compliant with HIPAA, GDPR, FHIR, CCDA, etc. We also care about data storage and transmission, as well as access control.
Compliance with regulations
Adhering to healthcare industry standards is critical. The system needs to meet regional and international regulations, such as HIPAA, GDPR, PIPEDA, MHRA, FDA, and other healthcare laws. These regulations are put in place to safeguard personal information for patients and healthcare providers alike. Moreover, you must know that the absence of a comprehensive list of regulatory-compliant services can impede the development of HMS software.
User-friendly UI/UX
A user-friendly interface is critical to making hospital operations smooth and easy to understand for the facility staff. Moreover, it can enhance user productivity, reduce the learning curve, and minimize errors during data entry and system navigation.
Consider these pieces of UI/UX advice for a successful hospital management system:
Organize the menu structure logically and consistently to find needed information quickly.
Use visual elements to highlight essential menu items or actions to reduce cognitive load.
Provide auto-complete capabilities and marked input fields to ensure efficient data entry.
Optimize the UI for desktop and mobile devices to provide the same functionality.
Give clear information on how to fix any issues encountered to minimize confusion.
By meeting these UI/UX requirements during the HMS development, hospitals can ensure that their management system is efficient and easy to use, leading to reduced errors, improved productivity, and a better user experience.
Scalable architecture
As healthcare facilities grow and evolve, the hospital management system must scale effortlessly to accommodate increasing patient volumes, expanded services, and additional users. A scalable architecture ensures the system can handle growing demands without compromising performance or efficiency.
When deciding on how to create hospital management software, you should discuss the following points with your healthcare software development vendor:
The architecture should be redundant and highly available. Redundancy and high availability are key scalability components. The system must be able to quickly detect and respond to any outages or errors to maintain uptime.
Cloud-based infrastructure will be a plus. Cloud computing provides a highly scalable architecture that can easily accommodate increased demand and user load. It also offers improved security, flexibility, and cost savings when the cloud is used as part of the hospital management system's core infrastructure to ensure scalability.
It may have a modular design. Different system components should be able to scale independently to meet changing requirements. The architecture should also allow for easy integration of new technologies and software.
Creating a scalable architecture for a hospital management system requires careful planning and consideration of the abovementioned requirements. With the right design, healthcare facilities can ensure their systems meet current and future demands.
Personnel training
Adequate training and support for hospital staff are vital for successful system implementation. Comprehensive training programs should be provided to all users to ensure they can effectively leverage the system's capabilities, leading to optimized workflows and enhanced patient care.
Once the training program is complete, it is essential to establish a support system for users. This should include regular user meetings or webinars and ongoing technical assistance. These resources will help staff stay up-to-date on system changes, address any issues they may have with the system, and ensure they use it correctly.
How to Make Hospital Management System Software
HMS software development is a complicated and challenging process. It requires from you to be deeply involved in the healthcare domain, knowing the terminology, regulations, and medical processes. Moreover, it involves a complex functionality integration that should be legally used. The hospital management system should also have smooth data exchange and be secured from hackers' penetrations.
Finding a skilled outsourcing software development vendor with a deep expertise in healthcare solutions creation will facilitate the HMS creation job for you. Let's look at how your software development process will pass with the vendor's assistance on the example of Cleveroad's Software Development Lifecycle (SDLC).
Step 1. Start of collaboration with the IT vendor
To kickstart collaboration, you must complete an application on the vendor's website to outline your future product concept clearly. Our Business Delivery manager with experience in healthcare will promptly contact you to discuss the details and ensure smooth progress. Your request must be both concise and comprehensive to enable a thorough discussion.
Step 2. Pass solution workshop stage
Our Solution Design professionals, including Business Analysts, a Solution Architect, and a designer, will thoroughly investigate and proceed with the data you provided to start the product development. We will establish your business goals, identify any areas of concern, and determine quality features and other crucial factors contributing to your success.
If our team requires more information, we will arrange meetings with you immediately to get it. Rest assured that this will enable us to provide you with a rough estimate and a proposal that meets your needs.
Step 3. Go through the discovery phase
At this stage, we are diligently scrutinizing your data to identify the optimal systems for integrating with your HMS. Moreover, our specialists are compiling a list of features for your future solution based on your business needs. We will keep you informed and engaged throughout the development process, especially during the more intricate phases.
Moreover, our designers start working on the future HMS design by producing top-notch prototypes. Additionally, they meticulously craft a comprehensive UX map and design concept to ensure the interface is user-friendly and effortless.
Step 4. Development and integration
Upon the designers finish their work, the project is immediately handed over to the developers tasked with bringing the system's functionality to life. The development process is broken down into sprints, each solely focused on completing a part of the functionality or the entire platform. Upon completion of each feature, it is rigorously tested by our QA engineers for any flaws or bugs. If something is wrong, the QA team creates a detailed bug report and immediately hands it to the developers for quick and efficient fixes.
During this stage, the developers also integrate your hospital management software with other systems pre-discussed as required for your further seamless hospital work in the Discovery stage. There are some examples of systems that can be integrated when specialists develop hospital management system:
Laboratory and diagnostic systems
Pharmacy management systems
Remote Patient Monitoring (RPM) system
Step 5. Release and support
After developing the hospital software functionality, our QA team does final checks to ensure high quality before the software team releases the system. If you are satisfied with the final outcome, the team will provide you with all the materials used during development.
Due to the Hospital Management System's complexity, you may need support and maintenance services. Our team diligently monitors the platform's functionality for any potential bugs and makes upgrades based on early feedback from our customers. This ensures that your HMS remains error-free and always functions properly. Our team is committed to providing the best hospital management system to meet your needs.
Average Cost to Develop Hospital Management System For Your Facility
The cost of developing an HMS software varies based on the required features and the type of enterprise application being created. Prices can range from $75,000 to $250,000+ for a more comprehensive hospital management system.
To succeed with your Hospital Management System, you don't necessarily need to assemble an in-house development team. Reputable enterprise mobile application development companies are available to provide their assistance. It is reliable and cost-effective – and we will prove it now.
With this purpose, we analyzed hourly rates across various regions, including a popular outsourcing destination to Central and Eastern Europe, using platforms such as Upwork, Clutch, and GoodFirms.
Hourly rates for outsourcing healthcare software on popular destinations

| | |
| --- | --- |
| Popular outsourcing region | The hourly price |
| Central/North Europe | $50-70 |
| Western Europe | $75-150 |
| North America | $100-200 |
| Asia | $20-40 |
| Africa | $20-45 |
Central and Eastern Europe is well-known for its expertise in the healthcare software development area. If you want to outsource hospital management software development for your medical facility - Estonia can be a good choice. This region offers competitive rates and highly qualified developers. Numerous Estonian reputable software development companies can provide customized hospital management solutions at an hourly rate of about $50-70. At the same time, healthcare software development services in the US (North American region) may cost $100-200 for hour of work. Software development in the UK, Western Europe may be equal to $75-120 on hourly basis.
Cleveroad Experience in Creating Hospital Management Systems
To represent our expertise in hospital management software creation, we want to share our Clinical Management System development case with you.
Our customer is a rehab clinic from America, offering online care services and remote medical consultations. The clinic's former software was an inflexible and outdated SaaS-based EMR. That's why they needed an experienced healthcare software provider to:
Receive a robust clinic management system containing an EMR module to replace the existing rigid SaaS platform used by the company
Integrate a comfortable appointment management functionality to save the client's time during their internal and external workflows
Ensure HIPAA compliance with the new clinic management system
Guarantee safe and secure patients data migration to the new hospital platform
To meet the client's requirements, we created a custom clinic management software to replace an outdated SaaS system in use. Moreover, we integrated a solution for comfortable appointment handling. The platform also has billing management features that work with other functionality as one seamless mechanism. Moreover, our team has ensured the system's compliance with HIPAA requirements and successful client data migration to a new platform.
As an outcome, our client received a resilient hospital management system with EMR and Customer Portal module at its core. The solution proves to be cost-effective, enabling the allocation of essential resources to other critical business endeavors. Additionally, the system is pivotal in optimizing time management by efficiently handling appointments and workflows and avoiding schedule conflicts within the clinic.
Having successful healthcare project delivery, we'll assist you in building a robust hospital management system for automating your clinical operations. Contact us, and we'll respond within 24 hours for personalized communication.
Frequently Asked Questions
The Hospital Management System (HMS) is an independent element of a healthcare software system, represented by a computer-based or a web-based application to manage hospital administrative needs.
To build a hospital management system, you should first find a reputable software development vendor with hands-on expertise in healthcare solutions creation and then send them your idea description, and they will contact you back. You may discuss more of your project idea with the Solution Design team and make your HMS feature list with the vendor's reliable assistance. Then you can check and approve developers' work on your future hospital management software. Finally, start using your HMS with powerful support from the vendor's side.
First, computerized management systems provide healthcare establishments with a higher level of reliability than manual ones, as they allow the medical staff to reduce human mistakes and ensure a higher level of connectivity with patients and peripheral systems. By implementing a hospital management system, your medical facility can differentiate itself from competitors. Moreover, it is an essential tool that provides real-time data for healthcare organizations to utilize for reporting purposes.
The core features you can add to your hospital management system are the following: patient registration, Electronic Health Records (EHR) management, doctor and staff management, appointment scheduling, prescription management, imaging and radiology management, inventory control, billing and insurance processing, analytics and reporting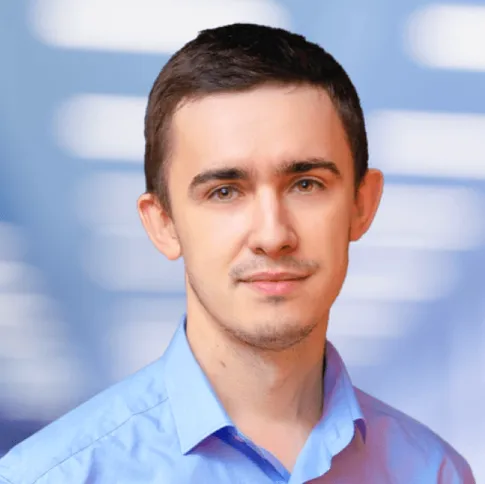 About author
Evgeniy Altynpara is a CTO and member of the Forbes Councils' community of tech professionals. He is an expert in software development and technological entrepreneurship and has 10+years of experience in digital transformation consulting in Healthcare, FinTech, Supply Chain and Logistics
Rate this article!
161 ratings, average: 4.94 out of 5
Give us your impressions about this article
Give us your impressions about this article