Patient Portal Development: A Complete Guide for 2023
In customer-centric reality, engaging your patients has never been so crucial for business. Therefore, healthcare organizations are looking for secure ways to bridge the gap between patients and care providers while enhancing clinical business metrics. In particular, secure communication is on the list of requirements of healthcare regulators, such as HIPAA.
How can you provide such a reliable "patient-physician" connection? This is where patient portal development comes into play. Patient portals enable legal requirement compliances, patients engagement, and satisfaction and become a win-to-win solution for all the parties involved.
This article reveals the patient portal app development process in detail, its capabilities, must-have functionality, tips to consider, and development cost. So, let's dive in!
What is the Patient Portal?
A patient portal stands for a web-based and/or mobile solution that provides anytime, anywhere access to health information (e.g., medical records, personal profiles, health billing management, healthcare service history, etc.). The core goal of patient portal development is to engage patients to look after themselves, increase their health literacy, and bridge the gap between patients and healthcare providers. A patient engagement app enables patients to save time and effort while delivering the same benefits to healthcare institutions.
Paul Brient

Chief Product Officer at athenahealth

Healthcare organizations are moving to trying to provide an ideal digital experience for patients. Instead of the digital being secondary, people are creating and making it the primary way in which patients can do everything from schedule, register, and get access to all of their clinical information.
Before you create a custom medical portal software, you should be aware of two main types of patient engagement portals:
A standalone system
An integrated service
Let's consider them in detail.
Standalone patient portal
Standalone medical portals are limited in functionality. Commonly, they focus on one key function, like viewing lab test results or booking appointments. Such solutions are often integrated with various medical systems (to provide more possibilities), such as:
EMR (electronic medical record)
EHR (electronic health record)
HMS (hospital management system)
Practice management
Healthcare CRM
Telemedicine software
Remote Patient Monitoring solutions, etc.
This portal type is great for small healthcare businesses, like local medical offices or private labs, due its price. They're based on simpler software architecture and are limited in functionality; therefore, software development costs are reduced. Moreover, as the business grows, it can be challenging to scale it up.
Integrated patient portals
Integrated patient portals or tethered portals usually go as a part of an EMR system, an EHR system, or practice management software. This portal type directly connects to the patient databases of a medical organization and offers a broad range of features and services. Patient portal development of this type demands more time and resources for building and deploying. Thus, it's associated with higher development costs, which, though, pays off your short- and long-term goals. However, integrated patient portals allow you to provide affluent patient experience tailored to specific needs.
Main capabilities of patient portals
What Is the Potential of the Patient Portal Idea?
How Do Patient Portals Affect the Business Processes in Healthcare?
Let's observe the main advantages and opportunities your business will obtain with healthcare portal development.
Minimized Risk for Human Error
Medical mistakes cost approximately $20 billion a year, the National Center for Biotechnology Information claims. Medical portal software reduces human errors by automating patient data management and other administrative tasks. Medical personnel won't need to write down the patients' information or fill in the form numerous times per day. Besides, minimizing human factors, healthcare portal development contributes to optimized medical billing and care payment processing.
Improved Performance Efficiency
A patient engagement portal can increase the performance efficiency of your healthcare institutions (even for integrated treatment) because it facilitates patient-provider communication. Such platforms accelerate patients' registration and filling up their details. Furthermore, patient portal development can diminish errors and discrepancies in patient data. As a result, it saves precious time and enhances the quality of your healthcare services.
Better Epidemiologic Safety
According to a Statista report, from the start of COVID-19, the number of medical app downloads increased by 65% globally. Since patients can handle many issues via online portals (e.g., tracking blood pressure), they can stay home, lowering the risk of being exposed. In addition, Healthcare enterprises will have better control of the risk of contagious infection due to reduced foot traffic in clinics and pharmacies. This is particularly helpful for elderly and little patients.
Enhanced Patient Care
Long waiting times or difficulty freeing up the time for appointments can be annoying for patients. Healthcare portal development allows you to address all of these issues by bringing medical care to people remotely. Patient engagement portals cover many medical tasks, from appointment scheduling (it can also be performed through apps created during doctor appointment mobile app development) to getting prescription refills and finding appropriate healthcare specialists. This, in turn, results in reduced maintenance costs (by 94% on average, according to a Researchgate.net research) since there is no need to rent and run administrative facilities and hire personnel.
Despite the benefits, medical portals have some challenges to deal with. The following section is dedicated to the common barriers to patient portal app development, so keep reading to be aware and well-prepared.
Challenges of Patient Portals
Social determinants of health
The social determinants mean conditions in the environments where different factors can impact people's health, functioning, and quality of life. These factors impede efficient health management among patients. For example, a patient who is not having electric power won't be able to employ a health monitoring device. Likewise, patients living in a food desert can harm their health by taking medications on an empty stomach.
How can you influence social determinants? Here are some ideas:
Referring patients and assisting them in accessing support services within and beyond the health system (e.g., local women's groups, housing advocacy organizations, etc.)
Creating opportunities for delivering healthcare service for underserved groups of patients.
Collaborating with community groups, public health, and local leaders to drive new initiatives for improving the "clinic-patients relationship".
Communication barriers
Clear communication is a critical factor influencing effective care delivery and patient satisfaction. If a patient and doctor face communicative issues, there is a greater risk of incorrect symptoms interpretation and diagnosis, thus, achieving poor health outcomes. Therefore, language barriers are found to be the common pitfalls to fostering good patient-physician communication.
Here are a couple of insights to overcome communication problems:
Develop a patient portal that supports languages in your targeted regions.
Promote healthcare specialists to use plain language in both verbal and written communications with patients.
Use of visual aids, such as images, videos, and informational graphics will help patients perceive medical information better.
Health literacy
Health literacy implies a patient's ability to use, receive, and process health data. Unfortunately, limited health literacy affects most of the population. For example, the National Center for Biotechnology Information found that over a third of American adults have a low health literacy level. As a result, they face challenges with everyday health tasks (e.g., following instructions on a prescription medicine label or sticking to a childhood immunization schedule utilizing a standard chart). Low health literacy is caused by the gap between the available health information and the knowledge people have to interpret and use this data.
To address this issue, you can take the following actions:
Increase the health literacy skills of people by including health educational content in your app.
Encourage expert healthcare providers to share useful and understandable materials for your members.
Ensure the health information provided is aligned with health literacy skills of your audience.
Steps to Make Your Patient Portal Competitive and Efficient
Before creating your own patient portal, it's critical to determine the business goals, platform's features and prepare a clear plan. Remember that your IT partner is here to help you with that. A tech provider analyzes your business strategy and emerging issues to help to design and build a software solution addressing your corporate needs. Follow these steps to get ready for a healthcare portal development.
Identify Your Target Audience
You obviously don't want to appeal to the wrong audience, so researching and determining your buyer persona is essential. The target audience is not just people who'll use your medical portal. It's a whole market segmented by various factors such as place of residence, age, average income, and much more. Divide your audience starting with basic criteria:
Gender
Age
Average income
Country of residence
Then get into details by studying their personality, habits, struggles, values, etc. Understanding the target user involves scrutinizing the purpose of your patient portal and what problems it's solving.
Consider Your Patients' Priorities
Developing such a portal makes sense when the implemented features align with the users' preferences. For example, according to the Hitconsultant research, scheduling an appointment with a doctor, viewing test results, and the ability to pay for services are among the most requested patient portal functionality.
For example, you can use Question and Answer platforms to ask real customers about what they want to see in the patient portal and what functionality will make their user experience better. Or you can communicate with your social circle directly to gather feedback about their user experience.
Analyze Your Competitors
It's always a good idea to look at the competitors to learn from their experiences. What medical portals are your direct competitors? What do they offer? Answering these questions will help you evaluate the uniqueness of your future project and define which way is up. There may be no sense in creating the same product if there is another well-used one. Instead, investing in custom medical software development will allow you to grab users' attention and stand out from the competitors.
Study Regulatory Requirements
Since patient portal development implies personal data processing, your platform must be designed according to specific regulatory and medical standards. These rules were entered to protect sensitive information and prevent cybersecurity risks on time.
Here is the list of standards (country-specific) that your medical portal must comply with to be secure and bring value to clients:
HIPAA regulations (United States)
Complying with PIPEDA (Canada)
General Data Protection Directive (Europe)
Depending on geographic location and/or under certain special circumstances, your hospital patient software should also comply with an additional set of laws and regulations, such as CCPA, NIST, HiTECH, IMLC, or FHIR.
If you want to know more details on how to create hospital management system to deal with hospital and patient data, and make the created system compliant to leading regulations, you can contact us and we'll eagerly tell you more!
Patient portal regulations compliance
Consider Data Security
The healthcare industry is a tidbit for hackers. You must undertake all security measures to protect the patient's data. In addition, there are many telehealth tools, protocols, and algorithms at your disposal.
Here are some critical aspects to consider:
Maintain compliance. Ensure your patient portal software follows all regulatory standards, which we've discussed above.
Encryption. Use encryption to prevent data loss from happening. The most popular standards for healthcare portal development are AES 128 Bit and SHA 256.
Software legacy modernization. Ensure that integrated security software is regularly updated and keeps up with the latest version.
Patient education. Enhance patients' awareness of all the data security standards. They should be informed of using strong passwords, virus protection, and firewalls wherever applicable on the devices used for medical consultation.
What's more, you should be PCI DSS certified (Payment Card Industry Data Security Standard) and get an SSL certification (Secure Sockets Layer) to integrate payment functionalities.
Evaluate the Portal Efficiency
Patient portal app development alone is not enough. You should properly measure its effectiveness using KPIs and comparing data. Monitoring and measuring KPIs is important for business because it reveals whether your current strategy is actually working or not. They're applied to measure growth and point to the areas of your product that require improvements or alterations.
For instance, with the help of data analysis, you can discover how much time your physicians have saved with the help of a pre-visit form. If you don't track KPIs, your decisions will be based on hypothesis and personal preference rather than real data. KPIs lead to strategic, data-driven decisions guiding your business in the right direction.
Note: You can get assistance from a competent IT vendor to cover all the preparation steps. The Cleveroad experts (within Discovery services) will undertake all the research you need to plan your telehealth project, including market investigations, competitor analysis, and compliance regulations research.
Technical Side of Healthcare Portal Development
You should also consider the functionality needed to develop a patient portal. Your app may include only basic (MVP) features to test how your product will be popular among users. If everything goes well, you can enrich it with more sophisticated features. MVP development services is the best choice when:
There's a need to validate the idea
You're limited on resources
You need to reduce the time to market
Basic Features
Patient portals aim to provide secure access to medical records and an easy way to communicate with healthcare practice. Let's talk about the vital functions of such a digital solution that will help you lift customer engagement.
Patient registration
It's essential to provide an easy and smooth sign-in registration process. Users can be asked to fill out the form to recognize their medical history, previously prescribed medicine, and health reports. This data is saved in the patients' profiles. Patients can sign in via email, phone, or social media networks. However, personal accounts must be secured, so consider multi-step authentication and/or biometric features (e.g., fingertip recognition).
Personal profiles
A patient portal solution should have a system to handle personal accounts that enable access rights and data protection. In addition, patients should be able to manage their general personal information, including editing and upgrading private data as ordered by HIPAA and other standards.
Patient data management
This feature is vital for patient portal app development. Online medical portals should give access to individual patient data. This feature allows doctors and patients to access specific information, such as users' EHRs, insurance management, lab test results, billing history, prescription plans, etc.
Appointment scheduling
Patients should be allowed to schedule an appointment with their physicians by viewing the availability of a specific doctor. Once the time slot is selected, the users get the confirmation via email or SMS.
Prescription management
Your patient portal should include a feature for telemedication. The ongoing treatment and repeated medical care often demand patients access prescription refills. Thus, patients should be able to get drug prescriptions online.
Secure encrypted messaging
Besides real-time communication with medical professionals, patients should be allowed to get a personalized consultation via protected chat. This can be implemented via a live chat feature or AI-powered chatbot that can answer users' questions based on FAQs. This functionality is valuable for addressing minor issues or chronic disease management.
Online payments
This feature is useful for everyone. Patients can pay for the medical services they've used, the platform owner gets a fee, and the physicians can get paid for the service provided. The best way to add online payments is to integrate payment gateways, such as Stripe, PayPal, and Braintree. However, if you want to design a custom system service, you must follow the latest data regulation and security protocols. In this case, it's better to collaborate with a professional software development company that will help you realize the functionality correctly.
Security
Security is vital, primarily if you deal with sensitive data. Integrating data encryption protocols, role-based access authentication, and other measures will ensure personal data security. In addition, following regulations, such as CMS, HIPAA, Health Level 7 integration, etc., is a must for patient portal app development.
Appointment summary notes
Most patients forget up to 80% of doctors' instructions once they leave the clinic. This makes it difficult for people to comprehend how to follow their treatment plan. That's why it is better to allow physicians to include summary notes from the appointment in the patients' accounts.
What features are required for patient portal app development
Additional Features
Educational materials
The patient portal can serve as a place where patients can find health-related recommendations, articles, and other educational content to improve their wellness awareness and knowledge.
Pre-visit form
Healthcare providers spend, on average, 10-20 minutes examining patients' conditions, vaccinations, allergies, and complaints. Integrating a pre-visit form will allow doctors to save treasure time and respond to patients online.
Third-party integration
To allow users to make the most out of your patient portal software, consider integrating other robust software solutions and systems like fitness tracker, glucose monitor, etc., or EHR software or telehealth app development.
Linking with social networks
People have already left their credentials on other social media platforms; there is no need to make them run through the process again. Adding the button "Login using" one of the existing networks shortcuts the users' way to your platform.
How to Develop Patient Portal: Step-by-Step
Healthcare portal development requires a substantial responsibility and a certain amount of preparation because it directly impacts people's health. Therefore, we split the whole process into several steps, and now we will discuss each point in detail.
Hiring Technical Team
First and foremost, you need to contact a software development company competent enough to bring your concept to life and address all the questions that arise. When looking for a tech partner, pay attention to the expertise and experience in healthcare, individual approach, and negotiation flexibility. At Cleveroad, we Individually approach each case and build telehealth software solutions in tune with the client's time, budget, and expectations.
Requirements Analysis
The business analysts scrutinize your requirements and business needs and form a project specification. It details all the application's peculiarities, like features, technology stack, number of 3rd party services, etc. A Solution Architect also selects best suited web application architecture considering your platform and non-functional requirements. These days DevOps experts suggest paying attention to an advanced architecture based on the cloud-native or microservices patterns. This model works great for evolving applications with complexities due to its scalability and resilience.
UI/UX Design and Prototyping
The UI/UX designers determine key user scenarios (e.g., video meeting arrangement, prescription renewal) and visualize the main functionality. Then, they create a prototype of your future app that shows what your software is supposed to do, how it looks, and its capabilities. Finally, designers make appealing user interface elements. Keep your design laconic and intuitive to improve the User Experience (UX). Patients should focus on the core actions, not striving to figure out how to navigate and use your medical portal.
Development and Integration
It's the most important and challenging part of patient portal development. During this stage, the team of software developers builds a backend and frontend of your platform as well as a mobile application (if required). They also integrate necessary APIs, for instance, payment systems that are a must-have for a patient engagement portal. After the patient portal software is built, it should be integrated with other systems, such as EHR/EMR, CRM systems, hospital department systems, etc. This will allow you to avoid storing fragmented or duplicated data and minimize patient data management costs.
Quality Assurance and Testing
A team of technical experts perform multiple manual and automated tests to verify the product's functional requirements and eliminate the functioning flaw. This stage also aims to assess whether your platform is ready for deployment and complies with core security and regulatory standards.
Delivery and Maintenance
After undergoing numerous QA tests, the patient portal app is ready to be presented to customers and stakeholders for receiving feedback. Then, based on collected information, you make improvements, if required. It's worth mentioning that patient portal app development doesn't finish with the final stage. To keep your product in demand and increase your client base, you should frequently upgrade the functionality (including security and standards compliance monitoring) and support it. These actions will enlarge the software lifecycle, and your app will be able to keep up with the dynamic market and ever-changing user requirements.
How Much Does It Cost to Develop a Patient Portal?
Telemedicine software building cost varies depending on platforms, features' complexity, design, integrations, and software developers' rates. If you consider all of them, the price to build software solutions for healthcare ranges between $75,000 and $250,000+.
Our analysts have calculated the approximate price of developing a patient portal app on the basic features. The price is based on the average hourly rate of $50 in Central Europe.
Time and cost to make a patient portal

| | | | |
| --- | --- | --- | --- |
| Features | Approx time, Flutter (hours) | Approx time, Backend (hours) | Approx cost ($) |
| Patient registration | 40 | 45 | 3825 |
| KYC | 50 | 35 | 3825 |
| Patient profile | 43 | 37 | 3600 |
| Healthcare providers search | 30 | 32 | 2790 |
| Ratings & reviews | 28 | 30 | 2610 |
| Appointments management | 28 | 34 | 2790 |
| Pre-visit forms | 50 | 48 | 4410 |
| Appointments follow-up | 30 | 38 | 3060 |
| Online patients requests | 20 | 35 | 2475 |
| Access to health data for patient | 30 | 32 | 2790 |
| Medication plans and refills | 24 | 26 | 2250 |
| Chat with care team | 50 | 46 | 4320 |
| Payments, bills, and insurance management | 42 | 40 | 3690 |
| Dasboard | 38 | 32 | 3150 |
| Educational materials | 12 | 14 | 1170 |
| Optional integration | 20 | 20 | 1800 |
| Total | 535 | 544 | 48555 |
| Frameworks and libraries integration | 30 | 35 | 2925 |
| UI/UX design | 180 | 0 | 8100 |
| QA services | 560 | 0 | 25200 |
| DevOps services | 80 | 0 | 3600 |
| Project managment | 280 | 0 | 12600 |
It is also worth noting that the final development price is influenced by the location of your technical vendor. We've analyzed the rates of software developers in different regions and highlighted the most popular tech hubs. Prices are taken from Clutch, Upwork, and GoodFirms.
Nearshore or offshore software development is a perfect solution if you are looking for a professional team that can drive value at a reasonable price. Here are some advantages of project outsourcing:
Affordable development costs. Outsourcing vendors provide clients with flexible prices with top-rate services. Furthermore, if you're looking for a cost-effective solution, Central Europe could be a good solution. The average developer rate here is $50 per hour compared to $150 hourly rates in the US with a similar experience level.
Access to a pool of talent. Hiring globally lets you attract diverse specialists with a broad set of skills and required expertise. You can hire a dedicated development team by considering different experts from all around the world.
Enhanced scalability. Going offshore or nearshore, you can quickly scale your team up and down due to project requirements. Besides, the outsourcing approach enables different cooperation models, varying from dedicated team to staff augmentation. Thus, you can select the best efficient solution appropriate for patient portal development.
Cost to develop patient portals worldwide
Cleveroad — Your Partner in Healthcare Software Development
Cleveroad is a skillful software development company located in Estonia, Northern/Central Europe. Thanks to our 10+ years of experience in delivering medical software solutions, Cleveroad knows how to make an efficient user-centric patient portal.
Our professional experts are also ready to deliver custom EHR, EMR, ERX, and other digital products for Healthcare and Telemedicine. In addition, we help established businesses such as hospitals, laboratories, and pharmacies to provide personalized care, reduce operational load, and streamline digital transformation.
To illustrate our expertise in practice, let us introduce our latest case — Telemedicine management system. The platform provides 24/7 access to healthcare services, including video and audio consultations.
An interface of Telemedicine management system by Cleveroad
We've successfully delivered a turnkey system compliant with core healthcare regulations (namely MNRA and CQC), including the following modules (but is not limited to them):
Appointment management module
This module allows the administration to view and control the details of each Appointment, including appointments booked for children.
Patient KYC procedures module
This module enables patients to register into the system by uploading identification documents and taking selfies. We have also added the selfie comparison mode to simplify the verification process.
Patient's management module
The module contains detailed and secure patient data and allows patients to schedule/reschedule meetings with doctors and review appointment history.
Booking system
Booking system helps patients book an appointment with doctors, starting from selecting the needed specialist and ending with confirmation and payment.
Online meeting functionality
This functionality allows receiving consultation via voice and audio calls. In order to deliver high-quality processing, we've integrated a video conferencing API (Twilio). This feature is available on mobile apps with adapted UI and UX to provide correct symptom interpretation.
Final Thoughts
Patient portal app development has never been more sought-after than nowadays due to the global situation. Developed by an experienced software development vendor, such software will help you boost patient engagement in the treatment process, which results in improved business outcomes.
Frequently Asked Questions
To develop a patient portal, you'll need to find an experienced IT vendor with in-depth expertise in healthcare software development services. After that, your product will go through the traditional SDLC phases: planning, analysis, design, development, testing, implementation, and maintenance.
A patient portal is a software solution that provides 24/7 access to health information, such as medical records, personal profiles, health billing management, healthcare service history, and so on.
The core advantages of healthcare portal development are increased performance efficiency, minimized potential for human errors, better epidemiologic safety, and improved patient care.
The must-have features of patient portal app development include patient registration, personal profiles, patient data management, appointment scheduling, prescription management, encrypted secure messaging, and online payments.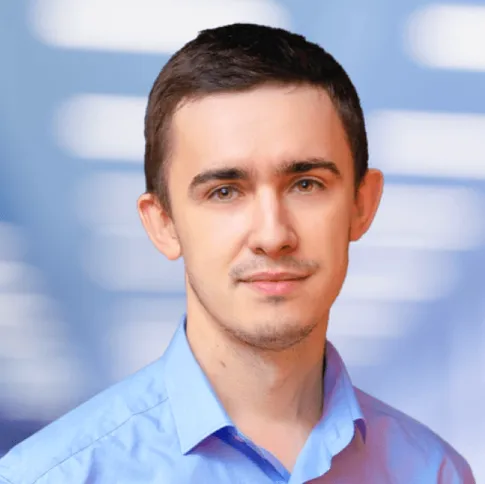 About author
Evgeniy Altynpara is a CTO and member of the Forbes Councils' community of tech professionals. He is an expert in software development and technological entrepreneurship and has 10+years of experience in digital transformation consulting in Healthcare, FinTech, Supply Chain and Logistics
Rate this article!
1030 ratings, average: 4.97 out of 5
Give us your impressions about this article
Give us your impressions about this article