5 Problem-Solving Hints to Increase Customer Loyalty and Expand Your Client Base
It seems that all the global brands bend over backwards to prevent client dissatisfaction. This approach has definitely paid off because your income increases is directly correlated to the growth of the customer quality. That is why a business owner is the first person who is interested in the positive opinion of clients. Different client loyalty strategies exist and can be successfully applied to any kind of business. They range from traditional discount systems to nontypical rebates aimed to draw attention and rouse to action.
Exploring top customer loyalty programs
The set of techniques successfully applied by businesses differs depending on the scope of activity. Yet, many marketers make strategic mistakes when building customer loyalty systems. What are they and how to avoid them? How to provide great mobile application development services to make customers stay? We are going to find the responses right away.
Problem #1. Delay or a complete disregard for the issue
It seems obvious that all user requests have to be processed and answered on time. However, in practice, it is not always so. According to Convince&Convert study, 70% of companies ignore customer complaints on Twitter. SocialTimes report states that 83% of customer requests in social media go unanswered during the holidays.
Why do companies disregard their customers? There are two major reasons for that:
Fear of publicity.
The authorities of a company do want to help the clients who face the problems. At the same time, they are afraid that disappointed customers will frighten away other users with their negative feedbacks.
However, ignoring user complaints results in a snowball effect and may lead to a bad reputation of the company.
Lack of resources.
Of course, the Internet connection does not disappear at 5 pm. The clients have round-the-clock access to online resources including social networking and app stores. They may leave a request or rate your app at any time of the day or night. The holidays and days off are not an excuse either. You should provide 24/7 client support if you want to stay afloat.
Solution: How loyalty apps help handle customer complaints
Implementing in-app chat in your mobile app reduces the chances of coming across users complaints anywhere else. It would be more convenient for them to send a request right off the bat than look for your page on Facebook or other social media. Also, you can give some space to your employees without obliging them to be tied to the PC or laptop constantly.
To implement in-app chat, you can refer to the services like Intercom, Customer360, HelpCrunch, and others. They are ready made solutions for customer support and customer loyalty management. The only thing to do from your side is to bolt them to your application.
Intercom administration panel
Another way to increase customer loyalty is to build a chatbot that will be available and ready to help your customers in 24/7 mode. Chatbots can be of different complexity: they can either reply choosing from the pre-created set of possible answers, or apply machine learning technology and respond naturally.
Cleveroad expertise.
Cleveroad has deep knowledge and practical experience of building chatbots. We can offer you to create a chatbot based on one of the messaging platforms, like facebook Messenger or Telegram, or integrate a chatbot with your app directly. Moreover, we try our best to help our clients reduce unnecessary expenses and apply open source technologies for chat implementation.
Problem #2. Equating the absence of negative feedbacks to the absence of complaints
Lack of bad reviews is what everybody strains after. Now as paradoxically as that sounds, a total absence of them should put you on the alert. If the users do not complain it does not mean that they are totally satisfied. For the majority of people, it is much easier to remove the application and install a different one than to bother with the reviews.
Hence, it follows that you should be proactive and encourage your customers not keep silent but share their opinion. Show them that you do care about their attitude. Make them believe that you are ready to make changes if necessary.
Solution: Creating customer loyalty with feedbacks
The simplest way is to call for action using a customer incentive programs or customer rewards programs. Many mobile applications use the technique "Leave a feedback and get a bonus!". For instance, gaming apps offer a certain amount of game currency or a level-up for those who will rate the application.
If your app has a paid subscription, you can notify users that they will get several free days to try it. If you sell physical goods, you may encourage clients with some discount in response to their activity.
There are many ways to display a loyal attitude to the customers. Remember, your main goal is to show that their opinion is vitally important to you.
Problem #3. Ignoring past users
In most cases, the loyalty marketing focuses on customer retention strategies and neglects the former users. This approach is fundamentally wrong. According to the Apptentive guide, 60% of users reinstall or just stop using an app within the first month.
Just imagine that you simply charge off people who are willing to put their hands into their pocket but for some reason change their mind. Instead of trying to get them back, marketers prefer attracting new clients. However, statistics show that existing users are more likely to spend money than the newly-arrived ones.
According to Marketing Metrics, the chance that you will sell a product to a regular client equals to 60-70%, whereas the probability to sell it to a new prospect varies from 5 to 20%. Besides, Zendesk research states that 95% of dissatisfied customers tell others about their bad experience.
Solution: Build customer loyalty model for clients re-engagement
There are many ways to draw the attention of former users to yourself and make them interested again. You can start with the time-honoured ads. Place them on different web pages and mobile apps that don't belong to you. Try to advertise the latest changes and indicate the reasons for deciding to use your app.
Consider also making your app searchable in Google search. That is, apply app indexing and linking. This technique will contribute to creating customer loyalty and retention. With it's help, you can attract new users, retain the existing ones, and remind those who left about yourself.
It is advisable to redirect the prospective clients to the app landing page once they click the relevant link in the search results. As for the users that aim to be re-engaged or retained, you can send them directly to your app content.
Don't forget that you can stand to benefit from your past users. These are those who can inform you about the reasons for leaving your app. To study the data, launch the survey. For instance, you may implement a feature asking users why they quit when they are about to uninstall your app. Submit several of the most common options and leave one for entering their own response.
Possible reasons of app uninstalling
Problem #4. Assuming that all users are the same
Even if you have a five-star rating in the App Store and Google Play and 90% of the feedbacks is classified as positive, it does not mean that all users think the same about your app. You should take it into account long before the application is released.
Prior to turning for software development service, compose a few images of typical users. In a design practice, they are called personas. They describe the salient features and preferences of the future clients. The more accurately you create them, the less negative feedbacks you will have in future.
Solution: An individualized approach to incentive programs for customers
Once the application goes into production, continue using custom solutions. For example, offer greater bonuses for your most loyal users. No matter if you sell physical goods or provide online services, develop a customer retention plan that will inspire the regular clients to step-up. Ensure that the strategy becomes more and more attractive with each week, month, or year of interacting with your product. It may relate not only to purchase discounts but also to additional services such as faster customer support.
Another way to improve customer satisfaction is to allow them to choose the gifts or bonuses on their own. For example, many restaurant loyalty programs offer a dish for free if the client installs their mobile app. It would be great to provide several options of such dishes or do not limit the product set at all. In the latter case, it is necessary to specify the sum of money which the client may count on to make a free order.
Starbucks incentive program for clients
Problem #5. Resting responsibility on the particular persons
Usually, these are marketing specialists who work on the customer loyalty marketing strategy. Yet, they wont be able to cope with this task if developers and designers do not think about the final users in the process of app implementation. Whatever bonuses you offer, they wont keep the clients if the application is developed with a bad UI/UX design or registration that is too complex.
Take a look at the image below. It demonstrates the most popular reasons of why people uninstall mobile apps.
The most popular reasons of app uninstalling (Source: Appiterate Survey)
As you can see, none of the reasons are related to the lack of reward cards or programs. Of course, it does not mean that this aspect is unimportant and theres no reason to create loyalty cards or make use of customer incentive ideas. Yet, before everything else, your app is to be loyal itself. Not until then will you be able to use it as a basis for building an effective loyalty program.
Solution: Build a loyal app
Keep in mind future customer loyalty incentives even before creating an app or website itself. Taking into account the information above, I would recommend a few tips to prompt your app to stand out as respectful and relevant.
Provide ample of registration opportunities.
Even though social media is extremely popular nowadays, there are still many people who are not their fans. Remember that it should not become the reason of being restricted to use your app. The alternative variants may include email, phone number, or just a random username generation.
At the same time, don't ask too much personal information. Today, everybody is nuts about privacy. No one wants to share personal data and they prefer apps with a high level of security.
Avoid complexity.
Modern users are spoiled enough to easily neglect your app if it causes any difficulties. Intuitive interface and clear navigation are what you should strive after. Provide clients with a trouble less user experience and they will repay your kindness in full measure.
Implement smart push notifications
Make sure that the users receive only informative and useful messages. Allow customers to choose what kind of notifications they want to receive, e.g., about recent updates, new content, or different reminders. Also, enable the opt out option so that users can turn off the pushes completely.
Benefits of customer loyalty programs
If you are still hesitating whether your business has to create a loyalty program, we have a few compelling reasons for you in favor of getting down to taking steps to encourage customer loyalty.
Repeat clients make a buying decision faster and tend to spend more money.
The competitive edge is one of the strongest benefits of loyalty programs.
Embracing one of the digital loyalty programs you get a cost-effective solution as with minimum expenses you receive a great return on investment.
As you see, benefits of customer loyalty programs far overweigh the reward fulfillment. Here is a brief guide for you that illustrates steps required to improve customer loyalty.
Steps to improve customer retention
In conclusion, I would like to add that creating a loyalty program is a very complex process. It cannot be identified solely with the marketing tricks aimed to increase client database. The loyalty program is a major portion of business philosophy. It should be accepted and followed by all the employees of the company. No sooner than it is done can you count on the apps success and win the recognition of the customers.
This post was written based on the many years experience of communication with customers who deal with our web and mobile products. At Cleveroad, we always head for a user-centric approach so you can contact us for any help in this matter. Your new ideas and suggestions are more than welcome as well.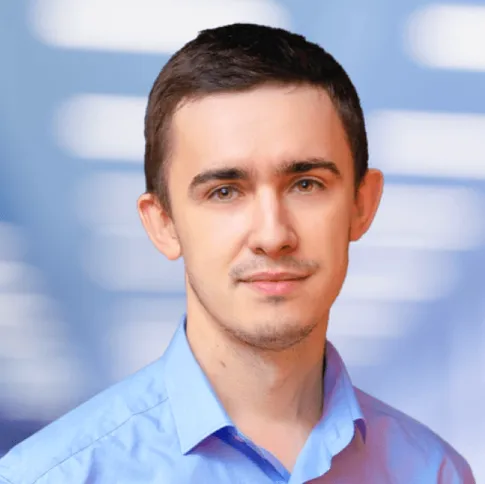 About author
Evgeniy Altynpara is a CTO and member of the Forbes Councils' community of tech professionals. He is an expert in software development and technological entrepreneurship and has 10+years of experience in digital transformation consulting in Healthcare, FinTech, Supply Chain and Logistics
Rate this article!
4407 ratings, average: 4.96 out of 5
Give us your impressions about this article
Give us your impressions about this article