How to Create a Rideshare App and How Much It Costs [Full Estimate]
The global ridesharing market is growing incredibly fast. In the USA, the key players —Uber, Lyft, and DiDi—get billions in revenue. While BlaBlaCar, the most popular platform in Europe, already covers 400 cities and 1.5 million users.
And this is not the limit. The ridesharing market is expected to grow by more than 50% between 2020 and 2021 and increase its value to around $117B in 2021.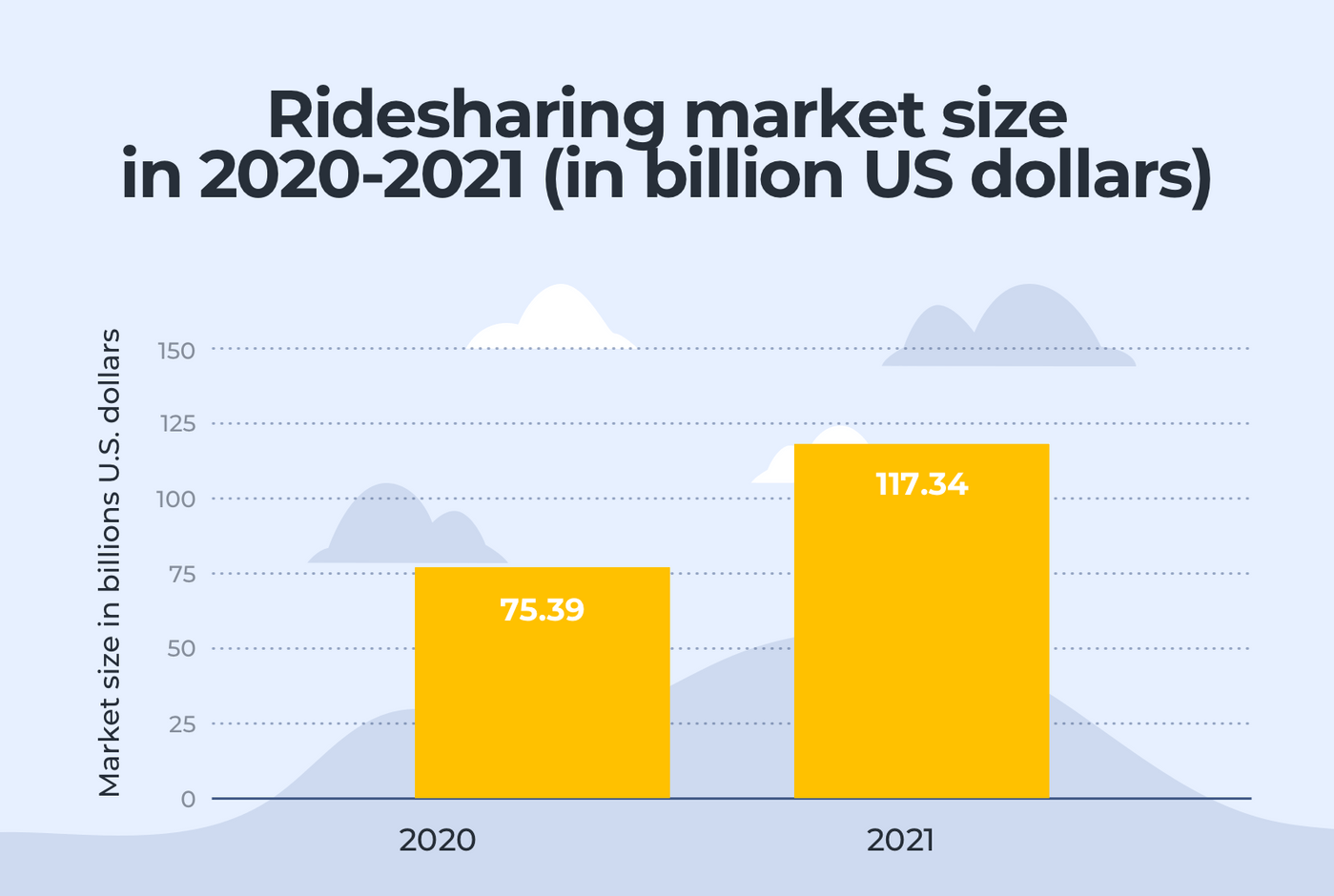 It's a good time for on-demand car sharing app development (Source: Statista)
As the market grows, so does the number of ridesharing apps.
In this guide, we're explaining how to create your own rideshare app—what features to include, what people to hire, and how much it will cost you.
How Do Ridesharing Apps Work?
You can call your trip a rideshare only if it meets the following criteria:
Car owner doesn't provide taxi services—they'll start the trip whether they have companions or not.
Car owner saves on fuel costs, they don't make money on the trip
All passengers share a total ride cost
Sometimes drivers look for companions not to share costs but have a rest during long trips. Or just a person to chat with. In the first case, riders should have a driving license and be ready to replace the driver.
The main idea of ridesharing apps is to organize a group of people going to the same place. And the most convenient way is to connect drivers and riders via a mobile app like UberPool, Lyft's Shared Rides, or BlaBlaCar.
Here's how ridesharing apps work:
Request. Car owners specify where they're going, where they'd like to pick up and drop off passengers, and when.
Booking. Passengers look through the list of trips, cars, and drivers' ratings, and book a ride.
Payment. Passengers pay in the app or in cash when they get in the car.
Rating. Riders rate the trip and leave their reviews.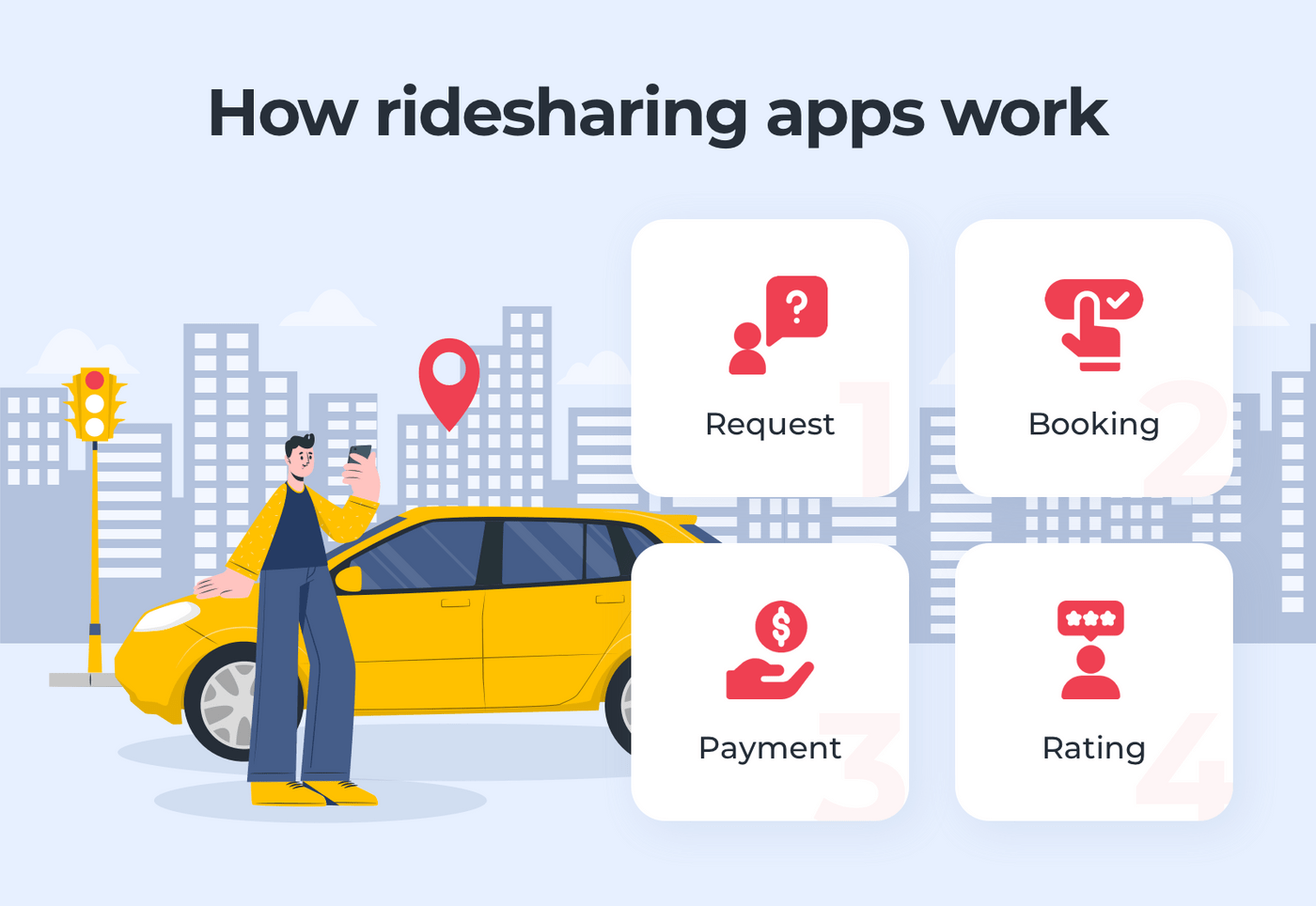 Ridesharing apps: from request to rating
If riders choose to pay via the app, the money goes to the drivers' bank or PayPal account.
How to Monetize a Rideshare App
Now, if you're going to create your own rideshare app and make money with it, you should choose a monetization model.
The most common are:
Paid advertising (users see third-party ads in the app)
Reservation/cancellation fees for riders (passengers pay a small booking fee to confirm their intentions)
Transaction fees for drivers
BlaBlaCar makes money by collecting service fees per passenger (including VAT). For example, if the cost contribution is between £32–£35, passengers pay £5 to the platform.
How to Build a Rideshare App: Must-Have Features
We're taking BlaBlaCar app as an example of a ridesharing app and reviewing its main features.
Unlike Uber, BlaBlaCar doesn't have an app for riders and another one for drivers. Everything is done via the same platform by switching between rider-driver modes.
Registration & Profile
Most apps ask users to enter their email, phone number, and generate a password. And it's a good idea to offer sign-ups or ins via Facebook, Twitter, or Google as it saves your users' time.
As for the profiles, you don't need to include tons of features. Especially if you're creating an MVP. Let users upload a photo, enter the name, phone, and car license numbers, add a payment method, and check their payment history.
Or you may opt for more complex functionality. BlaBlaCar lets users set preferences in their profiles (chattiness, smoking, music), and add car details—number plate, car make, model, type, color, the vehicle's model year.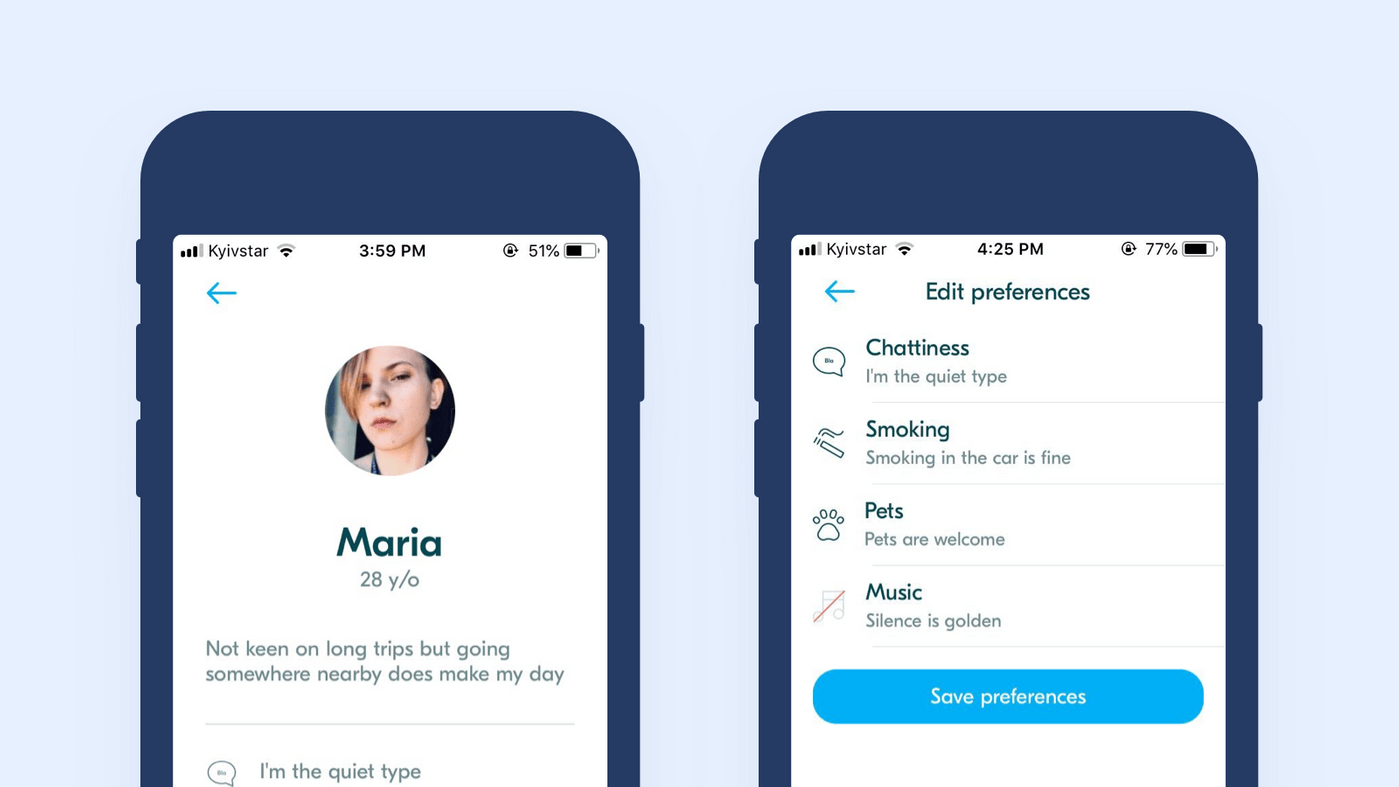 BlaBlaCar ridesharing app: profile and preferences
As well as view ratings left, booking history, edit money transfer methods (for drivers), and postal address.
Push Notifications and Chats
While it's not a must, ridesharing apps are more user-friendly with a chatting system to let riders and drivers communicate. For example, to agree on a pickup point or notify about delays.
Another thing is keeping users informed. SMS, push notifications, or emails should notify about ride confirmations, change of a ride status, or a payment sent to PayPal.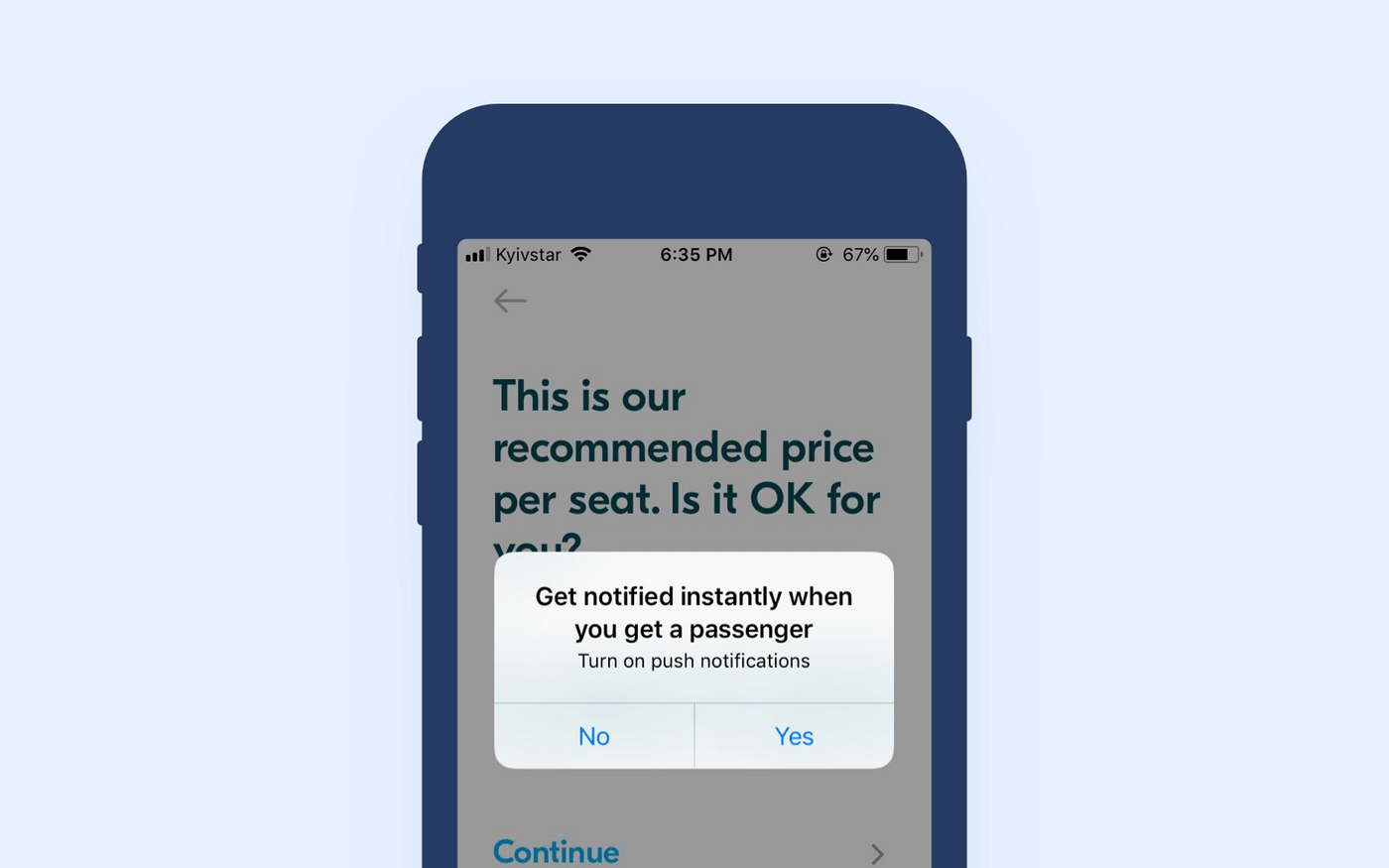 How to make a rideshare app: add push notifications or SMS
Book a Ride
To book a seat, passengers need to enter their destination, pickup and drop off points, then choose a driver among those who offer a ride.
Riders always see the cost of the ride before they book it.
At the same time, drivers should be able to look through booking requests and manually accept or decline them. Or set the app to accept all requests automatically.
There's also an option to book a ride for a few people, for example, if you're travelling with family.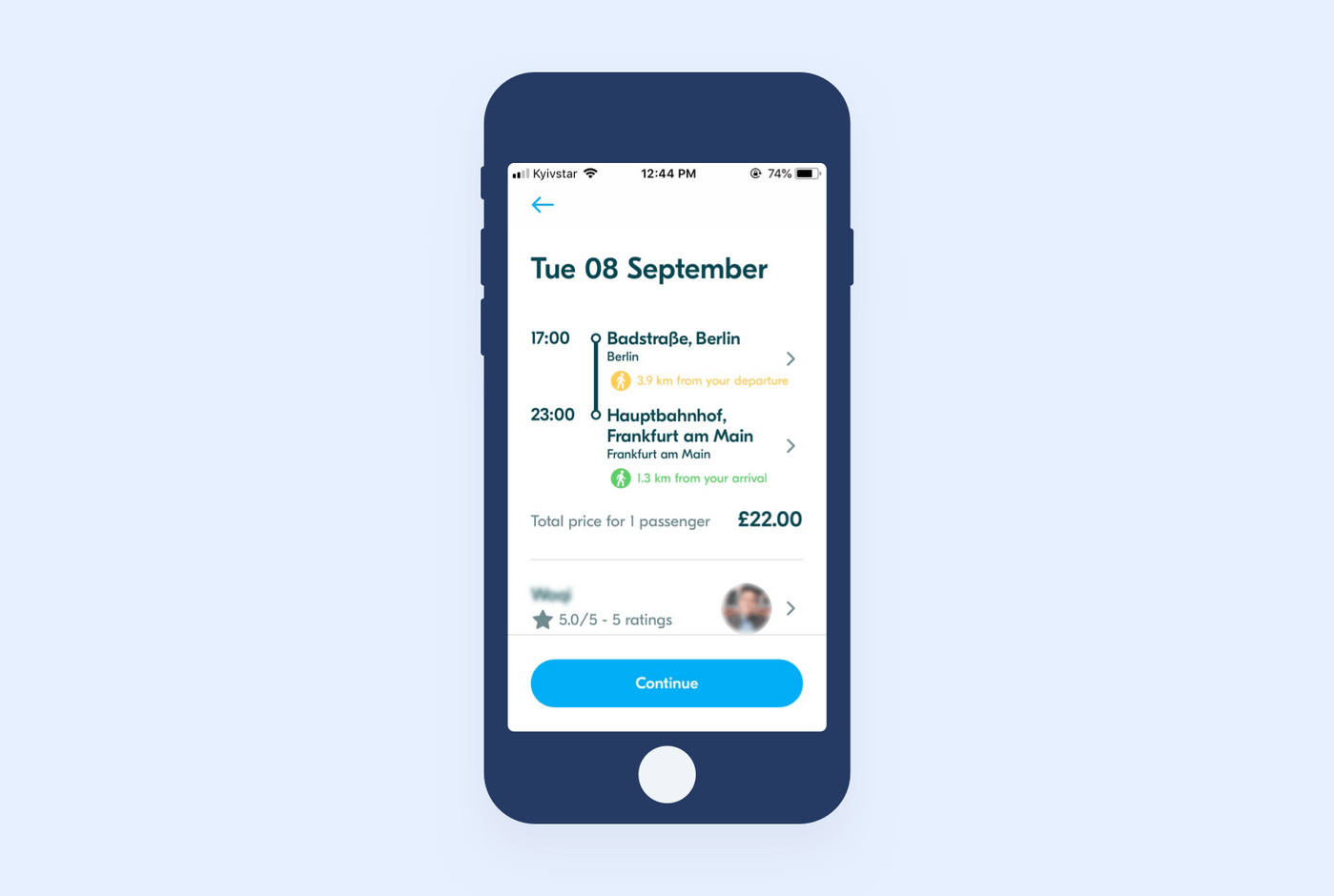 Booking a ride in BlaBlaCar iOS app
Another important feature is viewing users' ratings, reviews, and preferences. That's how passengers find out whether it's a good idea to travel with this person, while drivers can look through rider's preferences.
In case there are no suitable rides found, you may let passengers place alerts so that they will be notified as soon as a matching route is posted.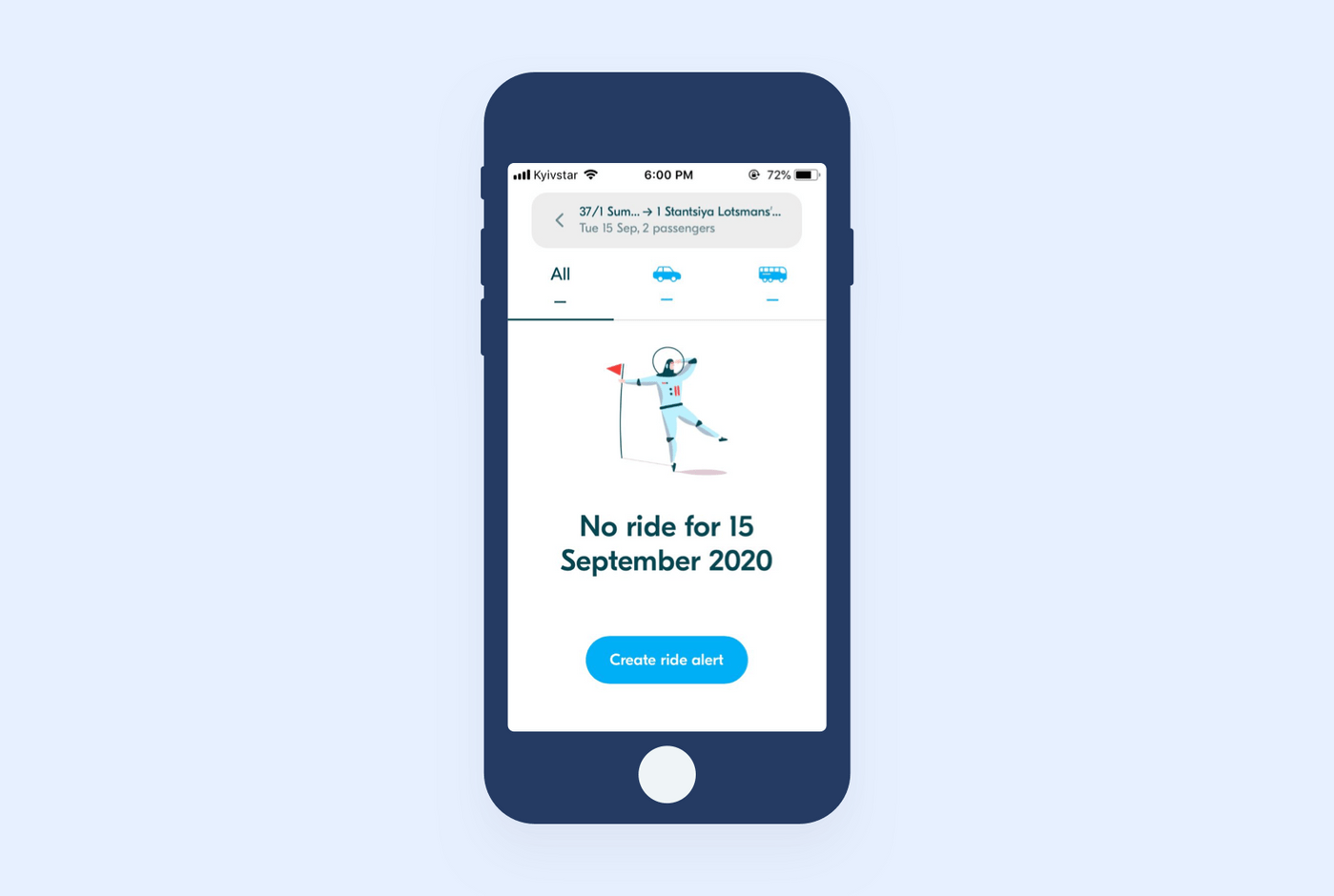 BlaBlaCar offers to create a ride alert if there are no matches
My Rides (Passenger)
Passengers see the number of rides they've completed and their details—date, destination, car, payment details—in the 'archived' tab.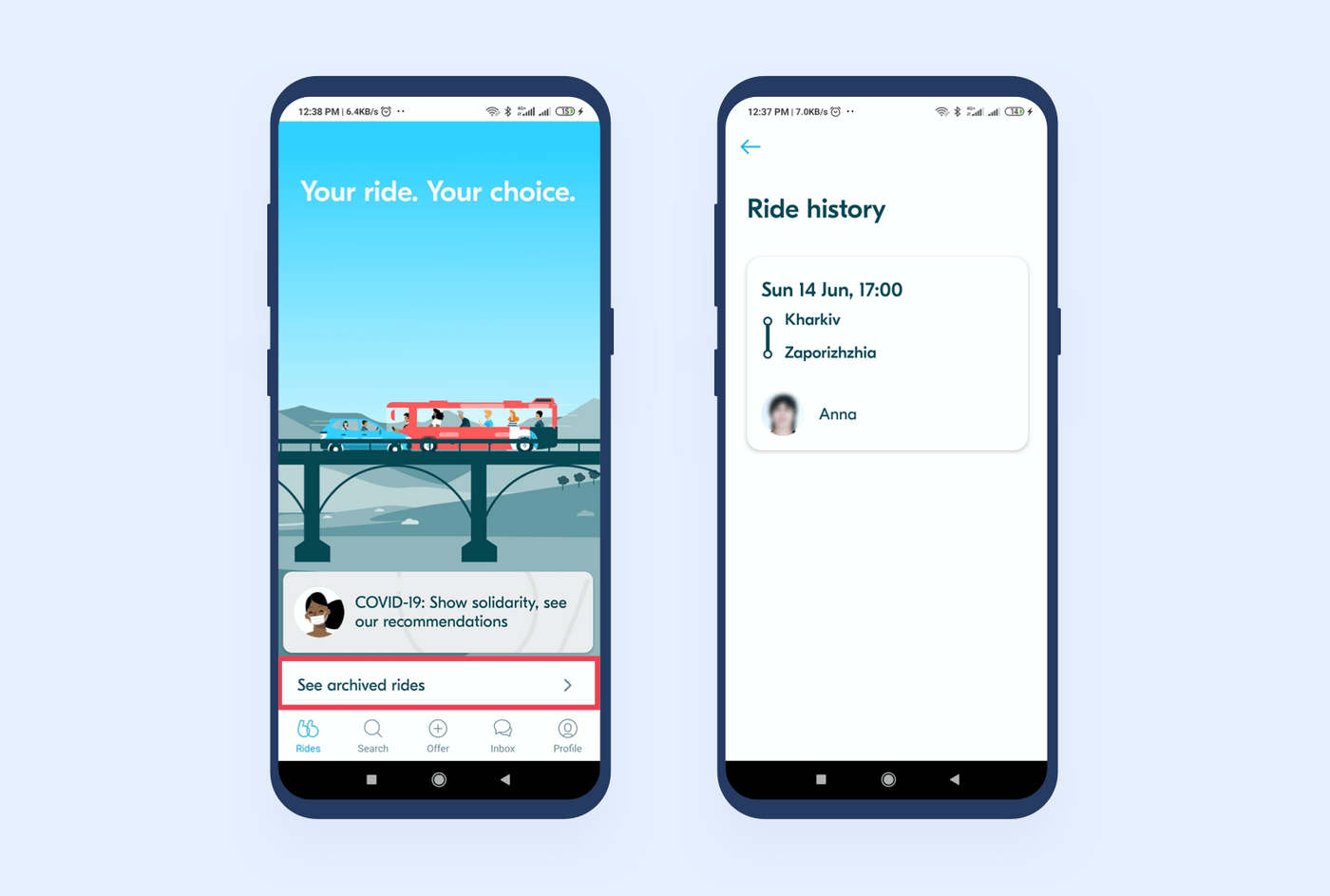 Create ride sharing app that allows users to see their ride history
Create ride sharing app that allows users to see their ride history
BlaBlaCar has an option to look through the full ride plan with the date, destination, planned stops, the amount paid, etc.
Offer a Ride (Driver)
If a driver creates a new ride, they need to choose the destination, pickup and drop off points, stopovers. Set the date and time they're ready to pick up passengers and available seats.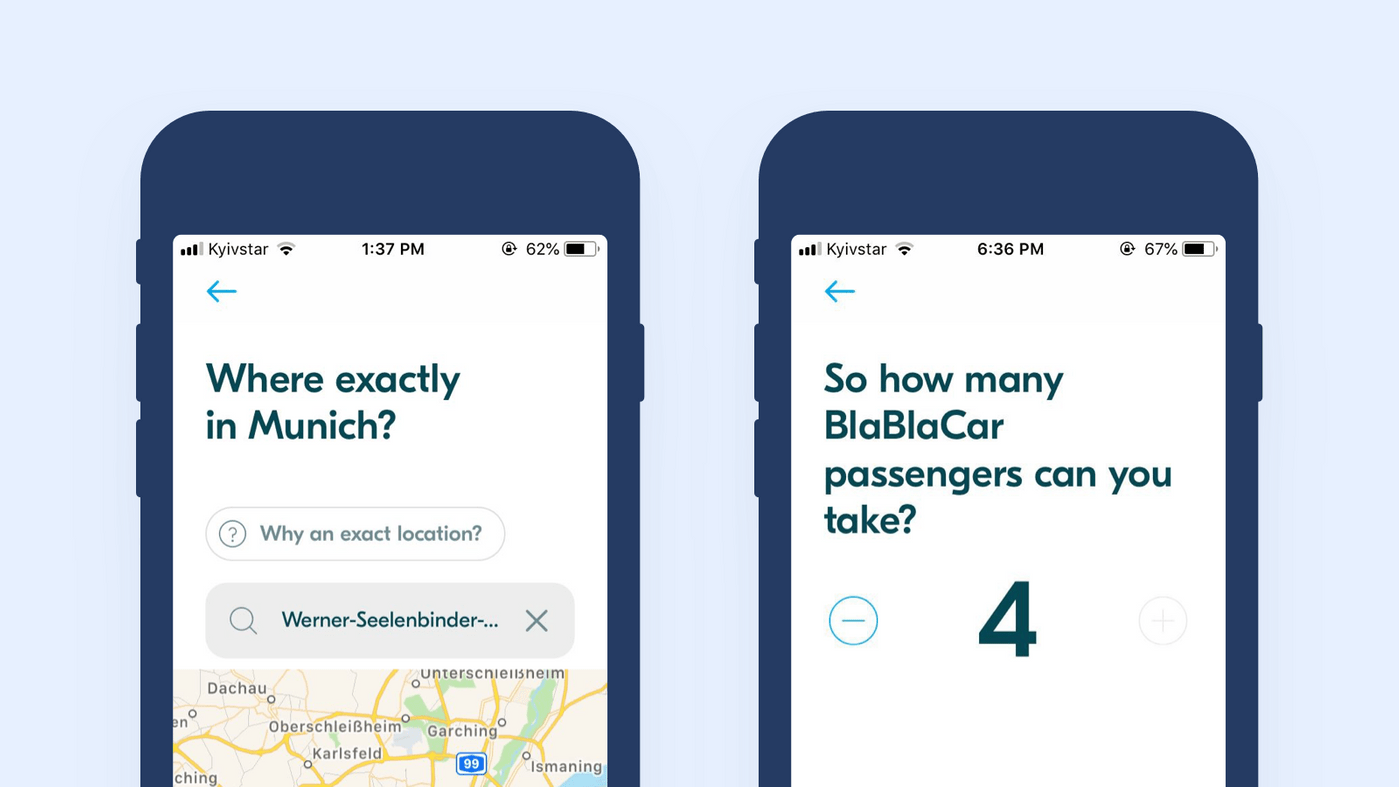 Driver's mode in BlaBlaCar
As we've said, drivers either let users book rides instantly or look through each request and manually approve it.
The app calculates the cost for each passenger based on their number and travel distance. Drivers either agree with it or edit the prices.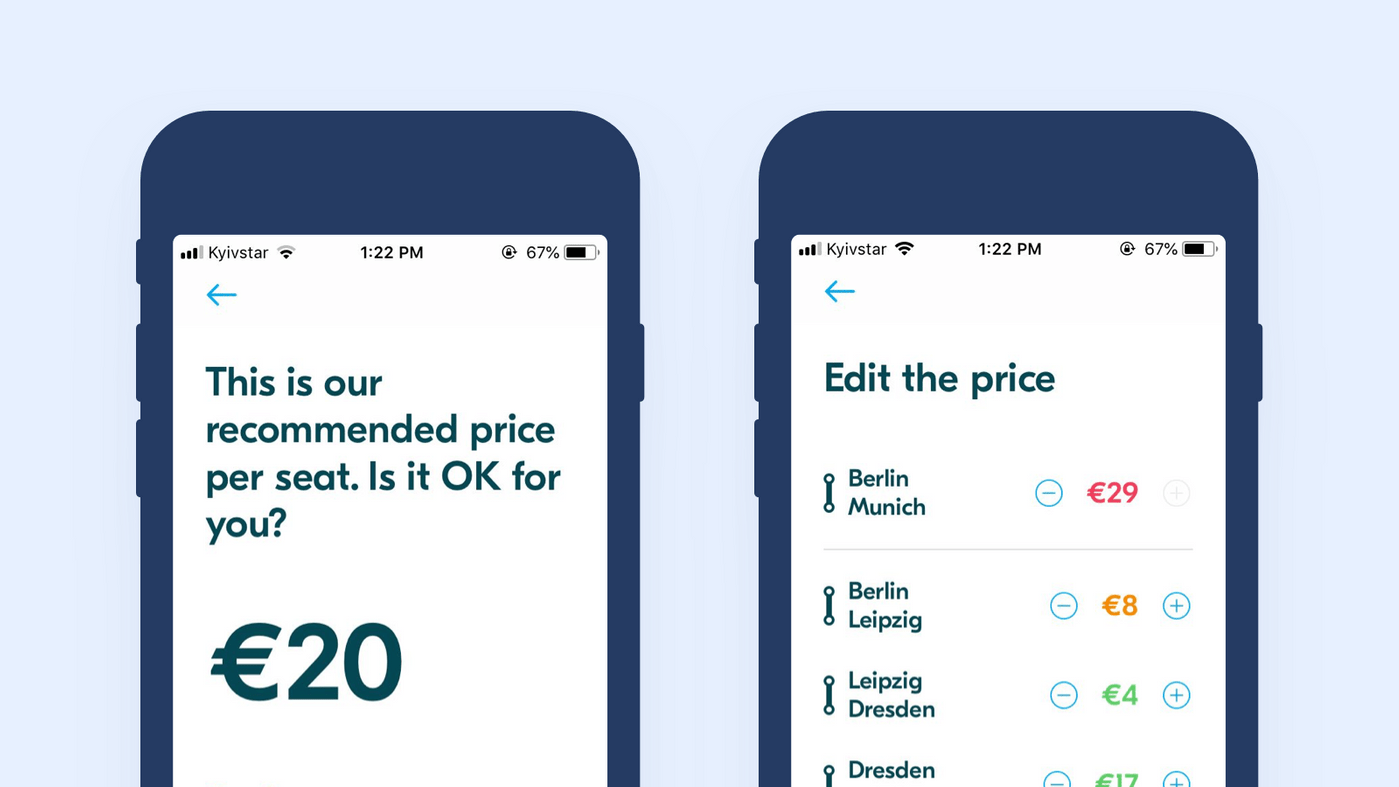 Drivers agree with the cost or can edit it
Here drivers choose how they prefer to be paid:
Online. The app transfers money to PayPal or bank account.
In cash. Riders pay in the car before or after the ride.
GPS Location
In ride sharing app development, GPS is used to detect someone's location. That's how drivers can set an exact pickup and drop off points, while riders can see their whole route.
While picking a trip, riders review trip information together with the route. They can zoom in for geographical details on a roadmap and move about with directional controls.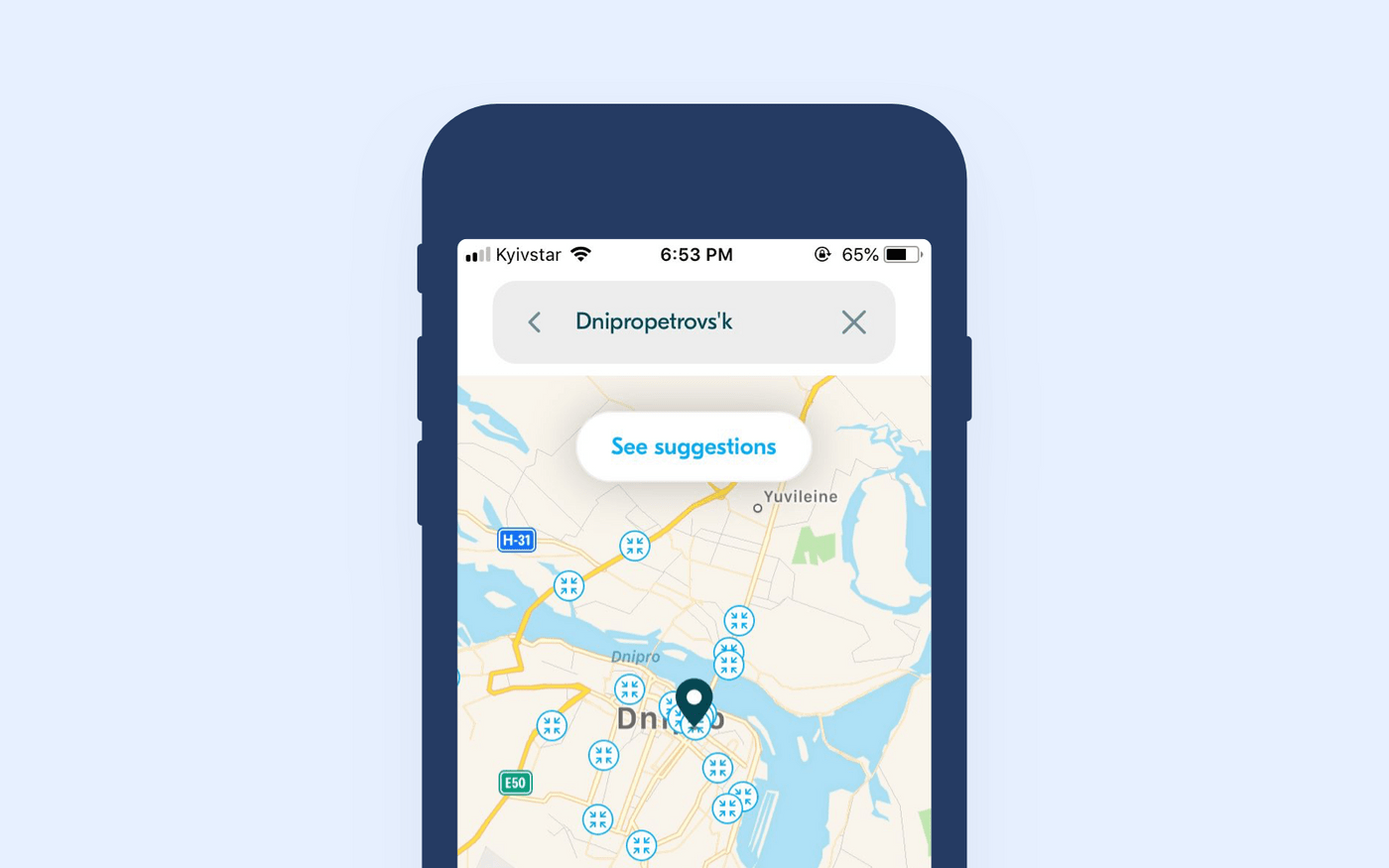 Driver set an exact pickup point while offering a ride
Most ridesharing services use Google Maps. The service offers mapping of routes entered by drivers and passengers, and allows to display maps of drivers' routes.
Admin Panel
The ridesharing platform should come with an admin panel capable of managing and monitoring the platform's work. It allows admins to manage users (search, block, check up an ID card), payments, reviews, reports, view statistics, etc.
Admin panels are typically web-based, so you'll need to make sure your tech vendor provides web development services.
These were the most common features of ridesharing apps. Of course, they may differ from app to app, depending on your business and tech requirements.
How Much It Costs to Create Your Own Rideshare App
The time and cost to create a rideshare app always depend on the functionality you want to include. For example, developers need 9 hours to create a simple login option combining email, phone, and password. But if you want to add sign-ins via Facebook, it's another 8 development hours.
In this part, we're explaining how much car sharing app development costs. We'll review the cost feature by feature, then calculate the total sum which includes planning, design, and testing.
The rates here and below are $50/hour, which is the average software development rate in our region (Eastern Europe).
Let's start with registration and login features for iOS and Android. There's a back end part that focuses on the functionality and logic of the app.
Cost of registation and login features

Feature
iOS, h
Android, h
Back end, h

Registration

25

25

14

Login

35

35

23

Splash screen

3

3

--

Cost

$3,150

$3,150

$1,850

Total

$8,150
Next, the passenger mode for iOS and Android apps together with the back end part.
Passenger's mode features, cost

Feature
iOS, h
Android, h
Back end, h

Home screen (set location, destination, number of seats, search, fare estimate)

129,5

129,5

74,5

Alerts (no suitable route)

24

24

14

Collective ride

30

30

24

Add payment method

32

32

36

Payment history

25

25

13

Profile

24

24

18

About' page

4

4

0

Cost

$13,425

$13,425

$8,975

Total

$35,825
The driver's mode (iOS, Android, and back end functionality).
Driver's mode features

Feature
iOS, h
Android, h
Back end, h

Register my car

21

21

10

My routes

81

81

39,5

Add route

30

30

24

Route matching engine

--

--

40

Push notifications

20

20

16

GPS Location

10

10

--

Cost

$8,100

$8,100

$6,475

Total

$22,675
And, finally, an admin panel to manage users, drivers, check users' reviews and generate reports. Usually, it includes only the web version (front end and back end development).
How much it costs to create rideshare app admin panel

| Feature | Web, h (front and back end) |
| --- | --- |
| Authorization | 7 |
| Users management | 94 |
| Admins management | 34 |
| Rides & booking management | 84 |
| Reports management | 24 |
| Reviews management | 61 |
| Payments management | 35 |
| Total cost | $16,950 |
So, we found out how much it costs to develop the features. But rideshare app developers aren't the only people you require if you're making the app from scratch.
You may need someone to estimate your requirements and turn them into a specification. Or maybe you want the app to stand out and have custom UI/UX design.
As well as there's no way to skip quality assurance services to make sure the app is free of bugs and performance issues. Not talking about DevOps services.
And, finally, you need a Project Manager who oversees the whole processes, answers your questions, and reports to you.
The time of all these people costs some, so a more accurate estimate includes not only 'feature by feature' development time but a general calculation with design, PM, QA, and DevOps time.
Here's how much rideshare app development may cost in total:
How much does it cost and create a ride-sharing app like BlaBlaCar: full estimation

Activity
Approximate time (h)
Approximate cost

Development

1671,5

83575

Design

195

9750

PM time

300

15000

QA time

600

30000

DevOps time

120

6000

Total

$144,325
These numbers are approximate and provided FYI. The scope of work is different for each new project, so is the price. If you want to know how much your ridesharing app will cost, please contact our BA team.
Tech Stack and Team
To build a rideshare app from scratch, you need the following team:
Business Analyst
Project Manager
UI/UX designer
Android / iOS engineer
Back-end developer
QA engineer
DevOps
Approximate technology stack of a ridesharing app:
Kotlin for Android app
Swift for iOS app
Node.js for back-end
Amazon EC2, cloud service
Amazon S3, storage
PayPal / Stripe, a payment system
Twilio, notifications
Elastic email, email notifications
Socket.io, for real-time synchronization
Google Maps
Google Places
Google Directions
Card.io
APNS
Firebase
Facebook SDK, for Facebook login
The above-mentioned list of technologies may differ depending on your business objectives, app features, and platforms.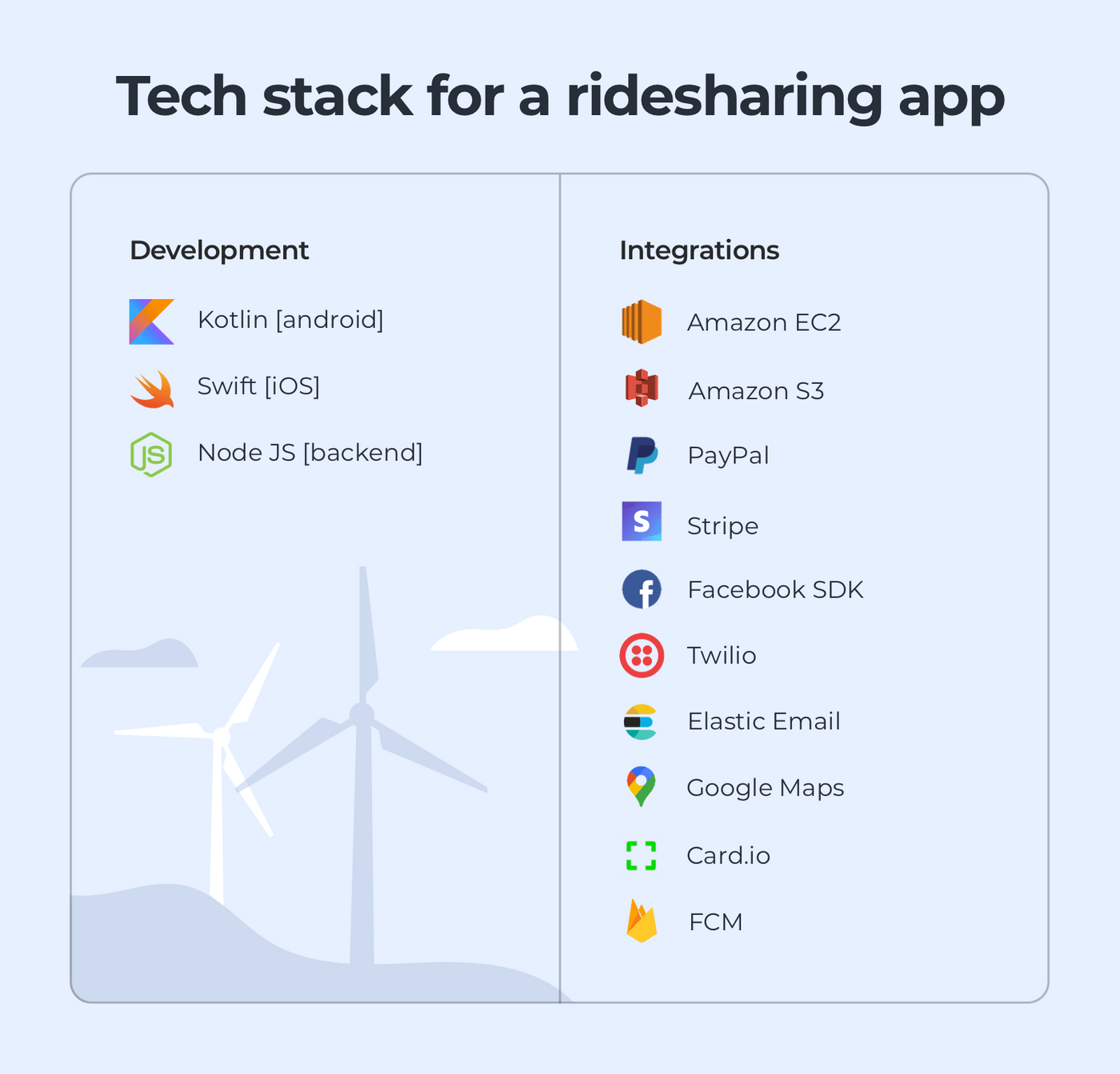 How to develop rideshare app: tools and technologies
Cleveroad Experience
Not so long ago, our team had a chance to create a rideshare app for one of our clients. It's MoveUp, a P2P ridesharing solution for people with special needs.
Have an idea of a ridesharing app?
Let's built it together! We provide software development services from planning to release.
The target audience is as follows:
People with disabilities
People with special medical needs
Riders with bulky items
Regular clients
While the core functionality is similar to Uber or Lyft, we created a unique filtering system that's more suitable for MoveUp users.
The system suggests drivers according to the user's in-app preferences. This helps exclude cases when a matching driver has a car that doesn't suit specific user needs.
Frequently Asked Questions
There are six main steps:
Step 1. Define your niche.
Step 2. Conduct a marketing analysis.
Step 3. Choose a business model.
Step 4. Find the right monetization way.
Step 5. Settle legal issues
Step 6. Add basic features to your rideshare app.
It depends on your requirements, the features you want to include, and the region where you hire developers.
In Eatern Europe, it costs ~$144,325 to build a ridesharing app like BlaBlaCar for iOS and Android with a web-based admin panel.
There are four steps:
Request. Car owners specify where they're going and when.
Booking. Passengers look through the list of trips and book a ride.
Payment. Passengers pay in the app or in cash when they get in the car.
Rating. Riders rate the trip and leave their reviews.
The exact list of technologies is made according to your requirements. Here's an approximate technology stack of a ridesharing app:
Kotlin
Swift
Node.js
Amazon EC2
Amazon S3
PayPal / Stripe
Twilio
Elastic email
Socket.io
Google Maps
Google Places
Google Directions
Card.io
APNS
Firebase
Facebook SDK
Ridesharing refers to one-time shared trips arranged through a mobile app. All passengers share a total ride cost, so the car owner saves on fuel costs. Drivers don't make money on the trip and don't provide taxi services.
There are a few points to consider while developing a rideshare app, for example:
Monetization model (paid advertising, reservation/cancellation fees for riders, transaction fees)
Easy-to-navigate UI/UX design
Features for both passengers and drivers
Geolocation so that drivers can set an exact pickup and drop off points, while riders can see the route
Rate this article!
24401 ratings, average: 4.56 out of 5
Give us your impressions about this article
Give us your impressions about this article
Duke Ochukenyi
02.07.2021 at 04:02
Nice! I will like to engage your company soonest