How to Reduce IT Infrastructure Costs: Practices to Follow
Every business wants to cut expenses as much as possible. Since it's hardly possible to lay off core employees or simplify the production process, companies tend to choose non-essentials. For example, they cut IT infrastructure costs.
Information technology or IT infrastructure refers to components required to operate and manage business IT environments. It's common to use IT infrastructure to deliver services or resources within a company, or to company's customers. Properly integrated infrastructure helps businesses meet goals and increase profit.
These days, cloud IT infrastructure gains popularity due to its convenience. Cloud computing means that all servers, software, and networks are hosted in the cloud. Providers like AWS, Microsoft Azure, and DigitalOcean are ready to provide you with hardware, networking, and more.
In this guide, we'll focus on the cloud IT infrastructure cost. There are several tips to help you save money and time.
Things to Outsource to Cut IT Infrastructure Costs
IT infrastructure needs maintenance, so you have to hire qualified DevOps engineers. There are two possible ways to get the team — hire in-house developers or cooperate with a reliable vendor to outsource DevOps services.
Each option has its own pros and cons. For example, an in-house team makes the communication easier but requires a bunch of additional expenses (rent, hardware, software, vacations, and more). On the other hand, outsourcing provides you with experienced developers and lower costs. Cooperating with a software development company from Ukraine, you can significantly reduce IT infrastructure costs.
Let's compare the DevOps engineers' rates in various regions.
DevOps hourly rates provided by Clutch and GoodFirms

| Region | DevOps engineer rates |
| --- | --- |
| North America | $100-$149 |
| Australia | $100-$149 |
| Western Europe | $100-$149 |
| Asia | $49-$100 |
| Eastern Europe | $25-$49 |
| India | $25 |
As a result, a DevOps engineer from North America can cost you at least $192,000 yearly (based on 40 working hours per week). Considering that you need several specialists, it costs a fortune. On the contrary, DevOps specialists from Eastern Europe require $48,000 yearly.
Outsourcing helps you reduce IT infrastructure costs and takes care of additional tasks like infrastructure monitoring.
Tips to Cut IT Infrastructure Costs
How to reduce IT infrastructure costs? Below you can find four valuable tips.
Tip #1. Go to the Cloud
I've already mentioned the popularity of cloud-based solutions since cloud IT infrastructure tends to be more stable and scalable. Cloud based application development can help you scale the capacity up and down to meet the demand. For example, if there are few visitors to the website or app, you can pay less. But if there's an unpredicted spike of users, the cloud will deal with it increasing the space dynamically. As a result, you don't lose money and clients.
If you want to outsource IT infrastructure management, check our guide to managed IT services to learn more about its types and benefits.
At Cleveroad, we work with AWS services. Amazon offers a bunch of solutions like Amazon EC2, Amazon SS3, and Amazon Aurora.
Amazon EC2
Elastic Compute Cloud offers dynamic infrastructure scaling. Additionally, it provides a possibility to increase server capacity on the go.
Amazon RDS
Amazon offers a reliable database called Relational Database Service to scale quickly and adapt to emerging loads.
Amazon S3
This service is used for storing objects and guarantees data safety and availability.
Amazon CloudWatch
Every system needs monitoring, so CloudWatch tends to keep track of emergencies.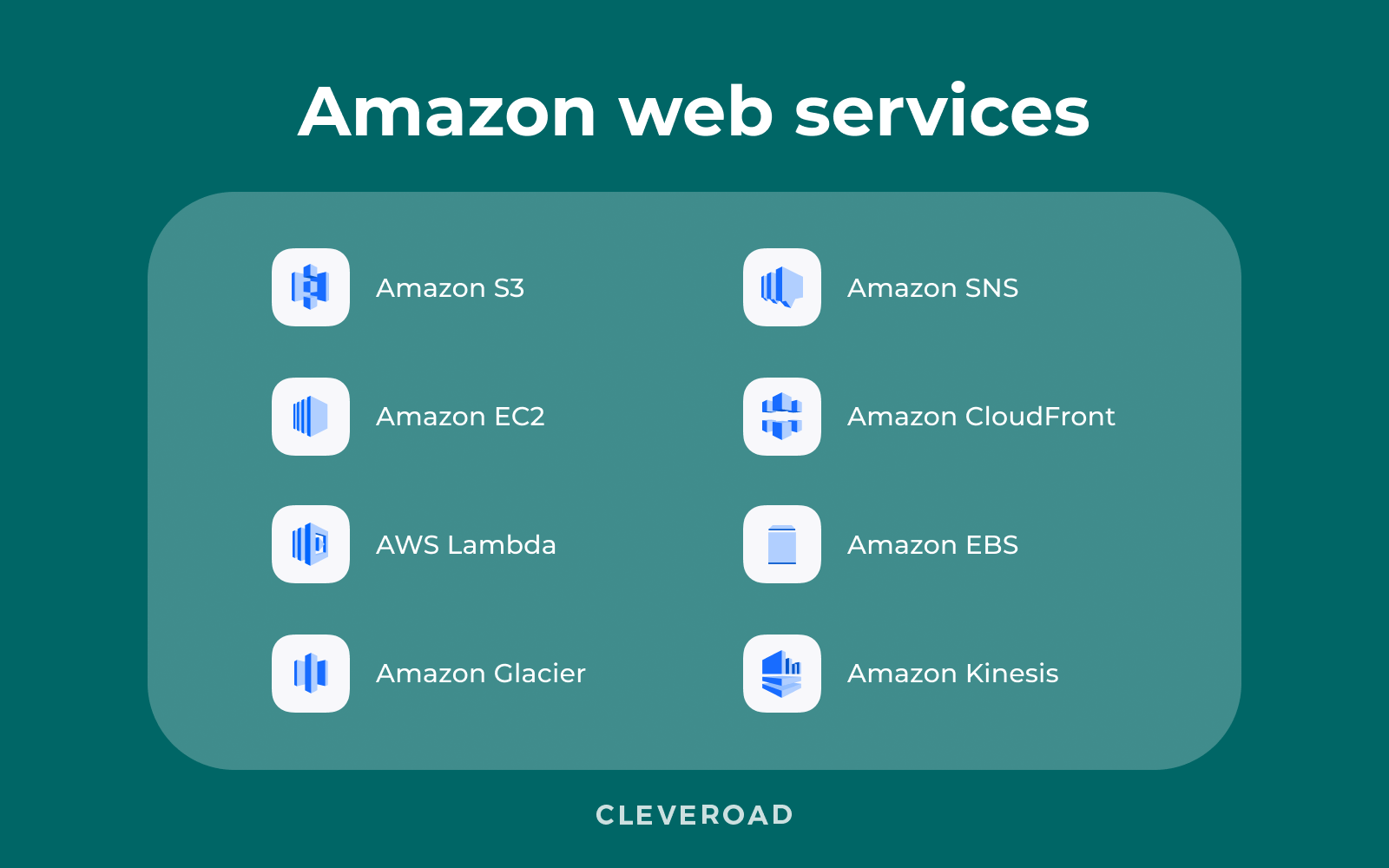 Tip #2. Know Your Needs
Each IT infrastructure (traditional or cloud) requires project knowledge. That's what makes it possible to predict your needs and figure out the ways to save money.
Estimating the project right, you won't pay for unnecessary services. However, the question arises — how to predict your company's needs? The only way to do so is to consult with an expert. Describe your business goals along with requirements and the engineer will calculate the necessary resources. After that, it's possible to figure out the cost of IT infrastructure.
In the case of fast scaling, cloud IT infrastructure is more suitable. Cloud computing has unlimited storage space and more server resources. It's possible to scale up or down cloud servers, depending on your company's requirements and business goals. Speaking about traditional IT infrastructure, you usually have limited resources, so your system can't scale fast. The only solution is to buy or rent another server, which takes time and requires considerable investments.
Tip #3. Monitor Your Billing
One of the cloud IT infrastructure's main benefits is cost-effectiveness. However, due to a variety of services, it's possible to use more services than necessary. Your team should constantly track and manage cloud IT infrastructure costs.
There are several tips for you to use:
Set alerts to get notifications if you reach a pre-set threshold
Check billing and usage reports from time to time
Use provider's cost management tools
AWS Cost Explorer
AWS Cost Explorer has an easy-to-use interface that lets you visualize, understand, and manage your AWS costs and usage over time. The system offers a set of default reports. From there, you can use the filtering and grouping capabilities to dive deeper into your cost and usage data and get insights.
AWS Budgets
AWS Budgets allows you setting custom budgets to track your cost and usage from the simplest to the most complex use cases. With AWS Budgets, you can choose to be alerted by email or SNS notification when actual or forecasted cost and usage exceed your budget threshold.
How to monitor and manage your AWS costs
Tip #4. Utilize Serverless Computing
With the new DevOps technologies, serverless computing is no longer a dream. This is a way you can pay nothing for the infrastructure and focus on the development completely. Such a cloud computing model forms the basis for a new area in the industry, a function as a service.
Feature as a service (FaaS) is a category of cloud computing services that provides a platform allowing customers to develop, run, and manage application functionalities without the complexity of building and maintaining the infrastructure typically associated with developing and launching an app.
Most cloud providers offer serverless computing, for example Amazon Lambda, Azure Functions, and Google Cloud Functions.
AWS Lambda
AWS Lambda is a serverless computing to run code without provisioning or managing servers, creating workload-aware cluster scaling logic, maintaining event integrations, or managing runtimes.
Azure Functions
This tool offers the ability to run custom code on demand and at scale in the cloud. Azure Functions offer to build and debug locally without additional setup, deploy and operate at scale in the cloud.
Google Cloud Functions
Google Cloud Functions is a serverless execution environment for building and connecting cloud services. With Cloud Functions you write simple, single-purpose functions that are attached to events emitted from your cloud infrastructure and services.
Tools to use for serverless computing
How Cleveroad Can Help You
Cleveroad is a software development company from Eastern Europe, Ukraine. For more than five years, we've been working with managing and maintaining cloud IT infrastructure for our customers.
Our DevOps engineers can help you:
Create, adjust, support, and optimize integration and code delivery tools (Jenkins, Bamboo)
Interact with Version Control Systems (Gitlab, Github, Bitbucket)
Automate processes by creating scripts or using specific technologies like Ansible
Administrate cloud platforms (AWS)
Optimize a cloud IT infrastructure
Integrate a required technology into a company's IT processes
Got questions?
Contact us to share project details and get a free consultation from our DevOps engineers.
Frequently Asked Questions
Go to the cloud
Predict your needs
Monitor your billing
Use serverless computing
These days, cloud IT infrastructure gains popularity due to its convenience. Cloud computing means that all servers, software, and networks are hosted in the cloud. Providers like like AWS, Microsoft Azure, and DigitalOcean are ready to give you hardware, networking, and more.
You get access to the pool of talented and experienced DevOps engineers. You also reduced time and cost since there's no need to pay a full-time developer if you don't have enough tasks.
Among the most popular providers are AWS, Microsoft Azure, and DigitalOcean.
Rate this article!
552 ratings, average: 4.86 out of 5
Give us your impressions about this article
Give us your impressions about this article