Cost of Outsourcing Mobile App Development: All Expenses Revealed
Outsourcing software development is an arguable topic. Some entrepreneurs blindly believe that in-house development is better due to the constant control over the team. However, Grand View Research claims that outsourcing services' global market size reached around $261.9 billion in 2022. On top of that, On top of that, Zippia claims that 37% of average IT department tasks are outsourced, and nearly 59% of businesses prefer outsourcing because of comparatively lower costs.
Large companies like Google, Slack, and Skype have been effectively using outsourcing for years. But what do businesses love the most about outsourcing software development? The price. Let's look at some numbers. Outsource app development cost with the rate of $50/hour for both iOS and Android will be around:
Simple app development cost - $40,000-120,000
Medium-complexity app development cost - $120,000-200,000
Complex app development cost - $200,000-300,000+
You have to also know that there is a simple way to reduce your budget: turn to cross-platform development. For example, the Flutter framework allows software engineers to build one application that runs on several platforms simultaneously. And the cost of outsourcing mobile app development will be 60% lower than creating native products for iOS and Android.
So you can see that it is not so easy to name a price without going into details. In this post, we'll single out the main factors that influence the outsource app development cost and figure out developers' rates in different regions.
Factors that Influence Outsource App Development Cost
Software development is a complex process with numerous factors affecting the final price. It's impossible to estimate the app development cost without looking into project requirements.
Here's a quick list of the main factors that influence the price:
Complexity of features
Team members
Developers' rate
Now, let's take a closer look at each of these factors.
Features and complexity
The complexity and development time of the whole project revolves around the features. The more time developers spend on each feature, the bigger will be the cost of outsourcing mobile app development.
To make it clear for you, let's take a look at Netflix home page. On average, it takes around 15 hours to create a simple starting page for unregistered users. This is enough for an MVP (Minimum Viable Product) version of the product, but you have to make something more sophisticated to impress your users.
Now, let's upgrade our home page with personalized features, like tracking users' IP addresses and displaying movies that are popular within the user's country. With these additions, humble 15 hours turned into an impressive 50 hours, increasing the outsource app development cost more than twice. Here's how Netflix's start screen looks like in the US:
Starting page for unregistered users in the US
And that's how the same page looks like for users from Germany:
Starting page for users from Germany
That's why you have to think about each detail in your app beforehand. If you're not sure that your users need certain features right after release, add them later. It's often better to gather feedback in the first place and gradually modify your product based on it.
Development team
The development process isn't only about programming. Different specialists lay their hands on your product before the release. Given that talents are often the only expense in IT, the work of every specialist will add up to the total cost of outsourcing mobile app development.
Let's single out each of the specialists involved and figure out their responsibilities.
When you're contacting an outsourcing software development company, business analysts will be the first to talk with you during the planning phase. Their task is to help you finalize project requirements, build an MVP feature list, and estimate the outsource app development cost.
In Estonia (EU), the main European outsourcing tech hub, business analysts earn $20,200/year on average. Business analysts from the US, California, earn $68,350/year.
Keeping these rates in mind, you can see that your project's initial stage will cost three times more in the USA than in Estonia. By the way, software development companies from Estonia offer free initial consultations and rough estimates.
Got a project idea?
Our business analysts can help you out with a feature list and rough estimate free of charge!
Attractive app design is a large contribution to the app's success. Misplaced buttons, wrong color palette, or even annoying loading screens may scare off new users. That's why you need a professional UI/UX designer on a team. First off, they create wireframes showing you the structure of your app and layout of each screen. After that, designers create a complete UI/UX design according to the specifications given by business analysts.
The average designer salary in Estonia is $19,300/year. Californian UI/UX designers, in their turn, earn $85,300/year. That's a colossal difference that once again highlights the benefits of outsourcing.
The closest friend of both the development team and the client. Project managers are mediators between the client and engineers during the development phase. They have to organize the working process, pass clients' demands to the team, and ensure that the software will be delivered right on time.
On average, Estonian project managers earn $22,800/year. According to glassdoor.com, American PMs earn $66,100/year on average.
Developers are the core of the whole team. Programmers are responsible for the architecture and overall software performance. To create a full-fledged app equipped with complex features and flawless performance, developers have to be experienced with the project's tech stack.
Usually, software engineers have the biggest salaries among the team members, so they influence the cost to outsource app development the most. In Estonia, the annual Android developers' salary is $26,400/year for Java engineers and $24,000/year for Kotlin developers. In the USA, Java developers charge $79,200/year, Kotlin devs charge $83,000/year. As for iOS developers, in Estonia, Swift engineers earn $27,000/year. In the US, their salary is $74,750/year.
Mind that depending on the complexity of your project, you may need several developers. Outsourcing companies allocate up to 10 developers per project.
Quality assurance is necessary for every project. Bugs and vulnerabilities unnoticed by developers will ruin the user experience and even lead to data leaks. To avoid backfire, you should have a QA engineer on a team. The majority of outsourcing companies include testing services in the final cost of outsourcing mobile app development.
On average, QA engineers in Estonia earn $18,000/year. In the US, their salaries reach $71,000/year.
We strongly recommend avoiding hiring freelancers for large projects. Typically, they don't bother with serious quality assurance. Without proper testing, you'll launch the product with bugs. On top of that, when the bug comes up, you'll have to contact your developer once again and pay them more to fix the issue.
Developers' rate
As well as standalone programmers, software development companies also charge fixed rates for their services. Most often, the price range is the same within the same region. For example, Estonian software development companies charge $40-$65/hour.
The easiest way to calculate the cost of outsourcing mobile app development is to multiply the development time by the company's rate. Let's take a look at the prices for several projects.
Project price examples
Outsource app development cost may be different depending on the complexity and number of features. Now, we'll go through some project examples and figure out their price.
Mind that the outsource app development cost depends on the number of platforms you're building the project for. The project for iOS and Android will cost twice more than the Android-only project.
The Netflix-like app with integration of streaming algorithms, attractive design, and several payment gateways will take approximately 3,038 hours of development time. With the rate of $50/hour, the project for both iOS and Android will cost $155,000 approximately. In the case of cross-platform development, the time and price will be significantly lower, at around $80,000. By the way, this article explains how to build a video streaming service like Netflix and Disney+.
A basic e-commerce app with a catalog of goods, a cart, and payment gateways will take 2,500 hours. The cost of the development for both platforms will be $120,000= for a medium complexity product. However, if you choose a cross-platform approach, the cost will be around $68,700. Learn more about e-commerce app development with this post.
An Uber-like app with GPS navigation, flexible choice of rides for passengers, and various payment methods will take 2,294 hours. Outsource Uber-like app development cost will be around $120,000 for iOS and Android mid-complexity versions. Cross-platform development can reduce the price down to $63,000.
Types of outsourcing cooperation models
Also, keep in mind that there are different types of cooperation models that affect the cost of outsourcing mobile app development.
Location plays a vital role in building work communication with your team. Choosing the most suitable location-based model may significantly decrease communication barriers based on time zone or cultural differences. Let's overview the main three models:
Offshore outsourcing - you are cooperating with an IT company located in remote parts of the world.
Nearshore outsourcing - you are sharing your app development with developers located not that far, for example, in neighboring countries.
Onshore outsourcing - a collaboration with developers from your country.
Relationship-based models
Setting the right cooperation strategy has the exact same high value for you and your future team. Here are three methods to clarify and establish necessary processes, including outsourcing app development cost and roles inside your project:
Staff Augmentation. This model is used to extend team expertise by outsourcing new members temporarily. Each specialist is paid 8 working hours daily multiplied by their hourly rates.
Dedicated Team. This model helps to delegate particular tasks and free up your in-house team members. Also, you receive independently working specialists according to your specific demands on a permanent basis. Here specialists are also paid for 8 hours multiplied by their hourly rates.
Project-Based model. This is the most applied model that implies the whole project delegation to an outsourcing company. In this case, payment can be made by multiplying the time required to finish the entire project or a necessary part of it by the vendor's hourly rate.
Cost to Outsource App Development by Regions
As we're clear with the factors that impact outsource app development cost, it's time to figure out how much developers from different regions charge for their services.
North America
North America is one of the most expensive regions to outsource mobile app development. In comparison with other areas, developers from the US and Canada earn more than in other regions. On average, companies charge $100-$150/hour. With this rate, the outsource app development cost of a Netflix-like project mentioned earlier will be $303,800-$455,700. That's a tremendous price for an outsourcing project. That's why a lot of companies prefer hiring developers with lower hourly rates.
Oceania
Oceania stands side by side with North America. With the rate of $100-$150/hour, the cost of outsourcing mobile app development skyrockets. A basic e-commerce mobile app will cost $250,000-$375,000. It makes sense to outsource to Oceania if you're located in Australia or New Zealand. Thus, you'll get more control over the development team. However, if you're on a limited budget, it's better to look at other regions. You can easily find the same quality at a lower price. Additionally, flights to Australia are expensive and time-consuming from almost any point in the world.
Eastern and Central Europe
Eastern, Central, and Northern Europe is one of the biggest tech hubs in the world. Entrepreneurs favor this region due to the value for money it offers. With average rates of $40-$55/hour, the final outsource app development cost gets significantly lower. According to these rates, a complicated Uber-like project with custom features will cost you $200,000-300,000.
There's a common misbelief that the price reflects the quality of services. However, that's not true. Estonia holds its position among the top 10 countries by the number of professional developers. Besides, Estonian project managers are highly organized and always adjust meetings according to the client's timetable. So, you'll definitely find a dedicated team of developers that will build you a quality product for a fair outsource app development cost.
On top of that, it's easy to arrange a meeting with the EU team in person. For example, Estonia is a visa-free country with a lot of flights for affordable prices. A direct, one-way ticket to Tallinn will cost you no more than $200 from any point in Europe. As for the US flights, a one-way ticket from San-Jose, CA, costs at least $700.
Western Europe
Western Europe is also rich with talented developers. However, depending on the country you choose, the price range varies from $50/hour to $150/hour. Such a wide range is caused by the number of developers in particular countries.
Germany, for example, has the biggest number of professional developers in the world, and their price range is $50-$99/hour. It's a reasonable cost to outsource app development with a decent quality. However, Portugal has far less developers. Due to the lack of engineers, Portugal software development companies charge $150/hour. With such an inconsistent price range, a ridesharing app can cost $159,100 at $50/hour, as well as, $477,300 at $150/hour.
Asia
Probably, one of the most debatable outsourcing regions. A lot of entrepreneurs fall for the most attractive price range of $20-$49/hour. With this range, a Netflix-like app will cost only $60,760 - $148,862.
However, Asia is the case when outsource app development cost affects product quality. Asian timezone is very inconvenient for the majority of clients. For example, when it's 12 a.m in Delhi, India, it's only 2:30 a.m in Washington, DC, USA. Such a difference in time doesn't allow conducting informative meetings with project managers. Besides, the language barrier and poor customer service may fail the whole project. That's why you don't have to fall for the lowest cost of outsourcing mobile app development. Firstly, you have to conduct your own research and find a trustworthy partner.
How to Make the Most out of Outsourcing?
Hiring a software development company is only half the battle. The team will handle issues related to architecture, design, and quality assurance. However, some concerns should be resolved by the product owner only. We've highlighted the main points that should be thought over before hiring a team of developers.
Market analysis
This stage falls on your shoulders because no one, except the product owner, knows better the idea of the app. Your responsibility is to analyze the market to understand your idea's relevance and find out who your competitors are. Well-timed identification of business requirements results in the correct allocation of resources and decrease of the overall cost of outsourcing mobile app development.
Also, you have to think about the unique features of your app. For example, you're going to develop an Uber-like app. If your app completely copies every Uber's feature, then most likely no one will use it. What's the point of using a no-name app when there's another well-established one? However, if your app has some unique features, like ordering a bus for a large group of people, users may find your app useful.
3 essential steps in market analysis
User research
User research is another issue that has to be solved by the product owner. Your app depends on users. That's why, before approving the design and feature list, you have to understand the demands of your audience. After the release, you have to constantly monitor user feedback and work towards user needs.
It's a pity when a full-fledged application fails right after the launch due to the lack of interest from the audience. Careful entrepreneurs go for a minimum viable product first. It'd let you conduct user testing of your app and gather initial feedback for further upgrades for the minimal outsource app development cost.
On top of that, knowing your audience can help with a marketing strategy. For example, if you're aiming at the audience between 18-23 years of age, you can try promoting your app in TikTok. In contrast, if you're aiming at a mature audience you should go for LinkedIn.
Find the right outsourcing partner
While searching for the right IT outsourcing provider, your main task is to make sure they're reliable and technically competent. Consider implementing a small test project to have direct experience working with a picked team. You must determine the particular goals of your project and ensure that the company and team of your choice are qualified enough to reach them.
Protect your intellectual property
It's an essential aspect not to forget about. Creating an authentic product implies strong protection. Signing NDA (non-disclosure agreement) may significantly help you impede upsetting situations. This document must be signed by your vendor because it prevents any important and confidential information from getting to third-party representatives.
Clear communication strategy
Cooperating with outsourcing companies always implies working with a remote team. And that's why supporting project transparency in every aspect is essential. All deadlines, outsourcing app development cost, and project goals must be established primarily.
Also, don't forget to make regular check-ins with a certain frequency. It will help you monitor the project's progress, and address issues if any are spotted. For example, at Cleverod, we perform weekly meetings at a convenient time for our clients, so you can be aware of the work done and ask for corrective actions as necessary.
Feature list
When contacting a software development company, you should have a clear understanding of your project's features. Business analysts can help clients with a feature list for the project's MVP, but they are helpless when clients don't have straightforward requirements for their product. Blurry product ideas will increase the analysis time and the final outsource app development cost.
The feature list is the basis for the specification that'll be passed to developers. So, if developers spend time on features that'll eventually be useless, you'll waste your funds for no reason. That's why it's crucial to have a precise feature list especially when you're on a tight budget.
Why Outsource to Cleveroad?
Cleveroad is a professional mobile and web development vendor located in the heart of European development outsourcing - Estonia. We've been providing businesses with unique software solutions since 2011.
Cleveroad in numbers:
10+ years on the market
120+ in-house engineers
170+ successful projects
8+ expertise industries
Our portfolio is full of custom-made projects that help businesses from different domains reach new heights, boost workflows and overcome their competitors.
Let us show you our experience of successfully implementing a project for our US client.
Our customer is a US-based company that provides educational and training programs online to medical students. However, its current solution turns out to be inflexible and doesn't really meet users' needs.
The company needed an experienced technical partner to:
Build an e-learning platform with LMS functionality to offer online healthcare training to students with certified industry instructors.
Deliver a convenient and attractive online environment to transit users from the existing solution (WordPress) to the new platform.
Receive long-term technical support to keep healthcare LMS competitive and up-to-date in the saturated Healthcare Education market.
As a result, our customer received a modern and feature-rich healthcare e-learning solution with approved quality. Now, the company offers qualified training services that address the needs of students, including professional certification preparation. The quality of development allowed our client to release the app quickly, avoid interruptions, and increase the users' loyalty. Now, the platform is trusted by over 350,000+ future nurses.
Here, at Cleveroad, we know how to build products that matter. We provide full-cycle software development services. Right after the request, our business analysts will contact you to find out the project details. Our specialists will help you to come up with an MVP feature list and conduct a rough estimate free of charge.
Looking for a development team?
Optimize your app development costs with a remote team while keeping the top software quality
Frequently Asked Questions
Outsource app development cost with the rate of $50/hour for both iOS and Android will be around:
Simple app development cost - $40,000-120,000
Medium-complexity app development cost - $120,000-200,000
Complex app development cost - $200,000-300,000+
Software features and complexity
Development team
Developers' rates
Outsourcing allows entrepreneurs to save finances on projects and allocate in-house developers to other tasks.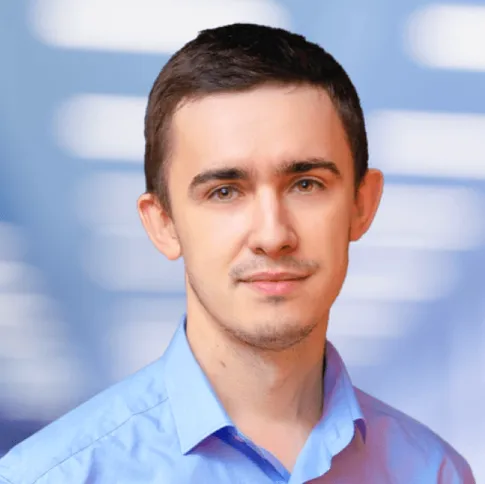 About author
Evgeniy Altynpara is a CTO and member of the Forbes Councils' community of tech professionals. He is an expert in software development and technological entrepreneurship and has 10+years of experience in digital transformation consulting in Healthcare, FinTech, Supply Chain and Logistics
Rate this article!
2213 ratings, average: 4.80 out of 5
Give us your impressions about this article
Give us your impressions about this article