Top 5 Influencer Marketing Trends for 2023 and It's Use in Digital Business
Brands started reaching their customers through media influencers more actively in the last couple of years. The reason is 67% of marketers find social media influencer marketing campaigns a great channel to target the right audience. Estimations show the market of digital influencer marketing has reached $10 billion in 2020. It's high time to jump in! Though, you need to learn the influencer marketing trends of 2023 at first.
In this article, we don't only disclose the latest trends in influencer marketing but showcase you the use cases of influencer marketing in digital business.
Is influencer marketing really so popular?
You bet! What's more, being an active user of social networks, you might have faced it even without noticing. The reality is many companies still ignore social influencer marketing even though influencer marketing is one of the largest marketing trends of 2023.
Cooperating with famous influencers may cost companies a pretty penny but there is a micro-influencer marketing. Micro-influencers have up to 100K followers on social networks. It's a good chance for small and medium-sized companies to effectively reach their audience at reasonable spendings.
Returning to figures, the latest report shows that 81% of marketers use influencer content and 51% of them note the improved ROI if compared to the content created by the brand itself.
Influencer marketing: Statistics
Influencer marketing trends in 2023
Influencer marketing became one of the main influencer marketing trends of previous years and a great channel to drive sales and engage the audience. This tendency won't stop this year either. The main question is, how to be effective and what tactics to use.
#1. Stricter regulations
That's one of the most impactful trends in influencer marketing. It implies the transparency of cooperation between influencers and brands.
At the early stages of social influencer marketing, not all the brands were open enough concerning their collaboration with media influencers or celebrities. Respectively, many influencers created content for brands across their social networks without revealing they were paid for it.
The Federal State Commission decided to regulate that issue and defined what exactly influencers and brands should do if they work together on a paid content.
If you want to meet this influencer marketing trend and don't have any legal issues, the audience should be aware that the content is sponsored. On Instagram, it's enough to add simple hashtags like #sponsored or #ad.
Influencer marketing trends: Mark sponsored content
By the way, Instagram made this process much easier with it's Branded Content Tools. With their help you don't even need to use any hashtags as posts are marked like this:
Influencer marketing trends: How Instagram marks branded content
So, disclose each sponsored post to follow this influencer marketing trend and be sure you won't have any problems.
#2. Don't be limited to one platform
It's true that most influencers choose Instagram as their favorite platform. However, this doesn't mean you should neglect other social networks especially if take into consideration that one and the same influencer is active on several platforms as a rule.
Instagram influencer marketing platform: Favorite social networks of influencers
Bear in mind that in most cases the cost of collaboration depends directly on the number of influencer's followers, their engagement rate, and overall demand for advertising. Respectively, the more brands want the influencer to promote services or products of their own on Instagram, the more expensive it'll cost you. It's not really good news if you're on a tight budget.
So, if you're considering the launch of influencer marketing for small business -- try to ask the same influencer to promote your brand not on Instagram but another social network. There are good chances the price will be much less than on Instagram. Even though you may cover a smaller number of audience, you could get a better ROI.
Influencer marketing trends: What platforms influencers work on
So, stick to this influencer marketing trend in 2023 and you'll not only cut your expenses but drive sales more effectively.
#3. Software as an integral part of influencer marketing
Nowadays, it's not necessary to hire in-house web developers to build a software your company needs. Just look around and you'll find plenty of ready-made tools solving your problems or at least the ones you can customize to meet your needs. The use of influencer marketing software is another trend you should follow as it helps companies to find the right influencers with more ease and accuracy.
Here is how the simplified version of the influencer search looks like:
Search for the right influencers on Instagram, YouTube or other social networks;
Contact them through email or direct message;
Discuss the terms of cooperation in details;
Pay for your sponsored post and wait till influencer complete his/her part of the agreement.
As social influencer marketing becomes more popular, the number of software for it grows too. By using Tapinfluence or Upfluence, you can facilitate all the processes listed above.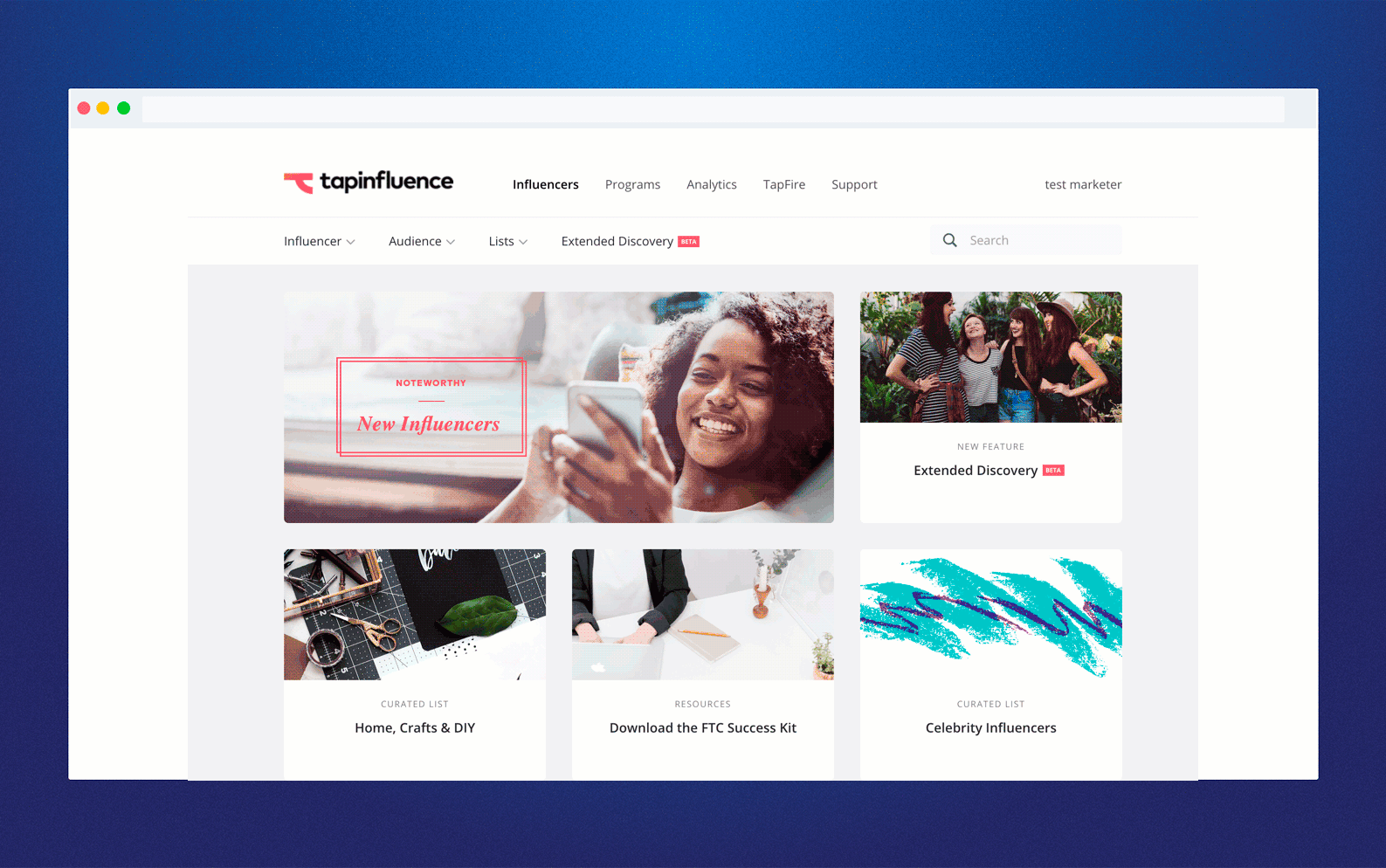 Influencer marketing tools: Tapinfluence platform
#4. Tracking is as important as ever
Actually, it's not only the influencer marketing trend but the main rule of any marketing campaign. Your cooperation with influencers should be beneficial for your brand and you won't know it without tracking the influencer marketing metrics.
Again, there are many influencer marketing tools allowing you to keep track of your campaign but you can start with basics like UTM parameters. Put simply, it's a special code that helps to track visitors that come from influencer you cooperate with.
Another option is the use of promo codes. It's a very effective and simple way but it depends heavily on your goals. Promo codes are easy to track since they are unique. This way, each time a customer enters the promo code you allocated for influencer's post you know exactly how this sale was generated.
In case you need more awareness, try to launch a branded hashtag. You can measure it through a variety of available social media tools.
#5. Content ranks first
One of the main influencer marketing trends implies the creation of useful content instead of annoying ads. Of course, you can ask your influencer to tell how much he/she loves your brand or product you created. But let's face it, that's boring. Go beyond typical advertising approach and be creative. Otherwise, your campaign won't work.
For instance, let's take a look at the partnership of YouTube influencer and Segway company:
This video is useful for the audience as it shows how this Segway model actually works. What's more, it's a perfect alliance of the apt influencer, platform, and company. YouTube is the first and foremost source where people come for seeing reviews.
The last year there were a variety of big names that used a similar approach in their campaigns. That means if you're an owner of small business, have a small budget, but want to launch the social influencer marketing campaign -- you have to come up with even more creative approach of collaborating with influencers to stand out.
Social influencer marketing for digital business
With the right approach, this marketing channel can be tailored to any kind of business. Digital sphere isn't an exception. To prove you this, let us show you several popular business niches and their representatives from the digital world that have successfully used the power of social influencer marketing.
Travel
The travel industry is one of the fastest-growing ones in the world. In 2017, it's size was estimated at about $1.2 trillion. As we want to focus on the digital side of the business, it's worth noting that analysts have estimated that the online travel market has generated $1 billion in 2020.
Airbnb
This is a great example of successful influencer marketing. The company's strategy is simple -- Airbnb offers to pay a celebrity's stay in return for the sponsored post on Instagram where the company is tagged both in a caption and on a photo. This appeared to be viable and effective so starting from their first influencer marketing tries in 2015, the company has cooperated with countless celebrities.
Airbnb influencer marketing
Why did they choose celebrities instead of micro-influencer marketing? Probably because reach is their main goal. Besides, many celebrities are actually active users of Airbnb.
37 sponsored posts over the last two years;
18M likes and 510K comments;
The total reach is 966M.
Business & Tech
Businesses and technologies went online a long time ago. This way, except for physical stores and services we have their digital analogs. Let's consider how digital representatives of this category use social influencer marketing in their favor.
Baidu
Among all the areas of activity, this Chinese tech giant is also involved in the development of mobile apps and even social networks. The company has included the influencer marketing plan to it's overall marketing strategy and actively involves influencers to promote their apps. In Baidu says it's a great way to attract the right audience. For this purpose, they use such channels as YouTube videos and Instagram Stories emphasizing that campaigns like these have a much greater impact if compared to commercials or articles.
Amazon
We can't omit this example. Amazon cooperates with both micro and macro influencers to promote several digital products of their own including Audible, Prime Day, and Prime Now. For this purpose, they collaborate with 11 influencers on YouTube and Instagram who generated 14 sponsor posts for them.
Amazon cooperating with micro-influencer
Game industry
Yes, game makers also use social influencer marketing to drive more users to their creations.
Next Games
This mobile game is based on the popular TV show called The Walking Dead. The Next Games company that created this game wanted to promote it in a way to hook both the show's fans and people who have never heard about it. For this purpose, they cooperated with five YouTube macro-influencers (over 18M subscribers in total) and each of them created an engaging video dedicated to this game.
Next Games company collaboration with influencers
As you see, companies from diverse spheres have already experienced the impact of social influencer marketing. There are no concrete restrictions towards where and how to use this marketing channel. Just know your target audience, set goals, and be creative.
Before promoting your product, make sure it works stable and provides users with top-notch experience. To ensure this, you can conduct different types of testing including usability testing as well as involve your audience to test it.
If you experience any troubles with your website/app or their implementation -- let us check. Contact our tech-savvy managers to tell us more about your problems or ideas. Get a fast feedback and any estimations needed.
Like this article? Get more to your inbox! Subscribe to our newsletter and we'll send you the latest articles and videos from our team to your email once a week. No spam, we promise.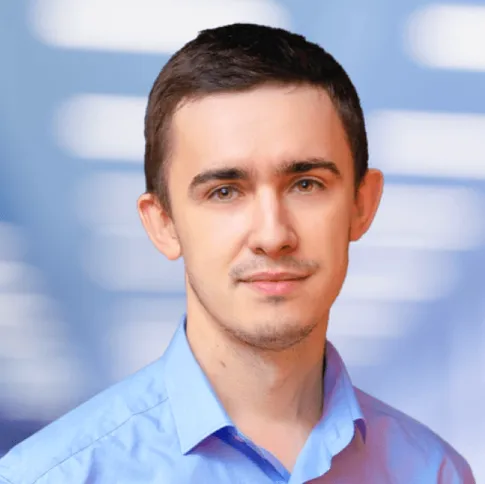 About author
Evgeniy Altynpara is a CTO and member of the Forbes Councils' community of tech professionals. He is an expert in software development and technological entrepreneurship and has 10+years of experience in digital transformation consulting in Healthcare, FinTech, Supply Chain and Logistics
Rate this article!
2039 ratings, average: 4.93 out of 5
Give us your impressions about this article
Give us your impressions about this article
Jasmine
24.06.2021 at 11:30
Thank you so much for such an amazing blog on Marketing trends. Truly helpful, Keep shining!