Deep Dive Into IoT in Agriculture: Use Cases, Projects, Peculiarities
The Internet of Things is gradually reshaping the way we live and manage businesses. This technology is already widely applied not only for everyday life but various business needs too. Healthcare, education, manufacturing, logistics IoT in agriculture doesn't sound too extraordinary after such a list, does it?
Farming has undergone a plethora of changes with the development of technologies. They resulted in the creation of smart farming. IoT is the next step to the better process automation and allocation of resources. In other words, IoT combining software capabilities and connected devices let entrepreneurs make use of the advantages of modern technologies in agriculture.
According to the Machina Research, the number of connected agricultural devices will increase to 225M by 2024. What does this mean? The growing demand means that the technology meets business needs and helps to address existing problems.
In this article, we take a closer look at how this technology is useful for agricultural needs, unveil the IoT use cases in agriculture as well as consider the benefits of smart farming technologies for this industry along with possible pitfalls you should think through.
What is smart farming?
Let's start right off the basics. In fact, the use of technologies in agriculture can be defined by several terms:
AgriTech
This is rather about the use of software products to improve the efficiency and profitability of one's agricultural business.
Smart farming
Smart farming is also often called smart agriculture and implies the use of IoT in agriculture to enhance different aspects of the business.
How does smart agriculture work?
Smart farming solutions work due to specialized sensors. IoT agriculture sensors help farmers track nearly everything you can imagine: from water level to weather conditions. All this enables farm owners to make data-driven decisions, plans, and manage the business more efficiently.
Smart Agriculture: Market size
Even though IoT solutions for agriculture aren't as popular as consumer-oriented solutions, the market is quite potent. Numerous studies indicate that the interest to IoT in agriculture is rising constantly.
For example, Business Insider expects 75M agricultural IoT devices to be shipped worldwide by 2020. And that sounds like a persuasive statement as the humanity has to produce more food to feed the ever-growing population.
More and more farm owners begin to understand the role of IoT in agriculture and how it can help them optimize the chain of business processes so they could produce more at less cost.
The graph showing the shipment growth of IoT devices for agriculture over the years
Talking about the smart farming IoT, the market worth is estimated to be 7.53B in 2018. Looking further ahead, it will reach 13B by 2023.
As you see, the smart agriculture market is still developing what means there is enough space for agricultural businesses striving to fine-tune and automate their processes ahead of their competitors. The early adoption of this technology can get you a serious competitive advantage.
There is also enough space for software and hardware agriculture IoT startup companies having fresh and interesting ideas.
Benefits of IoT in agriculture
IoT in agriculture is able to transform a variety of business processes and help entrepreneurs make the right decisions.
Underneath, we've singled out a few benefits of IoT in agriculture:
1. Valuable data is collected and processed
As all these IoT-based smart agriculture sensors work closely with software, the data is recorded, analyzed, and visualized in a user-friendly way. Correspondingly, by keeping all the necessary data in one place, be it weather conditions or health of the cattle, you can easily monitor the current situation in your business.
2. Risks are under control
Tons of gathered and analyzed data gives you an opportunity to foresee the amount of product you'll produce for a set period of time. As an example, you can work out a modernized product distribution scheme based on the forecast to improve sales. This way, you minimize the risks of financial losses caused by unsold production.
3. Business is efficient and automated
Smart agriculture sensors don't only help you automate various business processes (e.g. pest control) but keep them efficient by helping you to allocate resources in the right way.
4. Product quality is getting better
Smart agriculture technology allows you to improve the final product quality as all the issues are typically detected and mitigated beforehand, while all the other processes in your business can function as they usually do without being stopped or frozen.
Benefits of IoT in agriculture
IoT use cases in agriculture
Below, we've singled out the most common use cases for IoT in agriculture as well as complimented them by smart agriculture companies which already work in that segment.
Monitoring of livestock
The symbiosis of software and hardware gives farmers an opportunity to monitor their livestock with the help of different IoT agriculture sensors and get an instant access to the data via IoT applications.
This way, smart livestock farming allows farmers to gather and keep track of data like the livestock health, location, and well-being. Therefore, all these allow entrepreneurs to cut on their costs in two ways:
Avoid epidemic

. Sick animals can be identified and immediately isolated from the rest of the herd to prevent the spreading of disease.

Lower workforce costs

. Farmers always know where their livestock is grazing and they don't have to waste their time herding them.
The main challenge of IoT for livestock monitoring is infrastructure. You must know exactly how to place those sensors and what power sources they require to function.
Example
Such smart agriculture solutions as Cowlar and SCR provide advanced cow monitoring systems which gather and deliver information through neck collars. These collars monitor such important parameters as health, temperature, activity as well as provide insights on nutrition of each separate cow and the whole herd in general.
Tracking the climate conditions
This is probably the most widespread use of IoT in agriculture. It's also called climate-smart agriculture. Weather stations in combination with smart farming sensors located in the field can provide farmers with valuable insights. Such a solution is able to collect various environmental data and send it to servers for analysis. As a result, farmers get forecasts regarding climate conditions which enable them to pick the most suitable crops and take measures to increase yield and avoid losses caused by weather.
Example
IoT-based agricultural projects like Pycno, allMETEO, and Smart Element make this use case a reality. Each of them is packed with sensors and software allowing to measure climate conditions, analyze them, and use that data to take actions.
Automation of greenhouses
The system can regulate parameters and conditions inside a greenhouse to achieve the best results.
Example
Such smart agriculture project as Growlink uses Artificial Intelligence, Machine Learning, Sensor Data, and Computer Vision to monitor crop conditions in a real-time and automate all the harvest-related processes.
Monitoring of crop
Just like with climate conditions, IoT-based agriculture sensors for crop management are also placed in the field. This way, these devices are able to gather specific data which includes crop health, precipitation, temperature, humidity and more.
Hence, by using IoT for crop management you can detect any health deviations and save the yield from being affected by diseases. You can also monitor the growth of your crop and that makes it easy to determine the best time for planting and harvesting it.
Example
Semios and Arable are IoT agriculture projects that clearly represent how crop management can be easily done with the help of technologies.
Full-fledged farm management systems
A plethora of smart farming sensors on a farm or chain of farms leads to the necessity of streamlining data and it's management from one place. That's where the need for a robust management system appears.
Typically, such systems not only include the support for various IoT agriculture sensors installed all over the farm's area but powerful analytical, accounting, and reporting features.
Example
Smart farming companies like FarmLogs and Cropio provide specialized software that enables you to monitor most of the business processes on a farm remotely.
IoT projects for agriculture: Farming software from FarmLogs company
Use of drones
The use cases for drones in agriculture is one of the greatest smart farming ideas. They can simply sprinkle pesticides or take filed photos to later send them to the cloud or other IoT-based agriculture devices for analysis.
The Grand View Research company expects the global agriculture drone market to exceed $3.5B by 2024. This is mainly because they are easy to control and can be programmed to send data to the cloud or other devices.
IoT-based agricultural projects
Apart from the aforementioned IoT-based agriculture companies, we decided to add more value to this piece of writing by listing curious projects that were not mentioned before in the article.
This platform is designed for soil monitoring and it's main task is to inform farmers how much they should irrigate and when to do so. CropX is the combination of software and hardware products that work together to receive, process, and visualize the data for end users. The process happens in the cloud so users can get an instant access to the data via mobile app or website.
This is a software platform that helps entrepreneurs manage their agricultural business via mobile or desktop. The system gathers data and creates field mapping, fertilization plans, calendars, and more.
It's worth noting that such gigantic agricultural equipment manufacturer as CLAAS cooperates with 365FarmNet.
The interface of 365FarmNet software demo version
JMB is an IoT-based cow monitoring solution. The distinctive feature of this platform is that it allows monitoring a cow's pregnancy and get a signal when the cow is ready to give birth. Of course, using a set of specialized sensors.
Things to consider before creating an IoT solution for agriculture
As you see, there are a plenty of ways how to use IoT in agriculture and a variety of ready-made IoT solutions for agriculture are designed to help you with it. However, out-of-the-box solutions aren't always the best choice since they can't meet all the needs of every farm in the world.
That's why some entrepreneurs consider developing IoT solution for agriculture from scratch. If you're one of them, there are several things you should consider and discuss with your software development services provider.
Purpose
The purpose defines everything. In order to better manage the sources and lower the expenses, it's necessary to understand what parameters you really need to keep track of. This, in turn, defines what IoT agriculture sensors to make use of and how to architect the software.
For example, the main parameter most ranchers need to monitor is the cows' health. Having found a sick cow in the herd on time, ranchers can save money on antibiotics, labor, and veterinary services.
Data transfer
IoT-based agriculture solutions have to send the data they gathered to servers. This means the data travel distance should be taken into consideration as well since different technologies are capable of sending data at different distances.
Long distance
If the data has to travel several kilometers to get to the destination point, a low-power wide-area network (LPWAN) might be your choice.
Power sources
Keep in mind that the battery life of IoT sensors depends on the data traveling distance. Typically, software developers write an app to transfer fewer data between a server/other sensors or just do it less frequently.
Also, consider low power applications to avoid problems with maintenance of sensors placed far away and cut on power costs.
Frequency of collecting data
Another thing to think through is the frequency of collecting data. It depends directly on your needs. For example, a crop farmer probably doesn't need gathering the soil moisture information every few seconds. At the same time, the rancher would probably prefer to monitor where every cow from the herd is in a real-time.
Installation of sensors
One more challenge is to place IoT sensors properly to reap all the benefits from them. For example, the installation of sensors in an orchard with tall trees demands more caution than analogous manipulation in a field.
Summing up
IoT-based smart farming solutions lead to reduced costs and increased efficiency for agricultural businesses.
If you need a reliable software development company to build a software solution -- feel free to contact our managers. They'll answer all your questions regarding our expertise, joint cooperation, and provide you with a free estimate of your project.
If you want to hear more from Cleveroad, you can subscribe to our newsletter. We'll be sending you one letter a week with our latest articles, case studies, and videos.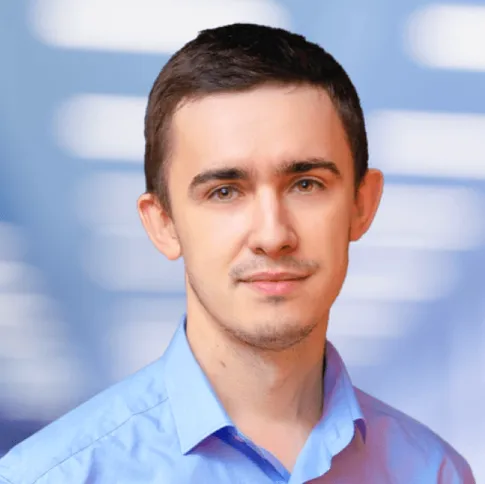 About author
Evgeniy Altynpara is a CTO and member of the Forbes Councils' community of tech professionals. He is an expert in software development and technological entrepreneurship and has 10+years of experience in digital transformation consulting in Healthcare, FinTech, Supply Chain and Logistics
Rate this article!
2224 ratings, average: 4.88 out of 5
Give us your impressions about this article
Give us your impressions about this article
Abdalla Elsiddig
24.05.2021 at 17:31
We agreed with the largest sugar factory in Africa and the Middle East that cultivation of 90 thousand acres of sugarcane annually to do a PoC for IoT solution, I wonder if you can help in this project.