6 Approaches to Legacy System Modernization
Legacy systems have lots of drawbacks. They're difficult to maintain, support, improve, or integrate with new systems. Their maintenance costs a lot—up to $7 to $19+ million per year if we're talking about a large-scale app.
But it's not easy to replace an old system. Especially when it handles vital business processes within an organization.
Legacy system modernization solves this problem by offering several approaches that won't disrupt your internal processes.
This guide reviews six common legacy system modernization strategies and lists the steps to follow before the modernization starts. Here's what we'll review:
We're focusing on software modernization strategies here. If you want to learn more about the reasons for application modernization, check our this topic.
What Is Legacy System Modernization?
When we call a system a legacy one, we usually think of corporate IT apps from the 90s or early 2000s. Probably written in COBOL or Fortran and having an outdated user interface like this one:
Human resource management module of SAP
But neither age nor programming language defines whether the system is outdated or not. 'Legacy' refers to any piece of software, technology, or system that slows downs or blocks processes in an organization, making it harder to adapt to the changing market dynamics.
Based on this, legacy systems modernization means updating and replacing an outdated or inefficient system, processes and applications—partially or fully.
Let's imagine you're an insurance company running an old ASP.NET application.
The app itself is meant to manage car insurance claims. Currently, it requires adjusters to use their digital cameras to take pictures, load them onto their PCs from SD cards. Then manually upload these pictures to the site.
Works if you have a couple of cases per day. And what if there are hundreds?
You may start by giving staff a mobile app, so they don't have to drag their laptops around. They start taking pictures, and the system automatically uploads them into Google Photos or cloud.
Or make a web application instead of a desktop one—more flexible, easy-to-scale, and accessible from mobile devices.
How to Prepare for Legacy Systems Modernization
Modernization does not always require a complete transformation of your IT stack. But what it does require is an honest assessment of where digital transformation is needed.
Before we review legacy software modernization approaches, let's see what research and planning you need to do to prepare for it.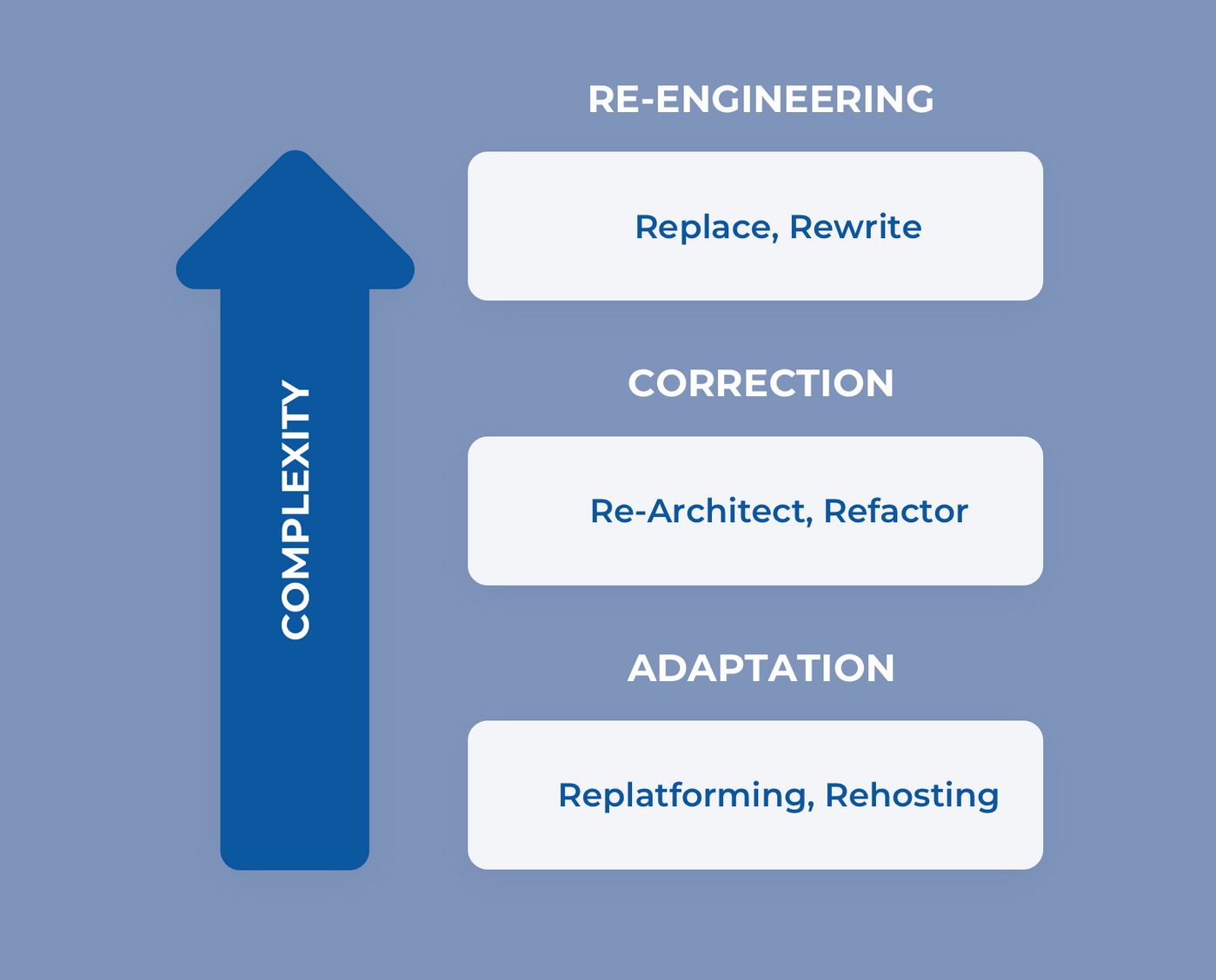 Modernization strategies by their complexity
#1. Define Your Goals for Software Modernization
Merely moving your COBOL/CICS environment to Java won't eliminate all the issues.
It's better to link modernization efforts to your business and tech goals—scalability, new features, faster time-to-market.
Stefan van der Zijden

Research director at Gartner

The key is to understand if your problem is caused by technology, architecture, or functionality of the application, and how each modernization approach improves those aspects.
For example, modernizing a billing app and integrating it with a new e-commerce system could boost customer satisfaction and reduce service costs. That's because fewer customers need to contact the business about problems with their bills.
Depending on your industry, market, and goals, you can identify how legacy system modernization could impact the company's revenue, market share, improve customer experience, and many more.
#2. Understand the Current State of the System
The next thing is measuring how your current system performs. This will help you create the initial roadmap for modernization and prioritize the apps you need to modernize.
Start asking questions about your system's infrastructure:
How resources are being used?
What chronic resource issues are there?
Performance:
How is the software working now? What is its normal performance?
Does the system throw any errors? Which ones?
How is the end-user experience?
And its impact on your business:
How does the system's performance impact your revenue?
How much time do staff members spend on the app?
How does the app impact conversion rates or order value?
Do errors or downtime impact customer service costs?
By having a full view of your system's performance, UI, infrastructure issues, and codebase, you and your team will be able to decide on system modernization strategy.
#3. Choose a Modernization Strategy
Now is time to use all the data you've gathered and choose a modernization strategy.
Of course, if you're working with a software development company, they'll assess your system and suggest the best-fitting approach. Still, it's always better to get acquainted with all the options.
These are six approaches to legacy system modernization. But only three—rehost, replatform, and refactor—involve modernizing.
Let's review all the approaches in more detail.
Software Modernization Strategies
Although rewriting or replacing may be the first thing that comes to mind, in fact, legacy software modernization should be done on a case by case basis.
Stefan van der Zijden

research director at Gartner

If you're faced with a legacy challenge, the best approach depends on the problem you're trying to solve. Replacement isn't the only option.
That's why you need to do research and assess your current system—to decide on the software modernization strategy.
Replacing
Replacing means switching to another package solution that matches your business requirements. Sometimes it's more effective to switch to another system than modernize the current one.
In case of replacing, you can't reuse the existing business logic, though,—but some level of re-engineering, customization, and rewriting business logic may be involved.
Still, customizing a package can be very complex—and very risky. Just like rewriting, it should only be considered when maintaining an old legacy system becomes more difficult due to staff or hardware limitations.
Rehosting
Stands for moving the system to a new physical, virtual, or cloud infrastructure without any changes in code, features, or functions. For example, it may make sense to move an old system to a cloud or SQL-based environment.
Migrating to cloud makes the system more flexible than on-site hardware and improves data security, stability, and continuous updates.
Moving to SQL-based x86 architecture systems results in lower purchase costs and less strict requirements to cooling and space.
The rehosting strategy is faster than re-engineering (which may take years to finish) and comes with lower cost and fewer risks. Yet it keeps the business logic intact, which means the system works in the same way as it did before.
Replatforming
Developers leave the software nearly as it is, preserving its functionality but adapting to a new platform. The goal here isn't to completely rebuild apps—we have the rebuild approach for that. Instead, systems are altered until they can run in the target environments like cloud-ones.
Developers take an existing system component and move it to a managed service (like a database service), making no changes to the business logic.
For example, it may imply the switch from commercial databases to horizontally scalable open-source data stores and services.
Refactoring
Optimize existing code on the backend without changing front end behavior or functionality. Refactoring is done to get rid of tech problems, improve the component's features and structure.
By re-coding some parts of the current system, companies take full advantage of cloud-native features—and achieve max cost efficiency in the cloud.
Re-Architecting
Re-architecting stands for fully changing the code of the app to move it to another architecture. By altering the code, you can fully exploit new and better capabilities of the existing platform.
For example, you can achieve that by moving away from old monolithic to modern microservices architecture.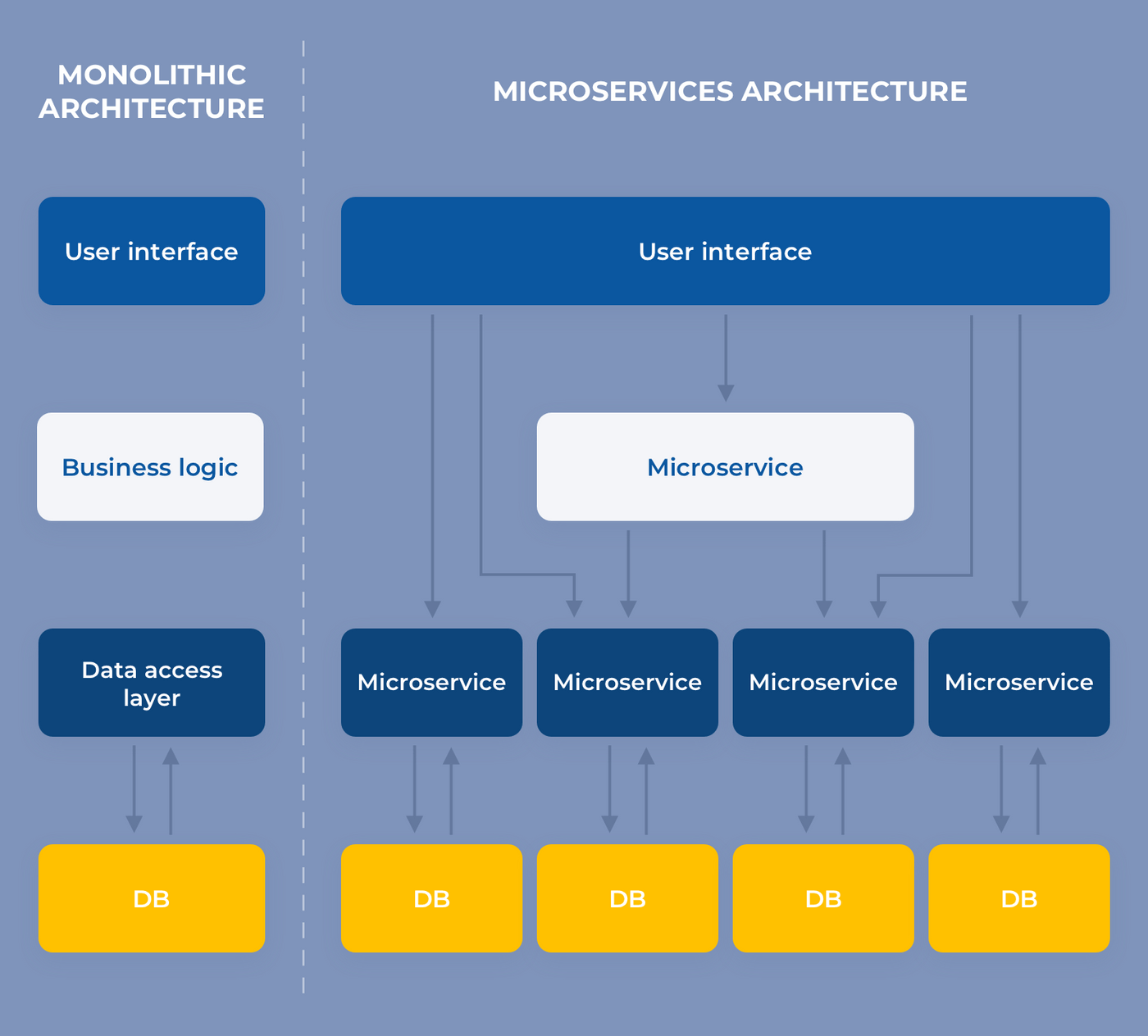 Legacy system modernization approaches: moving from monolithic arch to microservices
This may be a good idea, as, according to IDC IT predictions, 90% of all new apps will feature microservices architectures by 2022. They claim microservices to improve the ability to design, debug, update, and leverage third-party code.
Rewriting (Rebuilding, Redesign)
Rewriting means building a new system from scratch but with similar functions.
It may be a good option when your customers want more than the current system can provide. The best justification of this system modernization strategy is when the costs of maintaining an old system have become higher than the cost of rebuilding it.
For example, your team may take a monolithic app and replicate its functionality as a cloud-native microservice running in a cloud-native environment.
While all these approaches differ, they have at least one thing in common—they require a close look at your interconnected components, systems, and applications. That's because you cannot update one component in a legacy system ignoring all the others.
How We Can Help You
We also had a few projects regarding legacy systems modernization and would like to share a couple of cases.
One of the projects we enjoyed working on is RetailOps—a SaaS retail platform we've modernized. We rewrote the iOS app from Cordova to Swift, finalized the app's features, and added new functionality.
While our Design team completely changed the UI/UX design of the app. We used the right contrast color scheme to make the app accessible for any employee, including workers with low vision and color vision issues.
Another example of legacy system modernization was an internal CRM software we worked on (the project's under NDA).
Initially, the CRM system was written in out-of-date PHP, and owners could not add new functionality and maintain the system, so we rewrote it from PHP to JS.
Our clients got a stable and customizable CRM system to use for internal processes. The solution is scalable, so our clients can quickly expand the system as their business grows.
Your system needs modernization?
We'll help you choose an approach that won't disrupt your internal processes
Frequently Asked Questions
Legacy system modernization stands for updating and replacing an outdated or inefficient system, processes, and applications—either partially or fully.
There are six common approaches:
Rehosting. Moving the system to a new physical/cloud infrastructure.
Replatforming. Leaving the software nearly as it is, but adapting to a new platform.
Refactoring. Optimizing existing code on the backend without changing its front end part.
Re-architecting. Entirely changing the code of the app to move it to another architecture.
Rebuilding. Building a new system from scratch but with similar functions.
Replacing. Switching to another package solution that meets your business requirements.
Before the modernization starts, you should do some research and planning to prepare for it.
Define your goals for modernization—scalability, new features, faster time-to-market.
Understand the current state of the system—how the software's working now? Does it throw any errors?
Pick the best-fitting modernization strategy—rewriting, rehosting, re-architecting, or maybe replacing.
There are three reasons:
High maintenance costs.
Security threats.
Limited business opportunities.
Check more details about the reasons for legacy system modernization here.
Legacy systems have lots of drawbacks. They're difficult to maintain, support, improve, or integrate with new systems. Their maintenance costs a lot—up to $7 to $19+ million per year if we're talking about sophisticated, large-scale systems.
There are six common strategies:
Rehosting
Replatforming
Refactoring
Re-architecting
Rebuilding
Replacing
Rate this article!
1066 ratings, average: 4.69 out of 5
Give us your impressions about this article
Give us your impressions about this article
Ildiko Dengler
27.09.2020 at 01:12
Silas Nielsen
03.10.2020 at 10:39
complete software rewrites are a problem and quite never are destined to end up well. sometimes its better to invest into bringing in a consultant on these issues as you've said
Marilou Singh
07.10.2020 at 05:02
It's a better choice to modernize an old system since it is a burden to maintain old code daily.
Emre Erez
10.11.2020 at 12:20
Good post for beginners! Modernization is a complex topic for me as I used to get lost in tech details. By the way, I liked what you did to that SaaS app - looks very well after re-design