Route Optimization App in Logistic Business: Examples, Details, and Implementation
Logistics is developing extremely fast today. The market requirements are constantly evolving, and the niche needs significant optimization to speed up deliveries and increase efficiency. To keep up with the furious "fight" for customers and stay ahead of the competition, you need to be faster and more productive. Automating core processes will play a massive role in business development and allow you to stay afloat even with rapidly changing requirements.
First of all, the importance of automation is caused by the complexity of the transport issue. Constant traffic jams, road repairs, and manual search for the best route significantly reduce logistics efficiency. That is why creating route optimization apps that allow dispatchers and drivers to interact effectively and improve business efficiency is so important. This article explains the features, functions, and details of developing such applications. So let's dive into a detailed study of route optimization applications.
An Overview of a Route Planning App Market
Let's begin with a brief investigation of route optimization apps and transporting markets. The research results are impressive: the route optimization software is expected to reach $5.07 billion by 2023. Here are some illustrative statistics by Mordor Intelligence:
The route optimization software market is forecast to grow by approximately 11% by 2026
According to a survey conducted by Verizon, 53% of companies that implemented a route optimization app saw a positive increase in productivity
Route optimization also helps reduce carbon footprint; for example, Nike Inc. was able to reduce it by 30%, which is a significant competitive advantage, not to mention value for the ecology
Spelthorne City Council was able to reduce its fleet by 15% using optimization software, helping to cut costs significantly
As for the trends in the software market for route optimization: an active growth in demand for the design of such solutions is expected due to the growing digitalization of business. Thus, the costs of developing digital solutions are growing by about 10.4% every year and, by 2024, will amount to $2.4 trillion.
This growth is well-founded, as manual control of the vast flow of deliveries becomes more and more complex. Moreover, its automation helps optimize routes, improve productivity, and reduce fuel costs, depreciation, and driver wages.
So how can you benefit from the delivery route planner? Let's dwell on this issue in more detail.
Cost reduction. Route optimization will significantly reduce travel time, which will help lower shipping costs.
Reassessment of expenses. Continuous monitoring of the delivery process helps to determine which resources are being used and how much to ensure their more efficient use.
Determination of the shortest routes. There are situations when the way must be rebuilt quickly due to traffic jams, repairs, and other reasons. GPS route optimization app helps to solve this issue by minimizing costs.
Improve the performance of drivers. The efficiency and speed of each trip allow you to make more trips, increasing profits.
Route optimization app's benefits
Let's take a detailed consideration of route optimization and why it is so important.
What Is Route Optimization, and Why Does It Require a Planning App?
First, the question may arise: what is route optimization in general, and what is its essence? Why is it so important? So, route optimization is the process of organizing the most efficient delivery route, taking into account many factors, such as:
Number of stops and their location along the route
Complications on the roads such as traffic jams, accidents, and repairs
Path safety and efficiency
Communicated Delivery Window
For many years, such optimization was carried out manually, which naturally could not guarantee a quick response to rapidly changing conditions. That is why special applications have been created for these purposes, gaining more and more popularity.
A route optimizer app is a handy tool that allows you to quickly and efficiently organize delivery, track cargo, and change routes in real-time. A delivery route planner is very convenient, as it will enable drivers not to waste time choosing the best way or getting stuck in traffic. As a result, they can do their job much more efficiently. Conversely, depending on priority, dispatchers can easily manage tasks by adding them during the day.
Let's consider what challenges an address routing app helps to overcome:
Planning automation
The courier route optimization app allows you to reduce the time spent on planning and managing tasks significantly. For example, you do not need to call all the drivers searching for one who can complete the job faster, and the drivers do not need to constantly specify the next stop. The delivery route optimization app will provide all this in real-time.
Ease of rerouting
Changing the final stop or adding a new one will be easier. The driver can see the task update in the route optimization app for iPhone or Android without spending time determining the best route to complete the new job.
Improved fleet management
Tracking the location and course of drivers will become much easier with the delivery route optimization app. Furthermore, you will be able to see all this data in real-time without distracting employees from work with calls or messages.
Effective problem solving
Logistics does not tolerate delays. However, route optimization apps will allow you to rebuild the course, bypass possible traffic jams or other problems on the road, and choose the shortest path.
Report automation
The application will be able to record data on all the deliveries made, the time spent, the amount of fuel, etc. It will allow you to quickly generate a report, eliminating the need for routine paperwork.
Need route planning automation?
We will help you create a solution that will suit your business goals
The best route optimization app should include an admin panel for managers and a convenient solution for fleet drivers. Thus, its tasks will be carried out as efficiently as possible. But how do you choose the right app? Let's consider this question in more detail.
Choosing the Best Route Optimization App: Things to Consider
Choosing an address routing app today may be tricky, as there are many variations of such solutions. However, it is worth choosing the one that will ideally suit your business. Therefore, it is necessary to identify some critical points for making a decision.
Questions to think about to determine future app details
How many drivers does the team have?
Whether you have 3 drivers or 150, you need a solution that allows you to manage your entire team simultaneously. In addition, the itinerary of each employee should be easily viewable so that any changes to daily tasks can be made easily. Correspondingly, considering scalability, you should choose a delivery route planner that will allow you to scale further meeting all the needs of your driver team today and to be forward-looking.
What devices should the app be compatible with?
Regardless of the type of application, it is crucial for you to determine on which devices it will be used. For example, do you need a route optimization app android, web solution, or iOS app? It is important to determine compatibility with the technologies available for each option. It is also vital if the app should interact with other applications that you use at work, such as CRM systems.
Is the quality of the live tracking good enough?
It is critical that the application integrates with the GPS and can quickly and efficiently rebuild the route in real-time. Drivers should be able to avoid wasting time on their thinking through the path. And dispatchers should instantly receive information about any change and the location of each car.
Does the app allow you to prioritize shipping?
In logistics, situations when a specific cargo must be delivered in the first place, are widely disseminated. Therefore, it is essential that the courier route optimization app can consider the priority, building a route based on urgency. But some businesses need the support of specific predefined Delivery Windows. If you are considering DWs while planning routes, this feature should be added to your route optimizer app. Choose Delivery Priority vs Delivery Windows or request a complete system with both.
Things to consider before choosing courier route optimization app
Do you want to use one of the existing solutions or create your own?
There is a great variety of route optimization apps on the market, but sometimes they can't meet all your requirements. Thus, you should look at examples of such applications to determine if their functionality is sufficient or if it is better to hire a software company to create your own solution.
Let's view some of the popular GPS route optimization apps.
Upper Route Planner
An application that has functionality for small and medium-sized businesses and independent drivers. This delivery route planner includes such features as:
Saving frequently used routes
Special instructions for each stop
Delivery confirmation feature for improved control
Path setting based on vehicle type
The app has a three-day free trial. Further, several monthly subscription options are offered: $4.99 for 25 stops (minimum rate) and $19.00 for 500 stops (maximum rate). There is also a team option to pay $39.00 for one driver per month with an annual subscription.
Route4Me
The application includes a web version and solutions for iPhone and Android. Offers two types of routing: dynamic (for daily changing routes) and scheduled (for repeating courses on a specific schedule). The product has collected a lot of positive feedback from users and offers the following features:
Save a path for later use or editing
Separation of ways between teams
Route management and optimization
This route optimization software app is ideal for small and medium businesses with a team of up to 10 drivers. However, Route4Me is one of the most expensive solutions available today. So, managing routes without optimization capabilities will cost $239 per month, and the price to optimize them will be $319.
RoadWarrior
Not the most popular, but quite functional and inexpensive option. This delivery route optimization app supports table integration to add stops. Its other features include:
Customizing your trip based on your preferences, such as avoiding the motorway
Prioritizing stops and traffic changes
Check-in after arriving at a stop instead of proof of delivery
Integration with FedEx delivery and shipment tracking
The free version provides up to 8 stops per month, the $10 per month subscription provides 120 stops, and with an additional $10 per driver, the maximum number of halts is 200.
SpeedyRoute
The service allows you to calculate up to 3 routes per day for free, adding up to 10 stops to each. You just need to enter all the necessary stops, after which SpeedyRoute will create the best route, including each selected point, and return the driver to the starting point. The platform also allows you to consider the number of cars on the course, optimizing it for this factor.
If you need to increase the limit, you can purchase a subscription. For $39, you can get 100 stops for one driver. For $99 you can get unlimited stops on the route for 10 employees.
Anyway, the application choice should depend on your business's characteristics and goals. The best app for route optimization is the one that is perfect for your needs. Therefore, if you want the product to meet all your requirements, you should consider creating your own route optimization app from scratch.
What Should Be In Your Route Planning App: Basic and Advanced Features
When developing such a complex application, a more efficient solution is to create a Minimum Viable Product (MVP) first. It is an application with the minimum required set of functions. This option allows you to launch the product faster and lower your initial investment while adding new advanced features later. So, let's comprehend the most critical elements an address routing app should have.
Undoubtedly, a key feature of such applications. The delivery route planner should optimize the path in real-time, assuming the number of stops and their priority. It is also imperative to monitor the situation on the streets and quickly change the way in case of emergencies, traffic jams, or road repairs.
The possibility of real-time tracking of the driver's location is also essential. This will allow you to make changes to the route if necessary. Also, if desired, you can provide tracking for customers to let them see the shipment's location.
A good route planning app should consider factors such as the number of trucks, the volume of cargo, and the delivery priority. It is also essential to see the status of the product and its location and provide a delivery window for customer satisfaction.
If you want more customer trust, your route optimization app for iPhone or Android must have a customer messaging feature. You will be able to send them an SMS or email about the Estimated Time of Arrival (ETA), which ensures that the goods are received on time.
An essential feature for reporting. The delivery confirmation may include a photo of the cargo with geolocation. It's also possible to prove it with the customer's signature, or use both. This feature will allow you to track delivery.
MVP Features for delivery route optimization app
Advanced route optimizer app features
Route optimization software app delivery does not stand still, and more and more often, modern advanced technologies are involved in such solutions. So let's analyze which of them can be helpful for your product.
Internet of Things (IoT). A technology that significantly simplifies the tracking of cargo location and storage conditions, for example, when transporting perishable products in a refrigerator. IoT also allows you to optimize routes better, independently find a parking space and notify the client about the delivery status.
Artificial intelligence (AI). Allows you to determine the optimal route quickly and accurately and calculate the required delivery time. The technology dramatically simplifies many calculations, such as travel time, optimal van loading, fuel consumption, etc.
Big data analysis. Processing and collecting a large amount of information simplifies forecasting. So, calculating the optimal route will be much more efficient if the address routing app takes into account the time of traffic jams on a particular road and helps you choose the least loaded route. In addition, analyzing various factors that affect delivery time will help you achieve the best results.
Machine learning (ML). A feature that helps to analyze all possible routes simultaneously and choose the shortest one in the future. A vital feature of the technology is continuous improvement, as it can "learn" from incoming data and analyze it faster in the future.
Blockchain technology. This technology is increasingly being implemented in courier route optimization apps. It allows you to guarantee the records' accuracy since it is impossible to falsify or change them. The technology also provides better protection against possible hacks and leaks.
Not sure what features app needs?
Our experts will help you choose the best route optimization app functionality for your business
To better understand the features of a delivery route optimization app's development, let's consider an example of such software and its development process.
How to Develop a Route Planning App?
Let's contemplate creating a route optimizer app on the example of the Transport Management System (TMS) designed for a US logistics company. Delivery of goods over long distances is a crucial process in such businesses. In this case, it was vital to customize route planning by combining the ability for dispatchers to build custom routes manually with route building automation.
Cleveroad was tasked with automating the construction of the optimal route, developing a transportation management system, and integrating output with already implemented control systems. We helped the client by creating a route optimization software app that allows employees to manage the fleet, automatically plan the route, and manually configure and control the module.
The Cleveroad Team completed the task with a mobile app for drivers, which allows them to receive a "delivery task" and calculates the shortest route to complete it. A separate management application was also made for dispatchers, which allowed them to control the levels of access, effectively manage delivery points and their priorities, and organize the work of the fleet.
Technology stack, used for development, included, in particular, Node JS for backend, Kotlin for Android and Swift for iOS. The created software solutions were integrated with the existing Warehouse Management System (WMS), CRM, and CSV upload ("all by one-click" feature).
As a result, developed products delivered better task management, more accessible data entry, and received some tasks from clients.

Eventually, the client received the following benefits:
Expedited delivery time. Each order's processing and shipping time has been significantly reduced, allowing more orders to be filled and increasing productivity.
Reducing overall costs. By covering the entire supply chain with a single logistics system, speeding up delivery, and increasing productivity and comprehensive process automation, the company's expenses have decreased by 27-36%.
Recoil from the vehicle. Speeding up and optimizing routes allowed for more profit per truck and reduced fuel and depreciation costs, which increased overall profits.
Let's take a closer look at the process of creating a courier route optimization app step by step.
First of all, you need to find a software vendor. You can consider an in-house team or an offshore company. Outsourcing application development is now more popular, as outsourcing vendors provide you with a whole group of specialists in all areas, and you do not need to spend time searching for each employee separately. It is also very important that the route optimizer app requires deep expertise in a narrow niche, which implies the need for experienced narrow specialists. Their search and selection takes a lot of time and effort. Also, after the release, the need for them disappears, general specialists will be enough for support.
The outsourcing company solves these issues. In cooperation with a niche vendor, you will be able to attract workers only for operations that are needed at a certain moment. Thus, you also get a significant cost benefit. To choose from, you can use platforms such as Clutch, which provides ratings and reviews for outsourcing companies. Once you have made your choice, you can contact your vendor to start developing your GPS route optimization app.
Software development life cycle
Solution Design Workshop. So, you have decided on a software vendor and contacted him. After that, it is worth agreeing on initial issues, such as the overall goal of the future project. At this stage, business goals, the scope of work, and basic requirements for product quality are determined. For this, we at Cleveroad use a specific approach, providing a customer with a Solution Design Workshop which greatly simplifies the initial stages for the customer. Our Solution Design team usually includes business analysts, a solution architect, and a designer, if needed With the help of tech and business advisors, you can find answers to all the questions mentioned.
Discovery phase. At this stage, the requirements for the project are discussed in more detail. More attention is paid to such items as the platform for which the address routing app will be developed, the possibility of integration with existing logistics programs or third-party services, etc. Also, business analysts help to think through all the development details to reduce possible risks. Then, in cooperation with solution architects and designers, they prepare a detailed cost estimate.
UI/UX design. The interface in iPhone or Android route optimization must be as native and understandable as possible, making it easier for employees to learn how to use the application. In addition, the user experience should be as thoughtful as possible, and a qualified UI/UX designer can efficiently perform this task. They consider all indicators: fonts, colors, styles, etc. The design of the application is developed carefully, screen by screen. After you approve the appearance, your courier route optimization app moves through the software development life cycle.
Development. A team of programmers will bring your idea to life in several sprints and create route optimization software for all your requirements. You can consider creating different solutions for Android and iOS or stick with cross-platform development.
In the case when you are developing a solution for one operating system or both separately, teams of specialists from each specific platform are involved. This option is useful if you want to run an application for one OS, adding a solution for the second later. If you want to get two applications at once, consider cross-platform development on Flutter, which will save you time and money by creating universal code for both platforms.
Quality assurance. Each stage of development is accompanied by testing. Specialists must ensure that the address routing app works correctly and that there are no bugs or critical flaws. Testing uses manual and automated methods to detect every possible error before launching the application.
Deployment. When the app is ready, you can rate it. If everything suits you, then your delivery route planner can be released. Finally, you can implement it into your chain of logistics processes and train your employees on how to use it.
Maintenance. After the application is successfully implemented, you will be provided with post-release backing, which will include fixes and updates based on the wishes of you and your employees.
As for the cost of developing a route optimization app for iPhone or Android, the price can vary greatly depending on the app's complexity, the number of features, and the chosen platform. However, we will present you with an approximate estimate based on our long-standing experience and market research. For outsourcing companies in Northern Europe, the hourly rate is $50. Thus, a delivery route planner can cost a basic set of functions from $40,000-120,000 to $200,000-300,000 for a complex application with advanced features. Also, remember that cross-platform development will cost you 60% less.
As a Conclusion
For the best profitability and business efficiency, it is always better to develop your application, and an experienced software provider who knows all the processes from the inside will help to make it.
Cleveroad is a software development company with more than 10 years of experience and more than 170 successful projects. In addition, we have imposing expertise in building solutions for logistics. Our headquarters is in Northern Europe, Estonia.
Cooperation with Cleveroad will bring you many benefits, for example:
Flexibility in price and performance. You can scale up and down according to your needs. For example, make your team bigger if you need faster development or more minor if there is no need for high-speed action.
A team of specialists in all areas. Our company has more than 120 professional engineers in various fields, so you can quickly get specialists who specialize in the software you need.
High-skilled QA engineers. We conduct the most profound testing at every stage, so you can be sure that you will get the highest quality GPS route optimization app.
Mobility. Our team will quickly adapt to project changes and do everything efficiently and on time.
Long-term cooperation. We help clients after the release of the software, provide technical support, update the application, and add new features if necessary.
Contact us to create your route optimization app. We will help you automate logistics. As a result, you will get lower costs, higher profits, and better efficiency. So start improving your business today with Cleveroad.
Improve delivery and route planning
Contact us so that we can develop the best route optimization app for you and implement it
Frequently Asked Questions
The route optimization app is a supply chain tool that allows you to quickly and efficiently arrange delivery, track cargo and change routes in real time.
Thus, a delivery route planner cost can vary from $40,000-120,000 for a basic set of functions to $200,000-300,000 for a complex application with advanced features. Cross-platform development will cost you 60% less.
The best route planning app is the one that meets all your business goals, has the right set of features to improve logistics, increase productivity and reduce costs. A custom application created according to your requirements will be the ideal solution.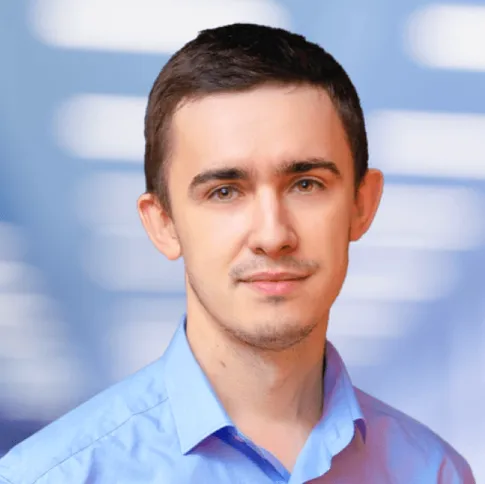 About author
Evgeniy Altynpara is a CTO and member of the Forbes Councils' community of tech professionals. He is an expert in software development and technological entrepreneurship and has 10+years of experience in digital transformation consulting in Healthcare, FinTech, Supply Chain and Logistics
Rate this article!
740 ratings, average: 4.67 out of 5
Give us your impressions about this article
Give us your impressions about this article