How to Get Your App Off the Ground With the Help of a Tablet Version
1541 Views
|
18 Dec 2017
|
10 min
Imagine, you have launched a nice app for Android or iOS platform, your users are delighted with it and the number of downloads is growing. But, as a good businessman, you want to achieve even greater success. And the solution to it is a tablet version. The Mint company estimated that its customers interact with their tablet application 7 times more often than those who installed the application on a smartphone. And TinyCo company claims that on average, 35% more users make a paid subscription on tablets compared with phones. These figures show how important a tablet optimisation for business is.
Tablet app development differs from the development of an Android mobile app or an app for iOS platform. We need to consider these significant distinguishes. The differences are related to user interfaces and deal with the content, flexibility, interaction, and organization of an application for different screen sizes. Let's take a look at the most important steps we need to make. But first, let's figure out why tablet optimization is so important.
The importance of a tablet app
Most researches show that smartphones are the most used devices for today, therefore the most common actions that customers use them for are the daily tasks (communication, listening to music, playing games, etc.). While tablets are often used for other tasks, like video content viewing, studying, financial management, reading, doing some business tasks like working with charts and texts.
Obviously, users have different needs regarding the work on different devices, which should tell us what exactly customers want to see in a tablet UI design. The main task is to foresee, or, it would be even better to conduct research and understand how users would use your application, and concentrate efforts around these basic needs.
Think whether your customers prefer a book or an album orientation, or even the place where they are going to use your product. If an app involves working with maps, maybe people would hold a device with both hands? Or will they use it to watch the show lying on a couch? The UI has to fit the content of an app. For example, the exact position of elements, their number and purpose of each should be well-considered and calculated. There is a huge variety of sizes of smartphone and tablet screens and what is more, we can use a device vertically or horizontally which makes our task even harder. Therefore we move to the next block in our article where we'll discuss adaptability and design.
Creating design for a tablet app from the scratch
If you don't have much experience with iOS or Android tablet app development or simple apps for smartphones, you need to follow the simple steps below, to make sure that you have all needed information. Let's see what these steps are: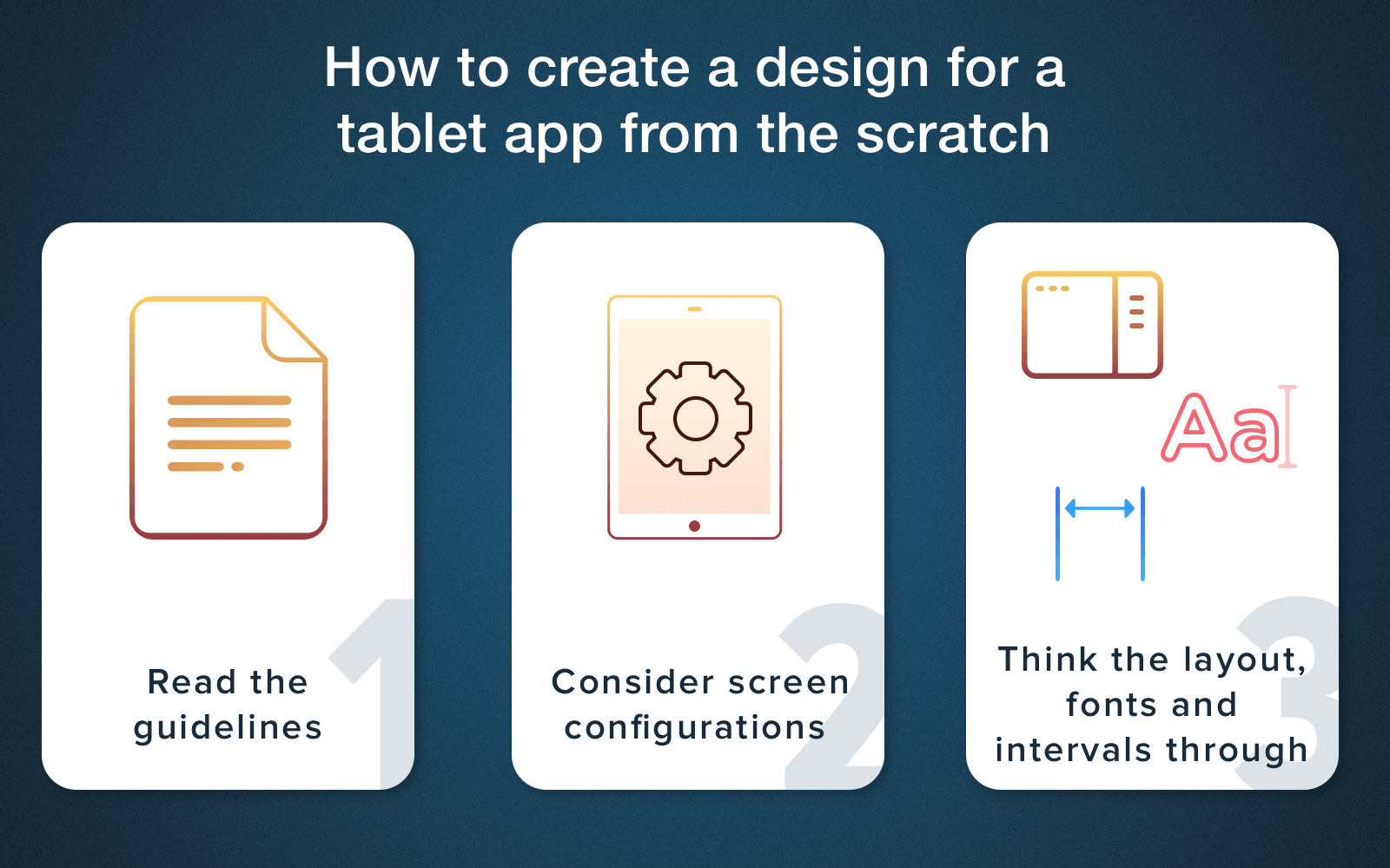 Tablet app UI development from the scratch
1. Read the guidelines for Android and iOS design
Our advice, first of all, to become familiar with the manual on Android Design or the Human Interface Guidelines for iOS. While most partitions apply to all Android devices, some sections are highlighted as being particularly important for tablet design.
2. Consider the screen configurations and different size
The Android system allows you to develop applications in such a way that they work equally well on a wide range of devices with different sizes and form-factors of screens. This exceptional compatibility gives you the advantage to develop one application which can be distributed to all supported devices.
At the same time, to ensure convenient access for each configuration, especially for tablets, it is necessary to optimize layouts and other components for each of the supported configuration. On tablets, the optimization of an interface will bring you lots of benefits if you use the additional space of a screen, for example, adding new features, providing new content, improving usability in other ways, which makes the application more attractive.
When it comes to iOS, in order to provide full-screen resolution on all gadgets, make sure that the iPad-specific launch screen is provided (you have to use the storyboard for that). It guarantees that an app will be correctly displayed on iPad mini, iPad and iPad Pro.
Before iOS 9, all applications occupied the whole space on a screen of a gadget, but in new versions, some iPads can now perform the function of multitasking with screen sharing. It means that your application can be displayed only in a certain screen size, 50% of the width or full screen, but we will talk about this a little bit later.
3. Think the layout, fonts and intervals through
There are lots of programs which you can use to plan your UI. This training will help you see, not just imagine, how the elements will look like in an app. Some very creative product owners sometimes want to add into their tablet application design everything they like in the best tablet apps. But they don't think about the convenience of such tablet UI and the general look. That is why you need a professional designer who can explain what fonts, intervals and elements should there be on a screen to provide the best ratio of beauty and convenience.
Creating a tablet layout design from an existing app
One of the reasons why you should go for making a separate version for tablets if you already have a mobile app, is, of course, the design differences. In a case of iOS devices, there is a non-significant difference between screen sizes.
However, Android gadgets have a much greater variety, and therefore a larger number of screen sizes. Remember, the interaction of a customer with a tablet contrasts from the interaction with a smartphone. For example, if we hold a tablet with both hands, a smartphone is mostly held with only one. That is why a layout for tablet apps and an order of all elements have to be convenient and logical. What is more, an app itself should not be stretched and lose its original look, because it represents your business or the company itself and has to look seamlessly.
Did you know that landing page is the most effective promotional tools for your app? Watch our video and find out what you can get launching one for your application!
How to Promote Apps Using a Landing Page?
Tablets have much more screen area which you can use in your application, especially in an album orientation. When you're planning a UI for tablets, make sure that it takes all the benefits of the space available. We've collected some nice tips, you can use to achieve that: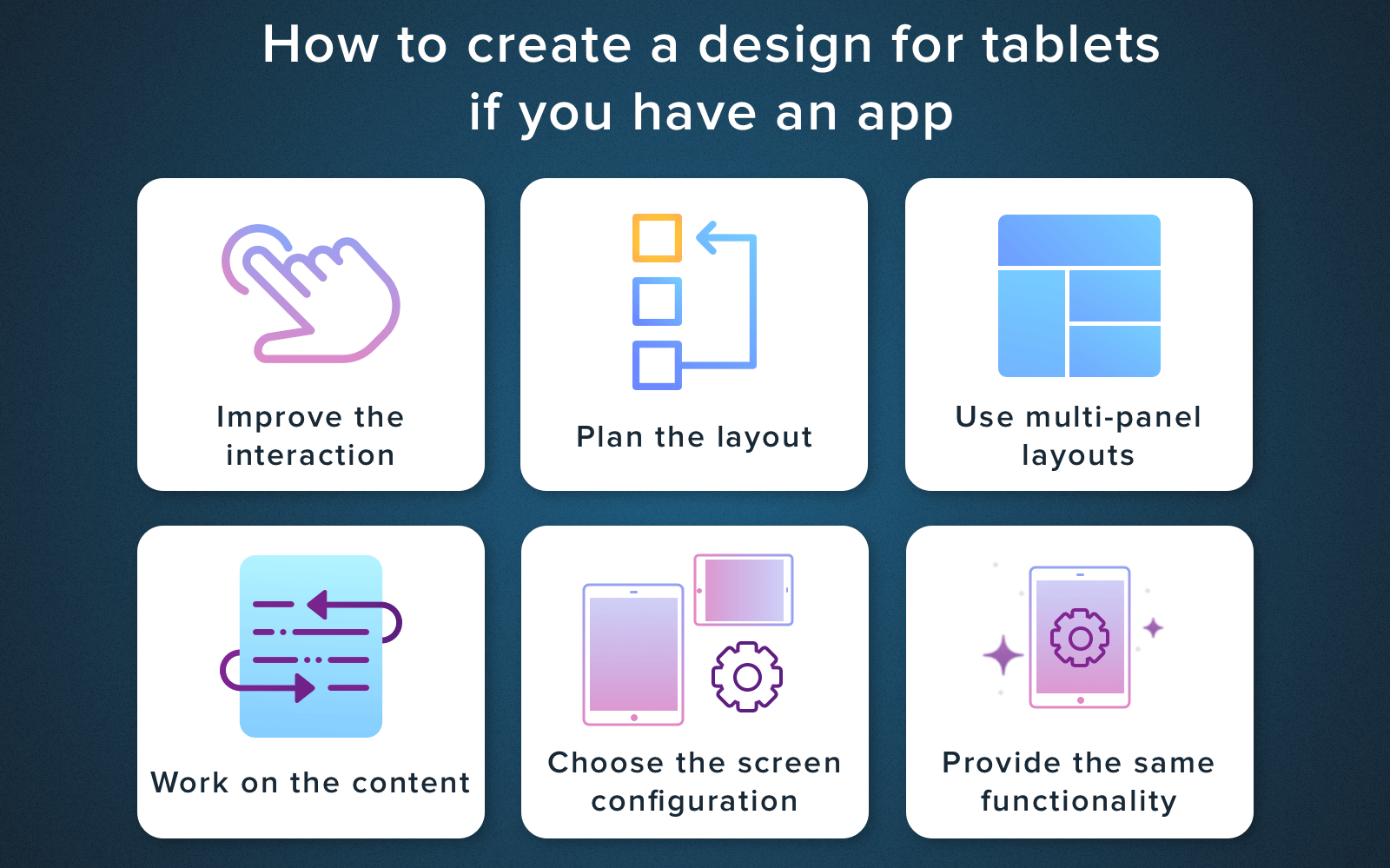 Tablet app UI from an existing app
Improve the interaction
To do that, think about the optimal elements arrangements and design it to work with both hands. Since there is more space on a tablet, the number of interactive elements that users can work with can also be larger.
Plan the layout
If the application was originally developed for smartphones, but now you want to make it compatible with tablets and PCs, you need to start with making minor corrections of the layout, fonts and intervals between the interface objects. In some cases, like with 7-inches tablets or games which use all the space available, these corrections can be enough to make your app look awesome. In other instances, you can modify the design or some parts of the interface, replacing the "stretched screen" with an effective interface with several panels, simplifying the navigation and adding some new elements.
Use multi-panel layouts
Use multi-panel layouts on tablet screens to provide better visual balancing while also providing them with greater efficiency and visibility.
Work on your content
Learn all possible ways of working with the content. Of course, you can add some new materials to your app or find another way to process the existing content.
Choose the screen sizes
Choose which screen sizes the multi-panel interface will use, and then offer different layouts for similar screen sizes or for screens with a minimum width.
Provide the same functionality
Design your application in such a way, so the tablet optimization could provide at least the same functionality as a mobile app.
Of course, some changes are acceptable. In some cases, different functions can be excluded or replaced, here are some of these instances: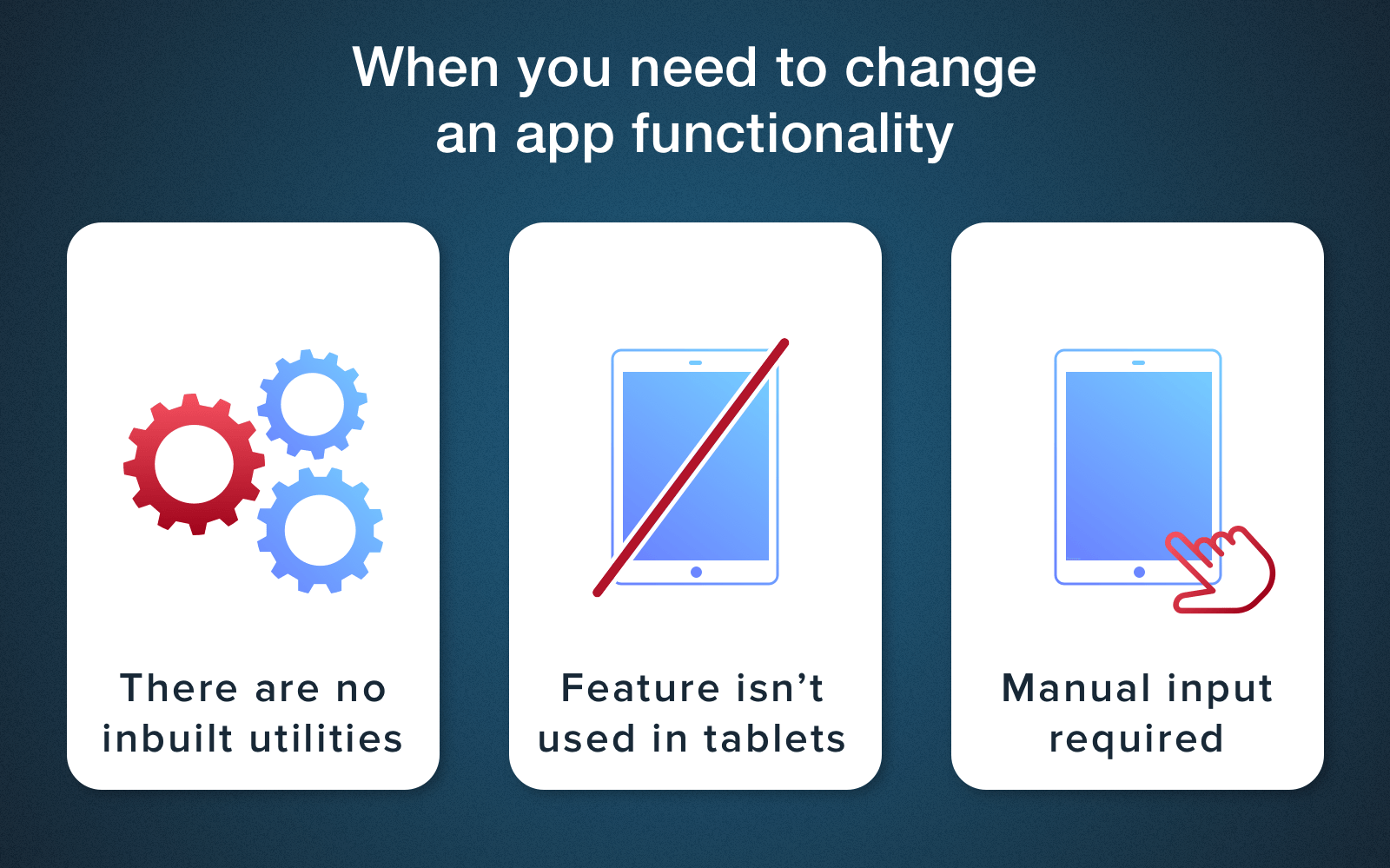 Making changes in a Tablet app version
An app uses phone's inbuilt utilities which a tablet simply doesn't have. In that event, you can exclude or replace the corresponding feature.
A lot of tablets already have an inbuilt GPS sensor, however, we still don't take our tablets for jogging. If your application for a phone offers users the ability to record route using the GPS while running, it makes no sense to add this feature to the tablet application, since this scenario of use will not be called for.
If an app uses a GPS module, and a tablet doesn't have one, the tablet app can ask a user to indicate his or her location manually. The application can check the hardware capabilities of the device at the beginning of its work and use this data to improve the workflow.
If you like this article, then subscribe to our blog! Our next article is going to be about the apps with VR and its cost. Don't miss it!
Multi-window mode peculiarities
After the release of Android 7.0, one of its main features was multi-window support. This feature is also available on iOS 9. Unfortunately, on many forums, you can meet negative feedback from developers about the implementation of multi-window mode feature for tablet apps. So, if you think about a tablet application development with the support of a multi-window mode, there are some difficulties you can face. Like these ones: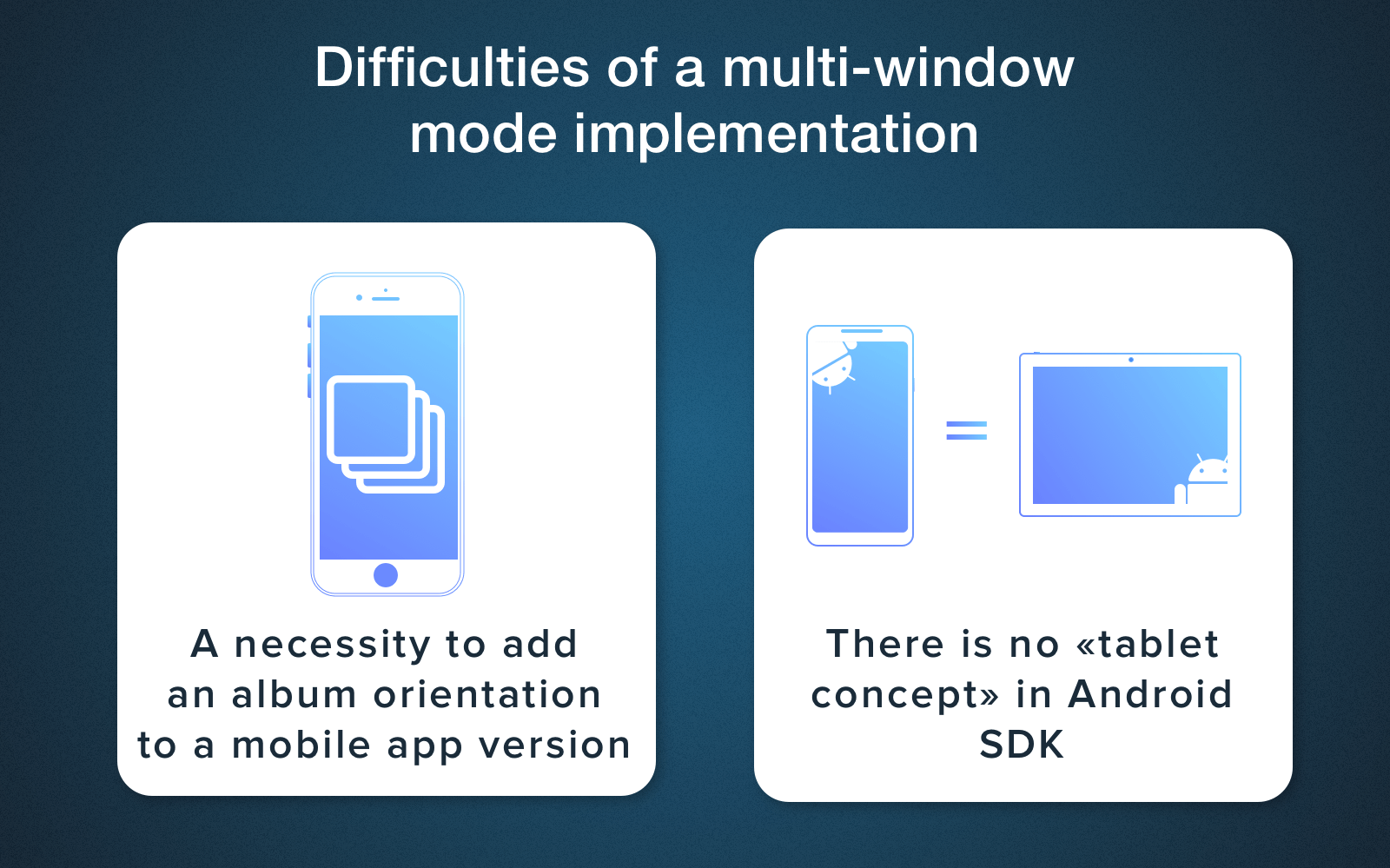 Peculiarities of a Tablet UI design development
A necessity to add an album orientation to a mobile app version
Since the tablet has different screen size variations and, in addition, an album orientation, you need to provide an album orientation in the mobile version too. Otherwise, at the end, you'll get a stretched image in a multi-window mode. It all happens because when you open this mode, the application takes resources from the shared mobile resources of the app. And, after you try to turn the screen back, the tablet will show the mobile version, which will spoil the look. As an option, you can break an app into several windows and design a layout in such a way, that all resources would be taken from a mobile application and returned as for a tablet app.
An absence of a "tablet concept" in Android SDK
iOS has a really separate tablet concept and there is an opportunity to do everything differently for it, in iOS app for tablets everything will be ok with this mode. At the same time, the Android SDK does not have a 'tablet' concept at all. That's why here you will have to work hard to use the existing tools during the Android tablet application development.
I hope that our article explained all the importance of a tablet version of your application for your business. In some cases, this can affect the download and frequency of using your app, in some, it affects the ease of use. But in both cases, it is more a necessity than a whim. If you are ready to start the development, contact our managers, we know how to help you!
Rate this article!