Sport Goes Digital: How to Create Fitness Solution Like Runkeeper App
Sports are an integral part of many people's lives. Modern technologies make it easier to track progress and provide customers with a variety of solutions starting from sport-oriented devices like smartwatches and fitness trackers and ending with specialized software. Taking into account the rapidly growing popularity of a healthy lifestyle and sports in general, the niche of fitness apps is a very perspective one. The examples of solutions like the Runkeeper app prove that fact.
In this article, we will closely consider all the issues you are going to be faced with while developing an app like Runkeeper and give you some practical advice useful then looking for mobile development services.
Know your competitors and know yourself
I suppose that it is not a secret that competition within every niche somehow related to IT is extremely high. In order to emerge victorious from this fight and create a solution intended to emulate the success of Runkeeper app, you should analyze solutions implemented by market leaders.
This step will help you weigh all the pros and cons of other run distance tracker applications and create a solution that meets the customers' needs much better than other niche players do.
Strava
Platforms: iOS, Android, Apple Watch, Android Wear, Fitness trackers
Downloads: over 10 million
Monetization: subscription model
This app has a run distance tracker along with a training tracker where some gamified features take place. Stava is able to track your moving speed and distance traveled. Among other features, it is worth noting that social components represented by Leaderboards where users may compete with friends.
Map My Run
Platforms: iOS, Android, Apple Watch, Android Wear, Fitness trackers
Downloads: over 5 million
Monetization: subscription model / in-app ads
Map My Run is a pedometer app for Android and iOS that uses a smartphone's GPS and other sensors for tracking and displaying your workouts, it's duration, movement speed and total distance traveled. The application allows users to keep track of both real-time and general statistics. Premium subscriptions allow you to use voice briefing and geodata.
Runtastic
Platforms: iOS, Android, Windows Phone, Apple Watch, Android Wear, Fitness trackers
Downloads: over 10 million
Monetization: subscription model
Runtastic is an app to track distance and other fitness-related events in a real-time mode. It's detailed workout log allows users to see the progress for a certain period of time. After the session is over all the data is transferred to Apple Health or Google Fit.
It is worth noting that the balance between free and premium features in this app that tracks how far you run is well-thought-out and focused on retaining an audience that does not want to purchase a premium subscription.
Premium features in Runtastic fitness app by platforms (Source: Runtastic)
What is Runkeeper fitness app?
Platforms: iOS, Android, Apple Watch, Android Wear, Fitness trackers
Downloads: over 10 million
Monetization: subscription model
What is Runkeeper? Talking about this app in figures, the Runkeeper Android app along with it's iOS version, takes the 28th place in the category of Health & Fitness within the US while in Sweden and the Netherlands it coming in 2nd and 4th place respectively.
These are very impressive results when taking into account hundreds of other similar apps in this niche. Runkeeper's main rivals have already been mentioned above. They are Strava, Map My Run, and Runtastic.
Also, the app contains so-called Runkeeper training plans that are available in premium version and allow you to choose from the list of training according to your goals.
A running app for beginners and professionals like Runkeeper is intended to keep track of running, cycling, hiking and other sports activities by using your smartphone's GPS. The app is able to record temp, distance, total workout time, number of burnt calories, and even allows you to take photos on the go.
The company also took care of the integration with other services including Fitbit, MyFitnessPal, Google Fit, and Apple Health. Moreover, the latest version has got the support of Spotify's platform so users can listen to their favorite tracks while training. The Runkeeper Apple Watch application is also present, the same as a version for Google Wear.
The reasons for the app's popularity
Runkeeper health app is a multifunctional solution and that's what has contributed to a great part of it's success since it is able to meet a wide range of users' requirements. The app is personalized and from the first launch, it asks users about their motivation and goals that they want to achieved. There are four training categories that also separate this app from the rest. These categories refer to shape maintaining, losing weight, preparing for a marathon, and learning to how to run properly.
The application is distributed under a conditionally free model. However, in case users would like to get premium features - they should purchase a subscription for a month or a year.
Runkeeper's basic and premium features (Source: Runkeeper)
So, we can point out several advantages of this app that distinguish it from the majority:
Runkeeper live tracking is high-precision
Tracking of burnt calories
A variety of training plans aimed at preparation for marathons
Detailed workout history
Social and sharing opportunities
Analyzing the business model of the Runkeeper app
The ready-made app is not enough to be successful. You still have to take care of hundreds of things. For example, it is quite reasonable to develop a website for your product.
Not to mention the development of a marketing strategy and other important components. Before we move to the app's features themselves, let's consider a typical business model for such kinds of apps as well as marketing steps you may take.
Business Model Canvas
To understand all the processes you are going to be faced with better, we recommend you to fill in a business model canvas. Underneath, you can see a sample, where on the first page Cleveroad's team has prepared a ready-made information for you based on our research. On the next pages, you see an example of what you should consider while filling in as well as a clear document for your thoughts.
Ways to monetize your fitness application
Let's consider several popular methods of mobile app monetization.
This method can be suitable in some cases but mostly it's a bad idea. Since the competition within the fitness category is high, those users who are irritated by advertisement banners may simply remove your app for running distance and download another one with similar functionality.
Initially, Runkeeper was using this monetization approach. However, as I have already mentioned, the competition is high and it is extremely hard to make users pay for such a product. As a result, Runkeeper has changed this model to Freemium due to of lack of demand.
This method allows you to gain a big client base easily. However, it is important to find a balance in case you do not open up enough free opportunities - people will barely use the app. Vice versa, if there are too many opportunities - people will not buy a subscription or make in-app purchases. As a result, the app may become unprofitable.
Usually, users pay for a subscription on a monthly or annually basis in order to get some additional content. It is considered to be the most profitable monetization model that guarantees a stable profit.
The subscription model is disseminated widely among such niches as news, lifestyle, and entertainment.
App marketing mistakes to avoid
Absence of a monetization strategy. The strategy should be thought out even before the app's creation. Since your design team should be aware of every detail and know where to put emphasis for better customer conversion.
Adapt to each platform. Significant differences between iOS, Android, and Window Phone can lead to marketing strategy incompatibility between these platforms. In turn, this fact may provoke slow growing profit within a certain platform.
So, the marketing of Android step counter may differ a lot from Windows Phone.
Single out your uniqueness. The first impression matters. Specify all the prominent features of your product on it's Google Play or App Store page. However, do not overestimate your abilities otherwise, the app's rating will go down.
App store optimization. Make sure the text is optimized and filled in with the keywords your target audience is likely to use while searching for the run tracker app. Also, describe it's possibilities and point out why users have to choose your product exactly.
Lifetime Value. You have to keep in mind that users come and go. If you want to retain more customers, you need to invest in your app by means of updates and new features. However, as an owner, you should calculate whether users' Lifetime Value allows you to recoup all the developmental costs.
Viral marketing. Make your product's consumers be a part of your marketing campaign. For example, Dropbox provides it's users with additional storage space in exchange for successful referrals.
Research is never enough. You have to be certain about your run tracker app uniqueness. Find out competitors' weak sides and fix them in your project. In case your application is faster, cheaper or more convenient - your chances for success tend to grow.
Features needed to create a Runkeeper-like app
In accordance with the results of our research, we have prepared some competitive features for you that you can use for your own fitness app creation.
MVP of your app
Minimum Valuable Product or MVP is a product containing a minimum set of features. In the case with a run tracker app, we can single out such MVP features as:
Registration via social networks or email
Personal profile with personalized parameters (weight, height etc.)
Route tracker
Ready made route maps
Displaying the map while running and constantly refreshing the user's route
Notification about the average tempo
Displaying the route map at the end of training
Additional features
Above we have already singled out the core features that a user want to see in an up-to-date fitness application. However, those key features are not enough to compete with other big players in the Health & Fitness category. That is why underneath you can see a list of additional features for your run tracker app.
The opportunity to listen to audio while training
Heart rate monitoring (with the help of Bluetooth adapters or InvenSense technology that is usually built-in wearables)
Providing help in training or creating nutrition plans
Social component (chat, ability to add friends etc.)
The opportunity to take and share photos with friends
Push-notifications
Social networks integration
Integration with Apple Watch and other wearable devices
Voice coach that notifies users about distance, time, and tempo
The opportunity for users to build the routes by themselves
Weather data
As you can see, the creation of a competitive fitness application demands not only well-thought-out features but marketing strategies as well. There are a lot of nuances that need to be taken into account.
Our team is ready to give you a hand in building of your own fitness app or other digital products. Contact us to get your free estimation.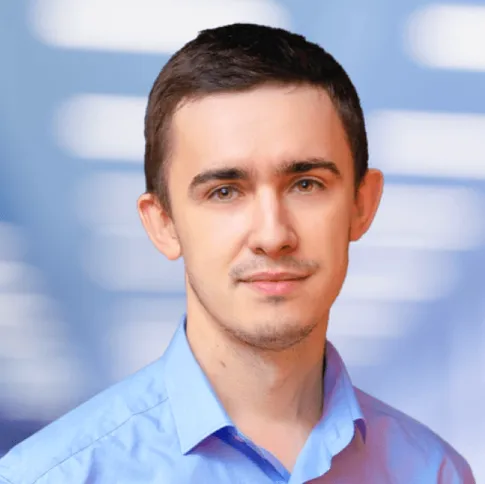 About author
Evgeniy Altynpara is a CTO and member of the Forbes Councils' community of tech professionals. He is an expert in software development and technological entrepreneurship and has 10+years of experience in digital transformation consulting in Healthcare, FinTech, Supply Chain and Logistics
Rate this article!
4226 ratings, average: 4.76 out of 5
Give us your impressions about this article
Give us your impressions about this article