Technical Co-Founder Equity: How Much to Give to Your Tech Partner?
According to Business Insider, most of the $1 billion worth startups had a few co-founders. Two founders is the magic number.
That's understandable: if you're a non-tech person working on a software product (87% of all $1B startups focus there), it's better not to do it alone. 37 of the 39 successful startups had at least one founder with work experience in a tech company.
Most $1B worth startups had two co-founders
But how much equity should a technical co-founder get for their contribution?
In this guide, we're explaining how to share equity between startup founders. As well as how to find your perfect co-founder and the best platforms to look for them.
Who Can Be a Tech Co-Founder?
A tech co-founder is not a regular developer who will take care of the coding part. It's a person who's deeply invested in the company, owns founder-level responsibility, and takes part in setting the overall vision.
Tech co-founders can be responsible for:
Hiring and organizing a development team
Shaping a development strategy
Building the project's MVP
Drawing up the project's tech stack
We have a separate guide on how to [find technical co founder], which explains their roles and responsibilities. Check it out for more details.
Before we move on with technical co-founder shares, let's review three high-level roles—senior developers, CTO, and a tech co-founder. And see how they're different.
Option #1. Senior Programmer
A senior programmer has 5+ years of experience, lots of completed projects, and has already dealt with problems you're about to face.
The senior developer you're partnering with needs to be someone who already knows the industry. Especially with the development team as they'll interview, hire, and monitor employees.
This could be tricky for senior programmers as they're often more experienced in programming than managing a team.
A tech co-founder or a specialist performing CTO roles and responsibilities shouldn't be one-sided programmers. Search for people with a combination of technical and business background.
Tech co-founder equity: Senior programmers are ready to work for a small amount of equity. Still, you should pay them a competitive salary instead.
Option #2. CTO
A CTO is different from one-sided programmers. They're more skilled at seeing the full picture, and they're fantastic programmers, too.
If you want to hire a CTO look for people with a combination of technical and business background. A good CTO knows how to manage people and build a team, what strategy to choose for product development, and how to put efficient programming processes in place.
Tech co-founder equity: Hiring a CTO is the right choice if you can afford tech salary and a fair amount of equity.
Option #3. Already a Tech Co-Founder
A co-founder is an enhanced form of a CTO. They have a voice in the company and are compensated with equity. That's why they're 'co-founders' and not regular employees on a salary.
It's a partnership, not a hire.
A tech co-founder has the same programming and management skills as a CTO, but they're more invested in the company.
Co-founders share founder's responsibilities like:
Providing strategic, tech-based thinking on the business
Working on the software product itself
Building the tech team—interviewing, hiring, managing
Following current tech trends and advancements
Tech co-founder equity: If you're just starting out and could use support in every aspect of crafting your startup, be ready to part with a sizable amount of equity (up to 50%).
What to Look For in a Tech Co-Founder
Let's see what skills make a great technical co-founder:
Communication skills. Check how good the person is at listening—good communication isn't all about talking.
Long-term thinking. It takes

7-10 years

to make your startup a success. You need partners who are thinking 5-10 years into the future but are executing now.
Be a strong team-player. Great co-founders build great teams and put the success of their team before their own success.
Extra strengths. Find a person who will complement you: if your actions are too cautious, look for someone who's risk-tolerant. They will help you with the risky decisions any startup faces.
If the person has little interest in the business side and only cares about tech details, you probably found a programmer, not a co-founder.
Same when they agree to work for free. If they're not interested in technical co-founder shares, they're not interested in the business.
Start getting to know your co-founder by asking questions:
Where will this company be in 5 years? Why?
What qualities would you look for most when hiring team members and why?
What personal motivation did you have in founding a company / being involved with this company? (like personal growth, financial gain, solving a problem)
Check the list of 20 questions to ask a co-founder—about their vision, values, and motivation.
How to Convince a Tech Co-Founder
We'll review two options—paying a salary to your tech guy, offering technical co-founder equity, or both. But first, let's see what you should do to look attractive as a co-founder yourself.
How to Be Attractive As a Co-Founder
Know your niche
Do customer research, consult about your product, gather evidence, and show numbers. If you're only starting out, try filling in Alex Osterwalder's Business Model Canvas. It'll help you write down all details like your target audience, key partners, resources, and so on.
Accept that your idea may not work
Chances are it's been done before, maybe in a slightly different way. Anyone can come up with an idea, so don't get too caught up with yours.
Ideas are great, but it's the execution that rocks. Make sure you know your niche and realize what product you want to build. Create a product roadmap, outsource the creation of an MVP. And don't expect someone else will do all the job as this is a team effort.
You can back up your idea with building an MVP. It usually includes only basic features to reduce time to market, cost, and validate your idea.
Learn how to sell
You may not know all tech details (that's what you need a tech guy for) but need to work on marketing, sales, fundraising.
As the tech guy, your partner will focus on building the product and managing the team. Your job is to be out there selling the product, bringing in the clients, and generating revenue.
Get at least basic tech skills
It may sound controversial, but at least some tech skills are must-haves. You need to know some of the terminology, and be able to have a conversation about your technology with customers.
If you have an idea, an MVP to back up your idea, at least one customer willing to pay you, and a roadmap for growth, the chances are you will find a good tech partner.
Salary
Of course, you offer them technical co-founder equity (we'll see how to split it in the next part). But that doesn't mean your tech co-founder will work on sheer enthusiasm.
If they're skilled enough to be your tech co-founder, they're skilled enough to make money somewhere else.
That's why you don't want to skip a salary altogether.
According to Glassdoor, co-founders get $102,055/yr in the United States. You don't have to pay the market rate or higher, but it's a good move to make sure they get enough money to pay the rent and buy groceries.
Tech co-founder salary in the US
Tech Co-Founder Equity
As you're reading this article, we suppose you'd want to learn more about offering equity to a technical co-founder.
Different teams have different approaches to splitting the shares. Some do it right away, others get to know each other first, then split the equity.
There's a formula to follow, called the Founders Pie Calculator. It's a method of dividing equity created by Frank Demmler, an Adjunct Teaching Professor of Entrepreneurship at Carnegie Mellon University.
In contrast to popular notion, the shares are not distributed equally just because 'it's fair.' Demmler suggests to evaluate each of these aspects:
Idea
Business knowledge
Domain expertise
Commitment and risk
Responsibilities
You need to assign weight to each, and rate the founders in each of these aspects on a scale of 0-to-10.
Assigning weight to a tech startup aspects

| | |
| --- | --- |
| Aspect | Weight |
| Idea | 7 |
| Business plan | 2 |
| Domain expertise | 5 |
| Commitment & risk | 7 |
| Responsibilities | 6 |
For example
If you were building a restaurant, the idea wouldn't be the major factor. While a tech company like Uber or Instagram highly depends upon the idea. On a scale of 0 to 10, the tech company's idea might be a 7-8, while the restaurant gets only 2 or 3.
Next, evaluate the founders. Who came up with the idea? Who has more expertise? Who's responsible for the tech side? Let's image your working on a high-tech startup with four members of the founding team:
The founder who came up with the idea
Technologist, the inventor's right-hand
The guy who brings business knowledge to the company
A research team member who hasn't contributed much to the company
Evaluating co-founders on every aspect

| | | | | | |
| --- | --- | --- | --- | --- | --- |
| Aspect | Weight | Founder | Tech co-founder | Business guy | Research guy |
| Idea | 7 | 10 | 3 | 3 | 0 |
| Business plan | 2 | 3 | 8 | 8 | 0 |
| Domain expertise | 5 | 6 | 4 | 5 | 4 |
| Commitment & risk | 7 | 0 | 7 | 0 | 0 |
| Responsibilities | 6 | 0 | 6 | 0 | 0 |
Multiply each of the founder's values by the factor's value to calculate the scores. Then add up the numbers for each founder, sum those totals, and calculate the percentages.
How much equity to give a tech cofounder (according to Founders Pie Calculator)

Aspect
Weight
Founder
Tech co-founder
Business guy
Research guy

Idea

7

70

21

21

0

Business plan

2

6

16

16

0

Domain expertise

5

30

20

25

20

Commitment & risk

7

0

49

0

0

Responsibilities

6

0

36

0

0

Points

106

142

62

20

Equity

32,12%

43,03%

18,79%

6,06%
Frank Demmler's calculator is just one of the ways to share equity for technical co-founder. Some people offer an equal share, some split the equity depending on the contribution but using a different formula.
Anyway, give each member an equal chance to contribute and make sure that the final decision makes everyone feel valued.
Where to Look for a Tech Co-Founder
You won't find a co-founder with a decent tech background in a day or two. Of course, if you don't have a bunch of tech-savvy friends ready to step in.
To find the right person, you need to monitor several resources, have a wide network of contacts, and spend weeks researching.
Networking
Let's start with digital ways.
The very first thing to do when looking for a co-founder is to ask people you already know. That's what social networks are for. You can start the hunt on LinkedIn, Facebook, or Twitter.
Use your own network of contacts. Just asking around may lead to great results. There's a chance to find the right guy among the people you already know. Like your colleagues from the previous job, school, or university pals.
It's a good plan, but only if you have a vast network. If you have only two subscribers on Twitter, your post won't reach anyone. The sooner you start expanding your network, the higher are the chances you'll find the right partner.
Hackathons and Conferences
If you want to meet your future partner in person, meetups and hackathons are a good place. You meet like-minded people and see whether you match them on a personal level.
Or you may try attending university events. Computer science students often look for professional growth and development. In top-rated universities, you can find people with enough tech skills to work on your project.
Young specialists may not have the experience, but they're passionate and loyal. And they'd probably ask for a lower salary and less technical cofounder equity.
Besides, there are numerous events like Startup Weekend, Startup Grind, Slingshot, Startup Salad, and many more geared towards meeting other founders.
Online Resources
If you're used to solving issues online, there are a few resources that'll help you find a tech co-founder.
#1. CoFounderslab
Lets startup founders contact 400,000+ entrepreneurs from more than 140 countries. You specify the skills you have, the country, your startup's current stage during sign-up. And an AI-based algorithm picks the best candidates who complement your project.
There are lots of filters on CoFounderslab
Cofounderslab offers subscriptions with perks like advanced search filters and 'who's viewed my profile' feature for $19.99/month.
#2. Founders Nation
A platform where founders and partners can browse through each other's profiles.
Founders look through tech co-founders skills, occupation, location, and bio. In turn, startup owners have to provide detailed information about their project. Including the full description of the idea, how they see the product (raw idea, business-plan, prototype, and so on) and contact details.
A graphic showing the startup's current stage
If you had a successful 1st venture or have an investment, you can get a 'verified founder' badge. This improves your chances of finding a co-founder.
#3. AngelList
AngelList is a large platform for startups and angel investors, with lots of job-seekers looking to work at a startup. Twitch, Stripe, and over 100,000 startups are using AngelList Talent to hire top job-seekers.
AngelList also has a Startup Salary & Equity calculator that'll give you a general idea of how much equity to give a technical cofounder.
Startup Salary & Equity calculator designed by AngelList
Incubators or Accelerators
Startup incubators like Y Combinator and 500 Startups are a great opportunity to find like-minded people and raise your project investments. They turn inexperienced startuppers into mature entrepreneurs and even fund the most promising ones in exchange for a small amount of equity.
The only drawback of startup accelerators is that they require a lot of time, which not all entrepreneurs have.
How much equity startup incubators ask for
Technical partners are supposed to give you the stability, offer their stellar tech skills, and share business responsibilities with you.
Many founders aren't that lucky. It's tough to find a tech guy that embodies everything you need.
Besides, tech-savvy people may not want to work for technical co-founder equity. Why bother working for equity when you could get a nice salary somewhere else?
In case things don't work out, consider starting out without a tech co-founder. Maybe you'll be lucky enough to grab the right person in the process. Or try find a CTO for your startup
Your startup needs tech vision?
Describe your idea, and we'll explain how to make it work on the tech side.
Frequently Asked Questions
The share depends on their qualification and contribution. For example, in software startups where the tech part plays a huge role, a tech co-founder may request ~50% equity.
There are quite a few calculators that will help you spit equity depending on each founder's contribution. One of the most popular is the Founders Pie Calculator, designed by Frank Demmler.
In a startup, equity share usually depends on the person's contribution:
Senior programmers are ready to work for a small amount of equity
CTOs want a tech salary and a fair amount of equity
Co-founders—be ready to part with a sizable amount of equity (up to 50%).
Most probably, yes. If you're planning a tech startup but aren't tech-savvy yourself, you need to find someone who is.
At an early stage, it may be a software development company that can help you create the product's documentation, designs, or an MVP to impress investors.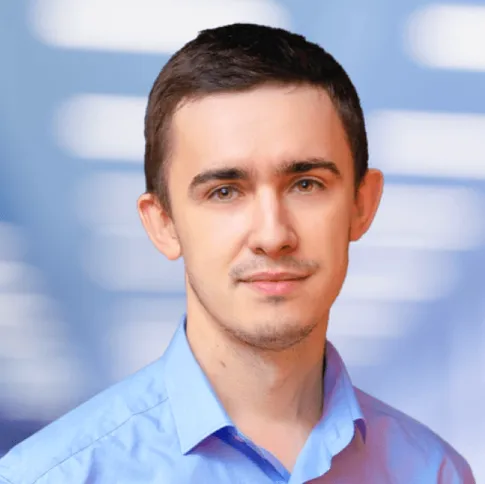 About author
Evgeniy Altynpara is a CTO and member of the Forbes Councils' community of tech professionals. He is an expert in software development and technological entrepreneurship and has 10+years of experience in digital transformation consulting in Healthcare, FinTech, Supply Chain and Logistics
Rate this article!
4280 ratings, average: 4.76 out of 5
Give us your impressions about this article
Give us your impressions about this article