Time and Materials Contract: Comprehensive Review of Risks and Returns
1415 Views
|
10 Apr 2018
|
7 min
Building relationships with the client is the cornerstone of custom development. The right type of contract helps minimize risks and increase the chances of a positive outcome for both parties: the customer and the development company. Let's review one of the most common pricing models in outsourcing - Time and Materials contract.
What is a Time and Material contract?
The Time and Material definition implies from the name of the pricing model: the client has to cover time and materials expenses of the contractor. But what does Time and Materials mean in reality?
Time & Material model means payment for the result based on labor costs. The customer pays not for the amount of work, but for the man-hours spent by the contractor's team to develop software and push it to the market. T&M performs best when it is impossible to determine the full amount of work or the timing of their implementation.
It would seem that the outsourcing company you cooperate with can inflate the project time and budget to infinity. But no, that's not true for the majority of conscientious companies. Let me explain how Time and Material projects work.
How do Time and Materials contracts work?
The concept of Time and Material model does not entail that you just have to pay for the time of a developer or the materials they use. Time and Materials agreement assumes that you pay when the work is done completely or partially. The milestones of the product delivery are defined in cooperation with your vendor company. Here's how it works at Cleveroad: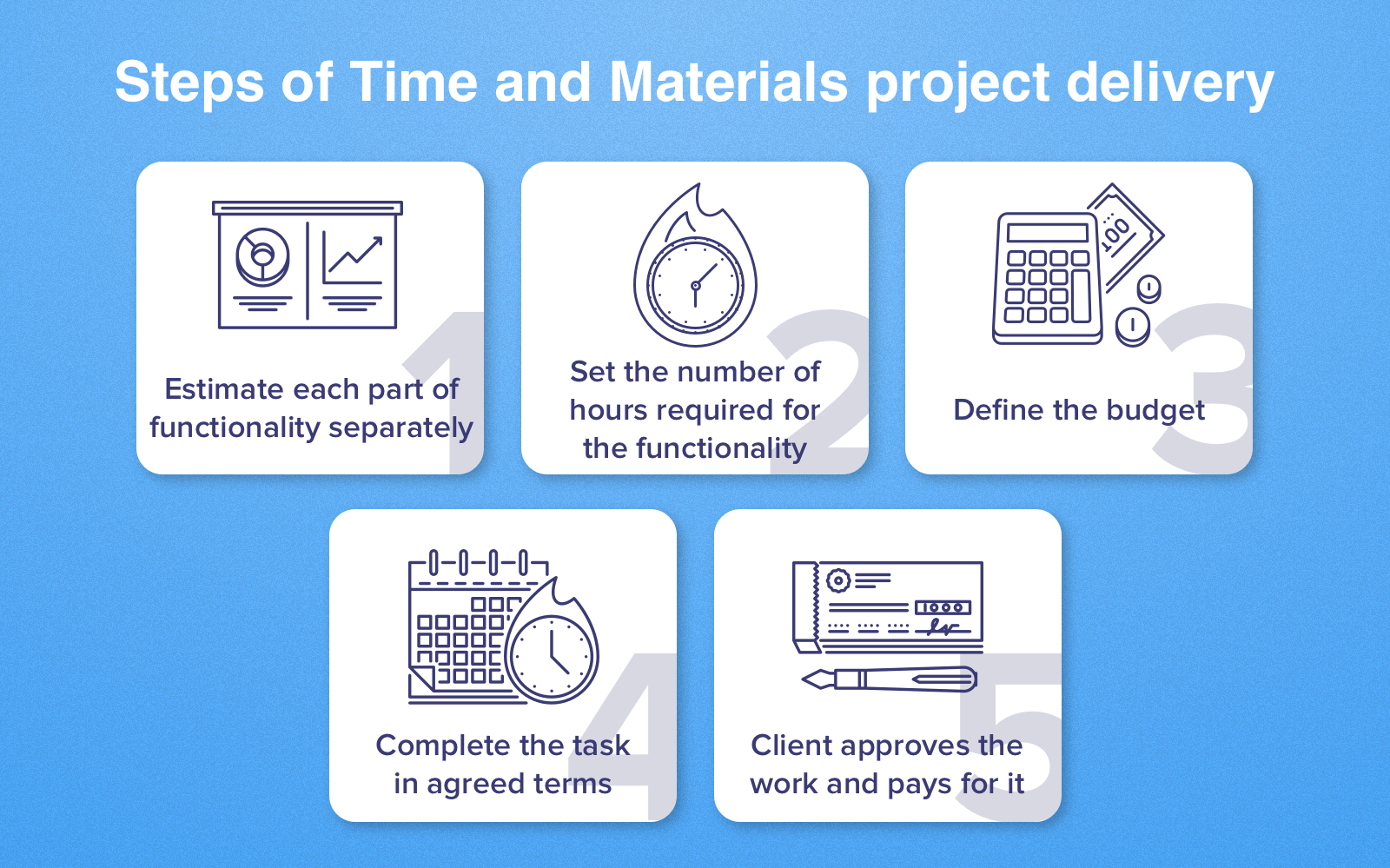 Time and Materials contract: Example of the workflow
The project is divided into separate tasks. Each task is estimated separately and you can make all the needed changes or additions during the development process;
Developers at Cleveroad work at a fixed hourly rate, which reflects their expertise, skills and qualification level. So we provide our customers with the number of hours needed to implement the task by the developer;
By multiplying the hours by the developer's rate, you get the cost of the task to be implemented;
When the task is completed and the project manager received your approvement, you pay for the work of the developer or the whole team.
Building products on the Time and Materials basis, Cleveroad provides you with the result you expect in the best possible time. This, in turn, we try to establish successful cooperation in future.
Time and Materials contract: Advantages and Disadvantages
Certainly, Time and Material form of cooperation has it's strong and weak points for both parties involved. So, let's review Time and Materials contract advantages and disadvantages in details to make sure we are on the same page.
Advantages and disadvantages of a Time and Materials contract for a customer
The reasons clients choose the Time and Material billing are pretty obvious - flexibility and control. Check out the following advantages of a Time and Materials contract to prove my words.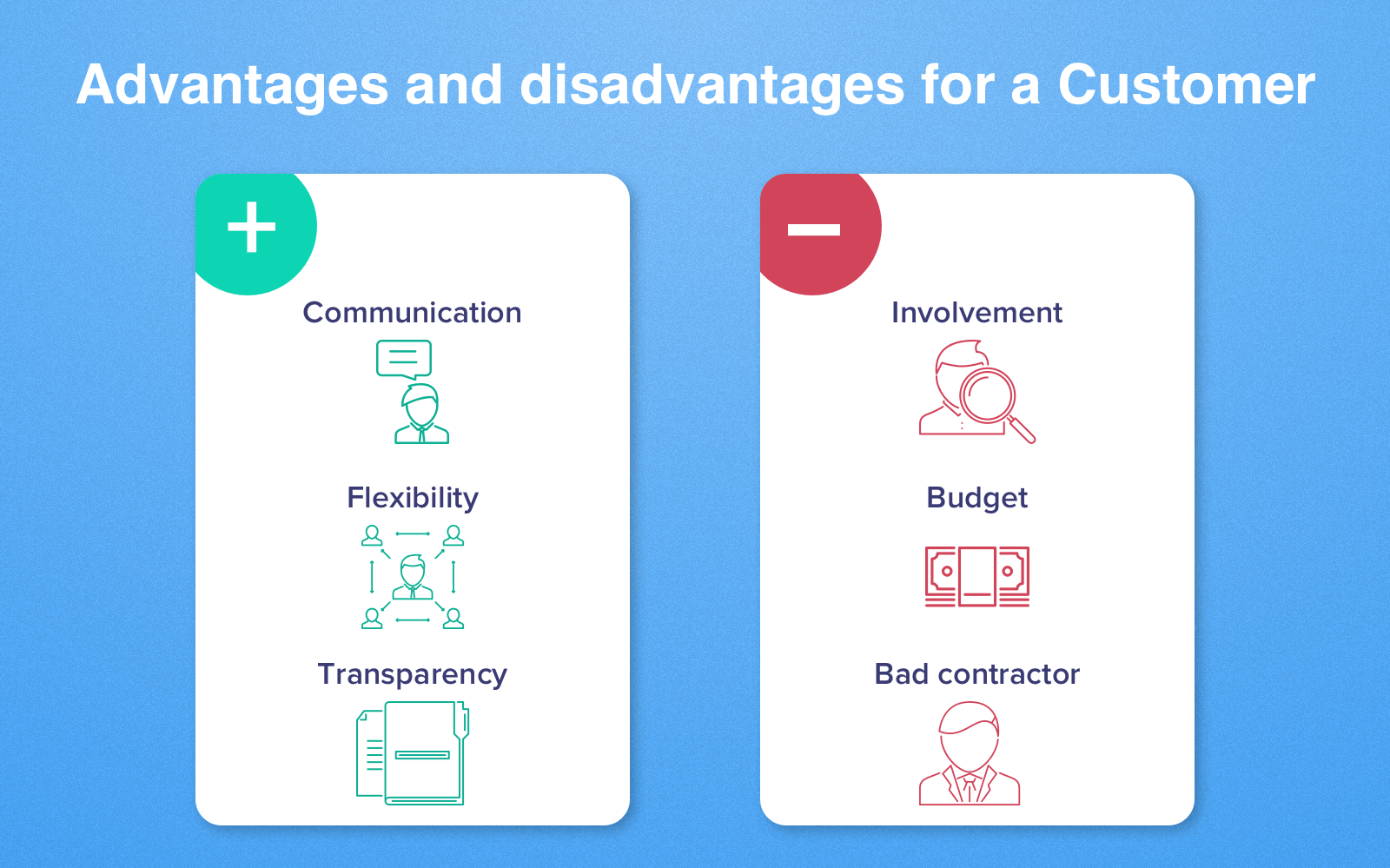 Time and Materials contract: pros and cons for customers
Communication
Clients rarely want to discuss requirements and functionality with developers. And you don't have to as sometimes it's not an easy thing. You talk to a project manager instead. Communication goes much smoother and from the moment of dealing, he is responsible for transmitting all the information to the development team.
Flexibility
The project plan and workload are extremely responsive to any changes from the client's side. As the project is divided into short-term parts, the client has no financial outlays because of those changes. Another thing that can be controlled by a client is qualification and quantity of developers in a team.
Transparency
Clients have as much control over the project flow as they wish. They have 24/7 access to all task management systems. We use Jira in our projects. Also, you constantly get intermediate versions during the whole development period. So there usually no 'lack of information' issues with Time and Materials contracts.
There are some disadvantages of Time and Material pricing though.
Involvement
The Time and Materials project needs a bit more attention from the client than any other pricing model.
Budget
Clients bear financial risks in case they initially skimp on the number or qualification of developers.
Bad contractor
There is always a risk to deal with a crooked outsourcing company that will overcharge expenses on-purpose. There is only one solution - to be careful when choosing among the candidates and when splitting a project into stages.
Time and Materials contract pros and cons for an outsourcing company
Outsourcing companies that undertake projects on Time and Materials basis also experience certain pros and cons of this model. Let's start with positive sides of Time and Material billing model.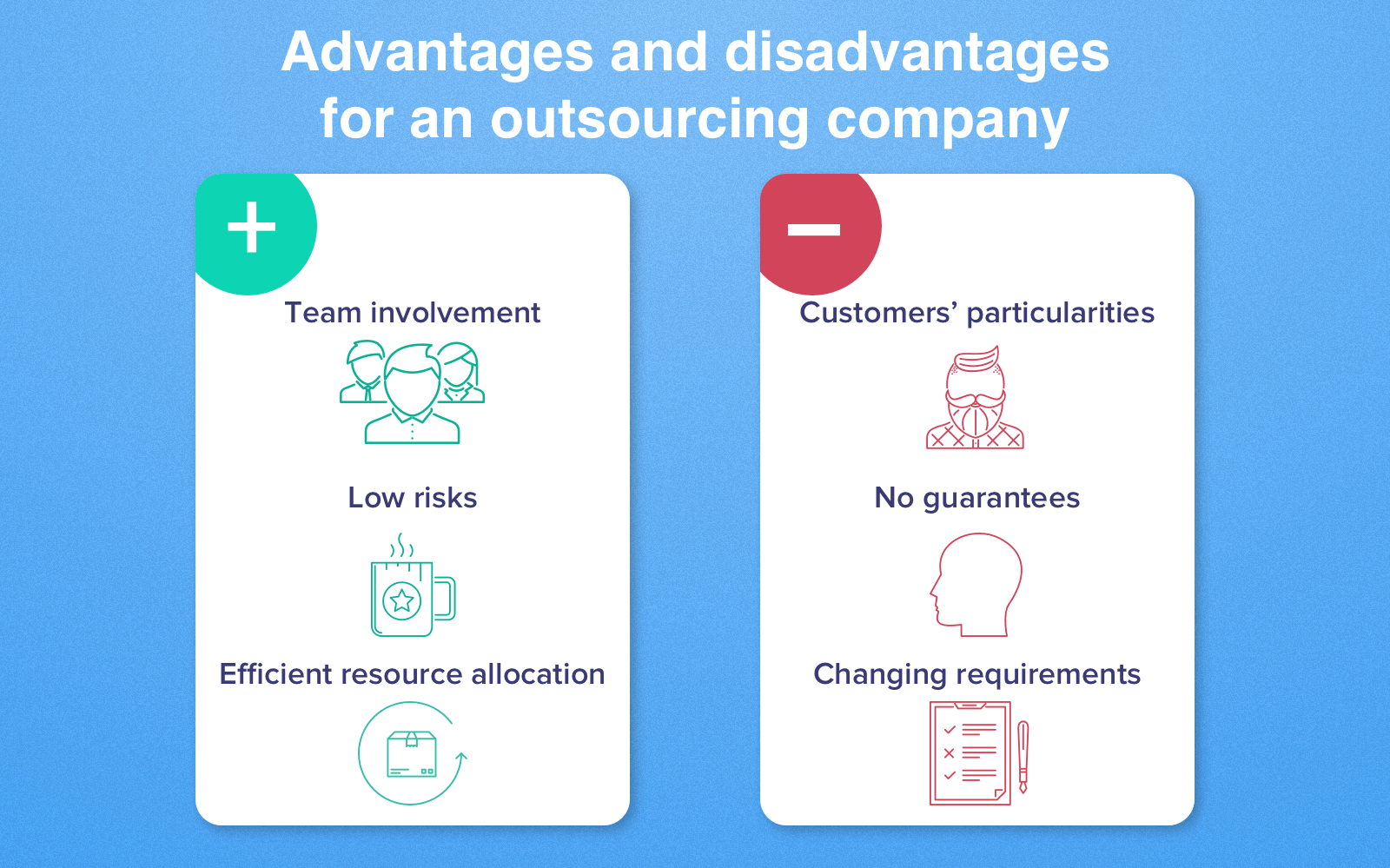 Time and Materials contract: advantages and disadvantages for a company
Team involvement
As contractors earn their pay for the work completed, they are motivated to keep up with deadlines and guarantee the quality of the outcome.
Low risks
The software functionality that needs to be estimated is rather small, which eliminates the errors in the calculations. Such an approach is aimed at increasing trust and loyalty of customers.
Efficient resource allocation
Companies don't like their tech talents to stand idle. That's why the timetables are usually really very accurate and deadlines are met.
As for the inconveniences that outsourcing companies may experience, there are some. However, at Cleveroad, we have a refined cooperation model that allows us eliminating the risk of Time and Materials contract.
Customers' particularities
We are used dealing with all sorts of personalities and requirements. However, some companies may be confused dealing with meticulous clients that want to receive a report for every cent spent or get into arguments about every detail. The most important thing for us is our clients' serenity and satisfaction. So, we work hard to meet all the requirements. In case they need to maintain the full control - we provide them with it. If they are ready to pass the responsibility to the project manages, we won't fail.
No guarantees
The working process in our company is built in a manner that we plan developers; workload beforehand. In case a client doesn't fulfil the commitments, we bear loses.
Changing requirements
It's a huge advantage of Time and Materials model in general. Still, if requirements constantly change, it becomes really difficult to work on such a project.
When is a Time and Materials contract used?
As I've mentioned before, for a successful project delivery it's important to choose the right cooperation model: Fixed Price, T&M or Dedicated team.
So, when would a Time and Materials contract be used? Here are a few use cases that will show whether your project is suitable for T&M contract.
Use case #1
If you are planning to start a huge project from scratch. By the word 'huge' I mean the one that needs more than a year of development time and a cross-functional team of 15+ team members. These projects require Time and Materials form of cooperation as it is problematic to create full specifications in the beginning of the project.
Use case #2
If you are planning to get your project done within 6 months term and are not sure about the final functionality of it, Time and Materials contract is for you. Such projects usually need 5+ team members and follow a flexible development methodology like Agile.
Use case #3
Ongoing projects that are the testing or bug fixing stage and projects that require maintenance or support are suitable for Time and Materials contracts.
Summing up, we can say that Time and Materials contract can be a perfect idea in some cases, and, at the same time, it may turn into an unacceptable option in other cases. If you have a large budget and you are not limited in time, then T&M is what you need. Anyway, if you still have some doubts what contract type to choose, contact us and our specialists will help you make a right decision!
If you found the information in the article useful and don't want to miss anything important, subscribe to our weekly email newsletter. As a bonus, you'll receive a free e-book with tips and strategies how to manage a remote team of developers effectively.
Rate this article!