We offer Android app development services to SMBs, startups, and enterprises, helping them reach goals through digital solutions
Android app development services
Custom Android app development
As an Android application development company, we offer an entire development life cycle: from business analysis and design to development and Play Store release.
Android app UI/UX design
Our UI/UX team crafts user interface designs for Android applications following the audience-first approach. They make sure that end-users solve their problems.
Android app testing
QA and Android engineers team up to create a testing strategy for your application. Each department runs tests on its side to guarantee great performance and stability.
Support & updates
We're an Android app development company you can trust to develop updates for your application and support for upcoming Android versions.
Android apps that built to excel
Get an application that solves the problems of end-users and is effective for your company
Live streaming and Video-on-demand applications should be focused on seamless content delivery. The integration of CDN and Brightcove enhances asset delivery while PayPal, Stripe, or Braintree handle payments.
2300 hours
Average development time
7 months
Average project length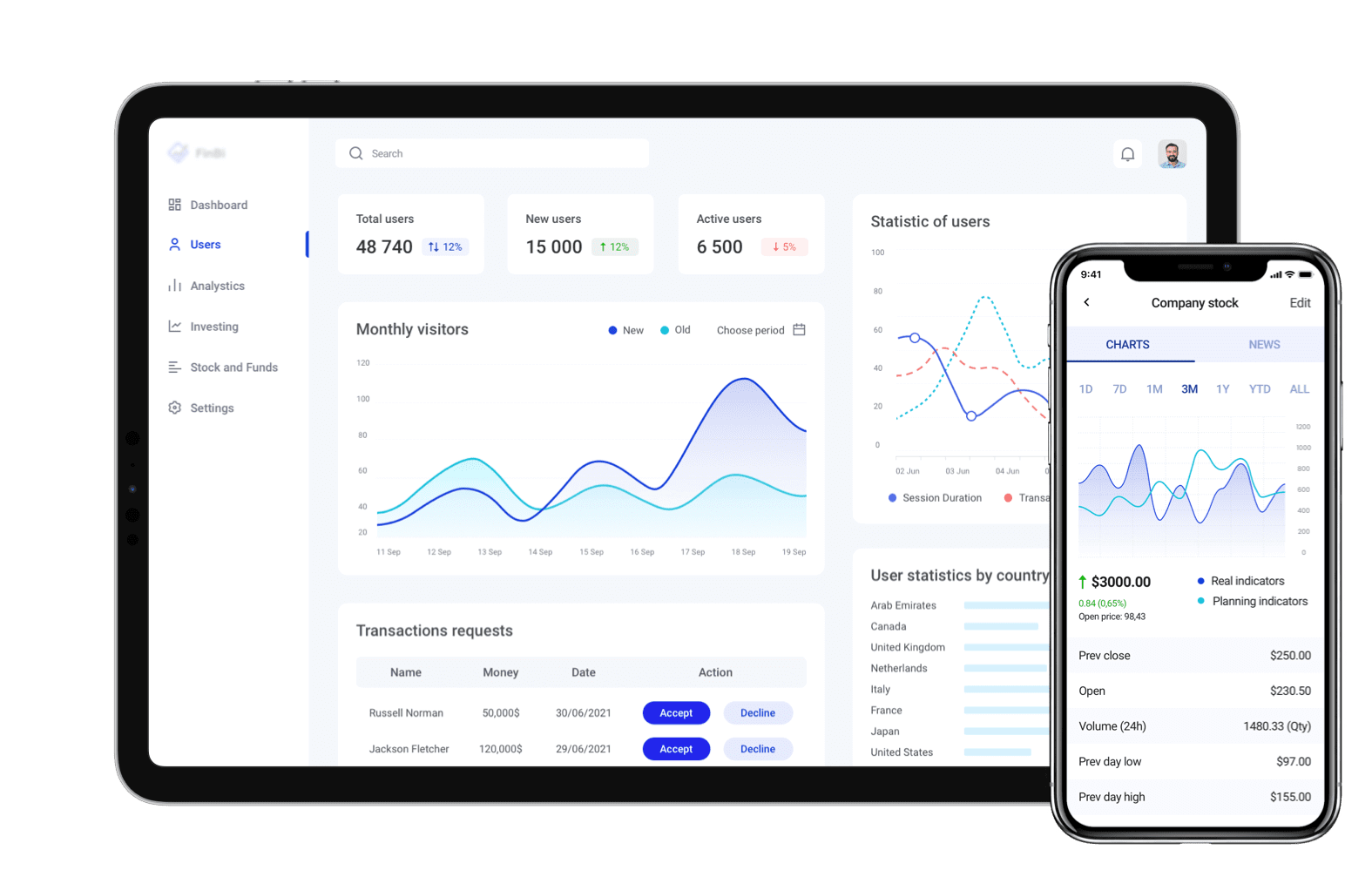 Micro-investment platform
A turnkey solution for managing micro-investments and savings for the Middle East market
Saudi Arabia
.NET, React.js, Redux, Flutter

TMS for a logistics company
Transportation management system with automatic route planning module.
USA


Video-on-demand platform
A large online video streaming service offering thousands of movies and TV series.
Denmark
Learn about Cleveroad's expertise.
Awards
Leading review & rating platforms name us the top mobile app development company
Clutch
Top 1000 Service Providers Global
Clutch
Top Development & IT Companies Ukraine
Clutch
Top Software Development Companies Global
Clutch
Top 1000 Companies Global
Goodfirm
Top Software Development Company
Wadlin
Top Web Developers 2020
Android app development process
Following a time-tested process, we guarantee the best results at the shortest time frame possible
● Business analysis
● Writing specifications
● Preparing wireframes
● Getting approval
Android technology stack we use
We use modern and time-tested technologies to extend and scale your product effectively
Languages
Database
Frameworks
Java
This general-purpose language can be applied for numerous tasks, including Android app development. The main advantages of Java are portability, scalability, and excellent performance, making it a perfect language for developing complex enterprise applications requiring room for growth.
Certifications
We keep deepening the expertise to meet your highest expectations and build even more innovative software
Our clients say
Denmark
CTO at Blockbuster, TDC
"We're very happy with Cleveroad. They seem to work in the way that we do, and we have a close collaboration with them. Every day we talk to the developers and outline what needs to be done."
Technologies for advanced Android apps
We use a set of time-tested technologies and services to deliver your app functionality in the short term and build a great user experience
Big Data
● Big data architecture design
● Apache Spark and Hadoop
● HDFS, Hive, Pig, Impala, Oozie
● EMR, Redshift
Media Expertise
● Live Streaming and OTT delivery
● Video Processing
● Content Distribution Networks
● Web RTC, FFMPEG, Wowza, DRM
Warehouse and inventory
● Indoor positioning: Wi-Fi RTT, Indoorway, Navizon
● Barcode: Google Vision API (Barcode API)
● Android Things: Cloud IoT Core, TensorFlow
Computer vision
● Image processing
● Deep Learning OCR: Keras, Supervisely
● Face recognition: Eigenfaces, LEM, Facial morphology analysis
● Face Detection: HOG, SVM
● OpenCV, Kairos, Luxand Face
Google Resources
● Architecture: Room, ViewModel, LiveData, and Lifecycle
● Media and Web: media-compat library, ExoPlayer, PWA
● Graphics and Games: Palette API, Glide, OpenGL ES
● Sensors, Multi-window mode, Conversational Actions
IoT Expertise
● Protocols: NFC, Wi-Fi, Bluetooth, LPWAN, IPv6 over LoWPAN
● Сommunication Security (TLS, DTLS) and Data Encryption
● Artik module, Raspberry Pi, Arduino
● AWS: Lambda, Kinesis, S3, SageMaker, Sumerian
About a company
Cleveroad is a custom application development company that has been helping clients all over the world to reach their goals since 2011
Our transparency and full involvement help transform your idea into a thriving product.
Start growing your business with us