How to Create a Shopping App for Your Business: Points to Consider
Let's face it: web presence is no longer enough to attract and retain new customers. Modern consuming habits have risen to shop on the go, and the mobile experience has become more important than ever. That's the main reason why you should create an online store app for your business.
How to make a shopping app? You should follow these steps:
1. Find an experienced software vendor. Choose a professional provider to pick up the project at the raw idea stage and bring it to launch.
2. Discuss the project with your vendor. Your tech partner will help you determine which details to focus on and how to accomplish your goals.
3. Go through the Solution Design and Discovery phases. During these stages, your vendor will help you determine the main scope of work and prepare all the documents and prototypes needed for development.
4. Apply to MVP development services to test your idea's viability and build a shopping app faster and cheaper.
5. Work with the testing team to ensure the performance and stability of your shopping app.
6. Track your key business metrics and continue collaborating with your software vendor. The team will help you continuously improve the software to increase profits.
That's the skeleton you might stick to if you don't know where to start. Let's delve into how to create a shopping app that converts and increases the profitability of your business.
Why Is It Worth Creating a Shopping App
If you create a shopping app, you can give your clients a number of advantages. So, benefits for customers include:
Accessibility and convenience. Mobile phones are always on hand, so users can open an app anytime. Moreover, it can store delivery and payment data, speeding up the checkout process.
Improved user experience. Online shopping apps offer a more user-friendly interface and unique features such as push notifications, geolocation, etc.
Personalization. A mobile app provides personalization for each user, allowing them to receive customized offers.
With the benefits described above, you'll be able to engage more customers and induce them to buy more. Thus, your profits will increase. Let's explore other benefits for store owners:
An additional sales channel. Building a shopping app will allow you to reach a larger audience and increase sales.
Improved marketing opportunities. The app makes promoting your store much easier and more convenient. Thus, you can employ all the mobile features, such as push notifications, integration with social networks, etc.
Effective advertising. Custom shopping app development is a great approach to delivering a personalized user experience. For instance, you can send out ads to users whose interests it matches. Thus the likelihood that the client will make a purchase increases.
Better performance. An online shopping app developed by an experienced software provider will work faster than a website since some elements will be loaded into the device's memory. Customers will use an app since it enables them to shop quickly and comfortably.
Feedback and analytics. A mobile app will allow you to collect customer feedback more effectively. Also, by analyzing the key indicators, you can improve the app's success.
As you can see, shopping app development is beneficial both for consumers and store owners. In addition, the statistics on the online shopping app market are also exciting.
Shopping app market statistics
According to the E-marketer research, by 2024, the number of sales in mobile commerce will be $534.18 billion, which equals 40.4% of all online sales. Moreover, in the US, mobile shopping in 2022 accounted for about 6% of all retail sales. By 2026, that number is predicted to rise to 8.7%.
One more reason to create a shopping app: Statistics showing growth in the mobile share of e-commerce
In addition, let's discover some promising statistics on mobile commerce by Tidio research:
By 2024, the number of users of mobile shopping apps in the U.S. alone will be about 187 million
By 2025, mobile retail sales will be over $710 billion
In-app purchases account for 54% of all purchases made from mobile devices
It's also a clear sign for you as a business owner to create an online shopping app and let your customers purchase online with convenience. Customers get a better shopping experience while you're increasing your revenues.
Best Online Shopping Apps You May Learn From
The best way to determine the right strategy on how to build a shopping app for your own store is to consider several existing apps on the market that seem successful enough. So let's explore the top 5 online shopping apps you can analyze to make your own e-commerce solutions.
1. Amazon
Amazon has held high popularity for several years in a row. Moreover, many businesses are trying to make a shopping app like it. This is not surprising, as Amazon's retail e-commerce sales worldwide are predicted to reach $746.22 billion in 2023. In turn, Backlinko claims that Amazon Prime will have 157.4 million users in 2022.
Amazon's standard shopping app features are searching and comparing products and prices, researching reviews, and buying. The app also provides users with 24/7 support, 360-degree product inspection, real-time tracking, and push notifications about discounts on items users have added to "liked".
2. AliExpress
Another app that is very popular worldwide. AliExpress was founded in 2010 by Alibaba. According to Webtribunal's research, the number of downloads of AliExpress on mobile devices is over 600 million, and the platform boasts over 150 million active users. Alibaba's revenue in 2022 reached around 853.06 billion yuan, which is almost 134.57 billion U.S. dollars.
The main features of AliExpress are:
Special discounts for the mobile version
Mini-games
Buyer protection
Order tracking and delivery status notifications
Search by Picture
3. eBay
This marketplace, headquartered in the USA, is a direct competitor to Amazon. Business of apps conducted research on eBay, which shows that:
The platform generated $10.8 billion in revenue in 2021
Its CAGR shows a 5.8% increase annually
The number of active eBay users in 2022 reached 138 million
18.3 million of these users were sellers
Marketplace offers special features, including a barcode scanner, background removal, real-time order tracking, and more. The most prominent feature is the auction. So, users can participate in an online auction to get the goods they like. eBay sends notifications to buyers to avoid missing the moment another user raises the bid.
4. Etsy
Etsy is a marketplace focusing on handmade and vintage goods. The main focus of the platform is on small businesses. Etsy's revenues show a 34% year-on-year increase, reaching $2.32 billion in 2021. The number of users in 2022 reached 93.9 million.
Etsy's main features include the following:
Multiple types of push notifications
Personalized recommendations based on browsing history
Ability to communicate directly with merchants
Delivery tracking
Choosing a secure payment method
5. Shein
Initially launched as a platform selling wedding dresses, by the mid-2010s, the store had reformatted into all types of fashion. Shein is proliferating, and they are now adding about 2,000 new items daily. In 2020 the app made a giant leap, increasing revenues by 398% and reaching 15.7 billion in 2021. The number of users by that point was 43.7 million, with the United States, Brazil, and Mexico being the largest markets.
Shein is a modern marketplace that actively uses social networks to promote itself. It provides product search and comparison features, order tracking, Push notifications, 24/7 online support, etc.
Even though most of the above-mentioned solutions are marketplaces, there are still a lot of things you can learn from them. Analyze their design, how they engage with customers, figure out the way their payment process is arranged, etc.
Such a small competitive analysis might provide you with tons of insightful data you could use for your own shopping app development. However, it's better to entrust it to an experienced technical partner. For example, at Cleveroad we can conduct competitive strategic analysis to help you deliver software that stands out.
How to Make a Shopping App: Features To Implement
It's high time to dive deeper into the main topic of this article and unveil how to create an online shopping app. For this, let's find out essential features that can be a good fit for your app's skeleton, that's also called a Minimum Viable Product.
Core features
First, let's explore MVP features, that are essential when you build shopping app:
Although this feature may seem obvious to most of you, it hides many details you should be aware of to make authorization as user-centric as possible.
First, don't force users to sign up for an account immediately. This is pretty irritating and has a bad influence on the overall user experience. It's more beneficial to let users browse your app as guests and ask them to register only at the moment of making a purchase or other target action. Pull&Bears' app is a good example. During the first launch, it offers customers to choose a country and gender to set the app up for displaying relevant clothing. No forced attempts to register.
Second, such detail as social login (e.g., via Facebook, Twitter) might give you a slight competitive advantage over competitors. ZARA, Pull&Bear, Forever 21, and Mango don't provide this type of registration and ask users to fill in a lengthy form to continue with their shopping experience.
Example of a lengthy registration form vs. simplified registration form in mobile shopping apps
2. Customizable Push Notifications
A push notification is the ultimate way to boost your sales. If you're intended to make an app for your online store, you should think over the opportunity of interacting with customers through push notifications.
What are the use cases for customizable push notifications? There are literally dozens of them:
Remind customers about items left in a cart.
Inform about upcoming sales.
Notify about items on a wish list that just went on sale.
Engage users that haven't run the app for a long time by offering discounts, coupons, and so on.
Push notifications are vital for shopping app development since they help both remind customers of your store and drive additional sales.
This is another important aspect to think through during the online shopping app design phase. Firstly, ensure it's fast enough and displays user queries in seconds. Secondly, the in-app search should be flexible, so consider adding appropriate filters.
The ASOS company went ahead and implemented the capability of searching by photos. A user uploads a photo with clothing they would like to purchase, and the app is looking for matches.
ASOS shopping app search screen with categories, the opportunity to filter search results, and search by photos
Let your customers leave their feedback by assessing and reviewing the products they have purchased. This will increase the level of trust in your store as well as motivate other users to finalize their decision and purchase an item faster.
Multiple studies show that 71% of customers abandon their carts due to high shipment fees. In order not to exacerbate the situation, the checkout experience has to be fast and contain several payment options (e.g., Apple Pay/Android Pay, PayPal, Visa, MasterCard, etc.)
Use various payment methods to create a shopping app and decrease the number of abandoned carts
You can also fight the problem of abandoned carts with the following:
Allow users to purchase goods without registration. Modern consumers are used to quick shopping on the go, and such time-consuming actions as entering login and password may scare them off of buying the goods.
Implement sign-in via social media accounts. If the purchasing process isn't possible without registration, you should at least simplify it. As I've already mentioned, the best way to do so is to allow for signing in via Facebook and other social media platforms.
Illustrate the checkout process step-by-step. Consumers tend to exercise more patience when they see what happens next and can estimate how much time the process will take. So, show them what steps they will go through to finalize their purchase.
Keep it simple. Don't overload the checkout screen with unnecessary elements and options. This may confuse customers and make them abandon the cart.
6. Reliable Payment Gateway
In fact, a payment gateway is a mediator between your online store and the financial institution or system that processes the transaction. Payment gateways deal with extremely sensitive information, so they must be very secure.
How to Integrate a Payment Gateway Into an App?
Developers at our company prefer working with time-tested payment gateways to provide the best software development service. PayPal, Stripe, and Braintree are among them. All of them are pretty flexible from the technical point of view and price policy.
When you'll be picking up a team to create your own shopping app, make sure the software developers you intend to hire have due expertise in architecting the technical background for payment gateway integration.
Good customer support service is important for any industry and e-commerce is in desperate need of it. The inability to ask a question regarding goods, shipment details, or whatever can negatively influence your sales and reputation.
You should at least provide users with such basic information as:
Page with FAQs;
Contact details (email, phone number, social media page);
Dedicated customer support managers.
If you want to create an online shopping app that delivers a great experience in terms of customer support, you may consider the following options:
In-app chat. Most mobile shoppers prefer communicating with company representatives without leaving the app. A built-in chat is a perfect problem-solver for this case.
Chatbots. They are pretty laborious in development but may be a great replacement for an in-app chat or an excellent addition. Let's say you want to cut expenses on customer support staff: chatbots can work instead of humans in the nighttime.
Build a shopping app with excellent customer support by means of a built-in live chat: Pull&Bear example
Advanced features
Now you have a food for thoughts concerning a set of features for the MVP. But what about additional features?
By suggesting customers clothing similar to the one they're looking at right now, you won't only increase engagement and improve the user experience but boost your sales too.
Typically, this feature is AI-based and so it's laborious to implement. However, if you want to create an online shopping app delivering a top-notch experience and your budget is above medium -- suggestions are precisely what you need.
If you're wondering how to make a shopping app that converts -- wishlist is the answer to this question. Many consumers use mobile applications to browse products on the go and purchase items later when they have some spare time for this.
Note that since most users are likely to save the viewed items on the go, it's necessary to allow them to do it as guests. While the wishlist feature isn't necessarily a must-have for basic functionality, it's a perfect fit for the additional feature set.
Build a shopping app that encourages users to share anything they might want with their friends. Wishlists, items, screenshots, whatever. It's free advertising for you.
Augmented Reality Shopping
With ARKit 2, Apple made a move towards the e-commerce market. Now, every store owner is able to make an online shopping app with support for previewing goods in 3D and AR.
Depending on your needs, you can hire specialists to build this feature or use a ready-made solution from Shopify that allows the creation of 3D models with ease.
If you have offline shops, you might want to allow app users to find one nearby and notify them when the clothing they are looking at will be in stock. This can help you stimulate offline sales and drive more customers to your business.
Basically, it works the same as in the real world but with a virtual assistant instead of a person. Imagine you are looking for a new pair of jeans. You type a query into the app, and it gives you a few different options conforming with your size, preferable style, color, brand, and available budget. The application analyzes the clients' feedback and suggests the best options.
The convenience of such a feature is obvious. The user can automatically perform online purchases, so they now save time and money. The app helps them to keep all purchases organized, monitor orders, keep an eye on prices and consequently pay less.
And this feature can be applied to more than the retail sphere! A personal assistant can offer you a vast range of goods in such areas as music, books, furniture, home appliances, wellness, and beauty.
Steps to Make Your Own Shopping App
Let's discover how to create an online shopping app step by step:
Step 1. Finding an experienced software vendor
Cooperation with a professional technical partner is the most critical part of success. They will guide you through the whole process of shopping app development. To get the best value for money, consider the market of outsourced IT companies. They offer a large number of tech-savvy experts with a variety of prices. To make a choice easier, you can use specialized platforms like Clutch.
Step 2. Doing complete market research
It is essential to do in-depth research to make a shopping app successful. It includes:
a. Determining your target audience and their needs. This way, you can create a software solution that is sure to gain popularity among users and generate profits.
b. Identifying your main competitors. Study who your competitors are in the market. Take note of their mistakes and strengths, and use this information when building your own service.
c. Choosing a business model. You can choose from three options:
Business to Business (B2B) - allows companies to sell to other companies.
Business-to-Customer (B2C) - the most common model used by popular services such as Aliexpress. Provides an opportunity for businesses to deliver goods to customers.
Client-Client (C2C) - used by such applications as eBay and Etsy. Allows customers to sell goods to other customers.
d. Selecting the monetization model. The strategy will largely depend on the chosen business model. So, in the case of B2B and B2C, you can earn from each sale. For C2C marketplaces, the revenue stream may be a commission on each transaction. You can also use advertising to monetize your app.
Your software vendor can do the market research for you and advise you on the best decisions to make to get the most benefit.
Step 3. Determining platform's type
The next step is to determine the platform to make an online shopping app: iOS, Android, or both. Your software vendor will advise you on the best possible option fitting your needs and goals:
Native development
It requires low-level coding specifically for a particular operating system. Native applications have a number of advantages: they are fast, intuitive, and offer more opportunities for integration with the platform. However, the development of such solutions is more expensive, because you need to create and maintain two separate applications.
Cross-platform development
This option is considered optimal for creating a shopping app due to its multiple advantages, such as reduced development time and costs, multiplatform experience, etc. In this case, the team develops a universal code base that works on iOS and Android.
Mobile website
Another option for you is to create a web shopping app. For example, you can use this option to adapt the desktop version of the website for mobile devices.
Step 4. Starting the development process with chosen vendor
Once all the main points are clear, your team starts working on them, converting all the requirements into a detailed plan. They determine the scope of work, decide how to achieve all business goals, create a detailed Feature Breakdown List (FBL), design prototypes, etc. After analyzing all the requirements, the specialists can provide you with an exact estimate for your shopping application.
Step 5. Creating a design
An attractive and user-friendly design is fundamental to making an excellent online shopping app. It should be simple, intuitive, and look good. The UI/UX design team will build your app screen by screen, giving special attention to several details:
Logo. It should be eye-catching and create a good impression at first glance.
Simple navigation. An app for online shopping shouldn't be overloaded with unnecessary information and buttons. Instead, the feed should be simple and contain only the essentials: photos of items, their brief description, the search/filter bar, and the menu.
The "add to cart" button. Since the primary goal of online shopping app development is to enable users to make purchases, the "add to cart" button should be appealing.
Reachable zone. When placing the interface elements, you need to consider the accessibility of areas on the screen. The main buttons should be in the "natural/thumb-friendly" zone.
Thumb-friendly zones for building apps with better users experience
Step. 6 Development and testing
The development team starts coding when all the documents and prototypes are ready. At Cleveroad, we develop software in several sprints. The project manager assigns a specific task for each of them. Each new feature is verified by the testing team and approved by the client. After the application is ready, QA engineers perform regression testing, including complete verification of all the features and stress testing.
For the first launch, it is worth starting with creating an MVP version, containing the most necessary features to deliver the core product value This approach allows you to release the application faster and reduce the initial investment.
Step. 7 Release
So, the online shopping app development process is complete. Now you can launch it for users on AppStore and Google Play. After that, analyze your app reviews This way, you'll understand how to improve the application and what features to add to make it even more attractive to users.
Step. 8 Support and scaling
After you release your online shopping app, the process never stops. You can continue collaborating with your software vendor to keep the software updated. Post-release support includes optimizing for new OS versions, adding new features, etc. You can gradually scale and improve the app to stay ahead of the competition and keep users engaged. Also, you need to pay special attention to marketing and promotion to expand your audience.
The Time and Cost to Build a Shopping App
The shopping app development cost will largely depend on the time spent on the software creation. So let's find out how long it takes to develop a shopping app and how much it costs.
Approximate time required to create a shopping app for one platform

| | |
| --- | --- |
| Features | Approx dev time |
| Registration | 18 hours |
| Login screen | 32 hours |
| Main screen | 93 hours |
| Catalog screen | 29 hours |
| Product details screen | 57 hours |
| Cart screen | 190 hours |
| Profile screen | 81 hours |
| Help screen | 26 hours |
| Push notifications | 28 hours |
| Total hours | 554 hours |
The calculations above are approximate and based on building an app MVP for one platform. You can contact our Business Analysts to get a personalized estimate of your shopping app idea.
If you want to learn the cost of building a shopping app in dollar equivalent, you should multiply those numbers by an hourly rate of your software developers.
Taking our company's hourly rate ($50/h) as an example, you will get the following price to create a shopping app:
Approximate cost required to build a shopping app for one platform

| | | |
| --- | --- | --- |
| Type of service | Time | Cost |
| Mobile app dev (one platform) | 327 hours | $16,350 |
| Back-end dev | 227 hours | $11,350 |
| UI/UX design (one platform) | 114 hours | $5,750 |
| Basic admin panel | 355 hours | $17,750 |
| Total (iOS / Android) | 1024 hours | $51,200 |
| Total (iOS + Android) | 1465 hours | $73,250 |
Team Size
iOS engineer
Android engineer
Back-end engineer
Quality Assurance engineer
UI/UX designer
Project Manager
Cleveroad Experience in Building Ecommerce Projects
Mobile apps are gradually becoming a must for a retail business to successfully compete with other players in the market. However, to build a shopping app, you need the help of a professional software provider. The answer to the question 'how to make a shopping app' is a matter of complex analysis of your business, infrastructure, and requirements.
Cleveroad is a professional software development company headquartered in Northern Europe, Estonia. Since 2011 our team has implemented more than 170 successful projects across multiple domains.
Shopping app development with Cleveroad brings you a lot of benefits:
Practical experience in creating B2B, B2C, and C2C e-commerce software solutions
Full coverage of the custom web and mobile development and on-demand services: IT consulting, quality assurance, legacy software modernization, etc.
Experienced UI/UX design team following the latest design practices to create non-trivial e-commerce and marketplace solutions that convert
Flexible cooperation models: time & materials, staff augmentation, dedicated team, and more
Signing Non-Disclosure Agreements (NDAs) on your request
If you're planning to create a shopping app, contact the Cleveroad team - we will analyze your business needs and create an e-commerce solution that will allow you to expand your market presence, gain wider customer base and increase profits.
See our latest projects for retail, ecommerce brands, and online marketplaces:
Enhance your sales conversion rate
Get full-fledged retail software development services to boost your sales by reaching more customers
Frequently Asked Questions
How to make a shopping app? You should follow these steps:
Find an experienced software vendor. Choose a professional provider to pick up the project at the raw idea stage and bring it to launch.
Discuss the project with your vendor. Your tech partner will help you determine which details to focus on and how to accomplish your goals.
Go through the Solution Design and Discovery phases. During these stages, your vendor will help you determine the main scope of work and prepare all the documents and prototypes needed for development.
Apply to MVP development services to test your idea's viability and build a shopping app faster and cheaper.
Work with the testing team to ensure the performance and stability of your shopping app.
Track your key business metrics and continue collaborating with your software vendor. The team will help you continuously improve the software to increase profits.
It's hard to identify the most necessary feature for a shopping app. That's why we've created a list of MVP features that are obligatory for every shopping app project:
Authorization
Customizable Push Notifications
Flexible Search
Ratings and Reviews
Easy Checkout Process
Reliable Payment Gateway
Customer Support
Approximate development time for both platforms will be around 1465 hours. With a rate of $50/hour the project price will be around $73,500. However, this price is approximate and depends on your project requirements.
Here are the most common design tips:
Craft a Logo That Stands Out
Simplify Navigation and Feeds
Make the 'Add to Cart' Button Noticeable
Stick the Reachable Zone
The first question is what to choose: a native mobile app or mobile website? The answer is both of them. Adapt your existing website for mobiles and start thinking over how to make an online shopping app for one or every popular mobile platform (Android, iOS). This will give customers an opportunity to choose how to do their shopping and eventually turn into a benefit for your business.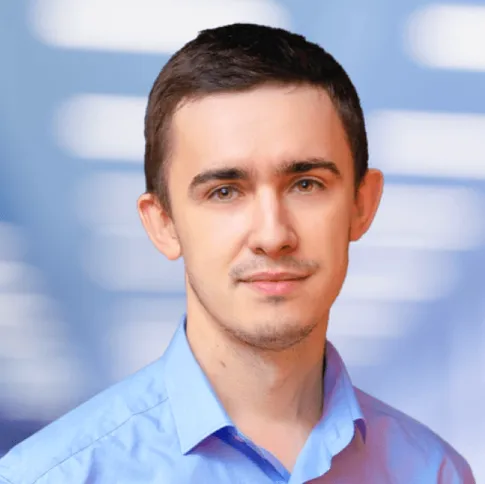 About author
Evgeniy Altynpara is a CTO and member of the Forbes Councils' community of tech professionals. He is an expert in software development and technological entrepreneurship and has 10+years of experience in digital transformation consulting in Healthcare, FinTech, Supply Chain and Logistics
Rate this article!
6274 ratings, average: 4.91 out of 5
Give us your impressions about this article
Give us your impressions about this article