How to Integrate a Payment Gateway and Choose the Right Provider
13997 Views
|
27 Jul 2018
|
10 min
It's hard to imagine our lives without credit cards. This tiny pieces of plastic allow us spending enormous amounts so effortlessly that it's easy to get addicted to this process. It's no surprise that such a convenient payment method has migrated to mobile apps along with websites and literally took a monopoly position. If you've decided to create an app involving money operations and you know nearly nothing about the payment gateway integration, then you clicked the right link!
In this article, we talk about online payment gateways in general as well as reveal their peculiarities and make the payment gateways comparison.
Too busy to read the full article? No problem, watch our short video underneath and come back to the article only in case you need more details!
How to integrate a Payment Gateway into an App?
Payment Gateway's Anatomy
Before moving any further, we should tell you more about what is payment gateway and how payment gateway works in simple terms.
What is a payment gateway?
The payment gateway services are the only way to purchase something through mobile applications. In fact, it's a mediator between the transaction a customer wants to perform and the payment processor (i.e. financial institution). Why there is a need for any sort of mediators? The direct interaction between the app and payment processors is prohibited regarding security reasons.
So, payment gateway solutions serve as an element of the app that uses encryption to ensure the secure processing of sensitive data (e.g. PIN number) and actually makes mobile app payment processing possible. Payment gateways are great for businesses that don't want to be responsible for keeping the private data in safety and need to add payment options to their applications.
How Does a Payment Gateway Work?
Above all, customers have to be connected to the internet for using digital payment capabilities offered by a gateway. Before or after making purchases, they will be asked to fill in the fields with their credit card data. That's the starting point of this data's long journey which though takes a few seconds for customers.
First, the data is sent to the payment gateway system that, in turn, transfers it to the bank the credit card belongs to. Then, the bank coordinates requests with payment systems like Visa or MasterCard. The main task of those systems is to figure out whether a customer has a required amount of money on the balance to pay for that purchase. If it's so, the request is verified and the bank connects directly with the merchant to authorize this request. After all, the required sum is charged from a customer and sent to the business account of a merchant within several a couple of days (typically two or more).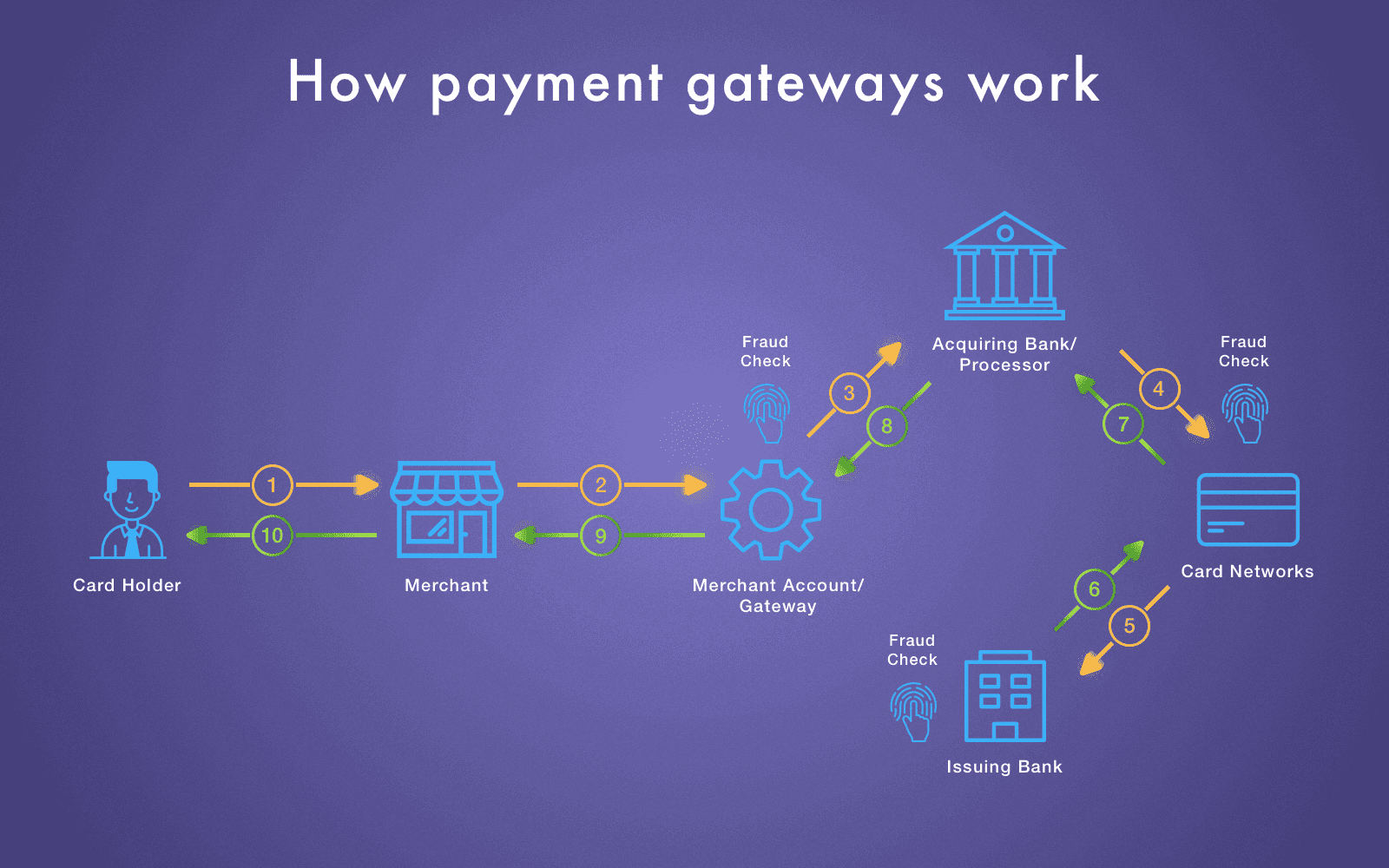 What is payment gateway and how it works
Both online and mobile sales are getting stronger every day. Thus, 73% of customers made three and more purchases over the last year and 71% of merchants say their income from online and mobile channels has increased for the same timeframe. It's no surprise that mobile app payment integration is gaining momentum and becoming even more demanded.
What to Consider Before Mobile Payment Gateway Integration
As we said earlier, there are certain peculiarities you should know about before integrating a credit card payment gateway.
Types of Merchant Accounts to Choose
First of all, let's dive deeper into the notion of merchant account. Such an account enables you to accept online payments and essentially represents an online bank account for your business. It temporary holds the money you receive from sales in your app (typically 2-7 days) and then delivers them to your regular business bank account. In case you plugged a payment gateway system, the transaction is firstly verified by your provider and only then sent to your merchant account.
It's worth mentioning that payment gateway solutions help to facilitate payment processing and maybe an optional choice. In fact, they act as security software which helps to prevent frauds and extend the online payment functionality (e.g. subscription support). At the same time, most merchant accounts allow its customers to make use of basic online payment functionality and security capabilities.
The merchant account can be opened in banks and integrated with payment gateways if it's necessary and supported by the bank. Another option is to use one of credit card payment gateway providers that offer their customers an all-in-one solution and support merchant accounts (e.g. PayPal and Stripe).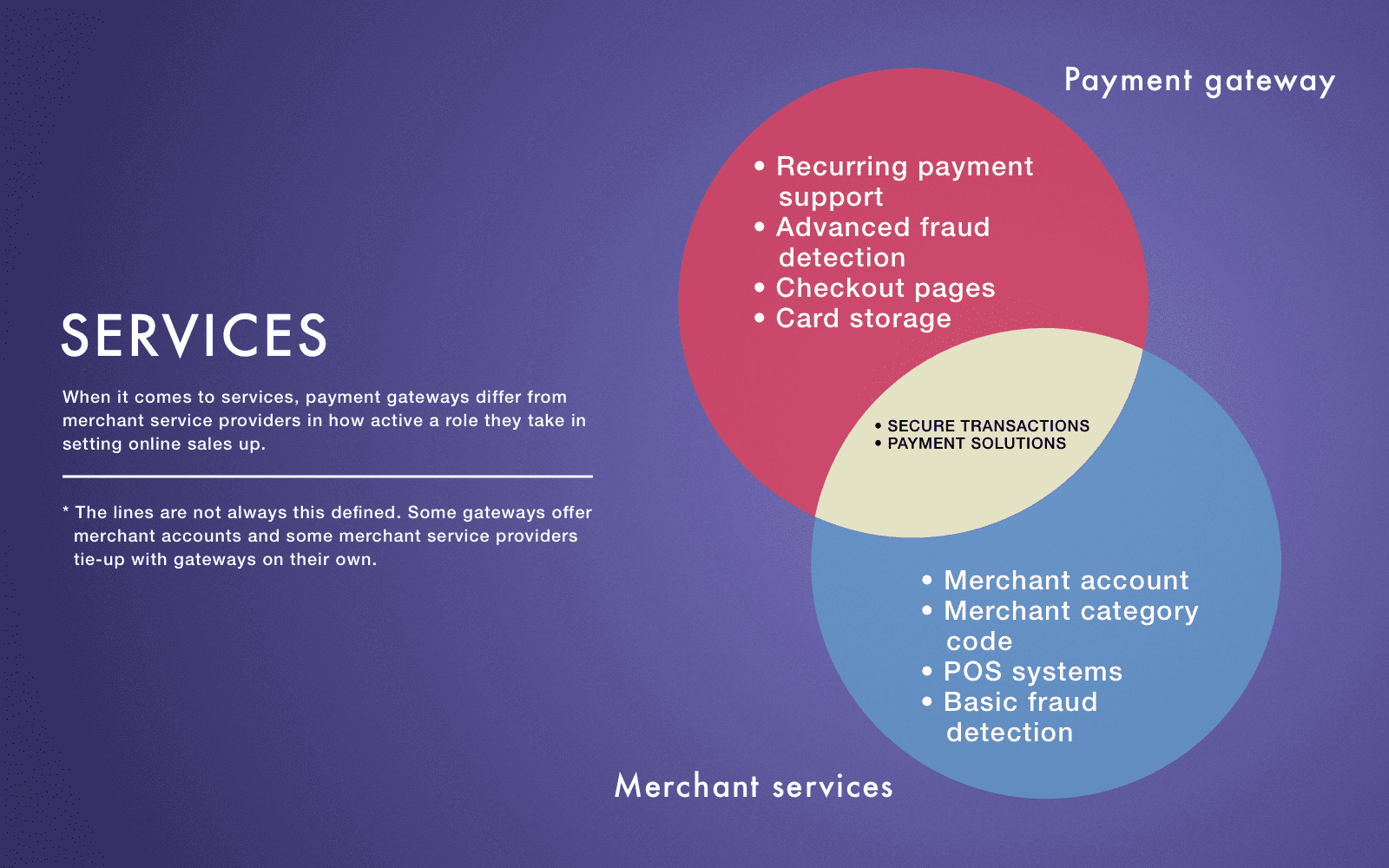 The difference between the payment gateway and merchant account (Source: Chargebee)
Finally, here are two types of merchant accounts you should choose from depending on your needs.
Dedicated merchant account
This type of merchant account is allocated solely for your business. It's a quite expensive and time-consuming option. Most of the time will be spent on going through numerous checks including security checks.
Though this option provides you with a higher level of control over your finances. For example, you can count on custom payment processing fee rates which depends on your sales volume. Respectively the more you sale, the lower your fees are and vice versa. Among other features are increased speed for money transfers (up to 3 days vs. 2-7 days in other account types) and more flexibility for financial operations which includes account debiting, correction of transaction errors etc.
Aggregate merchant account
This type of merchant account implies that the money your business generates is pooled with other businesses. Think of it as a bank cell that's shared among several people.
This means the level of control over your finances is limited and money withdrawal to the business account may take longer. On other hand, this option isn't so expensive and time-consuming.
Goods you're selling are also an important aspect to consider in terms of mobile app payment integration. If you intend to sell digital content then you're going to deal with Play Store or App Store policies for in-app purchases. The app that's distributed from those marketplaces can't use third-party services. This way, all transactions must be made via Apple ID or Gmail.
Both companies provide developers with guidelines and appropriate tools. Apple suggests iOS developers to use a specialized framework, while Google prepared a dedicated API for Android developers. Thus, all transactions will be performed by the App Store or Google Play.
On the other hand, if you're going to sell physical goods, both platforms recommend using mobile payment gateway providers. A payment gateway connects to your application through specialized APIs as well.
To deal with customer banking data, you have to be PCI DSS certified. This certificate is a must even if you're using a very secure payment gateway. In order to get certified, you need to go through a complex verification procedure.
The first thing you should do is to make sure your information system containing the customer credit card data is compliant with the demands of PCI DSS. The next step is addressing vulnerabilities that were found by pentesters.
After all the fixes are made, your company will be carefully audited by one of the firms having the status of a Qualified Security Assessor. Respectively, they conclude whether to certify your company or not.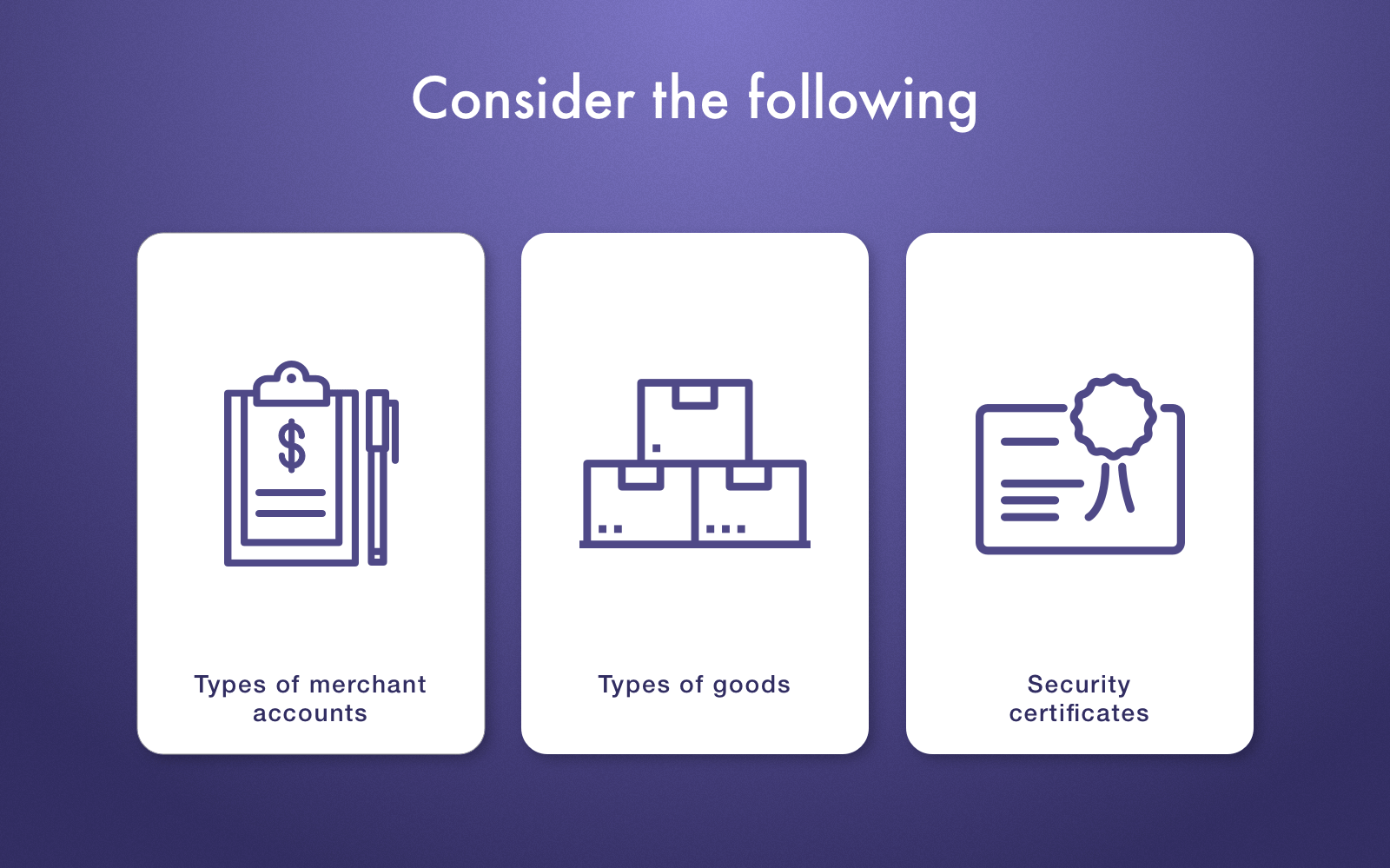 Payment gateway integration in mobile application: Things to consider before implementation
How to Choose the Right Payment Gateway?
Now, when you have a general idea of merchant accounts and security certificates, let's take a look at some of the most popular payment gateways so you could figure out which payment gateway is the best for your specific case.
Fee: 2.9% + $0.30 per transaction
PayPal is probably the most well-known payment gateway solution, so let's start with it. The company provides mobile payment services for customers from over 200 countries and accepts 25 different currencies.
It's a free payment gateway that provides you with an aggregate merchant account to sell your goods. You pay as little as 2.9% from the total amount of transaction plus $0.30 additionally per each transaction. This payment gateway system is evolving all the time and comes with lots of features you can make use of in your mobile app.
Braintree Payment Gateway
Fee: 2.9% + $0.30 per transaction after your earnings exceeded $50K
Braintree is a subsidiary of PayPal. This mobile payment provider has built-in fraud protection, payouts in two days, and live customer support. As a matter of fact, Braintree is present in 40 countries and supports about 130 currencies.
This mobile app payment gateway comes with software development kits (SDK) written in seven programming languages, featuring iOS and Android support. Being free to get started, Braintree has no fees on transactions for the first $50K you earn. However, as soon as your income rises beyond this sum, the company starts charging you 2.9% and $0.30 per transaction.
Fee: 2.9% + $0.30 per transaction
Stripe is also noteworthy and trustworthy! This payment gateway solution provides authorization, a checkout feature for mobile and desktop, analytics and many more useful options. The interesting feature here is Stripe.js which is the company's secure transmission standard for web development.
Stripe offers SDKs written in seven programming languages. So, it's not a problem to integrate Stripe's API into your app. The price is the same — 2.9% and $0.30 per transaction.
Fee: $0.25 per transaction equal to or above $10, free if the sum is under $10
Dwolla payment gateway provider is famous for its pricing policy. The company charges $0.25 per transaction for the goods starting at $10 and over, but there is no fee for products under this price. Dwolla offers the full package of payment options, among them are: the ability to pay thousands of people at once (if it comes to the payroll) and invoice up to 2,000 people. Dwolla works with all popular operating systems using an oAuth and RESTful API.
Authorize.net Payment Gateway
Fee: $25 per month and 2.9% + $0.10-$0.30 per transaction
Authorize.net is one of the most reliable payment gateway solutions existing in the U.S. and Canada. In the case with Authorized.net, you will be given a dedicated merchant account. If you already have a merchant account or you want to choose a provider on your own, the company has the Payment Gateway Only plan.
Authorize.net provides the gateway software for both websites and mobile apps. What's more, it offers built-in fraud detection, information management, recurring billing, and PCI DSS compliance with its tokenization technologies.
Services provided by Authorized.net are more expensive compared to other competitors. You have to pay the monthly gateway is $25 (but if you already have a merchant account, it will be paid by your provider), and, of course, you will be charged 2.9% + $0.30 per every transaction.
Integrating SDKs Into an Application
As we already mentioned above, every provider offers its own SDKs. Usually, you can find them on the official website of your payment gateway provider. Those SDKs include strong mobile libraries that facilitate the work for your software development team since the credit card data is processed by them. It means that your team requires less time for integration and you're not that exposed to PCI compliance.
Typically, those SDKs help to create payment forms for collecting user data. For example, Stripe offers two options: you can either use their pre-built form component or build it on your own from scratch. That's good news because you have full control over UX.
Again, if your mobile app sells digital content, your team will have to work with platform-specific payment gateway solutions. These are Apple Pay for Google Pay.
If you have an app idea and you don't know where to start from or you just need to integrate a payment gateway — you're at the right place! Our company has helped hundreds of startup companies and businesses from all over the world in implementing their ideas. Also, we work with a wide range of payment gateway providers.
Need some help with payments?
Our software engineers will be glad to help. Fill in a short contact form, we'll contact you in 24h.
Also, you may subscribe to our newsletter if you like this article and want to stay tuned for our content. We'll be sending you one letter a week with the latest articles and videos from our team.
Rate this article!