Fundamentals of B2B CRM: Use Cases, Strategies, and Benefits It Brings For Businesses
B2B relationship management is called more complex than B2C one. Maybe it's because the buying cycles take longer, or the business is more contact-based and caters to a smaller audience. Or maybe the reason lies in more people involved in purchase decisions. The sales are rational here, not driven by emotions.
So there's no victory in getting leads without a good plan. And a good tool. B2B CRM (customer relationship management) strategy is a company's plan to use CRM software to boost sales and improve customer service. It's both a profitable management strategy and a powerful tool for collecting data – exactly what is needed for seamless cooperation.
In this article, we're discussing the role of business-to-business CRM, its benefits and sharing the best B2B CRM strategies. Plus some interesting real-life examples.
What Is B2B CRM?
B2B relationship management is complex, and insights are extremely essential in this field. Business-to-business CRM helps companies to understand their clients' needs. It includes an overall business strategy with sales, marketing, and customer service data. The system identifies all potential touchpoints during the customer journey.
Generally, when discussing a CRM B2B business needs, we may refer to any of these things:
Strategy
Process
Software
Still, B2B CRM should primarily be thought of as a way of understanding and fulfilling customers' needs at each stage of the sales cycle.
In other words, B2B relationship management software is an application collecting information from clients' communication channels (website, chats, online calls, email, etc.) and analyzing it. The data often includes quotes, inquiries, sales reports, and notices of issues faced. These details are kept in a CRM for B2B database, usually a cloud one, that can be acсessed by company staff.
Main points of B2B customer relationship management
Diving deep into the sales cycles, we can highlight their main idea – guiding customers through content that increases brand awareness and generates leads. And, finally, ends with sales. Besides, if the sale is made with customer care, it ultimately leads to satisfied customers and repetitive purchases.
Sure, it only sounds easy. When companies are the clients, they are likely to have multiple viewpoints and requirements at each stage. So it may be complex to figure out what they need. And it's the perfect time for B2B CRM software to step it.
The system allows sales and marketing departments to keep track of leads and their details. This way, companies determine when to motivate customers to move to the next order stage and how to do that.
Why Do Businesses Need a B2B CRM
Although it's the sales department who will be the main users of CRM software, marketing and service depts benefit from it too. So let's discover what advantages CRM brings to the B2B environment.
Advantages for sales process
Access to a vast repository of important client data is one the biggest advantage of adopting CRM system B2B companies need. The system can operate with data to create useful insights that support businesses in making prompt and educated decisions about closing deals.
Contact management. Spreadsheets may do fine at the start, but not with the growth of business and its requirements. Currently, there's no way a company can do without managing its client base. With a CRM system, staff can upload customer details to the database, prioritize activities, get reminders of important calls and meetings.
Monitoring the progress of leads. Keeping track of a potential customer's journey inside the sales funnel is also considerably simpler. B2B CRM tools aid in determining the lead's level of activity and the ideal time for follow-up communication from the sales department.
Making real-time quotes. With real-time data at hand, the sales department sends accurate and up-to-date quotes to customers. CRM updates information about transactions, prices, and inventory as soon as they happen. So there will be no situations when inaccurate quotes are sent to clients, or false promises are made.
Easier lead prioritizing. B2B CRM solutions provide precise information about the lead's current place in the buyer's journey as well as an estimation of how far the lead may advance. Salespeople will be able to determine their priorities, know who and when to contact, and know how to approach leads as a result. In this situation, accurate information on whether the lead is at the awareness stage or getting near to making a final choice is crucial.
How much will the CRM development cost for your business? Start discovering it now with our article!
Solving organizational issues
Numerous organizational issues in your business might be resolved with the help of CRM. Most of its power in this regard stems from its ability to automate numerous processes and operations.
Operational automation. Your business to business CRM can acquire and compare various contact information automatically, look for duplication, and create a clean, well-organized contact list. This is crucial for B2B businesses carefully managing each and every lead.
Streamlined task delegation. A CRM system automatically maintains established protocols. So that after one employee completes one job task, it automatically delegates the next task to the other team member. It may even set priorities for various tasks based on facts and established norms.
Effective employee performance tracking. A CRM for B2B business also gathers and analyzes a ton of information regarding staff performance in addition to client data. For this reason, business owners, executives, and managers will all profit from implementing CRM software.
Marketing strategy enhancement
Launching one advertising campaign is hard enough, and what if there are multiple products to promote? With the best CRM for B2B sales, companies create automated marketing campaigns that reach the target audience. The staff can swiftly identify potential clients and focus on communicating with them.
Strengthening the sales and marketing correlation. The relationship between the sales and marketing departments is also greatly improved through CRM. Both teams have quick access to a comprehensive, well-organized amount of data due to CRM B2B marketing software. For instance, the sales staff has fundamental knowledge of what motivates clients to purchase, and the marketing team greatly benefits from this information.
Solving problems with targeting. When you have access to client demographic data, geolocation, and Internet activity through CRM, it is simple to find someone interested in your particular product or service. So that just the appropriate audience will see your advertising at the appropriate moment.
Personalized campaigns. CRM software may assist you in not just finding the proper audience for your business but also in reaching them. This is possible thanks to the vast volumes of client data that CRM B2B best practices make available.
B2B CRM system is a great asset for any marketing team
Better customer experience
Greater people retention rates require great customer experience. With this purpose, CRM business to business software will provide sales professionals with a clear, consistent, and stylish overview of client data. Indeed, this will enable them to deliver better service.
Boosting client satisfaction. Such a system may substantially increase the client satisfaction rate in many industries. To illustrate, healthcare CRM implementation, or the one for logistics. Managing B2B customer relationship also plays a great deal and needs nurturing from the very beginning. Especially for B2B sales that take up to a few months, if not the whole year. B2B CRM strategy makes all the difference when it comes to applying a personalized approach at all points.
In-depth analytics and reporting. The only way to find out if the promotion campaign's been successful is to check its results. Which campaign gives ROI (return on investment), or what's the next sales forecast? Analytics and reporting feature helps the staff to find out which actions gave the return on investment, prepare a sales forecast for the next quarter, and so on. CRM system has a dashboard that shows all the needed metrics and generates accurate reports.
Thus, CRM in B2B helps companies understand their audience and prioritize business requirements. The system's responsible for data organization, it ensures ease of communication and works on improving customer experience.
B2B CRM Strategies
Managing a company's relationships with customers is complex enough. That's why we've created a list of 5 time-tested tips that help with customer relationship management B2B. Moreover, they are capable to successfully drive client success.
These B2B relationship management strategies include the following:
Learn about client's needs
Concentrate on companies, not individuals
Listen to what they say
Create the right type of content
Keep an eye on customer's success level
Let's view each of them in detail to find out their essence.
1. Learn about clients' needs
Companies should always know what their customers need and what solutions they prefer. What is the best way to find out? Dig into the data B2B CRM system stores.
Sales teams use the software to keep the details of their interactions with customers. Talking with potential clients, the sales reps can ask what they're looking for and why they choose their company. By keeping these details all in one place, it's pretty simple to figure out what customers need.
2. Concentrate on companies, not individuals
Working in the B2B sector means working with companies, not individual contacts. So it's in companies' interest to get more corporate customers involved. For instance, they may run in-office training on how to use their product better and encourage senior members of the client's teams to come.
The more businesses can illustrate how important their solutions for customer relationship management in B2B marketing are, the more likely companies they work with will become long-term clients.
3. Listen to what they say
Customer success is all about making buyers understand the value of the products. And the best way to start making the product even more valuable is to ask for some feedback.
For instance, start with simple surveys and one-two open-ended questions, asking clients to describe their experience. For instance, 'What could be better in our services?' or 'What additional services should we provide?'.
So, this one of B2B relationship management strategies is: take enough time to check the replies, looking for the most common or recurring requests. By giving customers a way to voice their opinions, companies get valuable insights that can help improve the overall business processes.
4. Create the right type of content
Today, B2B customers often rely on content to get through the buying process and make informed decisions. So it's definitely worth creating a content library that answers the most common questions the audience asks.
According to different researches, customers expect vendors to contact them with sales emails, case studies, and articles. Meet their expectations – provide and share the right kind of content with the help of the B2B CRM.
5. Keep an eye on customers' success level
It's all about monitoring whether the customers see the value of the products. Luckily, B2B CRM software allows the monitoring of these indicators for individual users.
First, check how many customers have finished the onboarding process. Then, find out how engaged the clients are on an ongoing basis. And finally, look at how often the product is used. The more times people use the product, the more valuable it becomes in their eyes.
B2B CRM strategies to follow
The Most Successful B2B CRM Software: Functionality Peculiarities
Now, we'll talk more about the B2B CRM companies that could give proper embodiment to the above strategies via the powerful CRM software. We'll also look at their software in detail.
Pipedrive
Pipedrive is one of the best B2B CRM software examples enabling teams to design tailored sales processes that allow them to monitor pending deals, view associated communication and activity records relating to a deal, and receive notifications when a deal has become stagnant.
The Smart Doc tool can be utilized when sending a business proposal or quote to facilitate the completion of the deal. With this feature, you can customize your file templates with CRM data.
Pipedrive core features include the following:
Deals and pipelines
Communication monitoring
Reporting and insights
Smart Doc
Prospect CRM
Prospect CRM is a tool designed to help with B2B product sales, including office supplies, industrial equipment, physical marketing materials, and IT hardware. The software offers specialized features through integrated modules and the ability to integrate with third-party inventory management tools, enterprise resource planning (ERP) software, and accounting and payroll systems.
This B2B CRM also provides custom data fields, field user restrictions, and auto-data enrichment, which can keep contact records updated with LinkedIn profiles. Users have reported that the platform is straightforward to utilize, especially relating to integration setups and utilizing the pre-existing features.
Zoho
As one of the best B2B customer relationship management systems, Zoho CRM allows users to customize their system according to their businesses' specific operational needs. This platform can serve as a powerful CRM for B2B marketing, allowing users to create and store templates for automating email campaigns. Zoho offers many integration options, including thousands of third-party and native applications for content, social media, finance, and project management in their CRM.
Zoho CRM core functionality contains:
Prospects and contacts management
Sales and marketing reports
Client service management
Reporting
HubSpot
HubSpot provides a renowned B2B CRM system that allows companies to customize their purchases according to their requirements. Subscribers can access individual modules, including B2B CRM sales, marketing, customer service, the content management system (CMS), and operations.
Moreover, HubSpot stands out for its marketing features. Teams can promote their campaigns digitally by using various strategies, such as creating ads on different platforms, sending mass emails, blogging, posting on social media, and designing landing pages with contact forms.
Freshsales
Freshsales is a customer relationship management (CRM) system that has been designed specifically for sales operations by Freshworks. B2B businesses are able to take advantage of the comprehensive account management features provided in order to manage contact data, track recent activity, schedule appointments, and attend to account-specific tasks. The pipeline management module developed considering B2B CRM best practices facilitates the monitoring of sales pipelines, management of deals, tracking of quotas, and issuing notifications when a deal is not progressing as expected.
Freshsales provides comprehensive customer service. Its plans offer around-the-clock support through email, live messaging, and telephone calls. Users can take advantage of online resources, including a blog and product tours, to facilitate self-service.
Examples of B2B CRM Best Practices
We know that it's always better to check some real-life B2B CRM examples. So here comes a short list of well-known brands that use CRM software on a regular basis. Let's take a look at them.
Unilever
Unilever knows the importance of keeping their clients' data all in one place. That's why they use sales B2B CRM software to collect real-time customer insights and launch data collection campaigns. To achieve that, Unilever applied a platform called 'Traction'. The application helps to start and conduct multichannel campaigns, collect customers' feedback and analyze it.
For instance, to ask customers to complete an online survey for one of the brands – Dove – Unilever engaged all possible channels. This refers to TV, online media, emails, door drops, etc. Result? 128,000 completed surveys – 28,000 more than expected.
Using Traction platform, Unilever managers 44 brands. They constantly improve the level of customer engagement and enhance the great brand experience.
British Airways
The level of customer service does matter for a company that flies more than 45 million people. Besides, when it comes to stiff competition, top-level service may be a turning point. That's why another big and famous UK company – British Airways – applied CRM software for automating ongoing campaigns and improving customer communications. BA decided to use Teradata CRM to figure out customers' needs and fulfill them.
The system allows managing emails, calls and web channels, all with a single interface. This is a platform they need for marketing communications. And with such a powerful tool, no wonder the number of requests went up by 150%. What's more, BA managed to increase the number of email campaigns which is more cheap and effective – on the contrary of mail ones.
Cisco
Among the top three businesses that successfully applied CRM software is Cisco – a US tech company. They wanted to increase tech specialists productivity and thought of creating a solution that allows real-time collaboration and response within the enterprise. Said and done. The WebEx software turned out to be a top solution. The B2B CRM system helps to solve complex issues or timely contact the rapid response team.
After applying the WebEx system, the sales department found 20% more time to work on strategic tasks. The number of external interactions was increased by 40%, while the average amount of working time – decreased by 10%.
What's more important, their customers were fully satisfied with the level of service giving Cisco 4.88 on a five-point scale. That's the result worth expenses.
How to Implement a B2B CRM to Profit
There are distinct differences between the sales processes of B2B and B2C businesses, which should be reflected in the CRM tools they use. B2C CRM technologies typically prioritize marketing due to the self-service nature of e-commerce and also have capabilities for managing large volumes of accounts. Business-to-business CRM systems are focused on sales.
Let's discuss, what are the crucial qualities that make the best CRM B2B business requires.
CRM reporting should be fully automated. B2B sellers benefit from using data and analytics to focus on the behaviors and actions exhibited by their accounts. Automating reports can provide insights into your business and how it interacts with customers, enabling you to understand what is successful and what needs improvement.
It should be fully concentrated on customer data. A CRM for B2B marketing should include comprehensive profile information, potentially encompassing hundreds or thousands of data fields.
When working with one organization, you will likely encounter different users and thus need to use account-based systems instead of person-based ones. As your team becomes more knowledgeable about client accounting, building beneficial relationships with them is crucial. Selecting a CRM for B2B sales with lead generation and enrichment capabilities will help achieve this aim.
A B2B CRM must visualize your sales pipeline and help you improve, grow and automate it. As part of their job duties, B2B salespeople are responsible for customer relationship management in B2B analyzing sales pipelines and guiding leads through the process. Salespeople can utilize a visualized, automatic pipeline to allow for more time on customer relationship-focused activities, as opposed to manual data entry or form-filling associated with traditional CRM systems.
How Cleveroad Can Help You Build B2B CRM
B2B CRM software helps businesses to know their customers better and thus serve them best. Employees work more productively, sales and marketing campaigns are no longer based on 'best guesses' but on clearly defined stages. This ultimately leads to building relationships with buyers and gaining their trust, and that's the key to success in B2B sales.
Nevertheless, you should understand that the achievement from creation of the best CRM for B2B depends on the choice of a vendor proficient in customer relationship management software building. This vendor should also consider CRM as a strategy of successful interaction with clients, proven by pre-development business researches conducted.
Cleveroad is the very same software development provider. We are an outsourcing software development company located in the CEE region and specialized on building digital solutions of any complexity, including bespoke CRM software development, for different business domains (e.g., logistics, fintech, retail, healthcare, etc.). Our clients are highly satisfied with our solutions, as they boost their business communication, help them automate and streamline the data processing.
You'll obtain a range of benefits during our collaboration (including but not limited to):
Qualitative CRM development services capable to improve your interaction with the existing clients and easily manage new ones
Fast software creation flow with no hidden costs or bureaucracy
On-demand services: legacy software modernization, UI/UX design, cloud-based software development, IT consulting, etc.
Signing of Non-Disclosure Agreement (NDA) to protect your app concept uniqueness
Teams of qualified developers that will help you create a B2B CRM according to your business demands, time and budget limits, etc.
We are ready to help you build a sure-fire digital solution so you can achieve your business goals connected to working with data and communicating customers. To know more about our expertise, you can look through our portfolio.
Frequently Asked Questions
B2B CRM is a Business to Business Customer Relationship Management and related to various technologies and strategies that help companies understand their clients' needs. This system identifies all possible touchpoints during the customer journey.
There are a lot of benefits that CRM can bring to the B2B environment:
Improved data management
Better customer experience
Easy-to-make real time-quotes
Dashboards with analytics and report systems
The main purpose of all CRM systems is to make prioritizing more efficient and data storage well-organized. Moreover, with CRM systems, it's easier to understand the customer audience.
We can highlight several great solutions for small B2B companies:
HubSpot CRM
Zoho
Prospect CRM
Freshsales
Pipedrive
CRM system is vital for business since any CRM system's main tasks are collection, organizing, and managing all customer-related data. Furthermore, utilizing CRM system improves customer service, customer communication that can positively impact overall customers' attitude towards business.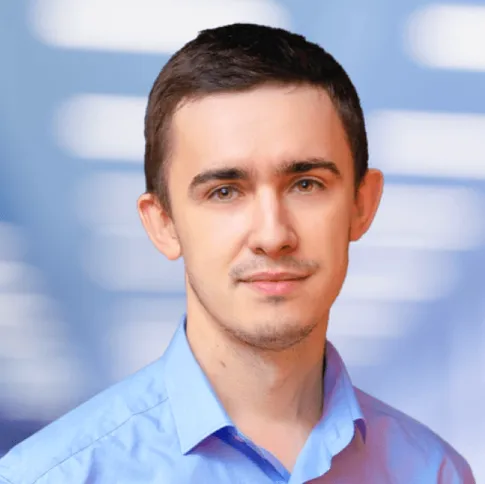 About author
Evgeniy Altynpara is a CTO and member of the Forbes Councils' community of tech professionals. He is an expert in software development and technological entrepreneurship and has 10+years of experience in digital transformation consulting in Healthcare, FinTech, Supply Chain and Logistics
Rate this article!
7895 ratings, average: 4.69 out of 5
Give us your impressions about this article
Give us your impressions about this article