What Is the Role of a CTO in a Startup: Skills, Responsibilities, and More
3727 Views
|
21 Aug 2019
|
10 min
The chief technology officer or CTO is one of the most undefined positions among C-level management. Their main goal is to fulfill the company's business requirements through tech innovations accelerating its growth.
With the development of technology, CTO specialists have become vital for both established enterprises and startups. Many companies tend to digitize working processes or create an innovative product these days.
Speaking about a tech startup, an experienced CTO can bring progressive ideas to the company and find advanced tech solutions. So, to hire the perfect specialist, you need to understand the chief technical officer's roles and responsibilities fully.
What Is the Role of a Startup CTO?
There are various kinds of CTOs. Mike Walker, the research director of Gather, claims that there are five different CTO roles, and each company should identify the one that fits them best.
There are two leading types of the CTO in a software company — operational management and technical leadership.
Type #1. Operational management. These specialists typically don't have considerable coding background. CTO of this type may have studied finance, project management, mentoring, and other non-technical skills. As a result, CTOs of this type usually manage organizational moments without solving any tech issues.
Type #2. Technical leadership. And conversely, these specialists have a solid background in providing software development services and lead an engineering team.. They are in fact senior developers that can solve problems faster and find the best solutions. This role of a CTO is a perfect fit to a tech startup that reckons that their product will interest their target audience and investors through the technologies.
Need a CTO for your tech Startup?
Helping with managing all tech issues of startups. Achieve your goals with a qualified specialist!
What Is CTO Responsible for?
The CTO responsibilities depend on the role they play. That's why we've decided to provide two various lists of CTO tasks and responsibilities: one for operational management and one for tech leadership.
The CTO Responsibilities and Duties (Operational Management Type)
Manage people and processes
Like any other C-level manager, CTO needs to take into consideration the company's goals and set required tasks. Also, they should track the performance of a team and mentor software engineers. Therefore, the primary CTO function is team management.
Establish a company's strategy
As a tech leader, the CTO needs to bridge functional abilities and other company's resources to improve efficiency. Additionally, the Chief Technology Officer makes the collaboration between workers easier and optimizes the company's inside processes.
Represent a company
The Chief Technology Officer has to attend various conferences to strengthen relationships with business partners. Additionally, such meetings may help to find qualified and experienced developers for further cooperation.
Come up with the options
A good CTO never says 'we can't do this' or 'it's impossible'. The Chief Technology Officer provides several variants on how to fulfill the tasks. Additionally, the CTO knows exactly what kind of specialist is required for the specific task.
Follow trends
To speed up the company's growth, a CTO has to keep an eye on the trends and decide whether to follow them or not. On top of that, they monitor the products from competitors to be aware of the latest changes.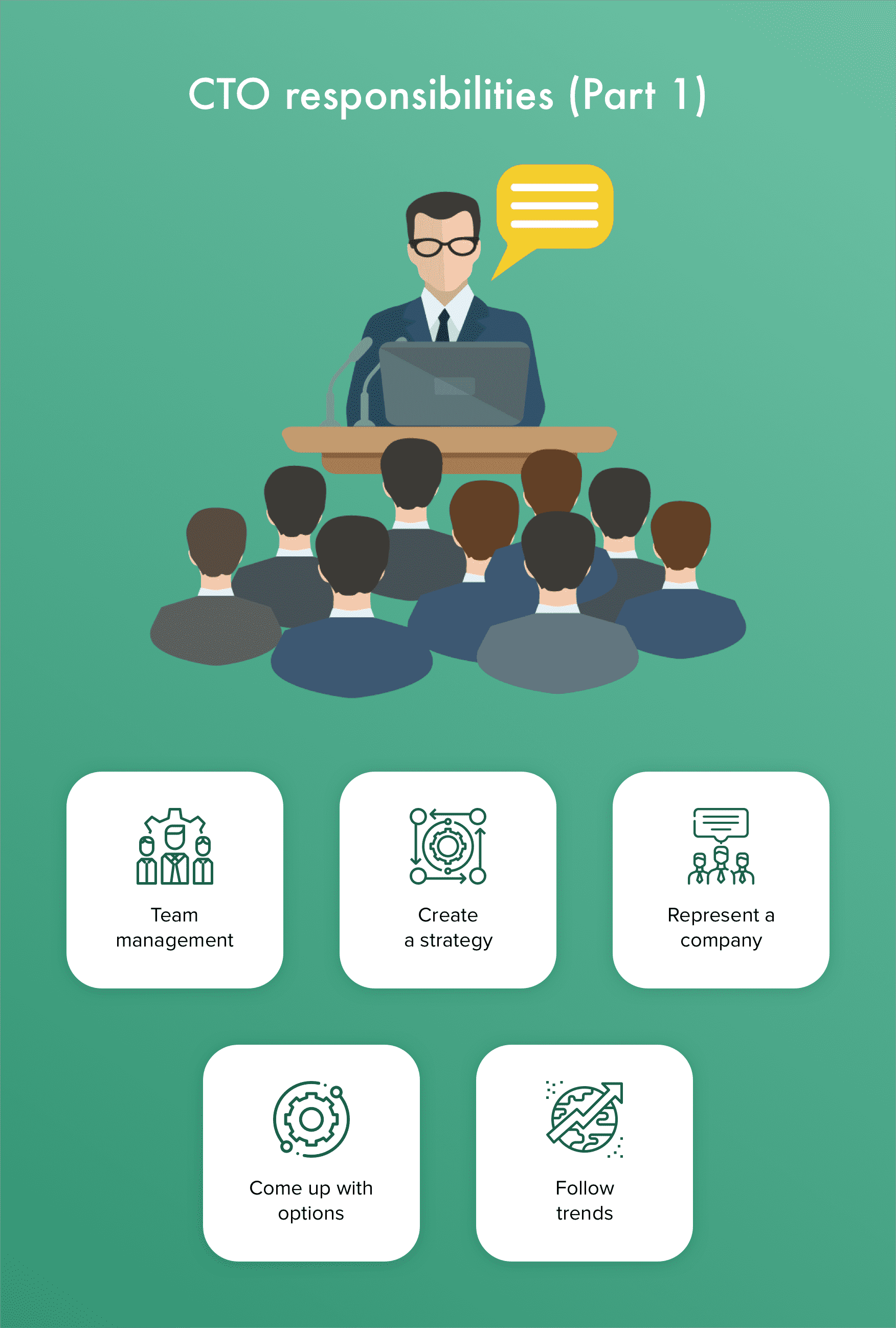 CTO responsibilities (Operational management type)
The CTO Responsibilities in a Tech Startup (Technical Leadership Type)
Build an MVP
Many startup founders want to hire a specialist who can create the minimum viable product to roll it out to the market. As a result, CTO needs to know the tools and technologies for developing an MVP. Additionally, they are entirely responsible for the quality of the final product.
Hire IT professionals
Finding and employing qualified tech specialists is one of the most baffling things for startups or enterprises. The CTO needs to conduct interviews to check the technical knowledge of candidates.
Coach and mentor developers
Every novice developer should have a coach, a person who can expand their knowledge and share the experience. It's one more CTO responsibility.
Choose the tech stack
A CTO is responsible for selecting an appropriate mobile or web development stack. Technologies influence the project's maintainability, scalability, and stability.
Improve the app's architecture
It's always important to think about the effectiveness of the architecture. The CTO generates ideas on updates, improvement, etc.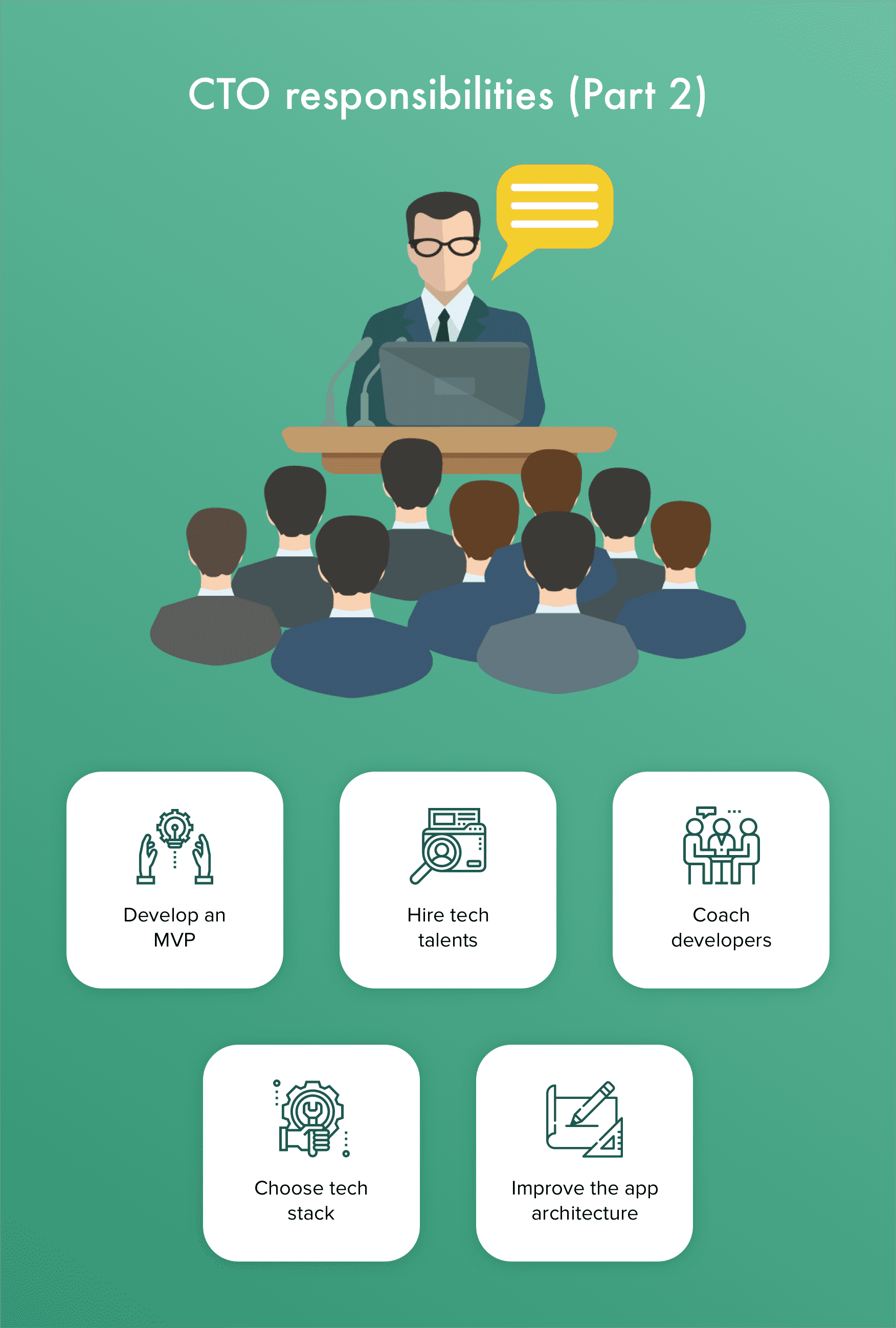 CTO responsibilities (Technical leadership type)
Of course, the mentioned challenges are far from the whole list of the CTO duties. The Chief Technology Officer is responsible for any technology-related issue. As a result, a CTO requires some technical knowledge along with leadership skills.
Required Skill Set of a CTO
In addition to some technical knowledge, CTO needs to have some social skills, e.g. empathy, leadership, and management.
"Having a pool of the greatest technical talent on the planet would be ineffective if the leadership is toxic. A CTO who shares a love for learning, empathy and a desire to see his or her team members grow professionally will be successful in many ways"
It's high time for us to discuss the CTO skill set.
Chief Technology Officers tend to integrate new tools, follow the business mission, and more. As a result, there is a required skill set for a qualified and experienced CTO.
Communication skills
Every C-level manager requires excellent communication skills, and a CTO isn't an exception. A Chief Technology Officer tends to explain tasks, goals, and set deadlines to the team members. Good communication skills will increase the team's effectiveness. Additionally, excellent communication skills can help when presenting new ideas to executives or stakeholders. The CTO should be able to explain technical aspects to a non-technical audience in plain language and straightforwardly.
Leadership skills
A Chief Technology Officer should be an excellent leader to motivate and inspire the team and convince other C-level managers to integrate innovation into the startup.
Technical background
The perfect candidate for the CTO position needs to have more than 10 years of working experience in the IT industry. Such a person understands the entire development process and is experienced enough to find time-saving solutions.
Mentoring
Being a leader of the tech department, a Chief Technology Officer Responsibility is to provide the team with mentorship and do it correctly. The experienced CTO can help the team grow and develop. To achieve better results, a CTO has to give the employees the necessary feedback.
Strategic thinking
Integrating new tools or innovations requires a prepared strategy. Developers, designers, and project managers usually focus on the project details, while the CTO needs to create a development strategy that meets all requirements and goals of the company. Chief Technology Officers have to think about the future and the next steps.
Constant education
CTOs tend to learn information about advanced or innovative technologies. Analyzing it, they can make decisions about integrating this or that tool.
Time management
Since the CTO needs to set tasks and deadlines for the team, it's essential to have good time management skills. Additionally, Chief Technology Officers need to follow their timetable of meetings, reading reports, and so on.
Problem solving
One of the CTO's primary responsibilities is finding the best solutions during the development process. Usually, developers ask for help only if they can't solve the problem themselves. So, the CTO needs to evaluate the problem objectively and find the perfect solution.
Creativity
To make unusual yet effective decisions, the Chief Technology Officer should be able to look at the issues from a different angle and come up with an unobvious solution.
One more point to consider is the CTO experience. Nearly all CTOs have started their career path by getting a Bachelor's degree in computer science or any other related field.
After that, it's necessary to gain some experience working on such positions as team manager, developer, or architect. As a result, a high-level CTO professional has 10+ years of on-the-job experience and can conquer many different tasks.
Wrapping up this part, the CTO skill set has to consist of sound technical knowledge along with interpersonal skills. The combination of these two aspects can create a perfect CTO that meets your requirements and brings success to your business.
Four Main Things a CTO Should Focus on
The Chief Technology Officer's duties are usually extensive and diverse. However, there are four main aspects that a good CTO has to continuously improve.
Team
Being a CTO, it's required to create an astonishing team. The CEO isn't responsible for hiring and managing the developers. So, CTOs monitor the pool of tech talents and form the group. After that, the Chief Technology Officers need to guide, control, and inspire members of the team.
Tools
The CTO is constantly searching for new and advanced tools to empower the team. The leader helps the team to choose the appropriate tools and utilize them properly.
Tech
Drawing on the technology experience, the CTO can provide the team members with the right technology stack. As a result, the CTO needs to be several steps ahead of the team in terms of the tech background. Of course, it's impossible to know everything, but a good CTO understands the technologies and makes sure that they fit the company.
Timing
One of the primary CTO duties is the comprehension when to upgrade the product or when to embrace that technology. Additionally, the CTO shares this knowledge with C-suite and the executive.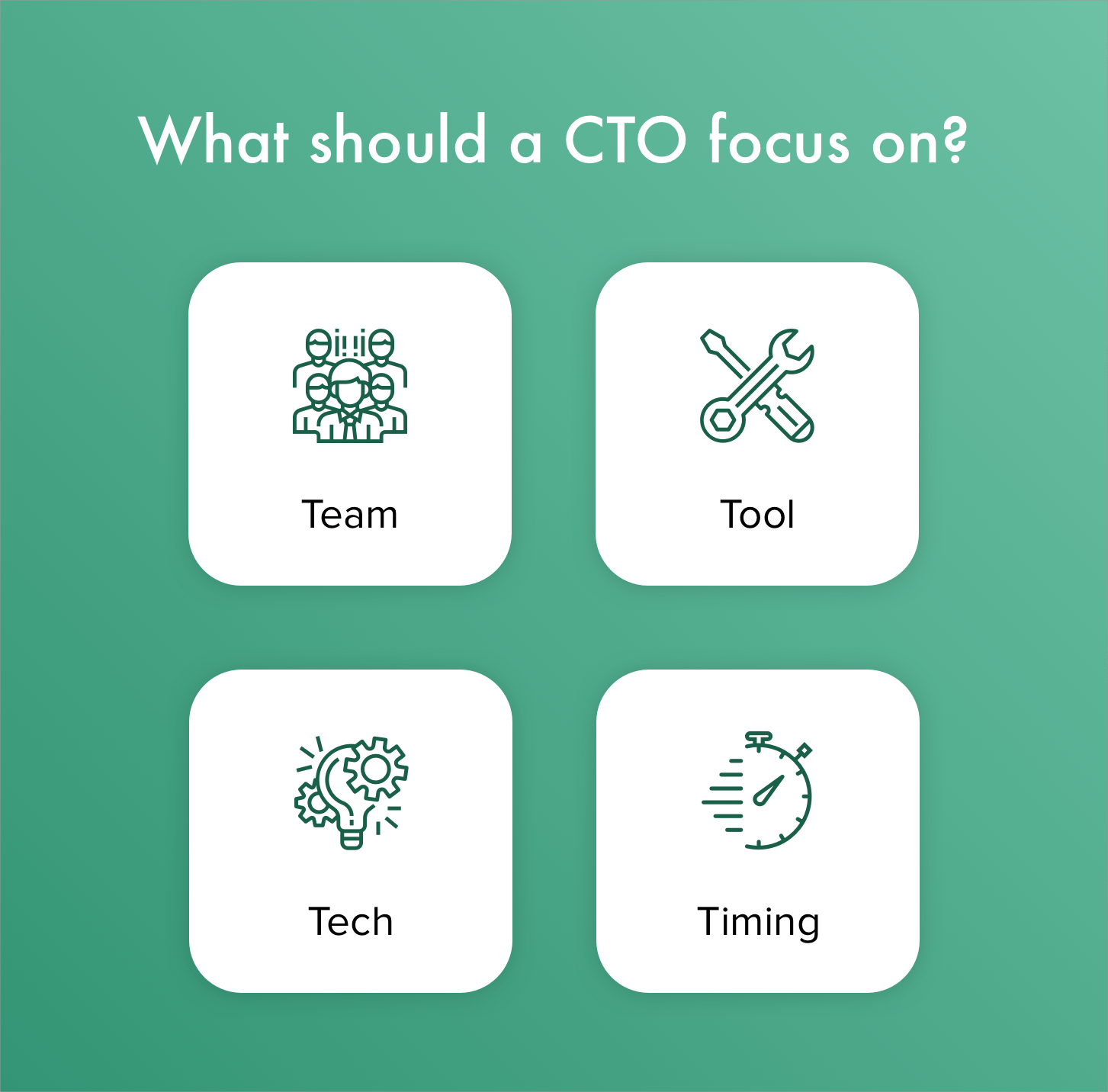 Things to focus on for a CTO
The CTO needs to cooperate with other C-level managers to achieve success in all four aspects.
A tech startup requires a good CTO to succeed since they are responsible for all technology-related challenges. The CTO analyzes the company's business goals and comes up with tech ideas for solving existing problems.
It can be time-consuming and expensive to hire a perfect Chief Technology Officer these days. But it's always possible to find a reliable IT consultancy firm that'd be able to perform the CTO's tasks and duties.
Cooperating with a vendor, you can reduce recruiting time. Software development companies offer IT consultancy and you can also hire senior developers or a CTO from them to fulfill your tasks without distracting the product team.
An average rate per hour in Eastern Europe is $50. The average salary of the CTO in the USA is approximately $120,000 per year. If you need to recruit an experienced CTO in short terms, then outsourcing is the perfect option for you to save time and money.
!
Cleveroad is a software development company that provides full-cycle services. If you want to find out more about our team of software builders, fill in our contact form and our managers will get you back in less than 24 hours.
Frequently Asked Questions
👨 What is a CTO responsible for?
💁 What is the role of a CTO in a startup?
🔍 How to find a CTO for your startup?
🔑 What makes a good startup CTO?
💻 What are the roles and responsibilities of a CTO?
🔧 What skills does a CTO need?
Rate this article!